Last Updated on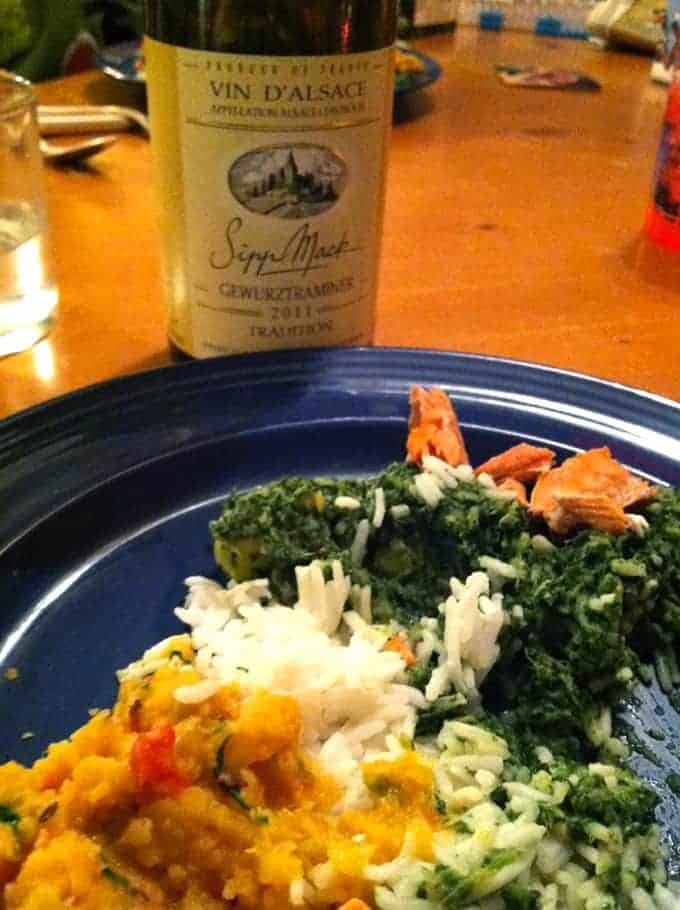 I feel morally obligated to share any good wine pairing for Indian food that I find.  The original post I wrote years ago on Pairing Wine with Indian Food is still my most viewed post of all time. So clearly people are hungry–or thirsty–for this information. As a public service, I will continue to to research the topic! (anyone who has seen me graze on Indian food, happily intermingling sips of wine, will chuckle at the notion that this is a selfless form of service for me!).
Last month, my wife and son had a fun birthday surprise for me. They had a ruse about where they were taking me but turned out we were headed for a local Indian restaurant. Jodi had consulted with our friends at Pairings to pick out the 2011 Sipp Mack from Alsace. Only trouble was that the restaurant recently got the beer and wine license and we could no longer crack open our own bottle. So the Gewurz needed to wait for another day.
So the bottle came home with us from the restaurant unopened.
I was eager to try the Gewurz. I was tempted to open it to serve with a few other things,  but I was glad I waited to have it the next time I made Indian food a few weeks later. I picked out a new recipe to try from my FOOD and WINE Best of the Best Cookbook Recipes book, the Gingered Red Lentils with Garlic. 
I started realizing that we were in for some kick, counting how many hot chili peppers I was putting in (3 serrano, 1 jalapeno plus two dried chilis) not to mention other spices. Not many wines can stand up to such heat, so I was pleased to have one that can chilling as I cooked. I also made Aloo Palak to go with it.
The 2011 Sipp Mack Gewürztraminer was a great pairing for this spicy Indian dish. has a nice mouthfeel, not quite full bodied but substantial. There's a bit of residual sugar, giving it some honey-like sweetness along with ripe pairs and cinnamon. That sweetness helped cool off and refresh the spicy bites I was taking. It was not over the top sweet, but a well-made wine with just the right touch to make it work with the spicy food–including subtle spice notes in the wine, as is typical with Gewurz. Generally speaking, Gewürztraminer for spicy Indian food can be a great option, and this Sipp Mack in particular is worth trying if you can grab it.
Have you found other wines you like with Indian food? Please do share!