Looking for a suggested wine pairing for mushroom risotto? We've got you covered here! We have tested several wine pairings for mushrooms risotto, and have some recommendations for you. Our picks include Barolo, Merlot and Montepulciano d'Abruzzo. Disclosure: Some of the wines discussed here were provided as complimentary samples.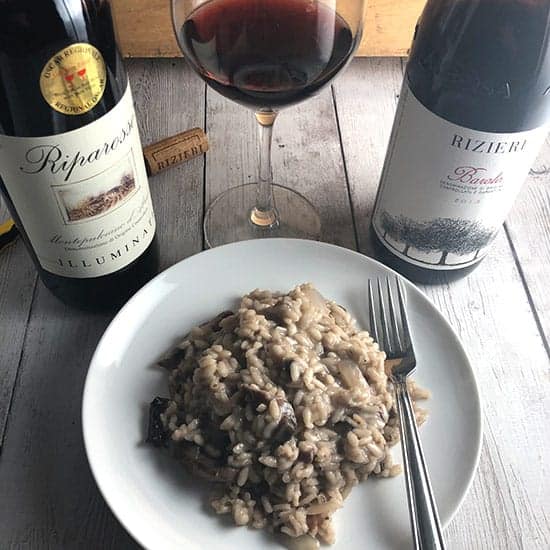 We originally wrote this wine pairing for mushroom risotto article after I had been asked, "Would you like to come up with some recipes to pair with some Demarie wines?"
"You bet!" I quickly responded. I'm a big fan of wine's from Italy's Piedmont region, so I eagerly jumped on the opportunity. A wine pairing for mushroom risotto seemed like a good start.
Since originally writing this, I noticed folks have been finding this article when searching for wine pairings for mushroom risotto. So we have come back to update the article in March of 2019 with some additional wine pairing suggestions and some updated cooking notes.
Making Mushroom Risotto
I love making risotto, especially as the weather gets cooler. Sure, it takes some patience, but it is pleasant standing over a warm pot and stirring that arborio rice, knowing the creamy goodness that is sure to follow. It doesn't actually require constant stirring, but frequent. You can prepare the sautéed mushrooms as you are cooking the risotto.
When the rice has softened, stir in those savory mushrooms and a good amount of Parmesan cheese, and you have yourself some serious comfort food. All the more comforting when the risotto is paired with a Barolo, or another robust red wine!

If you want a shortcut for making something like this, try the Instant Pot Mushroom Risotto from Corrie Cooks.
Wine Pairing for Mushroom Risotto
As I said, we first came to be posting this article with a Demarie Barolo to pair with the dish. So we will cover cover Barolo paired with Mushroom Risotto first, followed by some other ideas that can work.
Barolo with Mushroom Risotto
Barolo is often called "the king of wines", and it truly is a special one. Made from Nebbiolo grape, from a small area in the Piedmont region, Barolos tend to have a lot of finesse and staying power.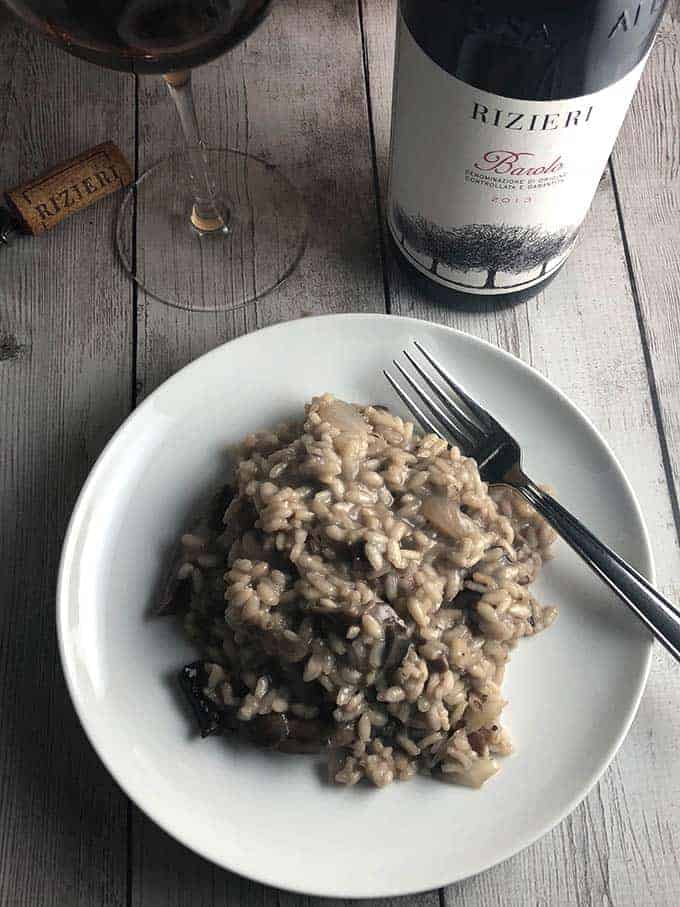 I recently had a chance to meet and interview Elisa from Rizieri Wines, located in the Piedmont region, when she was visiting Pairings Wine & Food in Winchester. I really enjoyed the Rizieri Barolo I sampled, so I eagerly accepted a sample from Bacchus Imports.
I noticed people had found this article when searching "wine pairing for mushroom" risotto, so with the Rizieri Barolo in hand I figured it was the perfect time to update this article with a new Barolo recommendation.
The 2013 Rizieri Barolo ($45, 14.5% ABV) is deep brick red in the glass. I got morel mushrooms on the nose of this earthy wine. Black plum fruit and licorice notes on the palate, with good structure. As you might suspect, the Rizieri Barolo is great paired with our mushroom risotto recipe.
Be sure to check out our YouTube interview with Elisa for more details on the growing conditions that produced the elegant Rizieri Barolo. She covers why 2013 was a very good year for Barolo. This wine is drinking well now, but I'm sure it could last a few years in your cellar if you have the patience!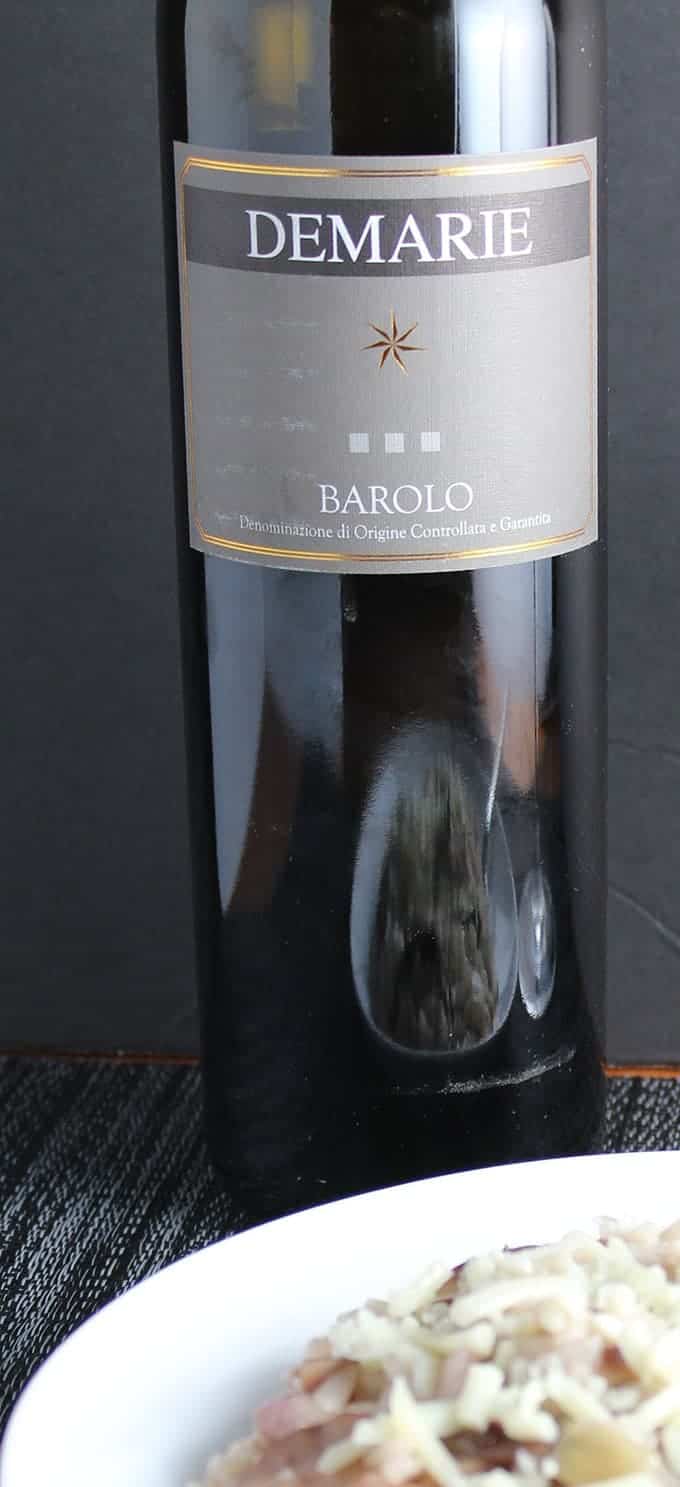 I initially paired the 2010 Demarie Barolo with the Mushroom Risotto. Brick red in the glass, I first noted taste of licorice and bark. Not as tight as some Barolos when first opened. After breathing a bit, the juicy cherry fruit really came forth, along with a touch of chocolate. A well-structured wine, with a nice finish. There's an earthiness to the wine, too, which pairs nicely with the mushrooms in the risotto. I would definitely say the Demarie Barolo is a good wine pairing for the mushroom risotto!
The winery suggests this Barolo can age well for 10 to 15 years, and I can see that potential. I would note that this wine is drinking very well right now, at a relatively young age for a Barolo. The wine is 13.9% ABV, made from 100% Nebbiolo grapes. To make the risotto, read on for the recipe!
Full disclosure: I received a courtesy sample of this wine from the winery. As always, the opinions expressed here are entirely my own.
Other Wine Pairings for Mushroom Risotto
One place to start with some alternative pairings for mushroom risotto is with Nebbiolo from outside of the Barolo designation. You can get some very good Nebbiolo for a fraction of the Barolo price, if you find a good producer.
We paired our Porcini Mushroom Risotto awhile back with the 2013 Cantina Del Pino Langhe Nebbiolo. At $26 this is not a cheap bottle, but certainly less than pretty much any Barolo. The Guidobono Nebbiola d'Alba is on the shelf at our local shop for $20. They are are good quality producer and have some Nebbiolo available for well under $20.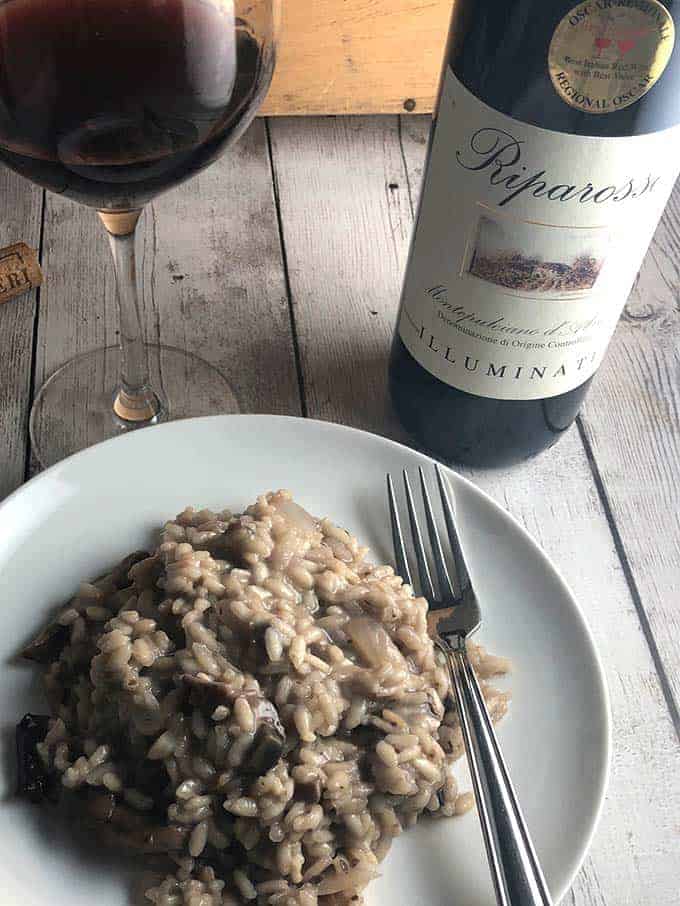 Our most recent batch of mushroom risotto made enough to have some leftovers the next night. of course, that meant a chance to test out a new pairing! I opened the 2016 Riparosso Montepulciano d'Abruzzo ($11, 13.5% ABV) from Illumanati Vineyards. This is a very good wine for the price, and is another pairing for mushroom risotto I would definitely recommend. It is pretty easy to find here in the U.S.
I first tried the Riparosso when visiting Illumaniti Vineyards on my trip to Abruzzo last year. This is an entry level wine; when visiting Illumaniti we got to sample some amazing, age worthy Montepulciano d'Abruzzo. Get more details on the winery and that trip in this article.
While Italian wine is a natural choice for mushroom risotto, there are other good options, too. In fact, a recipe that came along with a sample of the 2015 Trefethen Merlot ($40, 14.1% ABV) got me thinking about Merlot as an option. And sure enough, that Napa Merlot turned out to be excellent with our Chicken Mushroom Risotto shown above.
Print
Recipe card
Mushroom Risotto
Risotto slowly cooks in a chicken broth, then finished with the addition of savory mushrooms and cheese.
Author: Cooking Chat
Prep Time:

10 mins

Cook Time:

35 mins

Total Time:

45 mins

Yield:

6

servings

1

x
Category:

Main

Method:

stove top

Cuisine:

Italian
2 tbsp

olive oil, divided

1

medium onion, finely chopped

3

cloves garlic, minced

7 cups

chicken stock

2 cups

arborio rice

⅔ cup

red wine, divided

1

shallot, diced

2 cups

shiitake mushrooms

2 cups

crimini or button mushrooms

1 tsp

dried thyme

1 tbsp

butter

½ cup

parmesan or romano cheese
salt and pepper to taste
Instructions
Bring the broth to a gentle simmer and keep warm.
Heat 1 tablespoon olive oil over medium heat. Add the onions sauté until the onions start to get soft, about 5 minutes. Add the garlic and sauté for another minute
Add the rice, stir to get it evenly coated with onion mixture, about 2 minutes. Add ⅓ cup of wine, cook until it is absorbed.
Add a ladle or two of broth to the rice, stir in and cook until the broth is absorbed. Add another ladle of broth and repeat process. Stir frequently throughout the risotto cooking.
Once all or most of the liquid has been absorbed and the rice is tender to the bite, you are ready for the mushrooms & finishing touches. This takes about 30 minutes.
Get the mushrooms going as you gradually ladle the broth into the risotto. Heat 1 tablespoon of the olive oil in a skillet, then add the shallot, cook until softened, 3-5 minutes.
Stir in the mushrooms, cook until they begin to soften about 5 minutes.
Stir in the remaining ⅓ cup red wine and add the thyme. Cook about 5 minutes until the wine is mostly absorbed, then melt in the tablespoon of butter. When the butter has melted, keep the mushrooms on low heat to keep warm.
Finish the risotto: Stir the mushrooms into the cooked rice, then stir in the cheese. Add salt and pepper to taste, and serve with a Barolo!
Notes
You can also cook the mushrooms in the risotto pot, adding them after the onions and before the rice. I like the flavor a bit better the way we give the instructions above, but doing it in one pot is convenient. This Chicken and Mushroom Risotto is done that way, consult the recipe for more details on the process.
Keywords: risotto, mushroom risotto, wine pairing for mushroom risotto, Barolo
Recipe Card powered by