Today we take a deep dive into Petite Sirah, a full bodied red wine that is much less common than the widely grown Syrah grape. We explore a variety of food pairings for Petite Sirah.
This article was initially part of the Wine Pairing Weekend event focusing on Petite Sirah pairings hosted by Wendy from A Day in the Life on the Farm for hosting! We come back to update the article with additional Petite Sirah pairings we have tested successfully.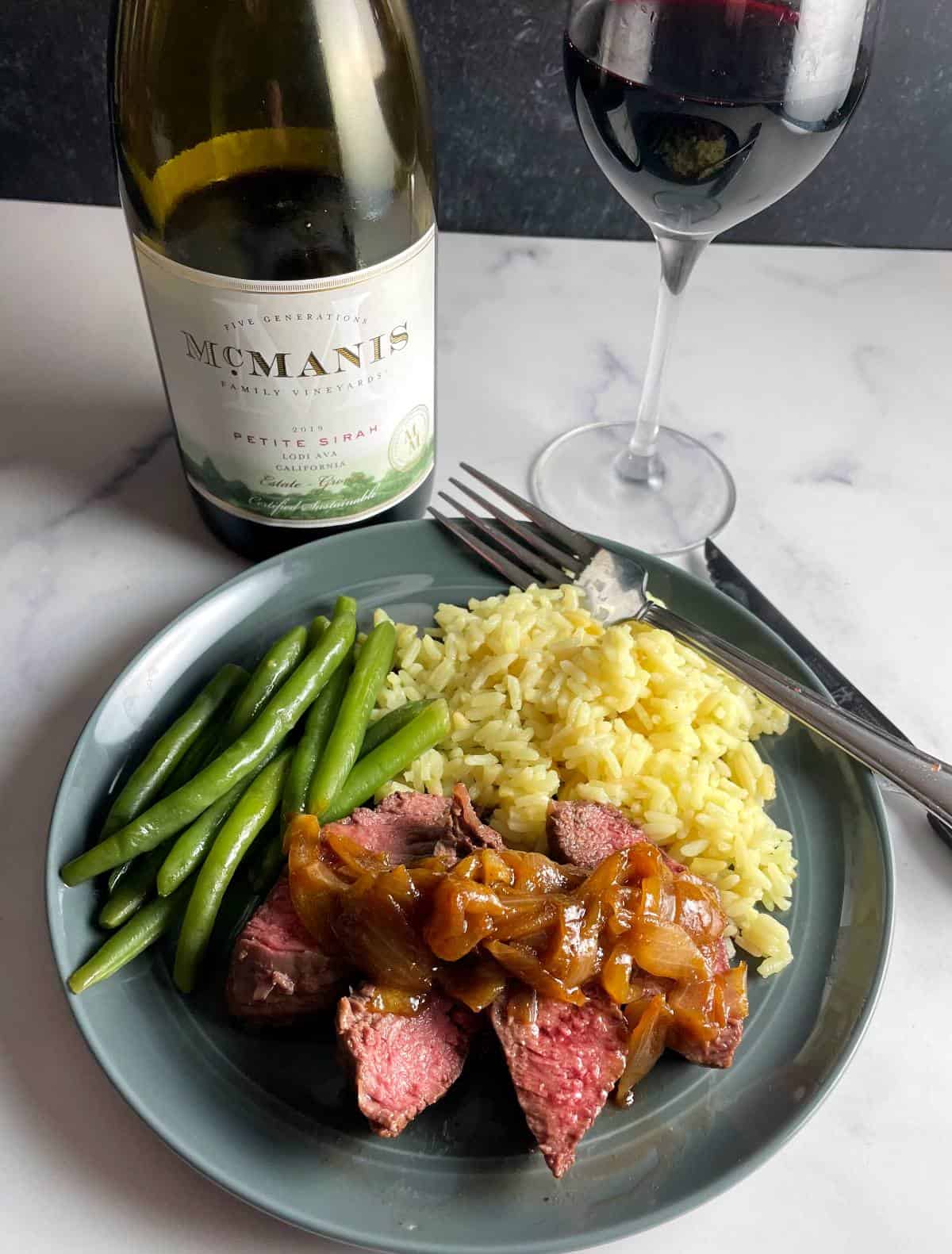 What is Petite Sirah?
Petite Sirah is a red wine grape variety with a rich and robust taste profile. This bold red wine can be paired with a range of flavorful foods. Petite Sirah is not a smaller or younger version of Syrah, but rather a distinct grape variety with a different genetic makeup.
The Petite Sirah grape is a cross between Syrah and Peloursin, a nearly extinct red French wine grape. This cross was created by a French botanist named Francois Durif in the 19th century, leading to the grape we are focusing on today.
Petite Sirah is much less common than Syrah — I got a taste for that when perusing the small selection of Petite Sirah at the shop for this article. This grape is most commonly produced in California. According to Wine Enthusiast, in 2021 Petite Sirah was the sixth most planted red wine grape in California, at 11,000 acres.
While Petite Sirah is popular as a single grape varietal in California, it is more likely to be used as a blending grape elsewhere. Petite Sirah brings color and tannic structure to a blend.
Petite Sirah vs. Syrah
As noted above, Petite Sirah and Syrah are two distinct grape varieties that share a common ancestry but have different characteristics. Syrah, also known as Shiraz in some parts of the world such as Australia, is a red grape variety that is originally from the Rhône Valley in France.
Syrah is known for producing full-bodied, aromatic wines with flavors of black pepper, blackberry, and black cherry. Done well, Syrah can be an elegant wine and excellent paired with a variety of meat dishes, rich stews and more.
Syrah is grown in many wine regions around the world, including France, Australia, California, and Washington State. We have become big fans of some of those Washington Syrahs! For example, L'Ecole No. 41 has some great Syrah, which we enjoyed paired with our Slow Cooker Irish Lamb Stew.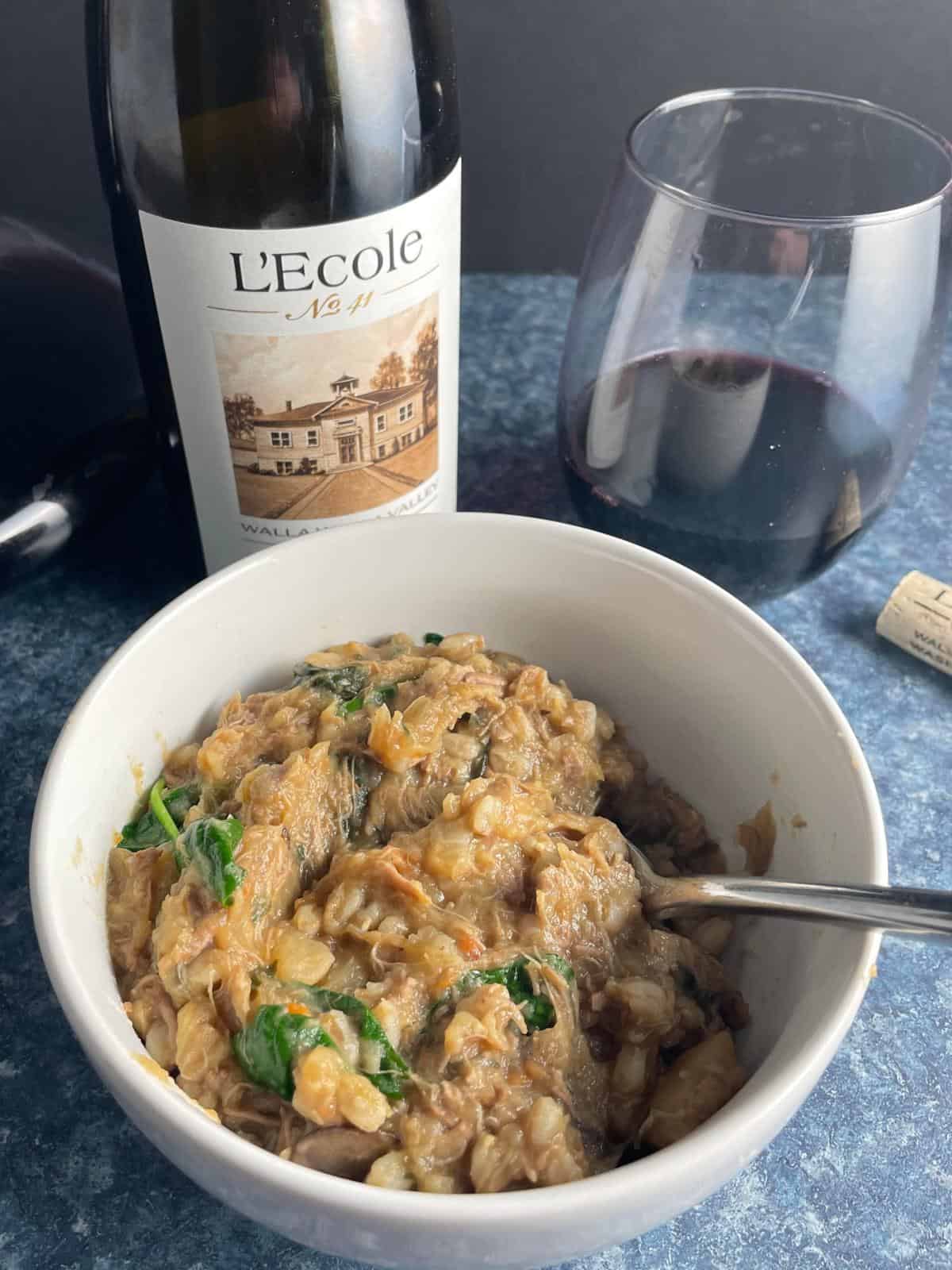 Syrah can be made as a single varietal or blended with other grapes, such as Grenache and Mourvèdre, to create a GSM (Grenache, Syrah, Mourvèdre) blend.
In contrast, Petite Sirah is a grape variety that is believed to be a cross between Syrah and Peloursin. It is known for its dark color, high tannins and acidity, which contribute to its bold and robust flavor profile. Petite Sirah wines have flavors of blackberry, blueberry, and dark chocolate, and are often used as a blending grape to add depth and structure to other varietals. While both Petite Sirah and Syrah are full-bodied red wines, Petite Sirah tends to be more rustic and less refined than Syrah. Additionally, Petite Sirah is less widely grown than Syrah.
Our featured Petite Sirah
There was a fairly limited selection of Petite Sirah at the shop. There seemed to be a handful of inexpensive bottles, around $10, then a jump to a few options in the $30 to $40 range. I figured I could try two of the less expensive ones for this article, and potentially circle back to try one of the higher end ones later…a bottle from Ridge was definitely tempting.
We picked up the 2019 McManis Petite Sirah ($11, 13.5% ABV) and the Cloud Break Petite Sirah ($10).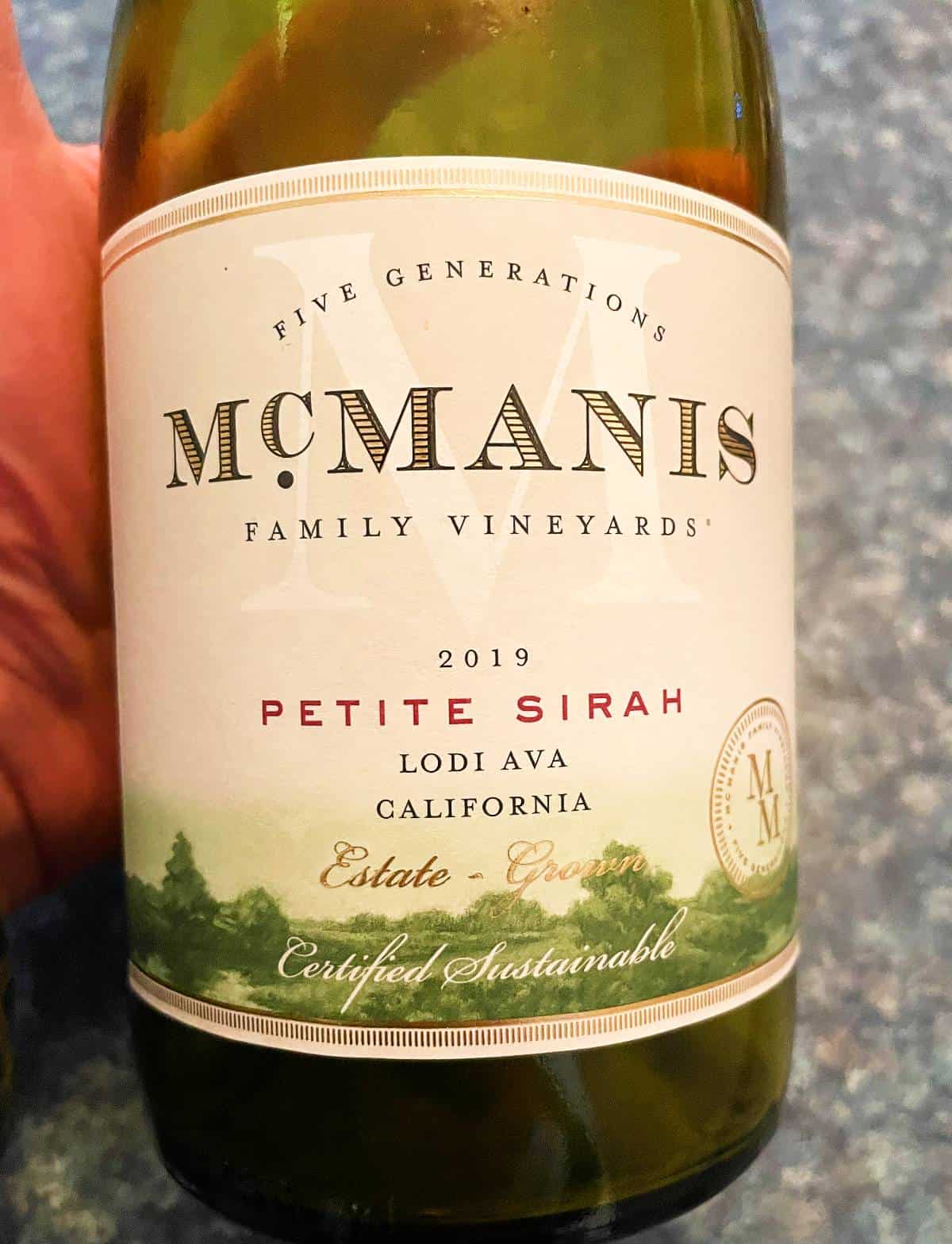 I really didn't like the Cloud Break, and decided to just focus on the McManis. I noted the price I paid for the 2019, the 2020 McManis Petite Sirah is listed at $16 on Vivino.
The McManis website just has information on the 2020 Petite Sirah, and indicates that the majority of the grapes in this wine are estate grown from Lodi. I assume the 2019 is similar, as the label indicates the wine is from the Lodi AVA. It also carries the "Certified Sustainable" label.
McManis Petite Sirah tasting notes: Bright floral notes of violet on the nose. Pretty bing cherry fruit, a bit of licorice and notes of pine and mocha.
I enjoyed the Petite Sirah upon opening, but it also was still very good the second night after simply closing it back up with the screw cap. The tannins had softened a bit but it still had plenty of structure and flavor.
Pairings we've tested
So with with the big flavors of Petite Sirah, you want to pair the wine with hearty and flavorful foods. While meat is the first thing that comes to mind, there are some other options. In my research for this article, I did find the suggestion to try spicy dishes as well as rich meaty ones, something I wouldn't have thought to try.
Let's cover our pairings next. I had planned to add in some Petite Sirah pairings I've featured here in the past; but realized we haven't previously included any here on Cooking Chat. So these pairings are all ones we tested for the March 2023 Wine Pairing Weekend event.
Roasted sirloin steak
So the main course we prepped for this Petite Sirah pairings article was our Oven Roasted Sirloin Steak with an onion sauce. When I first made this sirloin steak recipe, I paired it with a Cabernet Sauvignon based blend.
The McManis Petite Sirah turned out to be an excellent pairing for the sirloin steak. In addition to Petite Sirah being a good match for meat, it did do well with the spice notes in the onion sauce (we add a bit of chili powder to the sauce).
Broccolini Pasta
You might first think of a white wine to pair with a veggie centric dish like this broccolini pasta recipe. But recalling the versatility of Petite Sirah I've been learning about, I also tried the dish with the 2017 Tierra Petite Sirah from Halcon Vineyards.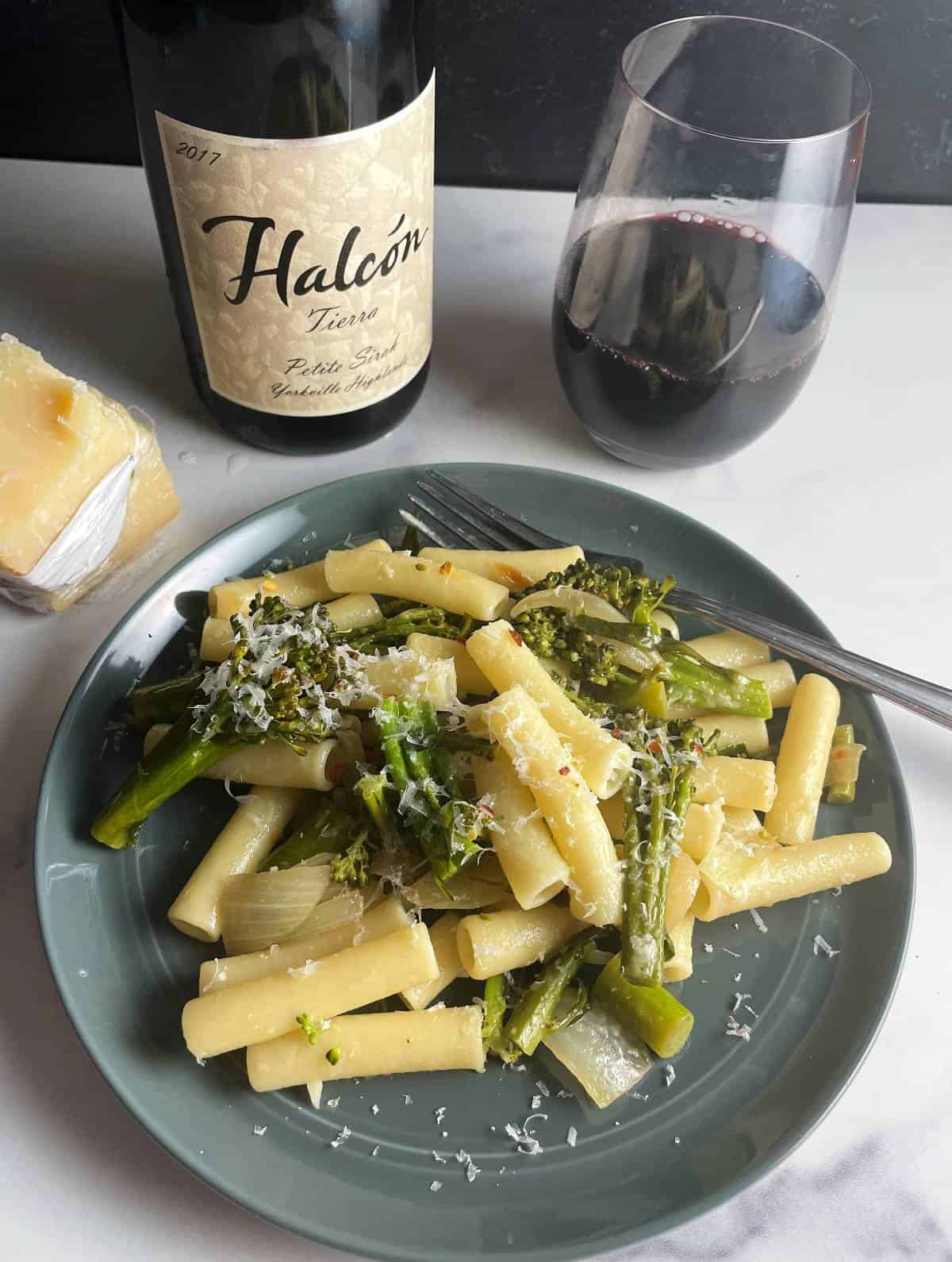 Perhaps it is just because this particular Petite Sirah is very high quality, but it definitely was a winning pairing! In fact, I would say I preferred it over the sparkling rosé we also tried with the broccolini pasta.
Aged Cheese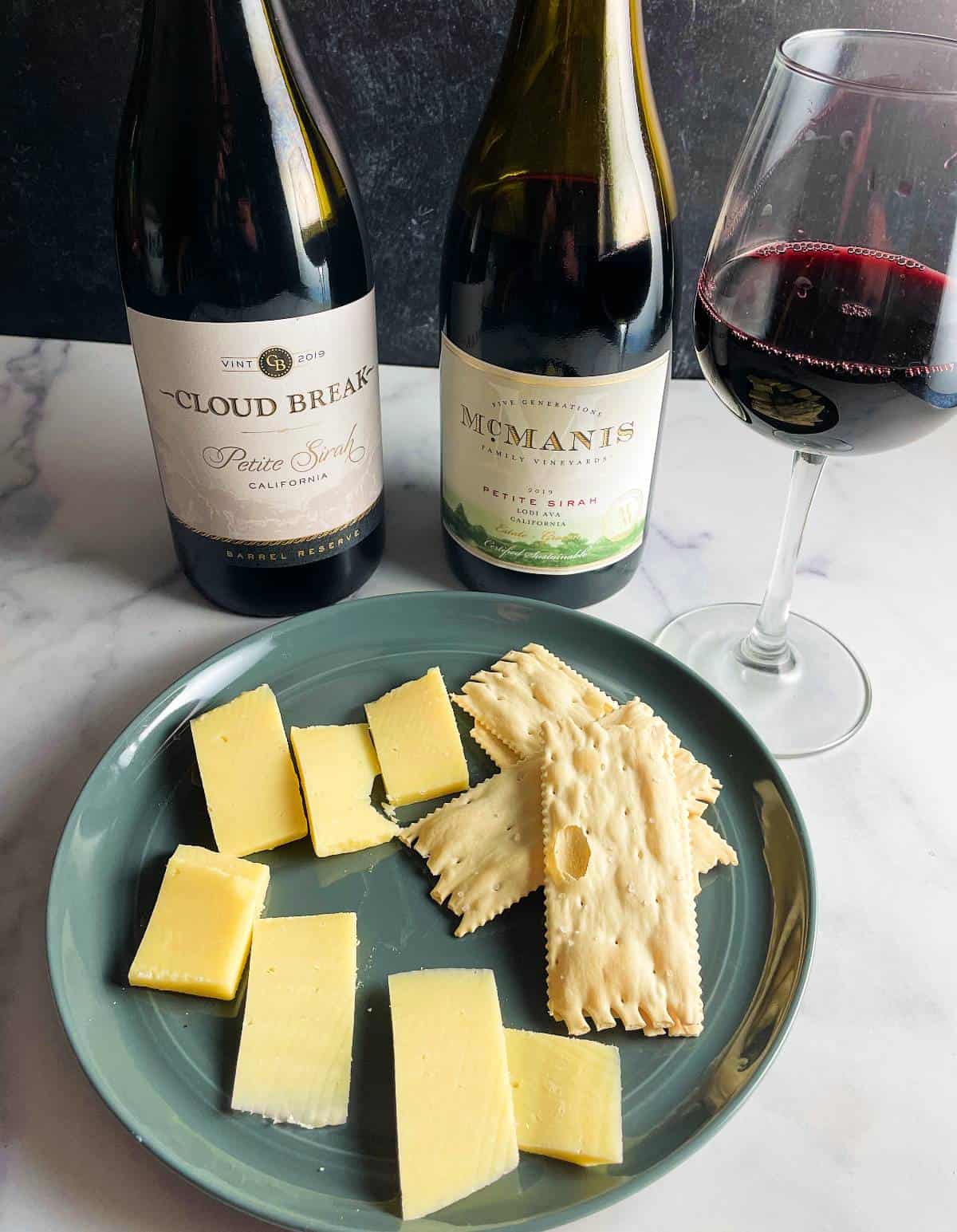 I noted the suggestion Petite Sirah can pair well with aged cheeses. When I opened the McManis Petite Sirah, we had some basic cheddar on hand. This cheddar with Petite Sirah was OK, but not great.
After rating the pairing with cheddar mediocre, I grabbed some aged gouda to test.
This time I opened a bottle of 2019 Shannon Ridge Petite Sirah from Lake County, California. The wine has a subtle woodsy note on the nose. The taste is fruit forward, with cherry and moderate tannins. Another solid PS choice.
Something about the rich, nutty flavors of the aged gouda made it really work well with the wine. So my recommendation is to pair aged gouda with Petite Sirah. Other aged cheeses are likely to work well, too.
Brie pairing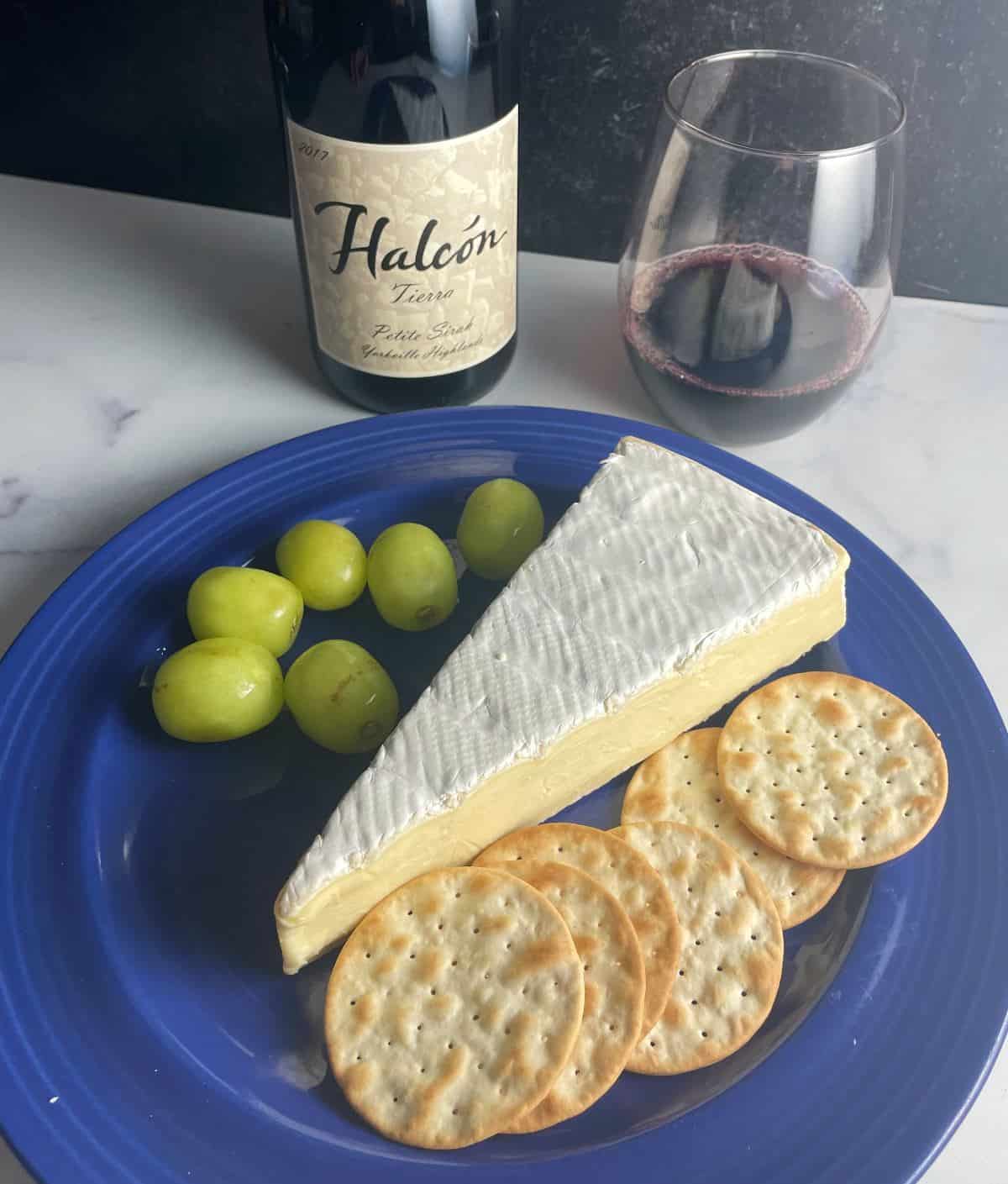 The Halcon Petite Sirah mentioned earlier also turned out to be a pretty good wine pairing for brie. We tested the PS along with a rosé for the brie, and definitely preferred the Petite Sirah. That is in keeping with the idea that the Petite Sirah goes well with more flavorful cheeses.
I still might say that a Chardonnay is my favorite pairing for Brie, but a good quality Petite Sirah can be an option based on our experience.
Indian food / curry
When it comes to pairing wine with Indian food, I typically think in terms of white wine. I have occasionally gone for a red wine, having had decent results pairing an Indian beef dish with a Carmenere.
Having read the notes that Petite Sirah can work with some spice, and seeing Martin from ENOFYLZ paired PS with a richly flavored Filipino dish, I decided to give the Shannon Ridge Petite Sirah a try with some home cooked curry.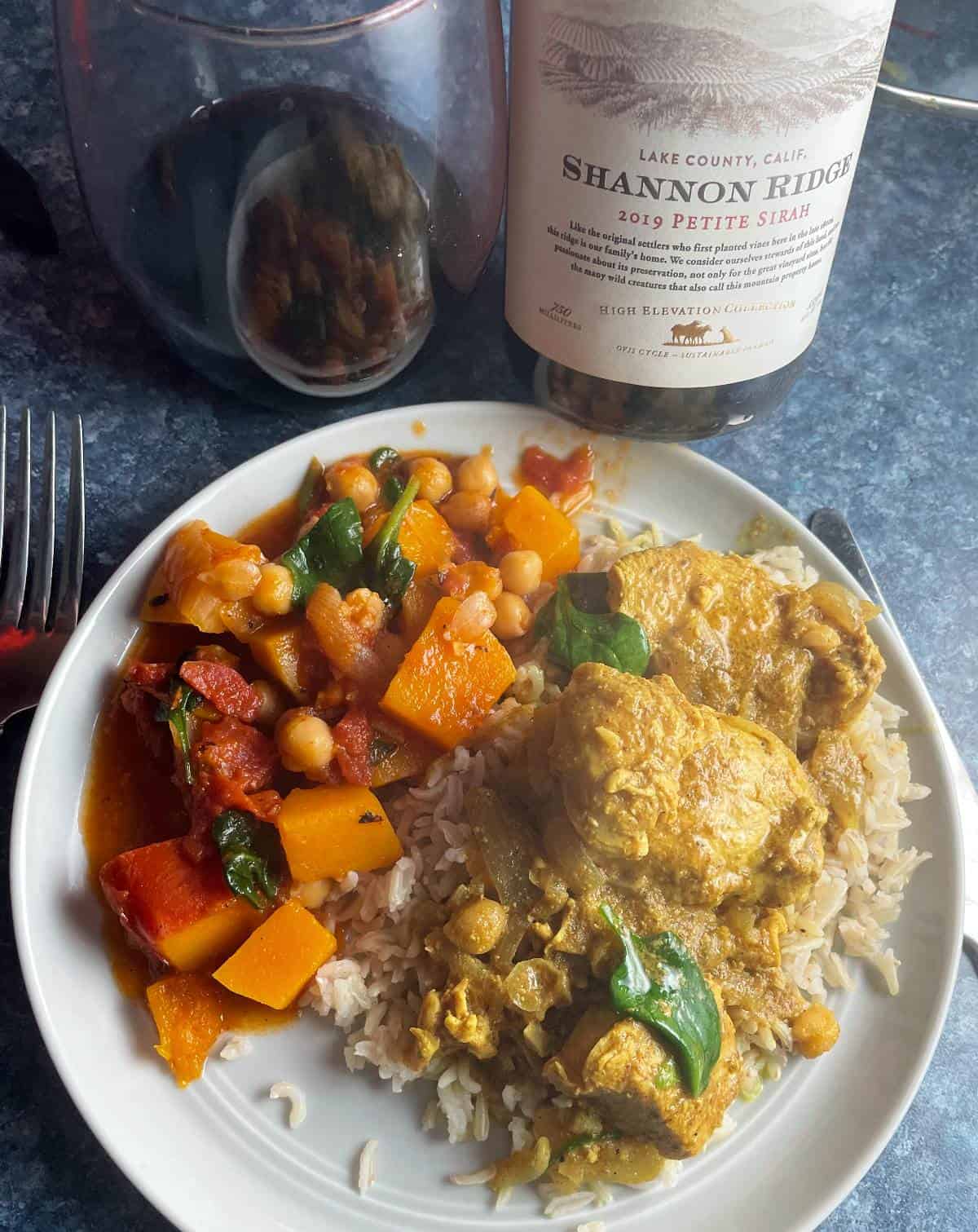 I cooked up a batch of our Indian Butter Chicken, along with some Butternut Squash and Chickpea Curry. The butternut curry is more of a Thai flavored dish, with red chili paste.
I was pleasantly surprised to see that the fruit forward Petite Sirah worked nicely with the richly flavored curry dishes! I would note that both of those recipes are roughly medium spice. Not sure how well the PS would do with a very spicy curry, but it would be worth trying!
Grilled pork chops
We picked up a half case of the 2019 Guenoc California Petite Sirah for a good deal from Bin Ends Wine – I'm including the link as the $8/bottle when ordering a half case still seems available as of this writing, if you are in the Boston area. It's been a nice, versatile Petite Sirah to have on hand, and give us a chance for more experimentation with Petite Sirah pairings.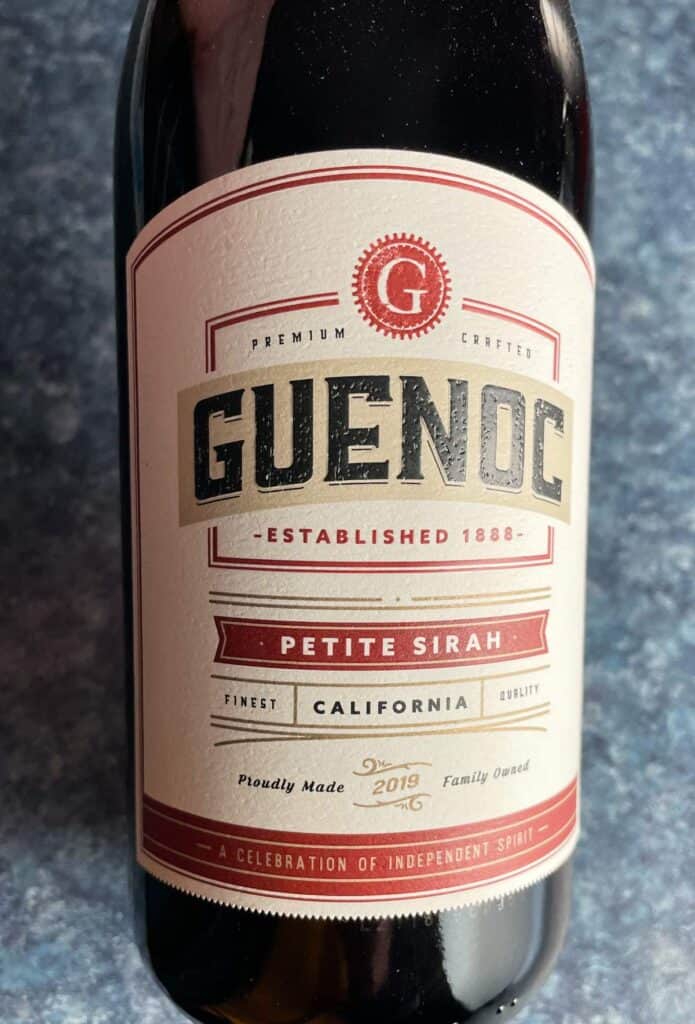 We had some nice grilling weather in the late summer. I found myself grilling simple meals several times per week during that stretch.
One evening, I grilled pork chops with what has become my go-to rub for pork of late…a Honey Chipotle Rub from The Branch Olive Oil. They are a local Massachusetts company with a few stores, but they do appear to ship nationally. So I did include a link if try it.
The Guenoc Petite Sirah is a light, fruit-forward Petite Sirah, and it complemented the honey chipotle pork chops nicely!
Chocolate
OK, I have to say, I am not usually someone who likes dry red wine with chocolate. I've tried a number of pairings, but usually find the sweetness of the chocolate spoils the taste of the wine for me.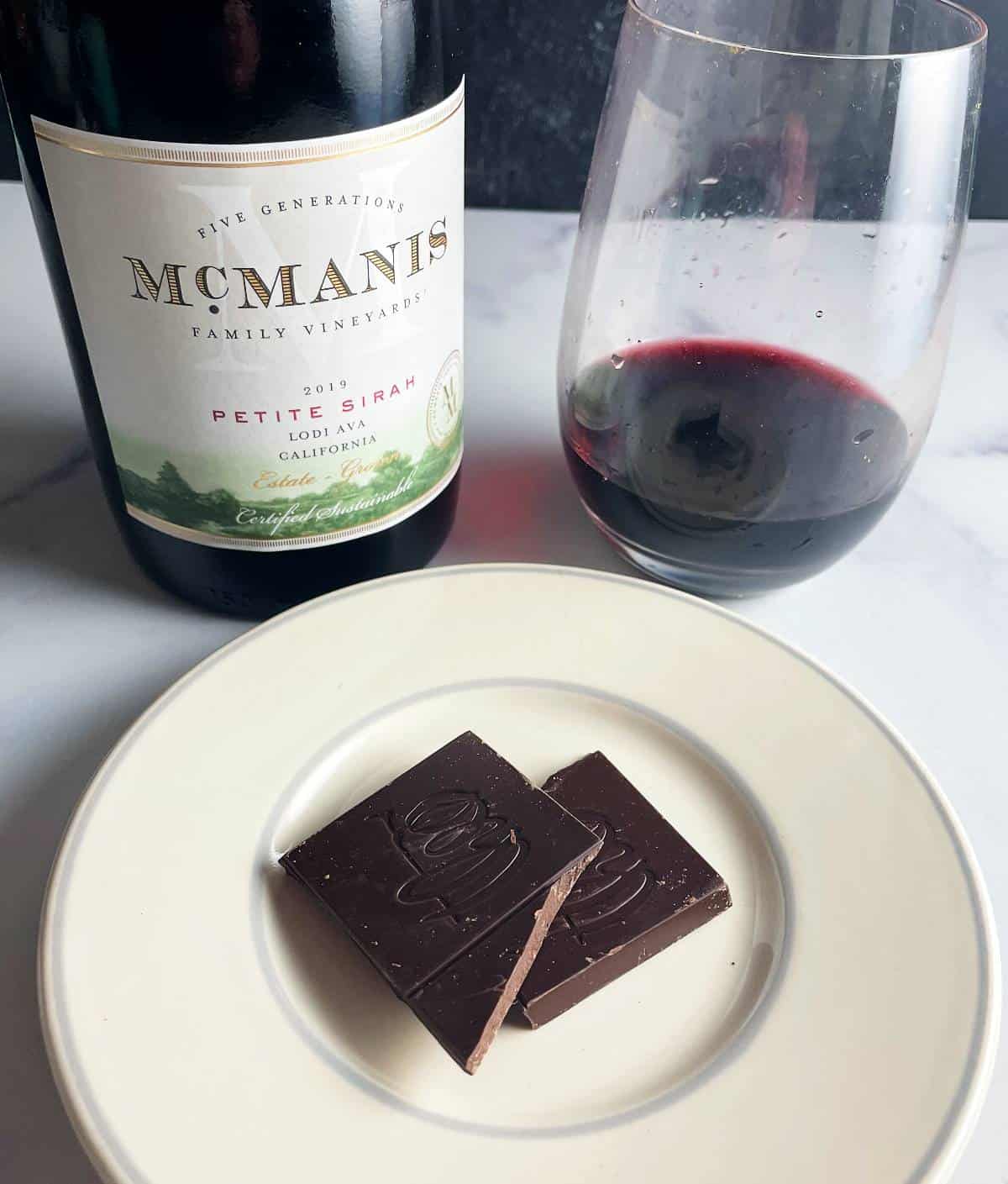 But in the interest of research, I did try the McManis Petite Sirah with some dark chocolate. I was pleasantly surprised! The prominent fruit in the wine had a touch of sweetness, and there are also som chocolate notes in the wine. So I was very content to sip the wine along with a piece of chocolate. There was some sea salt in the chocolate, which I suspect might have somehow helped enhance the pairing.
Adzuki bean veggie burger
OK, so the Petite Sirah paired very well with sirloin steak…how about a veggie burger?
I had planned a Meatless Monday meal following our steak the night before. I like the Hilary's Southwest Adzuki Bean Veggie Burger, which has some flavorful spices.
If I'm opening a wine specifically for the Hilary's veggie burger, I gravitate toward a rosé. But I'd say the McManis Petite Sirah worked pretty well. As I mentioned earlier, the tannins had softened, which helped make for a good pairing. And the Petite Sirah can handle some spice notes, too.
More Petite Sirah pairings
For more Petite Sirah pairing ideas, check out these pairings from my fellow Wine Pairing Weekend writers: