The New York Finger Lakes wine region has over 100 wineries producing high quality wines. We had a chance to enjoy pairing a selection of Rieslings and rosés from the region for today's Wine Pairing Weekend event. Disclosure: wines in this article were sent as complimentary samples through our partnership with the Finger Lakes Wine Alliance.
As much as I enjoy sampling wines from far flung countries such as Israel and Georgia, as we have for recent events, I'm happy to focus on a region closer to home this month!
In fact, on the day this article is being published, we will be passing fairly close by the Finger Lakes region on the first leg of an RV journey to visit family in the midwest. Alas, circumstances dictate that I will need to wait to stop in the region for a proper wine tasting visit!
With a modest number of wineries here in the Northeast, this Boston area blogger considers the Finger Lakes an almost local wine region!
Despite its almost local status, prior to this Wine Pairing Weekend event, I had only tried wines from a handful of the regions wineries. Back in 2018 we had been thinking about an excursion to visit, but decided it would be too rushed with the time we had available, so visit a Vermont winery.
All this lead up is to say I was quite pleased with the opportunity to focus on the Finger Lakes Wine Region! Thanks to Linda from My Full Wine Glass for hosting, and to the Finger Lakes Wine Alliance for helping us put this together.
For more background on the Finger Lakes wine region, visit Linda's invite post and the articles from my fellow #winePW members — links at end of article. I'm going to get right into my pairings!
Pairings with Finger Lakes Wines
Things have been quite busy at the day job for me during this stretch, including converting our biggest annual fundraising event to a virtual format this week.
So no new sour dough starter hobbies or exciting new recipes to report! I've been opening the Finger Lakes wines I received to pair with some of our go to recipes and quick meal solutions that don't come with a recipe — one even entails opening a package and putting in the oven for 10 minutes!
Keuka Spring Riesling with Indian Butter Chicken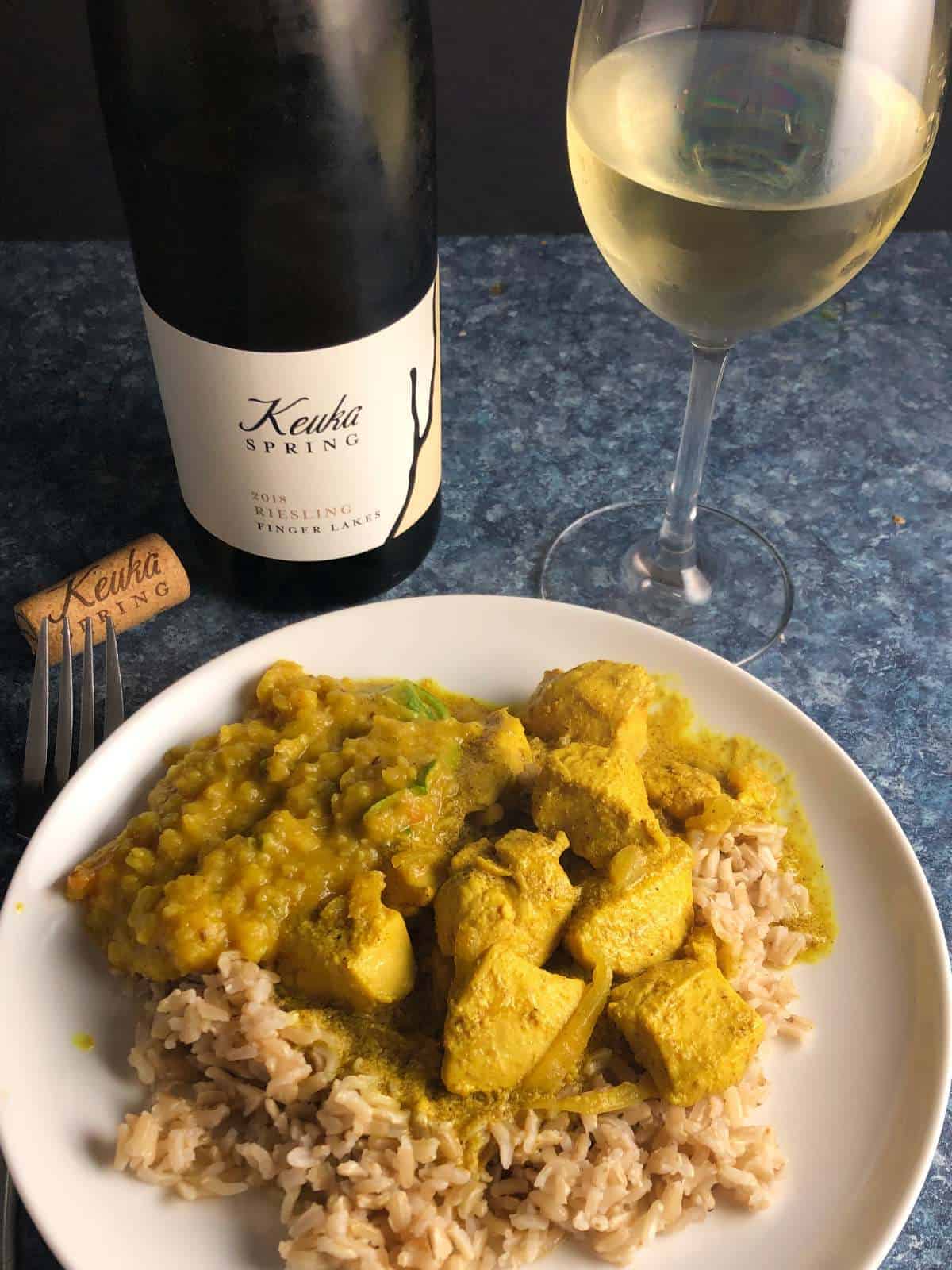 I thought about walking through the pairings in the order we had them; instead, I will lead off with my favorite pairing.
Indian Butter Chicken is definitely a go-to recipe in our house. All three of us love Indian food, so I had dabbled with a variety of recipes to find one that at least came close to approximating what we get at our favorite local Indian restaurant.
Our Indian Butter Chicken hit the sweet spot — or should I say, the just the right amount of spice spot. Enough flavor for the grownup palates, not too much for our teen who is gradually gaining appreciation for foods with more kick.
Riesling is a natural option for Indian food, so it was nature to try one of the Finger Lakes Rieslings with our favorite dish. Noting the label indicated the wine is "off dry", I decided to open the 2018 Keuka Springs Riesling ($17, 10.5% ABV) to go with the Indian chicken.
This Riesling is light pale yellow in the glass. Apricot on the palate, with a touch of honey (1.8% residual sugar). Long, pleasant finish. Well-balanced, with just the right touch of sweet to make it the perfect accompaniment to the Indian spices in our dish!
Sometimes we give pairings a letter grade, and of course an "A" is the highest grade. But wait, there is a higher grade one can give a pairing…
After seeing how well the Keuka Springs Riesling went with our Indian dish, and knowing how regularly we are putting that dish or something similar on the table, I said, "I need more of this Riesling!".
The day after our Riesling / Indian Butter Chicken pairing, I ordered a ½ case from Keuka Springs. I got three more bottles of the Riesling, along with a Chardonnay, Gewurztraminer and a Chard / Seyval blend. Keuka Springs has extended a free shipping offer for 6 or more bottles through the end of June, which I took advantage of when I ordered. More about the winery, including online ordering, can be found here.
Red Newt Cellars Riesling with Vichyssoise
The classic cold potato soup called vichyssoise might be slightly off the "everyday" theme. In fact, I hadn't made this in a few years!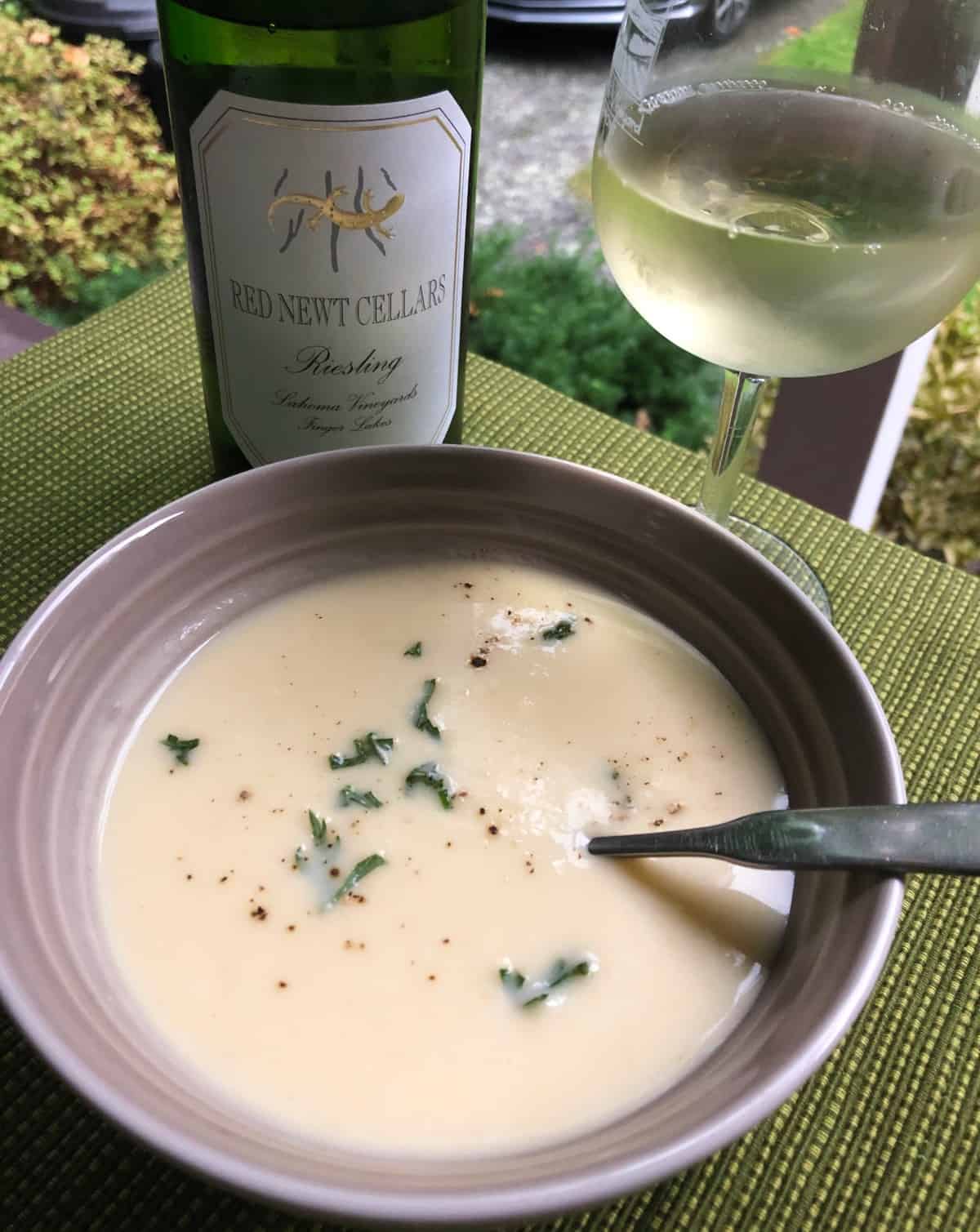 But when I did decide to make a batch of vichyssoise recently on a warm summer day, I queried the Wine Pairing Weekend Facebook group about what wine to pair with the cold potato soup.
When Riesling came back as a suggestion, I recalled I had a bottle of the 2013 Lahoma Vineyards Riesling from Red Newt Cellars (8.9% ABV, 3.9% RS). Although labelled as being fairly far along the "sweet" continuum, this well-balanced wine is very food friendly!
I definitely recommend this Riesling or something similar with vichyssoise. I followed this vichyssoise recipe with a few tweaks.
Keuka Springs Dry Rosé with Mushroom Pizza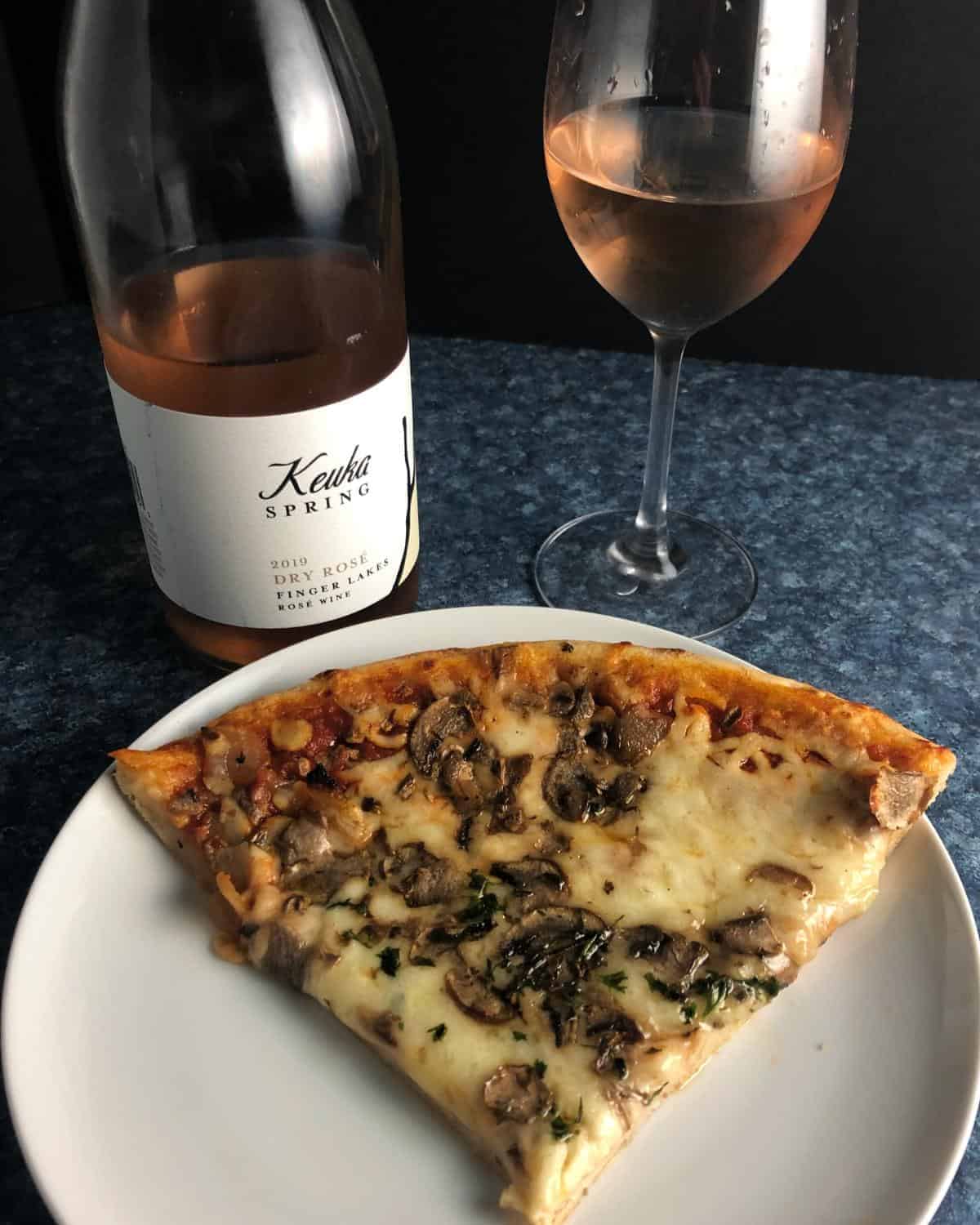 OK, this is my take it out of the box and put in the oven meal! Yes, I do occasionally make a meal out of some frozen pizza and a salad. Most likely to roll this way on a Friday, ending a busy week. this past week definitely qualified!
I find the American Flatbread frozen pizzas to be quite tasty, especial the Revolution mushroom pizza. That's what we had for this Finger Lakes pairing.
My first instinct is to open an Italian red wine with pizza. For a pizza with a lot of tomato sauce, this is still my typical choice.
But the mushroom pizza we had is mostly cheese and mushrooms. I've found a fairly robust rosé can work nicely with this kind of pizza especially on a warm evening. So I decided it would be a good night open the 2019 Keuka Springs Dry Rosé ($17, 12% ABV).
The Keuka Springs rosé is very light pink in the glass. Delicate floral nose. Lively flavors on the palate belie the wine's light color. Strawberry fruit with notes of salinity.
The fresh taste of this rosé cleanses the palate well after the cheesy pizza. And that salinity I mentioned matched up well with the salty aspect of the cheese. Another delicious Finger Lakes Wine pairing!
Choices from Red Newt and Buttonwood Grove with Veggie Burgers
Veggie burgers have been a regular part of the meal rotation this spring. So that means a lot of opportunities to test wine pairings!
The 2017 Red Newt Cellars Circle Riesling ($15, 10.5% ABV, 3.1% RS) was the most recent arrival from the Finger Lakes, and was also the only one from this event that I had tried previously. Light straw and classic petrol on the nose. Pear fruit and honey on the palate with a bit of green apple. A classic Riesling!
I was getting close our date to publish this article, so I figured I'd give the Red Newt Riesling a shot with veggie burgers. We've been gravitating toward the Hilary's Southwest Adzuki Bean Burgers, which have a nice little spicy kick from green chilis. I have mine with cheese, ketchup and a pickle — so there's a lot going on, making it tricky for wine pairing.
I've mostly gone with rosés and red wines with the veggie burgers, perhaps influenced by red wine being the natural choice for a beef burger. But the body and slight touch of sweetness in the Red Newt Riesling made it a good pairing for the veggie burger, and I will think more about Riesling and other whites moving forward.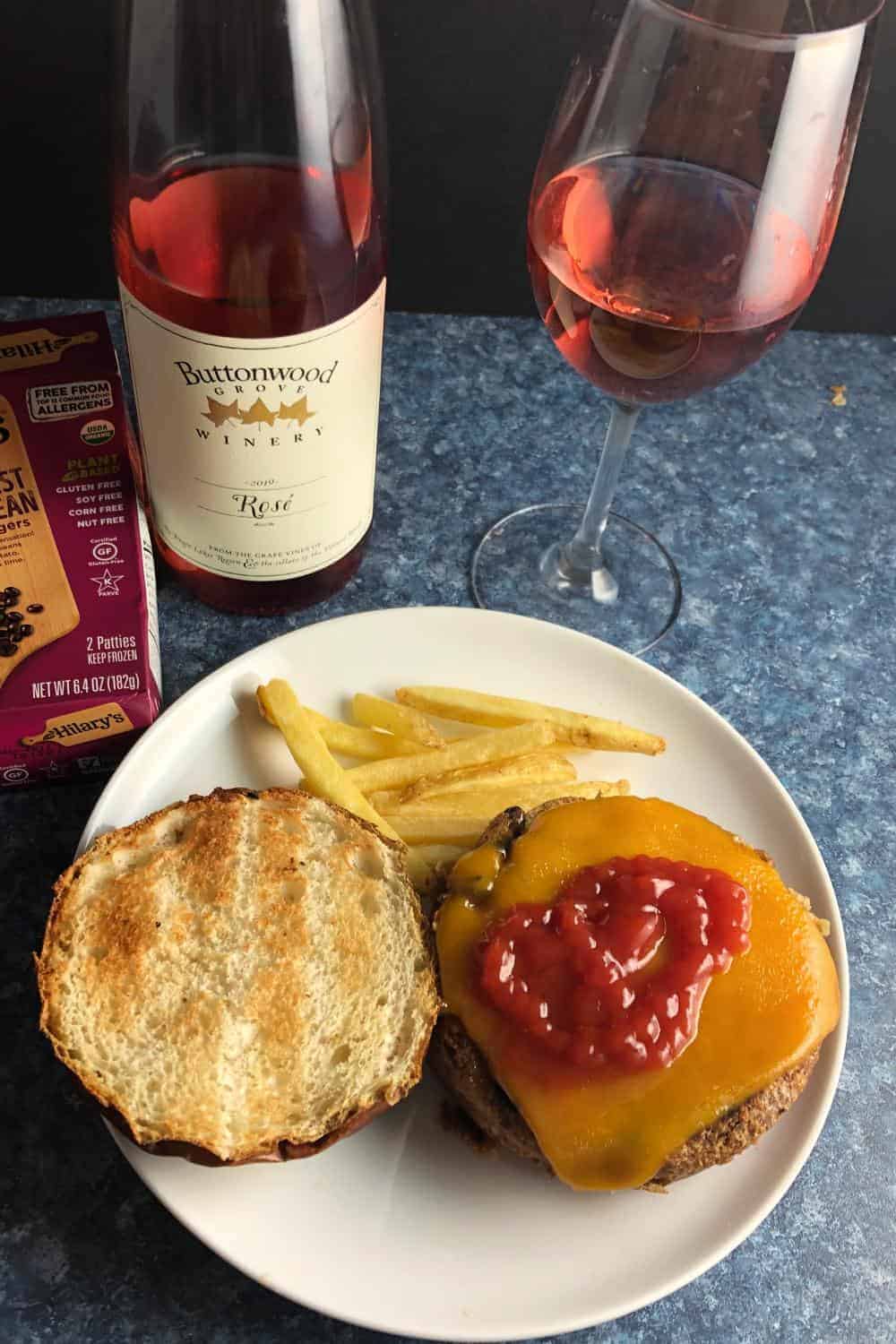 The 2019 Buttonwood Grove Rosé ($16, 12.6% ABV, 0.4% RS) was the first Finger Lakes wine that I opened as part of this fun exploration of the region. This rosé is made from Cabernet Franc. Buttonwood Grove Winery is located on the western shore of Cayuga Lake, producing small batch wines on a family farm, owned since 2014 by Dave and Melissa Pittard.
I wasn't convinced that it would be a perfect pairing for the veggie burgers, but they sent two bottles of the rosé so I figured at the very least I'd get a feel for the wine and be able to come up with another pairing for the other bottle.
The Buttonwood rosé is light salmon pink in the glass. Floral nose, scent of roses. On the palate, melon and a touch of salinity.
Although the wine was fairly light bodied sipping on its own, this rosé has enough substance and nuance to go with a wide range of flavors on the veggie burger plate. I gave the pairing a B/B+. I can where the Buttonwood pairing suggestion of "light appetizers and fresh green salads" would work well. I am thinking perhaps a grilled chicken salad with some fruit involved might be the thing to do with the other bottle I have waiting!
Wagner Dry Rosé for Taco Night
We had two bottles of the 2019 Wagner Vineyards Dry Rosé of Cabernet Franc (12.2% ABV) to try. I thought perhaps versatility of the Cab Franc grape could make this an option for a pasta with meat sauce dish — it was OK, but there was definitely room for improvement on the pairing front!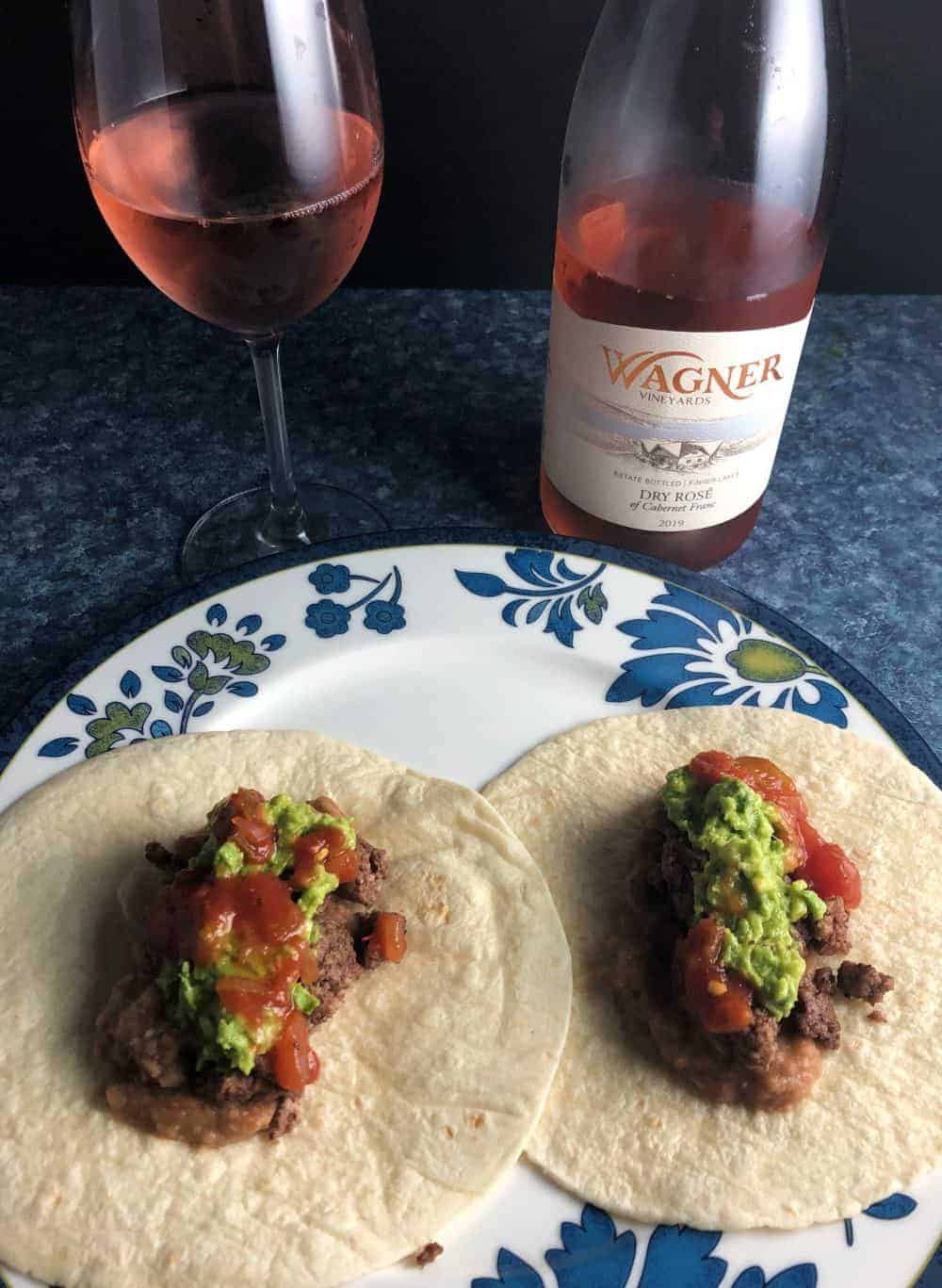 This Wagner rosé is made from estate grown fruit. A got a bit of bubblegum on the nose, along with floral aspects. Melon fruit on the palate and notes of slate. Somewhat bolder than the Buttonwood rosé.
After the first pairing, I was thinking this Wagner rosé would be great with grilled swordfish, or maybe some garlicky buttered popcorn. But alas, our grill of many years wouldn't fire up this spring, and we haven't replaced it yet; so we needed to try something else for the rosé.
Pasta with Red Lentils Paired with Lakewood Dry Riesling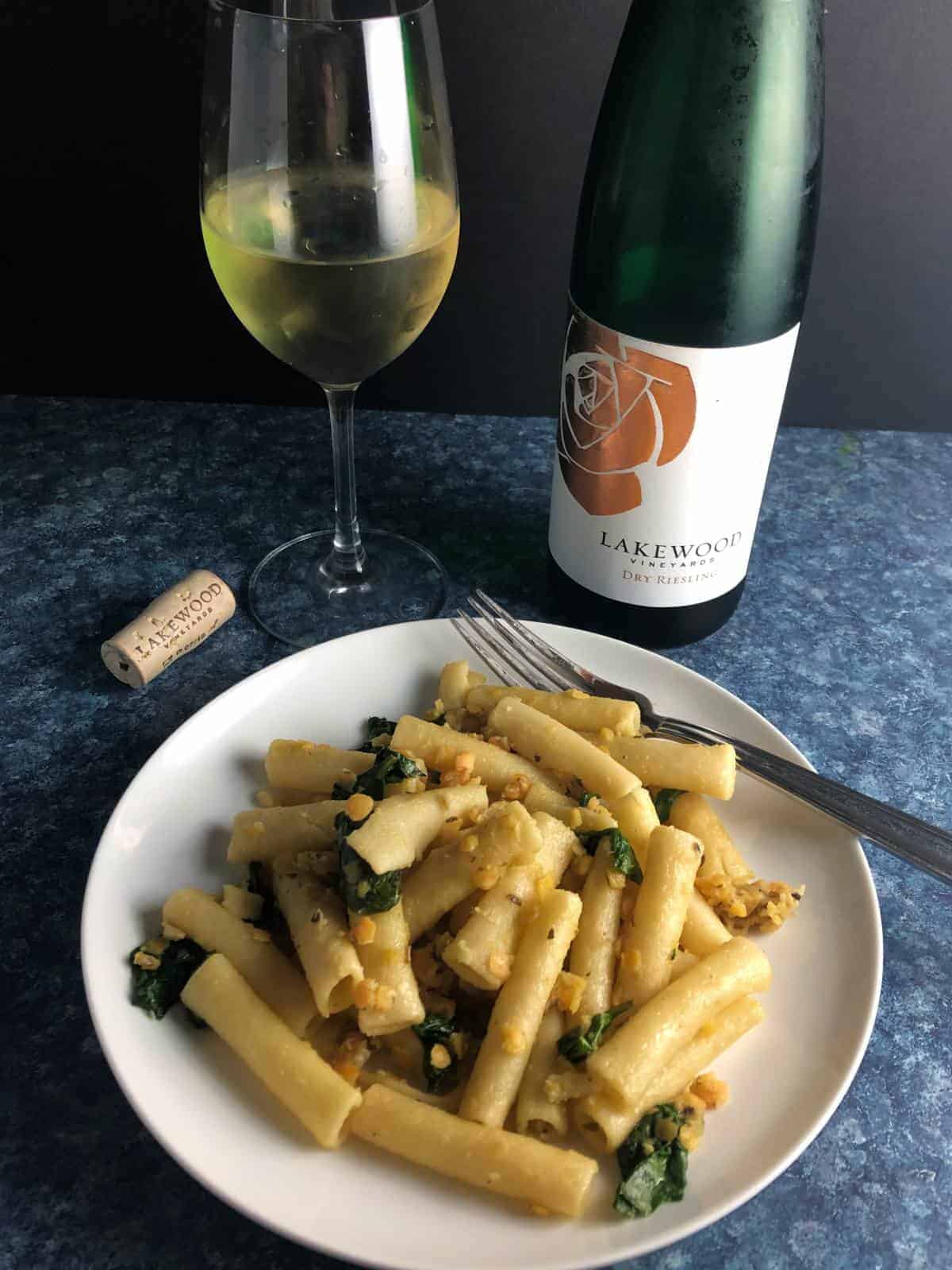 I will wrap for now with one more great pairing. Pasta with Red Lentils and Ginger is one of my go to, healthy and easy midweek vegetarian pasta dishes. I've enjoyed it with a range of white wines, and I correctly suspected it would go well with a good Finger Lakes Riesling.
The 2018 Lakewood Vineyards Dry Riesling (10.8% ABV) has honeysuckle on the nose and green apple on the palate, with mineral undertones. Another excellent representation of the dry Riesling style from the Finger Lakes, and it was a very good pairing for our pasta!
More Finger Lakes Wine Pairing Articles
Take a look below at all the great ideas our Wine Pairing Weekend group have for your Finger Lakes Adventures! If you'd like to know more, join our chat on Twitter Saturday June 13 from 11 am-noon EDT. Just look us up at #WinePW.