A delicious, savory Indian Butter Chicken recipe with flavorful but not overwhelming spices. We make our Indian Butter Chicken without using dairy, and it comes out great. This has become a new regular in on our table, so we have tested some wine pairings, too.
Jump to:
What makes this recipe work
Our whole family loves Indian food! But it's been hard to find a dish I can make at home that can rival what we get at our favorite local Indian restaurant.
This Indian Butter Chicken recipe approaches the enthusiastic feedback the plates of chicken curry get at the restaurant. The dish has quickly become a regular in our meal rotation, so it is about time I shared it with you here!
Our version of Indian Butter Chicken is full of delicious spice and savory butter taste. The spice level is moderate enough to be enjoyed by our son who goes for "mild" at the Indian restaurant.
We often serve this Indian Butter Chicken with our Roasted Cauliflower with Garam Masala. Makes for a nice way to round out a homemade Indian meal!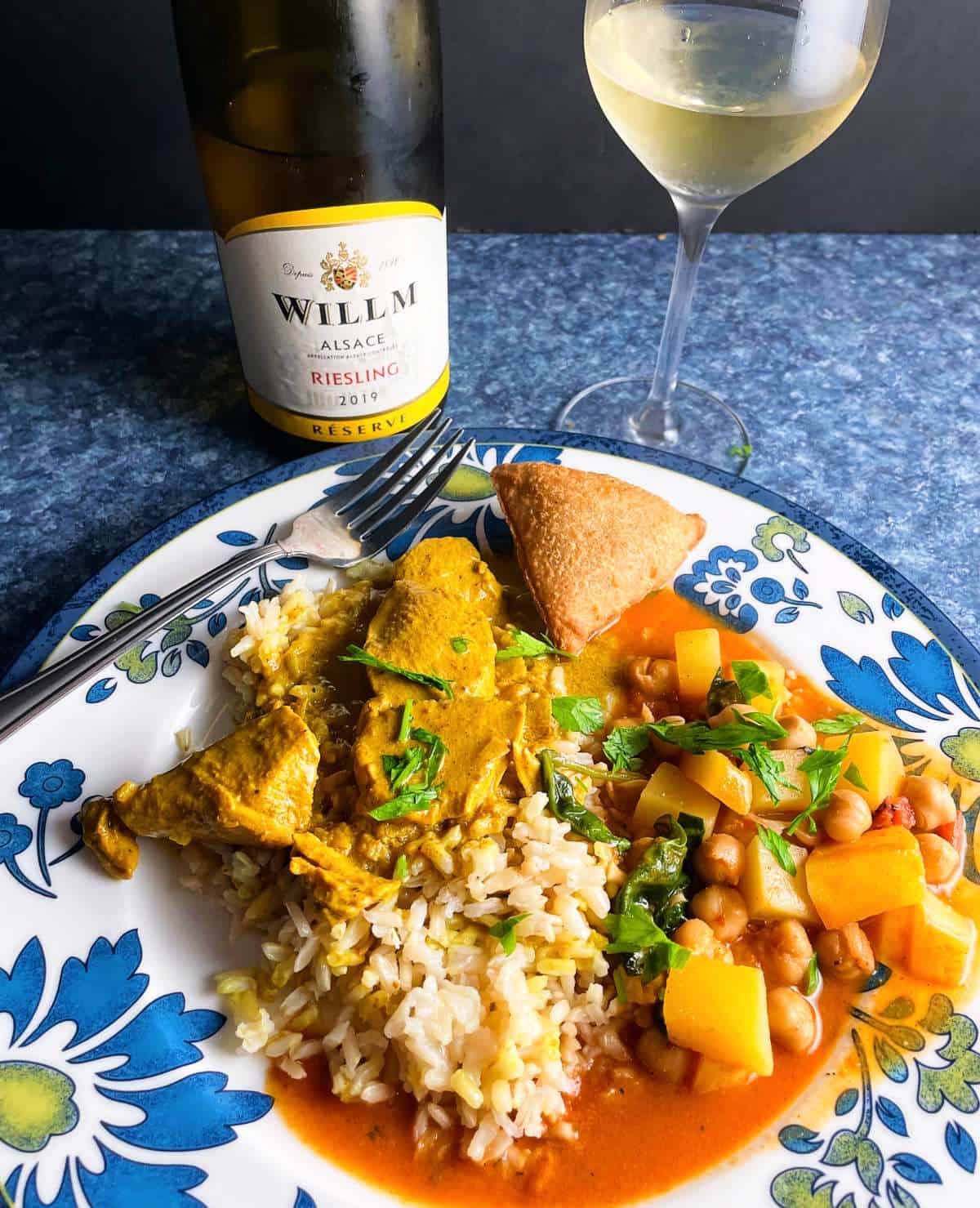 We also regularly enjoy this butter chicken with our Butternut Squash Chickpea Curry shown above!
Making this recipe without dairy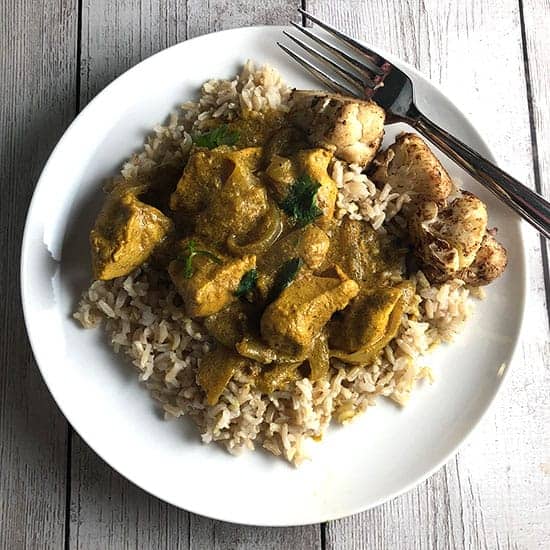 Needless to say, butter is an important ingredient for Indian butter chicken. But our son can't eat dairy, so we had some adapting to do.
First, we found a good recipe to use as a starting point. We looked at several, and wound up finding this recipe from Averie Cooks to be the launching point for our cooking project. To make it dairy free:
Butter substitute: I really like the Earth Balance Buttery Spread as an alternative to dairy butter. I have found it works fine in most dishes that call for butter, and it definitely works well here. I have used a bit less of the butter than Averie calls for.
Nondairy cream: The butter chicken sauce gets thickened with cream. We use coconut milk creamer with good results. We also have used the Silk Dairy Free Soy Creamer. You can try other nondairy options and see how it goes.
Of course, if you prefer to make this butter chicken with the dairy version, just use the same quantities given.
We scaled back the spice a bit from the quantities Averie gives. Our version has plenty of flavor though not high on the heat scale. You could certainly increase the cumin and cayenne if you want it spicier.
White wine pairings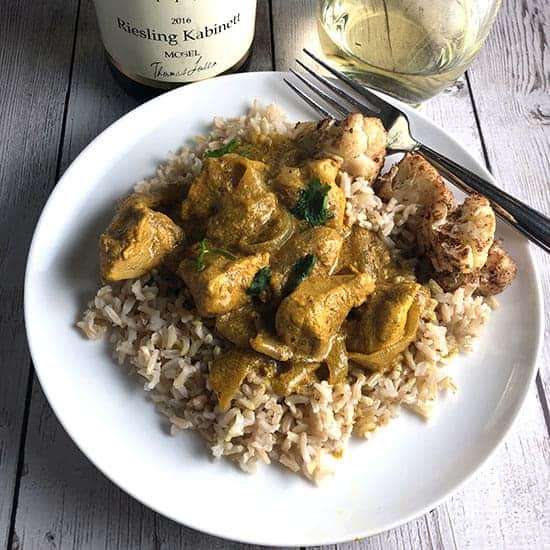 When a meal becomes a regular in our rotation, I have a nice chance to test out a variety of wine pairings. To be of service to my readers, of course!
The first night I made this Indian Butter Chicken, I opened a bottle of Westport Rivers Rkatsiteli. This is a nice crisp white wine, made right here in Massachusetts–read more about Westport Rivers here. However, the butter chicken has enough heat to it that I thought a wine with a bit of residual sugar would make a better pairing.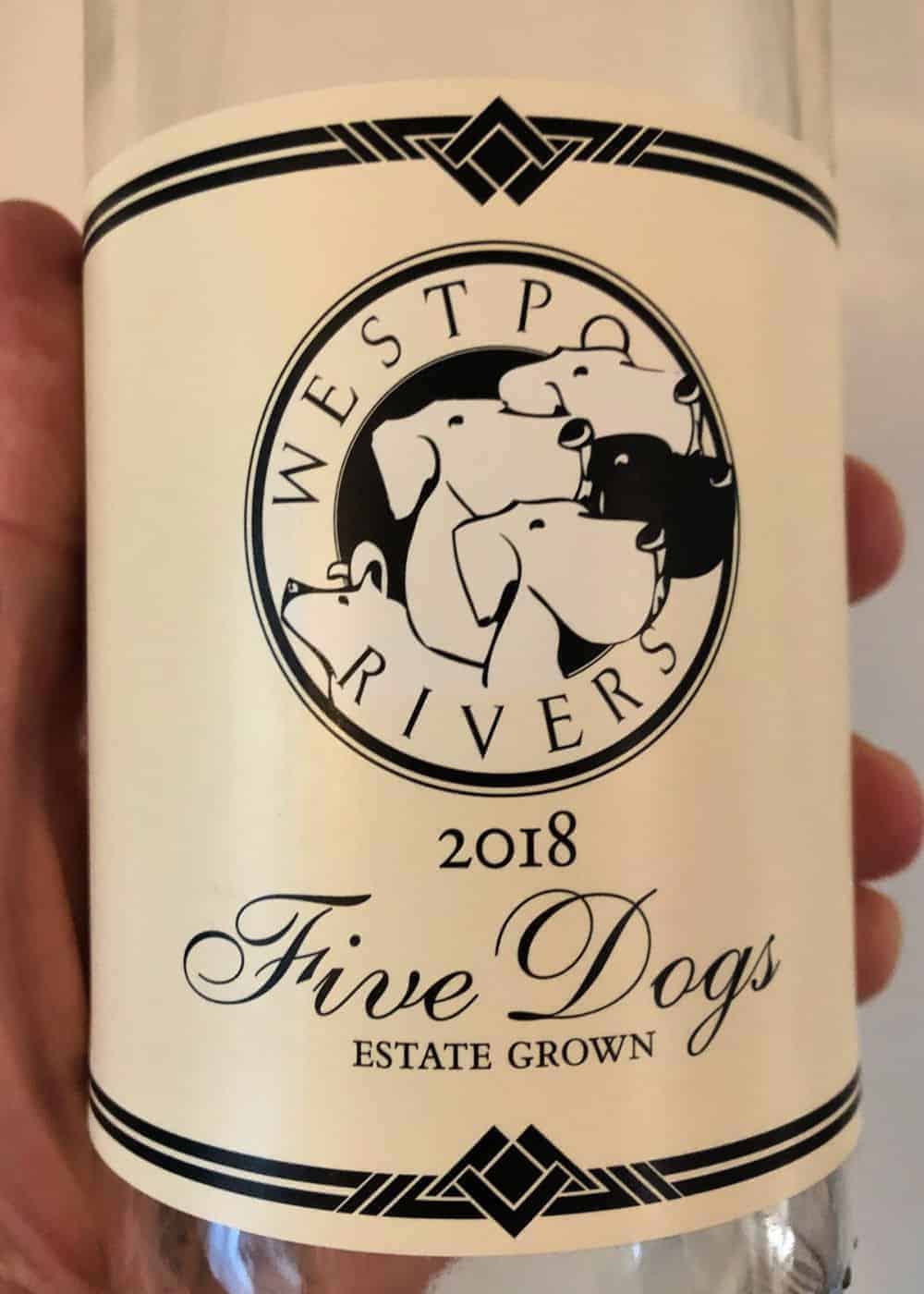 Westport Rivers does has an option that I have now paired with this recipe, with better results. The 2018 Westport Rivers Five Dogs does have a bit of residual sugar (1.4%) that sets up a good pairing. The Five Dogs is an interesting blend of Chardonnay, Geisenheim 318, Rkatsiteli, Pinot Gris, and Schönberger. A few familiar grapes along with some new ones!
The night we took the photos of the dish we opened the 2016 Thomas Losen Riesling Kabinett ($12). This is a fairly dry Riesling, and worked pretty well with the Indian Butter Chicken. The 2015 Pierre Sparr Grande Réserve Riesling ($15, 12.5% ABV) is another good wine pairing option we've tried with our Butter Chicken.
More recently, I've found a new favorite pairing for this Indian recipe.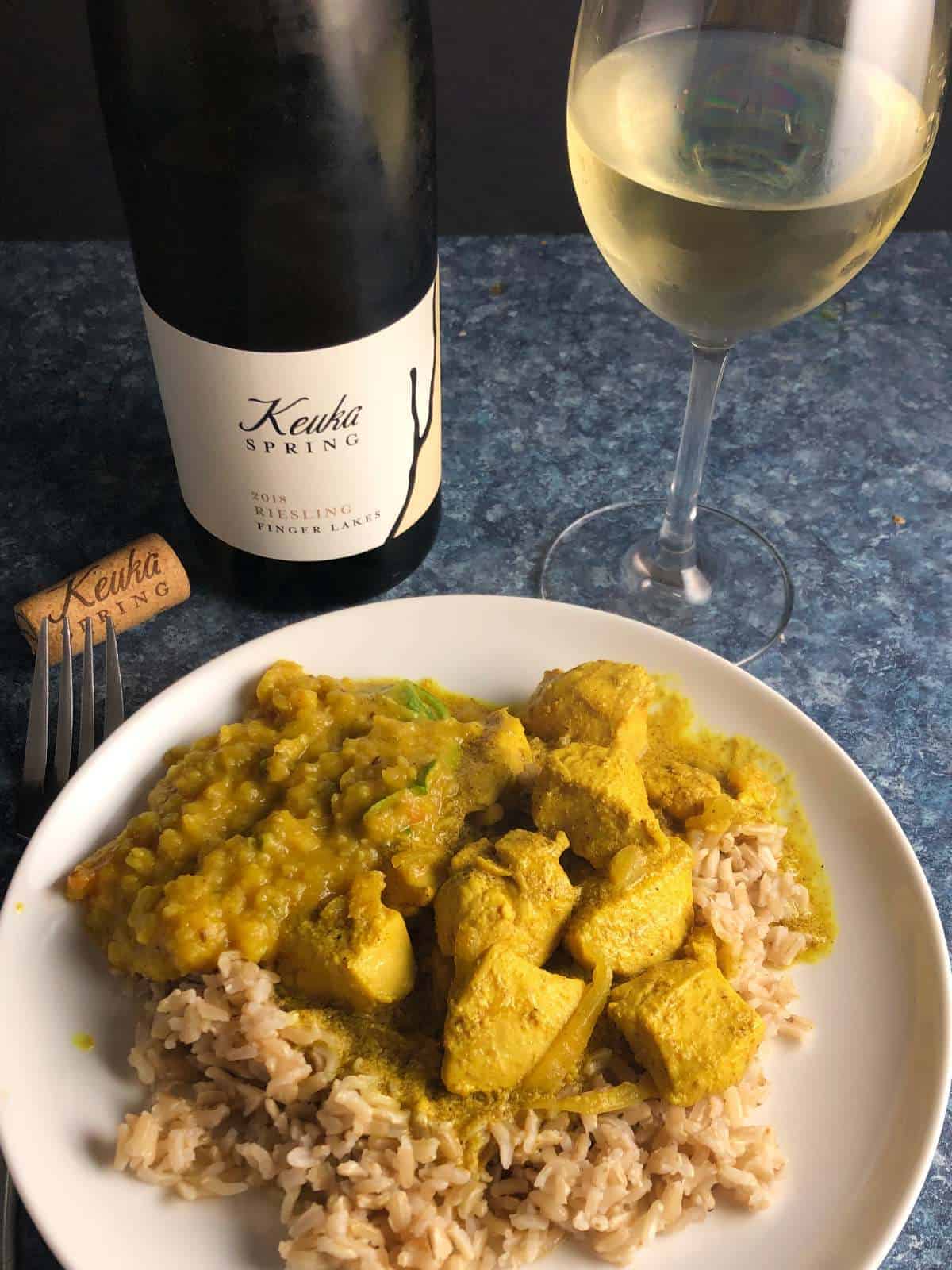 As part of an event exploring Finger Lakes wines, we opened the 2018 Keuka Springs Riesling ($17, 10.5% ABV). This Riesling has apricot on the palate, with a touch of honey (1.8% residual sugar). Long, pleasant finish. Well-balanced, with just the right touch of sweet to make it the perfect accompaniment to the Indian spices in our dish!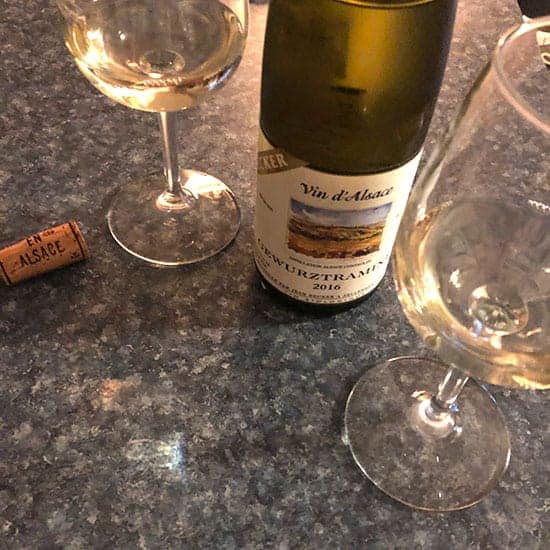 The winning pairing so far would have to be the 2016 Becker Gewurtztraminer ($22, 13.5% ABV). This Gewurtztraminer from Alsace has hibiscus on the nose, pear fruit and a touch of honey and spice on the palate. Nice long finish. Refreshes after a bite of the Indian chicken. Yum!
Red wine pairing options
Occasionally I like to try red wine with Indian food.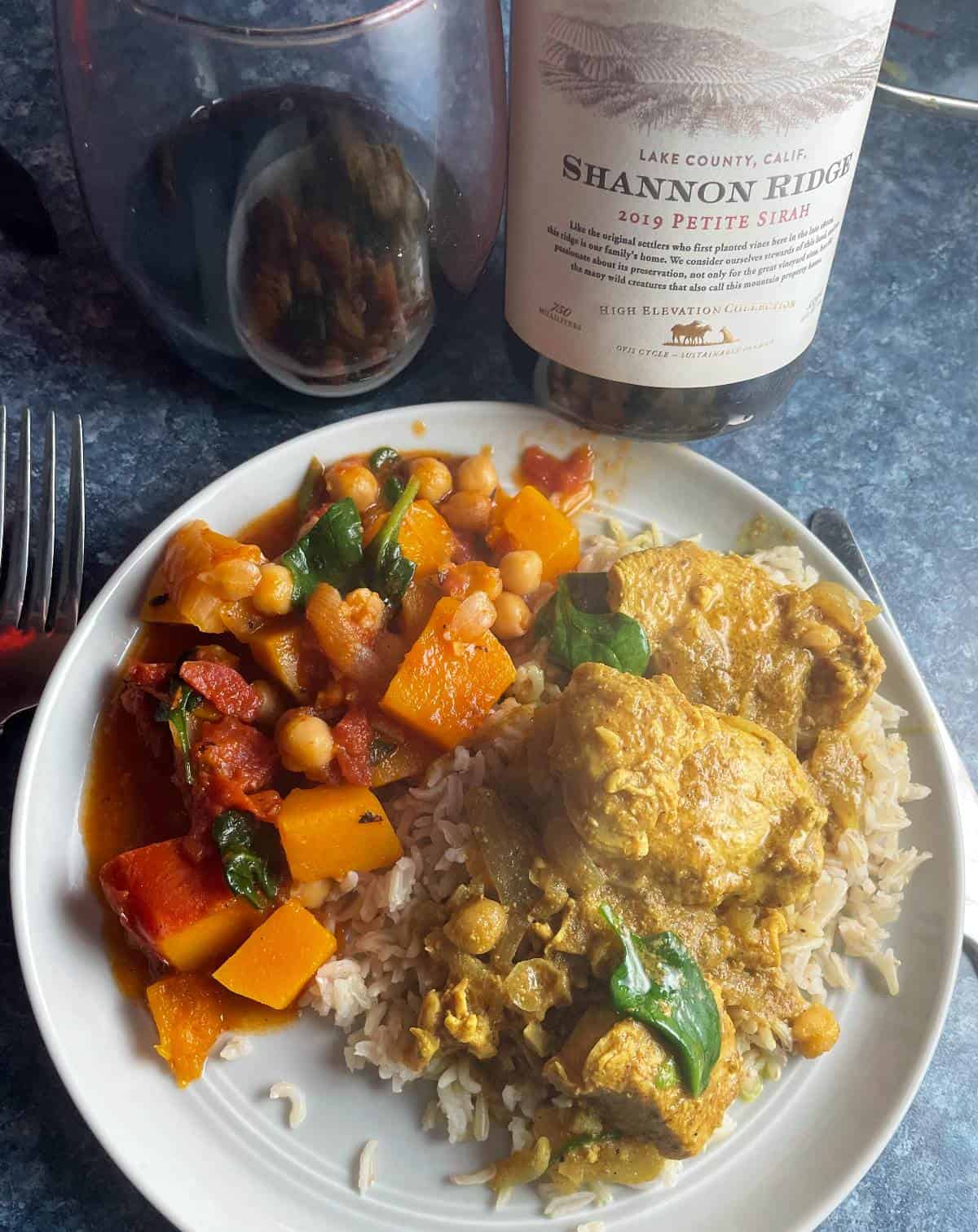 I've been experimenting with Petite Sirah pairings lately. In the process, I came across a suggestion that Petite Sirah wines can do pretty well with spicy foods. I decided to lean into that and try it with our butter chicken!
I opened the 2019 Shannon Ridge Petite Sirah ($13, 13.9% ABV) from Lake County, California. The wine has light woodsy notes on the nose. Cherry fruit on the palate and moderate tannins. This fruit forward red wine definitely worked nice with the chicken as well as the butternut squash curry we served alongside it.
Another night I opened a bottle of the 2014 Cru Vineyard Montage ($20, 14.5%) from the Santa Lucia Highlands, California, to go with the Indian butter chicken.
The light, fruit forward style of the Pinot worked pretty well with the chicken. If you are in the mood for red wine with this dish, I would recommend a similar style Pinot Noir.
Print
Recipe card
Indian Butter Chicken with Dairy Free Option
Chicken simmered in butter and a delicious blend of Indian spices makes a delicious meal. We made our Indian Butter Chicken without dairy, and provide you with that option. You can use regular dairy butter if you like.
Author: Cooking Chat
Prep Time:

10 mins

Cook Time:

30 mins

Total Time:

40 mins

Yield:

4

servings

1

x
Category:

main

Method:

stove top

Cuisine:

Indian
9 tbsp

"butter" — we use Earth Balance Buttery Spread (nondairy)

1

large onion, thinly sliced

1 ½

lbs boneless skinless chicken breast, cut into bite size pieces — 3 good sized chicken breast fillets

4

cloves garlic, minced

2 tbsp

garam masala

2 tsp

cumin

2 tsp

turmeric
couple grinds black pepper

¼ tsp

salt

1 tsp

fresh ginger, minced, or

½ tsp

dried ginger
pinch cayenne pepper

½ cup

tomato sauce (optional)

1 cup

coconut milk creamer (we use SoDelicious) — or 1 cup heavy whipping cream if you prefer the dairy option.
Handful of chopped cilantro leaves for topping
Basmati rice for serving — we like to use brown basmati rice for more nutrition
Instructions
Melt 3 tablespoons of the butter in a large nonstick pan. Add the onion and cook on medium heat for 5 minutes until the onion begins to soften, stirring occasionally.
Add the chicken to the pan. Cook until it begins to turn white on one side, then stir and cook until it is mostly white on the outside, about 10 minutes total.
Stir in the garlic, and cook until it starts to get fragrant, about 1 minute. Add the spices — garam masala, cumin, turmeric and cayenne pepper. Stir to combine, then add the ginger, black pepper and salt.
Add the remaining butter, and stir to combine. When the butter has melted, stir in the cream. Simmer on medium low for about 15 minutes, stirring occasionally.
Serve the chicken with the sauce over basmati rice, and garnish with a few bits of cilantro. Enjoy!
Notes
We prepare this as a dairy free recipe, but feel free to substitute regular dairy butter here if you like.
The recipe creates enough sauce to increase the chicken quantity a bit. You could use closer to 2 lbs chicken without changing the rest of the recipe.
We have generally been skipping the tomato sauce. Using it doesn't change the flavor a lot but gives the dish more of a reddish color.
Keywords: butter chicken, dairy free butter chicken, Indian food, Indian butter chicken, butter chicken without dairy
Recipe Card powered by