On Saturday, October 5, the Italian Food, Wine and Travel blogging group will be exploring wine from Abruzzo. Read on for details, and please consider joining us for this fun and informative Abruzzo Wine event!
With beautiful mountains and coastal scenery plus great wine and food, Abruzzo is definitely an Italian region to visit!
If you're not able to hop on a plane for a visit to Abruzzo this fall, the next best thing is to join the Italian Food, Wine and Travel Group as we share about Abruzzo wine this Saturday.
I did have the chance to visit Abruzzo on a wine press trip last spring. It was wonderful! Visit my Exploring Abruzzo Wine article for a deep dive into all that I learned and tasted while visiting.
To quickly get up to speed on Abruzzo wine in advance of our event, check out the 9 Things To Know About Abruzzo Wine 9 Things To Know About Abruzzo Wine that accompany our event invitation.
Partners for the October #ItalianFWT Event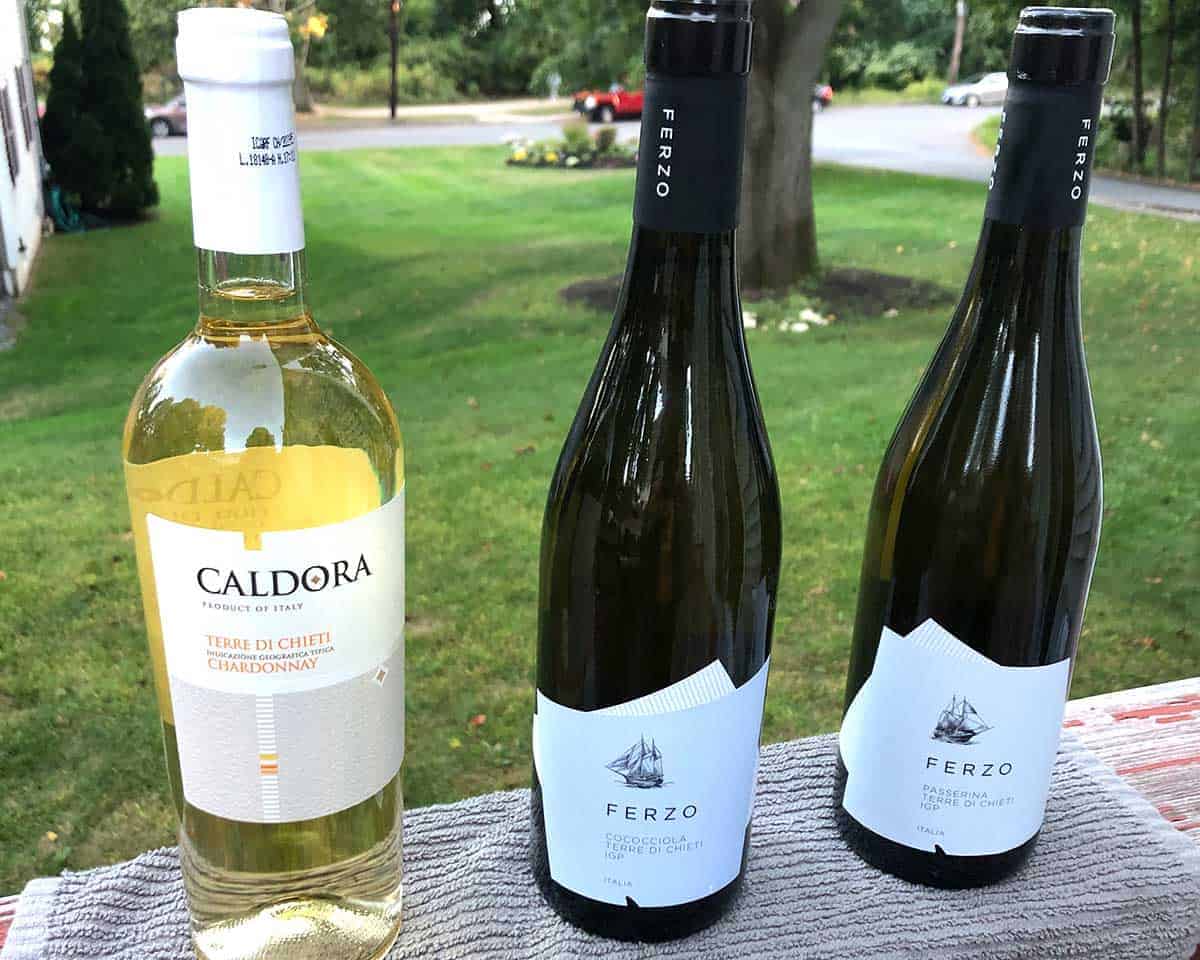 For some of our #ItalianFWT events, our blogging group is able to connect with producers and their representatives to partner on the chosen topic. This month, Gwendolyn Wine Predator connected with with Donna from Donna White PR to arrange for samples for some of the participating bloggers.
Those of us who enjoyed some of these samples say grazze mille to the Abruzzo wineries that sent along samples — Codice Citra, Ferzo Wines and Caldora.
Some of the #ItalianFWT group tracked down their own Abruzzo wines for this event, so you will see a nice variety of what Abruzzo has to offer.
Abruzzo Wine #ItalianFWT Article Preview
Below are the participants and their titles for the October #ItalianFWT Abruzzo event. The articles will be published by Saturday, October 5, 2019.
Steven from Wine and Food Pairings will discuss "Cioppino – Red or White Wine? #Italian FWT"
Wendy from A Day in the Life on the Farm will share about "The Food and Wines of Abruzzo"
Camilla from Culinary Adventures with Camilla will bring us "Scrippelle 'mbusse + Ferzo Passerina"
Deanna from Asian Test Kitchen will reveal "5 Iconic Abruzzo Wines to Try from Torre Zambra"
Jen from Vino Travels will share about "The Variety of Abruzzo Wines"
Gwendolyn from Wine Predator from tastes and shares "3 Montepulciano and 1 Trebbiano from d'Abruzzo #ItalianFWT"
Cindy from Grape Experiences from suggests the you "Immerse Yourself in Wines from Abruzzo for a Genuine Taste of Italy"
Pinny from Chinese Food and Wine Pairing is "Celebrating Abruzzo Wines with the Ferzo Passerina, Citra Montepulciano d'Abruzzo and Caldora Chardonnay".
Linda from My Full Wine Glass suggests "Abruzzo wines to pair with fresh fall produce (#ItalianFWT)"
Jeff foodwineclick brings us "Pairing Magic with Ferzo Pecorino and Squash Risotto"
Nicole from Somm's Table"Cooking to the Wine: Lammidia Anfora Rosso from Abruzzo & Post Roast with Tomatoes and Chickpeas"
David from Cooking Chat Cooking Chat, will share "Baked Haddock with Pasta and White Wine from Abruzzo".
Susannah from Avvinare will take "A Fresh Look at the Wines of Abruzzo"
Rupal from Syrah Queen will share "Exploring The Wine & Gastronomy of Abruzzo"
Katarina from Grapevine Adventures San Lorenzo Winery – Montepulciano d'Abruzzo between Sea and Mountain
If you would like to share an article for the event, just drop me an email with your name, article and your blog url. Email to davidbcrowley AT gmail.com.
Join the #ItalianFWT Abruzzo Twitter Chat
The live Twitter chat is always a highlight of these wine blogging events! Feel free to tune in whether you are sharing an article or not. It's a great way to learn more about wines from Abruzzo!
To join the chat, simply tune into the Twitter hashtag #ItalianFWT at 11 a.m. Eastern time on Saturday, October 5.