Today we share a simple recipe for Baked Haddock with Pasta, a tasty and healthy dish that is perfect for showing off the nuanced flavors of good white wine from Abruzzo! This pairing is our contribution to today's Italian Food, Wine and Travel focus on Abruzzo. Disclosure: The wines featured in the article were provided as complimentary samples.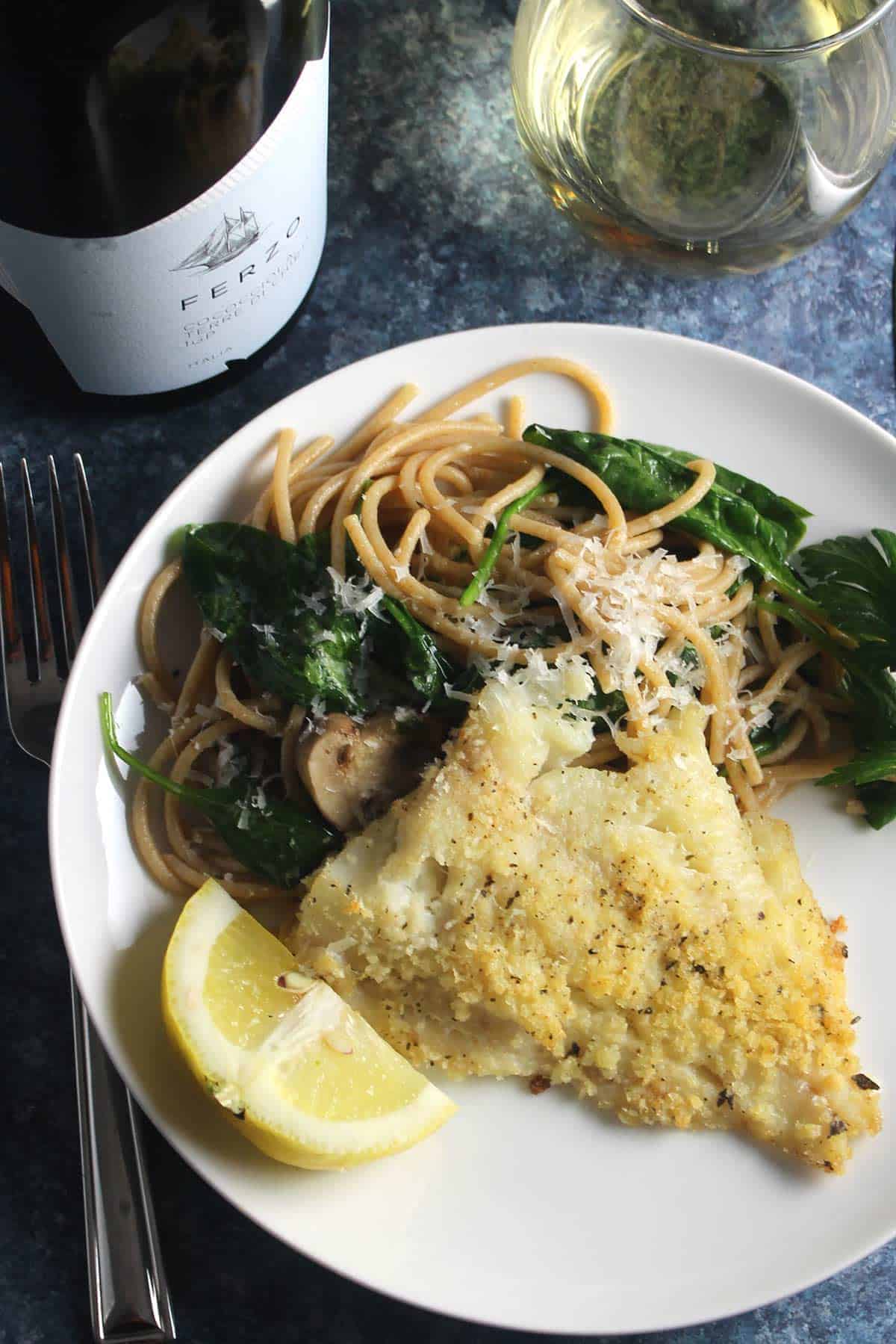 I am super excited to be hosting the October Italian Food, Wine & Travel event focused on wines from Abruzzo!
Ever since visiting visiting Abruzzo wineries on a press trip last year, I've been a big champion of wines from Abruzzo. The trip deepened my appreciation for Montepulciano d'Abruzzo, and opened up my eyes to some wonderful white wines made from grapes native to Abruzzo. And don't even get me started on Cerasualo, the full-bodied rosé made from Montepulciano.
When I opened my Abruzzo samples for this event and saw two white wines (later joined by a third), I immediately knew I'd be preparing a seafood dish to pair with the Abruzzo wine.
We ate fresh seafood at pretty much every meal in Abruzzo, and wound up the trip with an amazing seafood feast at a restaurant created in a fishing pier unique to the region called a trabocco. The food and wine was great, and the sunsetting over the Adriatic Sea was…what do they say about a picture being worth 1,000 words?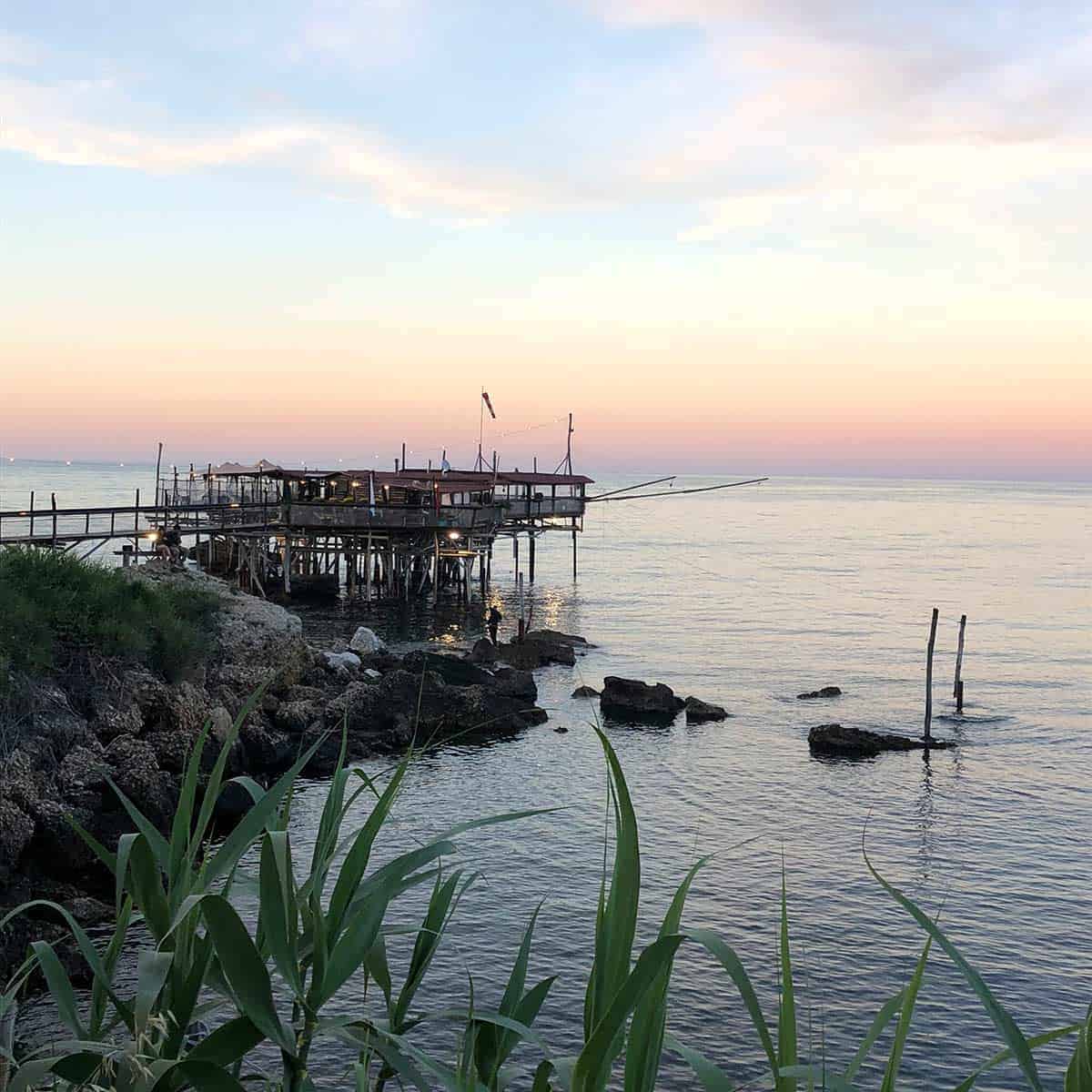 Squid, octopus and various unfamiliar white fish dominated the seafood we were served in Abruzzo. Back in New England, I figured it was about time to share our recipe for baked haddock, an easy way to prepare the fish found off our coastline. I suspected it would be great with the Cococciola from Ferzo; as a bonus we had leftover fish to try with their Passerina the following evening.
Making Baked Haddock with Pasta
First, let me explain about the inclusion of pasta in the recipe title. My initial intent here was to share with you our easy baked haddock recipe. I make it regularly here as it is one of our son's favorite fish dishes, right up there with our Easy Sautéed Shrimp.
But when I went to take the photos of the baked haddock with a side of spaghetti, I realized the pasta featured pretty prominently in the presentation. Plus, we were serving the dish with an Italian wine, so why not call it Baked Haddock Pasta. The recipe details here really focus on the baked haddock preparation. For the pasta, you can simply toss some pasta with extra virgin olive oil, cheese and some garlic…or if you want to follow a recipe, check out our spinach and mushroom pasta. By the way, I used whole wheat pasta to further enhance the healthy aspect of this recipe.
Tips for making baked haddock
This is a pretty simple preparation for haddock. Here a few tips to keep in mind:
If the fish comes with skin, it is much easier to ask the fishmonger to remove the skin at the store. You want to have flesh on both sides for this recipe because of the breading.
Getting things set up in order, as shown above, helps with the breading process. Start with the liquid ingredients in a bowl, followed by a plate with the breadcrumb mixture. The final stop is a baking sheet lined with aluminum foil. Once these items are ready, you can start coating the haddock.
Note that the breading here doesn't require any egg. Perfect for those like us that have an allergy to contend with in the house!
Our haddock regularly comes out just right after 20 minutes in a 400 degree oven. But oven temps can vary so check your fish and adjust as necessary. The haddock is done when it flakes easily.
Ok, now it's time to talk more about the wine!
Baked Haddock with White Wine from Abruzzo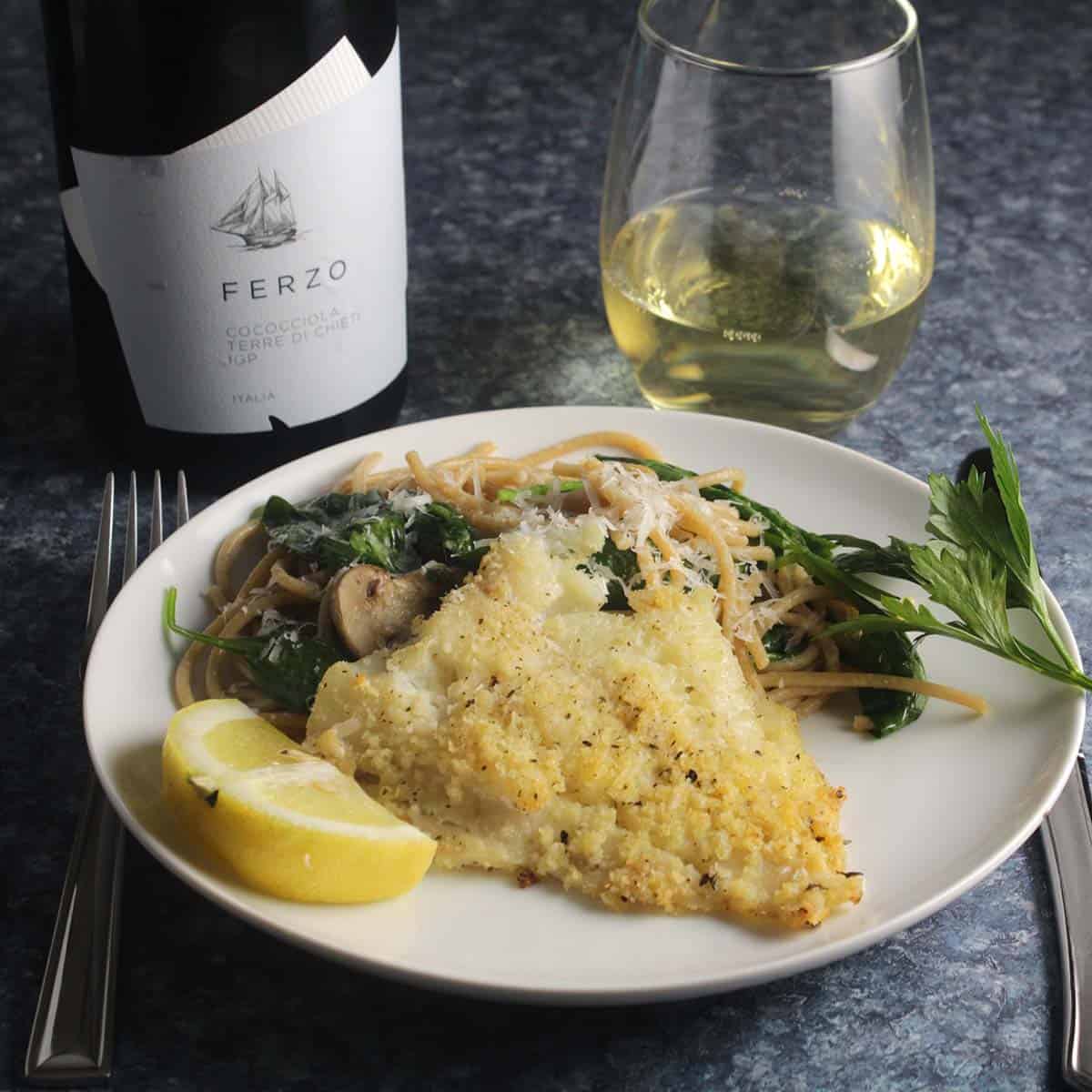 As noted, we had a bottle of 2017 Ferzo Cococciola ($26, 13% ABV) to sample. I was excited about this as I really liked Cococciola when tasting in Abruzzo; in fact, when I had the chance to pick a bottle to take home from an extensive lineup at one winery, I went with this fun to say wine. Here's what I got up to with that bottle.
Oh, before I go further, I should clarify that Cococciola is a white wine grape native to Abruzzo, as is Passerina, which we will cover soon. Now, here are our notes on the Ferzo Cococciola:
Eye: Light straw color.
Nose: Floral notes with a hint of citrus.
Body: I'd say light plus, as it does have good structure to it.
Palate: Peach fruit with notes of almond, and some minerality. Moderate acidity.
Winemaker notes: 100% Cococciola, steel fermented. 12,000 bottles produced.
Pairing: As suspected, the Cococciola was a great partner for the baked haddock! The fish has a delicate taste, not too strong, so this white wine doesn't overpower it. In fact, it really gives this flavorful, refine wine a chance to shine! The tasting sheet from Ferzo also mentions scallops or grilled branzino as pairing ideas.
The 2017 Ferzo Passerina ($26, 13% ABV) is golden yellow in the glass. Lemon peel on the nose, crisp crisp citrus on the palate with light body. The Passerina also went pretty well the haddock; it also seems well-suited to pairing with pesto. Ferzo's pairing suggestions include a tomato based fish stew "brodetto all'abruzzese" or soft cheeses.
About Ferzo Wines
Ferzo Wines are sourced from top vineyards throughout the Chieti region of Abruzzo. This is the largest wine producing area in Abruzzo, located in the southernmost portion of the region.
The name "Ferzo" refers to a patch of fabric stitched together with others to create a sail or flag. This is a good symbol for the wines which are drawn from some of the top "patches" in the area.
Ferzo is owned by Codice Citra, the largest producer in Abruzzo. We had a chance to visit Citra on our trip, and learned how this cooperative works with carefully chosen family farms to produce a wide range of wines representative of the region.
More Abruzzo Wines and Pairings
We had one more Abruzzo sample bottle come in after sampling the two from Ferzo. The 2017 Caldora Chardonnay ($12, 12.5% ABV) has bright peach fruit, and lighter body than most Chardonnays. Definitely a good value at the $12 price point! Abruzzo winemakers tend to focus on native white grapes, so it was interesting to try a Chardonnay.
The only mention of Chard I recall while I was there one winemaker who grew a bit of Chard to make some Blanc de Blanc style sparkling wine — mostly for himself, he said!
I want to keep the focus primarily on the wines we sampled for this event, but want to mention a few other Abruzzo wines to round out the post. I really like the white Pecorino wine from Abruzzo, and earlier this year paired a bottle of it from Terzini with our Roasted Asparagus Pasta. And yes, to really make the pairing work, we had to include some Pecorino cheese in the dish.
Speaking of Cantina Terzini, they also make an excellent Montepulciano d'Abruzzo. We've been gradually working our way through a half case of it.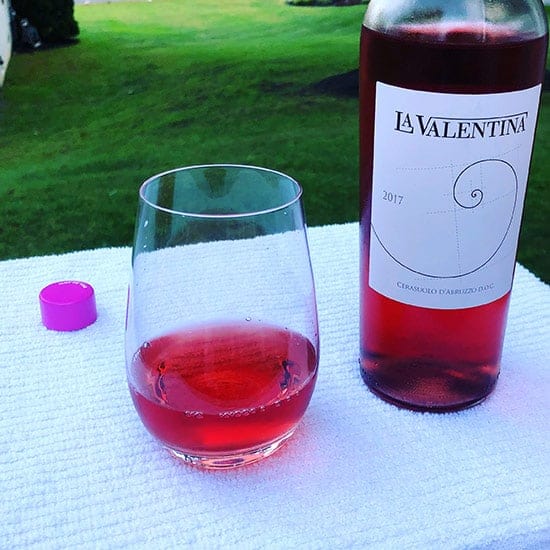 And I can't let this post go without a shout out for Cerasualo d'Abruzzo, the full-bodied rosé. In this post, I pair a bottle from one of the wineries I enjoyed visiting with a delicious Orzo with Cilantro Pesto.
Print
Recipe card
Baked Haddock with Pasta
Easy baked haddock served on a bed of pasta for a tasty and healthy meal. Excellent served with a white wine from Abruzzo, Italy.
Author: Cooking Chat
Prep Time:

10 mins

Cook Time:

20 mins

Total Time:

30 mins

Yield:

5

servings

1

x
Category:

main

Method:

baking

Cuisine:

Italian
1.25

lbs haddock fillet, skin removed

½ cup

panko breadcrumbs

1 tbsp

Parmigiano cheese

½ tsp

garlic powder

½ tsp

dried basil
pinch of salt

3 tbsp

extra virgin olive oil
dash of mustard
cooked pasta for serving — here is a simple recipe spinach and mushroom pasta that goes well with the haddock.
Fresh lemon for serving
Instructions
Preheat oven to 400 degrees.
Prepare the dry ingredients: In a large bowl, combine the breadcrumbs, Parmigiano cheese, garlic powder, basil and salt. Pour the dry ingredients onto a plate and use the bowl again for the next step.
Prepare the liquid ingredients: In the bowl you just emptied, combine the olive oil with the mustard.
Prepare to assemble the haddock: Line up the bowl with the olive oil mixture, followed by the plate with the dry ingredients. Then line a baking sheet with aluminum foil, and place that next to the dry ingredients.
Prepare the haddock: Rinse and pat dry the haddock. If the haddock is in one or two large pieces, use a sharp knife to cut serve size fillets of 4 to 6 ounces. Take the first fillet, dip both sides into the oil, and then dredge both sides in the breadcrumb mixture to coat. Place the coated fillet on the baking sheet. Repeat the process with the remaining fillets.
Bake the haddock: Once all of the haddock has been coated with the breadcrumb mixture, place the baking sheet with the fish in the oven. Bake for 20 minutes. The fish should be white throughout and flake with a fork. Remove or cook a couple more minutes if needed.
Plate the dish: Plate a scoop of pasta, then serve a haddock fillet alongside the pasta. Repeat for the other servings. Pass a quartered lemon so each person can add fresh lemon juice to top their fish. Enjoy — preferably with a white wine from Abruzzo!
Notes
You can serve the baked haddock with our Spinach and Mushroom Pasta. Alternatively, you can just toss pasta with some good olive oil, cheese and a bit of salt, or something along those lines. Just stick to an olive oil based preparation as opposed to a tomato sauce to go with the haddock and our recommended wine.
We get our haddock at Whole Foods, where it typically has skin on one side of the fillet. They are happy to remove the skin for me when I ask, this makes the preparation much easier.
I like to use whole wheat pasta the majority of the time, and I did use if for this dish. I especially like the Delallo brand whole wheat pasta.
Keywords: baked haddock, haddock with pasta, fish and pasta recipes, Abruzzo wine pairing
Recipe Card powered by
Abruzzo Wine Articles from the #ItalianFWT Group
Steven from Wine and Food Pairings discusses Cioppino – Red or White Wine? #Italian FWT"
Wendy from A Day in the Life on the Farm shared about The Food and Wines of Abruzzo"
Camilla from Culinary Adventures with Camilla will brings us Scrippelle 'mbusse + Ferzo Passerina"
Deanna from Asian Test Kitchen reveals 5 Iconic Abruzzo Wines to Try from Torre Zambra"
Jen from Vino Travels shares about "The Variety of Abruzzo Wines"
Gwendolyn from Wine Predator shares "Beautiful Abruzzo: 3 Montepulciano and 1 Trebbiano with simple Italian cuisine"
Cindy from Grape Experiences suggests that you "Immerse Yourself in Wines from Abruzzo for a Genuine Taste of Italy"
Pinny from Chinese Food and Wine Pairing is "Celebrating Abruzzo Wines with the Ferzo Passerina, Citra Montepulciano d'Abruzzo and Caldora Chardonnay".
Linda from My Full Wine Glass suggests Fresh Abruzzo wines to pair with fall produce (#ItalianFWT)"
Jeff foodwineclick brings us "Pairing Magic with Ferzo Pecorino and Squash Risotto"
Nicole from Somm's Table shares "Cooking to the Wine: Lammidia Anfora Rosso from Abruzzo & Pot Roast with Tomatoes and Chickpeas"
Here on Cooking Chat, we shared "Baked Haddock with Pasta and White Wine from Abruzzo".
Susannah from Avvinare takes "A Fresh Look at the Wines of Abruzzo"
Rupal from Syrah Queen shares "Exploring The Wine & Gastronomy of Abruzzo"
Katarina from Grapevine Adventures wrote about San Lorenzo Winery – Montepulciano d'Abruzzo between Sea and Mountain
The live Twitter chat is always a highlight of these wine blogging events! Feel free to tune in whether you are sharing an article or not. It's a great way to learn more about wines from Abruzzo! To join the chat, simply tune into the Twitter hashtag #ItalianFWT at 11 a.m. Eastern time on Saturday, October 5.