Kimchi Chicken Burritos have a flavorful spicy crunch. The fermented Korean cabbage kimchi provides a creative change of pace to your burrito routine! Easy to put together and a good way to use leftover chicken. We have tested several wine pairings for this kimchi recipe and have updated the article with our top choice!
I like the spicy crunch of kimchi, the fermented Korean cabbage dish. I first enjoyed it with our Bee Bim Bop steak dish.
Lately I've learned more about the benefits of probiotics, or "healthy bacteria" that comes through eating fermented food and other food with live bacteria. Granted, there are supplements available, but I always like to get things the natural way when at all possible. So let's eat some more kimchi!
I got some kimchi to top some steak the other night, and thought I'd try making kimchi chicken burritos with the leftovers. The kimchi lends a spiciness that otherwise might come from salsa in a burrito, along with a nice crunch. If you're looking for another idea for kimchi, try our Kimchi Pork Tenderloin Two Ways.
Making Kimchi Chicken Burritos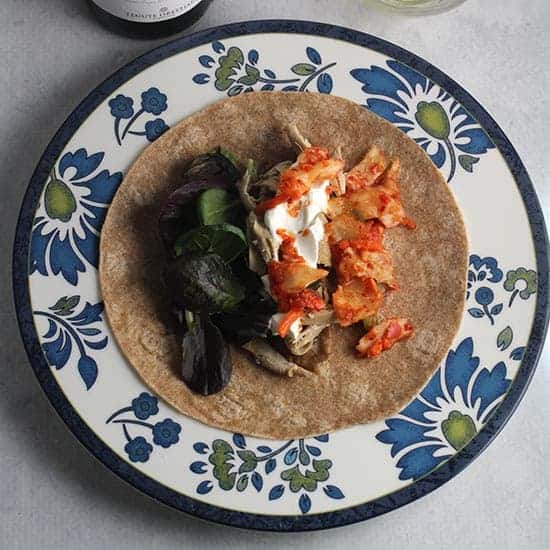 You could use kimchi in many different combination for burritos. I had some leftover chicken, so I made kimchi chicken burritos. I also added refried beans, a bit of sour cream and some salad greens. Vary the burrito fillings based on what you have on hand.
I give instructions for one burrito. This is easy to scale up. If making multiple burritos, it is probably easiest to heat a hole can of refried beans and save any leftovers. To make just one burrito, you can simply heat the beans quickly in the microwave.
If you're new to rolling up a burrito, here's a link to a video from a Chipotle pro that might be helpful.
I buy prepared kimchi at the grocery store. If you can't find it, here's an Amazon Affiliate Link to the brand I usually get. That is for a whole case, so that is an option if you really want to get serious about your kimchi intake!
Pairings for Kimchi Chicken Burritos
If you're a Cooking Chat regular, you know I like to suggest wine pairings for my recipes. The pairing I tried when I originally published this kimchi chicken burrito recipe didn't work out so well. I will tell more about my trials and tribulations with finding a good pairing for this dish, but first let me cut to the chase and tell you a pairing that DOES really work with this kimchi recipe.
Sparkling Wine with Kimchi Chicken Burritos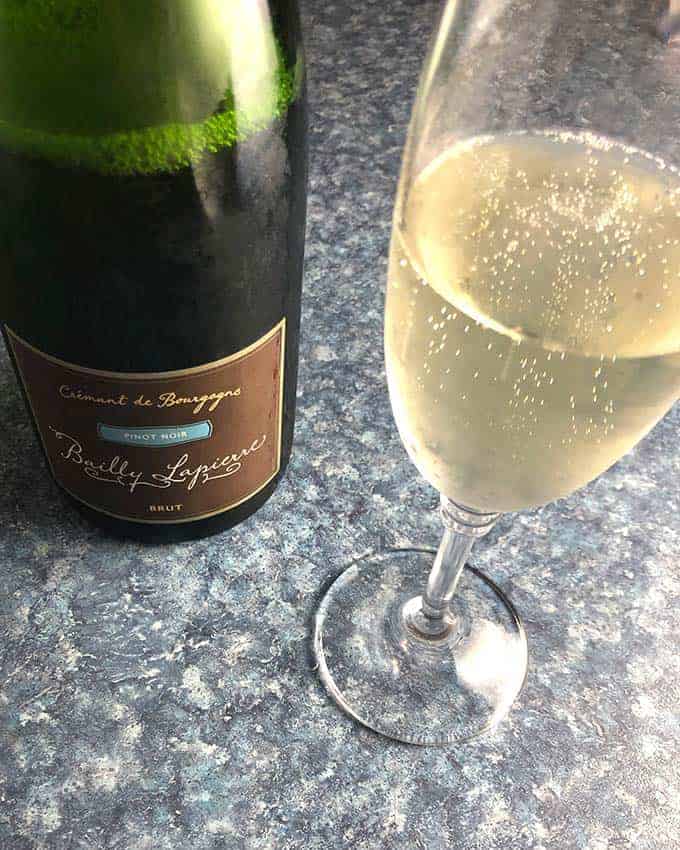 I had suspected sparkling wine might work with this kimchi recipe, assessing the other pairings I tried. The second taco / burrito night in the week and an open jar of kimchi gave me a chance to test that theory!
With some pairing research in mind, I put a bottle of Bailly Lapierre NV Crémant de Bourgogne ($19, 12%) in the fridge. Well-balanced, toasty notes along with the fruit. The depth of flavor actually brought to mind cheesecake — I'm not sure if you will find that as a tasting term anywhere, but I tell you what I taste here!
There is enough fruit in the bubbly to contrast the spice. And the sour note that I pick up eating kimchi gets cleansed away nicely by the bubbles! I will test this recipe out with more sparkling wine when I get a chance, but until then I would say sparkling wine is my pairing of choice for the kimchi chicken burritos. I would just go for something that is well-balanced, has some depth and is not super dry.
A bit more context for the Crémant de Bourgogne we enjoyed with this dish. Crémant is a type of sparkling wine from a number of regions around France, using the same secondary bottle fermentation as does Champagne. We learned more about Crémant when working on this article with the French Winophiles this article with the French Winophiles; the post has links to other good articles about Crémant.
Crémant de Bourgogne, as you might pick up from the name, comes from the Burgundy region. Thus it is no surprise that the bottle we opened is made from 100% Pinot Noir. The varietal is food friendly in its bubbly form too!
The Bailly in the wine's name refers to the Burgundy village that is the birthplace of the Crémant de Bourgogne appellation (AOC). They have produced a wide array of Crémant de Bourgogne since 1972. Learn more on the Bailly Lapierre website.
Other Pairings We Tested
We started out by trying a white Sicilian wine, made from the Grillo grape, to go with the kimchi chicken burritos. I thought the crisp white would offset the heat in the kimchi, but there is also an undertone of sourness in the fermented cabbage dish that just didn't play well with the wine. I came away from this pairing thinking that we needed something with a touch of sweetness, or maybe a sparkling wine (prescient!). More experimenting was needed!
The kimchi chicken burritos wound up on my plate twice this week. The second time resulted in finding the winning sparkling pairing described above. Earlier in the week, we opened a Domaine Gueguen Rosé of Pinot Noir (13% ABV) from Burgundy. Watermelon fruit, well-balanced. Medium acidity. Nice mouthfeel. This is a good wine, but didn't quite work as a pairing. The fruit forward aspect of the wine definitely made it an improvement over the Grillo, but there was still that issue of the lingering sourness of the kimchi that made this rosé pairing leave me looking for something that worked better.
One thing I realized during my recent testing of pairings for this recipe is that in this dish the kimchi is really in the forefront, as it is a stronger flavor than the chicken or beans. When serving kimchi with heartier meat, as in this Bee Bim Bop recipe, the pairing possibilities open up a bit. For instance, we have enjoyed that Bee Bim Bop with Cab Franc and Zinfandel.
If all this information has your head spinning, you could always simply open up a beer to with the kimchi chicken burritos! IPAs tend to go well with spicy food, so that is the direction I recommend if you want to go for a beer.
Print
Recipe card
Kimchi Chicken Burritos
Spicy kimchi adds a unique flavor to a chicken burrito.
Author: Cooking Chat
Prep Time:

5 mins

Cook Time:

5 mins

Total Time:

10 mins

Yield:

1

serving

1

x
Category:

Main

Method:

stove top

Cuisine:

Fusion
2 tbsp

refried beans, heated

3 tbsp

cooked chicken

2

heaping tablespoon kimchi

1 tsp

sour cream

¼ cup

salad greens

1

medium tortilla shell (about

8

inches)
Instructions
Briefly heat the tortilla shell. I put it in microwave on high for 10 seconds, you can also briefly heat it on the skillet.
Lay the tortilla shell on a plate. Spread the refried beans down the center of the shell, leaving an inch at the top and bottom to facilitate the wrapping.
Place the chicken, kimchi, sour cream and greens on top of the beans in layers.
Wrap the burrito by first folding in at the top and bottom of the fillings. Then roll the burrito the long way to finish it. Your kimchi chicken burrito is ready to eat. Enjoy!
Keywords: leftover chicken, kimchi burritos, kimchi, kimchi chicken
Recipe Card powered by