On Saturday, October 5, the Italian Food, Wine and Travel blogging group will explore wines from Abruzzo. Today I share 9 things to know about Abruzzo wine along with details on how you can participate.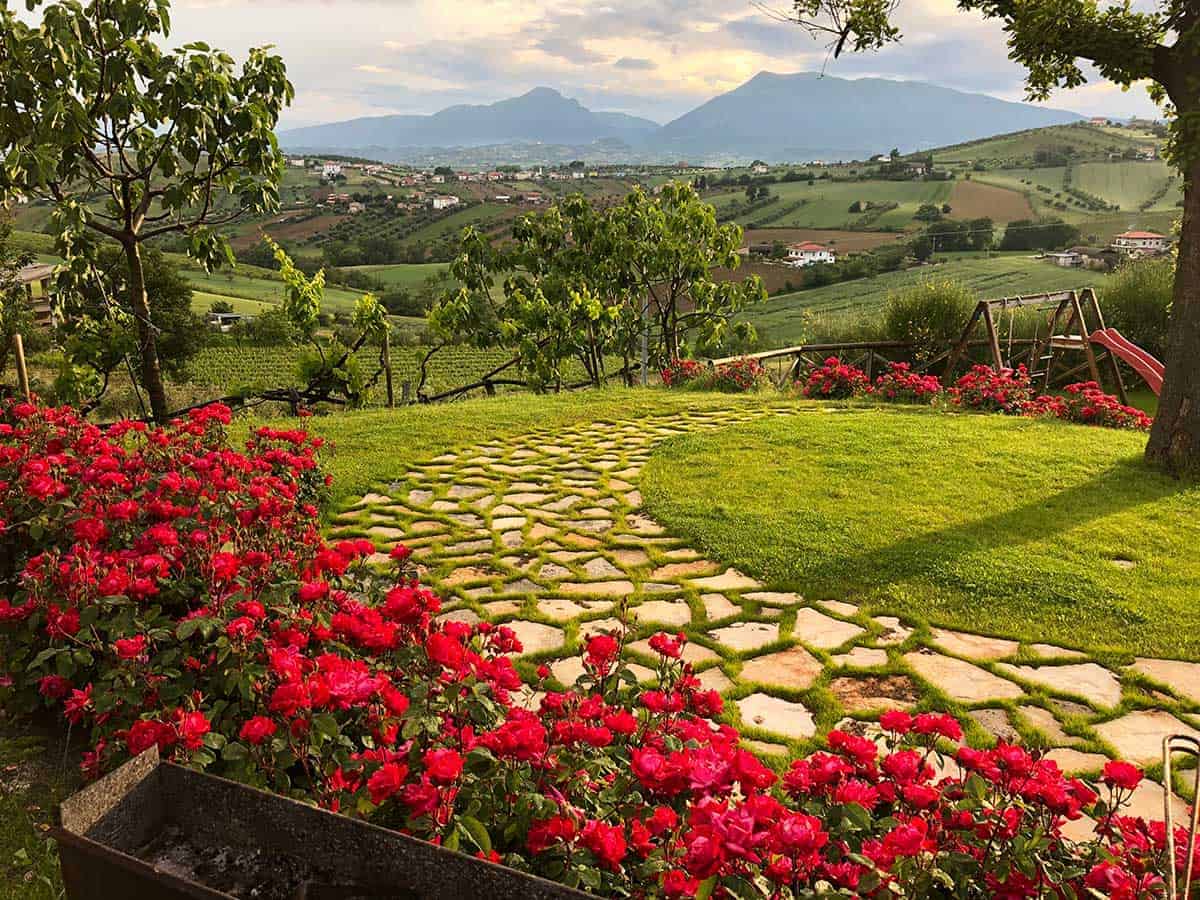 I am excited to host the October 2019 Italian Food, Wine and Travel (#ItalianFWT) event focusing on Abruzzo wine, with an emphasis on the region's indigenous varietals.
Last year I had a chance to go on a press trip to Abruzzo, and quickly became enamored with the region's wine, food and scenery. Nestled between the Appenine Mountains and the Adriatic sea, the area offers striking views of mountains and the sea. Perhaps most important for wine lovers, the rolling hills that connect the two striking landscape features make for excellent wine grape growing!
You can get the full details of what I learned during my visit in my article Exploring Abruzzo Wine. For now, let me share with you some quick things to know about Abruzzo wine, and get you the details on how you can join the #ItalainFWT for our Abruzzo event on October 5.
Things to Know About Abruzzo Wine
I could go on extolling the virtues of Abruzzo wine and the beauty of the region! But let's sum things up with some important things to know about Abruzzo wine.
Geography: Abruzzo is an Italian region nestled between the Apennine Mountains and the Adriatic Sea, on Italy's east coast. It is directly east from Rome.
Regions: There are three primary wine producing areas within Abruzzo. Chieti is the largest producer, located in the southern portion of Abruzzo. Teramo is a hilly region in the north, with a long history of wine production and its own DOCG Colline Teramane Montepulciano d'Abruzzo DOCG. Between Chieti and Teramo on the coast is Pescara, which is the name of the largest city in Abruzzo as well as the name of the province surrounding the city.
Terroir: Most of the Abruzzo vineyards get the benefits of elevation from the proximity to the mountains while getting the cooling benefits of the sea.
Numbers: Viticulture accounts for 32,000 hectares of vines in Abruzzo with an annual production of about 3.5 million hectolitres, with over 1 million hectolitres produced receiving the DOC designation.
Montepuliciano: Montepulciano d'Abruzzo is a red wine that accounts for some 80% of the DOC production. This medium bodied red wine ranges from solid, food friendly entry level bottles to some reserves that have a lot of finesse and aging potential. Montepulciano d'Abruzzo just celebrated its 50th anniversary of its DOC status in 2018. Read more about why to try Montepulciano here.
White wines: Although best known for Montepulciano, Abruzzo grows a number of Italian white wine varietals that are worthy of your attention. Trebbiano can be found throughout Italy, but is particularly well suited to the Abruzzo terroir. some top producers like Emdio Pepe extol the virtues of aging this grape, and I had a chance to taste the results! Other grapes to try include Pecorino, Cococciola and Passerina.
Cerasualo: My favorite wine discovery during last year's trip was probably Cerasualo d'Abruzzo, a rosé made from Montepulciano grapes. The Cerasualo is a full-bodied rosé that typically comes in a deep dark pink color. It can be challenging to find in the US, but is worth tracking down!
Food pairings: With the white wines in Abruzzo, we were either nibbling on some prosciutto or digging into some local seafood–octopus, calamari and various white fish from the Adriatic. Our final meal was at a restaurant in a converted fishing pier called a trabocco.
Learn more: In addition to my article on exploring Abruzzo wine, the Consorzio Tutela Vini d' Abruzzo, which sponsored the press trip I went on, is a network of leading Abruzzo wine producers and has a lot of good information about Abruzzo wine.
Join the #ItalianFWT Abruzzo Wine Event
The Italian Food, Wine, and Travel group explores Italian wine, food, and travel-related topics every month. As already mentioned, the September theme will be Wines from Abruzzo with an emphasis on indigenous varietals. Of course, you are encouraged to work in the food and travel themes connected to Abruzzo as well. So grab some Abruzzo wine, and get ready to join the conversation!
Some of us will be enjoying samples of Abruzzo wine arranged by Gwendolyn from Wine Predator along with Donna White from Donna White PR. But if you're not one of those getting samples, Abruzzo wines are relatively easy to track down. I would encourage you try a white wine or Cerasaualo as well as Montepulcian d'Abruzzo, to appreciate the range of what the region has to offer.
If you want to participate with an article, then send an email to me at davidbcrowley AT gmail.com by Tuesday, October 1 where you include:
Title of the article
Your blog URL
Your Twitter handle
Links to any other of your social media accounts
Publish your article at the latest at 15.00 CEST / 9am ET on Saturday, October 5, so everyone can have time to read and share each other's articles. Always include the hashtag "#ItalianFWT" in every social media post you make about your article, especially on October 5.
Be social and share as much as you can, share your fellow blogger friend's articles in the group, and comment on each and every article.
Sponsored posts are OK if it is clearly disclosed. Please be sure to disclose if your post is sponsored or if you are describing a wine or other products for which you have received a free sample.
Join the #ItalianFWT Abruzzo Twitter Chat
On Saturday, October 5, at 11 am ET / 17.00 CEST the Italian Food, Wine, and Travel group will explore Wines from Abruzzo, and related food and travel, in the #ItalianFWT chat on Twitter.
All those of you who are interested in wine, food, and travel in relation to Abruzzo are very welcome to participate in the chat on Saturday. It is always great to have new fellow Italian wine and food enthusiasts to join and add new perspectives to the discussion.
Join us on Twitter on Saturday, October 5, by typing in the hashtag #ItalianFWT in the search field on Twitter and click Enter, thereafter, you click Latest which will show you all the live tweets. In that way, you can take part in the live discussion. After the chat, you can also head over to read and comment on the article writers' blog posts. It's always nice to get feedback on the articles.
Encourage others to join us!
If you plan to participate, encourage others to participate! You can share this post on social media, including pinning the image below!