Garlic Thyme Crusted Tuna is a healthy and flavorful seafood recipe. You can have this on the table in about ten minutes, after a quick searing on the grill or stovetop. We paired it with Duckhorn Merlot with great results! Read on for details about the recipe and wine pairing, or click here to jump down to the recipe.
Today the Wine Pairing Weekend group is joining up with the #MerlotMe effort, focusing on pairings for Merlot wine. Last year, I served a pretty straight forward food pairing for Merlot, this Roasted Rosemary Pork Chops dish. This year I wanted to go off the beaten path a bit for our #MerlotMe pairing, and the result was this flavorful Garlic Thyme Crusted Tuna recipe.
I had an inkling that tuna and Merlot might work. I've done a lot of successful pairings involving meatier fish and red wine, but I hadn't tried seafood with Merlot. In perusing articles about food pairings for Merlot, some included seafood on the list of things that don't pair with Merlot, but I found a couple posts that gave me encouragement to try a tuna and Merlot pairing.
I figured I'd make a simple rub for our tuna steaks. I saw thyme mentioned as an herb that can pair well with Merlot, so I figured I'd use that along with some garlic. There's pretty much always garlic here! So I mixed up some garlic powder, thyme, and salt, and voila! We were ready to make our Garlic Thyme Crusted Tuna.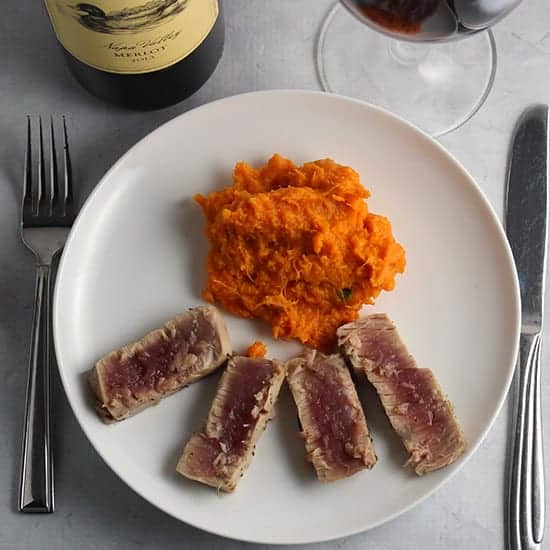 I made our tuna on the grill, but you could also quickly pan sear the tuna, using similar cooking times.
Unless there is a good deal on fresh tuna steaks, I typically get some frozen yellowfin tuna steaks at Whole Foods. Once I had thawed the tuna in the fridge, preparing the Garlic Thyme Crusted Tuna was super fast. It takes just a few minutes to mix up the rub. Let the rub sit just briefly on the tuna before quickly searing it on the grill. Boom! In about 10 minutes, you have a great tasting, healthy dish. Now, how did our Garlic Thyme Crusted Tuna pair with Merlot? Let's find out!
Tuna Paired with Merlot
We were pleased to receive a bottle of 2013 Duckhorn Napa Valley Merlot ($54, 14.5% ABV) to sample for #MerlotMe month. I've enjoyed Duckhorn Merlot a few times before, and was eager to sample this bottle.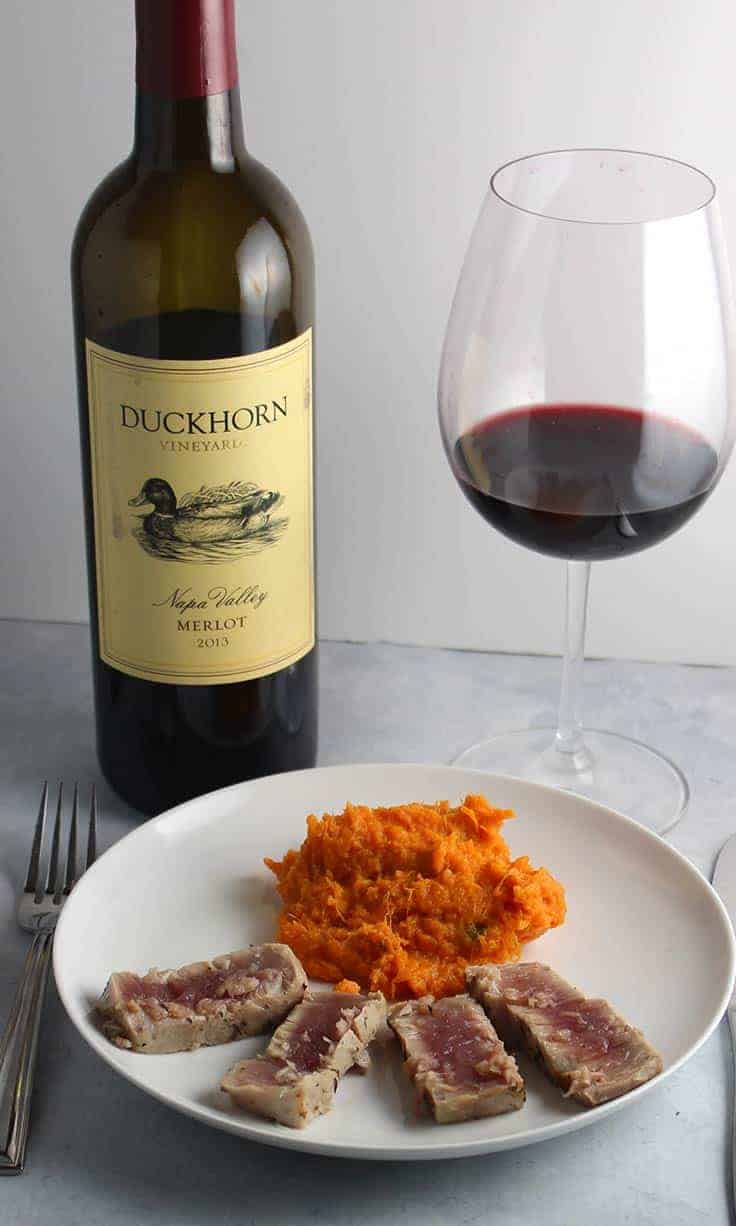 I got scents of summer on the nose–violets and rhododendron bushes. I tasted purple fig, currants and cherry fruit, with a touch of bark. Firm tannins and notable acidity. This Merlot was a bit tight when I first tasted, a sign it would improve with aging or decanting.
This Duckhorn Merlot really opened up in the glass, with the fruit becoming really plush and flavorful. The Merlot did work well with the tuna–enough complexity to pick up the herbs in the rub, and the medium body of the wine was a good match for the meaty tuna. And something about the wine, probably the acidity, worked surprisingly well for a red wine with the fishy aspect of the tuna. An unorthodox pairing, yes; but one worth trying!
This Duckhorn Merlot is comprised of 88% Merlot grapes, along with 7% Cabernet Sauvignon and 5% Cabernet Frank. The wine is a blend of grapes from several Duckhorn Napa vineyard lots and several independent Napa Valley growers. For more information, visit the Duckhorn website.
Someone here isn't a big seafood fan, so I also used a bit of the same garlic thyme rub on some pork chops, and that pairing also got a thumbs up.
I served the Garlic Thyme Crusted Tuna with one of my favorite side dishes, Sweet Potatoes with Cumin Sage Butter. The fruitiness of the Merlot worked well with sweetness of the potatoes. We were definitely happy with our #MerlotMe pairings this year!

Print
Recipe card
Garlic Thyme Crusted Tuna
Grilled tuna with a simple garlic thyme rub makes for an easy and healthy meal. Enjoy it with a glass of Merlot or other medium bodied red wine.
Author: Cooking Chat
Prep Time:

7 mins

Cook Time:

3 mins

Total Time:

10 mins

Yield:

4

servings

1

x
Category:

Main

Method:

grilling

Cuisine:

Seafood
1

lb tuna steak

1 ½ tsp

garlic

1 tsp

thyme

1 tsp

salt
oil spray for grill
Instructions
Preheat a grill to medium high.
Combine the rub ingredients (garlic, thyme and salt) in a bowl.
Rinse and pat dry the tuna steaks. Place on a work surface.
Sprinkle some of the rub over one side of the tuna, and gently rub it into the fish. Turn the tuna steaks over, and repeat. Let the tuna rest with the rub for a few minutes.
Coat the grill with the oil spray. Then place the tuna on the grill. Grill covered on direct heat for 90 seconds. Turn the tuna over, grill for another 90 seconds or so for medium rare tuna. Remove the tuna from the grill, and place on a platter.
Cut the tuna steaks into thin slices, about ¼ an inch. Plate several strips of tuna along with your side dish, and enjoy!
Keywords: grilled tuna, tuna with red wine
Recipe Card powered by
Our Talented Bloggers Share Their #MerlotMe Ideas
Need some food pairing ideas for that bottle of Merlot you brought home? Here are fourteen great suggestions! If you see this early enough, join our Twitter chat Saturday Oct. 8 at 11:00am EDT at #WinePW and #MerlotMe. Continue watching our blogs in October, as there are sure to be more Merlot posts!
Camilla from Culinary Adventures with Camilla shares "Merlot Shows Its Versatility and Goes +1 With Cheese, Meat, and Chocolate"
Amy from Cooking with Amy shares "Mushroom Parmigiano Pasta Recipe"
David from Cooking Chat shares "Garlic Thyme Crusted Tuna Paired with a Merlot"
Wendy from A Day in the Life on the Farm shares "#MerlotMe Trifecta for #WinePW"
Michelle from Rockin Red Blog shares "Welcoming Fall with #MerlotMe and #WinePW"
Jennifer from Vino Travels – An Italian Wine Blog shares "#MerlotMe with Sausage Baked Ziti"
Sarah from Curious Cuisiniere shares "Exploring Merlot Wine Pairing with Bolognese Sauce"
Lori from Dracaena Wines shares "Hello, Can you #MerlotMe?"
Jill from L'Occasion shares "Evenings with Merlot"
Lauren from The Swirling Dervish shares "Mercy Monday and Merlot"
Gwen from Wine Predator shares "#MerlotMe with savory simple fall foods"
Jade from Tasting Pour shares "Chipotle Chicken Stew and Merlot"
Cindy from Grape Experiences shares "Wine and Dine: Merlot with Eggplant and Polenta Parmigiana"
Jeff from FoodWineClick! shares "A Love Affair with Merlot and the Grill"
Join our Wine Pairing Weekend group on on November 12 on the theme "Being Thankful for Local Vintners" hosted by Culinary Adventures with Camilla.