I stumbled onto this pairing. Usually I'm plotting for awhile about what I want to do for the monthly Wine Pairing Weekend event. But this pairing started when I developed a Bacon and Greens Dip recipe to bring on Thanksgiving. Then as I was rounding up a few bottles of wine to bring for the holiday feast, I grabbed a bottle of tasty yet moderately priced sparkling wine that I thought would be a nice way to start out. Low and behold, this bubbly work well with the Bacon and Greens Dip. I recalled that Jeff from Food Wine Click had picked Sparkling Wines and Hors D'oeuvres as our December #winePW theme, and I realized I had my pairing ready to go!
If you look at my photos closely, you'll note that we did miss something when preparing this pairing for the blog photo opp. With all the food available on Thanksgiving, there was enough dip leftover to enjoy the next day after we did the photos. But alas, we "had" to pick up another bottle of the bubbly. For the sequel, all the bacon had been incorporated in the dip, so we didn't have the bacon crumbles on top as in the photo below, taken after I first made the dip. I definitely recommend that touch for the presentation!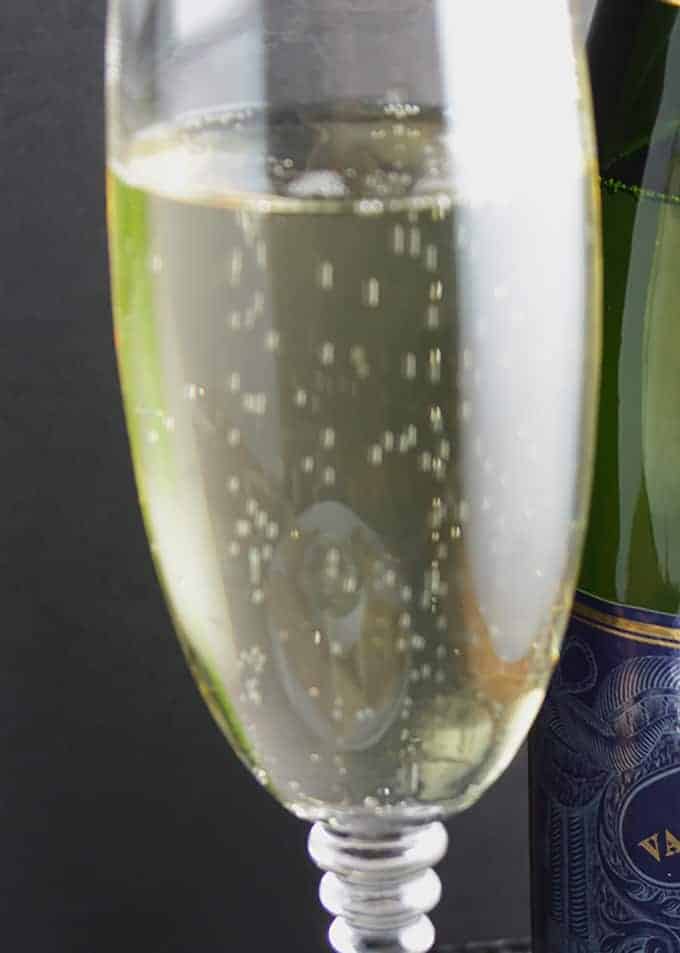 I originally made this Bacon and Greens Dip for Thanksgiving, but it certainly lends itself to serving around Christmas and New Year's. This can start easing in some of those healthy eating habits. The dip features healthy collard greens, and uses lower fat cream cheese and sour cream. Lest you rush too quickly into those New Year's fitness regimes, there is the indulgence of bacon…though it doesn't take a lot to add some nice flavor. Recipe details follow the wine pairing description. Speaking of recipe details, the spice details were jotted down from my recall the next day. Feel free to play with the proportions to find the blend that works best for your palate!
Wine Pairing: I may not have carefully plotted out this pairing, but this one builds on a lot of good pairing basics. Sparkling wine is versatile, and is particularly good for cleansing the palate when eating salty foods. There wasn't a lot of bacon, as I mentioned, but enough to give it a saltiness that was balanced nicely by the bubbly. Creamy foods? Again, sparkling wine is a great answer. Last time I checked, cream cheese qualified as creamy, so bubbly works with that element, too.
OK, time to talk about the bubbly we paired with the Bacon and Greens Dip. I went with the Varichon & Clerc Privilege Blanc de Blancs, made from Chardonnay, Chenin Blanc, Ugni Blanc and Columbard grapes. The method is similar to that of the Champagne region, but is priced substantially less, hailing from the area between Lyon and Geneva. You can find it for $15 or a bit less.
So how did the pairing work? The dip has some spice, and a bit of saltiness from the bacon. The wine is clean and crisp, with peach fruit, refreshes the palate and gets you ready for that next tasty bite. A winning pairing, and certainly a holiday party friendly bottle of bubbly at this price point.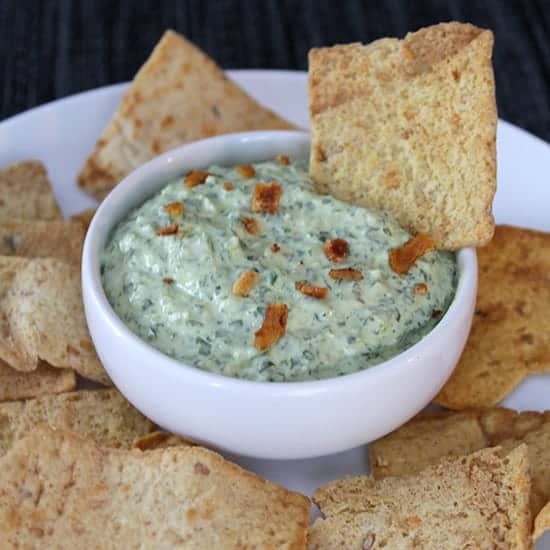 Print
Recipe card
Bacon and Greens Dip
Bacon and Greens Dip features collard greens for some nutritional benefit along with tasty bacon. Low-fat cream cheese and sour cream keep this appetizer reasonably healthy.
Author: Cooking Chat
Prep Time:

10 mins

Cook Time:

30 mins

Total Time:

40 mins

Yield:

8

servings

1

x
Category:

Appetizer

Cuisine:

American
1

to

2

slices bacon

1

onion

2

cloves garlic

1

bunch collard greens, thick stems removed and coarsely chopped

⅓ cup

chicken stock

1 tbsp

olive oil
pinch red pepper flakes

8

ozs lite cream cheese, removed from fridge 30 minutes before preparing

½ cup

low fat sour cream

½ tsp

cajun seasoning mix

1 tsp

cumin
pinch cayenne
salt to taste
Instructions
Heat a large skillet with oil spray on medium high. Add the bacon, cook until crispy on both sides, about 10 minutes. Remove bacon to a paper towel lined plate to cool. When the bacon has cooled, crumble it into bite sized pieces.
Wipe the heavy bacon grease from the skillet, then heat the olive oil on medium. Add the onions, cook until they are soft about 5 minutes.
Gradually stir the collard greens into the skillet, stirring gently to combine with the onion. Add the chicken stock and red pepper flakes, cover, and simmer on medium low for about 15 minutes.
Add the garlic to a food processor and give them a brief whir to mince. Add the cream cheese and sour cream, then pulse the processor again to combine with the garlic.
Use a slotted spoon to scoop the cooked collard greens and onion into the food processor. Reserve a teaspoon or so of the bacon, then put the remainder into the food processor with the greens. Puree until the greens are well combined with the cheese.
Add the cajun spice, cumin and cayenne to the dip. Puree again to incorporate the spices.
To serve, scoop some of the dip into a bowl, and top with the reserved bacon bit. Serve with pita chips…and sparkling wine, if you are so inclined!
Recipe Card powered by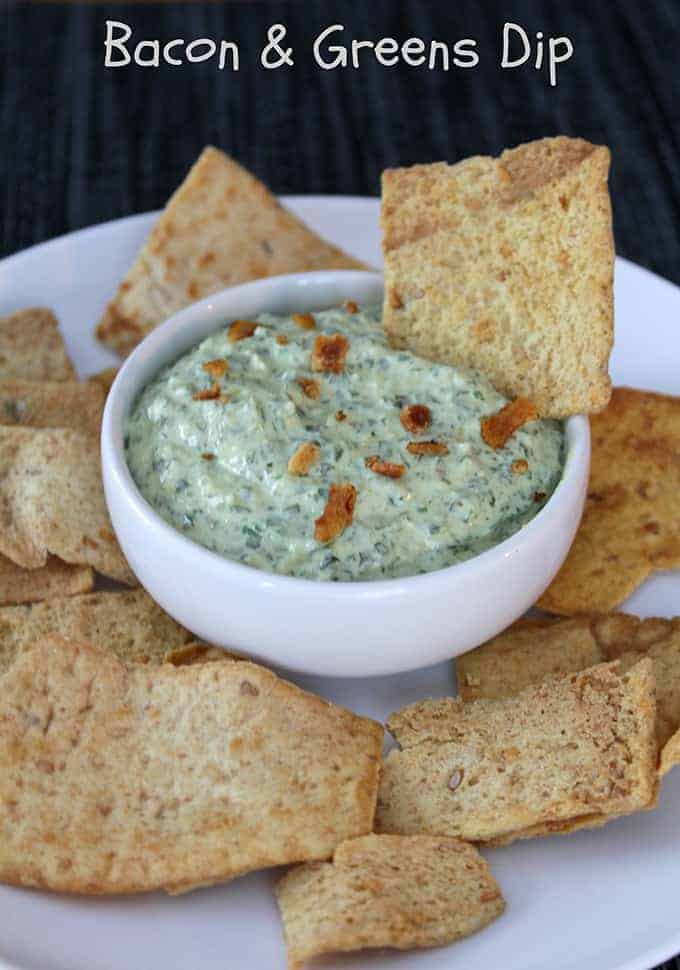 #WinePW Wine Pairing Weekend Holiday Entertaining!
December is holiday festive party time! Our job this month is to create some great sparkling wine and appetizer pairings. If you see this early enough, please join us December 13th at 11 a.m. Easter time, 10 a.m. Central Time.
Sparkling Wine and Appetizer Pairings
Here are the ideas available from our group for you. Try something new this year!
Bacon and Greens Dip with Bubbly by Cooking Chat
Piedmont Sparkling Nebbiolo & Pungent Anchovy Green Sauce by foodwineclick
Segura Viudas Aria Cava with Oysters and Spanish Tapas by Confessions of a Culinary Diva
Butterflied Spicy Prawns and Treveri Sparkling Wine by Wild 4 Washington Wine
A Seasonal Nibbles Duet + Pear Valley Vineyard's Frizzante Muscat by Culinary Adventures with Camilla
Appetizers served with a Sparkling Wine by A Day in the Life on the Farm
Cranberry Brie Biscuit Bites and Sparkling Muscat by Curious Cuisiniere
Moscato with Fresh Fruit Almond Cake and Zabaglione by Vino Travels — An Italian Wine Blog
Domaine Meriwether Sparkling Wine and Make Ahead Spanakopita by Tasting Pour
Wine and Dine: Anna de Cordoniu Brut NV and Herbed Parmesan Crisps by Grape Experiences
Italian Sparkling Wine: Bubbly & Bacon #winePW by Girls Gotta Drink
The Holidays Sparkle on #WinePW by Rockin Red Blog
Butternut and Bubbly by It's Okay to Eat the Cupcake
Smoked Salmon and Potato Chip Appetizer with Louis Roederer Champagne by ENOFYLZ
Don't forget to our Twitter chat today, December 13th at 11 a.m. Eastern Time, 10 a.m. Central Time. We'll be talking about our tips and tricks for the best holiday wine pairings. We'd love to have you join us!
And, be sure to mark your calendars for January's Wine Pairing Weekend, hosted by Christy at Confessions of a Culinary Diva. We'll be sharing "New Wine Resolutions – Wine or Region you want to explore in 2015. Join in the #WinePW 8 conversation on Saturday January 10!