Our BBQ Beef Stew, served with a butternut purée, is delicious paired with the the Three Palms Merlot from Duckhorn Vineyards. This recipe doesn't take a lot of hands on time, but you will want to start it in the morning when you want to enjoy it to allow for 6 hours of marinating and 3 hours of oven braising.
We share this pairing for today's #MerlotMe month Wine Pairing Weekend event, along with a mention of some other great Merlot we've had lately. Disclosure: Wines mentioned here were provided as complimentary samples by the winery. The opinions are entirely my own.
We've had lot of good Merlot rolling in for #MerlotMe month, giving us a chance to try some new pairings.
Someone suggested barbecue flavors worked well with the Merlots that are a bit higher up on the alcohol scale, which led me to cook up this BBQ Beef Stew. What a delicious stew, so good served alongside a butternut purée for some great fall flavor! And of course, even better with a good Merlot; although "good" does not begin to describe the Merlot we paired with the stew.
Making BBQ Beef Stew
This BBQ Beef Stew turns out to be easier than my other beef stew recipes, such as my Beef Stew with Root Vegetables. Typically I am putting together a lot of herbs, spices and liquid ingredients for both the marinade and stew, making it a bit time consuming.
For our BBQ beef stew, we allow for a pre-made BBQ sauce to provide much of the flavor to the stew beef. I used a store bought sauce, Denny & Mike's Sweet n' Spicy BBQ Sauce I got at Whole Foods. If you are feeling more ambitious, you could make your own. Wendy, a fellow #winePW blogger, shares a simple recipe here.
I started making the BBQ beef stew relatively early on a Sunday morning. That allowed for 6 hours of marinating plus the 3 hours of cooking. You could start the marinating process the night prior to making the stew if you like.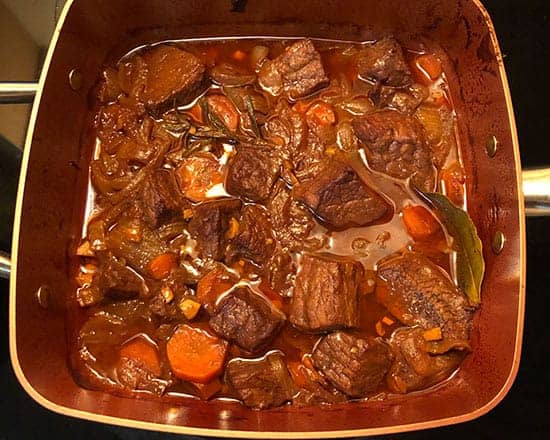 Lately I've been using my oven proof Copper Chef Pan for preparations like this BBQ beef stew, rather than the Dutch oven as it cooks things very evenly and is easy to clean (Amazon affiliate link included there in case you are interested in one). Either the copper pan or Dutch oven will work here.
To make the BBQ Beef Stew really sing with fall flavor, I served the stew along side some butternut purée. Basically some butternut squash mashed along with 1 potato. Squash makes a pretty partner for Merlot, too, which was at the back of my mind here.
BBQ Beef Stew with Merlot from Duckhorn Vineyards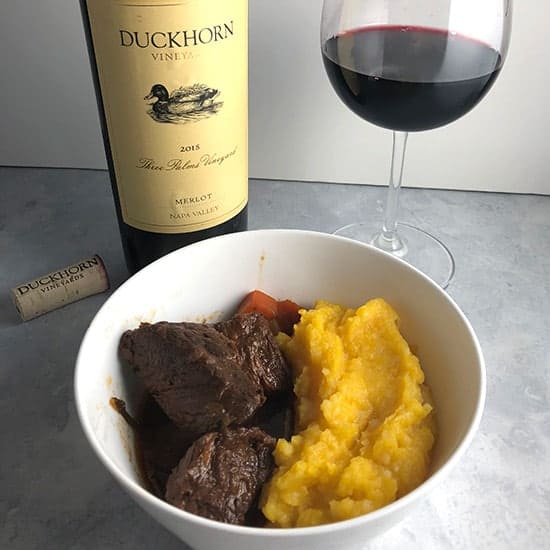 I knew the 2014 Duckhorn Three Palms Merlot was a special wine when I tasted it last October along with our Ribeye with Mushrooms. Not long after that, this Duckhorn Merlot was named Wine Spectator's Wine of the Year!
Needless to say, I was eager to get cooking a good dish to go with the 2015 Three Palms Vineyard Napa Valley Merlot ($98, 14.7% ABV). I got big cedar notes on the nose, plum fruit and notes of licorice and menthol on the palate. An explosion of flavors!
This Merlot definitely evolved in the glass. The winery tasting sheet for the Three Palms Merlot notes the silky tannins that make for a great finish, with hints of "moist earth, cranberry, and chocolate." Definitely jives with my recollection of this Merlot!
No surprise, the robust flavor profile of the Three Palms Merlot was a great match for our BBQ beef stew. The wine was certainly plenty big enough to stand up to the beef, and the complex flavors were a nice match for the BBQ flavors.
The Three Palms Merlot is comprised of 91% Merlot, 7% Cabernet Sauvignon, 1.5 % Petite Verdot, and .5 % Cab Franc. The wine spends 18 months in French oak, 75% new oak, 25% neutral.
Three Palms Vineyard is one of California's first single-vineyard Merlots. Named for three iconic palm trees in the vineyard, the warm, up-valley vineyard has lean soils that cause the vine's roots to go deep for nutrients.
For more on the winery visit the Duckhorn Vineyards website.
More Merlot ideas? Check out our Merlot Food Pairing Tips and Favorites article.
Print
Recipe card
BBQ Beef Stew with Butternut Purée
BBQ flavored beef stew is delicious served with butternut purée, and even better when served with an award-winning Merlot.
Author: Cooking Chat
Prep Time:

15 mins + 6 hours to marinate

Cook Time:

3 hour 15 mins

Total Time:

9 hours 30 minutes (including marinating)

Yield:

6

servings

1

x
Category:

main

Method:

braise

Cuisine:

American
For the beef marinade
1 ½ cup

dry red wine

½ cup

BBQ sauce

½ tsp

sea salt

2

bay leaves

2

sprigs rosemary

½ tsp

champagne vinegar

2 ½

lbs stew beef
Additional stew ingredients
1 tbsp

extra virgin olive oil

1

onion, chopped

2

carrots, peeled and chopped

3

cloves garlic, minced

½ cup

BBQ sauce

1 cup

reserved marinade

1 cup

low sodium beef broth
For the butternut puree
1

medium butternut squash, peeled and chopped

1

potato, peeled and chopped

1 tbsp

butter

¼ cup

milk
Instructions
Prepare the marinade: Combine the marinade ingredients in a bowl — wine, ½ cup BBQ sauce, sea salt, bay leaves, 2 sprigs rosemary and vinegar.
Pat dry the beef, and place in a sealable plastic bag. Pour the marinade into the bag with the beef, and seal the bag. Toss gently to combine. Seal the bag, and refrigerate. Marinate the beef for at least 6 hours or overnight.
Make the stew: When you're ready to start cooking, preheat the oven to 300 degrees (convection setting if you have it).
Place a strainer inside a large bowl. Pour the beef mixture into the strainer, using the bowl to capture and reserve the marinade. Remove the beef, scraping off pieces of rosemary and bay leaves. Set the beef aside in a bowl to cook.
Heat the oil on medium heat in a dutch oven or oven proof copper pan. Add the chopped onion to the pan, cook for a few minutes until it starts to soften. Add the carrots and cook for a few more minutes.
Stir in the beef, combining it well with the onions and other vegetables. Salt to taste. Cook for 5 to 10 minutes, stirring occasionally to brown on all sides.
Add the remaining stew ingredients–garlic, additional ½ cup BBQ sauce, beef broth and reserved marinade– to the pan with the beef and vegetables.
Cover the Dutch oven / copper pan and move the stew to the oven, where it will braise for a total of 3 hours.
Braise at 300 degrees for one hour. If you are using a convection setting, lower the temperature to 275 after the first hour, and braise for an additional 2 hours at 275. If you are using a conventional setting, leave at 300 degrees for the entire 3 hours.
After the stew has been braising for about 2 hours and 20 minutes, start boiling a pot of water. When boiling add the butternut squash and potato.
Boil the squash and potato for about 20 minutes, until they are soft. Drain, and mash the squash and potato together along with the milk and butter. Keep warm while the stew finishes.
After the stew has braised for 3 hours, carefully remove the stew from the oven.
Scoop some butternut purée into ½ half of a bowl. Serve the stew alongside the squash, and enjoy with a good glass of Merlot!
Keywords: beef stew, comfort food, BBQ beef stew
Recipe Card powered by
#MerlotMe articles from Wine Pairing Weekend
Be sure to check out all the great #MerlotMe Wine Pairing Weekend Articles! And join us for a live Twitter chat on the topic, using hashtag #winePW, at 11 a.m. ET and 8 am PT on Saturday, October 13, 2018. You can view past and upcoming Wine Pairing Weekend events here.