Slowly cooked Beef Stew with Root Vegetables features fall apart tender meat and a succulent sauce, served with mashed potatoes for some serious comfort food. Serve with a Côte-Rôtie or other big red wine for best results!
Planning ahead: We recommend marinating the beef for at least 6 hours. Make the marinade the night before or early in the morning you intend to serve it. If you are opening the Côte-Rôtie we paired with the stew, allow at least one hour to decant the wine. Disclosure: the wine was sent as a complimentary sample, the opinions are entirely my own.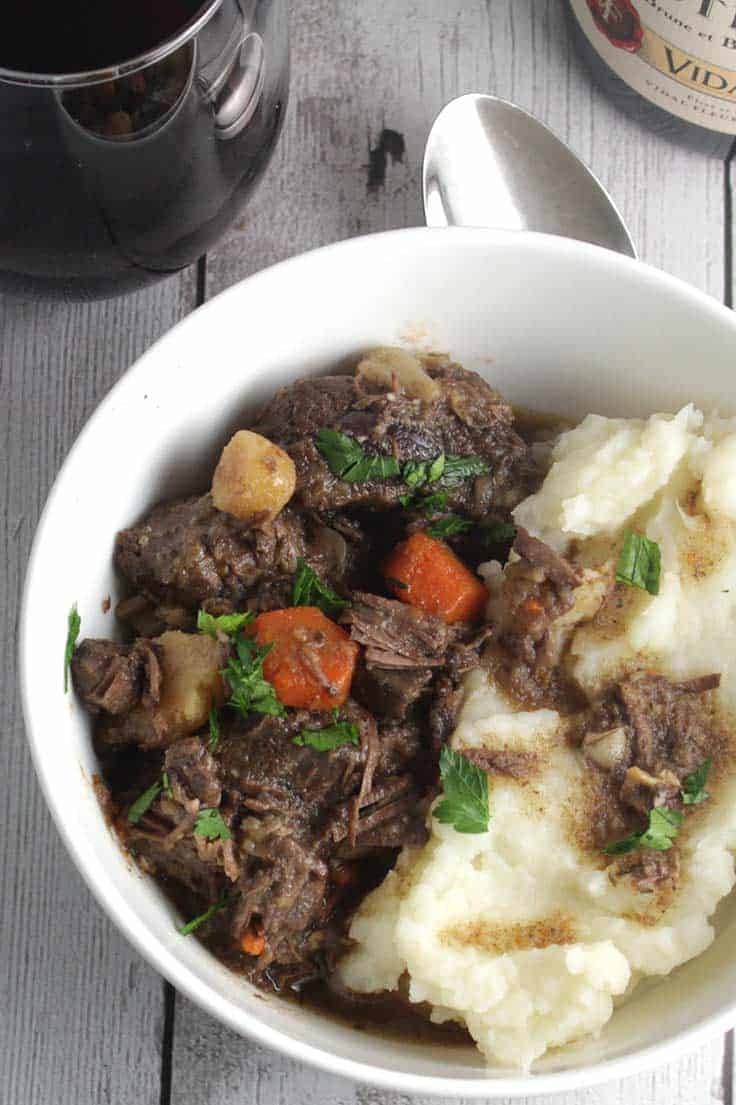 Here's a another recipe that started with the wine in mind.
I had a bottle of Côte-Rôtie to sample as part of my French Wine Picks for Valentine's Day post with the Winophiles group. This big Syrah based red wine from the Northern Rhone certainly called for hearty fare. I decided Beef Stew with Root Vegetables would be just the thing!
Beef stew is such classic winter comfort food. After a modest amount of work to get it going, the Beef Stew with Root Vegetables slowly braises in the oven for three hours while you enjoy the smells wafting through the house. Make yourself a batch of mashed potatoes in the final hour of braising time for the full comfort food effect. Of course if you are cutting back on carbs you can skip that.
Making Beef Stew with Root Vegetables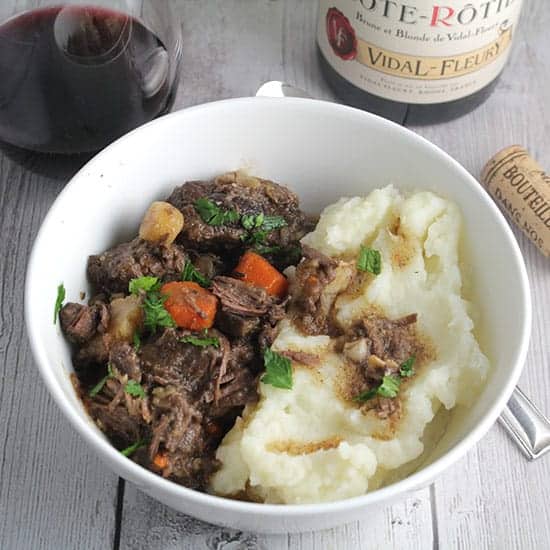 As noted earlier, you want to do some advance planning when making this Beef Stew with Root Vegetables recipe. Start marinating the beef the night before you want to serve it, or early the morning you are having it for dinner. There's about 30 minutes of active prep, prior to 3 hours of braising.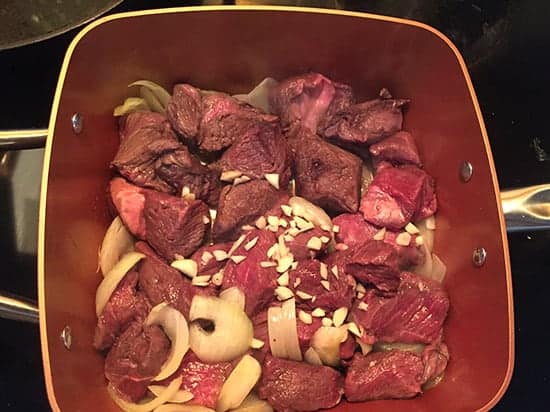 Lately I've been using my oven proof Copper Chef Pan for preparations like the beef stew with root vegetables, rather than the Dutch oven as it cooks things very evenly and is easy to clean (Amazon affiliate link included there in case you are interested in one). Either the copper pan or Dutch oven will work here.
I went heavy on the parsnips in this version of beef stew with root vegetables, but you can certainly mix up the root veggies you use.
You might note I used a bit of ketchup and soy sauce here. Not classic French ingredients but they add some good flavor!
If you are looking for slow cooker beef stew recipe, try our Chanterelle Beef Stew. That also comes with another great French wine pairing. And the same is true for our Beef Daube recipe!
Côte-Rôtie Wine Pairing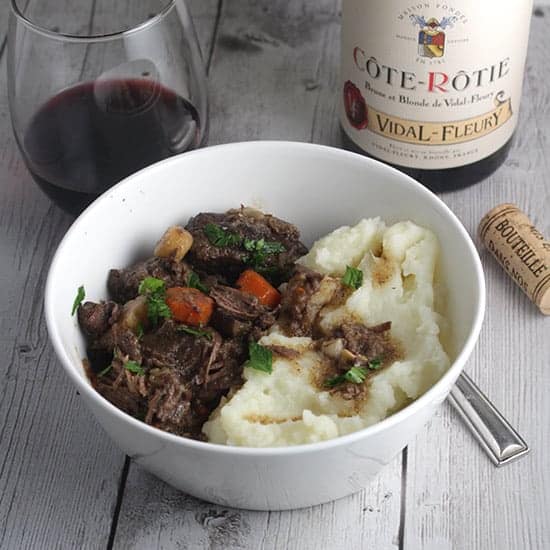 I had a bottle of 2013 Vidal-Fleury Côte-Rôtie Brune et Blonde ($72) waiting to serve with our Beef Stew with Root Vegetables.
Côte-Rôtie is an appellation in the Northern Rhone known for its steep vineyard slopes and Syrah dominated red wines. The name Côte-Rôtie translates into "roasted hillside". It is comprised of two slopes, Brune and Blonde, reflected in the name of the wine we opened for our beef stew with root vegetables.
This 2013 Côte-Rôtie is peppery on the nose. Blackberry fruit, currant and notes of leather, complex. This Northern Rhone wine is made from 95% Syrah, 5% Viogner grapes.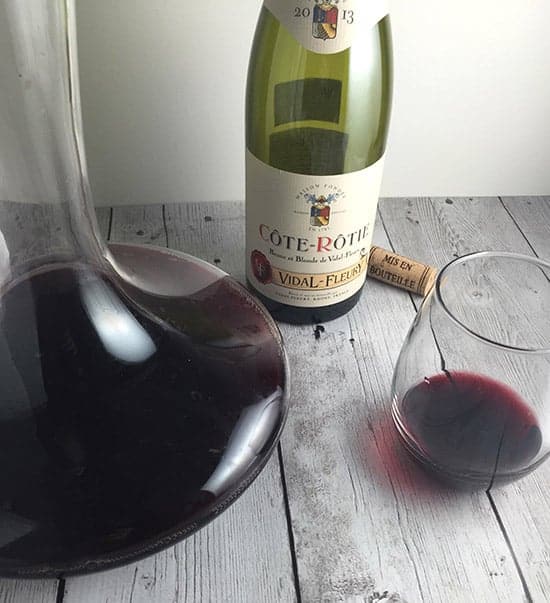 I did my initial tasting immediately after opening this wine, then decanted for an hour before dinner– I noticed a bit late that the winery suggested two hours of decanting. But one hour did give the wine good opportunity to open up, featuring plush fruit and a long finish after decanting.
As you might suspect, the Vidal-Fleury Côte-Rôtie Brune et Blonde is excellent paired with our beef stew! A robust wine that stands up well to the hearty dish.
Vidal-Fleury was established in 1781, making it the oldest house in the Rhone. They produce wines from throughout the Rhone region. This link has information on the distribution of Vidal Fleury wines in the U.S.
Print
Recipe card
Beef Stew with Root Vegetables
Beef slowly cooks with root vegetables for a succulent stew, with fall apart tender meat. Excellent served with a bold French red wine.
Author: Cooking Chat
Prep Time:

30 mins

Cook Time:

3 hrs 15 mins

Total Time:

3 hrs 45 mins active plus 6 hrs marinating

Yield:

8

servings

1

x
Category:

Stew

Method:

Braise

Cuisine:

French
For the marinade
6

sprigs of rosemary

6

cloves

5

bay leaves
Onion cut into about 8 pieces

3

garlic cloves, crushed

¼ tsp

fennel seed

1 tsp

honey
tsp coarse salt

5

black peppercorns

4 cups

red wine

2 ½

lbs stew beef
For cooking the stew
1 tbsp

extra virgin olive oil

1

onion, chopped

3

parsnips, peeled and chopped

1

carrot, peeled and chopped

¾ cup

mushrooms, chopped

4

cloves garlic minced

1 cup

reserved marinade liquid

1

sprig rosemary, minced

1 tsp

dried thyme
Pinch cinnamon

1 tbsp

ketchup

1 tsp

low sodium soy sauce

1 ½ cups

low sodium beef broth
Mashed potatoes for serving (optional)
Instructions
Make the marinade: In a large bowl, combine the marinade ingredients, from the rosemary through the red wine.
Pat dry the beef with a paper towel, and place in a large, sealable plastic bag. Carefully pour in the marinade. Seal the bag, and gently toss the bag to coat the beef. Marinate in the refrigerator for at least six hours, or overnight.
Prepare the Stew: When you're ready to start cooking, preheat the oven to 300 degrees (convection setting if you have it).
Place a strainer inside a large bowl. Pour the beef mixture into the strainer, using the bowl to capture and reserve the marinade. Remove the beef, scraping off big pieces of veggies, herbs and spices from the marinade. Set the beef aside in a bowl to cook.
Heat the oil on medium heat in a dutch oven or oven proof copper pan. Add the chopped onion to the pan, cook for a few minutes until it starts to soften.
Add the parsnips, carrots, mushroom and garlic to the pan, and cook for a few more minutes.
Stir in the beef, combining it well with the onions and other vegetables. Salt to taste. Cook for 5 to 10 minutes, stirring occasionally to brown on all sides.
Add the remaining stew ingredients to the pan with the beef and vegetables–reserved marinade, rosemary, thyme, cinnamon, ketchup, soy sauce, and beef broth. Stir to combine the ingredients.
Cover the Dutch oven / copper pan and move the stew to the oven, where it will braise for a total of 3 hours.
Braise at 300 degrees for one hour. If you are using a convection setting, lower the temperature to 275 after the first hour, and braise for an additional 2 hours at 275. If you are using a conventional setting, leave at 300 degrees for the entire 3 hours.
After the stew has braised for 3 hours, carefully remove the stew from the oven. Ladle the stew into bowls to serve, along with mashed potatoes if you are using them.
Notes
Braising is a technique whereby the food slowly cooks in liquid at a low temperature. It's a great way to turn inexpensive cuts of meat into a great meal. For more on braising, see this post on The Spruce.
Typically braising is done in a Dutch oven. Lately I have been using my oven proof copper pan with good results (Amazon affiliate link provided for you convenience). It's much easier to clean then the cast iron Dutch oven.
The recipe calls for 3 parsnips and 1 carrot. You could do 2 of each, or 3 carrots and 1 parsnip if you like. And certainly experiment with other root vegetables for this beef stew recipe.
Keywords: beef stew with root vegetables, root vegetable beef stew, marinade for beef stew
Recipe Card powered by
Like our new recipe card style? Check out WP Tasty for your WordPress blog! [Our affiliate link is included here]