Beef Daube Provençal is a traditional stew made in Southern France. Excellent paired with a red Bandol wine from Chateau de Pibarnon!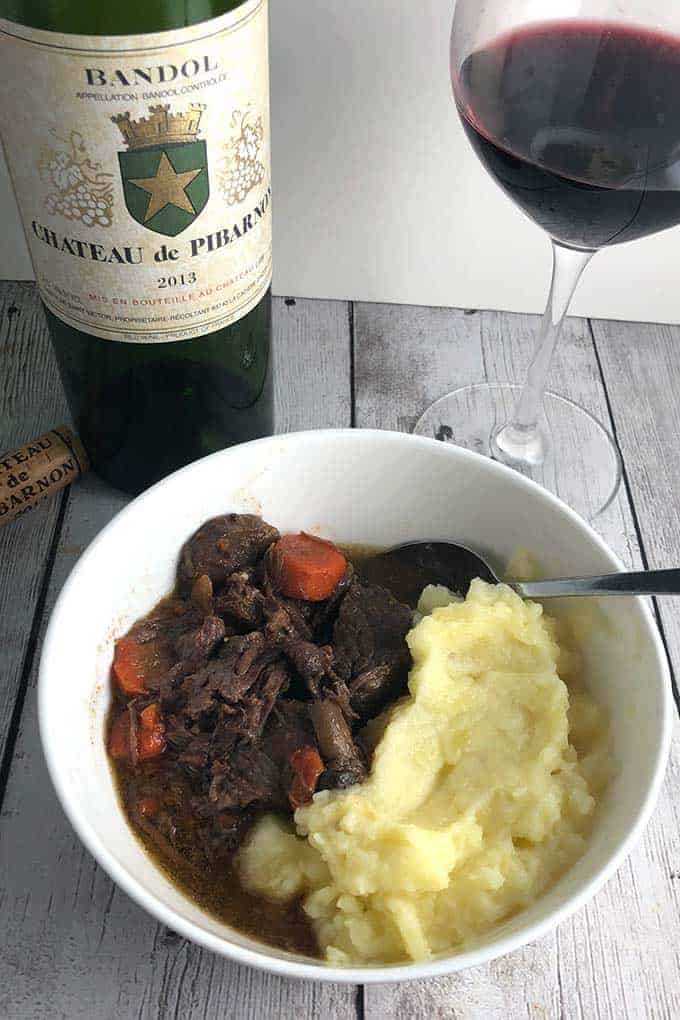 When I heard the French Winophiles group would be focusing on red wines from Provence this month, my mind immediately went to Bandol. While some 88% of wines produced in Provence are rosé, Bandol is a small region within Provence known for its big red wines.
What to make with a red Bandol wine? I quickly landed on making a Beef Daube Provençal.
What is Beef Daube?
A beef daube is a type of beef stew from Southern France. Traditionally a daube is made in a daubiere, an oval copper pot. I stayed with the copper theme and used my Copper Chef Pan to make the beef daube.
The key is to have an oven proof vessel that you can also use on the stove top. A dutch oven will do the trick too.
As you might imagine, Beef Daube Provençal is a stew that takes on the flavors of the region. You will want to use some of the herbs that grow abundantly in the Provence countryside-lavender, thyme, rosemary and sage. Collectively these herbs are referred to as "garrigue, and these herbal garrigue notes are often present in the wines form the region.
A beef daube cooks longer than Boeuf Bourguignon, relying on low and slow cooking to tenderize the inexpensive cuts of stew meat.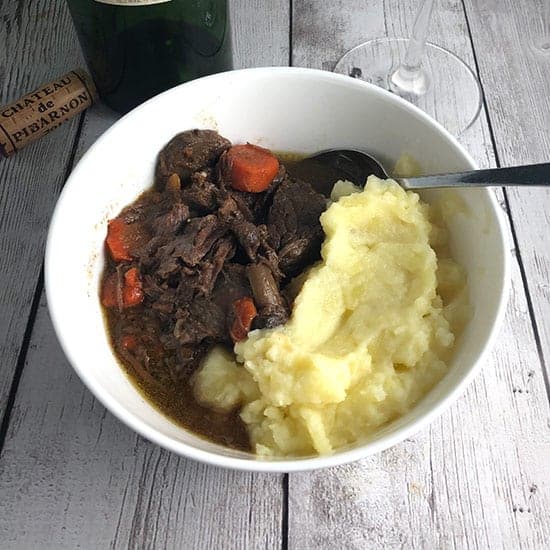 Red wine is the primary cooking liquid in a beef daube. Naturally, using a wine from the region is best. You could go all out and use some of the same wine you are pairing with the dish, but at the price point of the Bandol we opened, that was just for drinking.
A beef daube often has bacon in the recipe. However, we were sharing the beef daube with someone who doesn't eat bacon, so we used mushrooms to provide some additional earthy flavors.
Beef Daube with Red Bandol Wine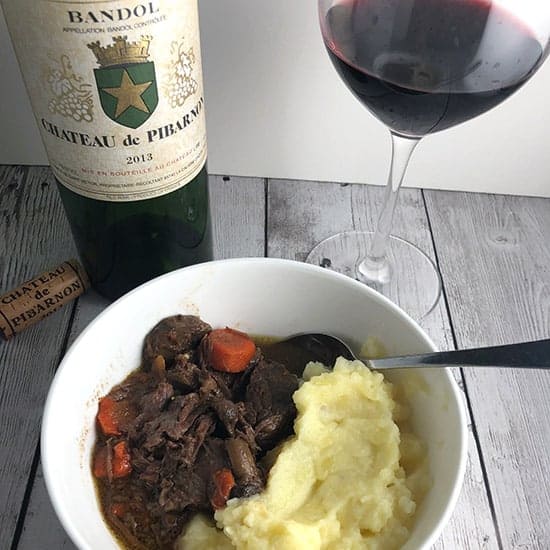 Knowing the Winophiles were focusing on red wines Provence for February, it seemed like a perfect time to splurge on a bottle of 2013 Le Rouge de Chateau de Pibarnon ($53, 14% ABV). This red Bandol wine was opened for sampling at Pairings Wine & Food last month, and it didn't take much convincing for me to leave with a bottle.
In this Somm Select article about the wine, Master Sommelier Ian Cauble says
This Mourvèdre-driven red may be the ultimate evocation of Provençal terroir, not to mention one of the most under-valued 'collectibles' on the market.
Tasting Le Rouge de Chateau de Pibarnon
The Chateau de Pibarnon is 90 % Mourvedre, 10 % Grenache. The wine is deep reddish purple in the glass.
Nose: Light notes of garrigue and bark.
Palate: Dense and chewy on the palate upon first opening. Blackberry fruit with notes of charcoal. The initial pour started evolving in the glass, showing notes of violet.
I had the bottle open for 30 minutes prior to decanting it for another 30 minutes. After the decanting, it really opened up, showing plum fruit and a nice long finish. An excellent wine! Oh yeah, in case you couldn't guess, the Chateau de Pibarnon is perfect with the Beef Daube Provençal!
About the wine and winery
Chateau de Pibarnon is located at the highest point in the Bandol appellation, with striking views of the Mediterranean. The soil is clay, limestone white chalk. The vines for this wine are between 30 and 50 years old. Their farming is organic. The Saint Victor family has owned the winery for the past 30 years.
Grapes for the wine are handpicked, selected from twelve of Chateau Pibarnon's best plots. The wine is fermented with indigenous yeast, then aged in large vats called foudre for about 18 months, in a combination of new and used French oak.
Chateau de Pibarnon also makes an excellent full-bodied rosé. This one makes an excellent pairing for our grilled swordfish recipe!
Print
Recipe card
Beef Daube Provençal
Beef slowly cooks in wine and other savory ingredients for a delicious, comforting winter meal. Excellent paired with a red wine from Bandol.
Author: Cooking Chat
Prep Time:

10 mins

Cook Time:

3 hours 30 mins

Total Time:

3 hours 40 mins

Yield:

8

servings

1

x
Category:

main

Method:

braise

Cuisine:

French
2 tbsp

olive oil, divided

1

onion, chopped

3

carrots, chopped

2 ½

lbs beef stew meat

3

cloves garlic, minced

1 tbsp

roasted garlic (see notes)

8

ozs mushrooms, coarsely chopped

1 cup

red wine, divided

½ cup

beef or chicken broth

2

sprigs rosemary and 3 sprigs thyme, tied together with cooking string.
salt & pepper to taste
mashed potatoes for serving
Instructions
Preheat oven to 300 degrees.
On the stovetop, heat on medium 1 tablespoon olive oil in a daubiere or similar oven safe cooking vessel. Add the onions, cook for a few minutes then add the carrots. Cook the onions and carrots until they begin to soften, about 5 minutes.
Add roughly half the beef to the pot, add salt and pepper to taste. Brown beef on one side for about 5 minutes, then turn the beef pieces to brown on the others side. When the meat is browned on all sides, about 10 minutes total, remove from pan and set the beef aside. Repeat the process, browning the rest of the beef. Remove the beef along with the onions and carrots, and set aside.
Add the 2nd tablespoon of olive oil to the pan, heat on medium. Add the minced garlic, and cook for a minute until it becomes fragrant.
Stir in the mushrooms, and cook until the begin to "sweat". Add ½ cup of the cooking wine, and cook until the wine has been mostly absorbed, about 5 minutes.
Add the beef and onion mixture back into the pot, along with the roasted garlic, stirring to combine everything well. Add the remaining wine along with the broth and the sprigs of thyme and rosemary. Bring to a simmer on the stovetop, then move the stew to the preheated oven.
Braise at 300 degrees for one hour. If you are using a convection setting, lower the temperature to 275 after the first hour, and braise for an additional 2 hours at 275. If you are using a conventional setting, leave at 300 degrees for the entire 3 hours
After the stew has braised for 3 hours, carefully remove the stew from the oven. Ladle the stew into bowls to serve, along with mashed potatoes if you are using them. Enjoy with a Provence red wine!
Notes
If you'd prefer skip the roasted garlic, use an additional 2 to 3 cloves of garlic, minced, instead.
Nutrition information does not include the side of mashed potatoes.
Keywords: beef daube, beef stew, Provence food, comfort food
Recipe Card powered by
More Provence Pairings from the French Winophiles
This month's French Winophiles was supported by Blue Vase Book Exchange. They provided some of our members with a copy of "A Year in Provence" by Peter Mayle.