Easy Black Bean Tacos with avocado and chipotle salsa recipe, is a tasty weeknight meal. Pairs well with German Riesling. Disclosure: The wine described was provided as a complimentary sample.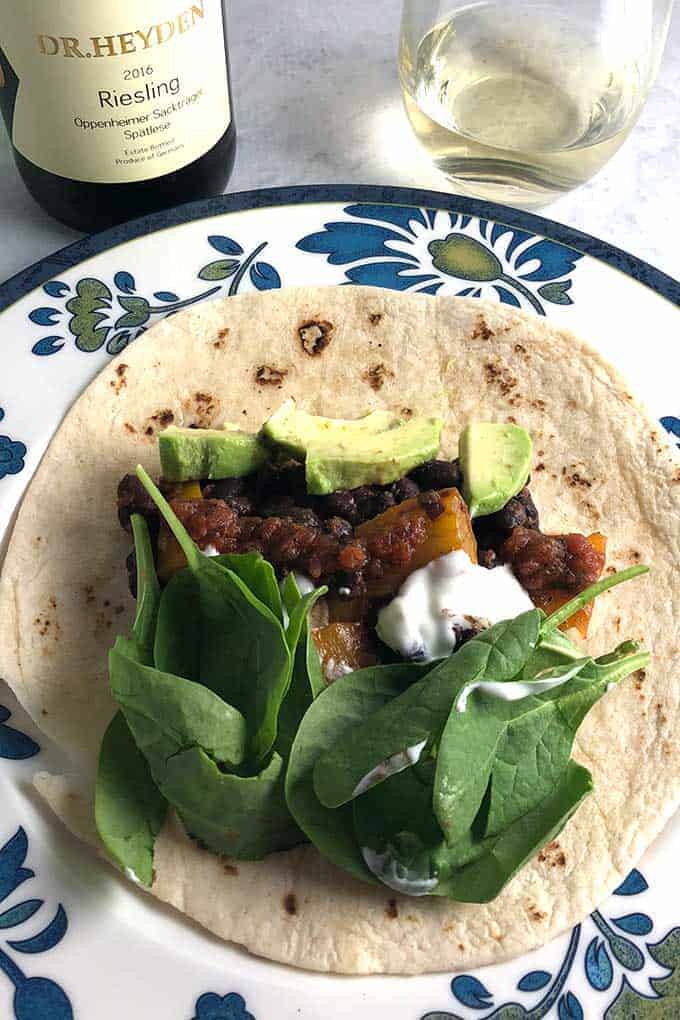 We have really embraced the #TacoTuesday concept in our home over the past year! Tacos are a fun, easy weeknight meal. Everyone gets to have a hand in putting their taco together, and they can adjust the ingredients to their liking.
Now, occasionally we have meetings or other things going on Tuesday evenings. So we move taco night around the calendar a bit as needed. "ThacoThursdays" have been known to happen!
We always have some beans as the base ingredient of our taco. If we have chicken, fish or meat of some sort around, that might get added to the mix. But more often than not, I'm eating a vegetarian taco for our weekly ritual.
Our son likes to stick with refried beans. But I love black beans, so will often make up these Easy Black Bean Tacos with Avocado.
Making Easy Black Bean Tacos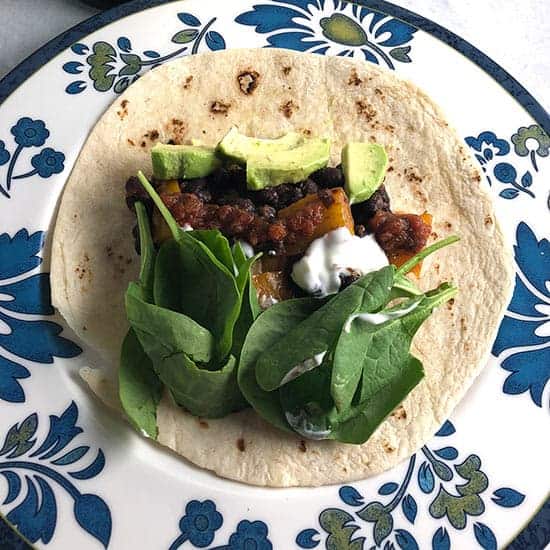 Before you get ready to start cooking the black beans, make sure you have a good size area on your kitchen island or counter ready to spread out the fixings of your taco bar. Or you could simply do that at your table. Part of the fun of taco night is people getting to fix up their taco the way they like it!
There's just a little cooking involved in making these black bean tacos. Start by sautéing half a bell pepper in some olive oil, then add the beans and chipotle salsa. I like that chipotle flavor, but you can certainly substitute your favorite salsa. I do think the chipotle flavor lends itself to being cooked with the beans, whereas some salsas I'm more inclined to only serve fresh.
As the beans heat up, get the other taco ingredients spread out to create your taco bar.
The recipe card describes how we fix up our soft black bean tacos. But I'm going to take some more step by step picture our next taco night to show you how we put together our tacos! If you don't already have a method down for putting together tacos, a visual will be helpful.
German Riesling with Black Bean Tacos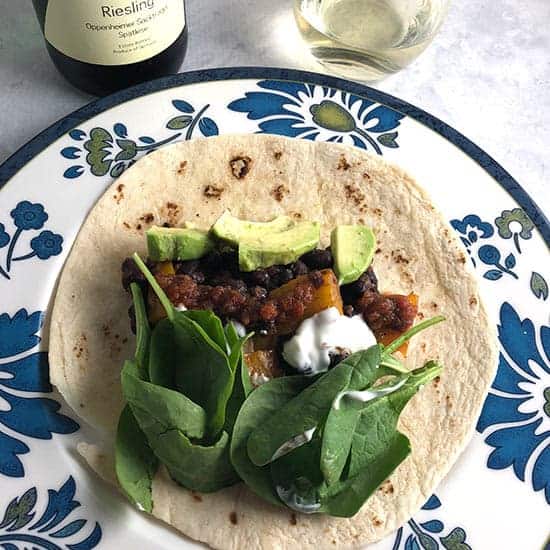 Our Easy Black Bean Tacos get a bit of heat from the chipotle salsa. Sure, you could enjoy these tacos with a good beer, but why not go for an always food friendly German Riesling?
This fall we had a chance to sample a variety of German Rieslings along with a few other wines from Germany. On the night we were taking notes and pictures for this black bean taco recipe, we opened the 2015 Dr. Heyden Oppeneimer Sacktrager Riesling Spätlese ($18, 11.1% ABV).
This Riesling has apricots on the nose, honey on the palate, and underlying minerality. The touch of sweetness is a nice contrast to the spice of the taco. I definitely recommend the Riesling as a pairing for the black bean tacos!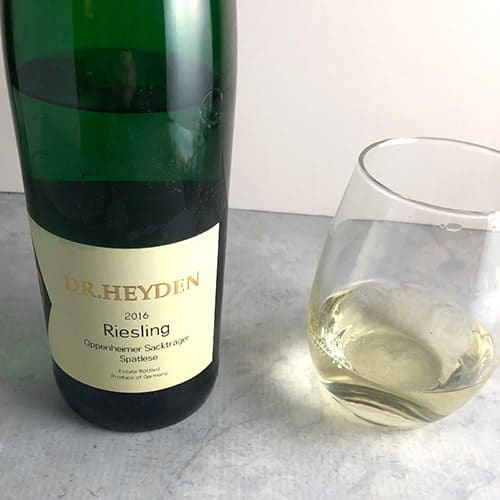 I'm just getting up to speed on my Riesling terms. "Spätlese" means the wine is made from late harvest fruit. That tends to mean there will be more sweetness to the wine, but there is definitely a range.
This Dr. Heyden Riesling Spätlese has 56.1 grams per liter of residual sugar, which was on the lower end of the range for RS among the Spätlese wines we sampled. Enough sweetness to make it good with spicy food but not so much to think of it as a dessert wine!
The Dr. Heyden winery is located in the Rheinhessen region, the largest wine region in Germany. Rheinhessen is in a valley with gently rolling hills. The winery was established in 1999, in an area with a long history of producing good wine.
As explained on the Somm Select website, the "Oppenheimer Sacktrager" on the label tells us more about where the wine is from–the historic Sacktrager vineyard, which has produced Riesling for centuries, in the village of Oppenheim.
If you do want to go with a beer for the black bean tacos, a good IPA is a reliable choice to pair with spicy food.
Want to try another Riesling pairing? Our Chicken Sausage Veggie Bowls worked out nicely with another one of the Rieslings we sampled.
Print
Recipe card
Easy Black Bean Tacos with Avocado
This Easy Black Bean Tacos and Avocado recipe has a flavorful chipotle salsa base. Perfect a Taco Tuesday or other quick weeknight meal!
Author: Cooking Chat
Prep Time:

5 mins

Cook Time:

15 mins

Total Time:

20 mins

Yield:

4

servings

1

x
Category:

main

Method:

stove top

Cuisine:

Tex Mexican
1 tbsp

olive oil

½

red or yellow bell pepper, chopped

14 ½ oz

can black beans, rinsed and drained

4 tbsp

chipotle salsa

1

avocado, sliced

½

of a lime

2 cups

of baby spinach or other greens

4 tsp

low fat sour cream

4

medium tortilla shells – about

6

inches diamater
Instructions
Heat the olive oil in a medium sized pan, on medium heat. Add the bell pepper, and cook until it begins to soften, about 5 minutes.
Add the black beans, followed by the salsa. Stir to combine. Simmer on medium low heat for about 10 minutes, stirring occasionally.
As the beans cook, arrange the tacos toppings for serving–avocado, sour cream, greens and lime.
Heat the tortilla shells. We simply have each person put a tortilla shell on their plate, and microwave for 10 to 15 seconds.
Make the taco: start with a heated tortilla shell on your plate. Add a couple scoops of beans to form a line down the middle of the tortilla, leaving about an inch on the top and bottom. Add the avocado and greens alongside the beans, then top the beans with a bit of sour cream and a squirt of lime juice. Fold the taco above and below the line of beans and other ingredients, then roll the the tortilla shell to close the soft taco. Enjoy!
Notes
The method we describe for rolling the tacos closes up the soft taco and keeps the ingredients in…at least that is the goal, no guarantees it won't break! Have some tortilla chips ready to scoop up any extra ingredients that slip out.
You can also simply fold the tortilla shell in half to close it up, and eat adventurously…some of your ingredients will definitely spill out, that that's OK! See note about having tortilla chips ready.
This black bean taco filling is also good with hard tacos.
Keywords: tacos, black beans, Riesling, black bean tacos
Recipe Card powered by