Grilled Swordfish with Garlic Soy Marinade is a healthy and easy meal to make for a busy weekday supper. Read on for details or jump click here to jump down to the recipe card.
A weekday supper has got to be fast and easy, but it doesn't have to sacrifice on taste! This Grilled Swordfish with Garlic Soy Marinade has got the fast and easy covered. On top of that, it's healthy, lean protein, and even our discerning 9 year old food critic loves it! The soy and honey combination won him over. If you're able to grab some local honey like we did, that is extra tasty. I have recently made a few updates to this post, including adding the recipe card at the bottom of the post if you prefer to get the instructions that way.
This isn't just any weekday supper, it's Friday night. Sure, you might be tempted to go out or do takeout at the end of the week. This is very low-maintenance but special enough to get your weekend end started! Speaking of weekend, be sure to check out the wine pairing tips at the end of the post.
Making Grilled Swordfish with Garlic Soy Marinade
Preheat the grill. Combine all the marinade ingredients in a bowl. Gently toss the swordfish with the soy garlic mixture so that it well-coated, and let the fish rest in the marinade for about 5 minutes.
Place the swordfish on the grill on direct, medium-high heat, and cover. Grill for 6 minutes, then flip it to the other side. Brush some of the reserved marinade to coat the cooked side of the fish (see "safety tip" below). Grill for another 6 minutes. This timing was perfect for our swordfish, but check for doneness as cooking time will vary based on the heat of your grill and size of the swordfish. Don't overcook the fish–it should be cooked through but still nice and most.
When cooked to your liking, remove the swordfish from the grill and place on platter to rest for a few minutes. Cut into serving portions and plate. A quick salad and a simple grain like couscous or quinoa (our choice) rounds out this weekday supper.
Wine Pairing for Grilled Swordfish with Garlic Marinade
You can go in a number of directions with this dish. You could pour a Chardonnay or other full-bodied white wine. A rosé can be a great option with the grilled swordfish; Pinot Noir works nicely with meaty fish like salmon and swordfish. We recently paired an Eric Kent Sonoma Coast Pinot Noir with this Grilled Swordfish and it worked quite nicely.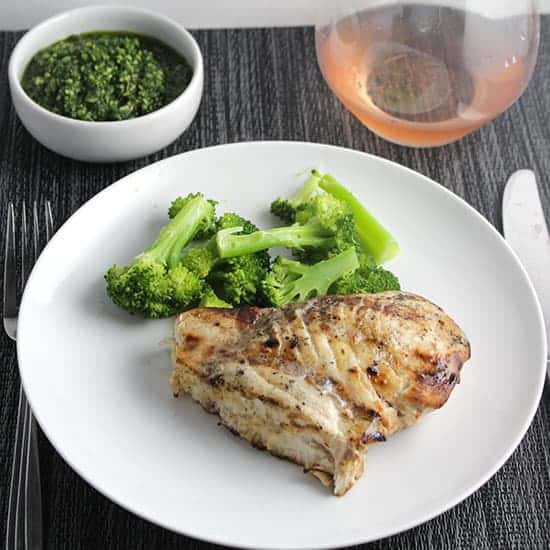 While you could make a happy pairing with many of the above suggestions, I'm updating this post to share a particular good wine pairing we had recently with this grilled swordfish recipe. We opened a bottle of 2015 Chateau de Pibarnon Bandol Rosé ($38, 13.5% ABV) to pair with the swordfish. This rosé has a taste of watermelon and floral qualities on the palate, with a touch of salinity. The wine is made from 65% Mourvèdre and 35% Cinsault. This classic Bandol Rosé from Provence is an excellent wine pairing for the grilled swordfish!
I sometimes like to top grilled swordfish with kale pesto, which is why you see some pesto alongside the swordfish above. That is a great combo–here's a link to my grilled swordfish with kale pesto recipe–though the grilled swordfish and Bandol Rosé pairing works better prior to topping the fish with pesto. And for more ideas, be sure to visit our Best Grilled Swordfish recipes roundup.
Safety Tip for Grilling Swordfish
Marinades should never be used as an uncooked sauce for your food. In the this recipe, a bit of the reserved marinade is applied mid-cooking, allowing a chance it to be cooked through.
Print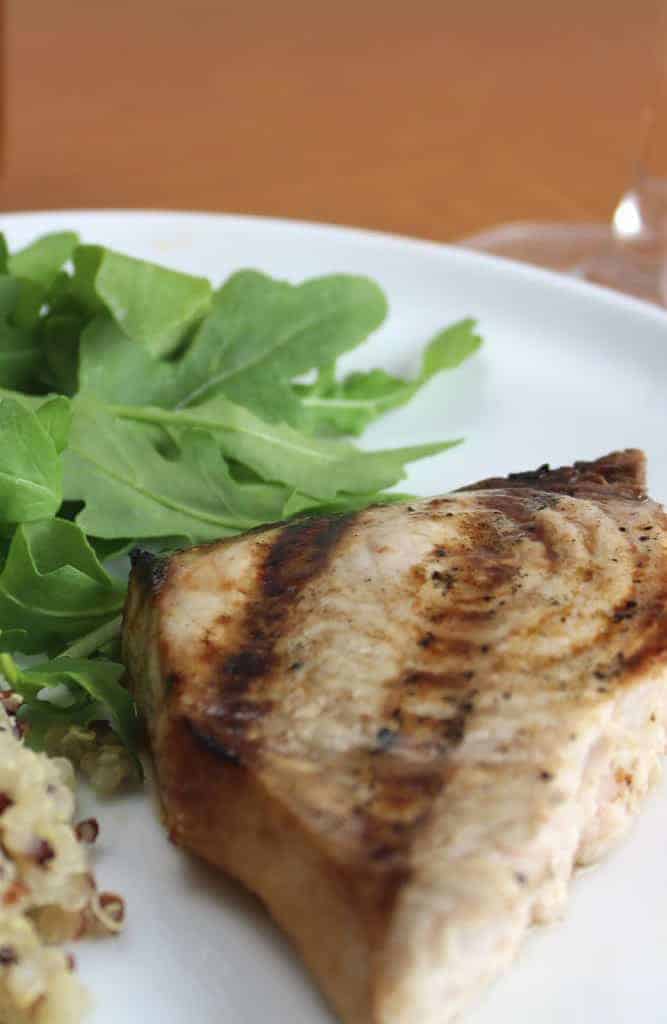 Check out the Weekday Supper lineup!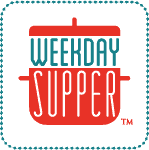 Monday – Pasta with Spicy Sausage and Sun-Dried Tomato Pesto by Bobbi's Kozy Kitchen
Tuesday – Apple Butter Chicken by Cindy's Recipes and Writings
Wednesday – Crockpot Spicy Chicken and Rice by The Foodie Army Wife
Thursday – Creamy Pumpkin Pasta by The Messy Baker
Friday – Swordfish with Garlic Soy Marinade by Cooking Chat