Inspired by a recent Bordeaux wine dinner, this article provides an overview of Pessac-Léognan wine along with examples of wines from the appellation we have tried along with food pairings. Disclosure: I was invited by Gregory & Vine as their guest to attend the dinner and receive complimentary sample wines described.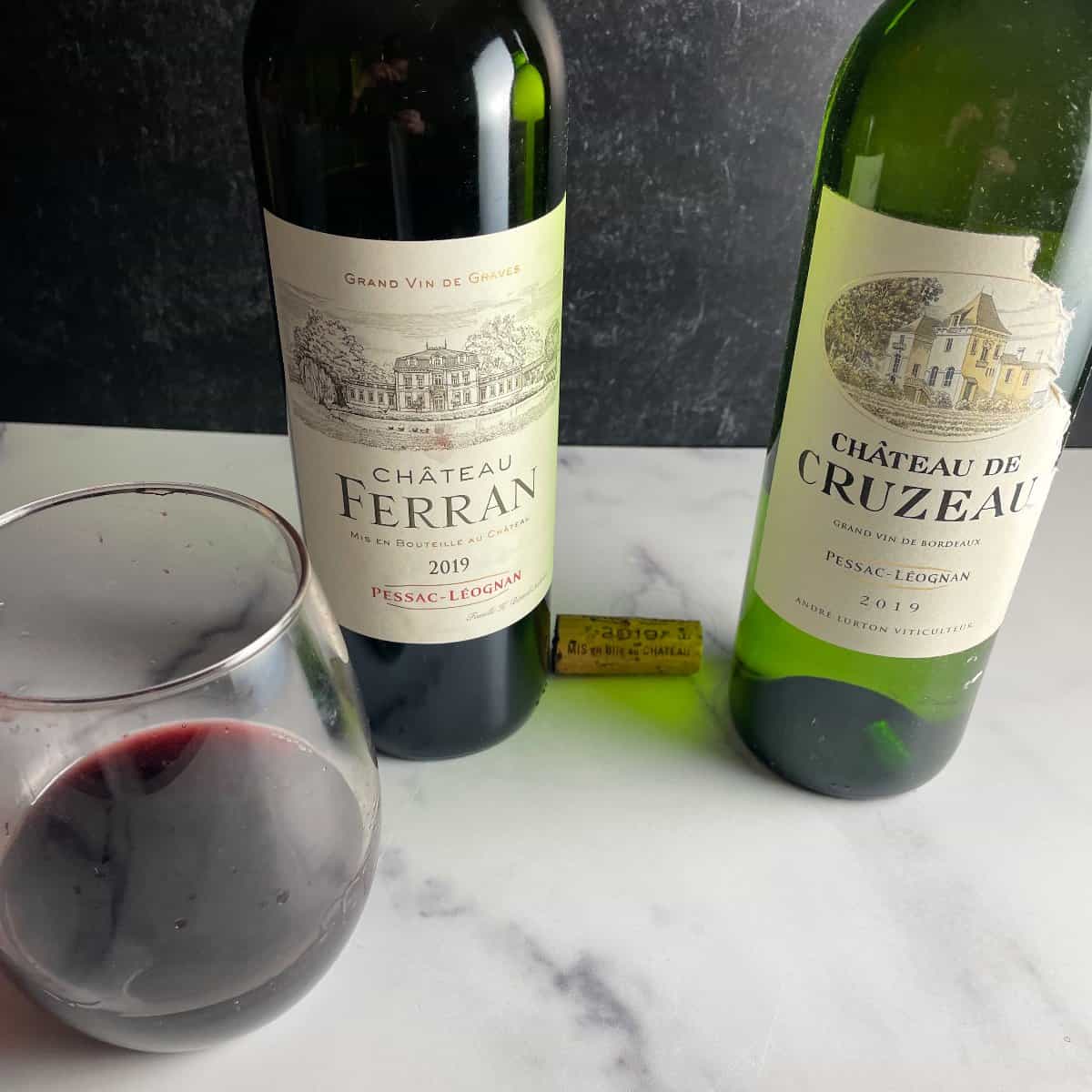 This past fall I had a chance to attend a Bordeaux wine dinner at Catalyst Restaurant in Cambridge, featuring still wines from Graves and Pessac-Léognan plus sweet wines from Sauternes and Barsac.
I've long been a fan of Sauternes and other Bordeaux sweet wines, so it was no surprise that I was a big fan of that part of the tasting dinner.
But I was less familiar with the Pessac-Léognan appellation (AOC). These wines really impressed me at the event, so I wanted to take a deeper dive into the wines of the region.
Jump to:
Where is the Pessac-Léognan region?
Pessac-Léognan is a communal appellation within the Graves region, with lies along the left bank of the Garonne River. The region is due south of Bordeaux city, and thus can be considered the gateway to the Bordeaux wine region.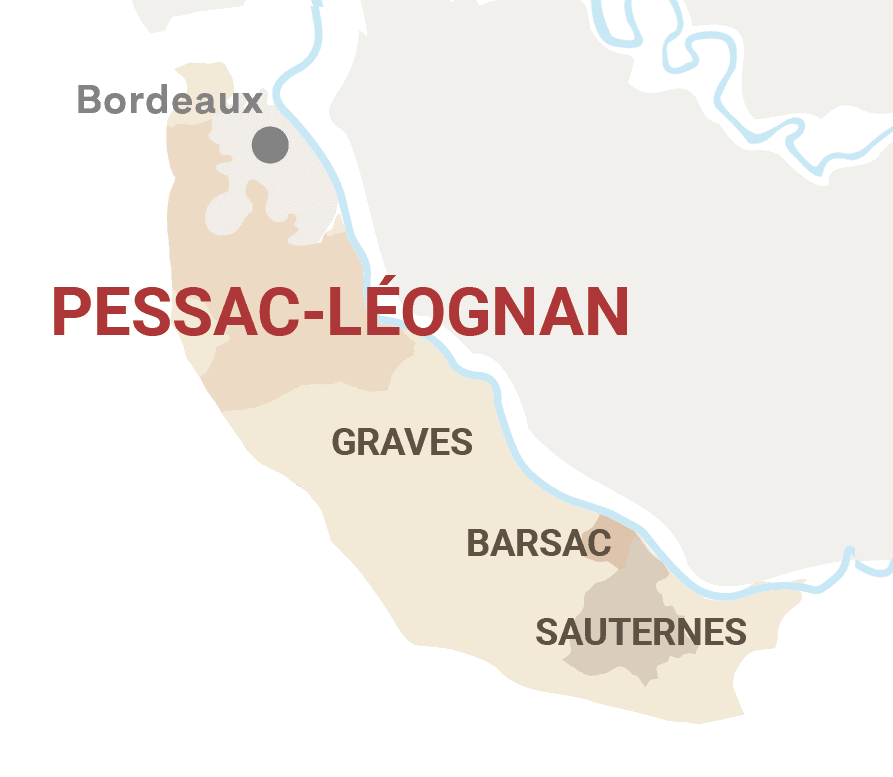 Pessac-Léognan is located within the northern part of Graves, closer to the city of Bordeaux than the southern part of the region. It is a relatively small subregion, covering just over 1,000 hectares of vineyards, but it is considered one of the most prestigious wine appellations within Bordeaux.
The Pessac-Léognan's proximity to the Atlantic Ocean influences the weather, with mild winters and warm summers. The stable climate, with few frosts, is conducive to wine grape production. The soils are a mix of gravels, shingles and pebbles, resulting from the movement of the Garonne River over time.
History and background
The Graves-Sauternes region can be considered the birthplace of Bordeaux wines. Wine production in the region goes back to the Romans some 2000 years ago.
The appellation Pessac-Léognan was established in 1987, a communal AOC within the Graves region. It was established as a separate appellation to reflect the distinct character of the wines produced in the area. Pessac-Léognan includes 10 villages and 72 estates, known for the production of high quality red wines as well as dry white wines.
Pessac-Léognan is home to 16 Crus Classés de Graves, including the famous Château Haut-Brion. While a bottle from that famous estate will set you back hundreds of dollars, my recent tasting experience shows that some excellent Pessac-Léognan wines can be enjoyed for a much more moderate price.
Types of Pessac-Léognan Wine
Pessac-Léognan is a great source for elegant red wine blends. As is the case with other Left Bank Bordeaux, Cabernet Sauvignon is typically the dominant grape. Howeer, there tends to be more Merlot in the blend than other Left Bank appellations. In fact, one of the Pessac-Léognan red wines we sampled flips the script, and actually has more Merlot than Cabernet Sauvignon.
Cabernet Franc also plays a supporting role in Pessac-Léognan red wine blends. Red wines from the appellation typically have significant aging potential.
While I tend to think of Bordeaux for reds first, one shouldn't over look the excellent white Bordeaux wines. Pessac-Léognan produces some high quality white wines made from a blend of Sauvignon Blanc and Semillon. After fermentation, bâtonnage sur lie helps these white wines develop structure and aromos.
Wine and food pairings
The Bordeaux wine dinner at Catalyst that got me interested in sharing about Pessac-Léognan included a total of five courses, counting the amuse bouche. It was a delicious lineup of pairings thoughtfully curated by Chef William Kovel.
I'm going to focus here on the two courses at Catalyst that featured Pessac-Léognan wines, followed by some I've put together at home. Check out the reel we put together for a look at the full Graves Sauternes dinner experience!
Roasted Scallops with Pessac-Léognan white wines
The first course was a delicious preparation of roasted scallops served with braised endive and citrus butter.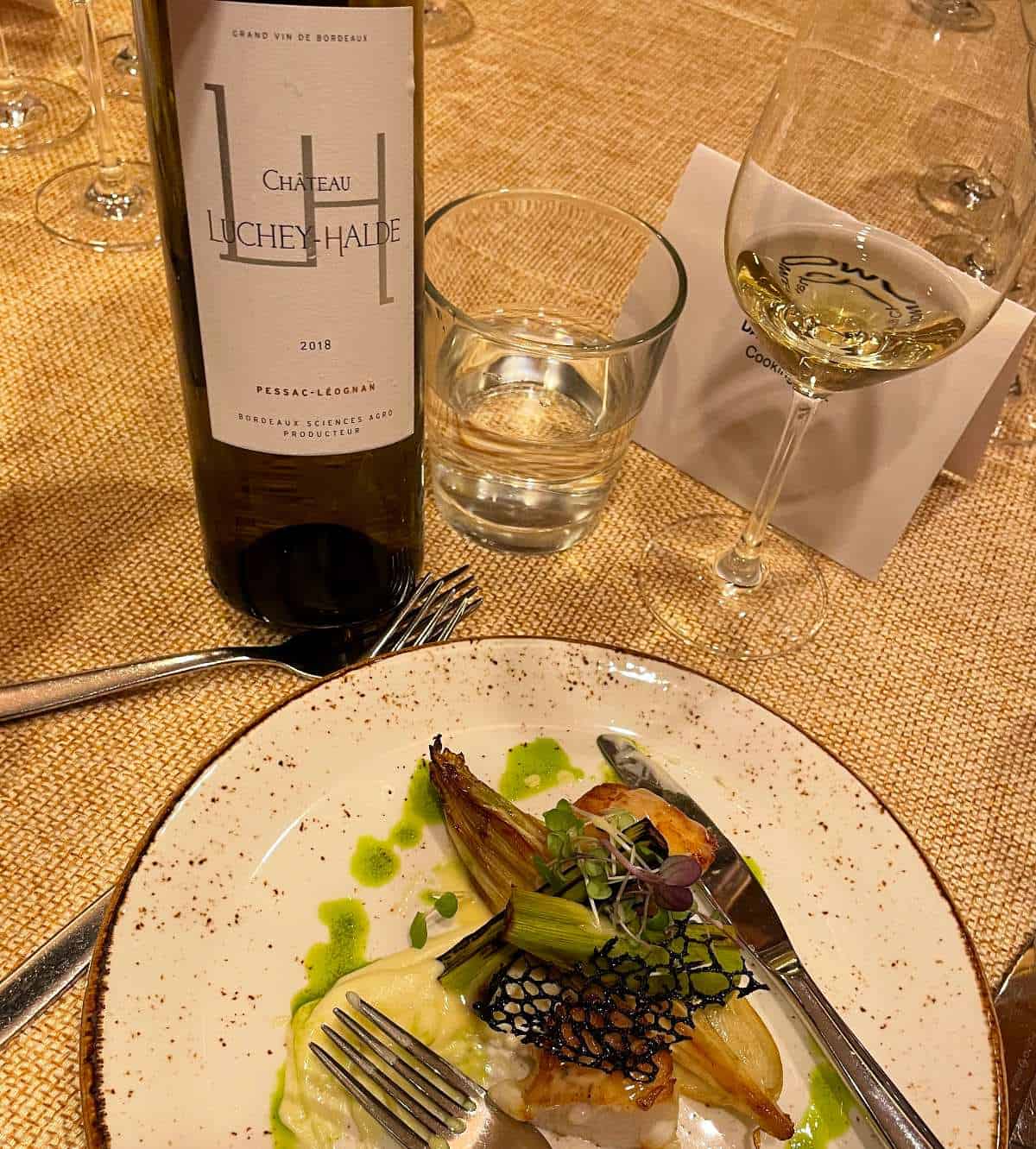 Pessac-Léognan white wines are great with seafood, so as you might imagine, this was an excellent pairing with these two bottles:
2018 Château Luchey-Halde Pessac-Léognan Dry White
2016 Château Carbonnieux Pessac-Léognan Dry White
If you're looking to create a Pessac-Léognan pairing with scallops at home, try our pan seared scallops with pesto recipe! I look forward to testing it myself, but I'm pretty confident it will be delicious.
A few additional notes on these Pessac-Léognan white wines. The Château Luchey-Halde is a blend of Sémillon (45%), Sauvignon Blanc (38%) and Sauvignon Gris (17%). I don't see Sauvignon Gris listed much, but you do find it in Bordeaux as well as Chile. Sauvignon Gris is a mutation of Sauvignon Blanc, with a slightly pinkish-grey skin that gives it its name.
Château Carbonnieux is a historic Pessac-Léognan winery, and has achieved Grand Cru Classé for both red and white wine. The winery's vineyards are planted on a combination of gravelly soils and clay-limestone soils, which lend complexity and structure to the wines. Château Carbonnieux is known for producing wines of great finesse and elegance, with the ability to age gracefully for many years.
The 2016 Château Carbonnieux Pessac-Léognan is a blend of 70% Sauvignon Blanc and 30% Semillon. It is definitely delicious with the scallops!
Striploin of beef with Pessac-Léognan red wines
Bordeaux red wines tend to be very good with beef, and the Pessac-Léognan reds we had at the Catalyst dinner were certainly no exception. A striploin of perfectly cooked striploin of beef was served with earthy roasted hen of the woods mushrooms and an oxtail cannelloni.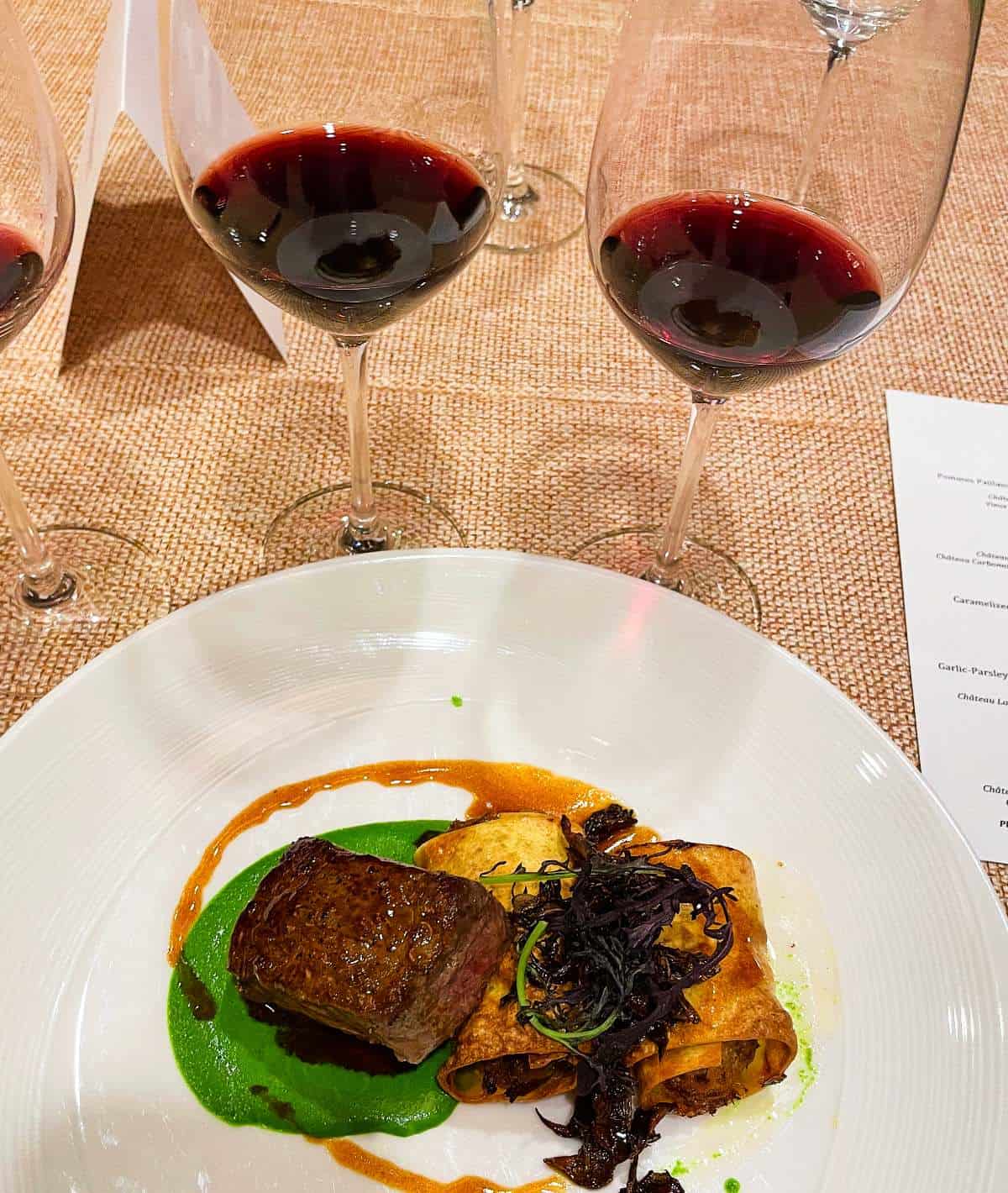 The reds poured to go with this delicious preparation were:
2015 Château Luchey-Halde Pessac-Léognan Red
2005 Château Latour-Martillac Pessac-Léognan Red
Both of these Pessac-Léognan were delicious with the savory beef and sides. The 2005 is drinking very well know, an example of the aging potential of these wines. I especially enjoyed the 2015 Château Luchey-Halde, a very well balanced blend of Cabernet Sauvignon (55%), Merlot (35%), Cabernet Franc (5%) and Petit Verdot (5%).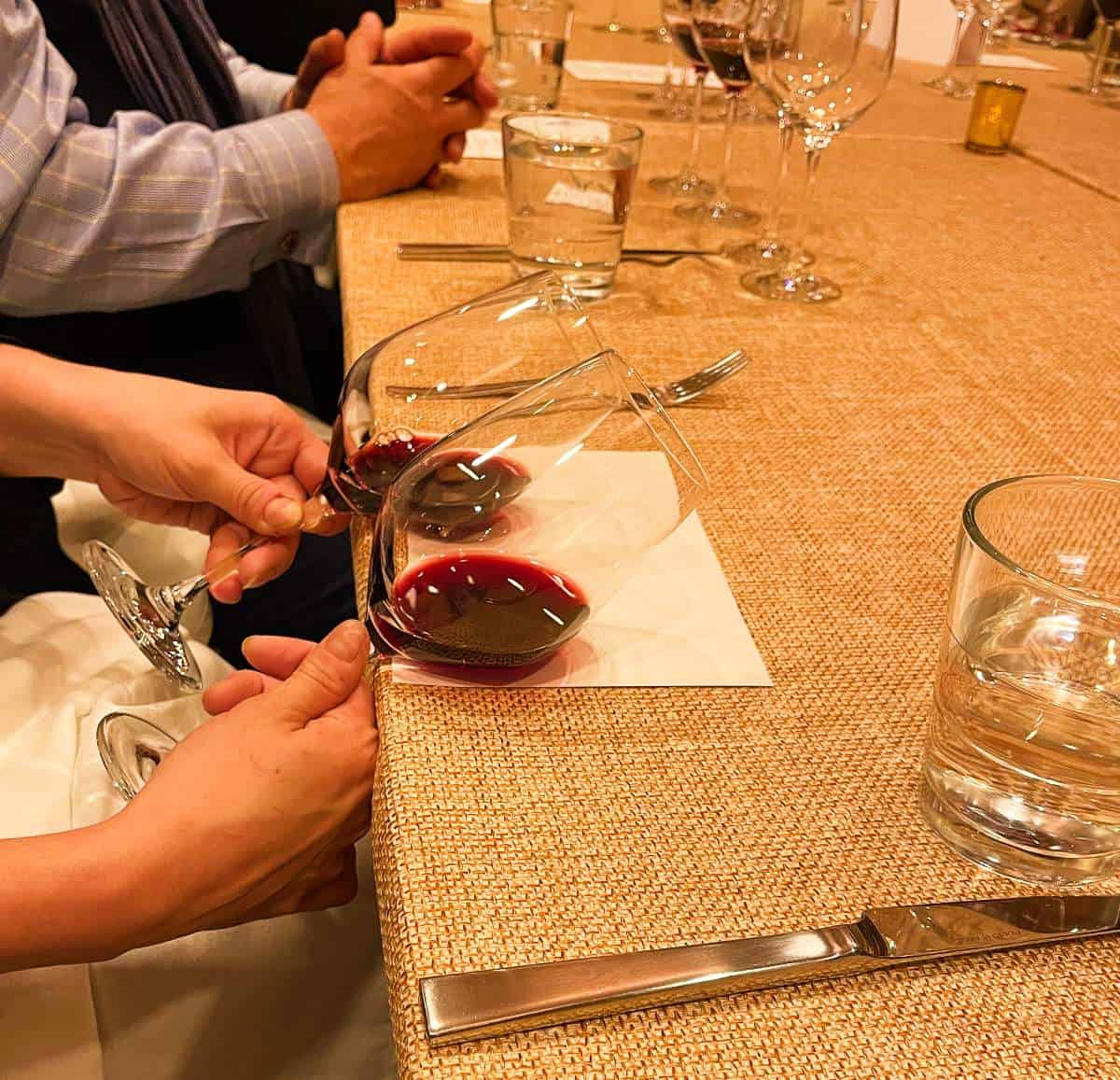 The Château Luchey-Halde wine technical notes sheet indicate that 2015 featured great growing conditions, with a hot, dry summer followed by a mild harvest season. The wine was barrel aged for 12 months, 50% new oak.
I recall enjoying this wine a lot, but will rely on the tasting notes from the winery for more detail: "Beautiful bright garnet color. The nose is finely peppery with notes of black currant and hazelnut. In mouth, fresh with floral notes of violet and a hint of raspberry and cocoa. The tannins are supple and fine. The finish is rich."
Brisket with Château Ferran Pessac-Léognan Red
The delicious meal at Catalyst inspired me to do some pairings at home!
As a follow-up to the event, I received two bottles to go with some home cooking. We started with the 2019 Château Ferran Pessac-Léognan Red ($23, 14.5% ABV), paired with our Braised Brisket recipe.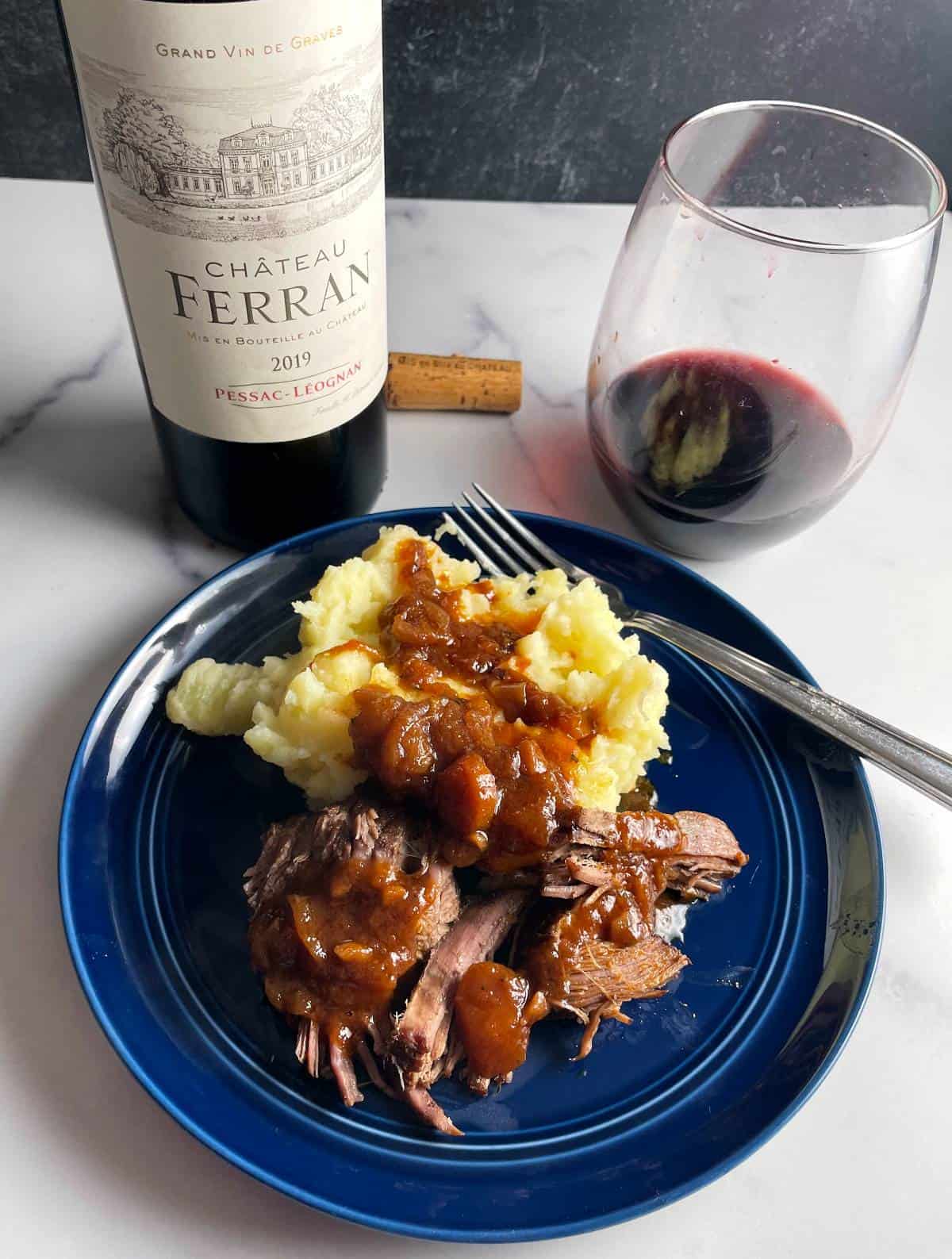 The Château Ferran is unusual for a Left Bank Bordeaux, in that Merlot is the dominant grape at 77%. Petit Verdot comes in at 13% with 10% Cabernet Sauvignon rounding out the blend. The wine is from the the village of Martillac and ages for 12 months in oak (30% new).
This Pessac-Léognan red wine has a woodsy nose, with notes of lead pencil and brambles. On the palate, black cherry fruit and a touch of vanilla. Well-integrated tannins. A nicely balanced wine. The Château Ferran Pessac-Léognan Red shows that you don't have to break the bank to enoy a good Bordeaux!
As you might expect, the Château Ferran went very well with the brisket, which we had previously paired with a Gigondas.
This Pessac-Léognan red wine would go well with other hearty winter fare. Our top round roast recipe and porcini mushroom beef stew are a couple that come to mind. In fact, checking my beef stew post, I see we previously enjoyed the recipe with the 2015 Chateau Baret Pessac-Léognan.
Château Cruzeau White Wine
We still have one more Pessac-Léognan wine to sample! The Château Cruzeau White wine ($25) waiting in the wings to try. Seeing as we are still in peak comfort food / red wine season, I didn't want to delay sharing about the rest of the wines. Stay tuned for a report on what we served with this Pessac-Léognan white wine! It's 100% Sauvignon, and should go with any number of ligher dishes as we approach spring.