Today we share French Wine Picks and Pairings for Valentine's Day as part of a special "l'amour" focused French Winophiles event. Great food and wine pairings are a fun way to celebrate with your Valentine! Disclosure: the four featured wine picks were provided as complimentary samples. As always, the opinions are entirely my own.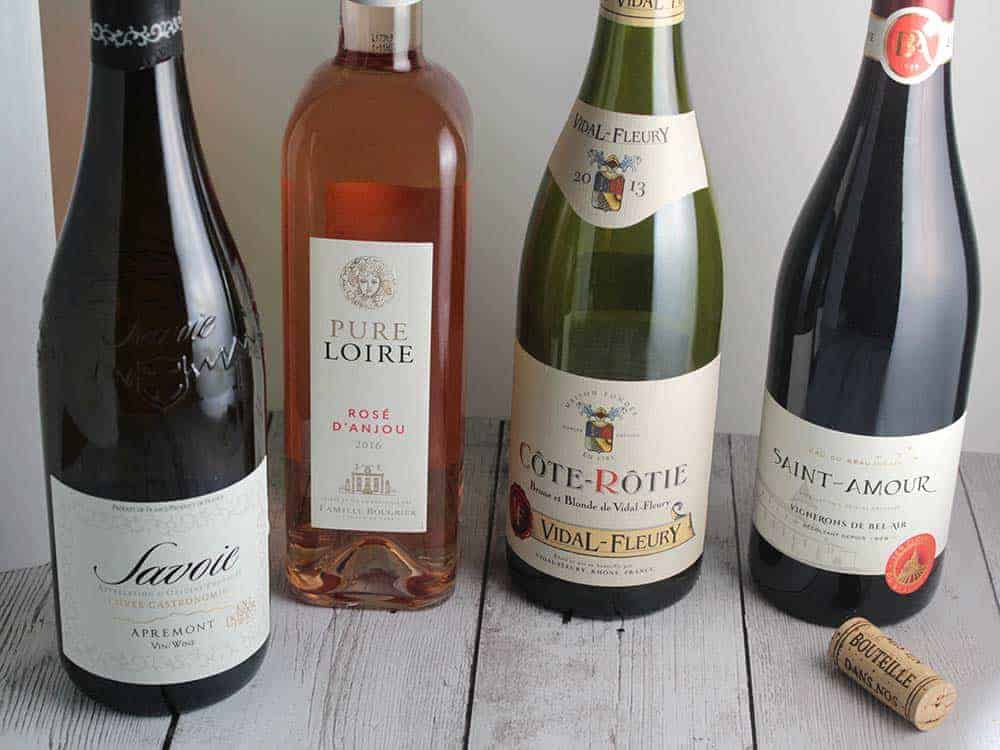 I enjoyed all four French wines that were sent as part of the French Winophiles February l'amour theme. I'm going to lead off with my favorite pairing, which was the 2016 Pure Loire Rosé D'Anjou ($15, 12% ABV) paired with our Easy Black Bean Turkey Chili. If you are reading this early in the day on Valentine's Day, you could still put this pairing together for your love!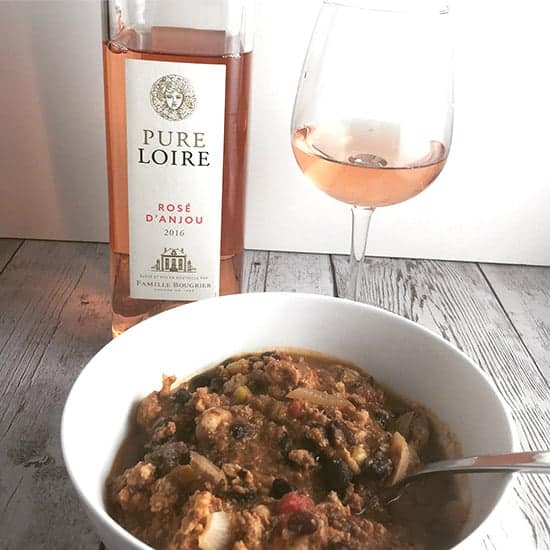 I hadn't considered rosé as a pairing for chili until reading Martin's post on ENOFYLZ. Then I noticed the winery mentioned their rosé as a good match for spicy food, so I definitely had to try it!
The Rosé D'Anjou from Famille Bougrier is salmon pink in the glass, a nice color for Valentine's Day! Melon on the nose, taste of strawberry fruit and a bit of kiwi. Some good acidity. Medium bodied with nice mouthfeel. Very pleasant to sip on its own, this rosé really refreshes between bites of the chili. Give it a try with our chili or other spicy food!
The Rosé D'Anjou is a blend of Gamay and Grolleau, 50% each. I had recently just tried Grolleau for the first time, in a single varietal red wine, so was curious to sample it again in this rosé.
Famille Bougrier has been producing wine in the Loire region for 130 years, unique in that they make wine from throughout the region. Rosé D'Anjou is available exclusively at Total Wine in the U.S.
2016 Saint-Amour Cru Du Beaujolais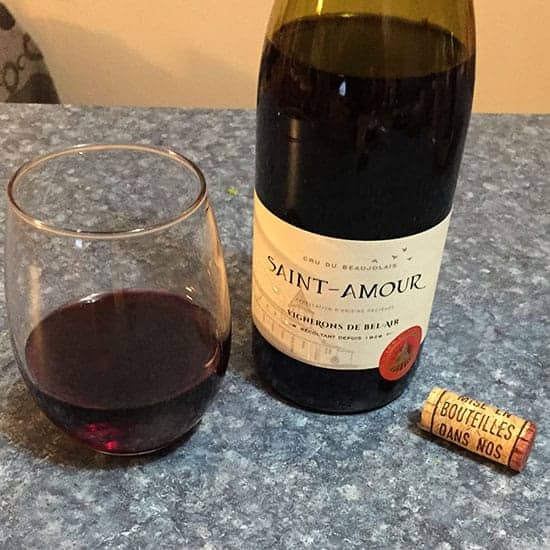 Our French wine picks for Valentine's Day needs to include a wine with amour in the name, bien sur! So let's go now to the 2016 Saint-Amour Cru Du Beaujolais (13% ABV) from the Vignerons De Bel Air, which draws upon grapes from some 250 growers in the Beaujolais region. They are the largest producer of Cru Beaujolais.
Made from 100% Gamay grapes, this Beaujolais is a versatile, food friendly wine. I thought I'd give it a try with some of our leftover chili.
I got violet on the nose of the Beaujolais. Plum fruit, notes of leather. Body medium / light, soft mouthfeel.
The Beaujolais and chili was a decent pairing, but didn't sing together the way the rosé and chili did. The Saint-Amour tasting notes mention lamb tagine as a good pairing, that sounds like one to try! For more ideas on Beajolais pairings, visit our November Winophiles post, Food-Friendly Red Wine from Beaujolais.
2017 Savoir Apremont Fleur de Jacquère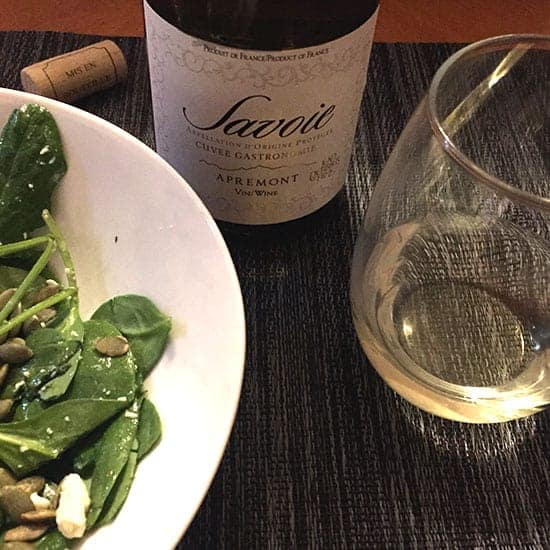 The 2017 Savoir Apremont Fleur de Jacquère ($13, 11.5% ABV) from Jean Perrier et Fils is an interesting bottle, made from 100% Jacquère grapes, which are native to the Savoie region, located in the Alps in Eastern France, near Switzerland. Apremont is an AOP in Savoie.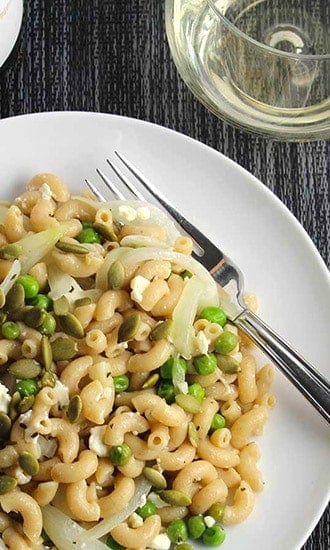 I get lemon peel on nose, and taste of peach and a bit of almond with some minerality. Interestingly while reading about the Savoie region, I noted I that almond trees sometimes share the land with grape vines in the region.
The Savoie was good nibbling on a bit of cheddar as I was cooking. I particularly liked the way the Savoie paired with the Quick Pasta with Peas and Feta Cheese I made. The wine refreshed and cleansed the palate after bites of the rich feta cheese. It was also good with some baked haddock that we were eating along with the pasta.
Jean Perrier et Fils has been making wine for 7 generations, since 1853. They are located close to Mont Blanc, Europe's tallest mountain. The steep vineyards produce distinctive, high quality wines.
2013 Vidal Fleury Côte-Rôtie Brune et Blonde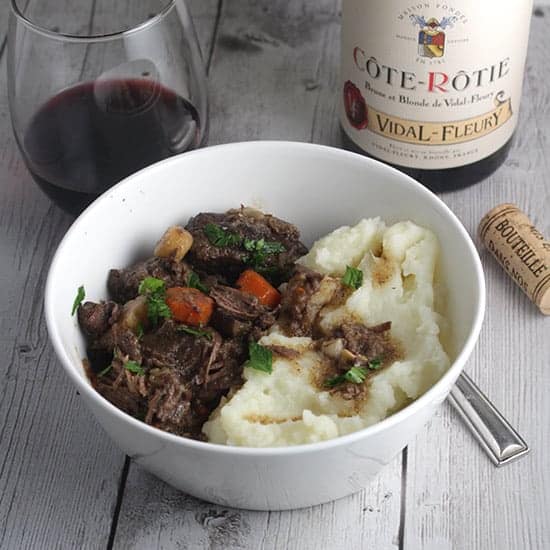 We've got a big red wine in the cleanup spot for this French Wine Picks lineup (hey, spring training is starting this week, had to get a baseball term in here!). I served the 2013 Vidal Fleury Côte-Rôtie Brune et Blonde ($72) with Beef Stew with Root Vegetables.
This Côte-Rôtie is peppery on the nose. Blackberry fruit, currant and notes of leather, complex. This Northern Rhone wine is made from 95% Syrah, 5% Viogner grapes.
I did my initial tasting immediately after opening this wine, then decanted for an hour before dinner– I noticed a bit late that the winery suggested two hours of decanting. But one hour did give the wine good opportunity to open up, featuring plush fruit and a long finish after decanting.
This Côte-Rôtie is excellent paired with our beef stew recipe!
More French Wine Picks and Pairings
In addition to our four French Wine Picks shared with the Winophiles group this month, let me share a few more of our favorite pairings with excellent French wines.
Champagne with St. Nuit Cheese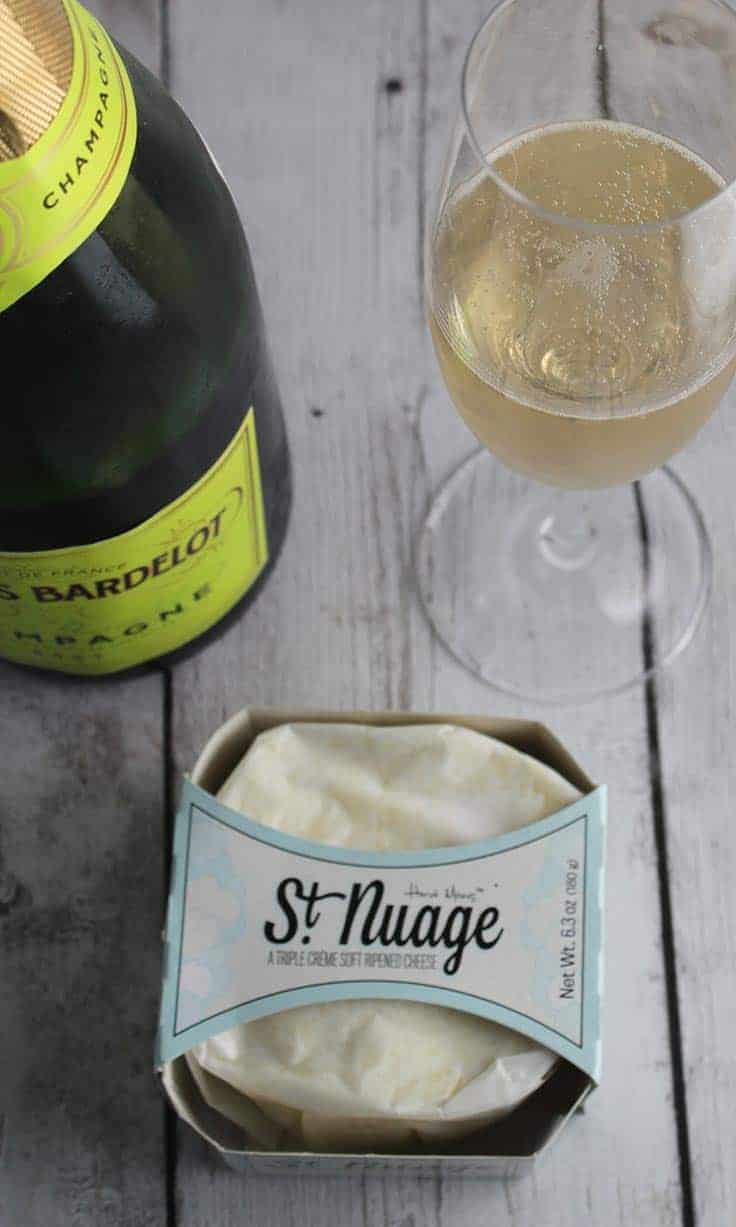 This fall the Winophiles did a #MadeInFrance French Cheese and Wine tasting. There are a lot of good French wine and cheese picks in that post to share with your valentine, but I would make special mention of the Champagne and creamy St. Nuage cheese. A great pairing!
Looking to spice things up on Valentine's Day? Don't forget, sparkling wine can be a great choice for sparkling wine. We celebrated Valentine's Day a bit early this past weekend, opening a bottle of Beaumont de Crayerès Grand Rosé Champagne ( 12% ABV). We enjoyed it with some Indian chicken curry.
Fettuccine Primavera Avec Mon Coeur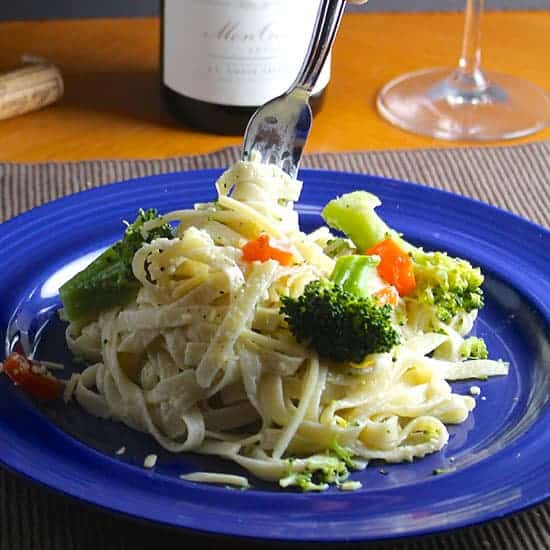 I have to include the first meal I cooked for Jodi in this Valentine's Day post. Fettuccine Primavera may be a pretty easy recipe for an experience cook, but in my first year post-college the dish represented quite an accomplishment! The fettuccine is still a favorite, for taste and sentimental reasons. We enjoyed it around Valentine's Day a few year's back with a bottle of J. L. Chave Mon Couer Cotes du Rhone. Makes a nice pairing!
More Wine and L'Amour from the French Winophiles
February 14 may have passed, but it's always a good time to enjoy some good French wine with your Valentine! Check out all the great posts below, and join us for a live chat 11 a.m. Eastern Time on Saturday, February 17, using the #winophiles tag.
Camillia at Culinary Adventures with Camilla shares "L'Amour dans une Bouteille ou Quatre"
Susannah Gold from Avvinare tells us about "Love in the Rhone Valley"
L.M. Archer at binNotes shares "The Hedonistic Taster | № 36 | #Winophiles + Love: L'Amour du Patrimoine"
Jeff at Food, Wine, Click! gives us "French Wines for 'His' and 'Hers' Valentines"
Jill from L'Occasion takes us on a sensory route "Tasting Romance: French Wine and the Senses"
Michelle of Rocking Red Blog helps us "Celebrate La Saint-Valentin with French Wine"
David of Cooking Chat dishes up "French Wine Picks and Pairings for Valentine's Day" (you are here!) and "Beef Stew with Root Vegetables and Côte-Rôtie Wine"
Lauren from The Swirling Dervish shares "How Do I Love Thee? Let Me Count the Wines"
Liz from What's in that Bottle pairs "Celebrate Galentine's Day with French Wines & Fondue"
Gwen at Wine Predator shares "Sweethearts: French Wines and Pizza"
Wendy at A Day in the Life on the Farm shows us how to "Spice up your Love Life with Shrimp Etouffee"
Nicole from Somm's Table shares "Cooking to the Wine: Domaine Chardigny Saint-Amour with Roasted Salmon and a little Romance"
Martin from ENOFYLZ Wine Blog tells us about "Celebrating L'Amour Du Vin With French Wine At The Table"
Rupal of Journeys of a Syrah Queen swirls up "Valentine's Day Romance with French Wines"
Jane at Always Ravenous asks "Why Does French Food and Wine Taste So Good? Love!"
Lynn at Savor the Harvest shares "L'Amour du vin"
And you might also like this other Cooking Chat article: