Join the Wine Pairing Weekend blogging group as we support BIPOC Winemakers and Winery Owners! This article provides you with the details you need to participate.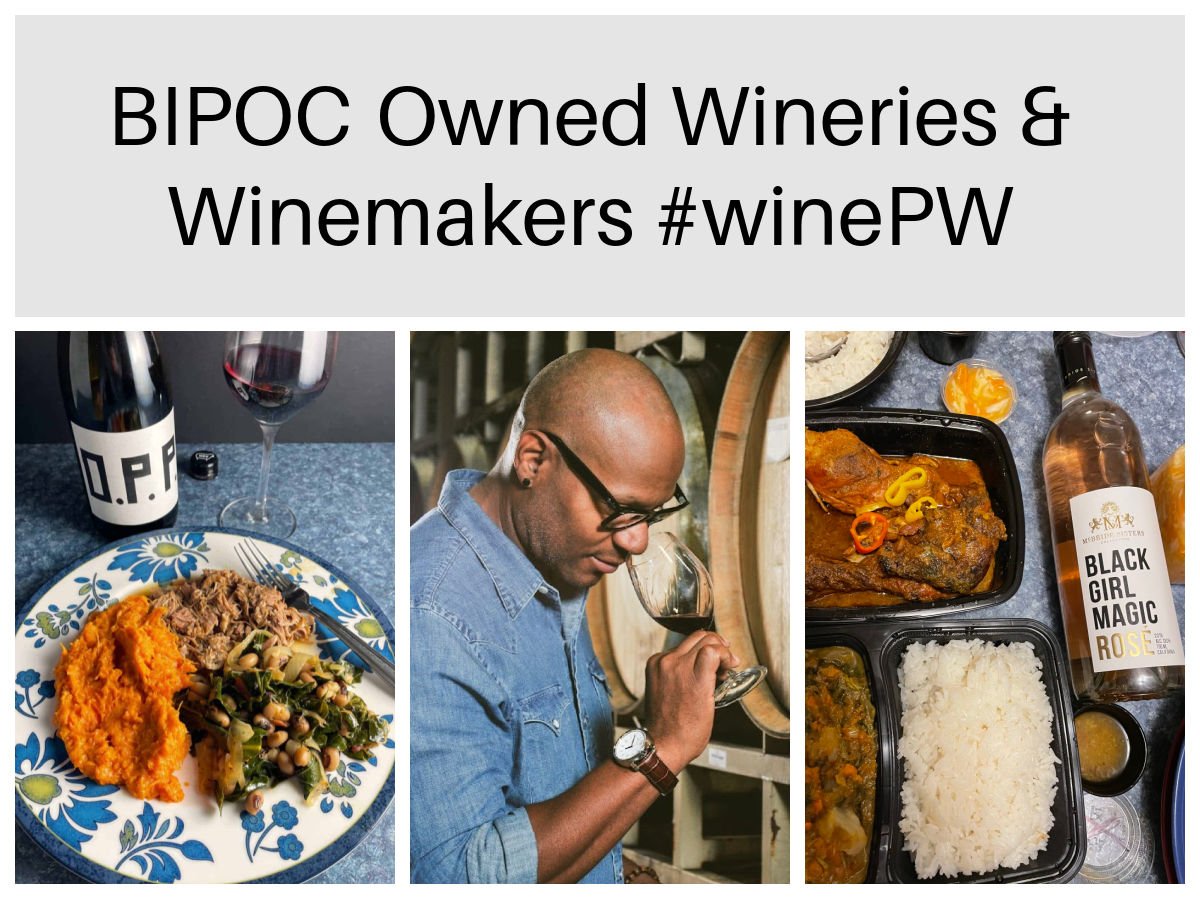 Last year, our Wine Pairing Weekend (#winePW) group once again highlighted BIPOC (Black, Indigenous, People of Color) Winemakers and Winery owners for our February theme. We are returning to that topic here for February 2023, and I'd like to invite you to join us! Our event is on Saturday, February 11.
Our February theme coincides with the observance of Black History Month. In addition to learning about the historical contributions of African Americans, the increased focus on racial injustice and inequity have prompted many to also focus on supporting Black owned businesses. Our #winePW group is building on that concept, expanding to include any winemaker or winery owner that identifies as BIPOC.
Jump to:
BIPOC in Wine
Virtually every sector in America struggles with issues of racism and inequity. It doesn't take a major leap to figure out that the wine business, with its association with wealth and privilege, has its share of issues.
One glimpses some of the challenges in this New York Times article, Black Wine Professionals Demand to be Seen.
In 2021, I focused my February #winePW content on André Hueston Mack, owner of Maison Noir Wines and regarded as one of the top sommeliers in America. In addition to pairing his OPP (Other People's Pinot) with Black-Eyed Peas with Collard Greens , we had a chance to interview André about his story and his wines.
In this clip below, he talks about race in the wine business.
André talks about the many times people were surprised about his various leadership roles in wine, and how he was motivated to move beyond that and succeed. You can catch the full interview with him here.
The February Theme
If you're new to the #winePW group, each month we take up a topic related to food and wine pairing. Participating bloggers write an article and typically connect through a chat on a platform selected by the host.
So the February plan is to pick up a bottle or two — or maybe a case — of wine from a winery that is either BIPOC owned and/or from a BIPOC winemaker.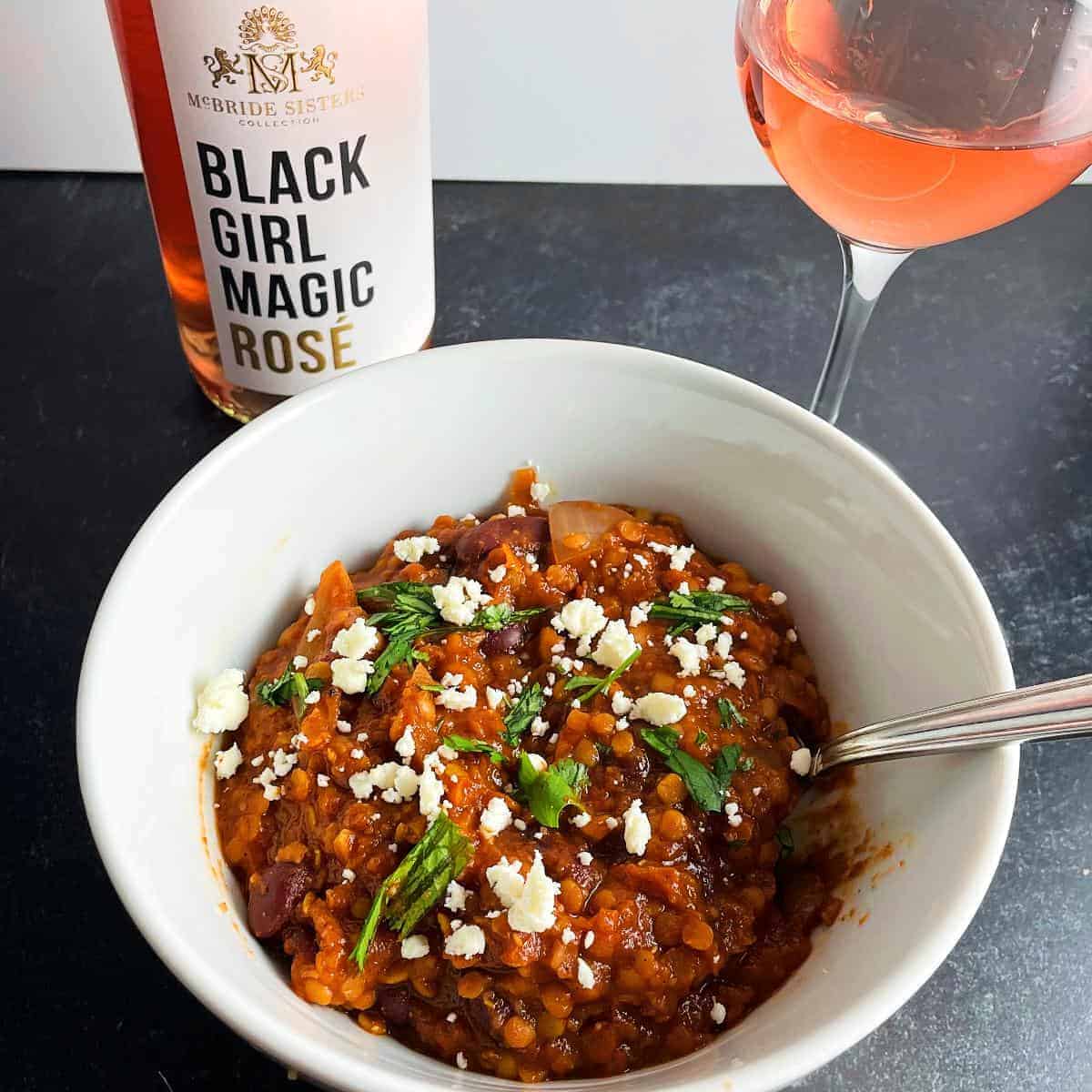 Wine Pairing Weekend always includes food pairings with the featured wines. You can go in any direction you like for the food pairing, but I would encourage you to think about ways you might lift up BIPOC folks on the food side of the equation, too. Some ideas for consideration:
Buy ingredients from a BIPOC owned business or a BIPOC maker.
Order takeout from a BIPOC owned restaurant.
Buy a cookbook from a BIPOC author and make a recipe.
Learn about the amazing contributions of Black Americans to our food culture and cook a traditional dish.
Cook a recipe from a BIPOC blogger, linking to their recipe post for the details. For instance, last year I cooked a delicious Spicy Berbere Lentil Chili from Flights and Food, to pair Black Girl Magic Rosé from the McBride Sisters. (see photo above)
Check out this Cook Local Eat Local Podcast episode with Marwin Brown from Food Fidelity. He talks about Modern Soul Food and shares some great recipe ideas!
Featured articles
Here are the articles my colleagues & I will be sharing for this February 2023 event:
BIPOC wineries live discussion
A number of the writers participating in this February 2023 event gathered on Zoom for a discussion on the theme of supporting BIPOC wineries. Participants talked about the wines they found and the food pairings they prepared to go with the wine.
The group also talked about other BIPOC wineries they know about, and shared resources for finding Black-owned wineries and other BIPOC wineries. Check out the recording for more information!
Resources for finding BIPOC wines
Here are a few resources I have found for sourcing BIPOC wines to fit the them. Let me know if there are others I should add to this list!
How to participate
You can join us for a #winePW focus on BIPOC winemakers and and winery owners! Here's how to participate:
Obtain one or more bottles of wine from a BIPOC winemaker and/or winery owner.
Plan a food pairing or pairings to go with the wine.
Let me know the title of your article about the wine and pairing by emailing me – david AT cookingchatfood.com.
Post your article by 9 a.m. Eastern Time on Saturday, February 11. Include the links to the other participating bloggers in your article (I will provide the html code).
Visit the other participating blogs, comment and share their posts!
Use the #winePW hashtag when posting on social media about this event.