This Jerk Chicken Pasta Recipe features spicy chicken breast served with a flavorful creamy pasta sauce. We paired it with the Knock on Wood white wine blend from Maison Noir, as part of the February Wine Pairing Weekend event focused on BIPOC wineries.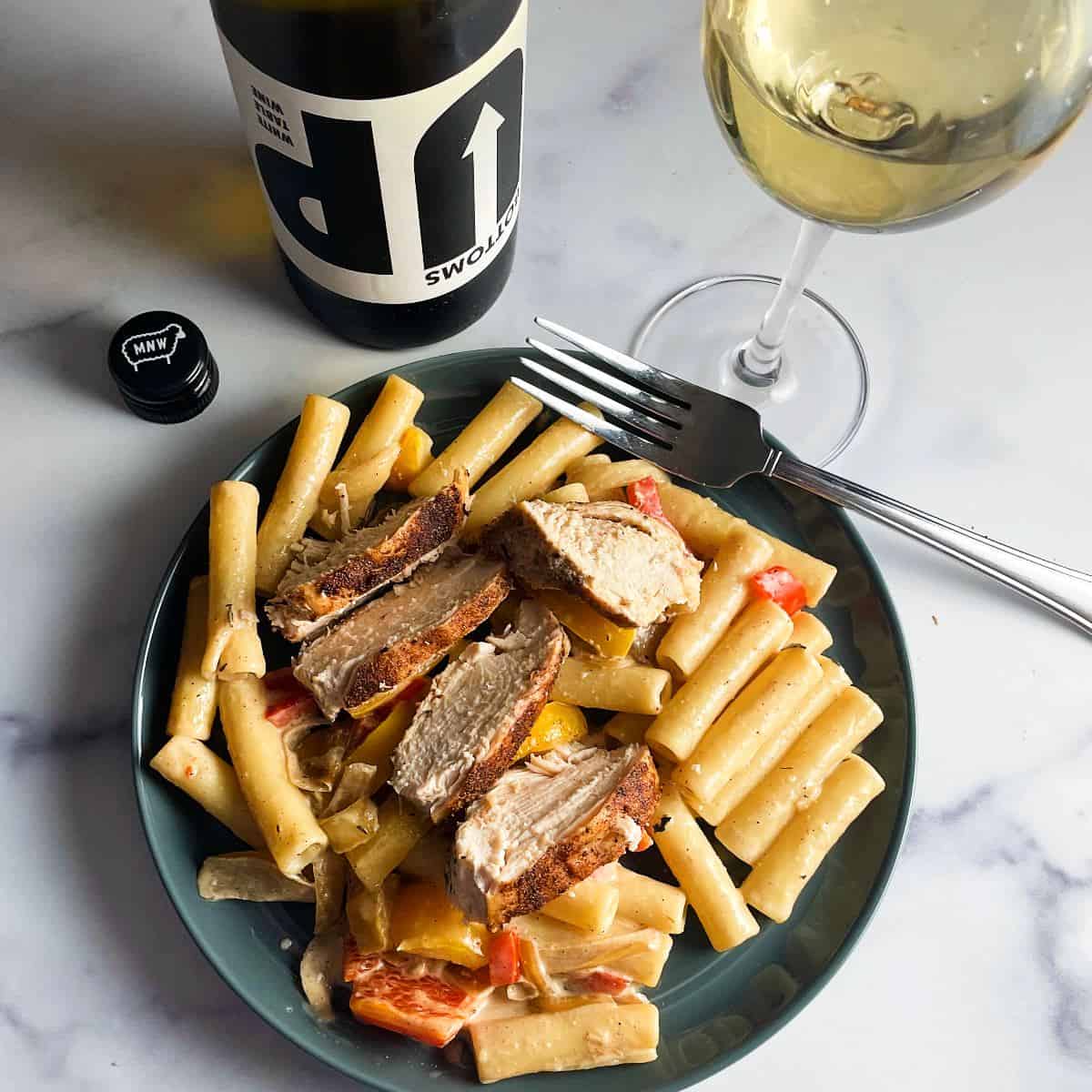 This Jerk Chicken Pasta recipe definitely started with the wine in mind.
I planned to feature a wine from Maison Noir for the Wine Pairing Weekend event focused on supporting BIPOC wineries. I had several of their wines to choose from after a recent Maison Noir shipment.
Two years ago, I paired the Maison Noir OPP Pinot with this Black-Eyed Peas and Collard Greens recipe. I like this Pinot, but wanted to feature a different wine this time.
The Bottoms Up white blend, with Riesling and a number of other grapes I'll get into more later, caught my eye. This wine seemed to call out for something spicy, and I noticed I had jerk chicken pasta on my list of recipes to make. It's an adaptation of "rasta pasta" popular in Jamaican cuisine.
A dish drawing upon something from the African diaspora seemed like a good fit for this Black History Month post. My pairing plan was ready to go!
Jump to:
Ingredients
Let's highlight some of the key ingredients for making this recipe.
Jamaican Jerk Seasoning Mix: You can definitely use store bought jerk seasoning mix if you like. But I wanted to make up the blend, and had almost everything I needed for this Jamaican jerk seasoning mix recipe already in my cabinet. I followed it pretty closely, but I did cut the cayenne in half and it still had good kick. So I'd say you'd need to like these pretty hot to go for the full quantity called for in the Food Fidelity recipe.
The recipe comes courtesy of Marwin Brown's Food Fidelity site. I had a chance to interview Marwin and learn about his approach to Modern Soul Food for our Cook Local Eat Local podcast. Marwin has a lot of tasty recipes on Food Fidelity, definitely worth checking out.
Chicken Breasts: I used 3 chicken breast filets in this recipe. They cook up quickly in the oven as you make the pasta sauce.
Bell peppers: The recipe calls for 2 bell beppers, you could possibly add a third if you like for more veggies and color. Using multiple colors is good for the presentation. I used red and yellow bell peppers.
Pasta – Choose a short pasta shape such as ziti or rigatoni when making this jerk chicken pasta.
Heay cream – I don't use heavy cream very often, but it in this recipe, it's what brings the creamy consistency. It also provide a nice offset to the spicy flavors of the jerk seasoning.
Recipe overview
Here's an overview of the steps for making this pasta with jerk chicken. Head on down to the recipe card for all the details.
Make the spice mix if you are putting your own together.
Brown the chicken: Sprinkle 3 tablespoons of the jerk spice rub on the chicken. Brown the chicken in the skillet, about 3 minutes per side. Move the chicken to a baking sheet.
Start boiling water for the pasta, and cook the pasta as you make the sauce.
Make pasta sauce as the chicken bakes. The browned chicken gets baked after browning, and will take about 25 minutes to cook through. Make the pasta sauce as the chicken bakes. Sauté the onion until it gets soft, about 10 minutes. Add the bell peppers and ½ cup chicken broth along with the remaining tablespoon of jerk spice. Cook another 5 mintues or so.
Finish the dish: After the pasta is ready, drain it and toss immediately with the bell pepper and onion mixture. Stir in the ⅔ cup of heavy cream and the ½ cup of parmesan cheese.
Plate a serving of the pasta, topped with slices of the jerk chicken. Sprinkle some optional parsley on top if you like for the presentation.
Wine Pairing
As mentioned earlier, we had a bottle of the 2020 Maison Noir Bottoms Up ($25, 13% ABV) ready to pair with the jerk chicken pasta. It is predominantly Riesling, with small amounts of Muller Thurgau, Pinot Blanc and Gewurztraminer playing a supporting role in the blend.
I get floral notes on the nose of the Bottoms Up, green apple fruit with a bit of peach and a touch of honey on the palate. Some good acidity.
As you might suspect, with that description, the Bottoms Up is very good paired with the jerk chicken pasta. There's enough body and flavor to go with the creamy sauce, and that touch of sweetness is appreciate along with the spicy dish.
We had enough leftover of the pasta to test out another wine pairing for it. I had some Maison Noir OPP Pinot Noir left from the previous night, when we successfully paired it with some Indian takeout. As I observed the night before, that Pinot definitely can work with some spicy food, and it paired nicely with the jerk chicken. If you're in the mood for red wine with this dish, give the OPP a try!
About the winery
Maison Noir is a Willamette Valley winery founded by André Hueston Mack, an award winning sommelier and entrepreneur.
André originally started Maison Noir to create wines for some of New York's top restaurants, where he was serving as sommelier. In the video below, he talks about his inspiration to get into wine.
Maison Noir has now broadened its market and the wines are available nationwide. You can order them online and they do have some availability in stores, including Total Wine.
In addition to the wines I've mentioned so far, if you like Burgundian style Chardonnay, definitely check out the Maison Noir Oregogne Chardonnay. We enjoyed it served up with our pulled pork risotto.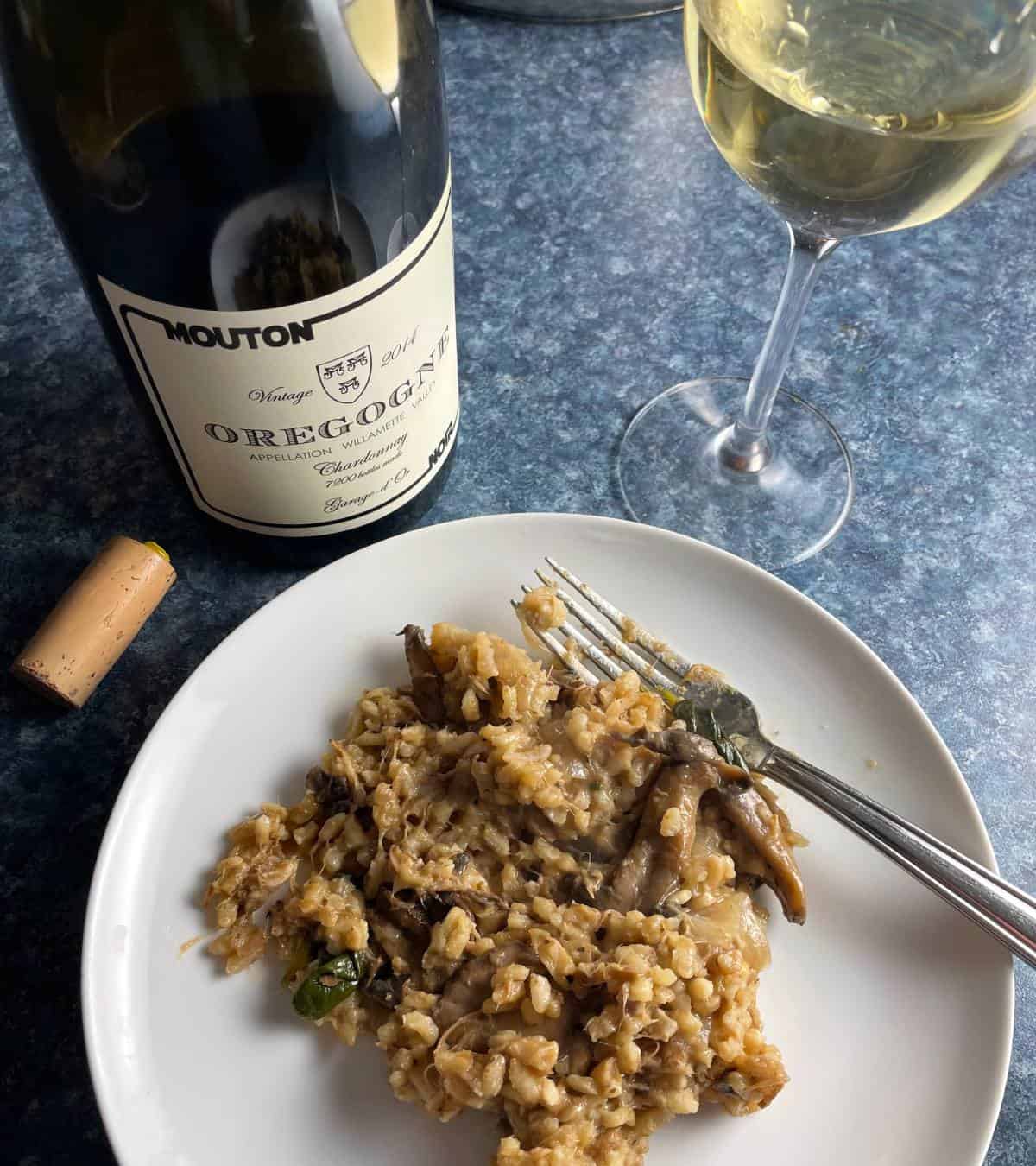 I enjoyed interviewing André for my article back in 2021. Check out the full André Hueston Mack interview on the Cooking Chat YouTube channel for more details. There you can hear more about André's experience as a sommelier at The French Laundry and Per Se, and his entrepreneurial ventures. Yes, those include a ham bar featuring American hams and wine pairings!
Print
Recipe card
Jerk Chicken Pasta Recipe
Spicy jerk chicken served with a flavorful, creamy pasta sauce.
Author: Cooking Chat
Prep Time:

15 mins

Cook Time:

35 mins

Total Time:

50 mins

Yield:

6

servings

1

x
Category:

main

Method:

stove top + baking

Cuisine:

Jamaican
4 tablespoons

Jamaican jerk spice blend (homemade or store bought)

3

chicken breast filets, about

1.25

pounds total

3 tablespoons

olive oil, divided

12 ounces

short pasta shape such as ziti

1

onion, chopped

2

colored bell peppers – I used red and yellow

½ cup

chicken broth

½ cup

grated Parmesan cheese

⅔ cup

heavy cream
Instructions
Preheat oven to 400 degrees and get the jerk spice blend ready. Line a baking sheet with aluminum foil and set aside.
Prep the chicken: pat the chicken dry, and place it on a work surface. Sprinkle about 1 ½ tablespoons of the spice blend over one side of the chicken, and gently rub the spices into the chicken. Turn the chicken over, and sprinkle another 1 ½ tablespoons of the blend to cover the other side of the chicken. Let the chicken site with the spice blend for 5 to 10 minutes before you begin cooking it.
Brown the chicken: Heat 1 tablespoon of olive oil in a large skillet on medium high. When the skillet is hot, place the chicken in the skillet, and cook for about 3 minutes, until it begins to brown. Turn the chicken over, and cook for another 3 minutes.
Bake chicken: move the browned chicken breasts from the skillet to the baking sheet. Bake until cooked through, about 25 minutes. Cooking time will vary a bit based on the size of your chicken – it should reach 165 degree internal temperature when done. Set the cooked chicken aside while you finish the pasta.
Boil water and cook the pasta as the chicken cooks.
Make the sauce as the chicken cooks. Add 1 tablespoon olive to the skillet used for browning the chicken, and heat on medium. Add the onion to the skillet, stirring to incorporate spices and bits of chicken left in the skillet from the chicken browning process. Cook the onion for about 5 minutes until it gets soft, then add the bell pepper. Stir to combine peppers and onions. Next, add the ½ cup of chicken broth and the remaining tablespoon of jerk spice blend. Stir to combine, and simmer for about 5 to 10 minutes as the pasta cooks.
Combine pasta with sauce: When the pasta is cooked to your liking, drain and toss immediately with 1 tablespoon olive oil and the pepper / onion sauce. Stir in the ⅔ cup heavy cream and the ½ cup Parmesan cheese.
Serve: Cut the jerk chicken into strips about ½ inch thick. Plate the pasta, topping with 3 to 4 slices of chicken. Repeat for each serving. Enjoy!
Notes
If you want to make your own jerk spice blend, I used this Food Fidelity recipe. I cut the cayenne pepper amount by half to moderate the spice level, and it still had some pretty good kick.
Keywords: rasta pasta, jerk chicken pasta recipe, rasta pasta with jerk chicken, spicy pasta recipes
Recipe Card powered by
More BIPOC winery articles
Check out these articles to learn more about BIPOC wineries and get inspired by the tasty pairings!