Black-Eyed Peas with Collard Greens is the perfect side dish to serve as part of a meal inspired by "soul food" traditions. We cooked up this recipe as part of a meal that we served with a bottle of Pinot Noir from Maison Noir, as part of the Wine Pairing Weekend exploration of BIPOC owned wineries and BIPOC winemakers.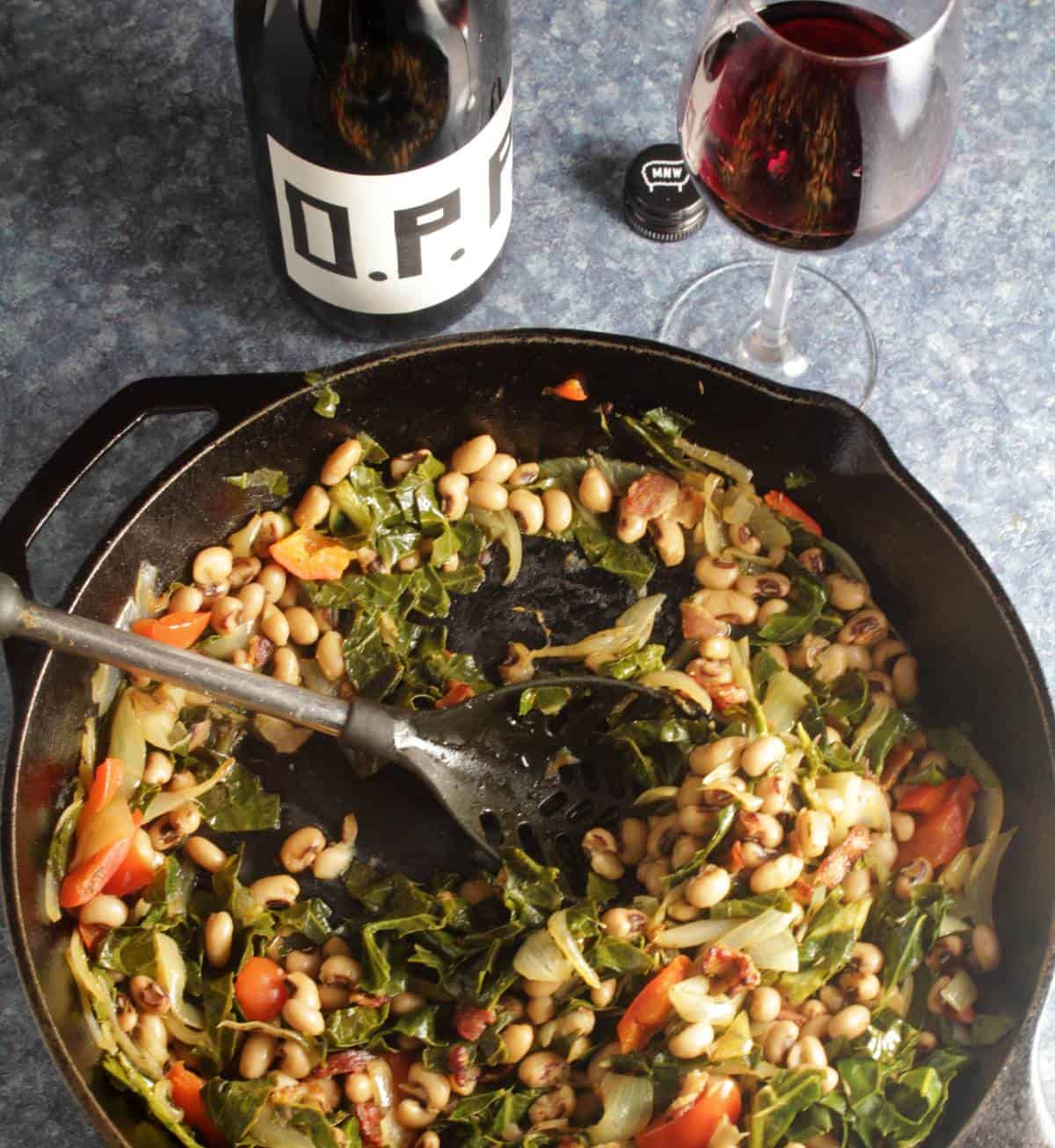 In my day job with Social Capital Inc., we have been engaging in the weighty topics of systemic racism and the increasingly inequitable health outcomes in our country. We are doing good work on these issues, but sometimes the problems seem so vast, making progress can seem challenging…
But then, I see opportunities to take small but tangible steps in my daily life. Being more conscious of the books I choose to read (just finished The Warmth of Other Suns, now reading Americanah for leisure and How To Be An Antiracist with the SCI team), what we purchase, how we vote, etc.
Given that I've been focusing a lot on the racial equity issue, I was excited to delve into this month's Wine Pairing Weekend topic. Thanks to Nicole from Somm's Table for hosting!
Jump to:
Featured winery
While researching Black owned wineries, Maison Noir quickly caught my eye. Founded by André Hueston Mack, a top sommelier, and located in Oregon's Willamette Valley…i.e. the owner is focused on food & wine pairings, and the winery is in one of my favorite regions! I was quickly on their website ordering several bottles to sample.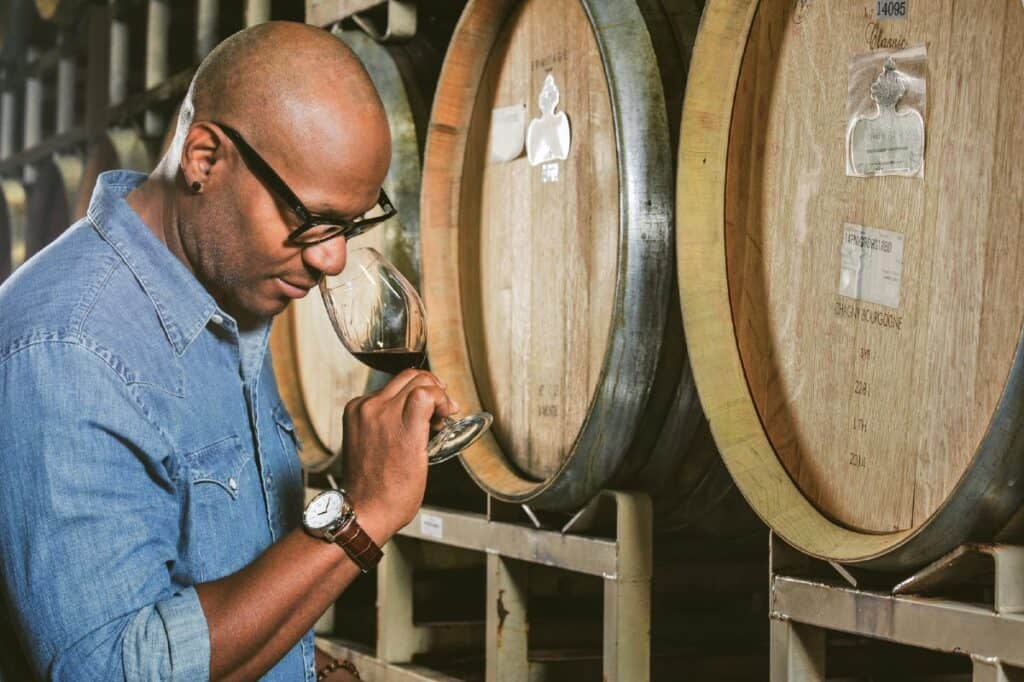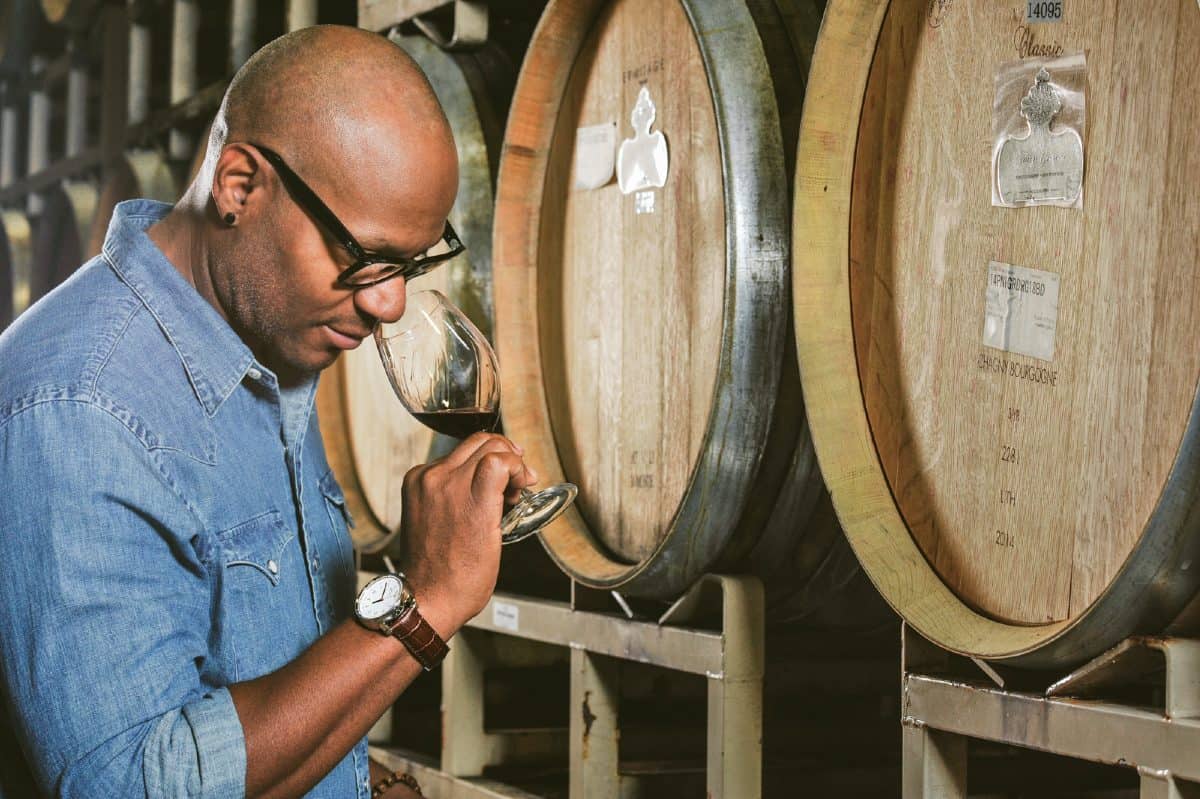 As I learned more about André, shown above in courtesy photo taken by Sash Photography, I became intrigued with his background, and wanted to get a chance to chat with him. And that we did! As a result, I did a full article on André and Maison Noir Wines. You can also view our full conversation here:
You can also get a feel for the philosophy behind the Maison Noir wine brand in this short clip with André.
Recipe inspiration
With our focus on a Black owned winery, here in the midst of Black History Month, I wanted to put together a meal in keeping with the theme.
I often like to learn about a type of cuisine that goes along with the wine we are featuring, and come up with a recipe inspired by some traditional recipes…but adding my own twists to it. That's the way we went with our black-eyed peas with collard greens recipe.
I had some black-eyed peas on hand from New Year's, when I didn't get around to making Hoppin' John as I often do. I talk more about the tradition of eating this dish to start the year along with our Healthier Hoppin' John recipe.
Black-eyed peas have their origins in Africa. According to this article, they were a staple in West African cuisine long before being brought by Africans to the West Indies and the American South.
Collard greens also have a prominent place in Soul Food and Southern cooking. Typically cooked for a long time in a big pot with pork fat, I recall enjoying this flavorful preparation a lot during the time I lived in Kentucky. This recipe from Grandbaby Cakes looks like a good example of the classic greens.
I put the traditional black-eyed peas together with collard greens as an anchor to our plate for today's pairing. We start by cooking up some bacon in the skillet to create a base of flavor for cooking the greens. The bacon gets set aside after cooking; we add it back at the end to finish the dish.
As I was getting ready for this post, I came across the new book from Chef Marcus Samuelsson, The Rise: Black Cooks and the Soul of American Food. While my copy came too late to make something for today's event from it, I have enjoyed starting to read it to learn more about the deep and rich history of how Black cooking underpins all food in America. I highly recommend this resource!
Check out our collection of Black-eyed Peas Recipes for more ideas, including what to serve with them.
What to serve with this recipe
I served our black-eyed peas dish with our BBQ flavored pulled pork recipe and Mashed Sweet Potatoes with Cumin Sage Butter.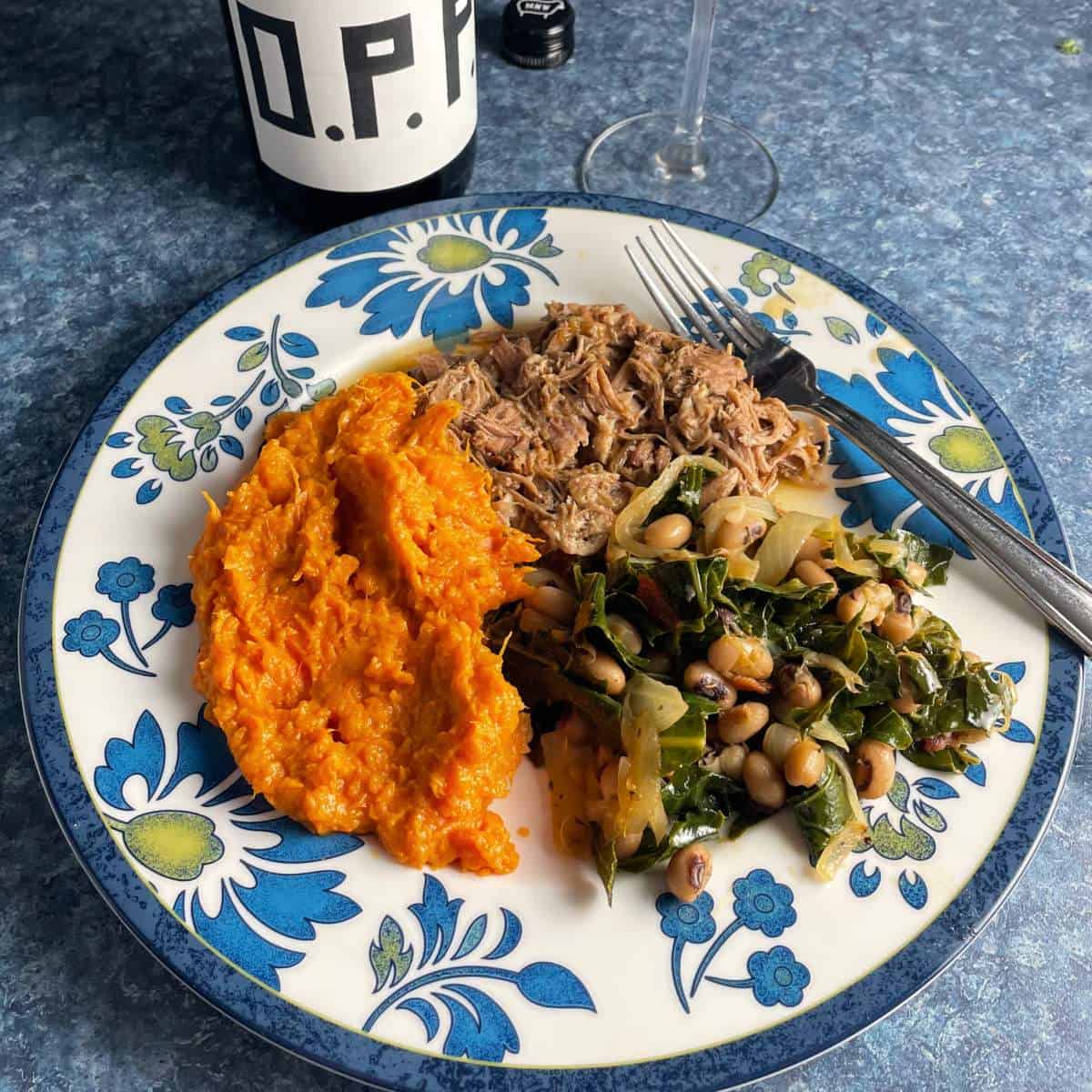 Serving BBQ flavored meat as part of this meal was a nod to the rich contribution of Blacks to American barbecue. As this article notes, "the uniquely hemispheric cooking form was perfected in the hands of Black pit masters in the American South."
And a bonus — making pulled pork set up another pairing with a Maison Noir wine. We made a batch of Leftover Pulled Pork Risotto and paired with the Maison Noir Oregogne Chardonnay.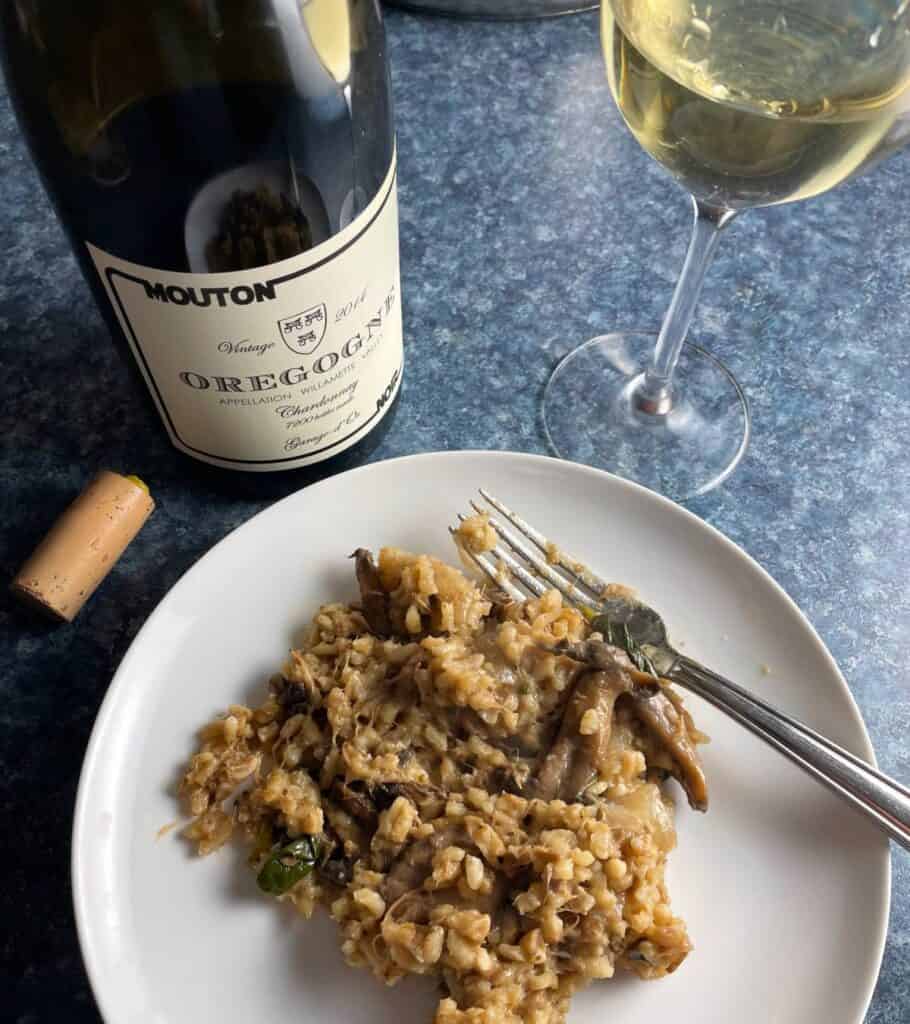 As the name implies, this is a Burgundy style Chard, was my favorite of the wines I sampled. Delicious pairing!
OK, my spicy savory sweet potato preparation clearly veers from tradition, but lets keep in mind I was looking to put together a plate that would go with a nice bottle of Pinot Noir too!
More recipe ideas
Here are some more recipes from my fellow bloggers that could go well with our black-eyed peas and collard greens:
In addition, Elizabeth from Bowl of Delicious has put together a searchable database of Black food bloggers that you can check out for more recipe inspiration.
This Cook Local Eat Local podcast episode with Marwin Brown is also a great resource. He talks about modern soul food and shares some great recipe ideas.
Wine Pairing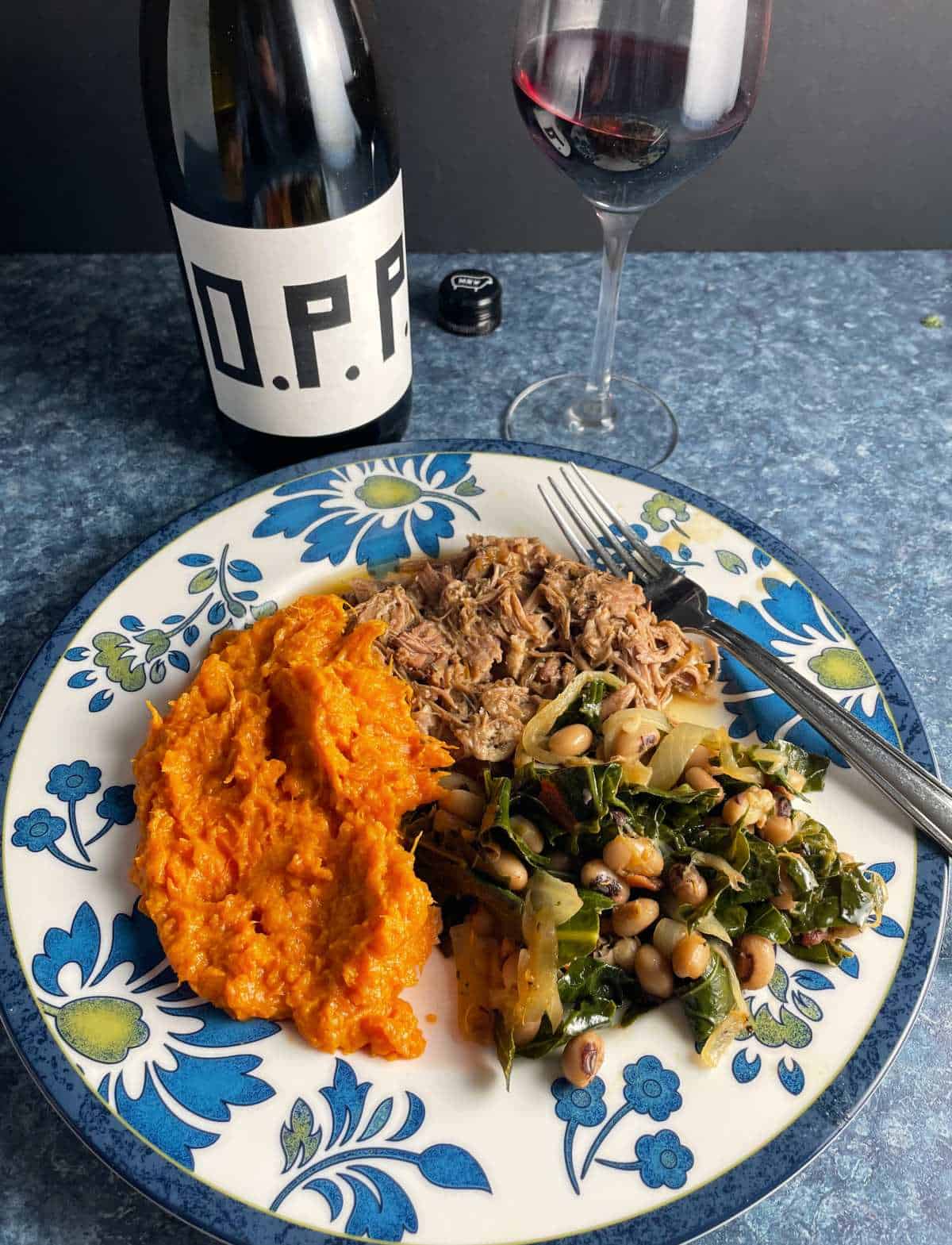 We opened a bottle of the Maison Noir OPP ($25, 13.9% ABV) to go with our meal. The wine's name and label give you a feel for the playful approach André brings to wine. The OPP in this case stands for "Other People's Pinot"– and I had to play the song by the same name while opening the bottle, bringing back memories of hearing it at college parties.
The OPP has a jammy nose, cherry fruit and notes of licorice on the palate. Light bodied, with a pleasant mouthfeel. The wine definitely delivers on its goal to offer an affordable Oregon Pinot to the marketplace.
As you might guess from the description, the food-friendly OPP paired nicely with the flavors on our plate. The fruit complemented the smoky flavors of the bacon and BBQ flavors, as well as the spices in our sweet potatoes. A winning pairing!
Print
Recipe card
Black-Eyed Peas with Collard Greens
Black-eyed peas cooked with collard greens and topped with bacon for a flavorful side dish.
Author: Cooking Chat
Prep Time:

5 mins

Cook Time:

35 mins

Total Time:

40 mins

Yield:

5

servings

1

x
Category:

side dish

Method:

stove top

Cuisine:

soul food
2

strips of bacon

1 tbsp

olive oil

1

onion, chopped

½

of a red bell pepper, chopped

4 cups

of collard green leaves, coarsely chopped

½ cup

of low sodium chicken broth

14 ½ oz

can black-eyed peas, drained and rinsed

1 tsp

honey
pinch of salt

½ tsp

paprika

1 tsp

thyme
Instructions
Cook the bacon: coat a large skillet with oil spray. Heat the skillet on medium. Add the bacon and cook until crisp, turning occasionally. When the bacon is cooked, place it on a plate with a paper towel to absorb the grease. When the bacon has cooled, crumble it into bite sized bits.
Sauté onions: drain excess grease from the skillet but leave a bit for flavor. Add the olive oil, heat on medium low. Add the onions, and sauté for about 5 minutes until they begin to soften. Add the bell pepper, and sauté for a few more minutes.
Add collard greens to the skillet, along with the broth, honey and a pinch of salt. Stir to combine with the onions, and cover the skillet. Simmer on medium low heat for 10 minutes.
Add the black-eyed peas to the skillet, along with the thyme, paprika and half of the crumbled bacon. Stir to combine with the greens. Cover, and simmer for another 10 minutes or so, until the greens are tender. 
Plate the black-eyed peas and collard greens. Top each serving with some of the remaining bacon bits. Enjoy! 
Notes
Prepping collard greens: Cut the leaves off from the thick stems. The stems can be chopped fine and added to this dish, or saved for adding to a soup, stew, or stock.
Turkey bacon is an option for lower fat and calorie content, although you do lose a bit of flavor.
Classic Southern cooking or "soul food" would likely prepare a dish like this with a ham hock instead of bacon.
Keywords: black-eyed peas, collard greens, black-eyed peas with greens, Southern food
Recipe Card powered by
More BIPOC Wine Articles from #winePW