In Episode 6, we brainstorm about our 4th CSA share pickup with Marwin Brown from Food Fidelity. Marwin also gives us his take on "Modern Soul Food", and many great tips for efficiently putting healthy food on the table with local sourced ingredients.
You can listen to the podcast on:
Apple podcasts | Spotify | Amazon Music
In this episode we cover:
The concept that "soul food is the original fusion food".
The plant based foundation of traditional cuisine from across the African diaspora.
Flavorful recipes for green beans.
A delicious idea for a kale salad.
Tasty ways to prepare cabbage.
Tips for Sunday meal prep to set you up for flavorful cooking throughout the week.
Cooking for a family with both vegetarians and omnivores.
How Marwin combines his passion for music and cooking.
Today's guest – Marwin Brown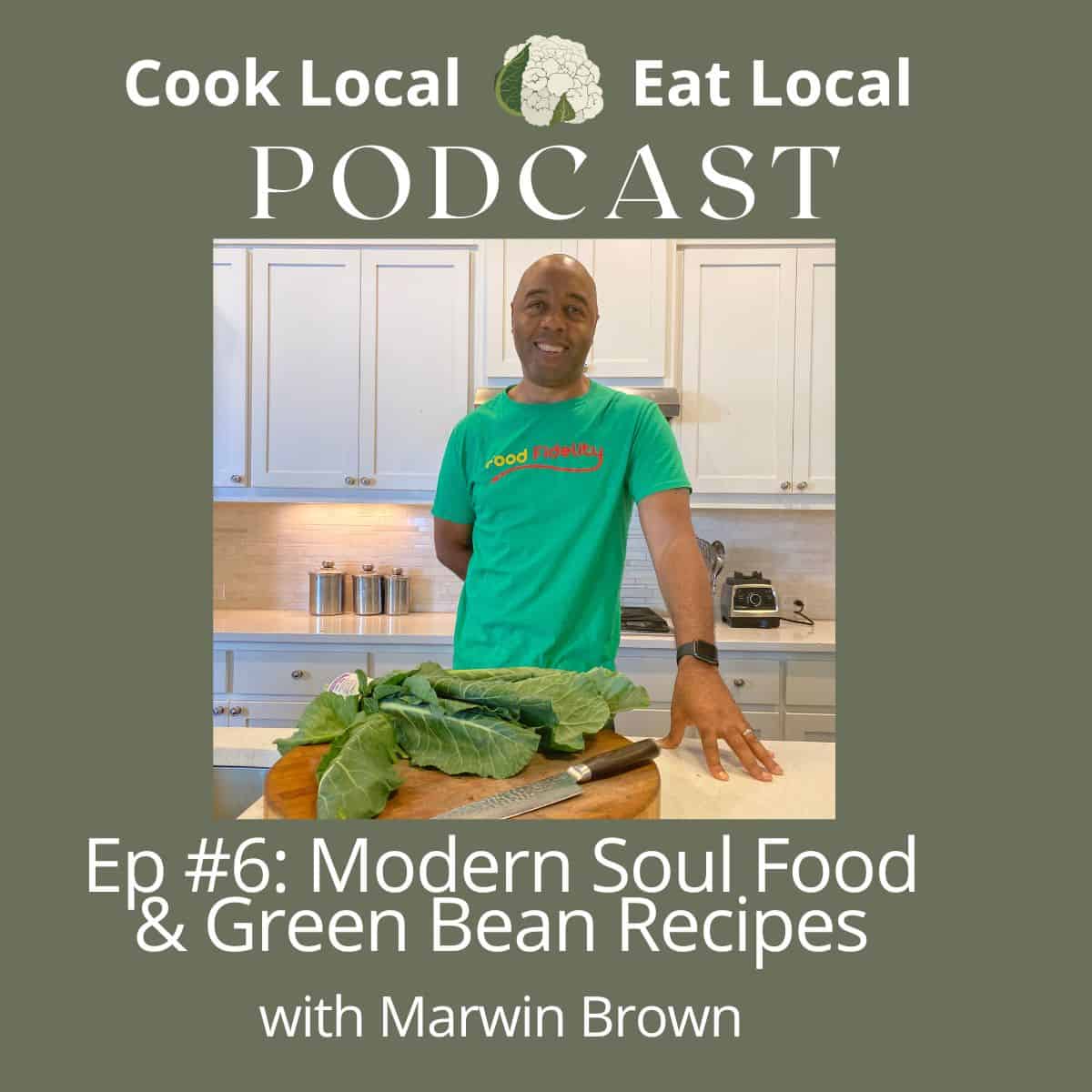 Marwin Brown is a consumer insights professional by day, food blogger and recipe developer for Food Fidelity by night, and husband and father of two all day, everyday. Food Fidelity is a weeknight-focused food and music blog where Marwin shares mostly quick & easy, modern takes on what soul food is and can be for busy home cooks. He believes good music makes food taste better so every recipe is inspired and paired with a dope song.
Here are some recipes Marwin mention on the show:
Modern Soul Food
Marwin began the conversation by sharing with us what he means by the term "modern soul food". Cooking a family meal can be an all day project with many traditional soul food recipes. Marwin's recipes on Food Fidelity are intended to be prepared efficiently on a weeknight after work.
He also explained that when you look at cooking across the African diaspora, you find that plant based foods, such as fresh vegetables, nuts and whole grains, are the foundation of the diet. Marwin's cooking takes a similar approach – you will find some meat recipes, but there is an abundance of veggies on Food Fidelity and in Marwin's home cooking.
Related articles and resources
Talking to Marwin about modern soul food and the rich culinary traditions associated with it reminded me of some related topics I've explored in recent years.
The past two years, the Wine Pairing Weekend group has focused on BIPOC owned wineries and BIPOC winemakers in the month of February. For the one of those, I made Black-eyed Peas with Collard Greens, which I paired with Maison Noir OPP. I also had a fun interview with winery owner, André Hueston Mack – you can check out this clip on his inspiration to get into wine, or the full interview here.
This past year, I made this Spicy Berbere Lentil Chili from Flights and Food. I came across this recipe as part of the Eat the Culture network of bloggers which focuses on Black foodways. Marwin is also part of that network, a good resource for those interested in learning more about the culinary traditions of the African diaspora.
I've also enjoyed The Rise: Black Cooks and the Soul of American Food. This book by Chef Marcus Samuelsson is a great resource on the vast contributions of Black Americans to our food culture.
What we made – CSA share pickup #4
OK, here's what we did with this July CSA farm share pickup. This was during a week when we are getting ready to head out of town, and also had a restaurant meal in the mix for a birthday celebration. So a bit less cooking projects than some weeks!
Broccoli
My first instinct when I see broccoli is to make this fettuccine primavera recipe, which features broccoli as well as carrots.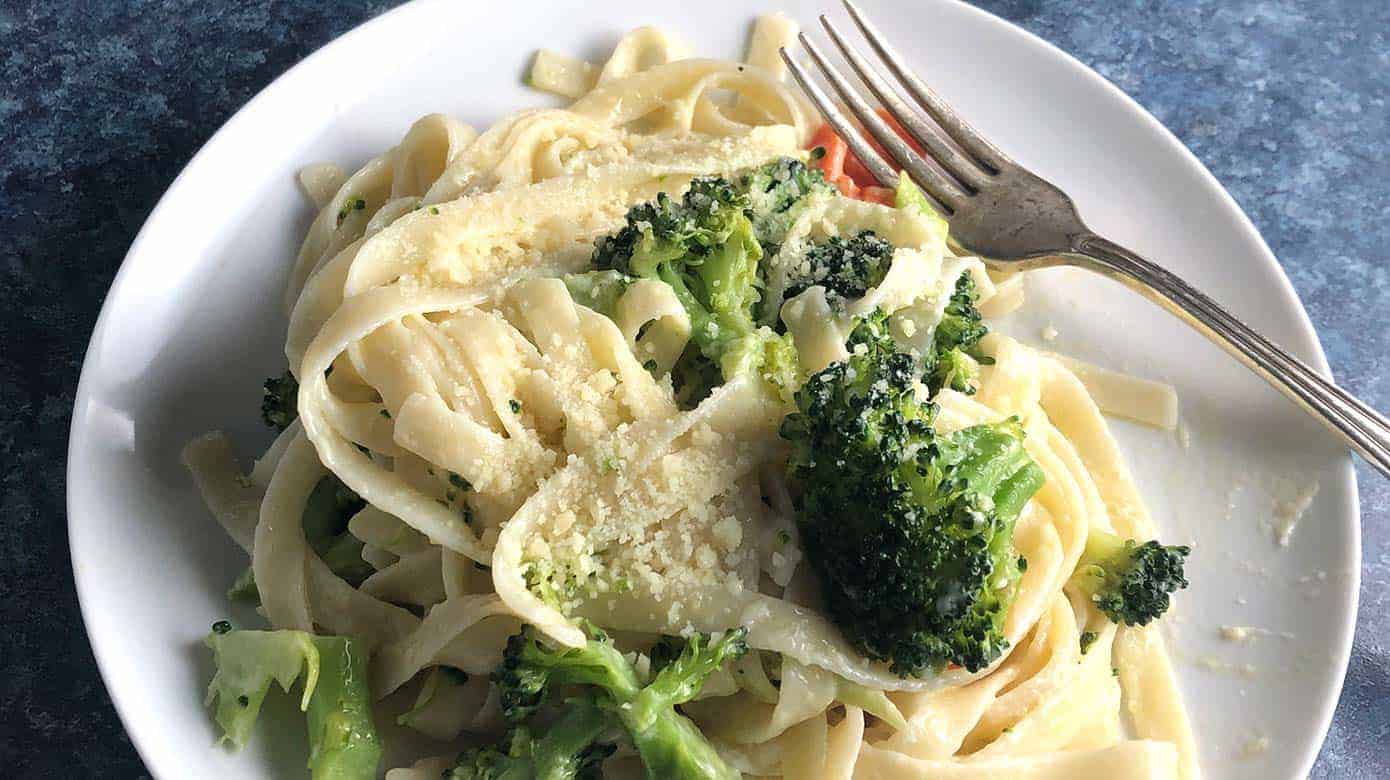 It's the first meal I made for my wife Jodi, back in the early days of our relationship…and in my cooking journey! It still pleases for both the taste and sentimental value.
For another great broccoli recipe, check out Episode 5 where Ashley talks about a recipe for broccoli steaks.
Summer squash
When I saw this Food & Wine recipe featuring summer squash with chana daal, I figured it would be worth saving as I'd be likely looking for squash inspiration.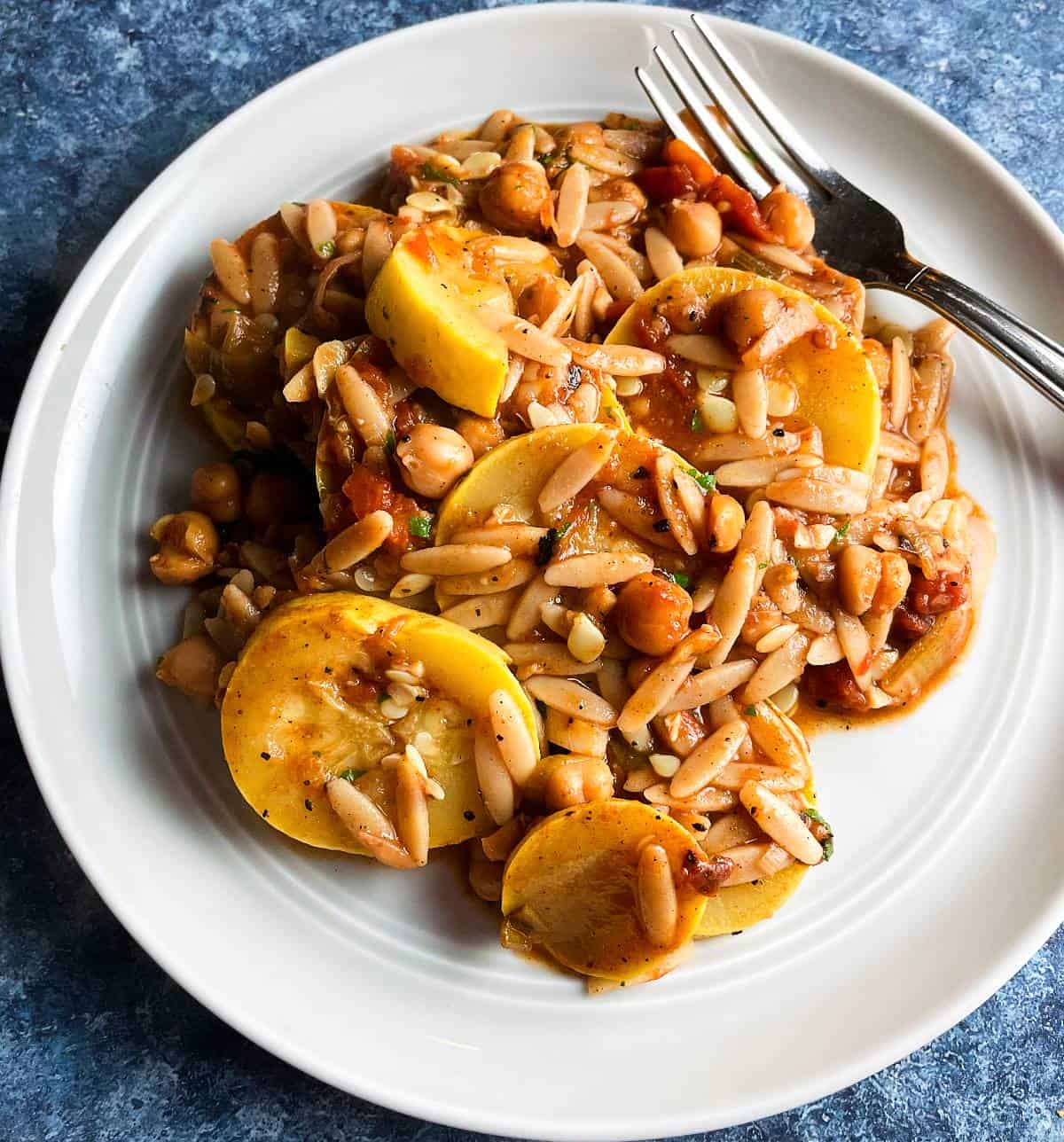 Sure enough, we had a lot of squash in our CSA share #4! So I made a version of the Food & Wine recipe, with quite a few tweaks. I used canned chickpeas rather than dried, which cuts the prep time considerably. I tossed ours with orzo, which worked nicely. We had some extra ras el hanout spice blend from making Moroccan chicken thighs, which was handy for this squash recipe.
Green beans
I'm eager to try one of the green bean recipes Marwin suggested, but I don't think I'm going to get to it before heading out of town. My plan is to freeze this week's beans for later use.
Corn
We kept it simple with our first fresh local corn of the season! Briefly steamed corn, served with butter and a bit of salt. So good!
But if you want more ideas on how to prepare fresh corn, check out Episode 3, as Molly had some great tips..including using the microwave to remove the silk.