Today we are sharing a recipe for Bow Tie Pasta with Kale Pesto and Asiago Cheese that can be featured as part of some easy holiday entertaining with Stella cheese. For more details on making the pesto, visit our kale pesto recipe.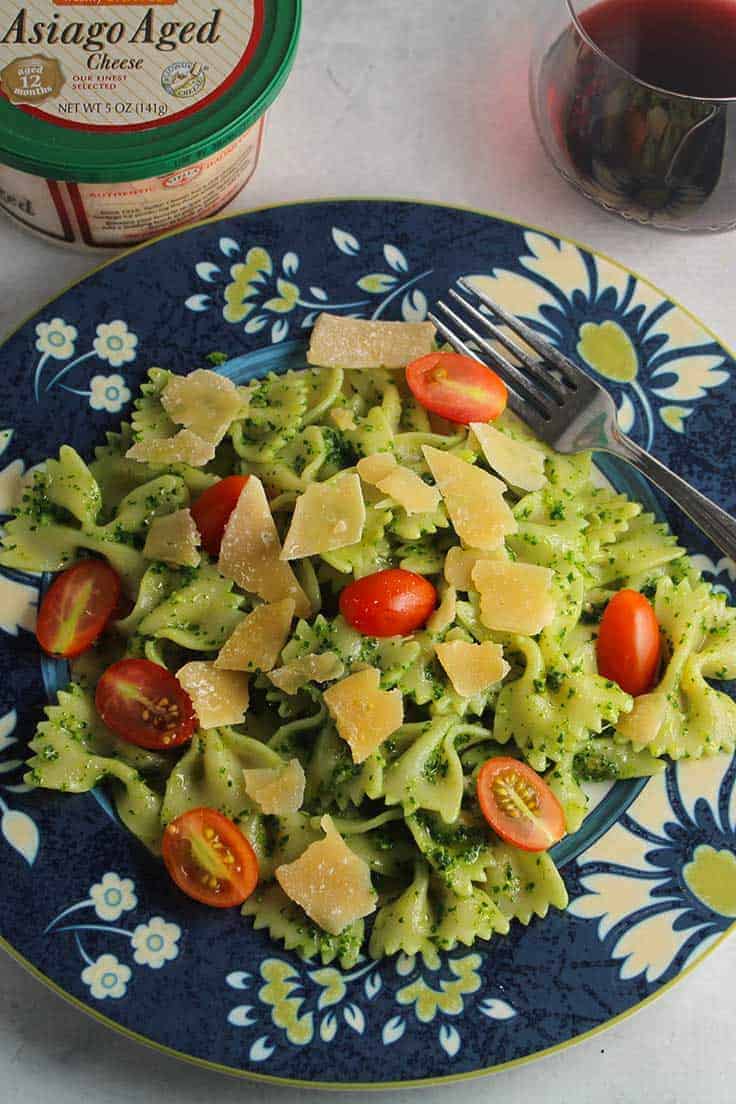 Easy Holiday Entertaining with Stella Cheese
Today we are sharing an easy recipe for Bow Tie Pasta with Kale Pasta and Asiago Cheese that can be served as a holiday dinner party main course. Entertaining doesn't have to be hard with top quality ingredients that don't require a lot of adornment. Stella cheese definitely fits that bill, with flavorful, Italian style cheeses produced in Midwestern US dairy country.
Our dinner party plan with Stella cheese starts with a cheese board. I'm going to tell you more about that tomorrow, but will give you a little preview today. One of our tricks for easy holiday entertaining is to make something that can be used for two different items we are featuring on the menu.
Today, our versatile dinner party star is kale pesto, featuring a flavorful 3 Cheese Italian Blend of Parmesan, Asiago and Romano from Stella cheese. We make a big batch of kale pesto that gets tossed with bow tie past for the main course; but there is also enough of that pesto to feature on some crostini as part of the cheese board…more on that tomorrow!
Making Bow Tie Pasta with Kale Pesto and Asiago Cheese
When I make pesto, I go back and forth between using Parmesan sometimes, then opting for Romano on other occasions. Using the three cheese blend solves that problem, getting the rich nuttiness of Parmesan, salty goodness from Romano, and additional flavor from the Asiago. I really like the way this kale pesto came out!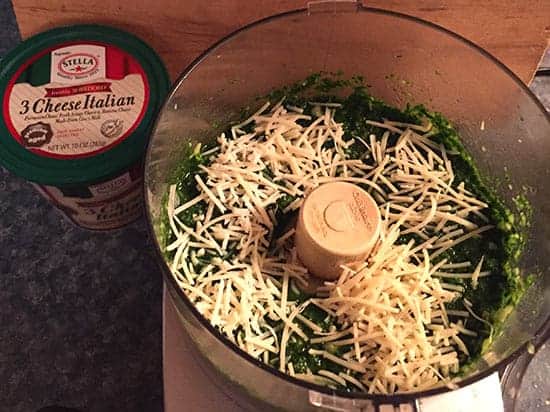 If you want to feature pesto in your holiday entertaining, kale pesto is a great option. The basil can be rather iffy this time of year, but you can alway find a nice, deep dark green bunch of kale. So you know it will be fresh, and give you a nutritional boost, too. By the way, this recipe is vegetarian, so it's a nice option if you have someone who doesn't eat meat among your crowd.
When making the kale pesto for both the crostini and this bow tie pasta recipe, get your kale pesto made before you start making the rest of the cheese board. You will just need a quarter cup or so of the pesto for the crostini, then set the rest aside for when you are ready to toss it with the pasta for the main course.
Once you have cooked your pasta, toss it immediately with the kale pesto. Plate the pasta, and top it with shavings of Stella® Asiago Cheese. That extra bit of Asiago on top will melt a bit, and add extra flavor and richness to your Bow Ties with Kale Pesto. Find out more about Stella cheese at their website, and while you are at it, enter to win a trip to Napa Valley valued at $5,000!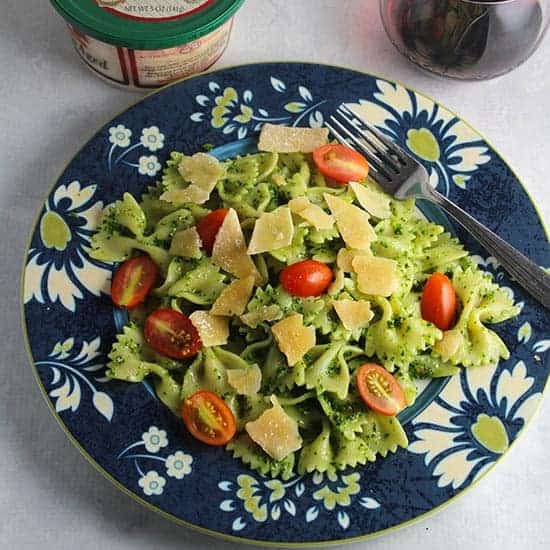 Wine Pairing for Bow Tie Pasta with Kale Pesto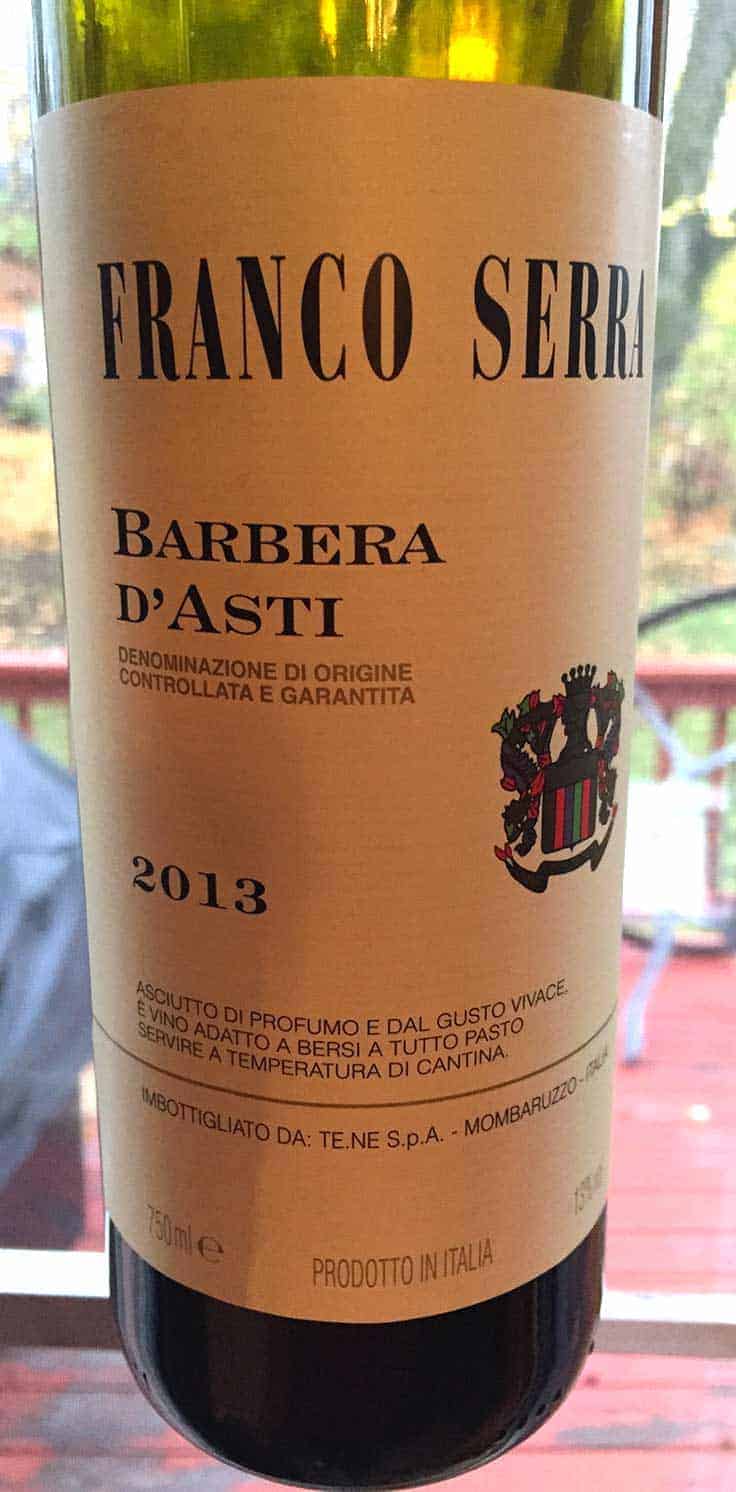 Of course holiday entertaining has to include some good wine to go with the cheese! We served our Bow Tie Pasta with Kale Pesto and Asiago Cheese with the 2013 Franco Serra Barbera D'Asti (appx $10, 13% ABV). Barbera is an Italian red wine grape common in the Piedmont region. This bottle has a fragrant nose, and is fruit forward with subtle acidity. The rich fruitiness matched the Asiago cheese topping nicely. Some Barbera is a bit more acidic than I would recommend with this dish, but this bottle worked well.
Other wine pairing options for this recipe would be fruit forward Chianti, or perhaps a Napa Chardonnay, one with moderate oak and buttery qualities.
Speaking of Napa, a reminder to enter to win a trip to Napa Valley before you get too far into the recipe details! It was a trip to Napa and Sonoma, visiting many great wineries in person, that really got me motivated to learn more about wine and how it can enhance our meals. Some lucky person is going to get a chance to visit Napa for free as a result of this sweepstakes! You can enter once per day up until December 31, 2016.
Print
Recipe card
Bow Tie Pasta with Kale Pesto and Asiago Cheese
Bow tie pasta tossed with healthy kale pesto and topped with asiago cheese for an easy pasta meal that presents nicely.
Author: Cooking Chat
Prep Time:

10 mins

Cook Time:

15 mins

Total Time:

25 mins

Yield:

6

servings

1

x
Category:

Main

Method:

stove top

Cuisine:

Italian

Diet:

Vegetarian
6 cups

tightly packed kale leaves, stems removed

5

garlic cloves

3 tbsp

toasted pumpkin seeds
salt and pepper to taste

¾ cup

Stella® 3 Cheese Italian Blend (Parmesan, Asiago and Romano)

1 cup

extra virgin olive oil plus 1 tablespoon oil to toss with pasta

1 ½

lbs bow tie pasta (also known as farfalle)

¾ cup

grape tomatoes, sliced in half

1 cup

Stella® Shredded Asiago Cheese
Instructions
Start boiling the water for pasta as you begin making the kale pesto.
Add the garlic to a food processor, and pulse the processor a few times to mince the garlic.
Add the kale to the food processor, coarsely chopping to create enough room for the other ingredients.
Add the remaining pumpkin seeds and olive oil, and puree until it comes to a nice smooth consistency. Add the Stella® 3 Cheese Italian Blend, and pulse to incorporate the cheese into the pesto. Set the pesto aside as the pasta cooks.
When the water is boiling, add the bow tie pasta. Cook according to package instructions. When the pasta is cooked to your liking, drain and toss with the remaining tablespoon of olive oil.
Add several scoops of the kale pesto into the pasta, stir to combine. Add additional kale pesto as needed to have the pasta well coated with pesto. Remaining kale pesto can be offered to diners who want to add more to their portion.
Plate the pasta. Top immediately with a handful of grape tomatoes, and sprinkling of the Asiago Cheese. Enjoy!
Keywords: kale pesto, bow tie pasta with pesto, bow tie pasta recipes, asiago cheese recipes
Recipe Card powered by