This kale pesto recipe is definitely one we come back to again and again! Making kale pesto is a delicious way to use the healthy green vegetable.
Kale pesto is great on pasta and fish, and can be featured in a variety of appetizers. Make this easy recipe and check our what to do with kale pesto article for all kinds of ideas on how to use it!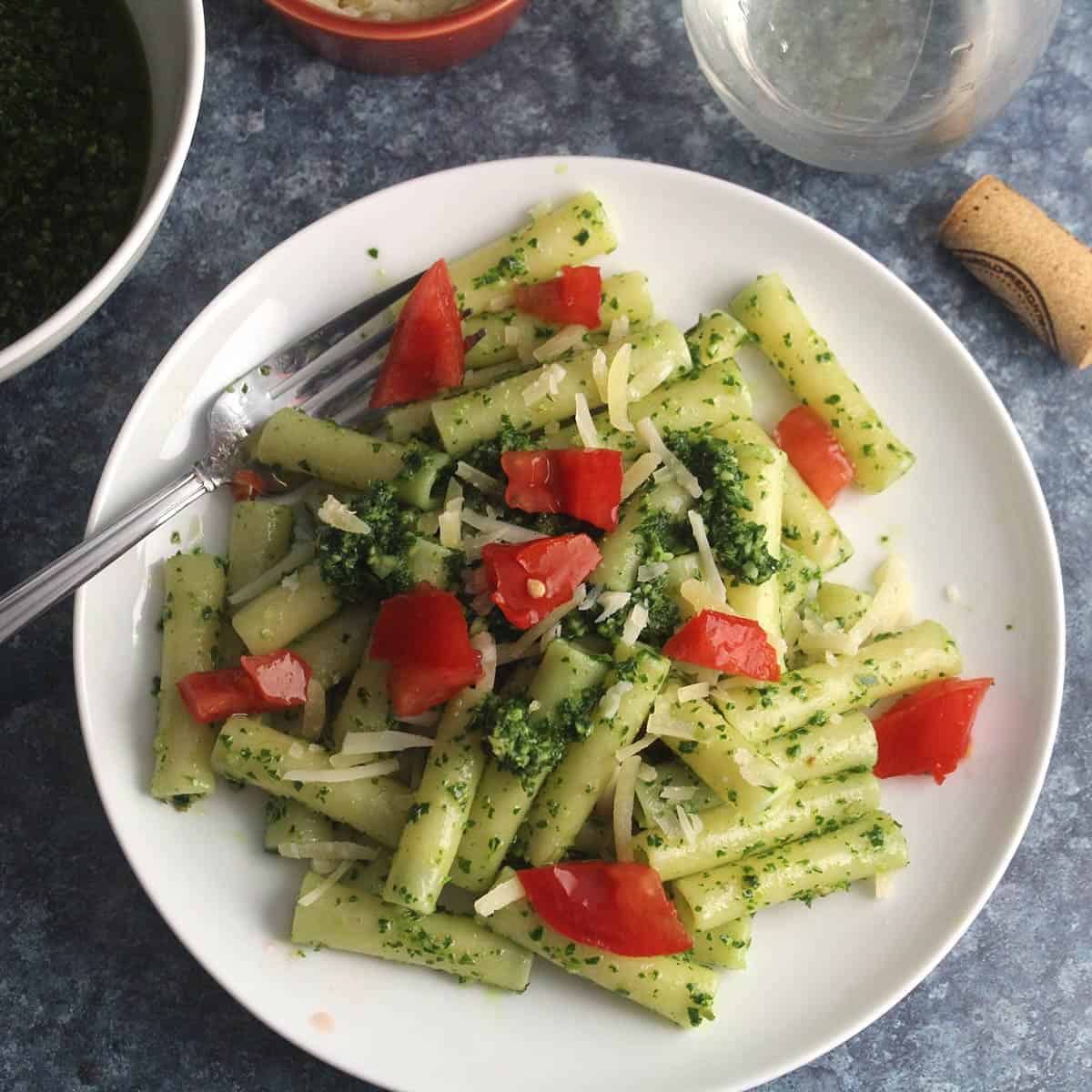 We've always been big pesto fans here! But over time, we have come to make this kale pesto recipe more than our classic basil pesto recipe. Advantages of this kale pesto recipe include:
Kale is packed with nutrition, so using kale as the green for pesto is a very healthy option.
You can find kale year round in most grocery stores in the US, where basil is very much a seasonal crop.
Kale keeps in the refrigerator vegetable drawer for a good 5 to 7 days, where as basil goes downhill very quickly.
But is kale pesto tasty? Yes! With plenty of garlic, olive oil and cheese, I find I like the taste of kale pesto as well as basil pesto.
Jump to:
Ingredients and tools
The essential ingredients for our kale pesto recipe are as follows, with some notes:
Kale is of course an essential ingredient. We typically use basic green kale, but have used lacinato kale, which is also known as Tuscan kale or dino kale. That works fine.
Garlic brings the flavor to any pesto recipe, including kale pesto!
Extra virgin olive oil is the liquid used to make pesto. You need a good amount of evoo, so I use a basic extra virgin olive oil and save higher end versions for things like salad dressing.
Cheese is optional for some people in pesto but not me! Parmesan, or Parmigiano to use the Italian term, is most commonly used. But I often go with Pecorino Romano, which is a bit less expensive and is quite flavorful as well. Either choice works!
Pumpkin seeds are what we use to make pesto without nuts. Sunflower seeds are another option for nut free pesto. But if you aren't avoiding nuts, you can certainly use pine nuts in this kale pesto recipe.
I rarely veer from those five ingredients above. But a couple other ingredients some people like to add to kale pesto include:
Crushed red pepper flakes.
Salt and pepper to taste.
Lemon juice, and possibly some lemon zest.
Fresh basil — if you have a small amount of basil on hand, you can certainly add a bit to the kale pesto.
While basil pesto is traditionally made with a mortar and pestle, you will definitely want a food processor to chop up the kale leaves!
Recipe steps overview
Below is a visual overview of how to make our kale pesto recipe. Head down to the recipe card for more detail and a printable recipe.
Start by getting a food processor ready with the chopping blade at the bottom.
Peel 3 clovers of garlic to get them ready for making the pesto.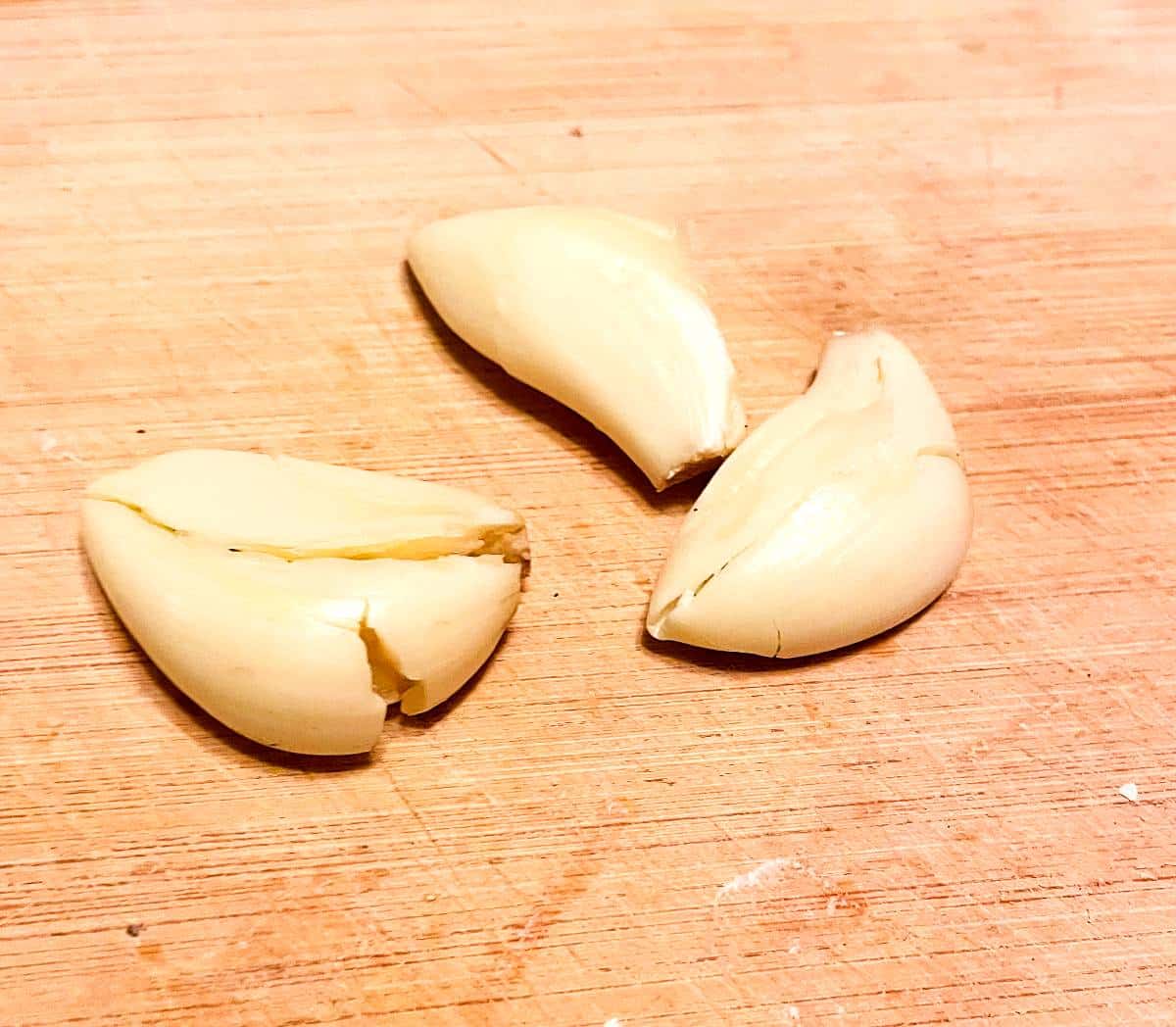 Add the garlic to the food processor. Pulse to chop the garlic.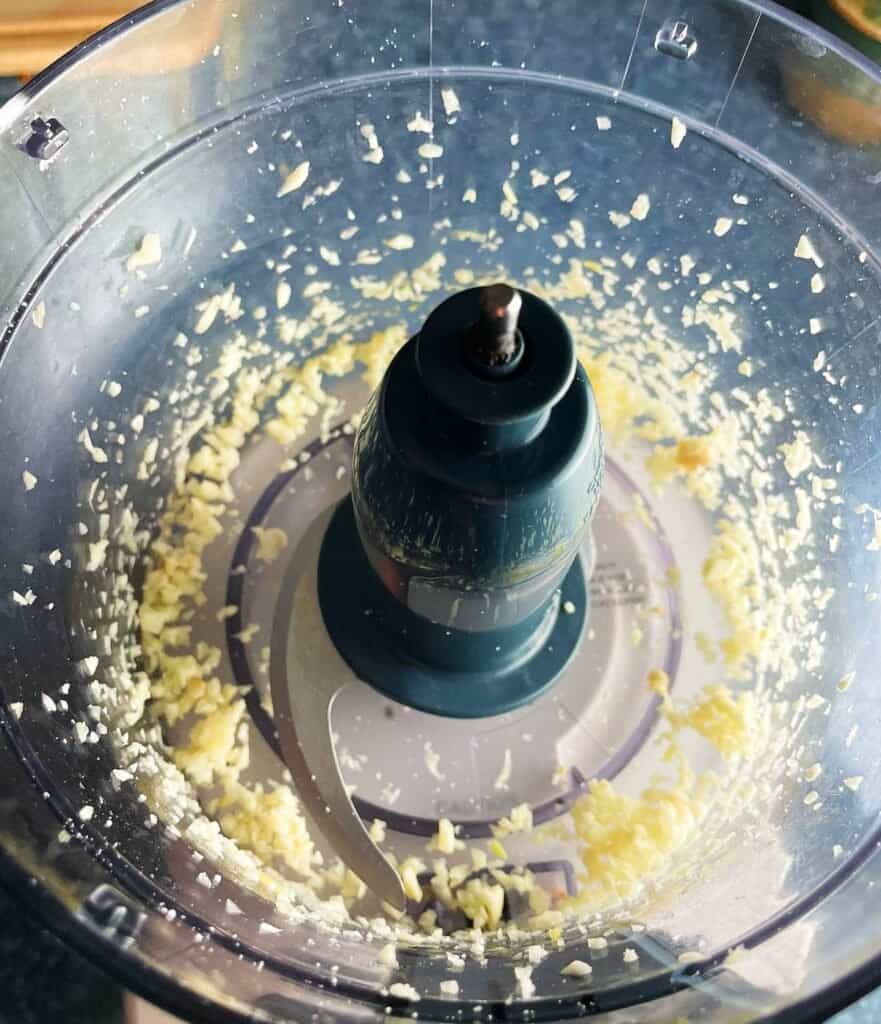 Prepare the kale by rinsing it and then setting it on a cutting board. Note: the kale shown in the photo is lacinato kale, also known as Tuscan kale or dinosaur kale. We typically use basic green kale, but this dino kale works as well.
Use a knife to cut the kale leaves away from the thick stems. Thinner stems can be used as they can be chopped up by the food processor.
Add the kale to the food processor and pulse to chop.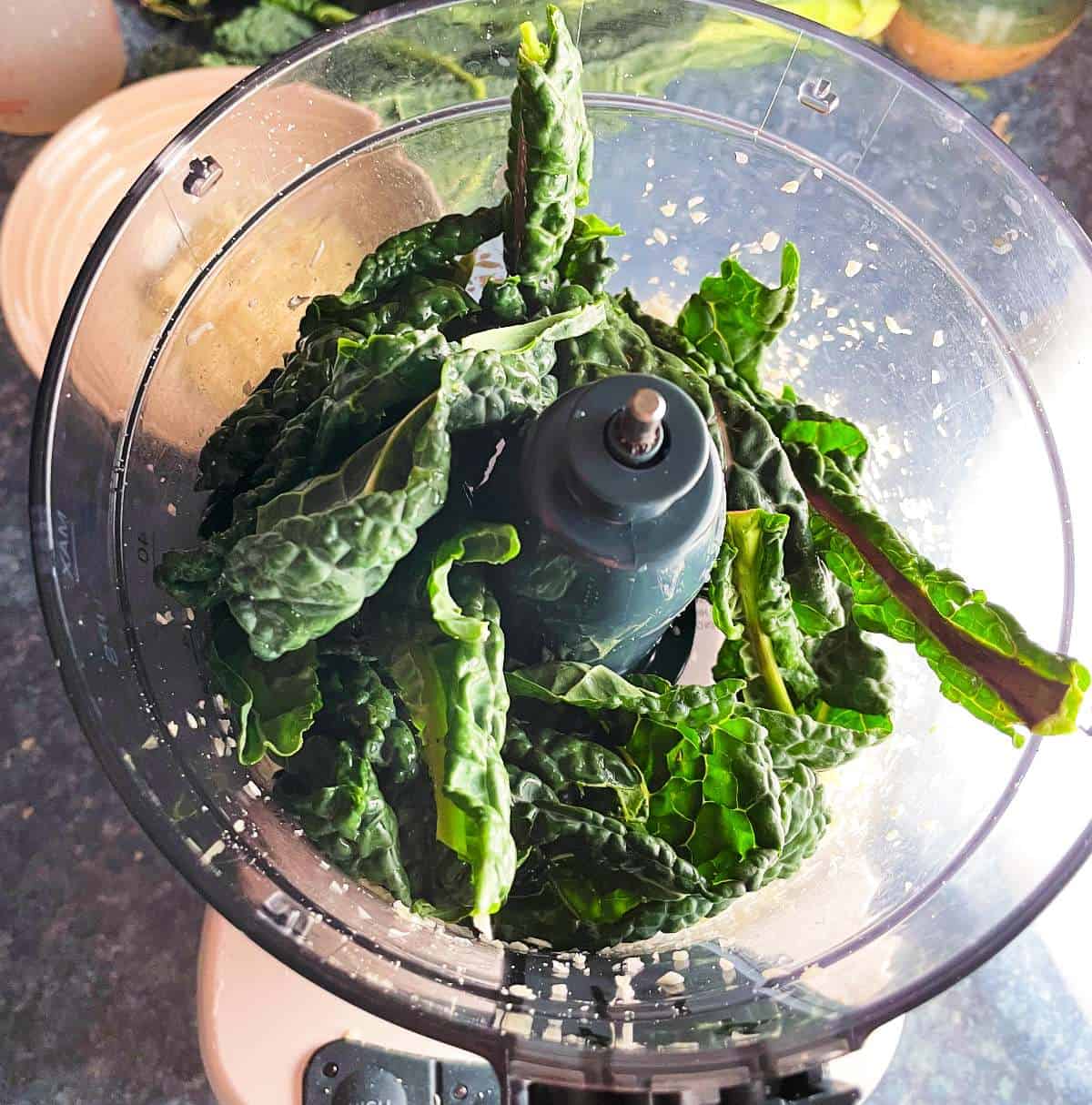 I typically add the kale in two batches as you need to chop some up to make room for the rest. There will still be some large pieces of the kale leaves at this point, as shown above.
Add the olive oil to the food processor, and pulse to combine it with the kale.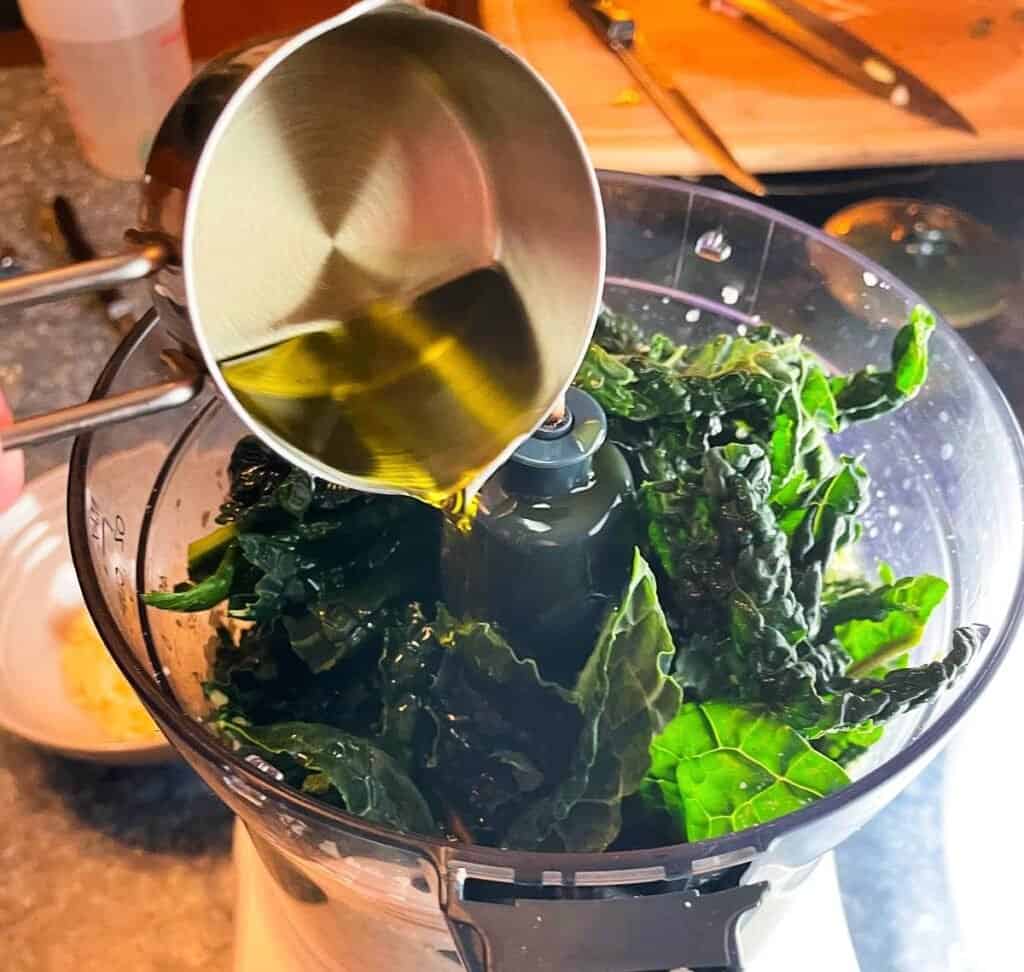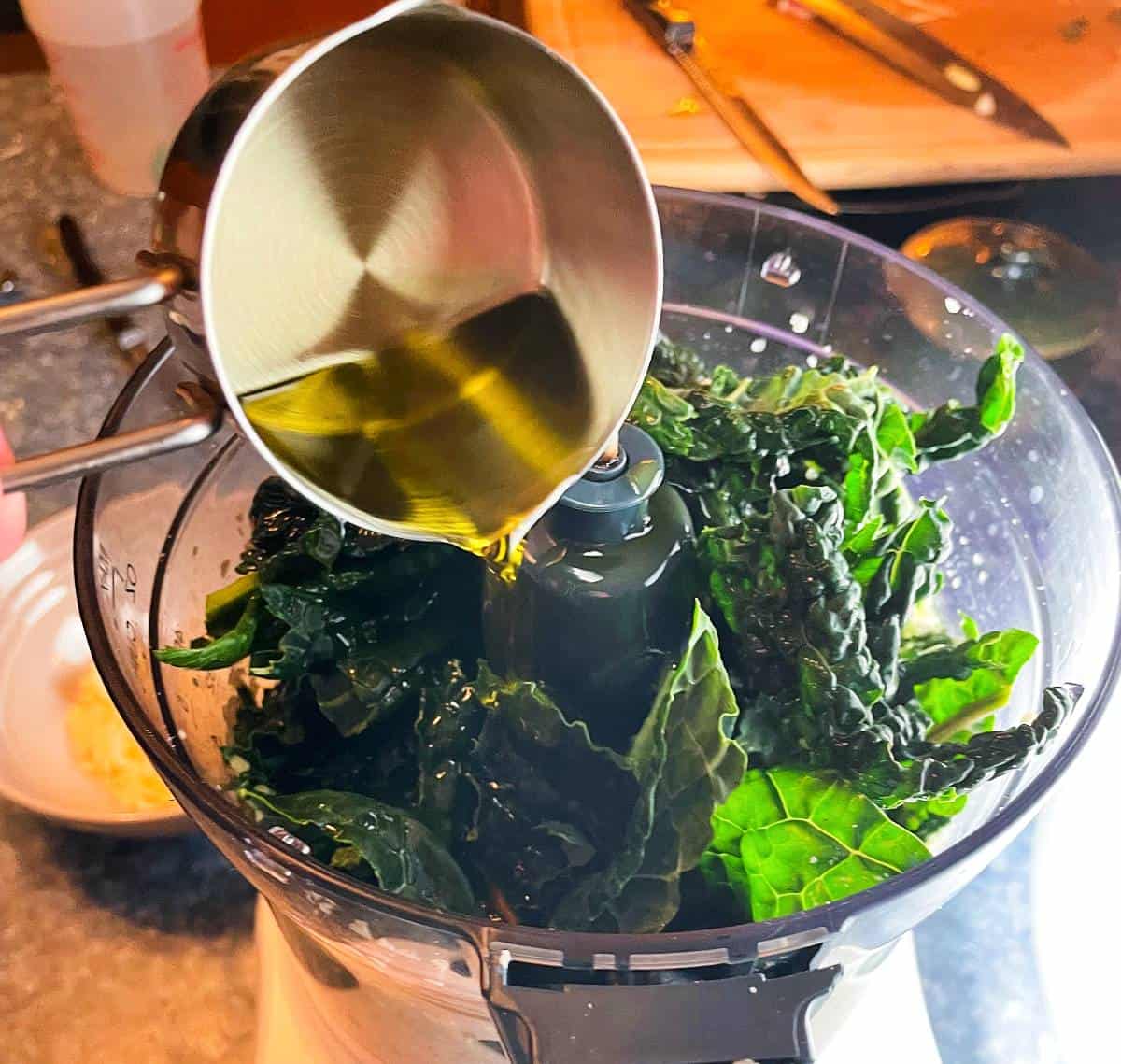 The kale will start to get broken down into a more consistent sauce like purée after adding the olive oil (see below).
Add the grated cheese to the kale, along with the pumpkin seeds or pine nuts, depending on which you are using.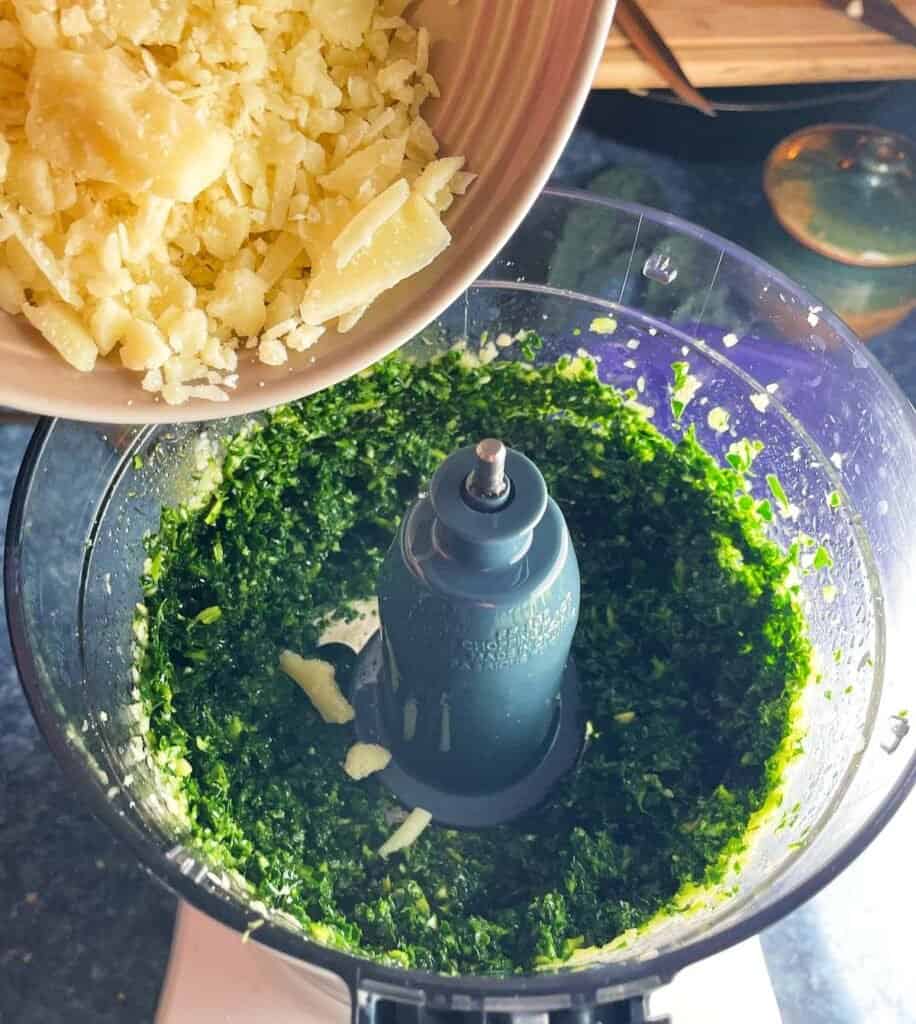 Purée again until the cheese is incorporated into the kale pesto sauce, and the seeds are chopped up and integrated.
Tip: if the sauce is thicker than you want, gradually add more olive until you get the consistency you desire.
Kale Pesto Frequently Asked Questions (FAQ)
Can you substitute kale for basil in pesto?
Yes, kale is a very good substitute for basil in pesto. Our kale pesto recipe is quite similar to our classic basil pesto recipe. We just make some minor adjustments for kale pesto — the quantity of kale is greater than basil, and we use a bit less of the olive oil and cheese.
How long does kale pesto keep?
Stored in an airtight container in the refrigerator, kale pesto can easily last 5 to 7 days. I have used it a bit longer than that from time to time.
Can you freeze kale pesto?
I don't recommend freezing kale pesto. Food with dairy doesn't tend to freeze too well. Kale pesto keeps well in the refrigerator and has many uses, so I recommend trying to use it with a week.
Can you make kale pesto ahead of time?
Yes, you can definitely make kale pesto ahead of time. You can make it a day ahead of planning to use it, storing it in the refrigerator. You can also make the kale pesto about an hour ahead of time and just leave it in the food processor when done, and prepare the rest of your meal.
Can you make kale pesto without nuts?
Yes, we like to use pumpkin seeds instead of pine nuts when making kale pesto. You could also use sunflower seeds.
Ways to use kale pesto
We often simply toss kale pesto with pasta, as you would with basil pesto. But there are so many ways to use kale pesto! We often have it with fish, and it is also great as a spread on a sandwich.
The plate below is a fairly typical kale pesto dinner night, taken as we were working on this updated kale pesto recipe. We tossed the kale pesto with ziti, added a bit of baked haddock and topped with some cherry tomatoes from a local producer. Roasted watermelon radishes on the side to round things out!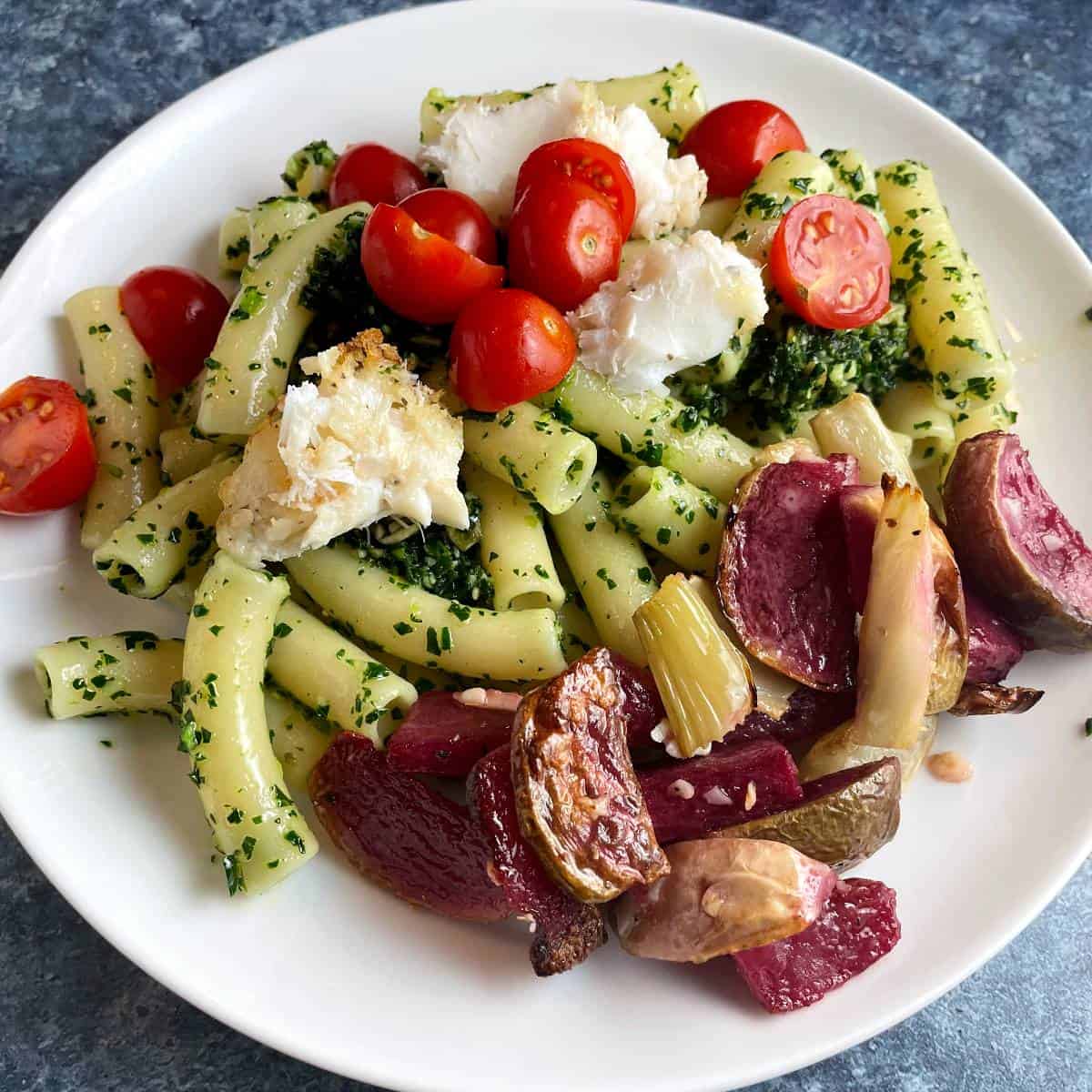 You will want to check out our 15 ways to use kale pesto for a full range of ideas, but here are a few of our favorite uses of kale pesto:
Kale pesto pasta serving tips
Seeing as tossing kale pesto with pasta is the most common way I tend to serve it, let me give a few tips for kale pesto pasta.
Technically, you can make the kale pesto as the pasta cooks. But you don't want to have the pasta cooked and drained without the pesto sauce ready, so I recommend to work on making the kale pesto first. You can start boiling a large pot of water for the pasta while you make the kale pesto, but wait to add the pasta until the kale pesto is almost ready.
Cook the pasta according to package instructions. When the pasta is cooked to your liking, toss it immediately with a tablespoon or so of extra virgin olive oil, then add a couple of scoops of the kale pesto. Stir to combine, and add additional kale pesto as needed to that the pasta is lightly coated with the pesto.
Scoop the remaining kale pesto into a serving bowl to pass along with the table, along with extra cheese. This way, people who want more of the kale pesto flavor can add what they want.
Wine pairings
We have plenty of opportunities to test wine pairings with kale pesto!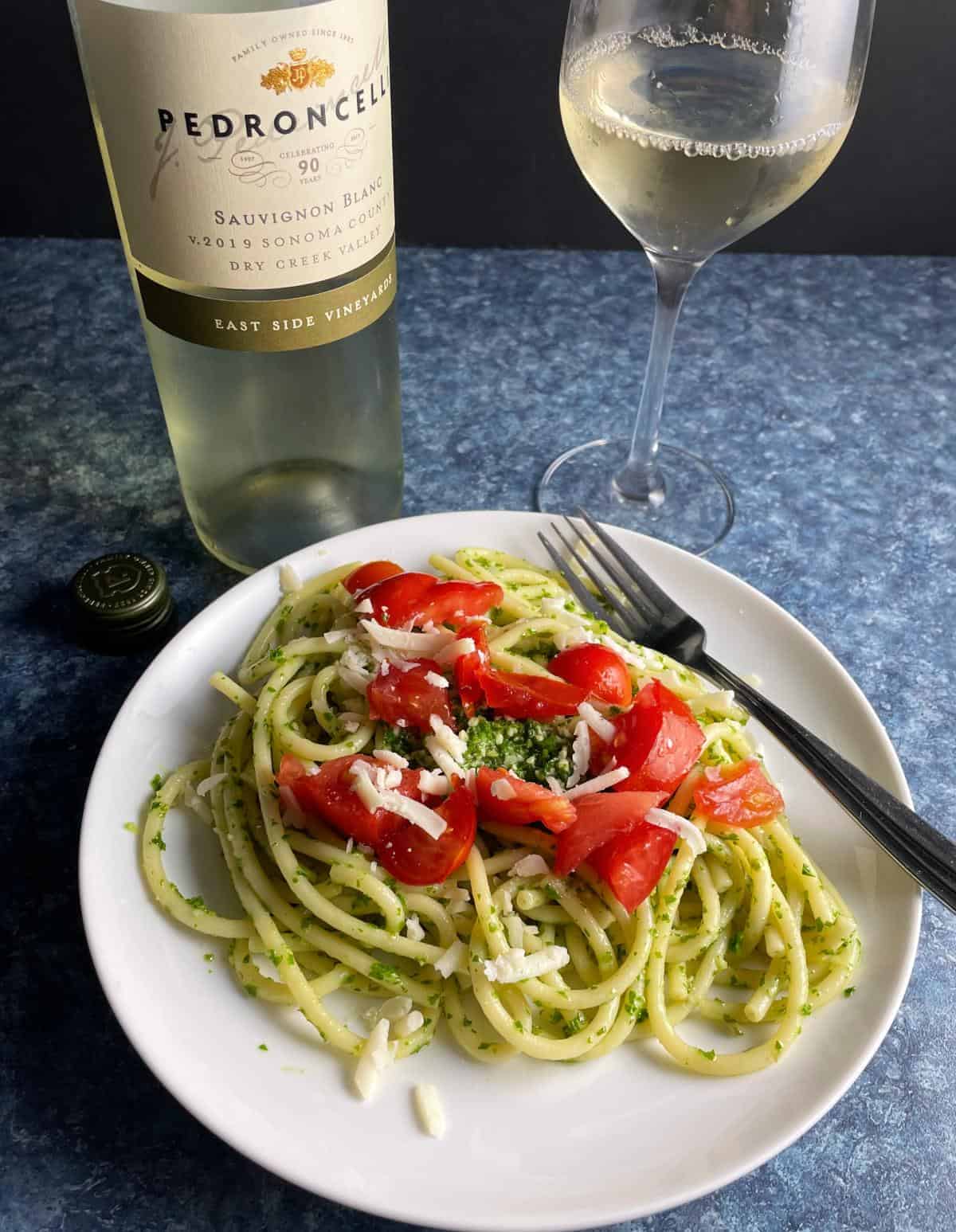 Sauvignon Blanc is a classic pairing for basil pesto, and it works with kale pesto, too! We have tested the Pedroncelli Sonoma County Sauvignon Blanc favorably with kale pesto. The Monte Xanic Sauvignon Blanc from Mexico is a good one we've had recently. But any good Sauv Blanc you like can do the trick with a basic kale pesto pasta dish.
Italian white wines can also be a good choice with kale pesto. We have tried a Gavi with kale pesto pasta (and that article has more wine pairing ideas) and an Arneis worked well with our kale pesto tortellini.
Sparkling wine can also work nicely. We enjoyed an Italian sparkling wine with our kale pesto crostini.
A red wine can make sense if you are using the pesto in a heartier preparation like our kale pesto lasagna.
Print
Recipe card
Kale Pesto
Kale makes a nutrient packed pesto and is readily available year round. Easy recipe for a flavorful nut free kale pesto. This kale pesto recipe makes enough to serve with 1 pound of pasta. You may have a bit leftover, depending on how much pesto you like to use per serving.
Author: Cooking Chat
Prep Time:

10 mins

Total Time:

10 mins

Yield:

8

servings

1

x
Category:

Sauce

Method:

food processor

Cuisine:

Italian

Diet:

Vegetarian
4 cups

tightly packed kale leaves, stems removed

3

garlic cloves

2 tbsp

pumpkin seeds, lightly toasted
generous pinch red pepper flakes (optional)
salt and pepper to taste

½ cup

grated parmesan cheese

⅔ cup

extra virgin olive oil
Instructions
Add the garlic to the food processor, and pulse to mince the garlic.
Add the kale, in two batches, to the food processor, coarsely chopping to create enough room for the other ingredients.
Gradually pour the olive oil into the food processor with the blade running, pureeing until comes to a nice smooth consistency.
Add the pumpkin seeds, red pepper flakes, salt and pepper, cheese, and puree until everything has been incorporated. Give it a stir, and puree a bit more to make sure it's blended together nicely. Add a bit of extra olive oil if the consistency seems thicker than you would like.  
Notes
You can use pine nuts instead of pumpkin seeds. Pine nuts are a typical ingredient in basil pesto. We use pumpkin seeds as we don't use nuts due to a food allergy.
Gradually add more olive oil if the sauce seems thicker than you would like, after first combining all of the ingredients in the food processor. 
I often skip the red pepper flakes, and don't add extra salt given there is salt in the cheese. 
When using leftover kale pesto, take it out of the refrigerator about half an hour before using to bring it closer to room temperature. It will spread or combine with pasta better this way.
Keywords: kale pesto, kale, kale pesto recipes, pesto
Recipe Card powered by
Looking for some more creative pesto recipes? Try these!