Today we are talking about how you can put together an Easy Holiday Cheese Board featuring some delicious Stella cheese and some tasty Kale Pesto Crostini. Check out our kale pesto recipe post for more details on making this crucial element of this cheese board!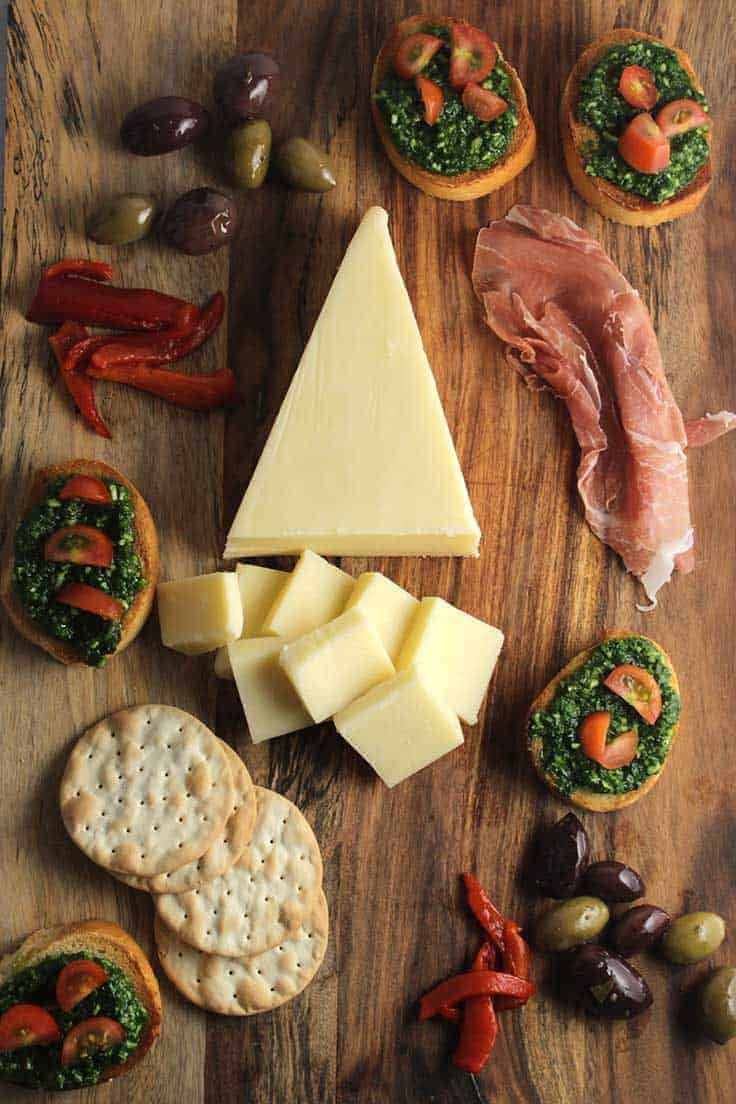 Stella Cheese for Holiday Entertaining
Today we are talking about how to assemble an Easy Holiday Cheese Board that features some wonderful Stella cheese and our zesty kale pesto crostini. High quality ingredients like Stella cheese are a great place to start with your holiday entertaining.
One trick for easy holiday entertaining is to make something like kale pesto that can be used for two different items on your menu. Today the kale pesto tops some crostini that gets featured on our Easy Holiday Cheese board.
The kale pesto recipe here makes enough to toss with pasta for an easy meal. So you and your guests can start the party by nibbling on all kinds of good stuff from the Easy Holiday Cheese Board. When you are ready for the main course, you can easily get some water boiling and cook some pasta. Before you know it, will be time to sit down and enjoy the deliciously simple Bow Tie Pasta with Kale Pesto.
Assembling an Easy Holiday Cheese Board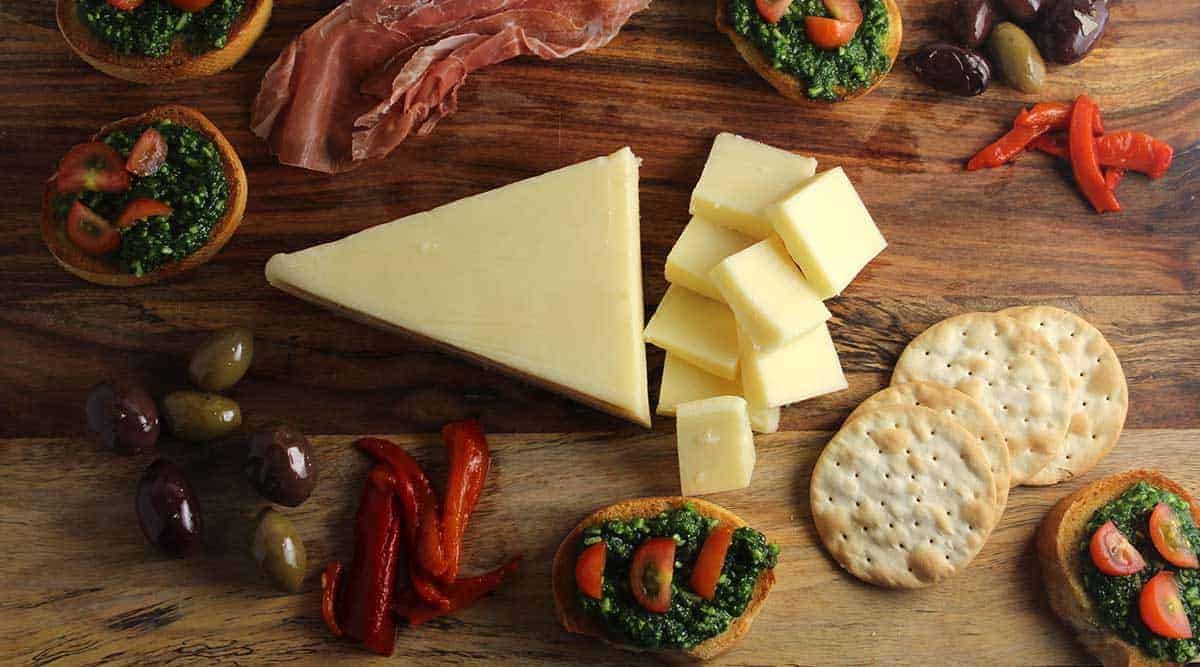 One of the beauties of an Easy Holiday Cheese Board with Stella cheese is that you can vary the ingredients to suit your tastes and what you find in your local stores. I'll start by telling you how we assembled our Easy Holiday Cheese Board, then suggest some variations you might try.
To start making your cheese board, you will want to have ready the surface you will use to serve your cheese, as well as another cutting board you will use for your active work surface. You don't want to make a mess of the cheese board intended to wow your guests! You can use something actually called a cheese board, (Amazon link supplied if you are interested in getting one), or simply use a large cutting board that is in good shape.
We like to enjoy our kale pesto crostini nice and warm, so we save making those for the end. We made the Stella® Fontinella® Cheese the star attraction on our cheese board. The Stella® Fontinella® is creamy and flavorful with a bit of sharpness. It is likely to appeal to a wide range of tastes, and compliments the other flavors on the cheese board.
Start making your Holiday Cheese Board by cutting a half dozen or so slices of Stella cheese. Place the block of cheese in a central spot on your cheese board, then arrange the cut slices of cheese around it. In our case, the other cheese we were featuring in addition to the Fontinella® was the Stella® 3 Cheese Italian Blend used for the pesto. So after prepping the Fontinella®, we set about arranging the other items on the board.
We kept cheese board pretty simple. I got some mixed Mediterranean style olives, which gives a nice variety of flavor and color. I put one handful in one corner of the cheese board, then added another handful in another spot. I made a few thin slices of roasted red pepper, and placed that by those slices by the olives. Then I added our prosciutto, always a favorite cheese board item!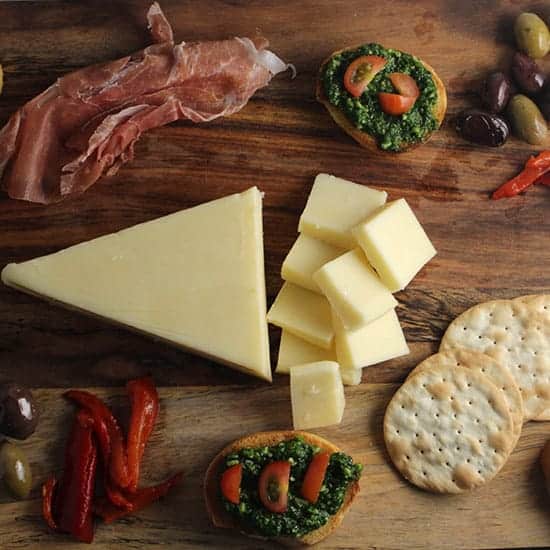 With most of the Easy Holiday Cheese Board set up, I then made the Kale Pesto Crostini, following the recipe below. The quantity of kale pesto generated from this recipe should leave you with enough extra pesto for another use, such as tossing it with bowtie pasta and asiago cheese. Place several of the completed Kale Pesto Crostini in various spots around your cheese board, and keep a plate of additional Kale Pesto Crostini in reserve so you can replenish the cheese board as needed. You are just about to serve that cheese board, but better open some wine first!
Wine Pairing
OK, so you're cheese board has creamy cheese, salty olives and prosciutto, zesty kale pesto crostini. What wine pairing for this cheese board? With this variety of flavors, a good sparkling wine is a great choice! Sparkling wine is a good option of offset salty flavors, and is also very versatile. Not to mention sparkling wine is a festive way to start a holiday party!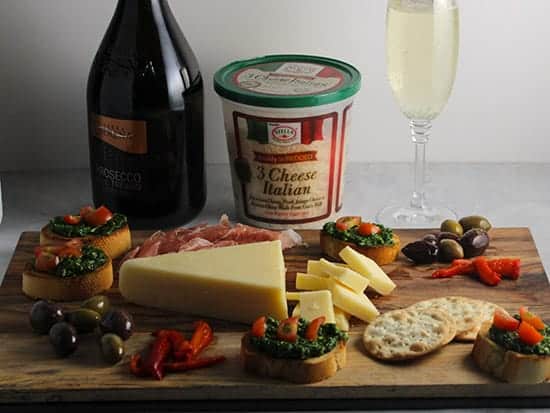 Given the Italian accent of the Stella cheese and Kale Pesto Crostini, I opted for a bottle of Prosecco. We opened the Terra Serena Extra Dry Prosecco ($10, 11% ABV). This dry wine was well-balanced, and was a pleasant companion to the salty and savory items on our Easy Holiday Cheese Board. There are a good number of quality Proseccos available for a reasonable price.
Italian Prosecco is one natural wine pairing choice for our holiday cheese board. But as I mentioned at the outset, you have a chance to enter to win a trip to Napa Valley with Stella Cheese! Maybe you are feeling confident, and want to get yourself ready for that trip to Napa? You can certainly find many very good sparkling wines from Napa! Le Rêve by Domaine Carneros is one suggestion, coming to us from Culinary Adventures with Camilla. You can enter the contest once per day up until the closing date of December 31, 2016. Good luck!
A few more suggestions came along for Napa bubbly after I initially posted this. Jeff from foodwineclick suggests Roederer Estate Brut, which he notes can often be had for under $20. Gwendolyn from our Wine Pairing Weekend group also mentioned Schramsberg.
More Holiday Cheese Board Ideas
As I said earlier, there's a lot of ways you can vary the Easy Holiday Cheese Board concept. If you want to add another cheese to feature along with the Stella® Fontinella® Cheese, I'd look for something with some contrasting flavor. Maybe the Stella® Gorgonzola Cheese or the Blue Cheese, if you are a fan. We sometimes think of Parmesan as a topping for pasta, but it can also be a nice cheese to feature on a cheese board. Visit the Stella cheese website to learn more about their great options for your holiday cheese board.
In addition to cheeses, you can also add fruit items such as grapes and dried fruits to your cheese board. Of course, there are many other meat options you can add, such as a good salami? Check out this easy salami and cheese board post for some ideas on that front. The only limit to what you can add to your cheese board is your creativity! Well technically you might run out of room on the board at some point too!
OK, it's time to leave you with the kale pesto crostini recipe instructions. Don't forget to visit Stella cheese website, and enter to win a trip to Napa Valley with Stella Cheese!
Print
Kale Pesto Crostini for Holiday Cheese Board
Author: Cooking Chat
Prep Time:

15 mins

Cook Time:

5 mins

Total Time:

20 mins

Yield:

8

1

x
Category:

Appetizer

Cuisine:

Italian
6 cups

tightly packed kale leaves, stems removed

5

garlic cloves

3 tbsp

toasted pumpkin seeds
salt and pepper to taste

¾ cup

Stella® 3 Cheese Italian Blend (Parmesan, Asiago and Romano)

1 cup

extra virgin olive oil

1

baguette, sliced into

½

inch rounds

1 cup

grape tomatoes, thinly sliced, for topping
Cooking oil spray
Instructions
Pre-heat an oven to 400.
Add the garlic to a food processor, and pulse the processor a few times to mince the garlic.
Add the kale to the food processor, coarsely chopping to create enough room for the other ingredients.
Add the remaining ingredients, from the pumpkin seeds through the olive oil, and puree until it comes to a smooth consistency.
Spread the bread out in a single layer on a baking sheet or large piece of aluminum foil. You will likely need two sheets.
Use the oil spray to coat one side of each slice of bread.
Put the bread into the oven, and toast for about 5 minutes until it start to brown and get slightly crispy.
Remove the toasted crostini from the oven, and spread a dollop of the kale pesto to coat one side of each piece of bread. This recipe makes enough kale pesto to reserve for another use, such as tossing with pasta.
Top each crostini with a few of the sliced tomatoes. If you are serving the crostini as part of an easy holiday cheese board, arrange several of the crostini on the cheese board along with the other items. Alternatively, you can serve the kale pesto crostini arranged on a serving platter of their own.
Recipe Card powered by