Roasted Turkey Breast with Morel Mushroom Sauce is our annual turkey recipe posting in advance of Thanksgiving. We served it up with a Long Island red wine blend from Bedell Cellars for this month's Wine Pairing Weekend celebrating local vintners. Read on for details about the winery, recipe and wine pairing; or click here to jump down to the recipe.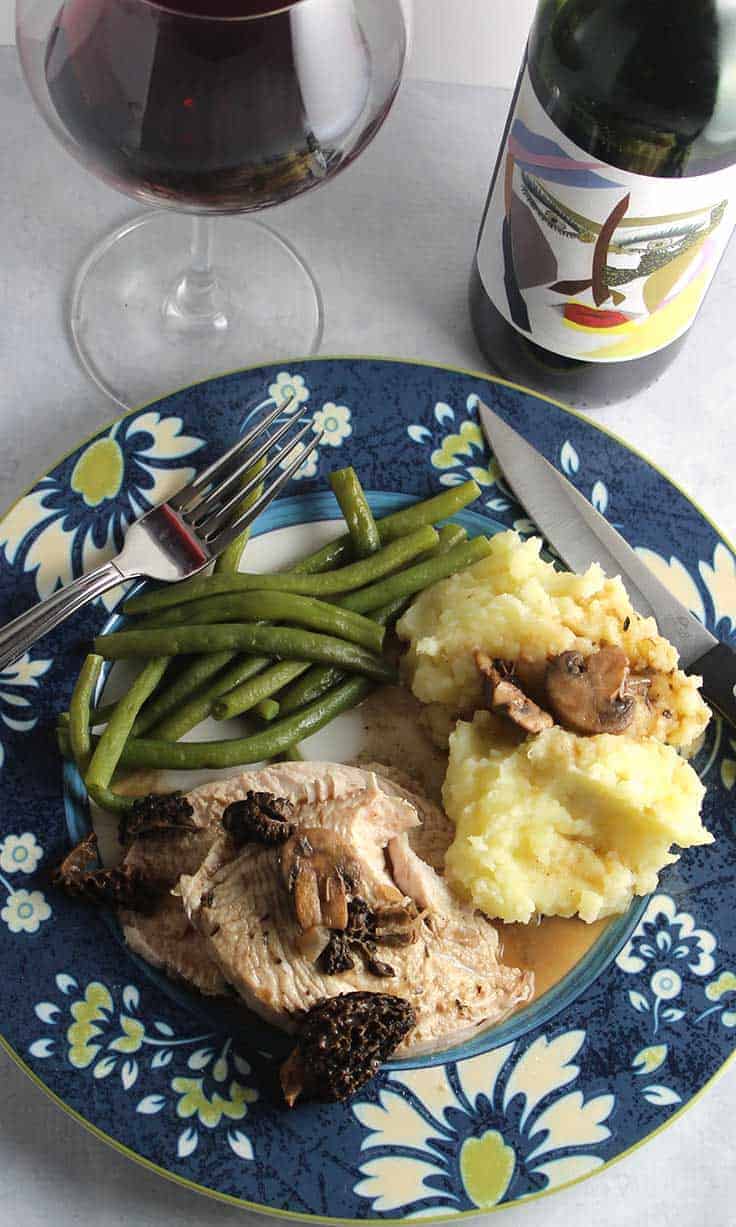 I love the theme for this month's Wine Pairing Weekend event, hosted by Culinary Adventures with Camilla. She asked us to feature wine from a favorite local vintner and serve it along with seasonal foods.
Local vintners that make wine we enjoy are far and few between here in New England. So for this post, I was more focused on figuring out what wine we would served. I figured being November, "seasonal" would translate as Thanksgiving, so I made a new turkey recipe, Roasted Turkey Breast with Morel Mushroom Sauce. 
There are a few good wineries in New England that can be reached with a drive of 90 minutes or so. Westport Rivers Winery in Southeastern Massachusetts makes world class sparkling wine, and I've had a chance to visit the winery some years ago. Across the line in Rhode Island, Greenvale Vineyards makes Chardonnay and Cabernet Franc that I've enjoyed.
Believe it or not, baseball had us busy on weekends through October. In fact, our son's long season for which I serve as a coach finished up with a double header the day before Halloween. So a trip to a local vineyard was an adult indulgence not in the cards in advance of this event. So I needed to pick a bottle I could get at my local wine shop, Pairings Wine & Food.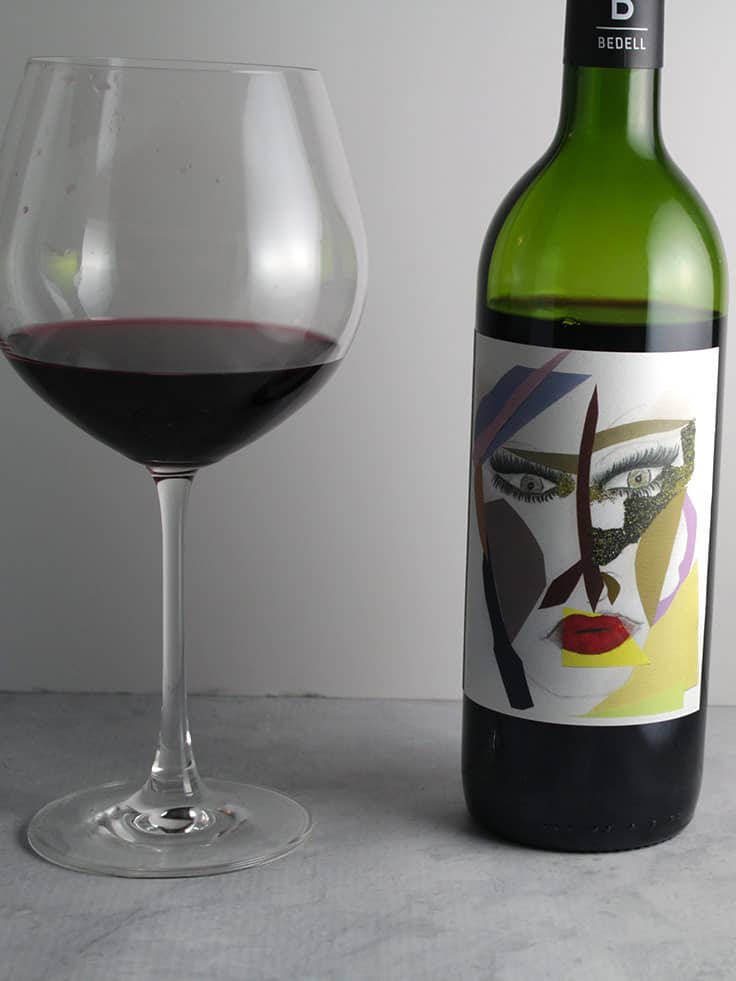 Pairings does carry a bottle from a winery I've visited in Long Island, Bedell Cellars. In fact, it was five years ago this weekend that we were visiting Long Island to attend the wedding of a good friend. We managed to build in enough time to visit a couple wineries there on the way to the wedding. I wrote about our visit to Shinn Estate Vineyards, as I became a big fan of their wines. Alas, they don't distribute our way so couldn't feature them today.
Anyhow, for a New Englander, a winery we can drive to is going to have to qualify as local. You don't want me having to drink blueberry wine, do you? OK, our car did catch a lift from the ferry on the way to Long Island, you'll have to cut me some slack. Let's say a bit more about our Roasted Turkey Breast with Morel Mushrooms before we get into the details of our wine from Bedell Cellars.
Roasted Turkey Breast with Morel Mushroom Sauce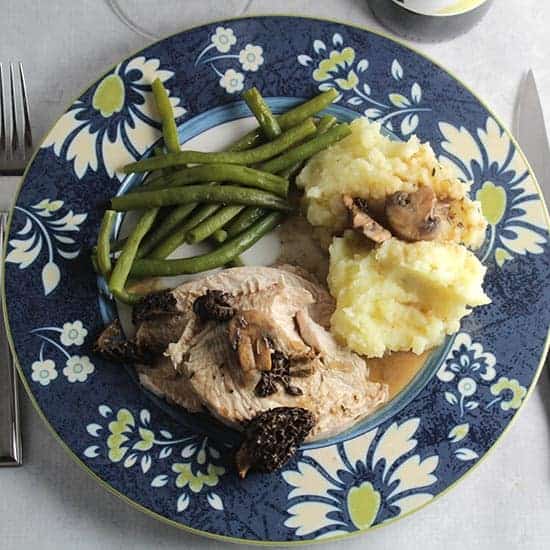 We are visitors on Thanksgiving, so my duties that day fall more in the wine department rather than turkey making. But as a food blogger I feel obligated to roast a turkey in November and share a new recipe. Last year I featured a Garrigue Roasted Turkey Breast with a wine from the Languedoc, and that was a great pairing.
A turkey breast is a great option for a smaller crowd, so that's what we made this year. I had the idea of making a mushroom sauce for it, as a change of pace. It also occurred to me that I hadn't used morels in awhile, so that led to my Turkey Breast with Morel Mushroom Sauce.
Now, if you are foraging for morels, they are seasonal in the late spring. But I get them dried, and reconstitute them. Fall is a great time for the deep flavors of morels, and I reserve the liquid used to reconstitute the morels to enhance the flavors of stocks.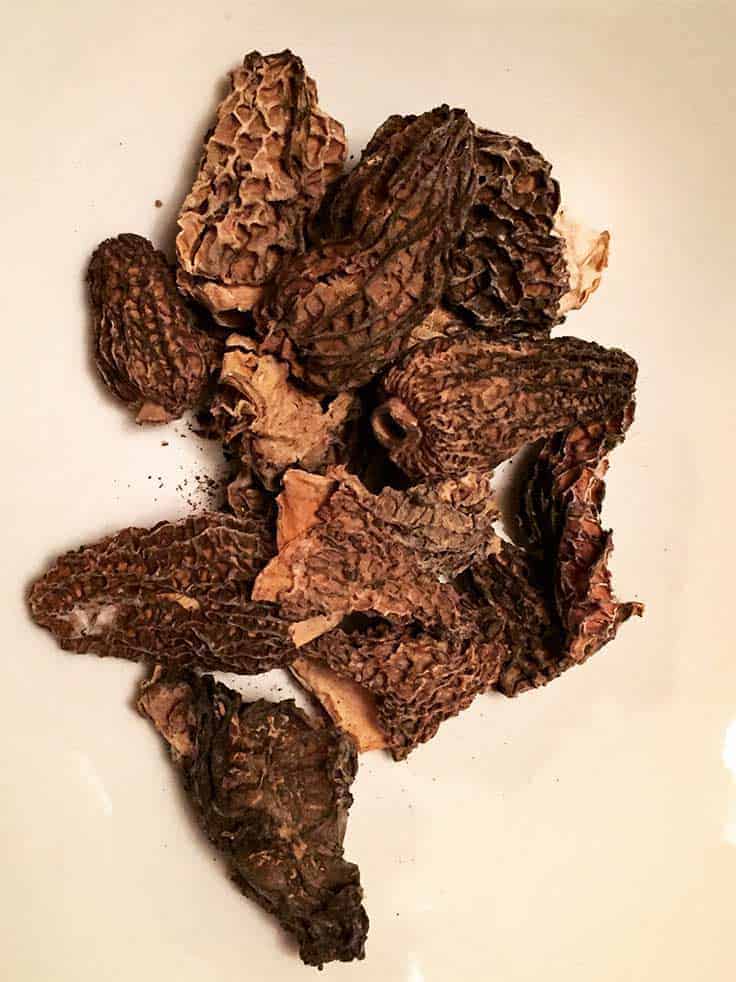 Morels are on the pricey side, so I combine them with everyday button mushrooms in the morel mushroom sauce, making it more affordable. This trick of combining fancy mushrooms with everyday ones is one I deploy quite a bit.
Our 4 pound turkey breast came out just right roasted in our convection oven for 90 minutes. The sauce was pretty good, but honestly I am going to make it again with a few tweaks to try to kick the flavors up a notch. I'm thinking maybe a dash of soy sauce, and playing with the herb and spice combos.
Wine Pairing from Bedell Cellars
We opened a bottle of 2014 First Crush Red from Bedell Cellars (about $15 , 11.5% ABV) to go with our Roasted Turkey Breast with Morel Mushroom Sauce. It is a blend of 75% Merlot, 25% Cabernet Franc, sustainably farmed.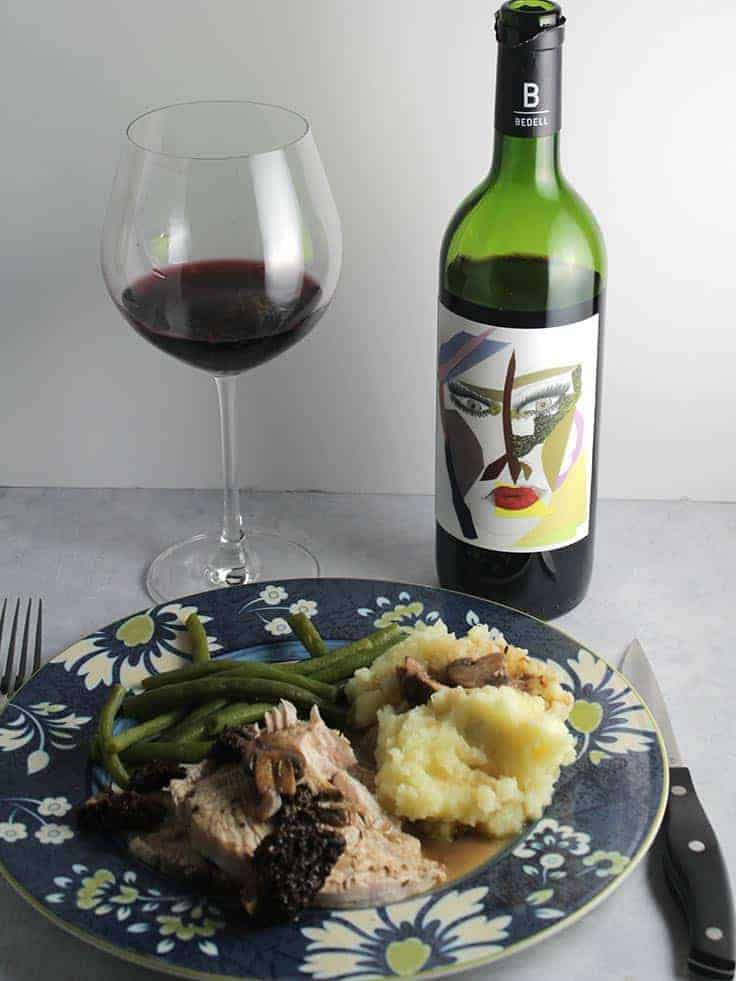 I get lilacs on the nose of the first crush. Fresh berry fruit is what you really notice at first. Soft mouthfeel, but then there is a fair amount of oak and tannins on the finish. This tannic aspect wasn't a great match for the turkey. Perhaps this young wine would benefit from a bit of decanting or additional time in the bottle. I would rate the wine pairing and overall meal a B, decent but with room for improvement. For my most recent "A" pairing effort, check out the Pumpkin Chickpea Curry that we paired with a Falanghina from Italy.

Print
Recipe card
Roasted Turkey Breast with Morel Mushroom Sauce
Roasted Turkey Breast with Morel Mushroom Sauce is an elegant recipe for preparing turkey.
Author: Cooking Chat
Prep Time:

15 mins

Cook Time:

100 mins

Total Time:

1 hour 55 mins

Yield:

8

servings

1

x
Category:

Main

Cuisine:

American
4

lbs boneless turkey breast
FOR THE BUTTER

1

garlic clove, minced

½ tsp

dried thyme

4

sage leaves, minced

5 tbsp

butter, left out of fridge about

30

minutes
salt and pepper to taste
FOR THE MOREL MUSHROOM SAUCE

½ oz

dried morels

⅓ cup

wine

1 tbsp

butter
Tbsp evoo

½ tsp

sage

½ tsp

thyme

10

ozs button mushrooms, sliced

1 cup

chicken or turkey broth

⅓ cup

liquid used to reconstitute the morels (details below)
Instructions
Preheat oven to 325, convection roast setting if you have convection oven.
To reconstitute the dried morels, place the morels in a small bowl and cover with hot water. Let the morels steep in the water for 30 minutes. Then place a damp paper towel in a sieve, with a bowl underneath. Pour the morels with the soaking liquid into the sieve. Save the soaking liquid that is caught in the bowl. Remove the morels from the sieve and rinse them. Coarsely chop the morels and set them aside.
Make the herb butter: place the softened butter in a small bowl. Add the minced garlic, the rosemary, chopped sage leaves, thyme, and salt and pepper to taste. Stir to combine well, and set aside.
Rinse the turkey breast and pat dry. Set the turkey out on a clean work surface, and rub the butter all over the turkey. Put more on the skin side, work some under the skin if you can.
Place the turkey breast on a roasting rack, skin side up, in a roasting pan. Place in the oven and roast. Roasting times vary based on your oven and the size of the turkey. Roasting times for a 3 to 5 lb turkey breast are typically given as 90 to 120 minutes. Check at 90 minutes, temperature in middle should be 170 degrees. Our 4 pound turkey breast was ready at the 90 minute mark. When done, remove the turkey breast from oven and let rest for 10 minutes on a large platter.
Begin morel sauce after the turkey has been cooking for an 30 minutes or so. Heat 1 tablespoon of butter in a sauce pan or skillet. Add the shallot, and cook 5 minutes until softened.
Add the button mushrooms and the morels to the pan, and cook until the mushrooms begin to sweat, about 5 minutes.
Add the red wine to the pan, along with the sage and thyme. Cook until the wine is mostly absorbed about, 3 minutes.
Add the chicken stock and morel soaking liquid to the sauce pan, and bring to a boil. Then reduce heat to simmer. Simmer until the stock and morel liquid liquid is reduced by one half, about 10 minutes. Add salt and pepper to taste, and keep the sauce warm while the turkey finishes roasting.
When the turkey is done, scrape any juice and turkey bits from the roasting pan into the sauce, stir to combine.
After the turkey has cooked and rested for 10 minutes, slice the turkey. Plate a few slices, and top with the morel mushroom sauce. Enjoy!
Recipe Card powered by
Wine Pairing Weekend Thankful for Local Vintners
Roasted Turkey Breast with Morel Mushroom Sauce by Cooking Chat (you are here!)
Join us for a live Twitter chat celebrating "The Feast Nearby", by tuning into #winePW on Twitter at 11 a.m. ET, Saturday, November 12. Wine Pairing Weekend is always the 2nd Saturday of the month; click here for a full listing of upcoming and past #winePW events.