This easy Broccolini Pasta Recipe gets plenty of flavor from garlic, Parmesan cheese, and of course, the broccolini. This pasta dish can be on the table in 30 minutes!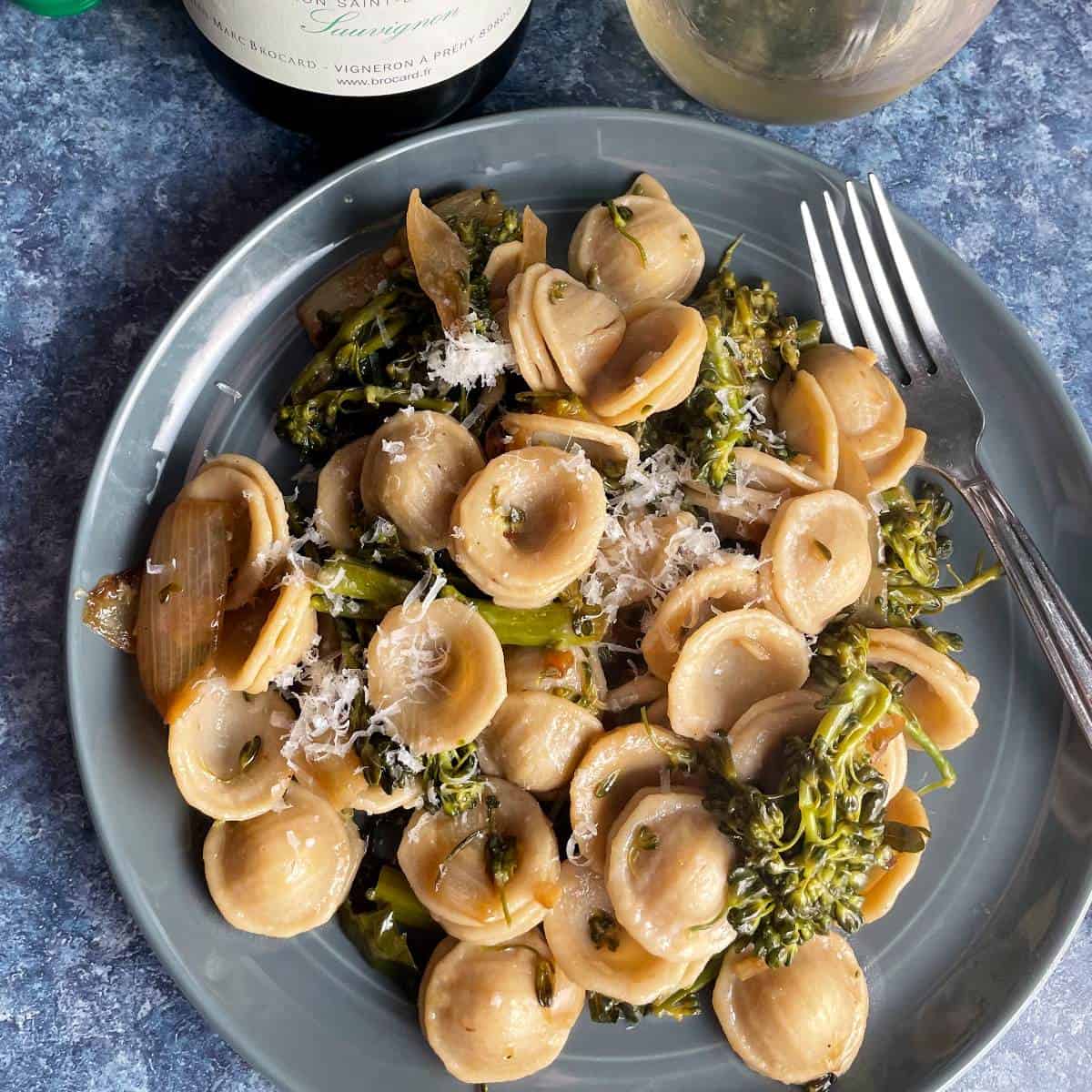 We first made this easy pasta recipe when we had a big bunch of broccolini from our CSA farm share earlier this summer. It's tasty and easy to put together, so we made it again the other night to get ready to share it with you – plus that gave us a chance to test another wine pairing!
It's definitely substantial enough to serve this as a main dish pasta. You can also have it on the side with something like our baked haddock, which is how I served it the other night.
Jump to:
Ingredients
Broccolini is a green vegetable that belongs to the Brassicaceae family, which includes othermcruciferous vegetables like broccoli and kale.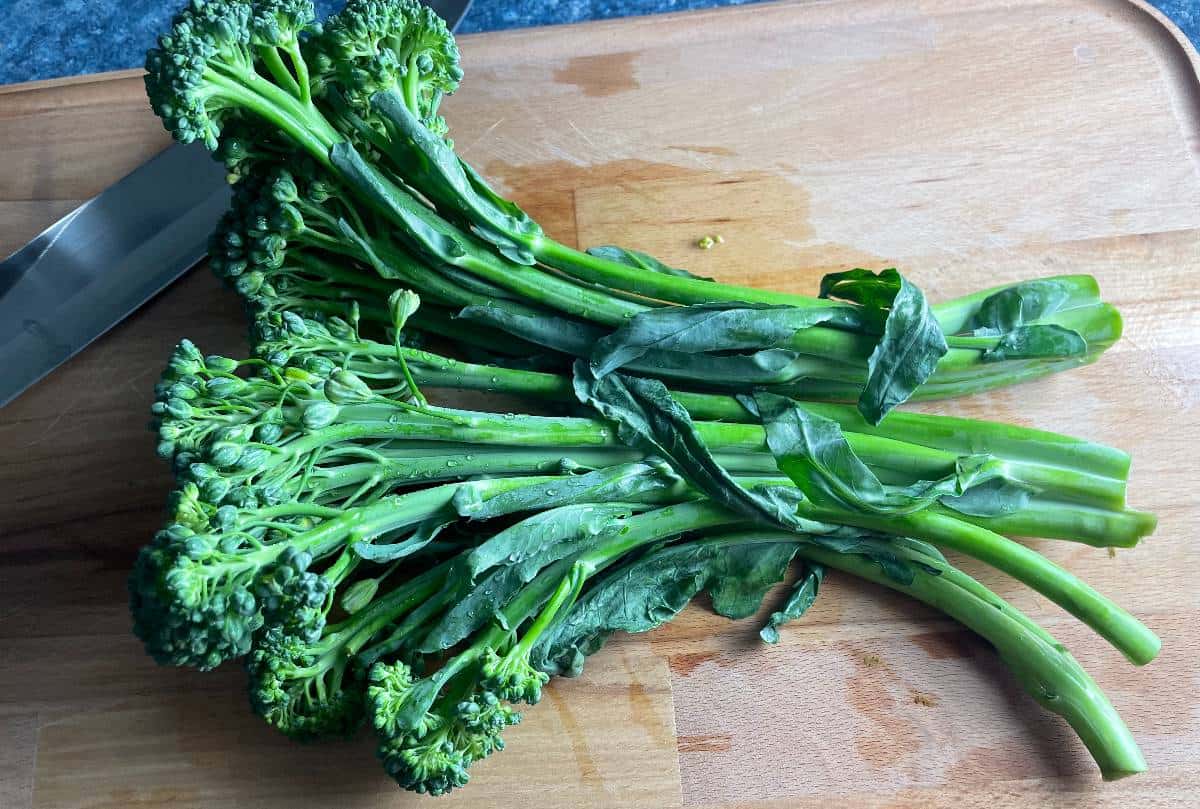 Broccolini is a crossbreed of broccoli and Chinese broccoli. It features long, slender stalks with small florets at the top.
Pasta: Choose a short pasta shape to make this broccolini pasta. We have made it with ziti and orecchiette, and both worked well.
Onion: You can certainly use a typical yellow onion here. But the first time we made this recipe, we had a tropea onion from our CSA.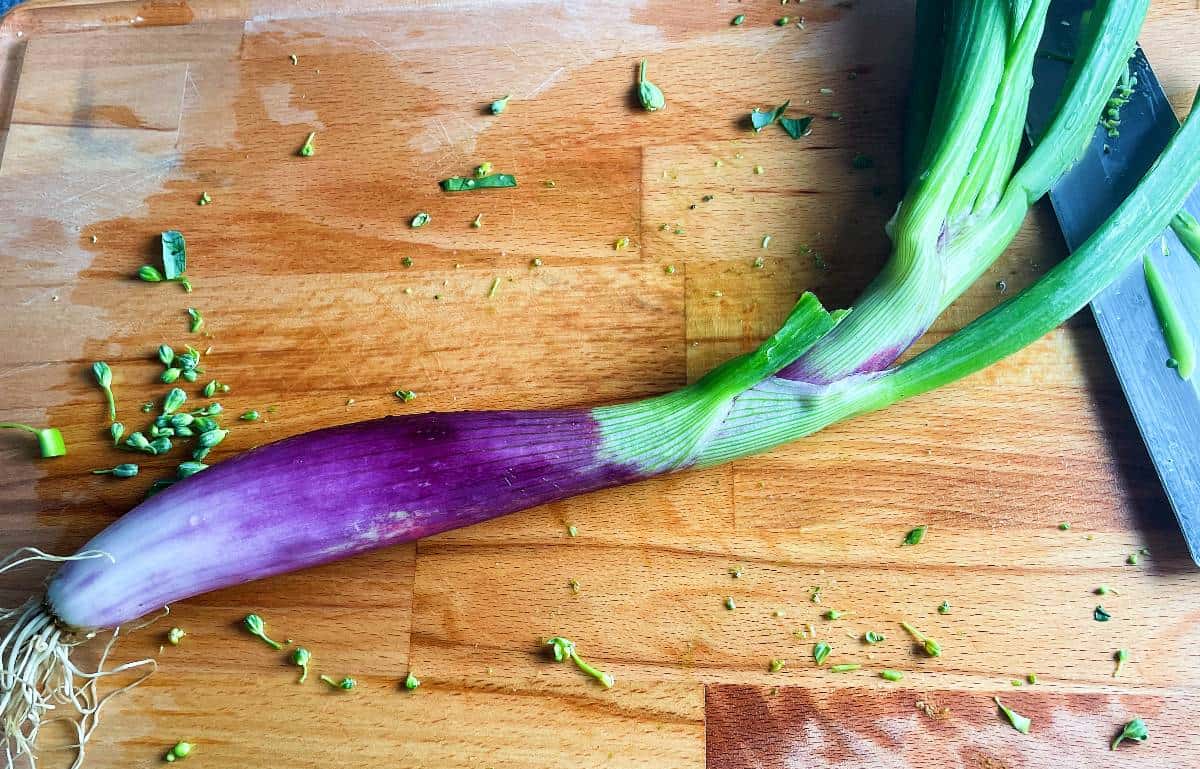 So if you happen to have a tropea onion and are wondering what to make with it, try this broccolini pasta!
Garlic: The recipe calls for 3 or 4 cloves garlic. Went for 4 the last time we made it, and that gave a nice garlicky flavor.
Broth: I used a half cup of chicken broth for the liquid, as we had some on hand. You could easily substitute white wine or vegetable broth to make this a vegetarian recipe.
Optional ingredients: You can add additional ingredients based on what you have on hand. For instance, during a recent remake of the recipe, we added half a red bell pepper shortly after the onions. And we also added a handful of finely chopped Brussels sprouts that we had left from another meal.
Add additional veggies to this base recipe based on what you have on hand!
We also added about a cup of chickpeas recently, a nice way to add some protein and fiber.
Recipe tips and overview
Below is a summary of tips and steps for making the recipe. Head down to the recipe card for all the details.
Prep the broccolini: To prepare the broccolini, chop about half an inch off the thick end of the stalks. Cut the remaining portion of broccolini into two or three pieces of about 1 inch in length. Set aside.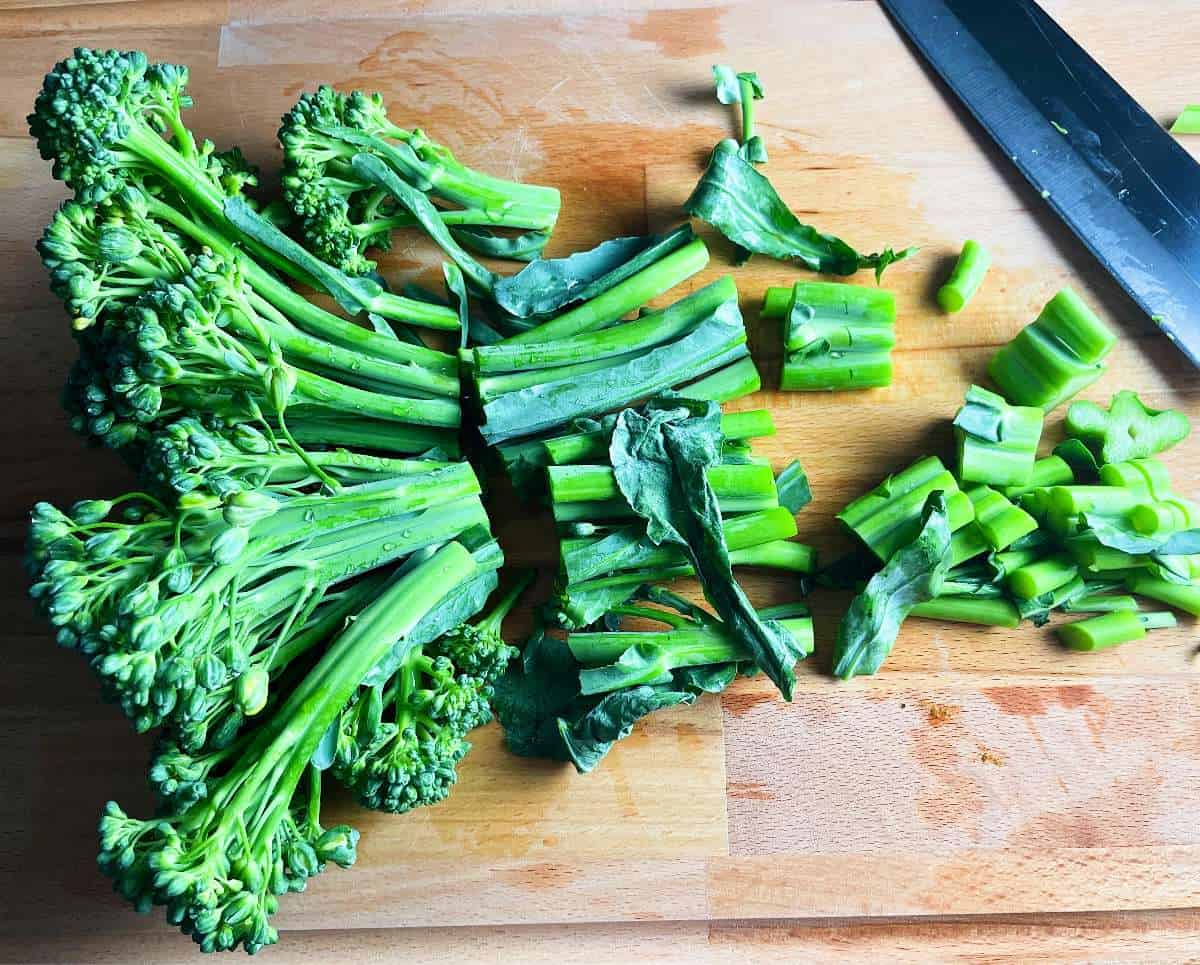 Sauté the onion in a large skillet, with one of the tablespoons of love oil.
Start boiling water for pasta as the onion cooks, and cook the pasta according to package directions.
Add the broccolini along with 2 tablespoons olive when the onion is soft. Stir-fry the broccolini for about five minutes. It will start turning bright green.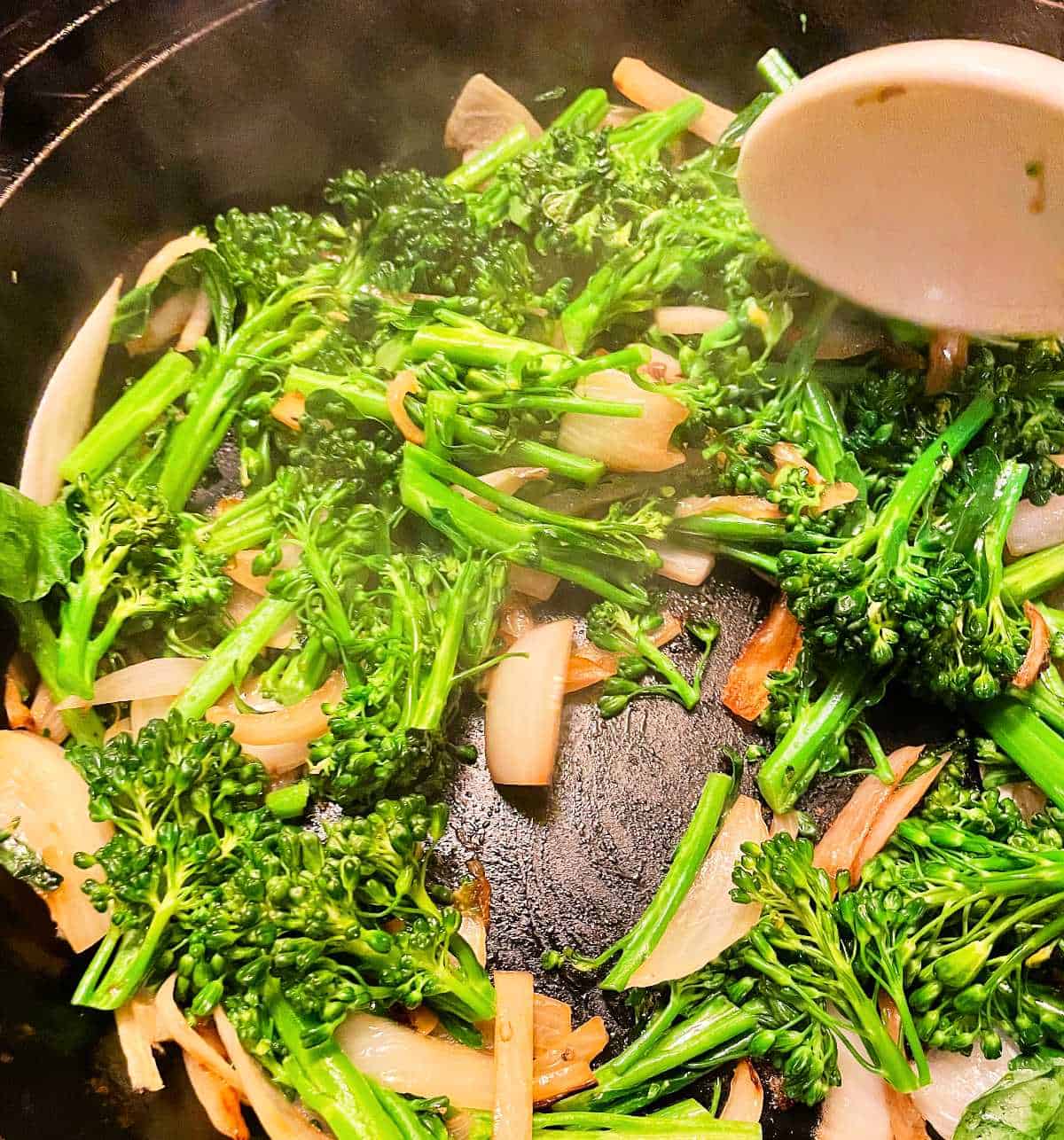 Stir in the garlic, followed by the half cup chicken broth and the red pepper flakes. Lower the heat to medium low. Cover and simmer for about 5 minutes more.
The broccolini should be tender after 5 minutes of simmering. Move the skillet off the heat after the simmering time to keep the broccolini warm as the pasta finishes cooking.
Drain the pasta and toss immediately with the broccolini and cheese.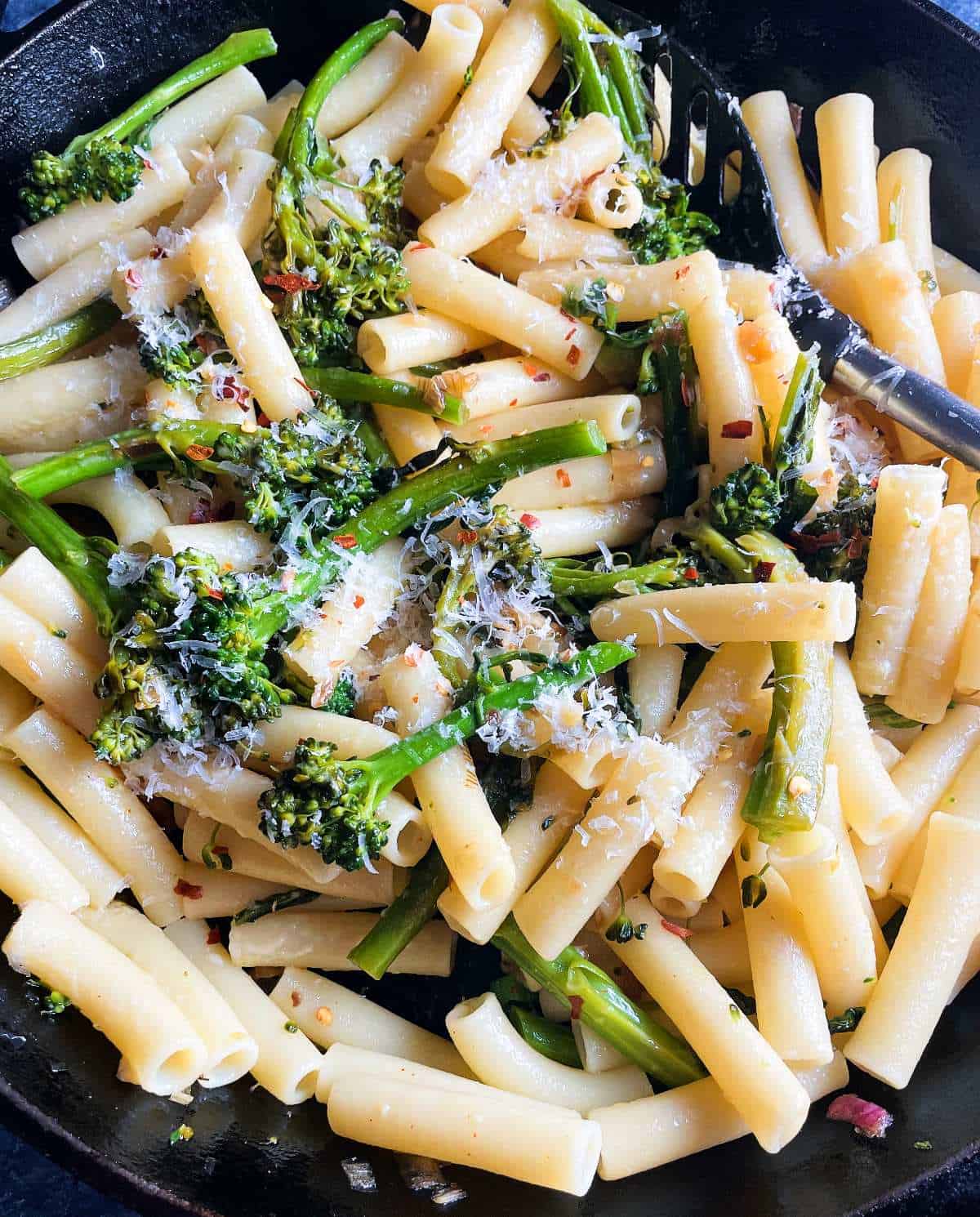 Add the lemon if you are using. Serve and enjoy!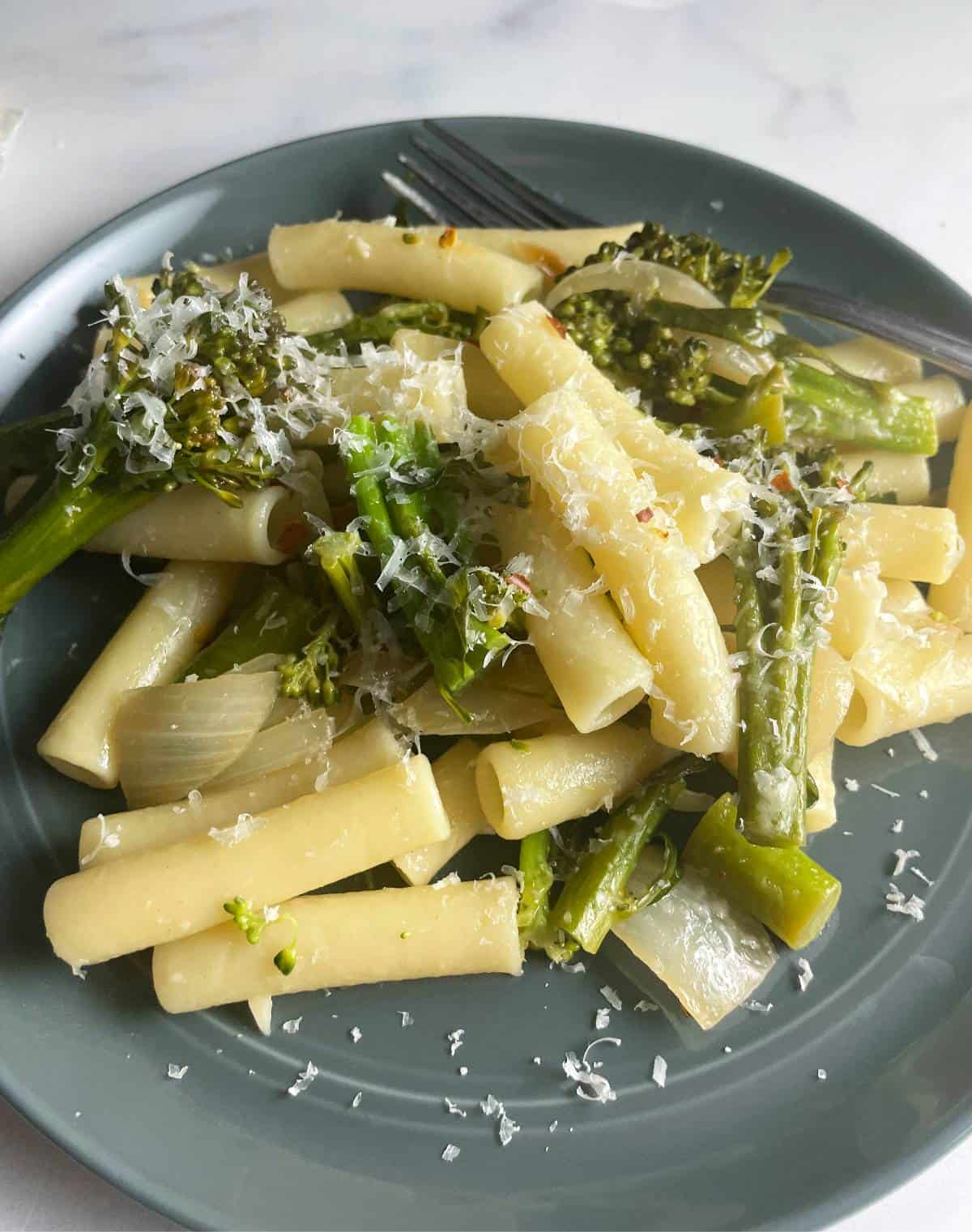 Broccolini Pasta FAQ – Frequently Asked Questions
Is baby broccoli the same thing as broccolini?
You might find broccolini labeled as baby broccoli at the store. But broccolini is not just young or "baby" broccoli, it is a different plant than broccoli with its own flavor.
Can I use broccoli rabe in this recipe?
Broccoli rabe has a more bitter taste than broccolini, so it would alter the flavor profile of the dish. You could try it, but I haven't tested broccoli rabe for this recipe. I typically use more cheese and red pepper flakes with broccoli rabe to counter the bitterness.
Can I make this recipe vegan or vegetarian?
Yes. I did make this recipe originally with a half cup of chicken broth, but you could easily switch to vegetable broth or wine to make it vegetarian. To make this recipe vegan, use vegetable broth and your favorite plant based cheese.
Do I need to blanch the broccolini?
No. The broccolini gets cooked through the combination of stir-frying and simmering called for in the recipe.
Wine pairing
What wine to pair with this broccolini pasta recipe? We've tested three fairly different types of wine for you!
White wine – Sauvignon Blanc
A vegetable focused pasta dish like this one make me first think of white wine. That's actually the last of the three types of wine I tried with this broccolini pasta, but I will start with it because it's the most natural straight forward option.
We opened the 2021 Sauvignon Saint-Bris ($20, 12.5% ABV) from Jean-Marc Brocard for the most recent edition of our broccolini pasta. This is a very interesting wine – a Sauvignon Blanc from the Burgundy region. As you may know, Chardonnay is by far the most common white wine from Burgundy, but you can find other whites in the region. Aligoté is the one I've come across most often; this is the first Sauvignon Blanc from Burgundy I can recall trying.
The Sauvignon Saint-Bris has notes of seashells and kiwi on the nose. On the palate, I get lemon, some salinity and a bit of cream. The wine has more body than the typicaly Sauv Blanc, due to the Burgundy terroir I would say. The grapes come from 60 year old vines. It's an excellent pairing for the brococlini pasta!
I would say other good Sauvignon Blanc or perhaps a Pinot Grigio could also work with this dish. If you are in the Boston area and looking to try this Sauvignon Saint-Bris, I got this wine at Berman's in Lexington.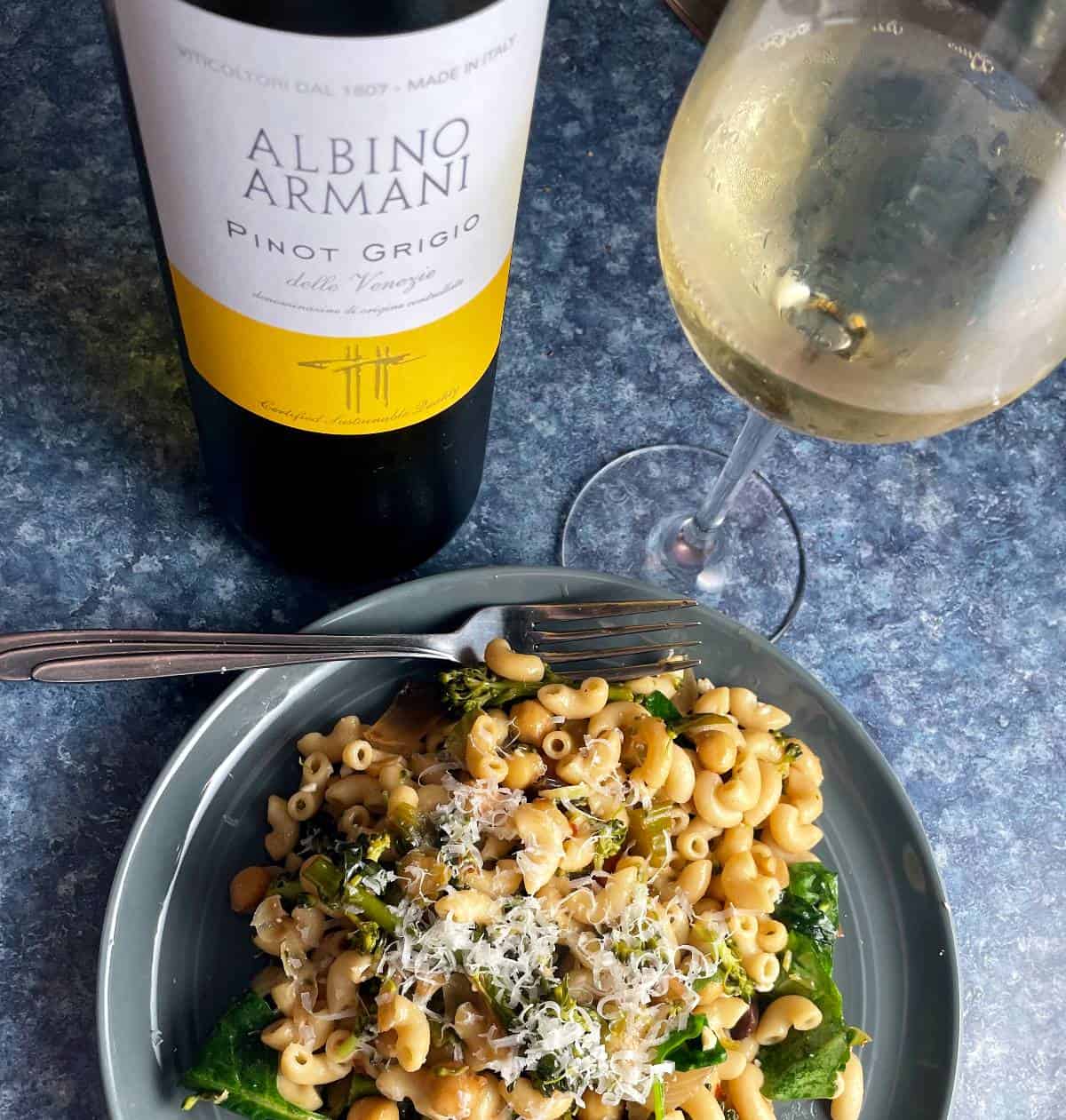 We also recently paired this dish with the 2022 Albino Armani Pinot Grigio with good results.
Red wine – Petitie Sirah
I've been experimenting with Petite Sirah pairings over the course of 2023, and have been gaining an appreciation for its pairing versatility. The broccolini pasta with Petite Sirah is another case in point!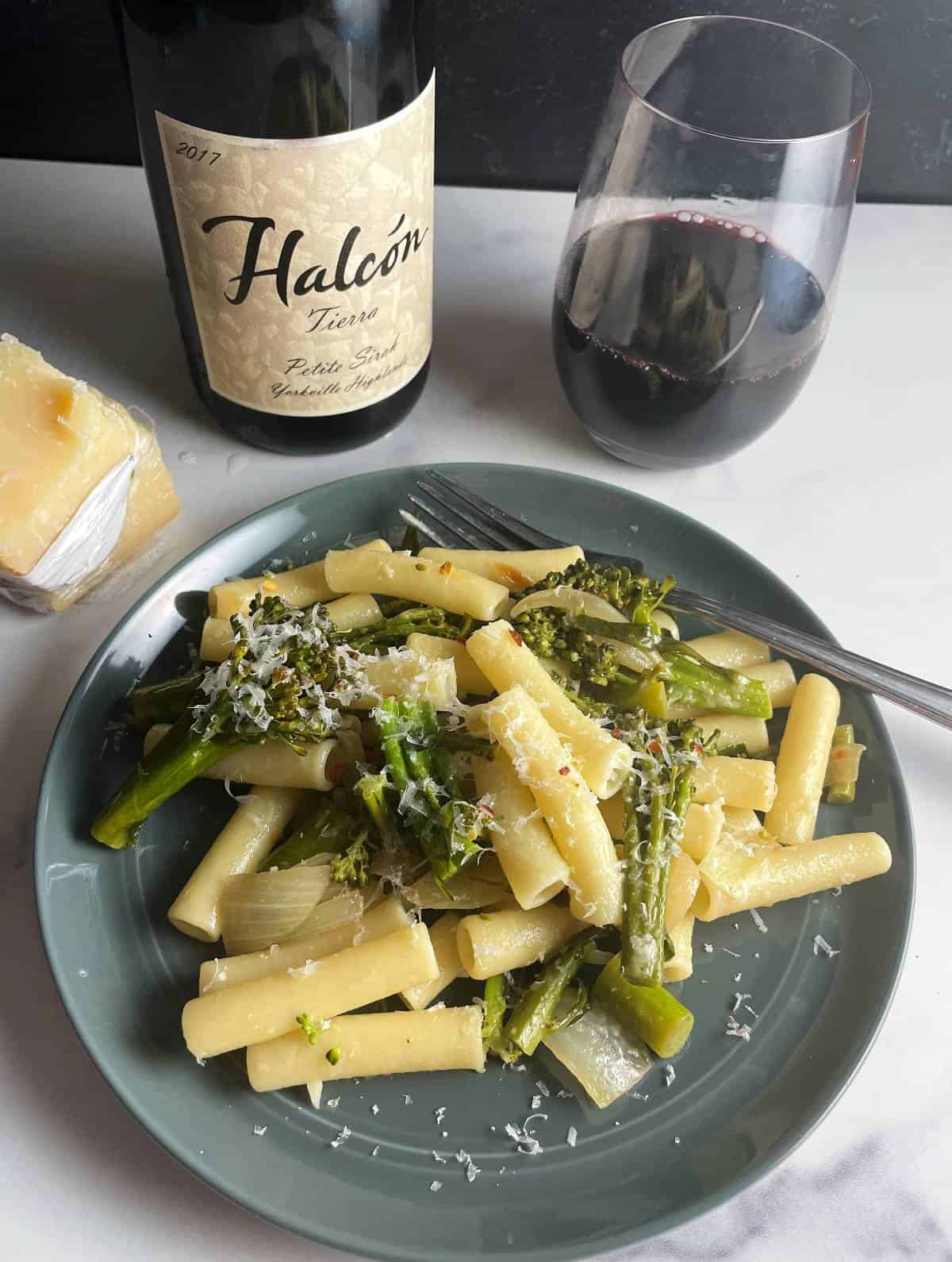 I opened the 2017 Tierra Petite Sirah from Halcon Vineyards in Mendocino County. I get red ripe fruit on the nose, with a bit of earthiness. On the palate, cherry and a bit of cinnamon. A bit of acidity, which helps make the match with the broccolini past work. This is a delicate wine with a pretty mouthfeel.
A big, bold red wine would overpower this pasta dish, but a lighter red with some complexity can work nicely, as the Halcon Petite Sirah demonstrates.
Sparkling rosé
I wasn't kidding when I said we sampled a variety of wines with this pasta recipe! We also tried the Farmer's Fizz Rosé from Westport Vineyards. This is a fun sparkling rosé that comes in a four-pack of cans. We picked it up during our most recent visit to this local Southeastern Massachusetts vineyard.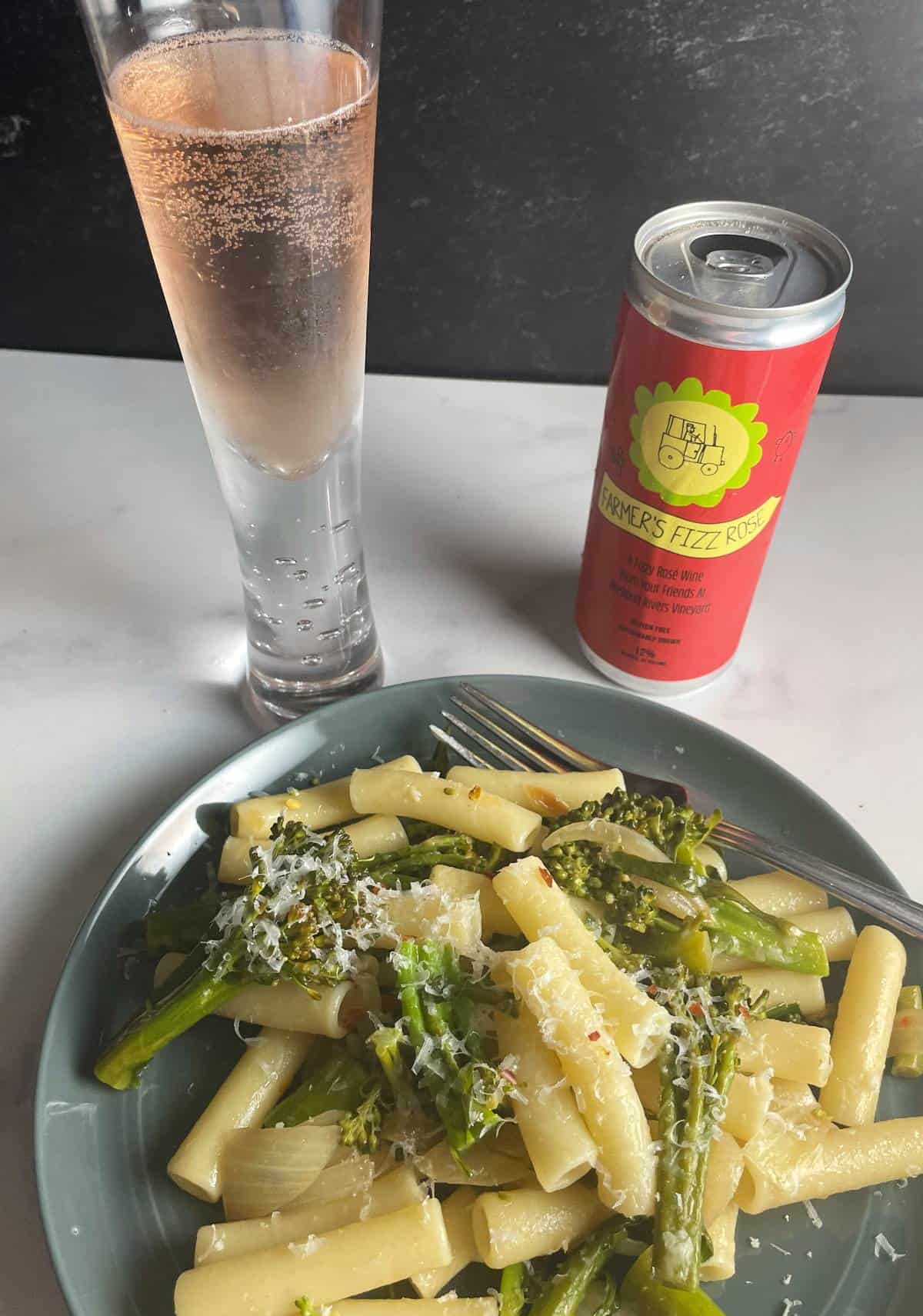 The sparkling rosé definitely matched fairly well with the pasta. I did try it side by side with the Halcon Petite Sirah, and would give the nod to the red in this case.
Check out our Cook Local podcast with one of the family members behind the Westport Rivers Winery to learn more about the vineyard!
Print
Recipe card
Easy Broccolini Pasta Recipe with Garlic
Broccolini gets sautéed with plenty of garlic, then tossed with pasta and Parmesan cheese for an easy and delicious pasta recipe.
Author: Cooking Chat
Prep Time:

10 mins

Cook Time:

20 mins

Total Time:

30 mins

Yield:

6

servings

1

x
Category:

Main

Method:

stove top

Cuisine:

Italian
1

large onion, chopped

3 tablespoons

olive oil, divided

1

large bunch or 2 small bunches broccolini, chopped (appx.

6 cups

chopped broccolini)

3

or

4

cloves garlic, minced

½ cup

chicken broth
pinch of red pepper flakes
salt to taste

½ cup

Parmesan cheese (or Pecorino)

2 teaspoons

lemon juice (optional)

12 ounces

short pasta shape, such as ziti or orecchiette
Instructions
Sauté the onion: Heat 1 tablespoon olive oil in a large skillet on medium heat. Add the onion, cook until softened, about 5 minutes.
Start cooking the pasta just before you start the broccolini. Bring a large pot of salted water to boil. Cook the pasta according to package directions as the broccolini cooks.
Stir-fry the broccolini: Add the other two tablespoons olive oil, increase heat to medium high. Add the chopped broccolini, and stir-fry the broccolini with the onion for about 5 minutes. It should start turning bright green.
Simmer with garlic: Stir in the garlic, followed by the chicken broth and the red pepper flakes. Add salt to taste. Once the broth has begun to simmer, drop the heat to medium low. Simmer covered for about 5 minutes. The broccolini should be starting to get tender at this point. Turn the heat off the broccolini, and keep warm with the cover on as the pasta finishes cooking.
Drain the pasta and toss immediately with the broccolini. Stir in the Parmesan cheese, and lemon juice if using. Serve immediately and enjoy!
Notes
Chopping the broccolini: Chop a half inch or so off the end of the broccolini stalks. You can use these thick stalk portions for a stock later or compost them. Chop the thinner portion of the stem into 3 or 4 pieces.
Broth: you can substitute white wine or vegetable broth instead of chicken broth to make a vegetarian dish.
Optional ingredients: a cup of chickpeas makes a nice addition to the recipe for some additional protein and fiber. You can also add additional vegetables based on what you have on hand, such as chopped red bell pepper or spinach.
Lemon juice: I've made this with and without the lemon juice. I'd say I prefer it without, but if you're a big fan of lemon flavor, give it a try!
Keywords: pasta with broccolini, broccolini pasta, broccolini pasta with garlic, ziti with broccolini
Recipe Card powered by