In episode 29, we talk with Chef Joe Carli about his ideas for heirloom tomatoes, corn and eggplants. We also learn more about Chef Joe's approach to cooking with local seasonal ingredients at A Tavola Restaurant.
In this episode, we cover:
How Joe's grandfather inspired is passion for cooking with fresh ingredients.
The story behind Joe becoming the chef / owner of A Tavola restaurant.
Ways to use heirloom tomatoes, including some methods for preserving that fresh summer taste for a cold winter day.
The many ways they use fresh corn at A Tavola.
Ideas for preparing eggplant.
Chef Joe's approach to making the most of every ingredient.
Ways to enjoy A Tavola's food at the restaurant or through special take out options.
You can also listen on:
Apple podcasts | Spotify | Amazon Music
Table of contents
Today's guest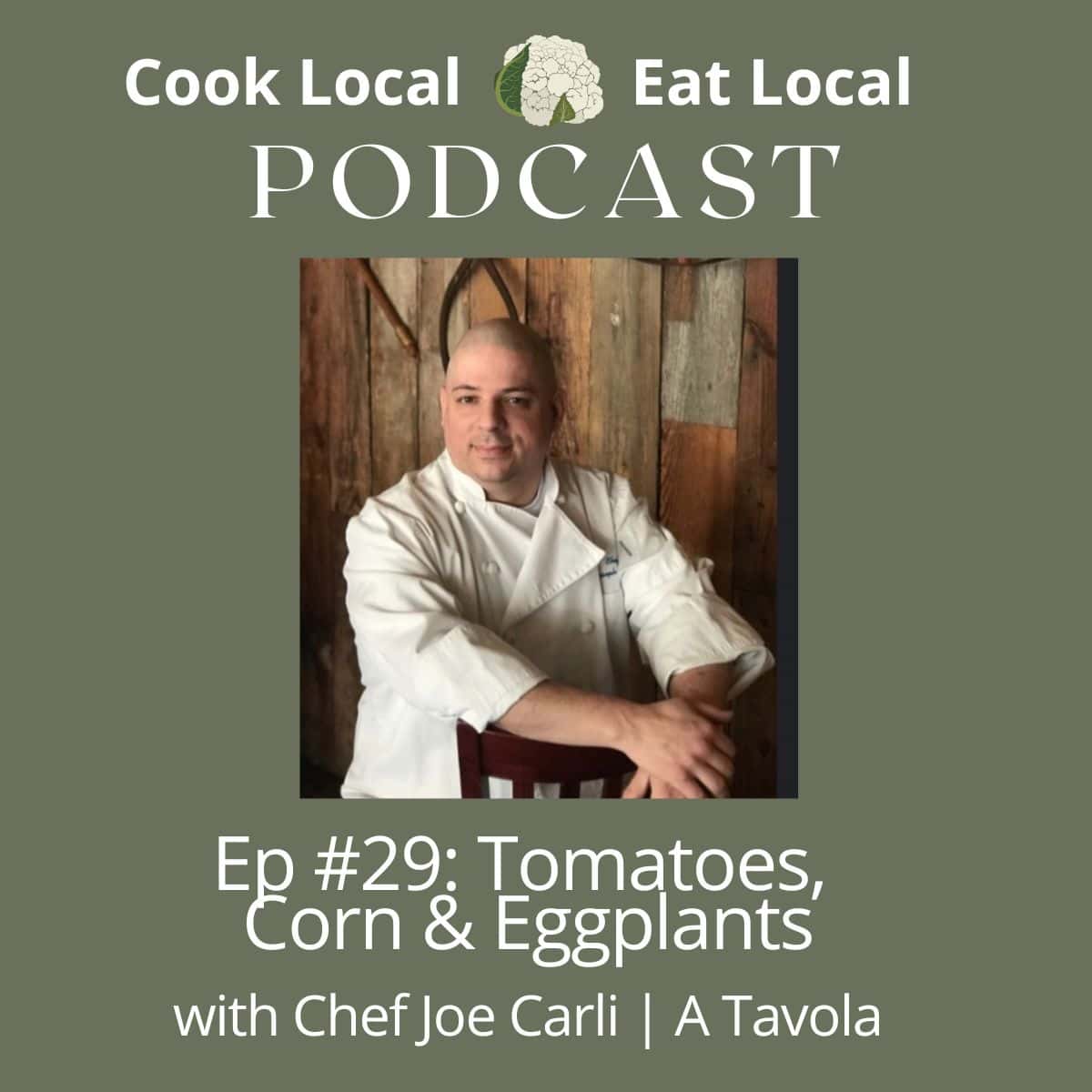 Chef Joe Carli was educated at New England Culinary Institute in Vermont. He went on to work in some of Boston's better known kitchens including The Vault, Top of the Hub, and Blu. But his love for cooking began in his Grandfathers kitchen
In 2013, he took his first Executive position at Posto and remained there and at Osteria Posto until 2020 when he joined A Tavola as Chef and Owner. This award winning Winchester neighborhood Italian restaurant has been a hit since.
Here his focus is pasta while creating New England inspired Italian dishes with the seasons. A Tavola also hosts numerous wine dinners where Chef Carli takes his guests on virtual tours using his cuisine and wine as the guide.
Whatever he is doing is working! In this short time, and under the cloud of Covid regulations, A Tavola has won nothing but praise, awards, and accolades from not just his guests, but also numerous publications. A Tavola is currently atop TripAdvisor's best area restaurants, was featured in Northshore Magazine's Spotlight, received rave review from Taste of Massachusetts, and was rated "Best Italian Restaurant" by Boston Common Magazine.
What we made – September vegetables
Here's what we made with our mid-September CSA vegetable share.
Eggplant and tomatoes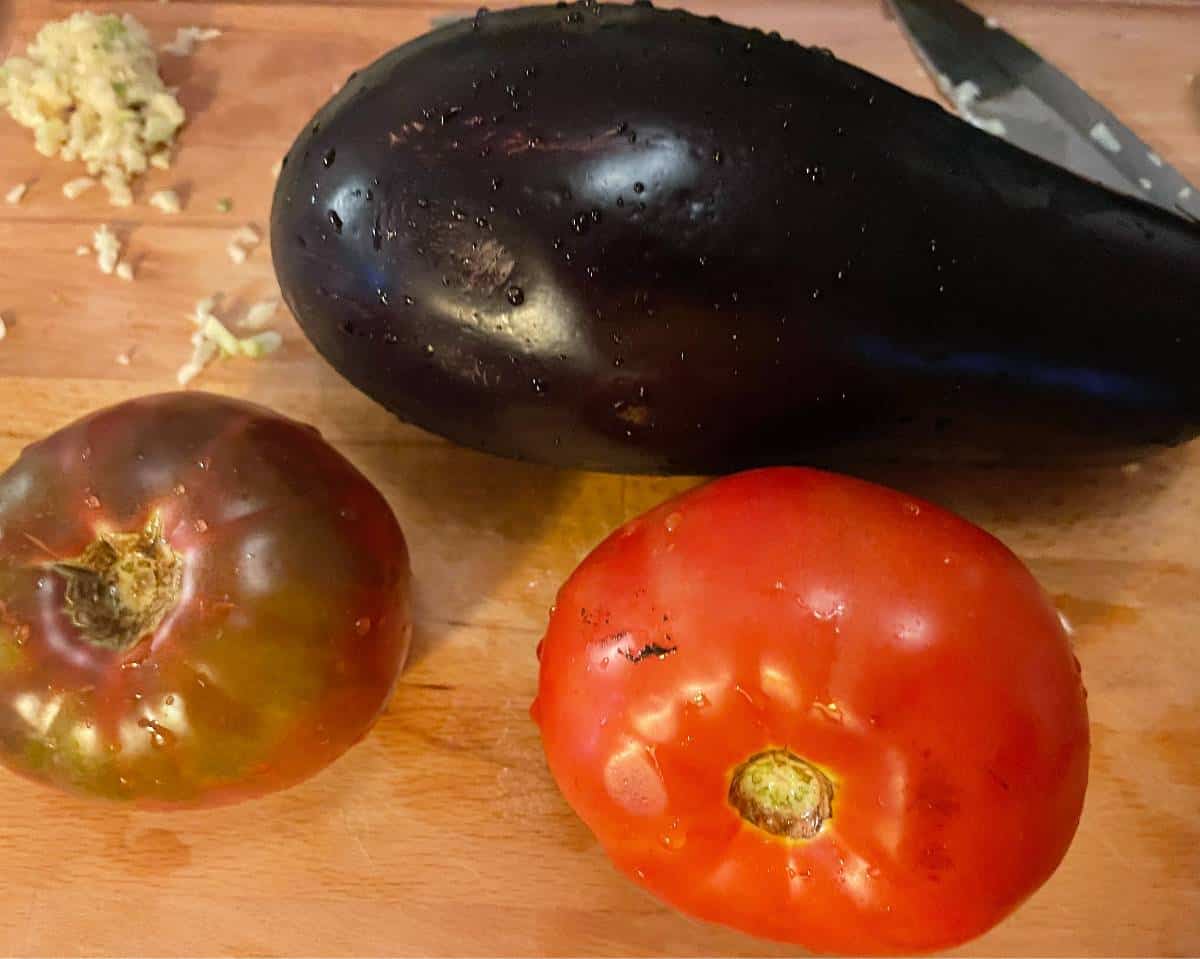 I was ready to make something different with eggplant. This spicy eggplant dip is good, but I was ready to feature it in a main dish.
Chef Joe mentioned making caponata with eggplant, that is certainly a good idea I will have to try. But this time I decide to make Pasta alla Norma, following this NY Times Cooking recipe. This recipe from Cookie + Kate looks like a good option, too.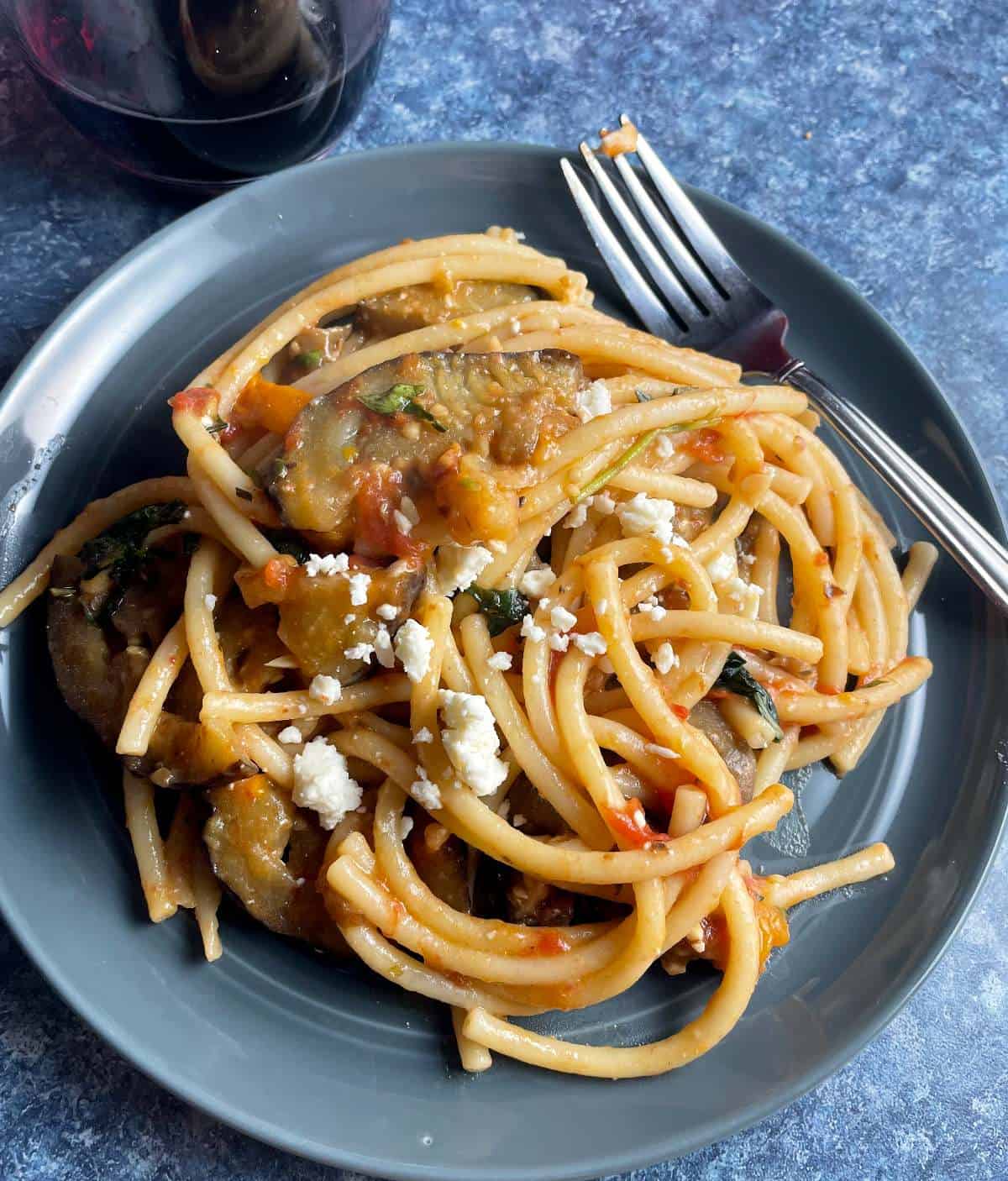 The Pasta alla Norma recipe says that it is fine to use canned tomatoes, and I tend to do that for tomato based pasta recipes. But with the fresh heirloom tomatoes on hand, I decided to use them. That sure led to a nice, fresh tasting sauce! I think next time I make the Pasta alla Norma I will try roasting the eggplant.
Oh yes, there was some local garlic used in this recipe, too!
Spinach
One of my go-to recipes for spinach is this Pasta with Red Lentils and Ginger recipe. Although spinach isn't in the title, the recipe uses a good amount of it.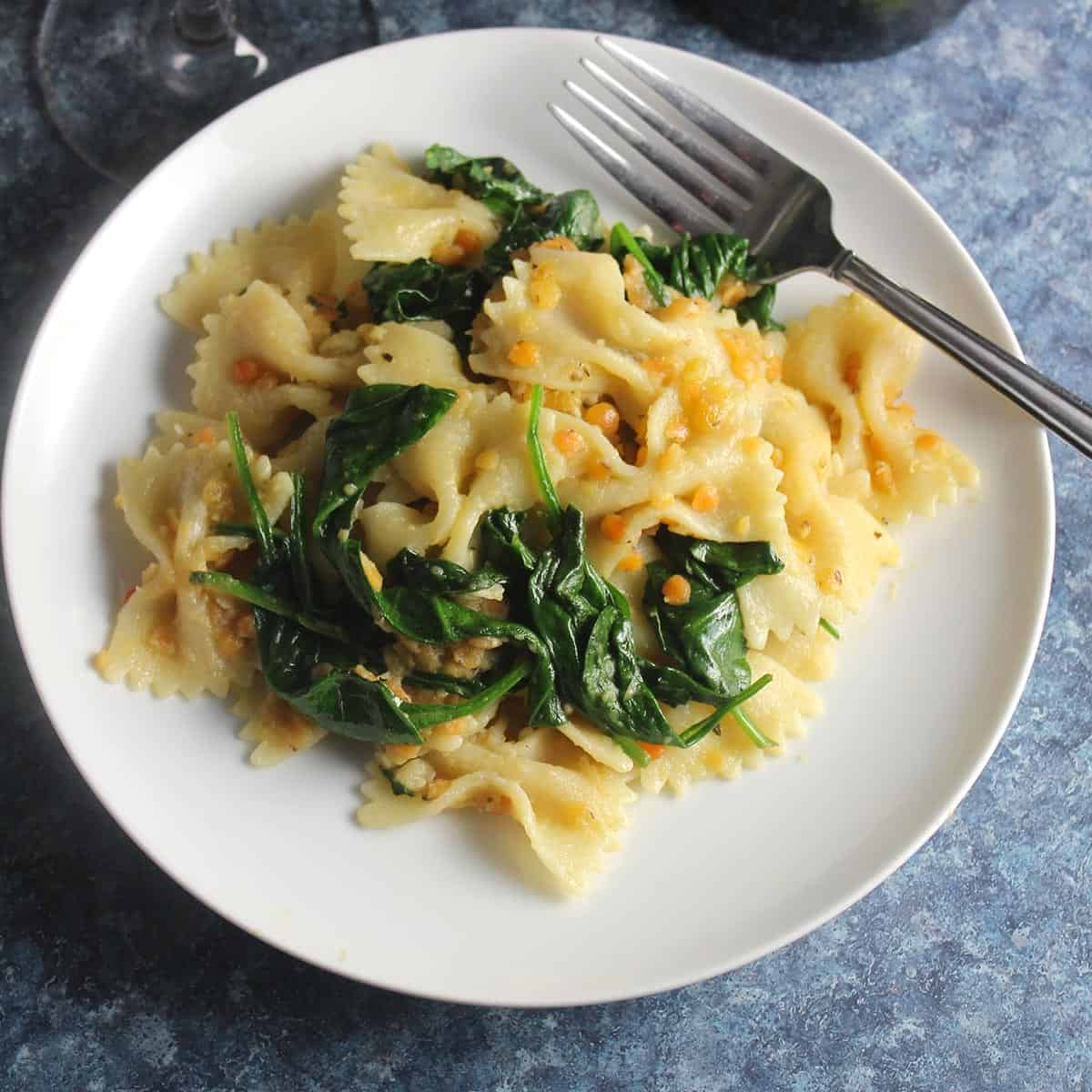 I often used package baby spinach for this recipe. But with fresh spinach on hand, I chopped up the whole bunch and added it toward the end of simmering the lentils with garlic and ginger. Delicious!
Cherry tomatoes
We also had some cherry tomatoes. Using them in salads wasn't going to put the whole pint to use. So on taco night, I made a quick fresh tomato salsa.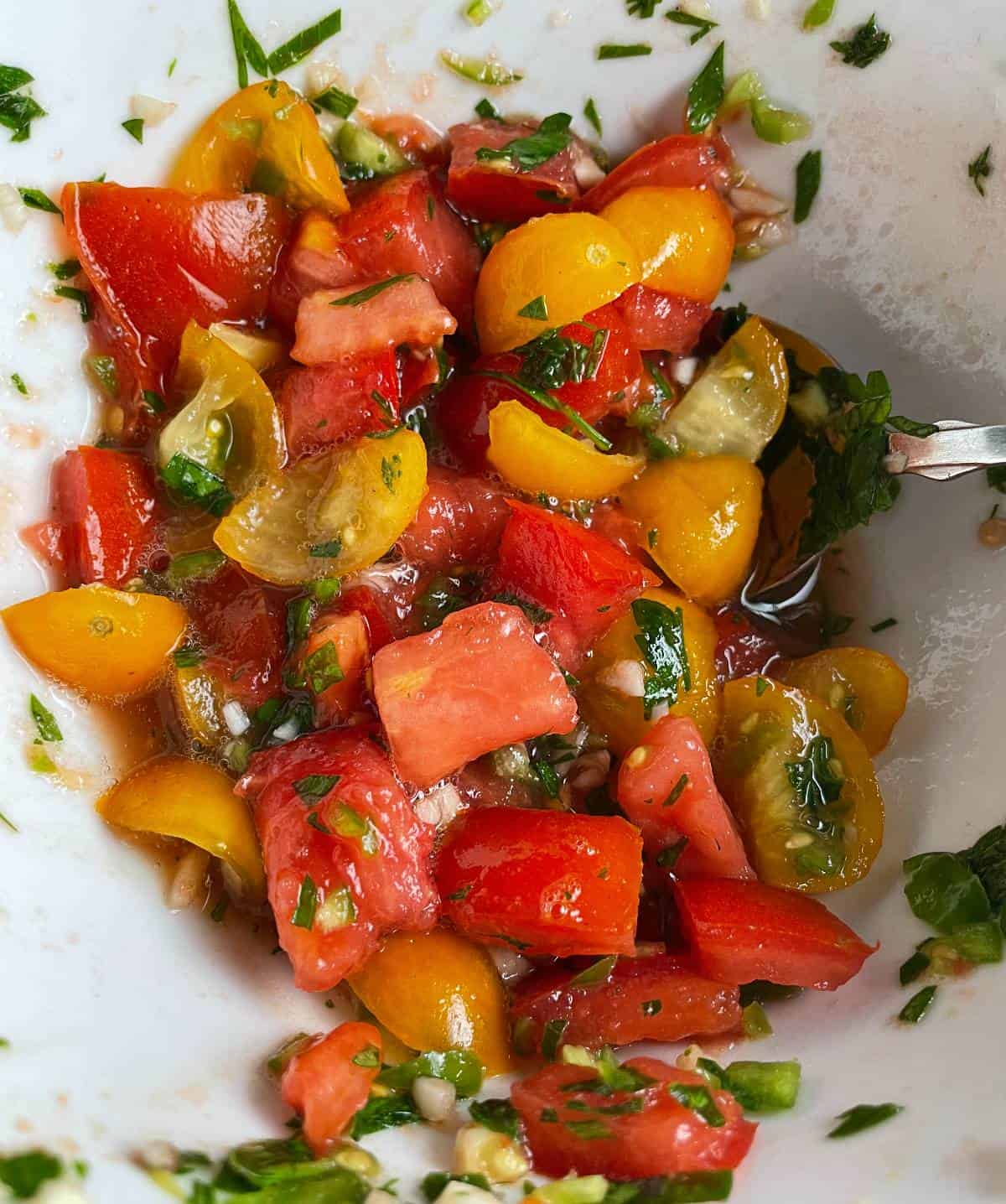 I didn't follow a recipe for the salsa, just used what I had handy. A clove of that local garlic, minced, tossed with the tomatoes, a bit of jalapeño pepper and parsley was about all we needed for a tasty salsa. Cilantro is of course more typical for salsa, but parsley can be a good substitute if that's what you have on hand.