Sharing some Cape Cod Allergy Friendly Restaurants that we have enjoyed, focusing on the Lower Cape towns of Chatham and Harwich, and Yarmouth in the Mid Cape area. Our son has egg, nut, sesame and dairy food allergies. While this article might provide you with some ideas of places to try, be sure to do your own research to verify that any restaurant you try can safely prepare your food and address any food allergy concerns.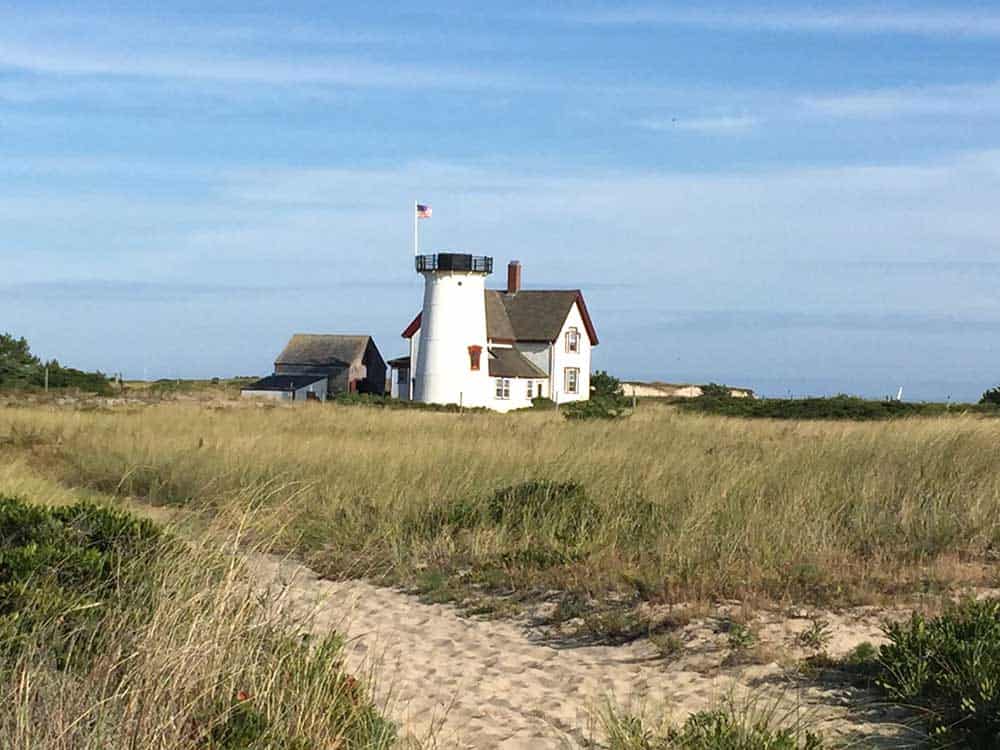 We just recently got back from our annual visit to Cape Cod, so I wanted to share some of our favorite Cape Cod allergy friendly restaurants while fresh on my mind. We tend to spend our time in the Harwich / Chatham area of Cape Cod (part of "the Lower Cape"), so our list focuses on those communities. But we will try to branch out over time!
Update: We did branch out a bit during our 2018 visit to the Cape — we spent some time in Yarmouth as well as Harwich and Chatham. We found two restaurants in Yarmouth that worked very well, so we will lead of with those during this update.
Dining out with food allergies is definitely a challenge. At home, we cook at home most nights for that reason. But on vacation it's nice to get out to eat, especially when the cottage kitchen is rather limited.
Our 12 year old son is allergic eggs, nuts and sesame seeds, and also needs to avoid dairy. In addition to needing to avoid eating food with these allergens listed as ingredients, we need to be concerned about cross-contact in the food preparation. For instance, if fried fish or chicken uses egg in the batter, B. can't eat french fries prepared in the same frier that cooked items with eggs.
Ok, let's get into the details about some of our favorite Cape Cod allergy friendly restaurants!
The Skipper Chowder House
When looking for places to eat in Yarmouth this year, the Skipper Chowder House ranked highly on the Allergy Eats site. So we headed there for lunch.
The Skipper Chowder House has a great location, near a beach in South Yarmouth, giving it some water views. Definitely a Cape feeling to the place with plenty of nautical themes in the decor.
There weren't items B was interested in on the regular menu at The Skipper Chowder House. But we quickly saw why this restaurant gets good feedback on Allergy Eats, as a manager came over to help us out and put together a meal that B would enjoy. Be sure to ask for help putting a meal together to your liking if nothing on the menu works well!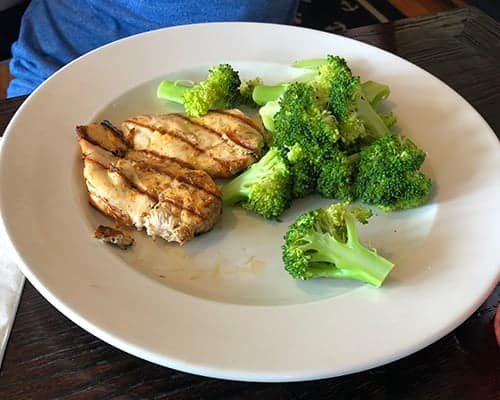 The result: a plate with grilled chicken, steamed broccoli and a side of bacon. They agreed to make the bacon for him when there was something else he wanted that wasn't allergy safe. Bacon always makes things better! The meal definitely got a thumbs up from our guy. He also enjoyed a Shirley Temple with his food.
I went for the fish tacos for my lunch, and was quite pleased with it…in part as I was able to wash it down with a good local Cape Cod beer, the Hog Island IPA.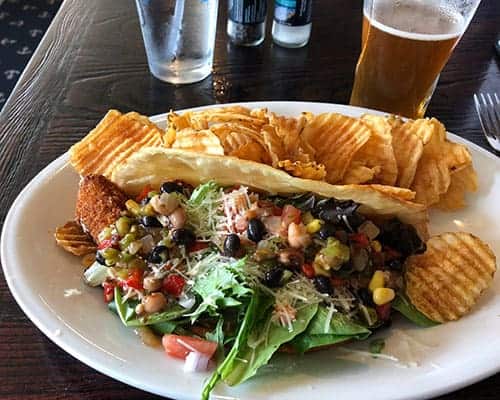 Later in the week, a few of the grownups would head over to the Hog Island Brewery in Orleans to do some sampling. Definitely recommend checking it out, good beer in a nice setting with some outdoor seating.
Yarmouth House
At the Yarmouth House, B. got to try one of my favorites when growing up — prime rib. He really enjoyed this big, juicy cut of steak! There are a variety of steak options to choose from with basic preparations that tend to be good for food allergies.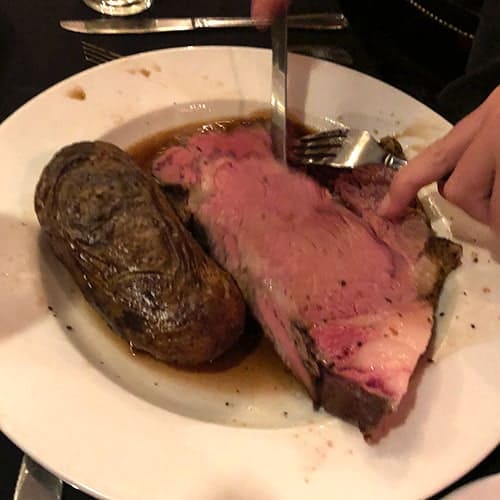 He ordered the baked potato with the prime rib. Like most restaurants, the Yarmouth House didn't offer an alternative to dairy butter. Fortunately we planned ahead and brought along some Earth's Balance spread, anticipating he might get a baked potato.
I was thinking of ordering the shepherd's pie, but when I mentioned that the server suggested the short ribs. I might be spoiled by the way I prepare short ribs; I was pretty underwhelmed with their version.
The Yarmouth House has a decent range of solid wine choices for reasonable prices.
Desserts are often not an option for our guy with the food allergy issues. So B was pleased to hear they had an allergy safe mango sorbet to top off the meal!
The Yarmouth House was pretty crowded on the summer weeknight we visited. I don't believe they take reservations, so in the summer plan on a wait. It's a big restaurant so tables turn over often enough; we waited about 15 or 20 minutes.
Pate's: An allergy friendly favorite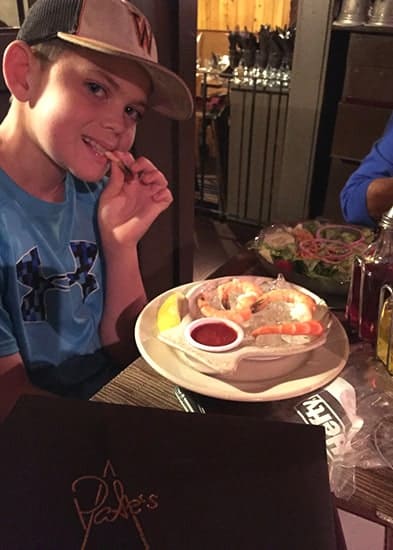 I hadn't been to Pate's Restaurant in Chatham in many years until we tried it a few years ago for a family group dinner. They had a number of food allergy friendly choices, and B loved his meal. So this has now been a go to restaurant for us when visiting the Cap.
Pate's has an old school steakhouse feel, with its wood paneling and dark interior. The main dining room provides a view of the grilling and cooking action in the kitchen, though it does come with some of the associated smoke from the cooking. We sat in the back room removed from that action.
Pate's menu has a pretty good balance between meat and seafood items, with plenty to choose from on both sides. Many of the dishes have a pretty basic preparation, which can be helpful in terms of finding something for those with food allergies.
B started with an order of shrimp cocktail. He discovered he enjoyed this appetizer when visiting Pate's last year. He pretty much goes for the shrimp sans the cocktail sauce, but he did try a bit of the sauce this time.
Our growing lad isn't going to be able to order from the children's menu much longer, but he was able to order from it this time. He went with the children's topped rump steak, and loved it! B loves a baked potato with a steak, so we brought along some Earth Balance Buttery Spread for him to use on his baked potatoes.
Update: as expected, B lobbied to get the rump steak from the adult menu during our most recent visit. He devoured it! He was also very pleased they were able to prepare some allergy safe fries, and they came out great, he reported.
I ordered a salmon dish with mango salsa and spinach cream sauce that was on special, which I found pretty tasty. The others around the table seemed pleased with their entrees, too, a combo of fish and beef items. I start with a cup of clam chowder, which was very good.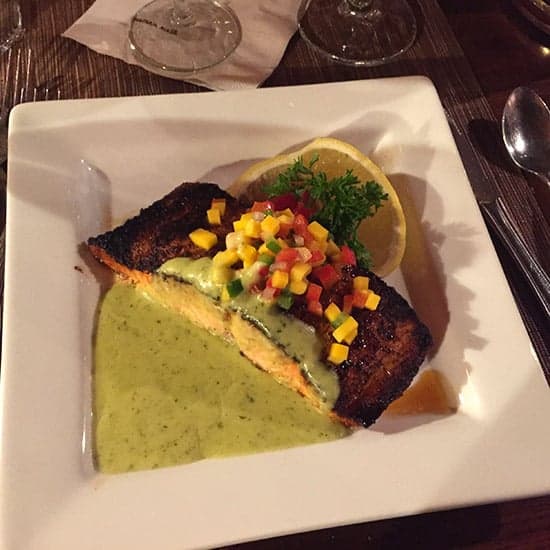 In the wine department, we had some good news to toast so started with a bottle of the Borgo Magredo Prosecco, which was a solid sparkling wine choice. I had a glass of the Josh Cellars California Chardonnay with the salmon, a serviceable option.
But most importantly, our boy had a big smile on his face as he polished off his steak, so Pate's definitely earns a top spot on our Cape Cod Allergy Friendly Restaurants list!
By the Water at Brax
Brax Landing has to be one of the most picturesque eatings spots on the Lower Cape. Located on Saquatucket Harbor in Harwichport, you can get a great water view sipping drinks on the patio or from the dining room. This year we decided to stop at Brax for lunch on the way back from a mini-golf outing and see if we could find some good allergy friendly options for B.
B was quite pleased to hear the chicken wings could be prepared in food allergy friendly fashion. He loved them! This summer he started to really enjoy grilled chicken wings, so he was happy to be able to order some for lunch.
They were also able to make allergy safe fries for him. At least on that day, there was a separate frier available for the fries (i.e. one that was used for items breaded with eggs). If you have similar food allergy concerns, be sure to verify how things are prepared as that can change.
I had a swordfish sandwich along with a Sam Summer Ale, a pleasing lunch combo…even better with a water view!
Other Cape Cod Allergy Friendly Restaurants
We will certainly make it a quest to add other options to this the Cape Cod Allergy Friendly Restaurants article! One we plan to try is the Jailhouse Tavern in Orleans, which based on family scouting reports is linked up with the adjacent Hog Island Beer Co. They indicated they would be happy to cook to order food allergy friendly items.
The Chatham Squire is another restaurant we have enjoyed over the years. However, it seems like over time there have been fewer food allergy friendly options for B. As he put it, all he could order last time we were there was a burger, that turned out not to taste very good.
Glad to have found a few Cape Cod allergy friendly restaurants we can enjoy on vacation. Looking forward to trying some more next summer!
If you have found restaurants at the Cape that are attentive to your food allergy concerns, please let me know! We have also shared some of our Ogunquit Allergy Safe Dining Options, should your travels take you to that Maine seaside town.