We gathered for a fun assignment the other night: testing out some French cheese and wine pairings in advance of a live #MadeInFrance pairing French cheese and wine tasting Whole Foods held on their Facebook page. Full disclosure: The wine and cheese discussed in the post were provided as complimentary samples. The opinions expressed here are entirely my own.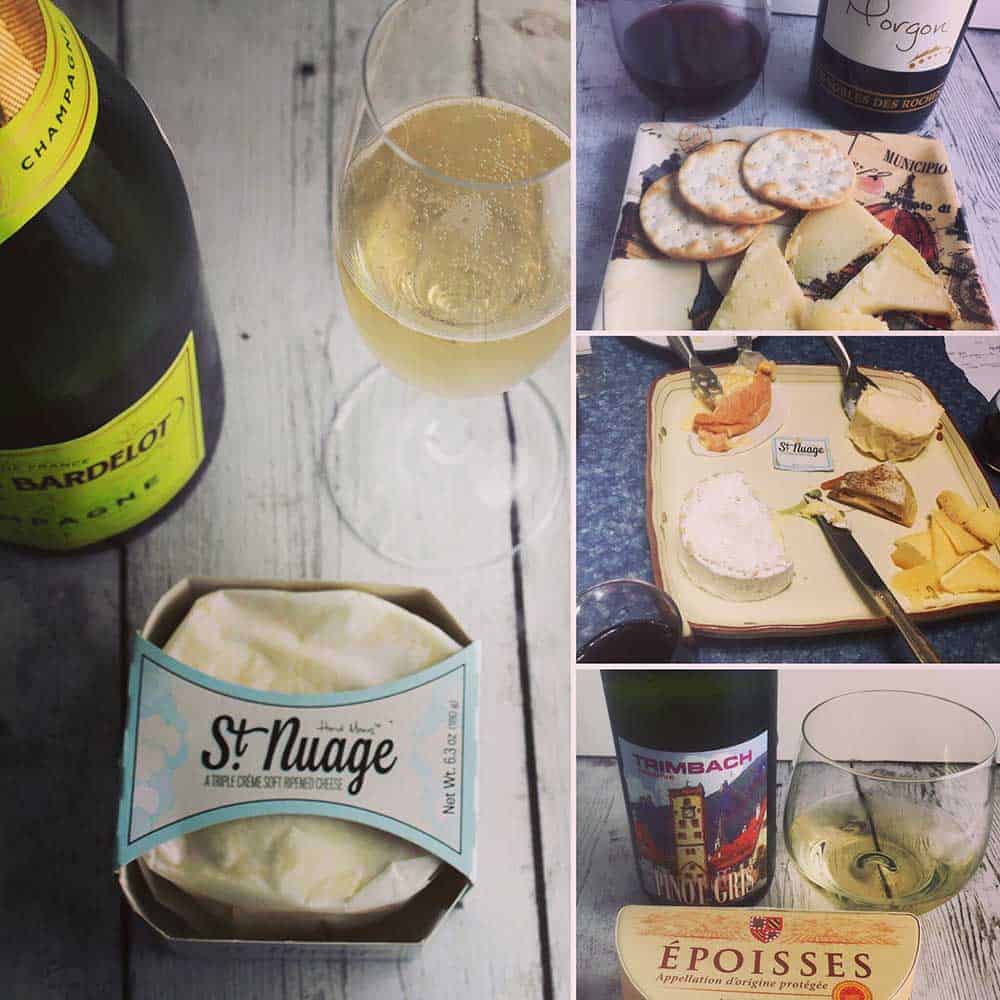 I'm part of a group of French #Winophiles bloggers who have teamed up with Whole Foods and Full Circle wine for this pairing French cheese and wine event. The Facebook live tasting will be go quickly; it is scheduled for 20 minutes.
To get ready for the pairing French cheese and wine event, I went to my local Whole Foods and picked out a selection of four French cheeses: a St. Nuage, Camembert, an Époisses and a Tomme de Savoie. Then I did some research on the cheeses to come up with some ideas as to which French wines would pair best with each cheese. Note: this assortment of cheeses is different than what they will be sampling during the 10/5 live tasting, keep reading for that list!
Of course, the best way to determine what pairings are best is to try them out. So we invited by sister and brother in-law to join us to help with the task.
Choosing from a mixed case of 12 French wines, I came up two wines I thought might work for each of the cheeses. After doing my suggested pairings, I encouraged everyone to try other pairings to see if we might discover some unpredictably good pairings. Here are our results:
Wine Pairing for St. Nuage cheese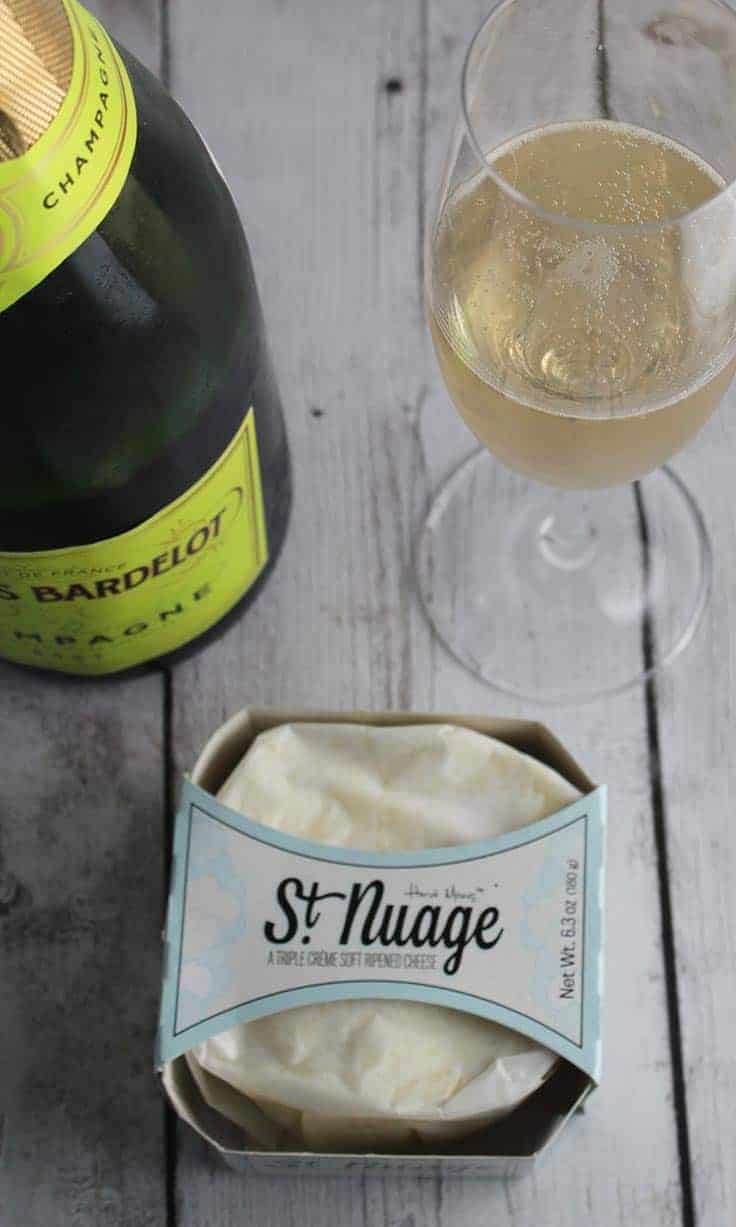 St. Nuage is a triple crème soft ripened cheese from Burgundy. The label on this one suggests serving with Champagne, along with dried fruit, honey and sour cherry spread. We started our tasting by following this advice, and opened the Jacques Bardelot Champagne Brut ($30, 12% ABV). This wine is a blend of Pinot Noir (50%), Pinot Meunier (30%) and Chardonnay (20%). I tasted tart green apple and noted the nutty quality of the Champagne. Dry as one would expect from a Brut Champagne. I thought the Champagne worked well as a pairing for the creamy St. Nuage, with the bubbles cleansing the palate between bites.
Pairings for Camembert
Gooey, creamy Camembert is made in Normandy, with a distinctive strong smell…nothing like a good stinky cheese! As suspected, the Camembert we sampled is a strong, flavorful cheese, not easy to pair with wine.
Based on this Whole Foods post on 5 Things Everyone Should Know About Camembert, I thought we'd start by trying the Camembert with the Bardelot Champagne. I preferred the Champagne with the St. Nuage.
I had planned to also try the Château de Lascaux Languedoc red wine, as that is a pairing suggested in this post from Whole Foods with 12 recommended pairings. Alas, we never got around to opening the Languedoc during our pairing French wine and cheese event. But my intrepid fellow tasters and I did try a number of combos with the Camembert, in addition to the Champagne. The 2015 Criterion Chablis ($20, 12.5% ABV) and the 2016 Vignobles des Roches Morgon ($17, 13% ABV) both got some favorable mentions as good pairings for the Camembert.
Wine Pairings for Époisses
Époisses is a soft cows milk cheese made in Burgundy, wash ripened in marc de Bourgogne, a local brandy. The Wikepedia entry for this type of cheese notes it is often paired with a Trappist beer or Sauternes. We didn't have either on hand. Époisses shows up on lists of most difficult foods to pair with wine, so we had our work cut out for us coming up with a good pairing here…or so we thought….
We first paired the Époisses with the 2012 Trimbach Reserve Pinot Gris ($23, 13.5% ABV). Nutty on the nose, with a taste of honey and green apple. Nice full mouthfeel, I really liked this wine. The Pinot Gris and Époisses pairing had a lot of fans at our house! I think the honey taste provided a nice contrast to the pungent cheese.
The Whole Foods post I mentioned earlier suggested the Morgon as a good pairing for the Époisses. We tried that, too, but generally agreed we preferred the Pinot Gris with the Époisses.
Wine Pairings for Tomme de Savoie
A variety of Tomme cheese made in the mountainous Savoie region of France. This cheese is made from raw, skimmed cow's milk after the cream has been drained off to make butter, according to Cheese.com. The site suggests a pairing with a medium bodied red from the nearby Rhone.
Our favorite pairing for the Tomme de Savoie was definitely the Vignobles des Roches Morgon, a red wine made from Gamay grapes, in the Beaujolais region of France. I tasted blackberry fruit and a bit of pepper, refined mouthfeel. This Morgon was one of my favorite wines of the evening, and it complemented the rich, nutty flavors of the Tomme cheese.
We also tried the Chablis with the Tomme, which some of us liked reasonably well. For more ideas, visit this Chablis pairings article.
Try Your Own French Cheese and Wine Pairing
As I said, there's no better way to find good pairings than to try them out for yourself! So gather up some French cheese and wine, invite some friends and do your own pairing event. If you would like to check out the live tasting that Whole Foods conducted on their Facebook page on October 5, you can view it here. You can pick up some great tips from the experts that led the tasting. If you'd like to taste along, here is what they sampled, along with my notes where applicable:
Jaques Bardelot Champagne (Wine) / Mons St. Nuage (Cheese): As discussed above, I really liked this pairing! Keep this in mind as the holidays approach.
Domaine de la Fruitiere Muscadet (Wine) / P'tit Basque (Cheese) Another very good pairing. The Muscadet is a delicate wine when sampled on its own; the lemon fruit really comes forth when eating the Muscadet with the P'tit Basque cheese. We also liked the Muscadet with some of our kale pesto!
Alan Treille Chinon (Wine) / Mimolette (Cheese) I really enjoyed both the wine and cheese independently, but didn't particularly like the way they went together. Both have a lot of unique flavors that didn't really mesh in my opinion.
Biographie Cotes du Rhone (Wine) / Saint Angel (Cheese)
Stop by your local Whole Foods to pick up these cheeses and wine. If there isn't one handy, or if it doesn't sell wine, try your local wine and cheese shops. If you can't find the exact wine listed above, try to find the same type of wine — e.g. find another Champagne, or another red Cotes du Rhone.
If you are creating your own lineup, I suggest starting with any sparkling wine first, then go to white wines, lightest to full bodied (e.g. Muscadet before Chardonnay). Then move on to red wines, repeating the light to full bodied sequence. Try a couple cheeses with each wine as you move down the tasting lineup. And take some notes so you remember which ones you like!
When testing a wine and cheese pairing, start by tasting the wine–swirl, sniff and taste. Then take a bite of the food, followed by another sip of the wine. Note how the food and wine work together–do they complement one another? Is there a flavor element in both the cheese and wine that work together? For instance, one can often pick up a similar herbal note in both the food and wine you are pairing.
But don't get too worried about getting it "right"…with a few bottles of French wine opened and a spread of French cheeses available, you are in for a good evening! I am definitely ready for more pairing French cheese and wine adventures.
More Great Ideas for French Wines and Cheeses

Take a look at all the great French Wine and Cheese ideas posted by our French Winophiles, thanks to Whole Foods Market!