An easy and satisfying homemade Irish vegetable soup recipe. A variety of common vegetables simmer together, then get puréed for a comforting and creamy soup. Topped with cheddar cheese, and served with toasted bread and you have yourself a tasty, simple meal. This is a vegetarian soup recipe if you make it with the recommended vegetable stock.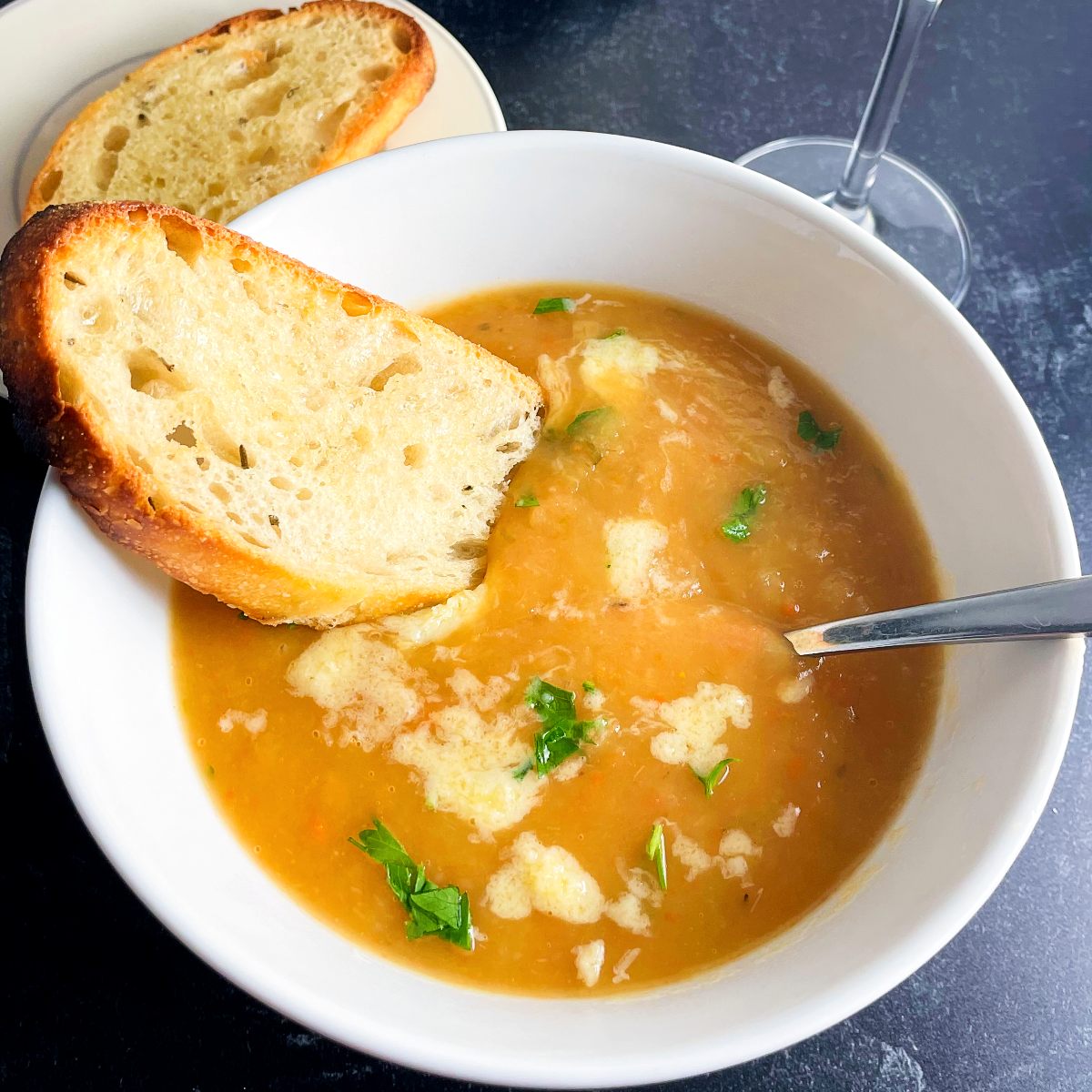 March and St. Patrick's Day will be here before we know it! So I figured it would be a good time to cook up a new recipe fit for the occasion — we bring your our Irish Vegetable Soup! For more St. Patrick's Day ideas, see our collection of Real Irish Food recipes.
A variety of basic vegetables common in Irish cooking simmer together, the get puréed for a creamy, satisfying soup. We top it off with a bit of shredded cheddar cheese and parsley for some green! Delicious, easy recipe to take the edge off a chilly evening.
Jump to:
Ingredients and tools
Our Irish vegetable soup recipe has a simple set of ingredients, which we summarize here without a lot of explanation:
1 onion
2 leeks — keep the tops to make Leek Greens with Bacon!
3 carrots
1 or 2 cloves garlic — I am thinking I will try adding some roasted garlic next time
Vegetable broth or chicken broth — if you go with vegetable, you have yourself a vegetarian dish
3 medium yellow potatoes
seasonings – dried rosemary, salt and pepper to taste, and parsley for serving
cheddar cheese — we used some Irish cheddar to lean into the theme!
You can purée the soup by transferring it into a food processor, but it is much easier with an immersion blender!
Recipe steps overview and tips
Here is a visual overview of how to make this Irish veggie soup. Head on down to the recipe card for the full instructions!
You can chop as you go! For some recipes, it really makes sense to get everything chopped in advance of cooking. With this vegetable soup recipe, on the other hand, you can chop the veggies as you go. i.e. chop the onions, add them to the pot, prep the leeks as the onions begin to cook, and so forth.
Prepping leeks: chop off the dark green portion of the leeks. They are a bit tricky to clean. Peel back the layers of the leek near where you cut it in order to rinse any dirt out.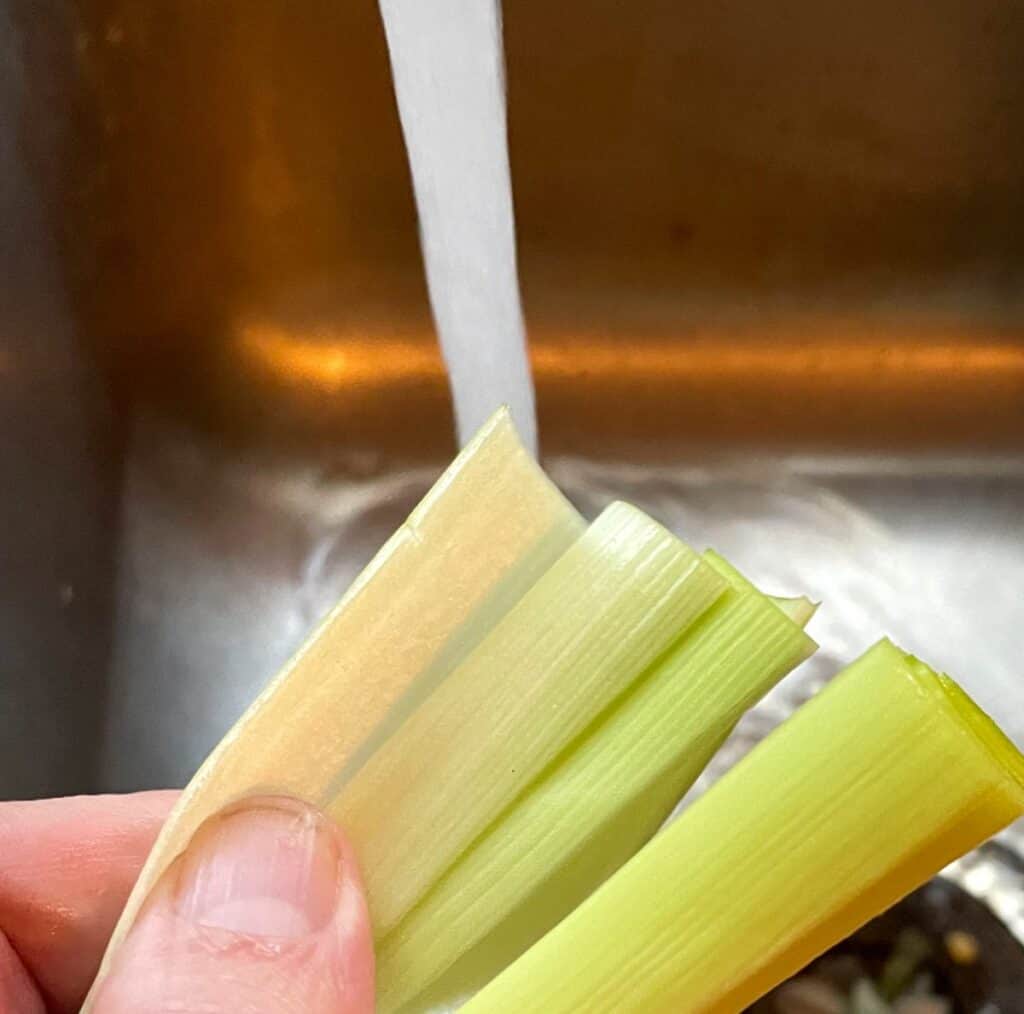 Start cooking
Once you've got your onions chopped and leeks prepped, you can start cooking the Irish soup!
Sauté onions and leeks: Heat the olive oil in a large soup pot. Add the onions and sauté.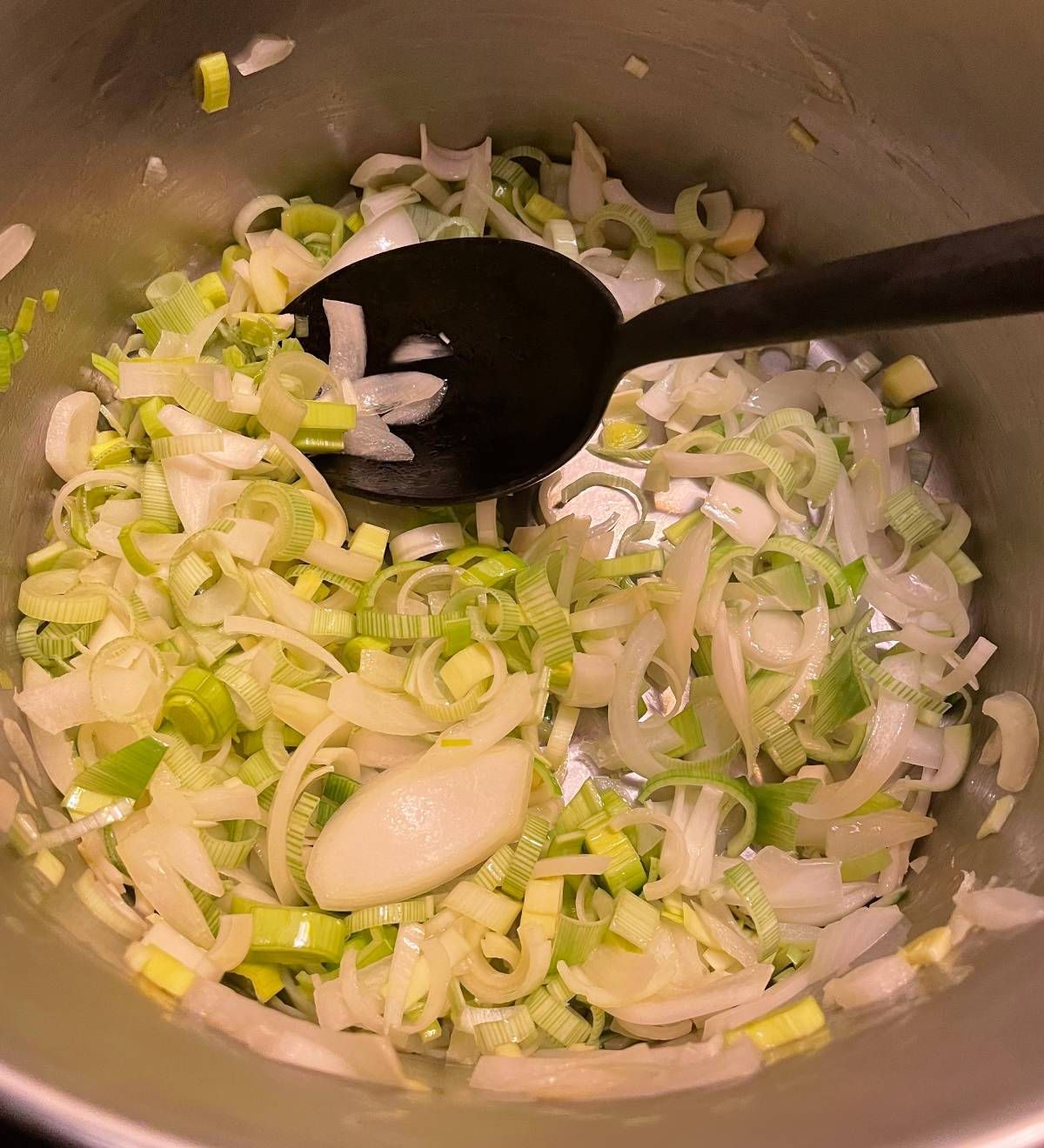 After the onions begin to soften, stir in the leeks.
Add the carrots after the leeks have cooked for a few minutes, followed by the garlic.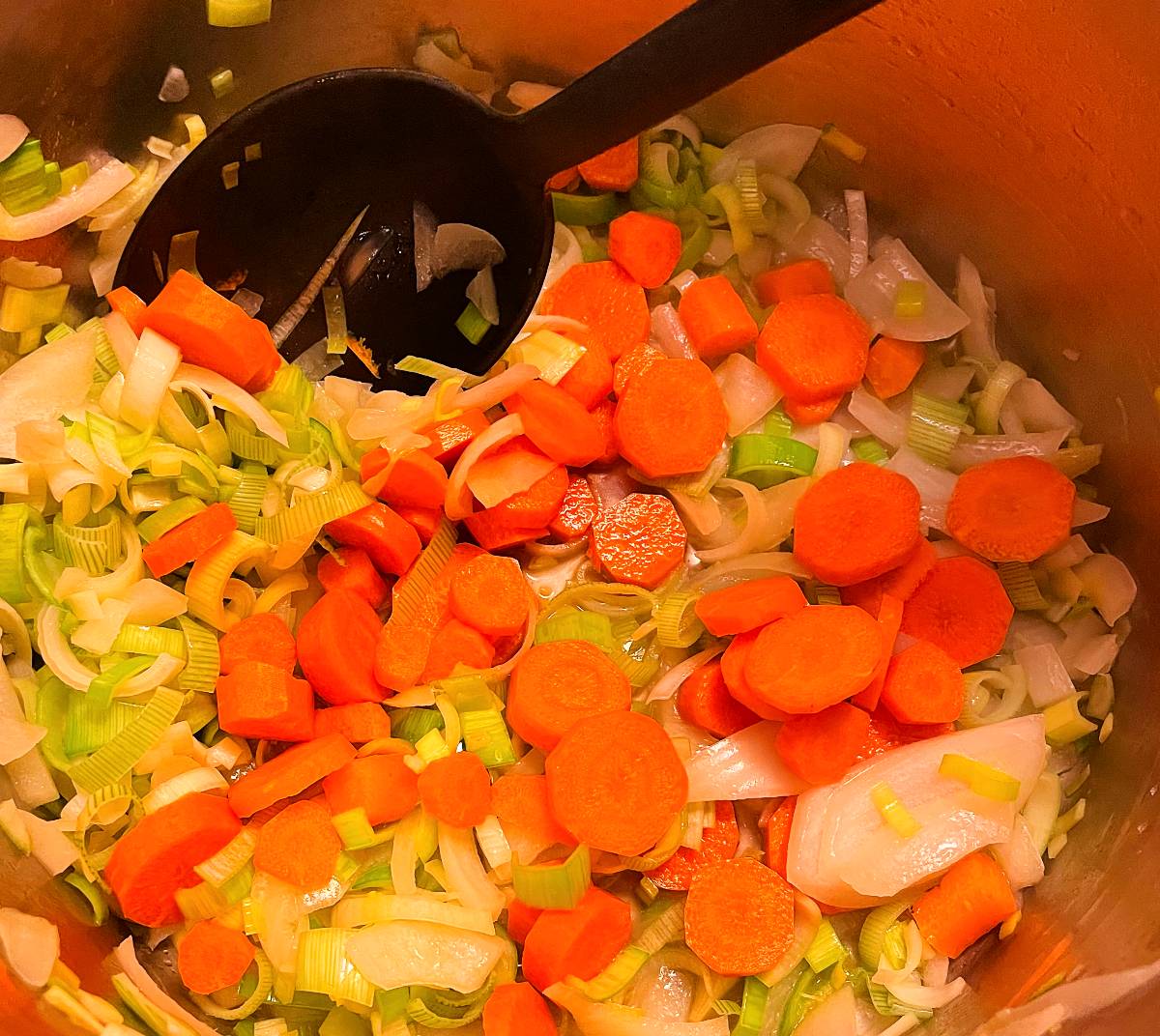 Add the broth and water, bring to a simmer.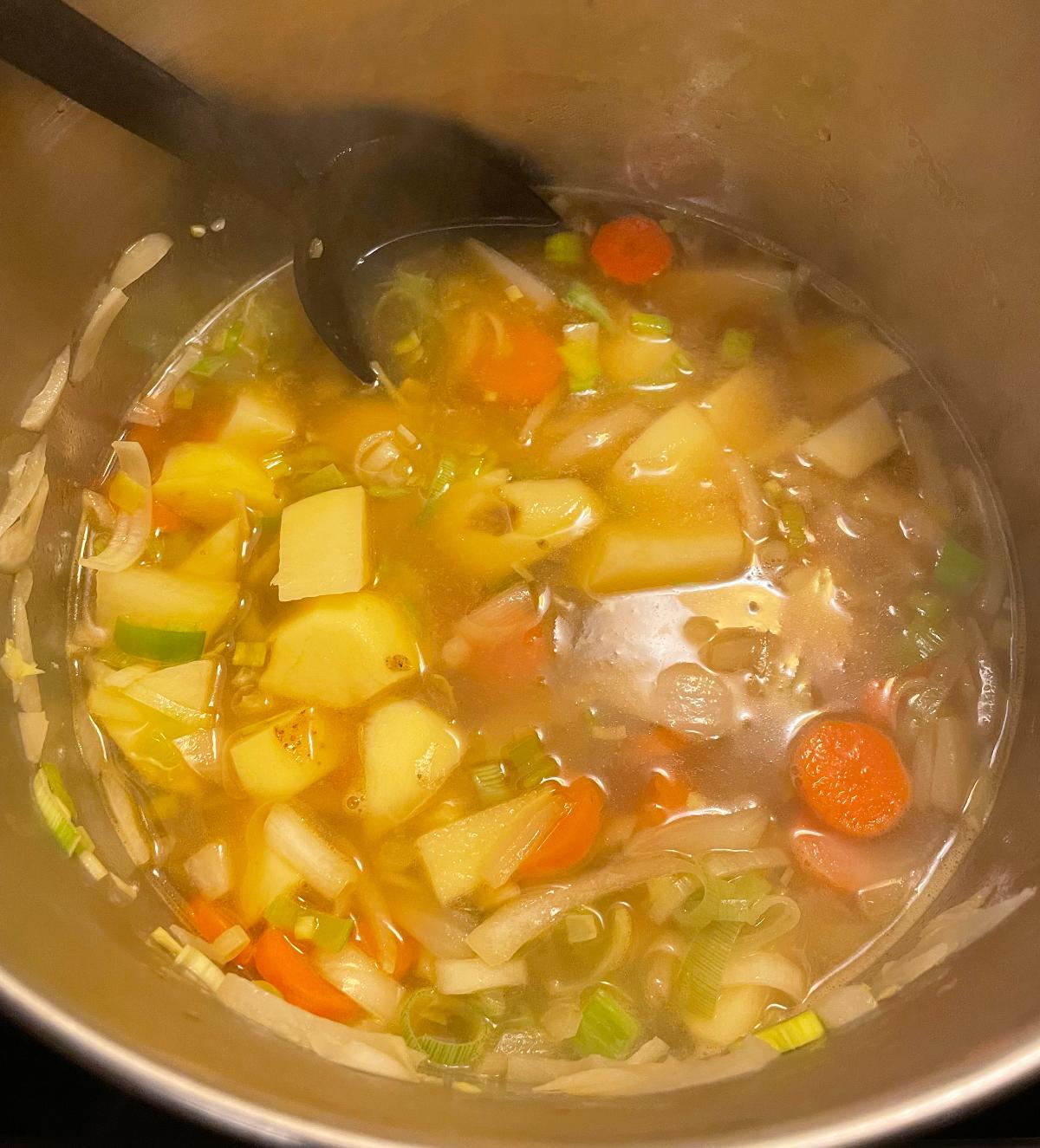 Stir in the potatoes, followed by the cabbage and rosemary. Let the veggies simmer together for a good 30 minutes, until they are nice and soft. Hey, this is an Irish soup, gotta cook those veggies!
Purée the soup: After the vegetables have simmered together for about 30 minute, turn off the heat under the soup.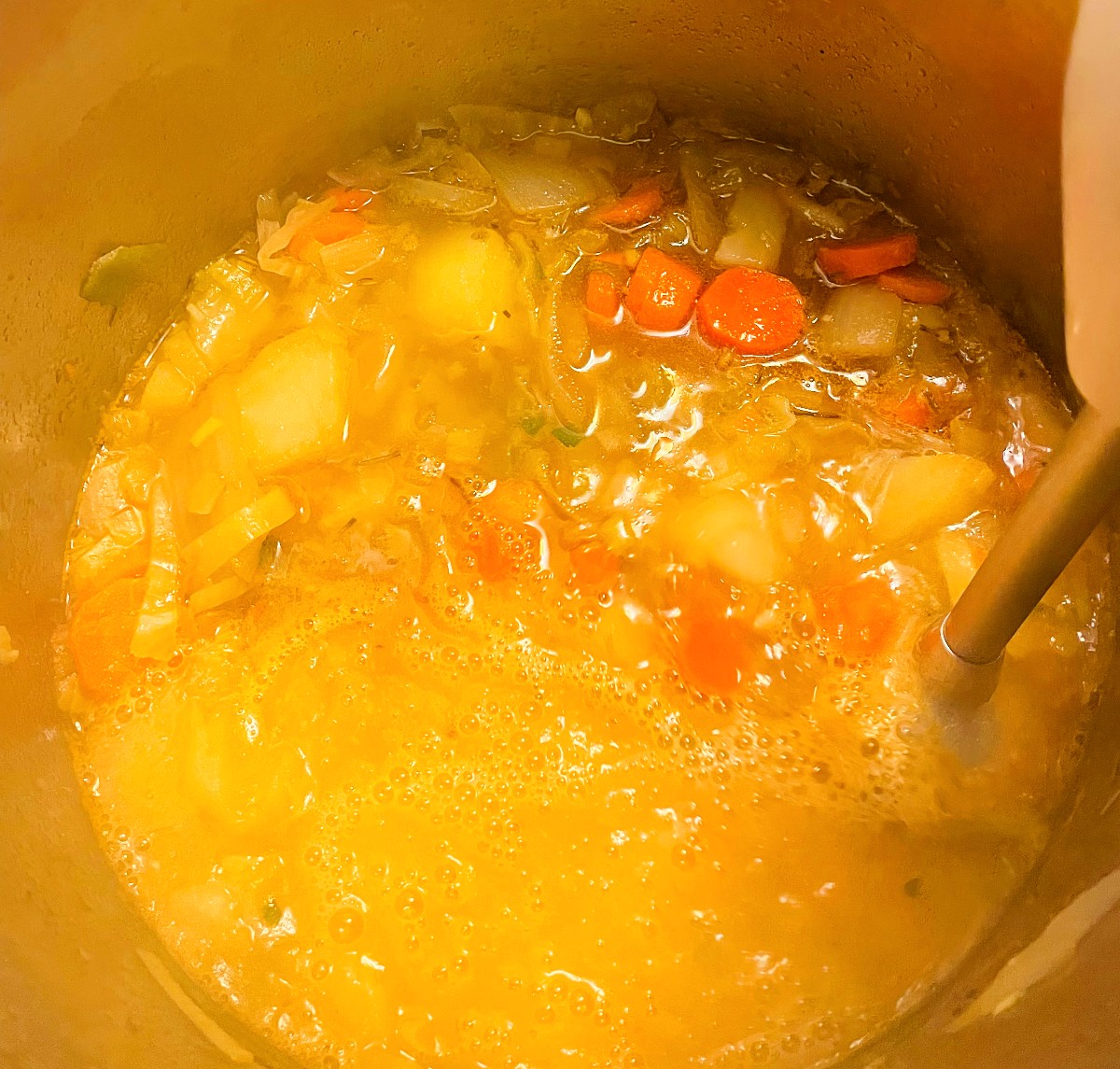 Gradually purée the soup using an immersion blender.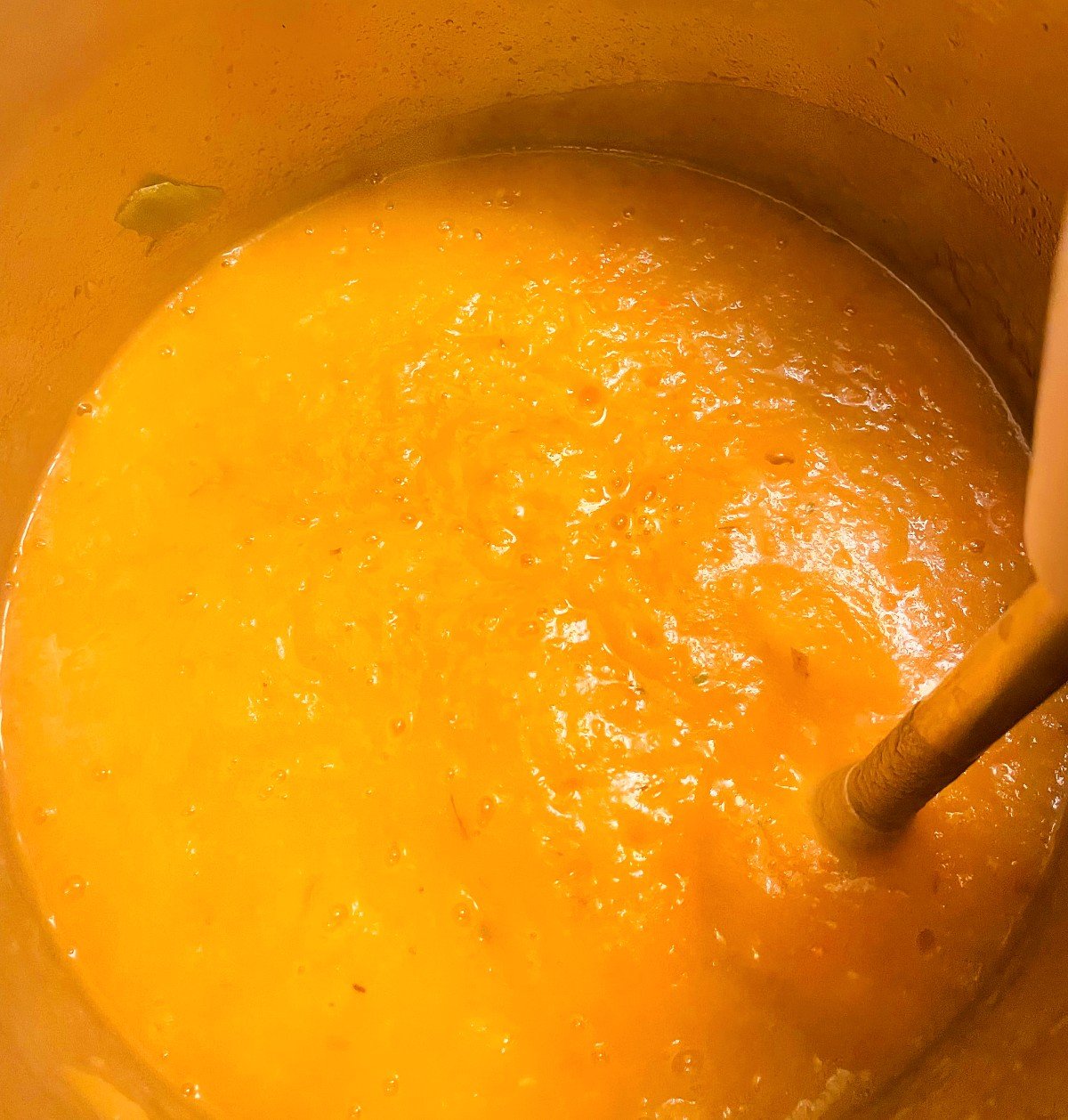 After a few minutes it will get to a nice even, creamy consistency. I tilt the soup pot a bit to get at the last chunks of veggies hiding out at the bottom of the pan. Of course, some folks like to leave a bit of the vegetable chunks at the bottom.
After puréeing the soup, place the soup back on medium heat. Stir in salt and pepper to taste, and the peas, if using. Heat the puréed soup for 3 to 5 minutes, then it is ready to serve.
Serve by ladling the soup into bowls, and topping with a bit of shredded cheddar cheese and some parsley for garnish — and a bit of green color!
What to serve with this soup
We served this soup with some rosemary bread toasted with some olive oil spray.
That was a delicious accompaniment to the flavors of the soup! Soda bread or Irish brown bread would also be a classic choice. This rosemary bread recipe from Liz at That Skinny Chick Can Bake looks a lot like what we had but with the homemade touch!
The other night, we had this Irish vegetable soup as a simple meatless main course. But it could also be a good starter for an Irish themed main course- maybe our Beef Shepherd's Pie Casserole!
Soup pairings
Sure, you could go with a pint of Guinness or other beer of choice to go with this Irish Vegetable Soup recipe. But we were in the mood to test out a wine pairing when we made it the other night.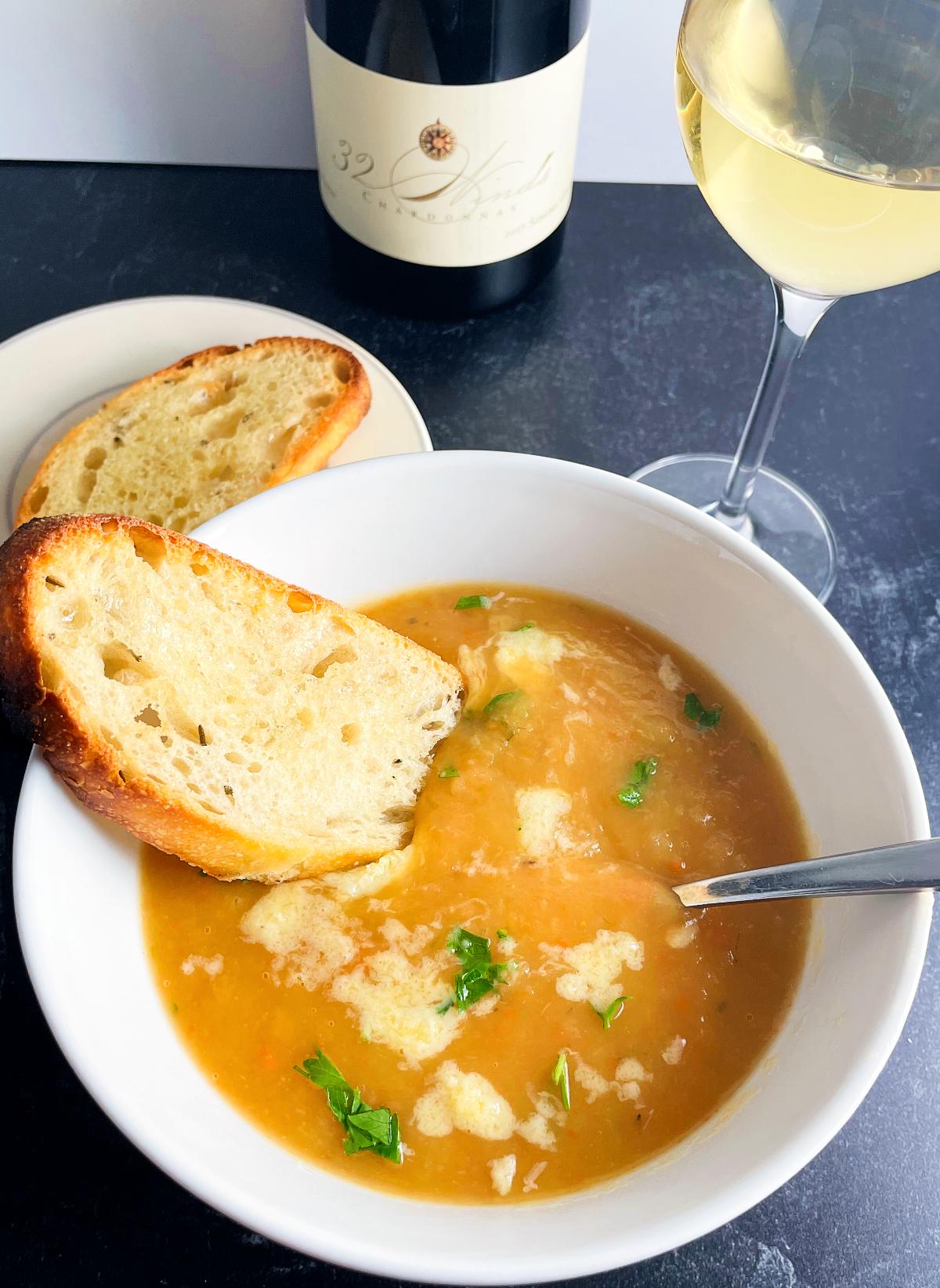 For a soup pairing, I am looking for the right body to match the soup as well as the flavors. I figured a full bodied white wine would be the thing to go along with the creamy consistency of the soup. A white Rhone could potential do the trick, but we have a good amount of Chardonnay on hand, so went in that direction.
We opened the 2017 32 Winds Spinnaker Chardonnay ($37, 13% ABV) from the Sonoma Coast region. Meyer lemon on the nose, creamy but light mouthfeel and lemon fruit on the palate. This had body we were looking for and the restraint I like in a Chardonnay, making it a very nice match for the soup.
32 Winds Winery is a family owned winery based in Healdsburg, California. This was the first wine I tried from them; I came across them through a deal from Last Bottle Wines; where I got a half case of the wine for about half price. The link to Last Bottle comes with a $10 credit if you sign up for their deals using my link.
If you've found this recipe as part of your planning for St. Patrick's Day, you might also be interested in our tips for Wine with Corned Beef and Cabbage.
Print
Recipe card
Irish Vegetable Soup
An easy and satisfying Irish vegetable soup recipe. A variety of common vegetables simmer together, then get puréed for a comforting creamy soup. Topped with cheddar cheese, and served with toasted bread.
Author: Cooking Chat
Prep Time:

10 mins

Cook Time:

45 mins

Total Time:

55 mins

Yield:

5

servings

1

x
Category:

Soup

Method:

stove top

Cuisine:

Irish

Diet:

Vegetarian
1 tbsp

olive oil

1

onion, chopped

2

leeks, white and light green portion, chopped (you make this Leek Greens with Bacon with the tops)

3

carrots, peeled and chopped

1

or 2 cloves garlic, minced (see note)

4 cups

vegetable broth (or chicken broth if you aren't seeking a vegetarian soup)

1 cup

water

3

medium yellow potatoes, peeled and chopped (about

3

to

3 ½

cups chopped potatoes

½ teaspoon

dried rosemary
salt and pepper to taste

1 tbsp

parsley, minced

1 cup

peas (optional, thawed if frozen)
shredded cheddar cheese for topping – have about ½ a cup ready with more available if needed
toasted bread for serving
Instructions
Sauté the onion: heat the olive oil in a large soup pot on medium heat. Add the onions, and sauté until they begin to soften.
Stir in the leeks, followed by the carrots. Cook for a few more minutes, then add the garlic.
Add the liquid. Stir in the broth and water. Add the potatoes and the rosemary. Raise the heat until the liquid begins to boil. Lower to medium low to maintain a steady simmer.
Simmer the soup for at least 30 minutes. Stir occasionally, and adjust the heat slightly to keep the soup simmering.
Purée the soup when the vegetables are good and soft. We like to use an immersion blender to gradually purée the soup into a nice creamy consistency. Alternatively, you could transfer the soup in batches to a food processor or blender to purée it.
Finish the soup: Keep the puréed soup on low heat as you get ready to serve.  Add salt and pepper to taste. Stir in the peas if using, and give them a few minutes to heat. Ladle the soup into a bowl, and top with a bit of shredded cheddar cheese and parsley. Serve with some toasted bread and enjoy!
Notes
Chop as you go: you can chop the veggies as you go. i.e. chop the onions, add them to the pot, prep the leeks as the onions begin to cook, and so forth. This saves time the prep process.
Broth: we made the soup originally with vegetable broth. You could use chicken broth, too, if not concerned about making the soup vegetarian.
Garlic: we used raw garlic, but next time we might try a tablespoon of roasted garlic to deepen the flavor.
Keywords: Irish vegetable soup, veggie soup recipe, homemade Irish vegetable soup, Irish comfort food, vegetarian Irish recipes
Recipe Card powered by
More recipes like this
If you like this Irish veggie soup recipe, check out these recipes, too!
For a change of pace to your soup routine, try our Polish Dill Pickle Soup recipe. You can also head to get all of our soup recipes!