This Ogunquit Allergy Safe Dining article presents some good options we have found in Ogunquit, Maine, that have worked for our son's food allergies. He is allergic to egg, nuts, dairy and sesame seeds. We also share some links to other resources for allergy safe dining and restaurants recommended by others with food allergies. We start with an intro to Ogunquit and why we like it; click here to jump right to our restaurant suggestions.
Ogunquit Allergy Safe Dining
When we are at home, most of our meals are home cooked, and we dine out infrequently. In addition to being a cost-effective way to enjoy good food and wine, preparing our family meals is also the easiest way to manage our son's food allergies–B is allergic to egg, nuts, dairy and sesame seeds. But when we are on the road without a kitchen to cook our meals, we then must navigate the challenges of finding allergy safe dining options at nearby restaurants.
From time to time, we have posted articles about specific restaurants that worked well for our food allergy concerns. This Ogunquit Allergy Safe Dining article is part of a series of articles covering areas where we have visited several restaurants and thus can provide an overview of some options that can work for your food allergy concerns. Allergy-Friendly Family Dining Around Disney is another such article you might find useful.
Visiting Ogunquit, Maine
Chances are you may have found this article because like us, you were already in Ogunquit and found yourself Googling "Ogunquit Allergy Safe Dining". But in case you are not familiar with Ogunquit, let me take a moment to extol the virtues of this seaside town in Southern Maine.
Ogunquit is located on the Atlantic coast in Southern Maine. In good traffic conditions, Ogunquit is less than 90 minutes from Downtown Boston, and less than that for us, coming from north of the city. This makes Ogunquit a convenient get away, where a short drive puts you by some beautiful ocean scenes that make you feel like you've travelled a great distance from the busy city.
Ogunquit has a long, sandy beach. But I'd say my favorite part of Ogunquit is the Marginal Way walk that takes you along the rocky coastline, providing awe inspiring views of waves crashing against the rocks.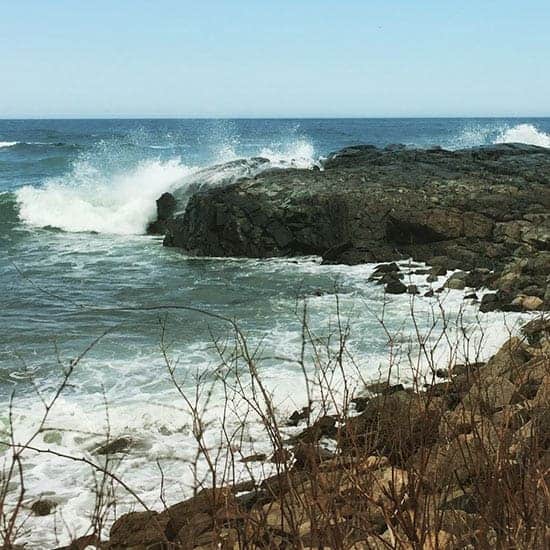 Ogunquit also has many great shops, places to stay and restaurants. We'll be covering the food options in the rest of this article, but I will mention we have enjoyed staying at The Sparhawk the last couple of times we visited Ogunquit. I could sit all day out on the deck and watch the ocean from our room there! The photo below is taken from our deck at fairly low tide; at high tide, the water comes right up to the deck.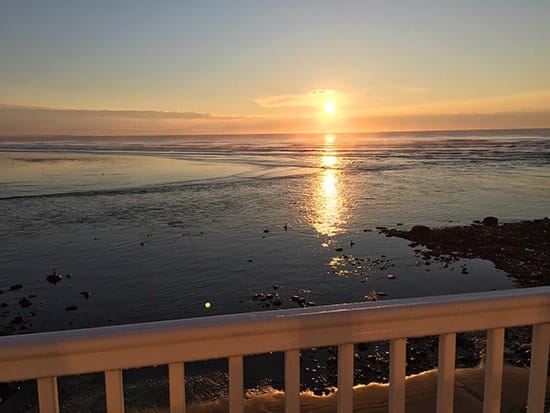 It's been awhile, but we also enjoyed staying at the Almost Home Inn,  if you are looking for a more intimate B & B type place.

Five-O Shore Road
During our most recent visit to Ogunquit, we tried Five-O Shore Road on our second night there. We did quite a bit of research to find a place that could accommodate B's allergies as well as the tastes of our group of eight. We were also looking for a restaurant that had enough reasonably priced entrees. Many of the Five-O options are in the low 20s, which seemed doable for us.
I got in touch with the Five-O Shore Road staff the day we sought to dine. We actually stopped by around five when I hadn't heard back from my email, but the hostess had been conferring with the chef and was about to reply when we came in. They had come up with some good options for B, customizing the sirloin strip steak they offer. They served him that steak with a simple preparation and a side of roasted potatoes. B enjoyed this steak dish, as well as the potatoes served with it. The chef prepared a simple salad with a side of dressing for B to have before the entree. They also checked and confirmed that the breads they serve before the meal were allergy safe, and B enjoyed being able to eat that. Usually he needs to skip the bread at restaurants, if they aren't able to confirm the bread is egg, dairy and sesame free. Another reason Five-O Shore Road earns a spot in our Ogunquit Allergy Safe Dining article!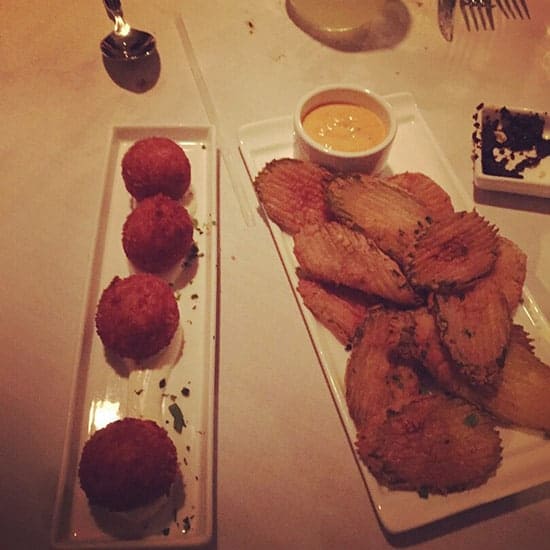 The seven adult family members in our group all seemed to enjoy their Five-Shore meals as well. We started by sharing several small plates — I was especially fond of the pickle chips! I had wild boar gnocchi for my entree, and that was very satisfying on a chilly evening. Hake served with couscous and vegetables was the local fish option the night we were there, and that was very fresh and flavorful. Roast chicken with a side of risotto also was a hit. As of this writing, the menu posted on the Five-O Shore Road website is a sample from last year. The prices and options were similar, though not the same as this menu, when we visited in April 2017.
Five-O Shore Road has a pretty good selection of wines. I ordered a bottle of Italian red wine that was reasonably price and a good accompaniment to my gnocchi.
Overall, I would recommend Five-O Shore Road as an Ogunquit restaurant to try, whether you are looking for food allergy friendly options or simply want a good meal at the end of a leisurely day by the sea.
Northern Union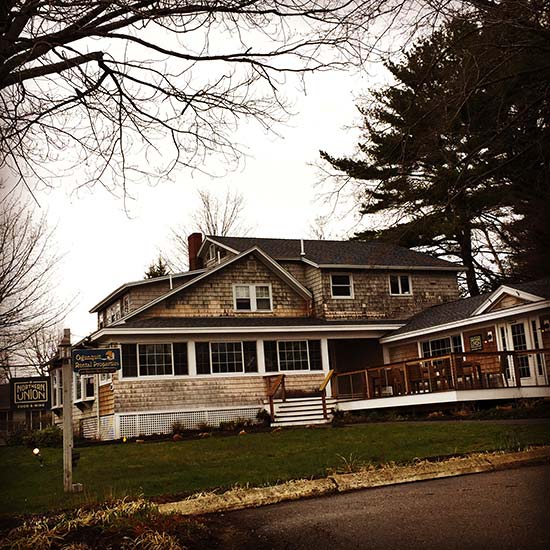 During our 2016 visit to Ogunquit, we ate at Northern Union restaurant. They did an excellent job managing the food allergy concerns, so we will lead off our Ogunquit Allergy Safe Dining with Northern Union. B loved the hanger steak he got there. What really made Northern Union stand out for us from the food allergy perspective was when they surprised our table with a complimentary allergy-safe dessert, some delicious Greek fried dough.
In addition to being attentive to the food allergy concerns, Northern Union focuses on food and wine pairings. They have a great wine list and good pairing suggestions for all of the food. For more details on our visit to Northern Union, check out my review post.
M. C. Perkins Cove
M. C. Perkins Cove is an excellent restaurant with spectacular ocean views. The restaurant website highlights its selection by USA Today as one of the "Top Ten Places in the World with a View". I would say that is well-earned!
The "M. C." part of the restaurant's name comes from chef owners Mark Gaier and Clark Frasier. Our first dining experience in Ogunquit was at their restaurant Arrows, located a bit off the coast. Unfortunately this gem has closed, but hey, you can't complain too much about wonderful food with a view.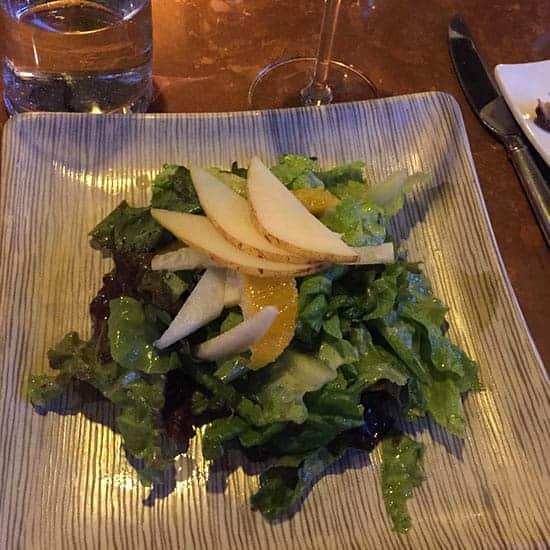 During our April 2017 visit to Ogunquit, we planned to go to Tulsi North Indian Restaurant and Bar in nearby Wells. We have generally found allergy friendly options at Indian restaurants, including our local favorite, Zaika. However, when speaking with the staff at Tulsi, we learned they use a lot of cashew nuts in their dishes, and there weren't many items they could recommend as allergy safe. We appreciated their candor, and decided to move on to M.C. Perkins, where they have been able to accommodate B's allergies in the past.
B's eyes quickly seized upon the most expensive item on the M.C. Perkins menu, the bacon wrapped beef tenderloin. The server conferred with the chef and they gave it the allergy thumbs up, indicating they could definitely prepare the dish in allergy safe fashion.
Not surprisingly, B gave the tender bacon wrapped beef a thumbs up. He was kind enough to share a few bites with his Dad, and I also give it a thumbs up! The side options were a bit limited–the jasmine rice turned out to be the best option in terms of allergies. The rice didn't get a lot of attention alongside the bacon wrapped beef!
It so happened that we had landed at M.C. Perkins on a night they were offering their Burger & Beer Night menu.  On Thursdays during the off peak season, they offer a choice of a burger served along with a local beer for just $12.95. Jodi and I both chose this option, offsetting the cost of the beef tenderloin for a moderately priced evening. I chose the Javier Burger, with pico de gallo and sour cream. The beef is very good quality and the toppings were flavorful–but also "wicked" messy! Halfway through I concluded I needed to switch to a fork and knife as everything was falling apart. I think I'll try another burger option next time. I enjoyed the local IPA I had with it.
We have now been to M.C. Perkins Cove at least three times with B, and each time we felt good about their attention to food allergy concerns. So M.C. Perkins definitely deserves a spot in our Ogunquit Allergy Safe Dining article! While the restaurant can be on the pricey side, they do run a number of interesting specials that can keep your bill down, particularly in the offseason.
Other Allergy Safe Options and Resources
We will definitely will be back to Ogunquit and expand the list of allergy safe restaurants we can recommend based on our own experience. Meanwhile, let me share a few other choices that look promising from our web research. Angelina's Ristorante & Wine gets very good overall ratings for its Italian food, and one Trip Advisor review touts it as a good option for food allergies. This reviewer seems to be primarily concerned with finding gluten free options, but sounds like the staff was generally attentive to allergy concerns.
We often avoid those candy shops that abound in vacation areas, but have found Perkins Cove Candies carries a number of options that work for B. They have a section of candy from Vermont Nut Free Chocolates. Some of their chocolates do have dairy, but there are also jelly beans and other options that are dairy and nut free. B. also likes the Smarties candy necklace they have there, which indicates on the label that it is free of most major allergens.
Our go to resource for finding allergy safe dining options is the website called Allergy Eats. This site has user reviews shared by people with different food allergy concerns. We had noticed Oarweed Restaurant got a good review on Allergy Eats, and had planned to eat there when visiting this spring. However, we realized upon arrival that the restaurant wasn't going to open for another week or so. Too bad, as the Oarweed has a good location, on Perkins Cove, and is moderately priced. (Northern Union and M. C. Perkins are on the pricier side, though reasonable for the quality of the food and wine). Pizza Napoli also gets good reviews on Allergy Eats for peanut and egg allergy concerns; alas, pizza places don't work out to well for dairy allergies.
As much as we like this convenient seaside getaway town, we will be sure to get back to Ogunquit and update this post with more Ogunquit allergy safe dining options. Meanwhile, if you find places there that worked well for food allergy concerns you might have, please share!
Restaurants We Avoid Because of Food Allergies
Old Village Inn is an Ogunquit restaurant my parents really like. When I called ahead there to see if they were able to accommodate B's allergies, they sounded rather nervous and uncertain about it. Well, I do a appreciate the honesty, and we decided not to go there.
As noted earlier, we decided not to eat at Tulsi North Indian Restaurant and Bar after conferring with the staff about the nuts they use in many of the dishes. We also checked out "The Steakhouse" in Wells, Maine, which is just north of Ogunquit.