Roasted Beet Pesto is a colorful twist on the classic pesto sauce. Savory and flavorful, toss this beet pesto with pasta or use as a spread for a sandwich. This bright red pesto is delicious served with a good Merlot.
We feature the Guanamé Merlot from Mexico for today's Wine Pairing Weekend event focused on Mexican wines. Disclosure: the wine discussed was provided as a complimentary sample as part of our partnership with Tozi Imports.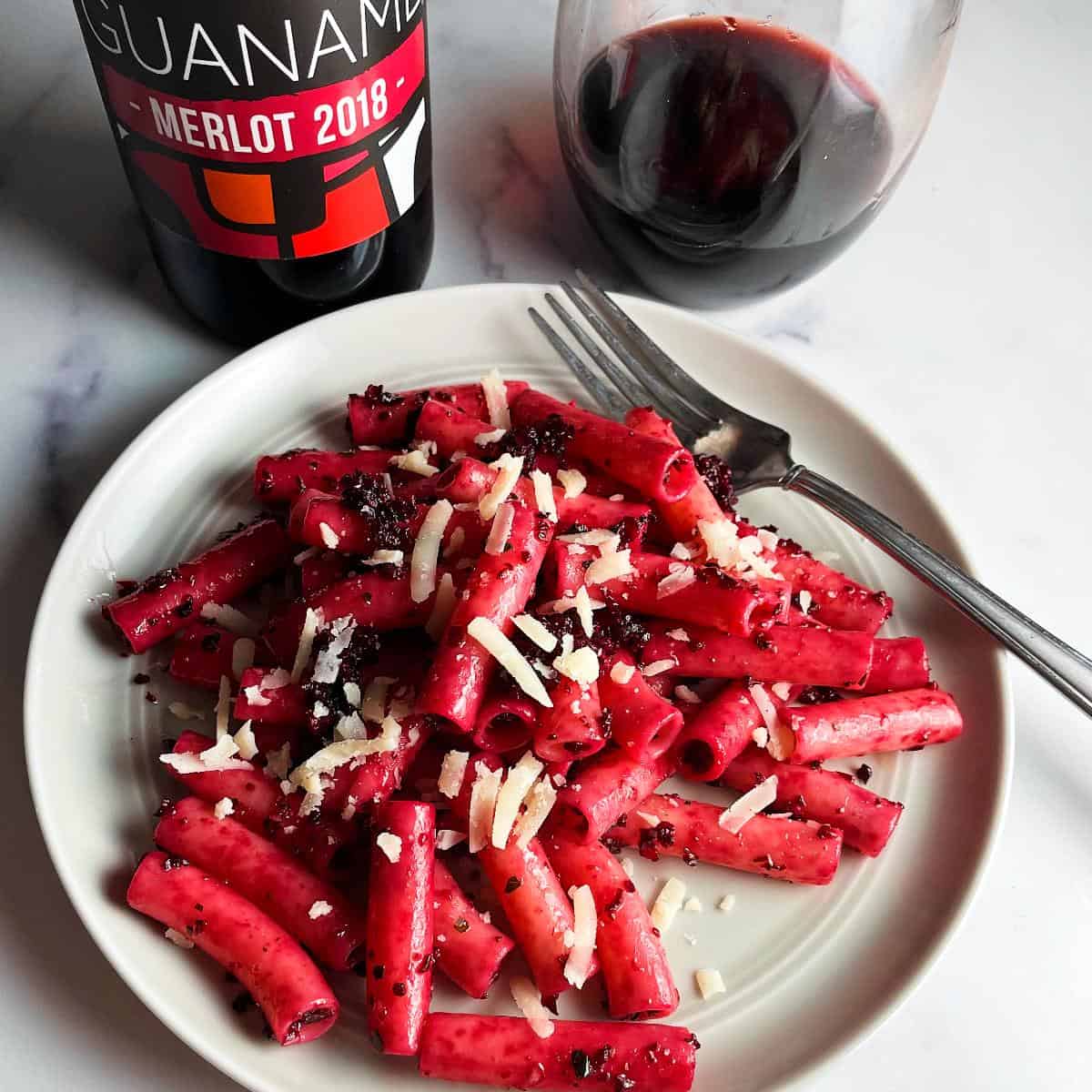 I came across the idea of making beet pesto in a Bon Appetit article, which suggested it as a good way to use beets that are starting to look a bit tired in the vegetable drawer.
Using the article's suggestions as a launching point, I made my first batch of beet pesto last month. It was quite good, so I had definite plans to circle back and write down our recipe for beet pesto.
Jump to:
Inspiration for today's pairing
We had a nice lineup of Mexican wines to try from Tozi Imports, which we initially opened for the recent Mexican wine tasting webinar (link takes you to the recording).
My initial plan was to feature the Monte Xanic Cabernet Sauvignon with the roasted ribeye steak we made. That was a good pairing, but I want to make a few more tweaks before I publish the recipe. So I was looking for another pairing option.
I really liked the Guanamé Merlot when we tasted it. Having done a lot of Merlot food pairing experiments with our annual #MerlotMe, I've definitely come to appreciate the pairing versatility of the grape. Having successfully paired a Merlot with our roasted beet dip, I decided I would try it with our beet pesto.
Let's dig into the beet pesto recipe, then we will circle back to the pairing.
Making beet pesto
Here's a visual overview of the steps for making roasted beet pesto. Head on down the recipe card for all the details.
Peel and chop the beets, then spread in a baking dish.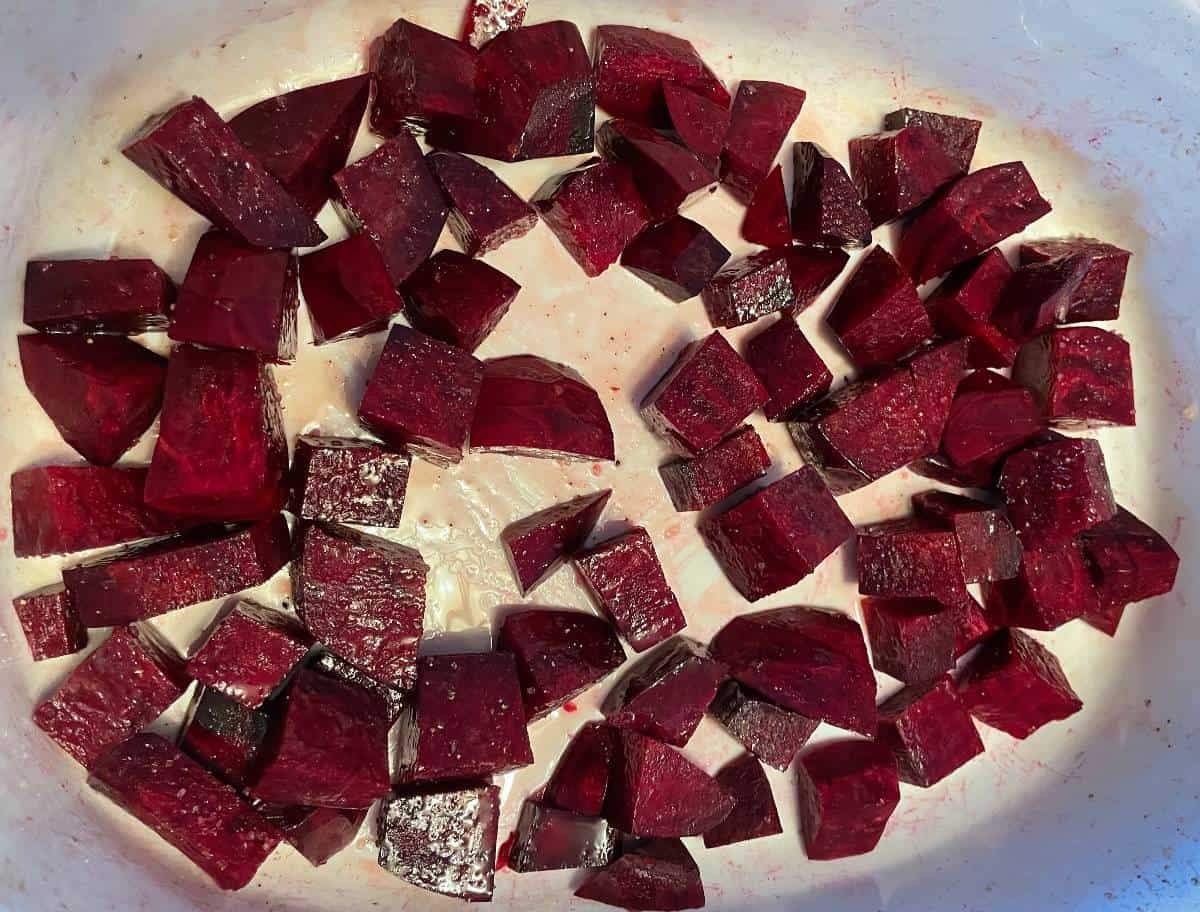 Roast the beets in a 400 degree oven for about 45 minutes, until fork tender.
Set the beets aside to cool. Put the garlic in a food process, pulse to chop.
Add the roasted beets to the food processor.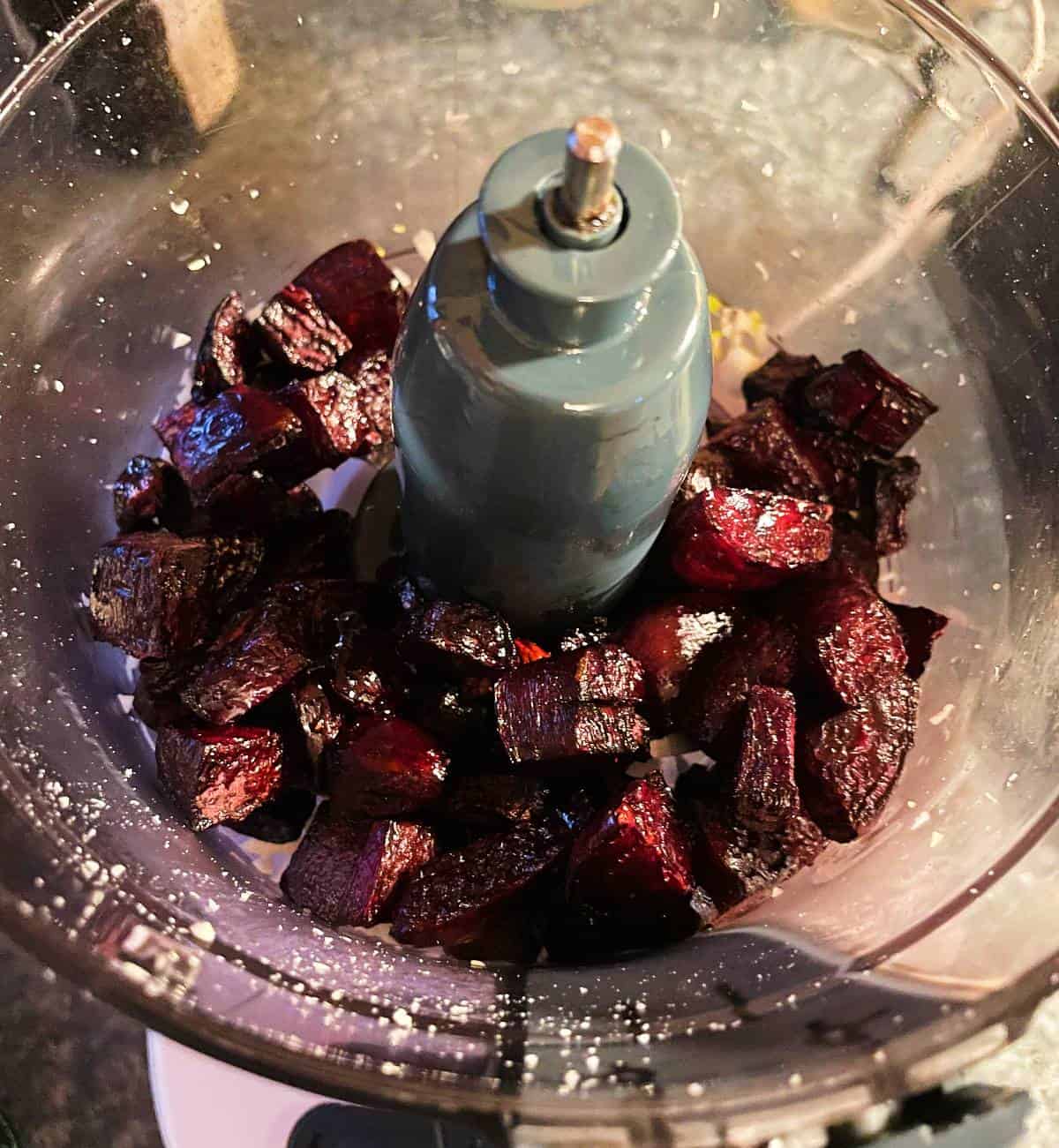 Pulse the food processor to chop the beets into small bits.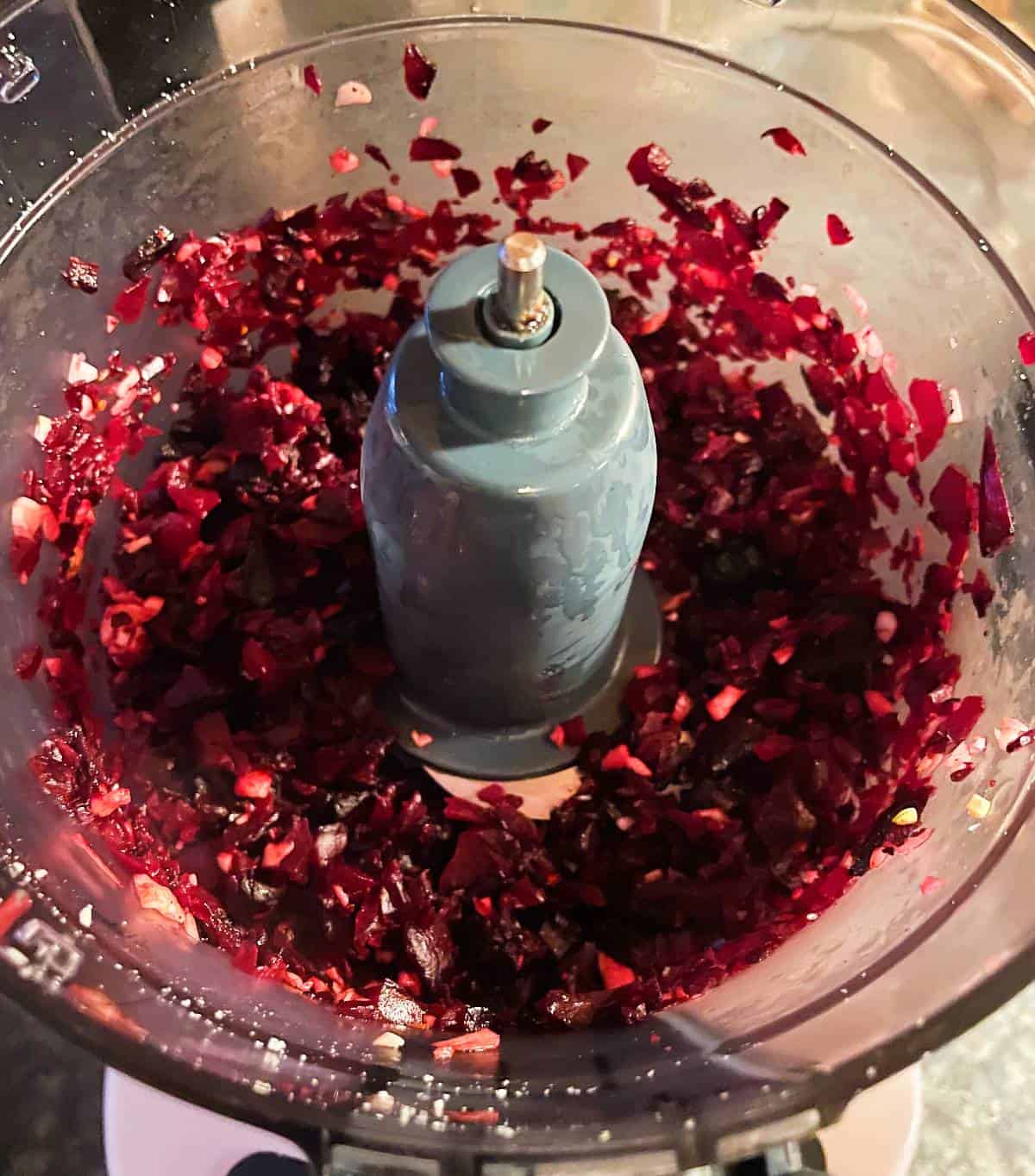 Add the Parmesan cheese along with the olive oil and basil. Puree the ingredients until well combined into a sauce like consistency. Add extra oil if necessary.
Scoop the beet pesto into a serving bowl. It is ready to use!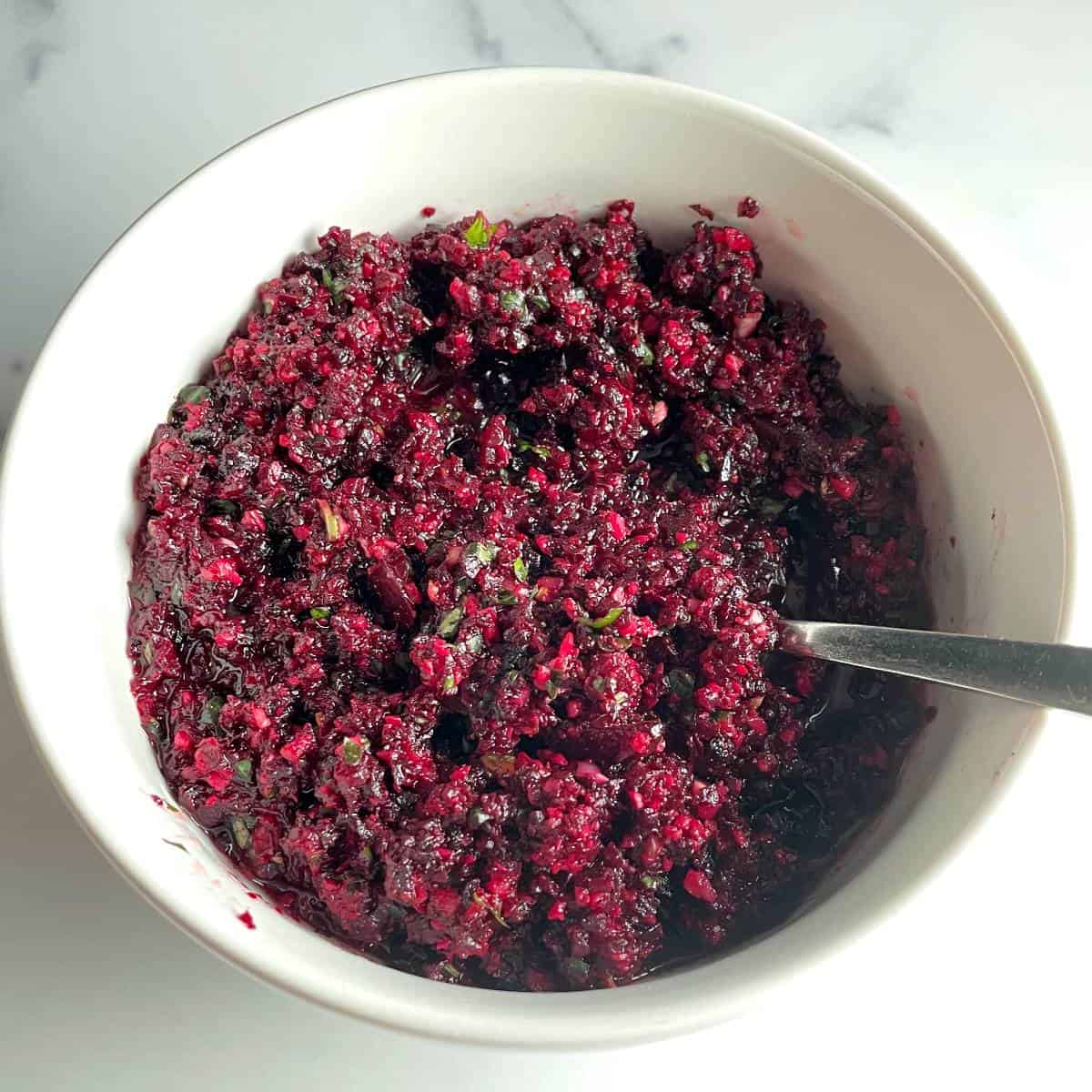 If serving with pasta, when the pasta is cooked to your liking, drain the pasta and toss immediately with a couple of tablespoons of the beet pesto plus 1 tablespoon of olive oil. Stir to combine, add a bit more pesto if you like.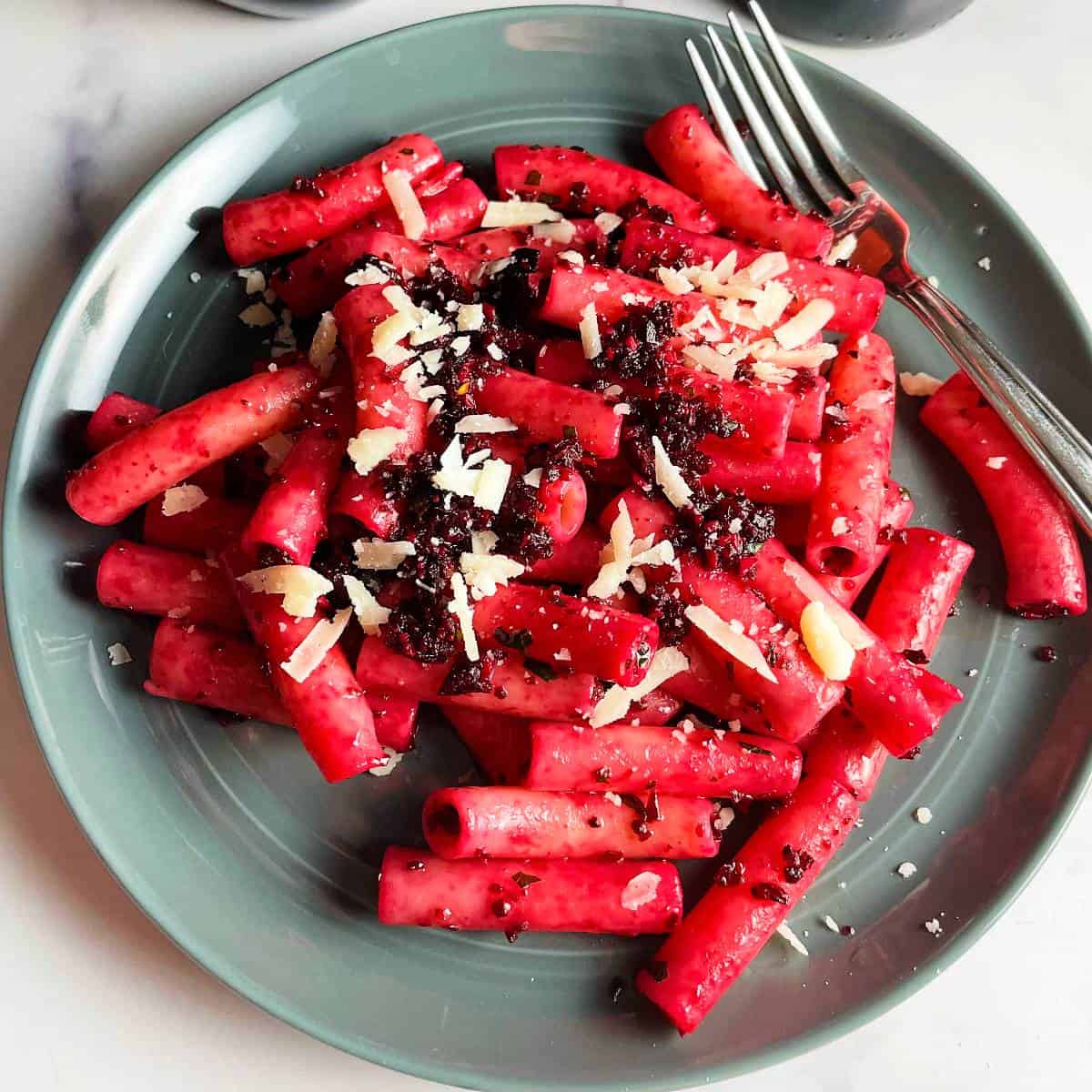 Plate the beet pesto pasta, and pass extra pesto and cheese to use for topping the dish.
For another creative pesto recipe, try our Easy Garlic Scape Pesto!
Serving ideas
Of course, tossing the roasted beet pesto with hot pasta is a great way to serve this pesto.
But pesto is versatile! We had a bit of beet pesto leftover after serving it with pasta the other night. We spread it on some artisanal crackers with sea salt, and that was very good. We also put a bit of the beet pesto on some cheese, along with the same crackers. Also a winner!
I also like to spread pesto on a sandwich. I bet the beet pesto would be good on a turkey sandwich. Maybe even try it instead of traditional pesto in this Turkey Pesto Panini?
Wine pairing for beet pesto
As noted earlier, we had the The Guanamé Merlot (appx. $20, 13.8% ABV) ready to pair with our beet pesto.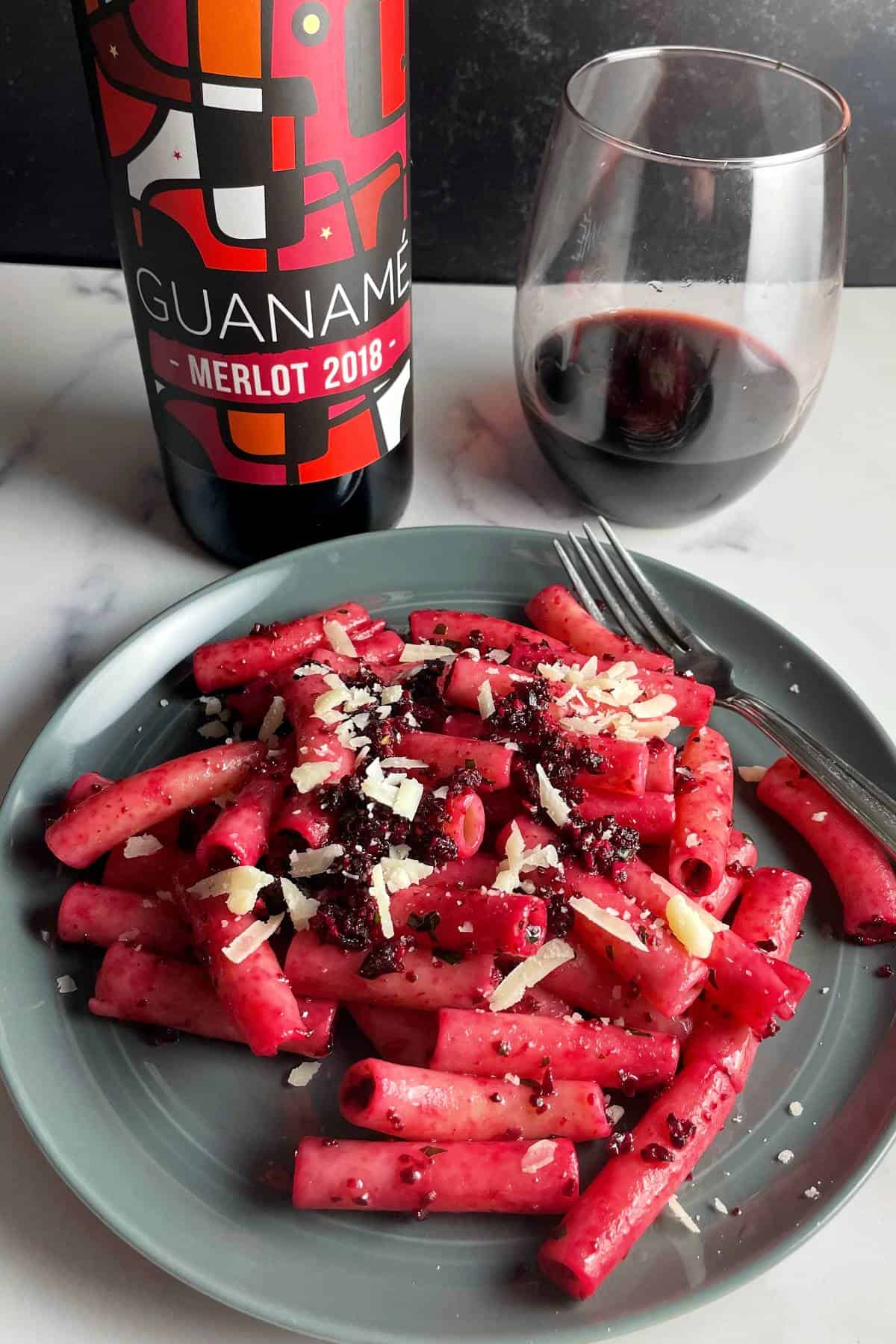 This Merlot is dusky on the nose. Blackberry fruit on the palate with some notes of cloves, chocolate and leather. A complex, flavorful wine!
Once again, we found that a good Merlot plays along nicely with the earthy flavor of the roasted beets, and the basil also enhances the pairing. We definitely recommend trying this Merlot with beet pesto! Not to mention it is aesthetically pleasing with all the red on the plate picked up by the color of the wine. Keep in mind for Valentine's Day, perhaps.
When we first made the beet pesto, we paired it with the L'Ecole Luminesce white blend of Semillon and Sauvignon Blanc. That did work as well, something to keep in mind if you are more in the mood for a white wine pairing for this pesto.
About Vinos Guanamé winery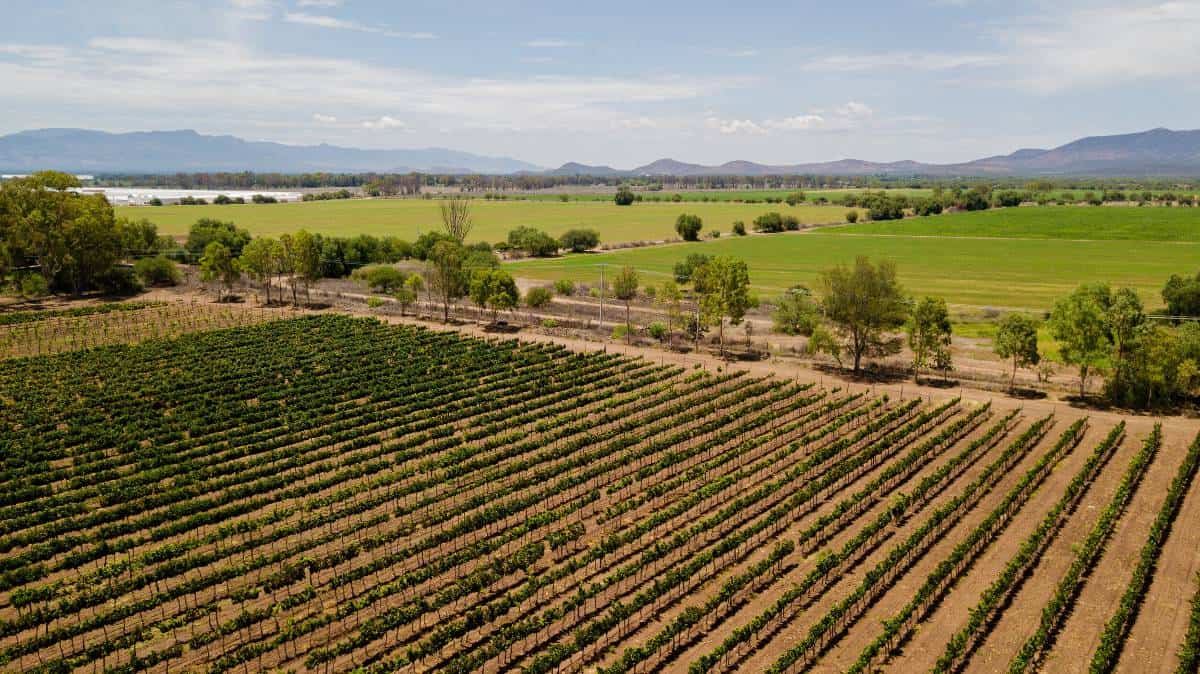 As described on the Tozi Imports website, Vinos Guanamé is located 6 hours north of Mexico City in the center of the country. Located at over 6,000 feet above sea level, Vinos Guanamé is located in a semi-arid region with excellent terroir for growing wine grapes.
The winery was founded in 2011 by the Torres family, who are cattle farmers with a long history of making wine for themselves.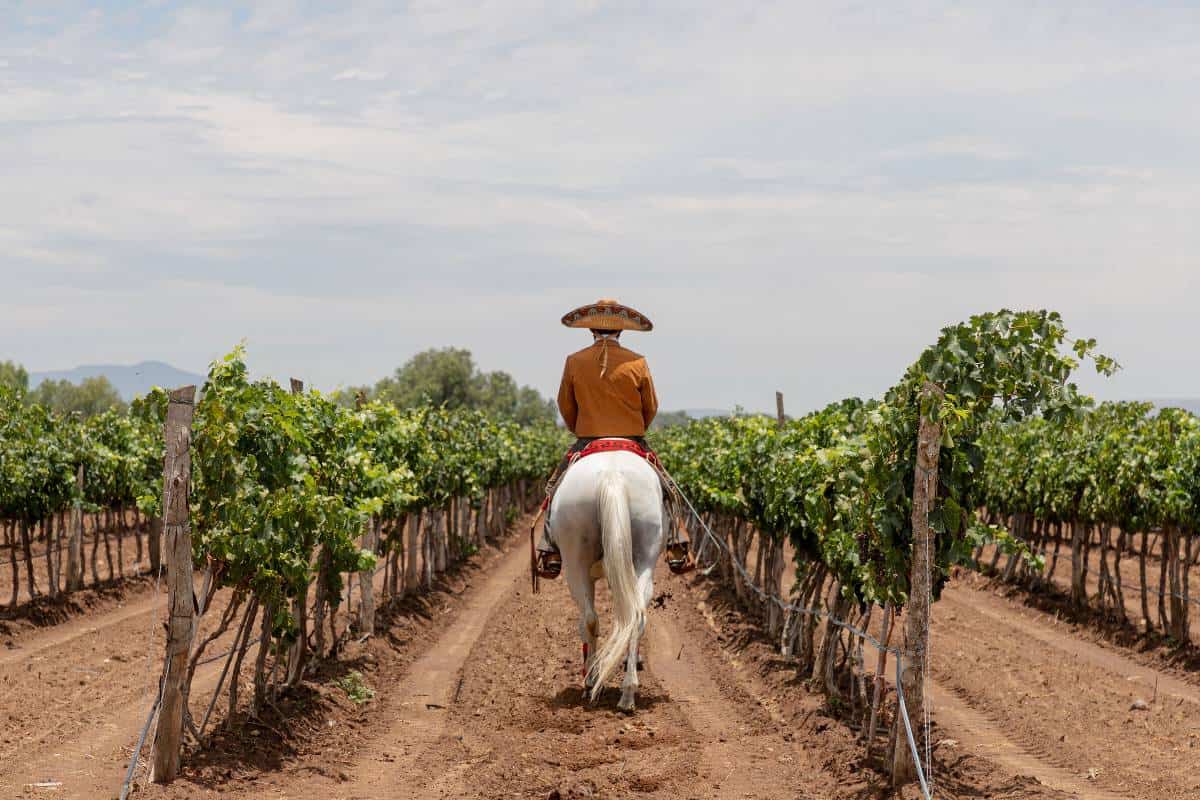 Fortunately for us, they are now sharing their wine, currently making 3,000 cases per year with plans to scale up to 10,000. Utilizing sustainable farming practices, they focus on red wine grapes, making Muscat, Malbec, Tempranillo and Syrah in addition to the Merlot. Vinos Guanamé also makes a rosé which I have enjoyed previously.
More Mexican wine pairings
We've had a chance to enjoy some other great Mexican wines with some good pairings. Here are some highlights!
Monte Xanic Sauvignon Blanc with Guacamole
Max suggested pairing the Monte Xanic Sauvignon Blanc with Guacamole, and that is definitely a great call! Read more about the pairing along with more guacamole wine pairing ideas here.
Red and white Mexican wine options for Turkey Enchiladas
We tested two wines for our Ground Turkey Enchiladas recipe. Shown above is the Musica Del Marqués Nebbiolo (12.5% ABV), which is a blend of 90% Nebbiolo and 10% Malbec. This worked quite well.
But I might actually give a slight edge with the turkey enchiladas to the Monte Xanic Chenin-Columbard ($20, 13.9% ABV), which cleanses the palate nicely after a bit of the spicy enchiladas. We've got an article on wine pairing for enchiladas for more ideas! And while we are on the topic of enchiladas, I should also mention we have great ideas in our what to serve with enchiladas roundup.
Vina Doña Dolores Sparkling Wine with Fiesta Dip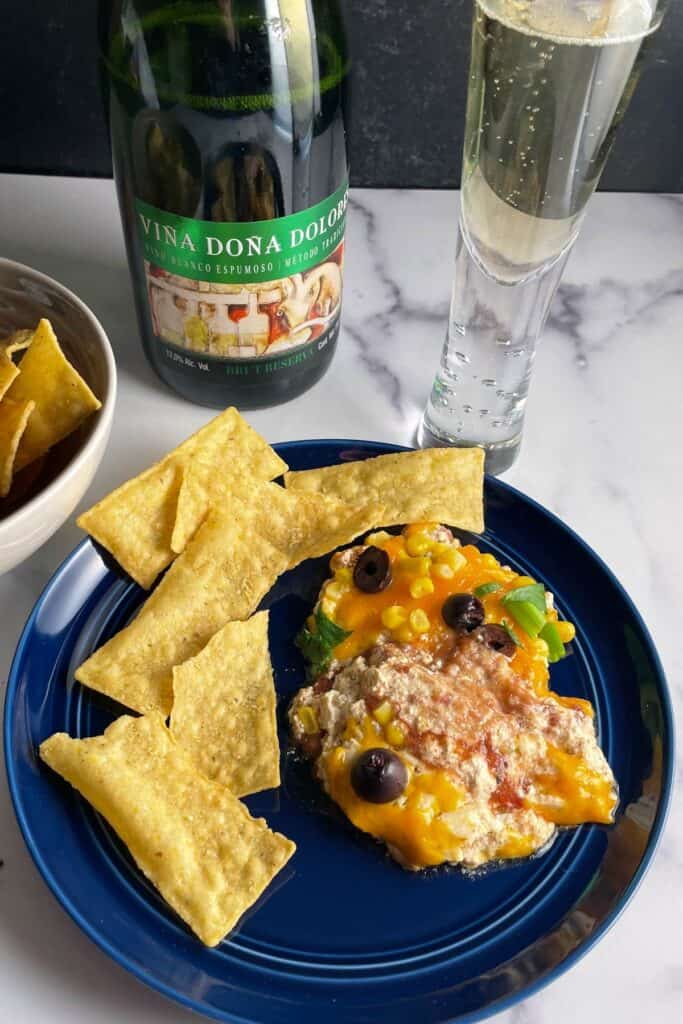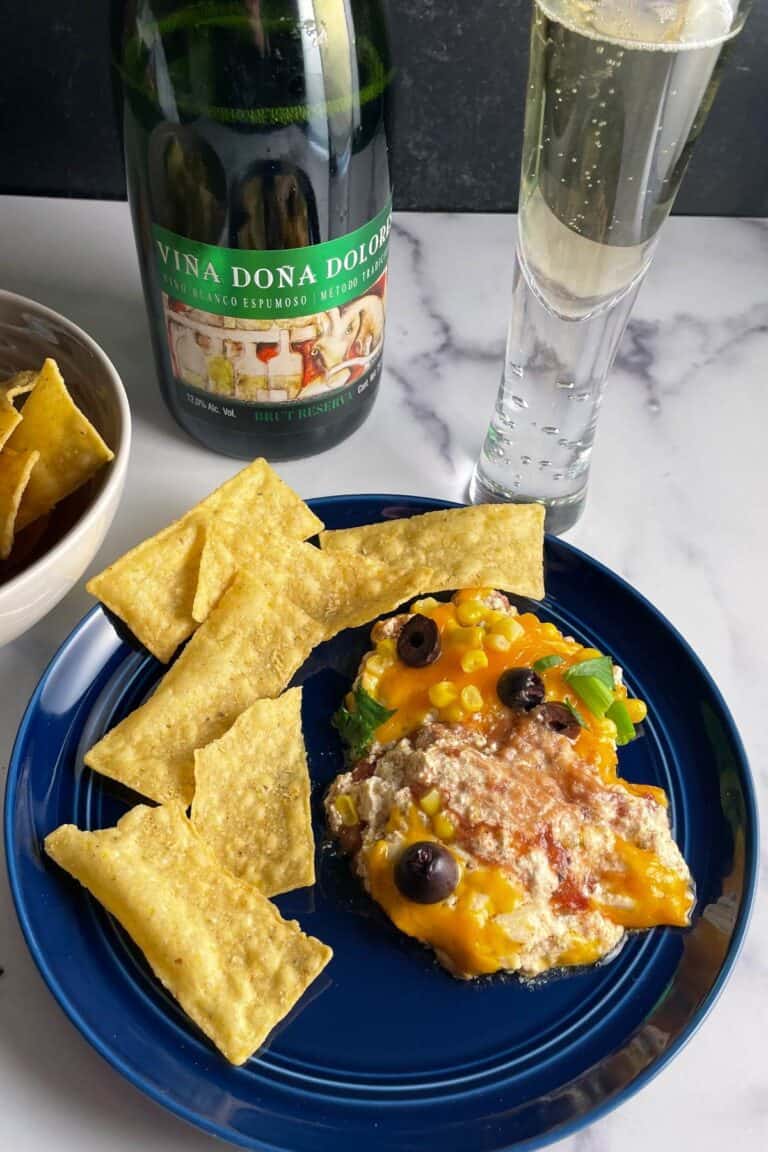 The Viña Doña Dolores Brut Reserva ($15, 12% ABV) is a great value sparkling wine from Central Mexico that all of the participating #winePW bloggers got to try for this event. We previously enjoyed with our Baked Fiesta Dip….be sure to check out what my colleagues paired with this wine via the articles linked below the recipe card!
Print
Recipe card
Roasted Beet Pesto
Roasted Beet Pesto is a colorful twist on the classic pesto sauce. Savory and flavorful, toss this beet pesto with pasta or use as a topping for chicken or a sandwich spread.
Author: Cooking Chat
Prep Time:

10 mins

Cook Time:

45 mins

Total Time:

55 mins

Yield:

6

servings

1

x
Category:

sauce

Method:

roasting + food processor

Cuisine:

Italian

Diet:

Vegetarian
2

to

3

medium beets, peeled and chopped into 1 inch pieces (

2 ½

to

3

cups beets)

2 tablespoons

extra virgin olive oil
salt and pepper to taste

2

cloves garlic

¾ cup

extra virgin olive oil

½ cup

Parmigiano cheese (or Pecorino)

2

handfuls fresh basil leaves

12

ozs pasta (optional, to make beet pesto pasta)
Instructions
Preheat oven to 400 degrees. Peel and chop the beets into roughly 1 inch cubed pieces.
Add the chopped beets to a baking dish. Toss with the 2 tablespoons olive oil and add salt and pepper to taste. Put the baking dish in the oven, and roast the beets until they have softened enough to pierce with a fork. This took 45 minutes in our oven, but check it around 35 minutes in case your oven is faster. When roasted enough, remove the beets to cool a bit. If using the beet pesto with pasta, this is a good time to start boiling the water for the pasta.
Add the garlic to a food processor, and pulse to mince the garlic. Next, add the roasted beets to the processor and pulse to chop the beets with the garlic.
Pour the olive oil into the food processor, followed by the cheese and basil. Turn the food processor on high to combine all the pesto ingredients. Remove cover, and stir to get any bits that haven't gotten incorporated into the pesto, and pulse the processor again to combine. This will create a nice, thick beet pesto. Pulse in a bit more olive oil if you want to thin the pesto a bit.
Set the pesto aside, and finish cooking pasta according to package instructions (or scoop the pesto into a bowl or container to serve as you wish). To serve beet pesto pasta, drain the pasta, and toss immediately with 1 tablespoon olive oil plus 2 to 3 tablespoons pesto. Plate the pasta, and pass extra pesto at the table along with Parmigiano chees.
Notes
We used basic red beets but you could experiment with other varieties.
Keywords: beet pesto, beetroot pesto, roasted beet recipes, creative pesto recipes
Recipe Card powered by
Mexican wine articles from #winePW
To learn more about Mexican wine and food pairings that work with it, be sure to check out all of these Wine Pairing Weekend articles!