Caprese Orzo Salad features tomatoes, fresh mozzarella and basil in a tasty vegetarian pasta salad recipe. The basil in this case is made into pesto for a zesty dish that is perfect for bringing to summer cookouts or picnics.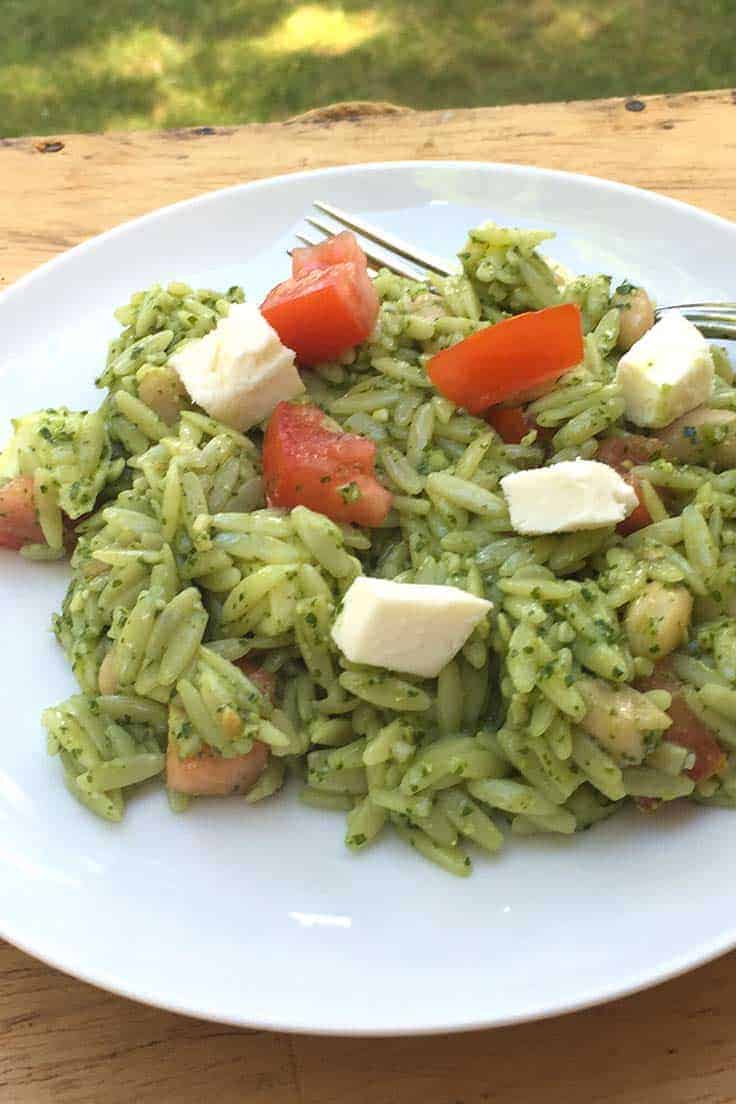 Over Fourth of July weekend, we had back to back social events with many of the same people. I wanted to make different things to bring to the two events, but didn't have a lot of time. So I decided to make a big batch of pesto and use it two ways. The first day, I made a mostly traditional Caprese salad, layering tomatoes, fresh mozzarella and basil leaves. I serve it with pesto in the center for people to scoop onto their salad for extra flavor. That was a big hit!
Fortunately, our friends really seemed to like the combination of tomatoes, basil and mozzarella, as our hosts also served an appetizer with those ingredients. Charlie served his dish on skewers, with balsamic vinegar added for flavor. It was interesting how the balsamic led to such a different taste to the dish, compared to the one I brought with pesto.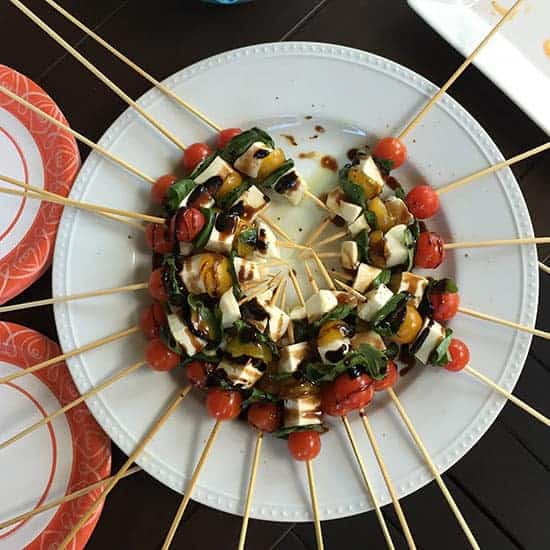 I still had plenty of tomatoes and mozzarella on hand for the second event, as well as pesto, so I decided to repurpose them in a Caprese orzo salad. This tasty recipe has the orzo coated with pesto, then tossed it with the tomatoes and fresh mozzarella. I added some cannellini beans for extra substance.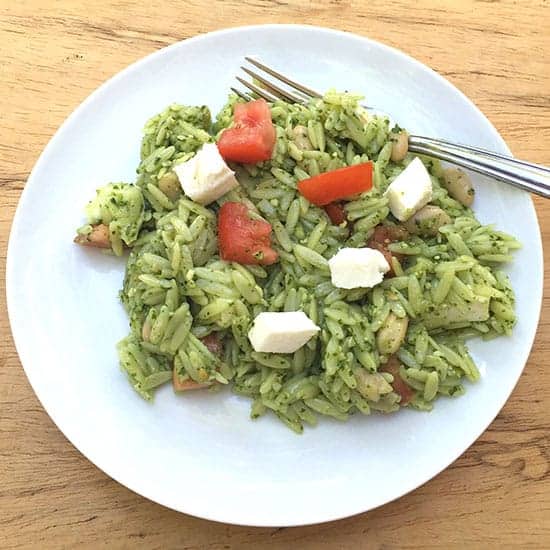 The Caprese Orzo Salad made for a great side dish to offer on the buffet table at the Fourth of July pig roast we went to. It is substantial enough to stand on its own as a vegetarian main course. I find many pasta salads to have limited flavor, but flavorful pesto helps avoid that problem!
Tips for Making Caprese Orzo Salad
One thing I do differently with the Caprese Orzo Salad compared to most other pasta dishes I make is to rinse the orzo with cold water after straining the cooked pasta. This helps keep the pasta from sticking, and it prevents the fresh mozzarella from melting too much. Lots of times we want cheese to melt into pasta and get nice and gooey, but for this recipe I wanted people to bite into those chunks of mozzarella. Just be sure to drain out all the cold water from the colander before you start mixing it.
I often toss my pasta in the cooking pan, but you definitely want to transfer the strained orzo into a mixing bowl to make the salad. Otherwise if you put the pasta back in the pan you will counteract what you just did to cool the pasta.
If you can time things to make the Caprese Orzo Salad about an hour before you will be bringing it somewhere, you can just leave it out and serve at room temperature. If making ahead and refrigerating, take the orzo salad out of the fridge an hour before serving to bring it closer to room temperature; the flavor of the pesto comes forth better that way. Add a bit of extra pesto right before serving it to freshen the flavors.
You will see in the recipe below I list pine nuts or pumpkin seeds as an ingredient. I stick with pumpkin seeds these days to make a nut-free pesto.
Print
Recipe card
Caprese Orzo Salad with Pesto
Caprese salad ingredients–tomato, basil and fresh mozzarella-take on a different twist in this orzo salad with pesto. Great dish to bring to a cookout or picnic.
Author: Cooking Chat
Prep Time:

15 mins

Cook Time:

15 mins

Total Time:

30 mins

Yield:

8

servings

1

x
Category:

Side

Cuisine:

Italian
2 cups

fresh basil leaves, rinsed and tightly packed

4

cloves garlic

¾ cup

extra virgin olive oil

¾ cup

Pecorino or Parmesan cheese

2 tbsp

pine nuts or toasted pumpkin seeds for nut free pesto

1

lb orzo

1 tbsp

olive oil

2

medium tomatoes, diced

6

ozs fresh mozzarella cheese, cut into cubes of 1 inch or slightly smaller

1

14.5 oz can cannellini beans, drained and rinsed
Instructions
Start the water boiling for the orzo as you make the pesto.
Make the pesto: Have a food processor at the ready. Put the basil into the food processor, and give it a quick whir to begin chopping the basil and make room for the other ingredients.
Add the garlic, and hit that food processor button again to get the cloves chopped up with the basil.
Add the remaining ingredients, and then puree to get everything well combined. Open the food processor, scrape the sides to get bits of garlic and basil that haven't been incorporated, then give the processor a final whir. Set the pesto aside.
Meanwhile, add the orzo to the boiling water. Cook according to package instructions, taking care not to overcook.
When cooked, drain the orzo in a colander. Rinse with cold water, tossing a few times to cool off the orzo and get all the water drained.
Transfer the orzo to a large mixing bowl. Stir in the remaining 1 tablespoon olive oil, and several scoops of the pesto. You want the orzo to be thoroughly coated with the pesto at this point.
Add the cannellini beans, tomatoes and another scoop of pesto, stir to combine.
Gently stir in the mozzarella cheese. Add additional pesto at this point if you like. Any remaining pesto can be offered alongside the serving bowl for people that want extra.
You can either serve this immediately or reserve for later use. Refrigerate if you won't be using within an hour or two; but bring out of the refrigerator for an hour before serving. Stir in an extra tablespoon of pesto right before serving to freshen it up.
Recipe Card powered by