Grilled Salmon with Mango Salsa bursts with summer flavor, and is so easy to make. We updated this recipe and paired it with a sherry wine for a Wine Pairing Weekend event, though we preferred our original white Burgundy pairing for this dish. Read on for more details about the dish and wine pairings, or or click here to jump ahead to the recipe.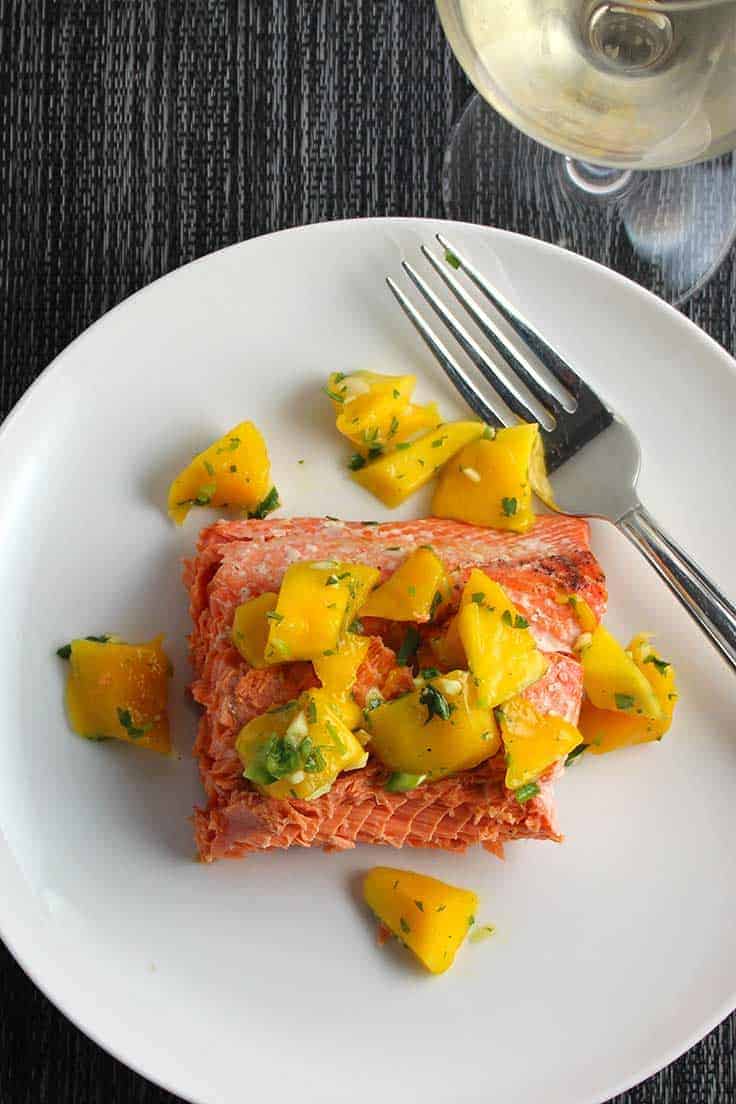 This month's Wine Pairing Weekend (#winePW) hosted by Jeff at foodwineclick is focusing on food pairings for sherry wine. I've had very limited experience with sherry, other than occasionally sipping a bit of the sweeter style sherry after dinner, perhaps with some dessert. But I'm always willing to try new food and wine adventures!
I read up a bit on food pairings with sherry, and realized there are many types of sherry, each with their own flavor profile and thus food pairings that go with them. At Pairings Wine & Food, they had several types of sherry from the same producer, each with a pretty detailed description of the wine along with suggested food pairings. Perusing those, I first thought I might grab the bottle that suggested it would go well with steak. Then as our 4th of July weekend filled up with cookouts where we'd be eating a lot of meat, I was ready to grill some fish when we had a night at home.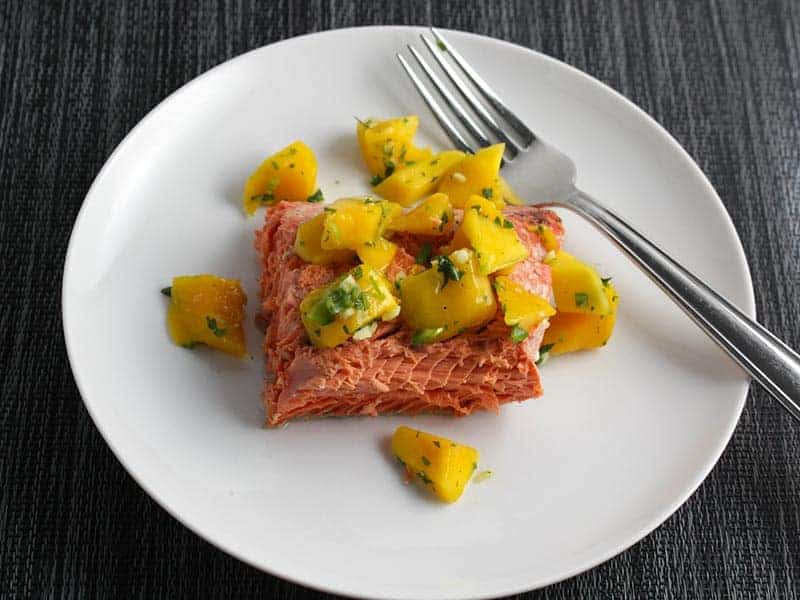 I was eager to re-make the Grilled Salmon with Mango Salsa I'd first prepared for one of our first Wine Pairing Weekend events back in 2014. I've updated my mango salsa recipe a bit, and it is a delicious topping for fish. So much freshness! It captures the flavors of summer and has you wanting to scoop more and more onto the salmon as you eat it. If you like salmon, you will want to try this delicious grilled salmon with mango salsa soon! Plus it takes just about 20 minutes to make, so this grilled salmon recipe can easily made on a weeknight, though it is certainly worth of a weekend night meal along with a good bottle of wine.
Wine Pairing for Grilled Salmon with Mango Salsa
In researching about sherry pairings, I came across the advice, "If it swims — Fino….". The bottle of Barbadillo Fino Sherry ($13, 15% ABV) agreed with this saying, suggesting that this sherry would go with seafood as well as Serrano ham and a variety of tapas.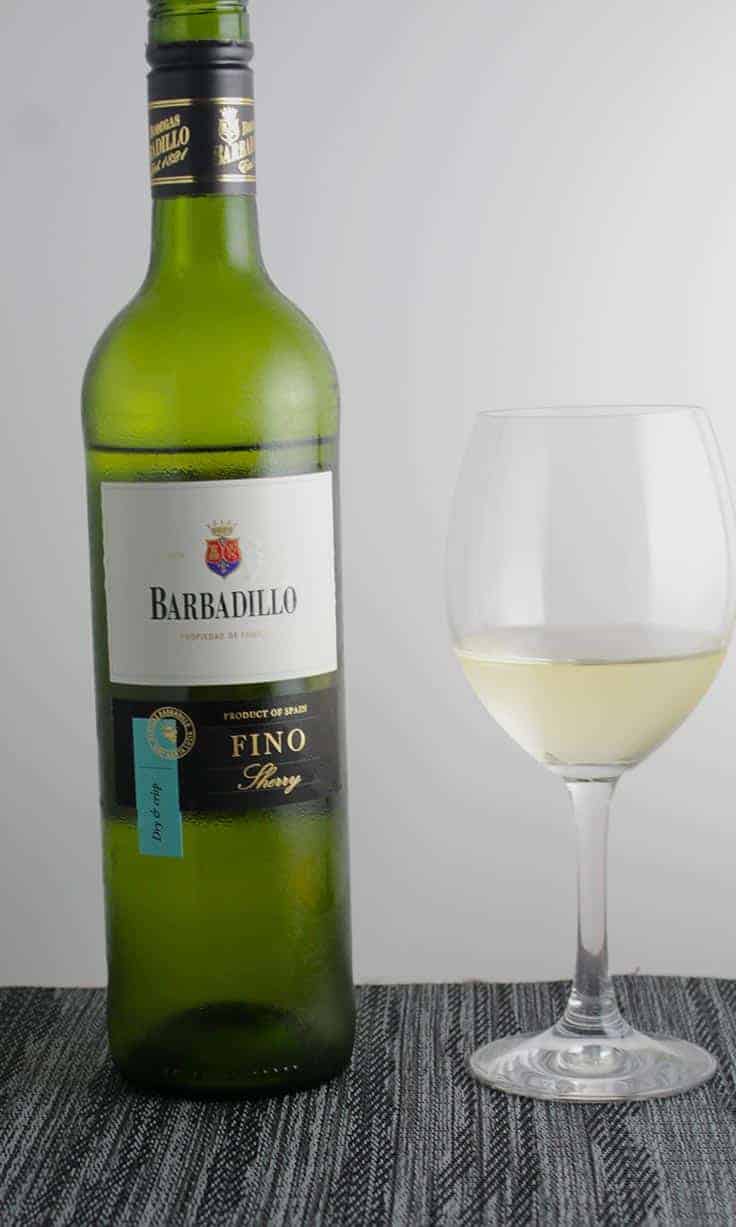 Not having a sense of what this sherry would taste like beyond the "dry and crisp" description on the label, I decided I was in the mood to remake my Grilled Salmon with Mango Salsa and serve with this Fino Sherry.
OK, so I was ready to begin this pairing experiment. I had the salsa made and set aside, so I poured a bit of the sherry to sample before grilling the salmon. Straw colored in the glass, I have to say the first thing that hit me on the nose was the alcohol. Some petrol too perhaps. Maybe that is par for the course with a fortified wine!
I tasted caramel on the palate, with notes of sourdough. I also noted that the sherry was quite "rough around the edges" on the first sips without food. Sort of an astringent quality, similar to the sensation I get from a very tannic wine.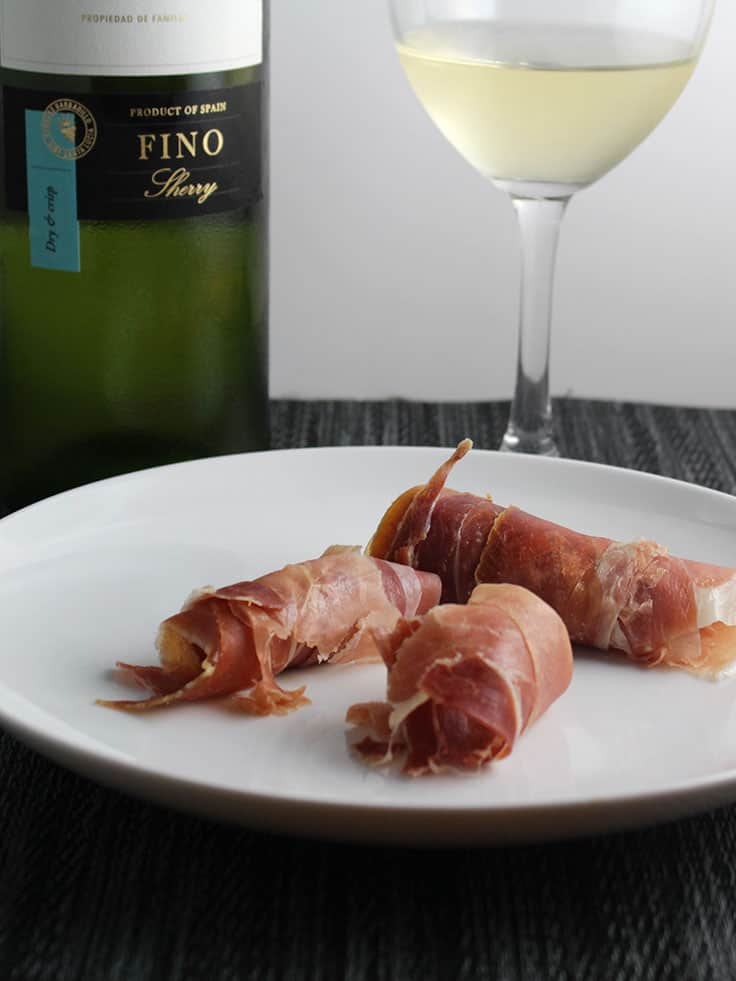 I nibbled a bit of Serrano ham, then took another sip, and the sherry was much more pleasant on the palate when it was following the salty ham. I was still warming up to the taste, but would definitely say the suggestion of fino sherry with Serrano ham is a good one. Perhaps this fino sherry might go well with the Serrano Ham Panini that I had previous paired with an IPA beer?
I'm afraid I can't report as favorably on the sherry paired with the Grilled Salmon with Mango Salsa. The light and bright flavors of the salmon and mango salsa dish did not mesh well with the caramel and astringent taste of the sherry. I'm thinking the seafood that would work better with this fino sherry would be something more like a seafood stew, or perhaps a pork and clam dish I recall having at a Portuguese restaurant.
Want a better wine pairing for Grilled Salmon with Mango Salsa? The 2012 Guffens-Heynen Macon-Pierreclos Le Chavigne white Burgundy we originally served with this salmon dish worked much better. The wine's notes of honey and clover led me to describe it as "summer in a glass" which is in keeping with the flavor profile of the salmon and mango salsa. I'm sure newer vintages of this or similar white Burgundies would work nicely with the salmon as well.
I wouldn't conclude that any Chardonnay would work well with this dish. Too much oak and/or butter would not pair well with the dish, you want something with some floral qualities to it. A rosé might work nicely here. I will have to make this Grilled Salmon with Mango Salsa again and do some more experimenting with the pairings!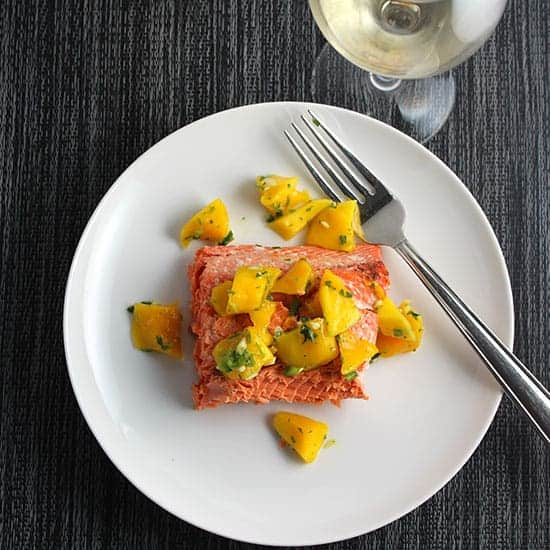 Print
Recipe card
Grilled Salmon with Mango Salsa
Quickly grill salmon then top it with a delicious mango salsa for an easy and healthy meal.
Author: Cooking Chat
Prep Time:

15 mins

Cook Time:

7 mins

Total Time:

22 mins

Yield:

3

servings

1

x
Category:

Main

Cuisine:

American
SALSA INGREDIENTS

1 ½ cups

chopped mangoes (

2

mangoes)

1

large garlic clove, minced

1 tsp

finely chopped jalapeño pepper

2 tbsp

cilantro, chopped

1 tbsp

fresh squeezed lime juice
GRILLED SALMON

12

to

16

ozs wild salmon

1 tbsp

olive oil
oil spray for the grill
Instructions
Make the salsa: combine all of the salsa ingredients in a bowl. Stir well to thoroughly mix the flavors. Set the bowl aside as you grill the salmon.
Grill the salmon: Rinse and pat dry the salmon fillet, then spread the olive oil over the flesh side and sprinkle a bit of salt to taste.
Place the salmon on the grill, skin side down. Grill covered for about 4 minutes, then gently turn the salmon to the flesh side. If the skin sticks to the grill, just place the fish on a clean portion of the grill.
Grill the salmon flesh side down for another 2 to 3 minutes, with the grill covered.
Remove the salmon from the grill. Let it briefly rest, then portion the salmon. Plate the salmon servings with a couple of scoops of mango salsa. Pass extra salsa at the table and enjoy!
Recipe Card powered by
Wine Pairing Weekend Pairings with Sherry
Come along and see what we discovered. Our posts are all live Saturday morning, July 9. Read up and join our chat on Twitter at #WinePW starting at 11 am EDT on Saturday, July 9. See you there!
Join our Wine Pairing Weekend group on August 13 with South African Wine Pairings!