Today we are talking about wines from the Côtes de Bordeaux region of France with the French Winophiles. I am sharing my recipe for Cheesy Beef Casserole along with other pairings that I tried. Disclosure: the wines were provided as complimentary samples.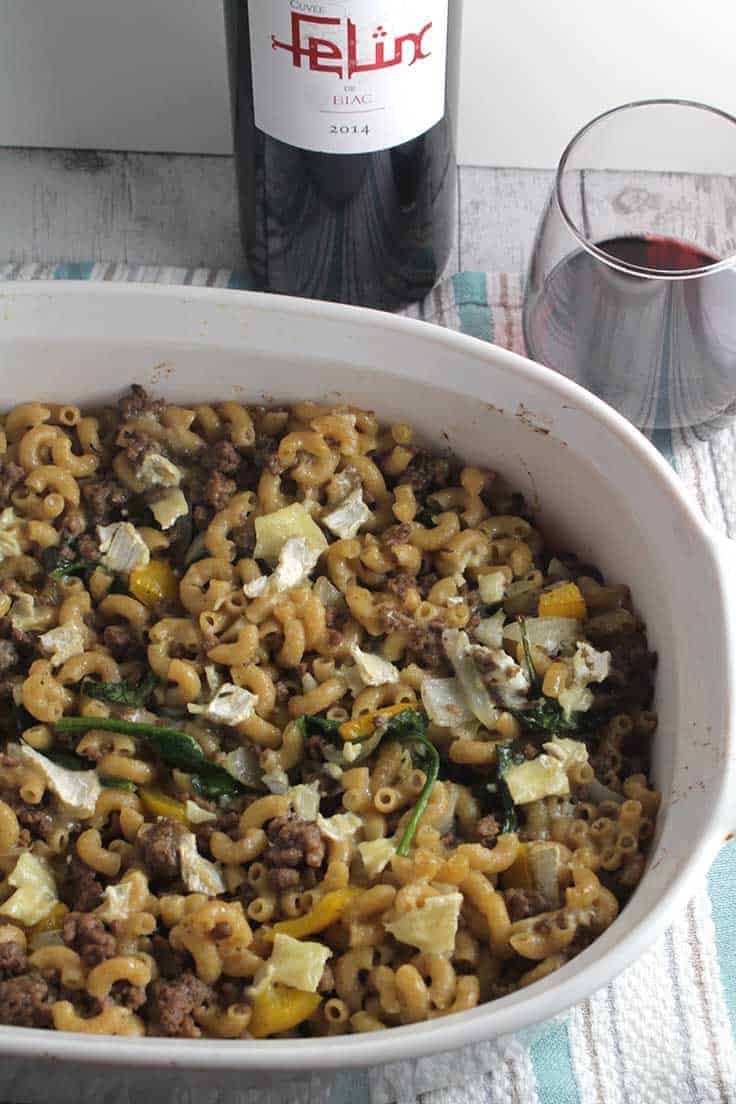 Today I am joining my fellow French Winophiles in exploring the Côtes de Bordeaux region. I prepared a Cheesy Beef Casserole to pair with one of the four bottles I sampled for the occasion, and will provide you with that recipe today. But first, let's learn more about Côtes de Bordeaux the region and some of the other pairings I tried.
About the Côtes de Bordeaux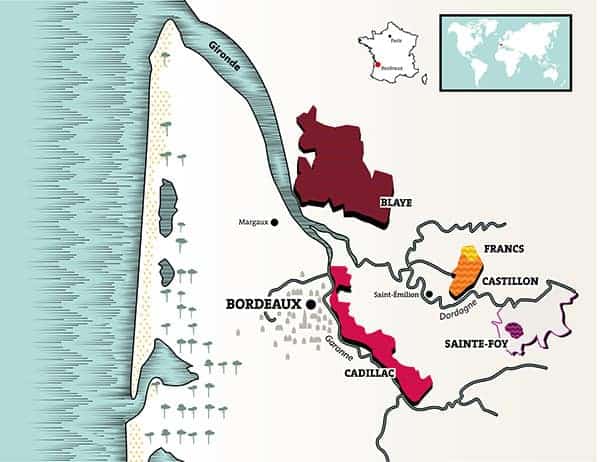 The Côtes de Bordeaux region is made up of five appellations — Blaye, Cadillac, Castillon, Francs, and Sainte-Foy — located on the right banks (côtes) of the Garonne and Dordogne rivers. This area is sometimes referred to as "Bordeaux in blue jeans" as small family-owned producers thrive here, unlike other parts of Bordeaux, typically dominated by large brands and producers.
Côtes de Bordeaux accounts for 10% of the production of Bordeaux, and 97% of Côtes de Bordeaux is red wine. However, be sure to give a Côtes de Bordeaux white a try– we really enjoyed the Sauvignon Blanc / Semillon blend we sampled…more on that coming up in a minute.
Maybe you a notion that Bordeaux is exclusively expensive wines meant for special occasions, when you are ready to splurge. You need to get to know Côtes de Bordeaux! These are everyday wines at affordable prices. They tend to be fruit forward in style, and ready to drink now…no need to put your Côtes de Bordeaux in the cellar for five years before you enjoy it!
Carl York, the head sommelier at Craigie on Main in Cambridge (on of my favorite restaurants, which unfortunately has closed, at least for now) puts describes the food friendliness of the Côtes de Bordeaux:
"The Côtes de Bordeaux have a big place at the table. If you like wine with food, there aren't many better choices for a Tuesday night than a bottle from Blaye, Cadillac, Castillon, Francs, [and Sainte-Foy]."
For another Bordeaux region with good value, check out our article on Pessac-Léognan wine.
Do you like wine with food? We sure do, so let's talk about some of the Côtes de Bordeaux pairings we tried.
Côtes de Bordeaux Wine and Food Pairings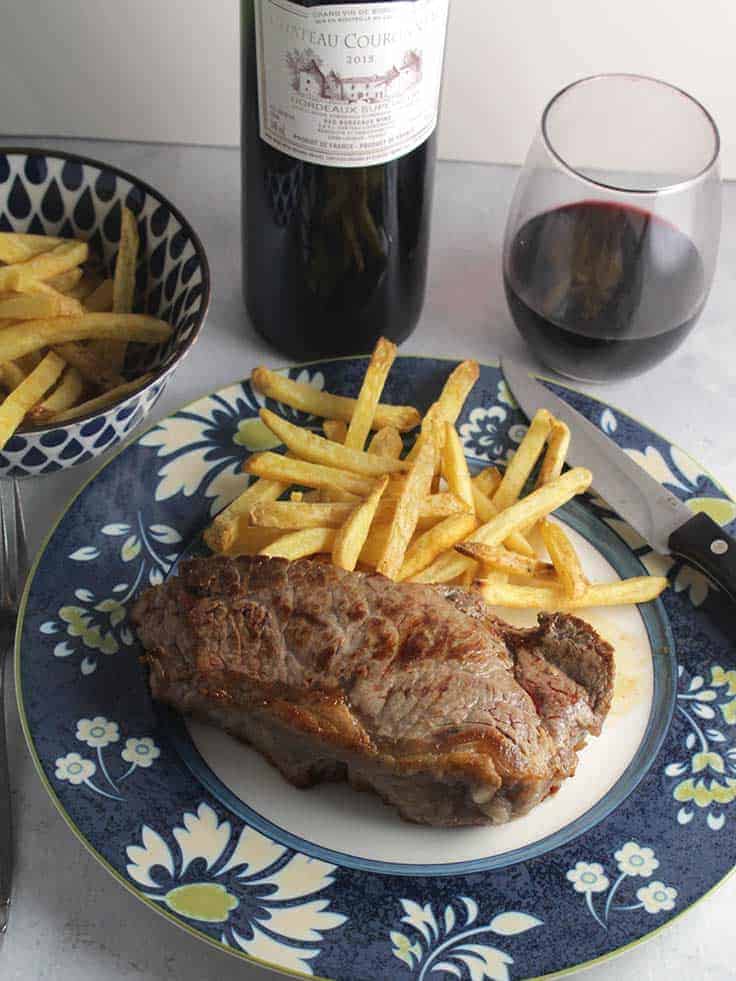 Let's start with the 2015 Chateau Couronneau ($19, 14.5% ABV), which I had with a version of steak frites, shown above. This wine is from the AOC Sainte-Foy Côtes de Bordeaux. I get rhodadendrum on the nose of the Chateau Couronneau, with cherry fruit and notes of licorice. There is also some noticeable acidity which makes it a good food wine. This bottle is 60% Merlot, 40% Cabernet Sauvignon.
Steak frites is of course a French classic. A simply prepared steak served with fries is a great choice at a French bistro. Here's a recipe on Epicurious that I prepared in preparing our steak. I cheated on the fries part, and put some frozen fries in the oven. In baseball season we need shortcuts from time to time! I definitely recommend this steak frites and Côtes de Bordeaux pairing.
We also loved the Chateau Couronneau paired with an Ossau Iraty cheese. The Côtes de Bordeaux with its bold flavors stood up well to the strong taste of this soft sheep's milk cheese from the Pyrenees. You will see a theme emerging about the Côtes de Bordeaux wines pairing very well with good cheeses!
I'm going to pause the discussion of the red wines from Côtes de Bordeaux we sampled to tell you about the one white Côtes de Bordeaux wine we tried. The 2016 Château Peybonhomme-Les-Tours ($20, 13.5% ABV). This white Côtes de Bordeaux is a blend of 50% Sauvignon Blanc, 50% Semillon. This white wine is from the Blaye Côtes de Bordeaux AOC.
I don't have white wines from the Bordeaux region very often, but tasting this Château Peybonhomme-Les-Tours might change that! I got lemon on the nose of this white Côtes de Bordeaux, and a bright hibiscus floral taste with citrus fruit. Good minerality and refreshing acidity in this medium bodied white wine.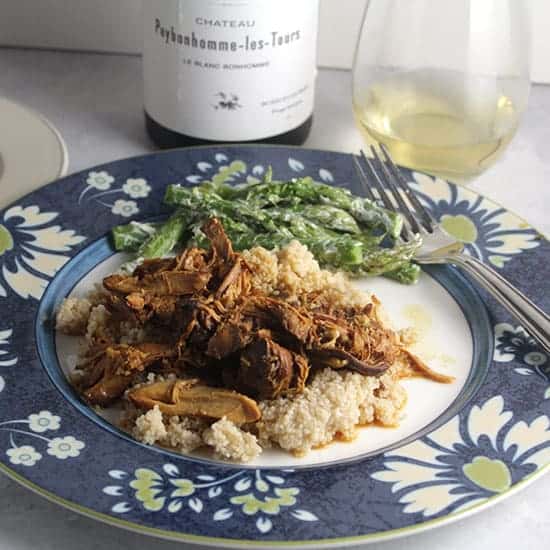 I made a crockpot honey mustard chicken thighs recipe, shown above. We really enjoyed this pairing; recipe coming soon! We also liked the white Côtes de Bordeaux with some leftover brie cheese, which we had start sampling with the next red Côtes de Bordeaux we will cover.
The 2015 Chateau Paret ($11, 14% ABV) is actually the first Côtes de Bordeaux we opened as part of this Winophiles event. I get blackberry fruit with hints of graphite. I noted the nice structure with firm tannins. The Chateau Paret shows that you don't have to spend a lot of money to enjoy a Bordeaux from the Côtes de Bordeaux region.
The Chateau Paret was excellent paired with some Brie de Meaux cheese. The strong soft cheese found a great partner in this red Côtes de Bordeaux.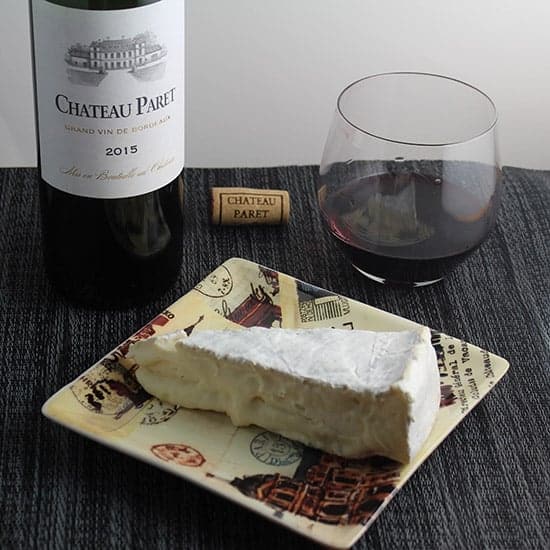 Despite how well the brie and Chateau Paret pairing went, we did manage to save enough of the wine to also enjoy some of it paired with a simple cheeseburger. This bottle is 85% Merlot, 10% Cabernet Sauvignon and 5% Cab Franc.
Chateau Paret is situated at Saint Genès de Castillon facing the Puisseguin appellation, in the Castillon Cotes de Bordeaux AOC. The winery has has been family owned since 1887.
Felix de Biac with Cheesy Beef Casserole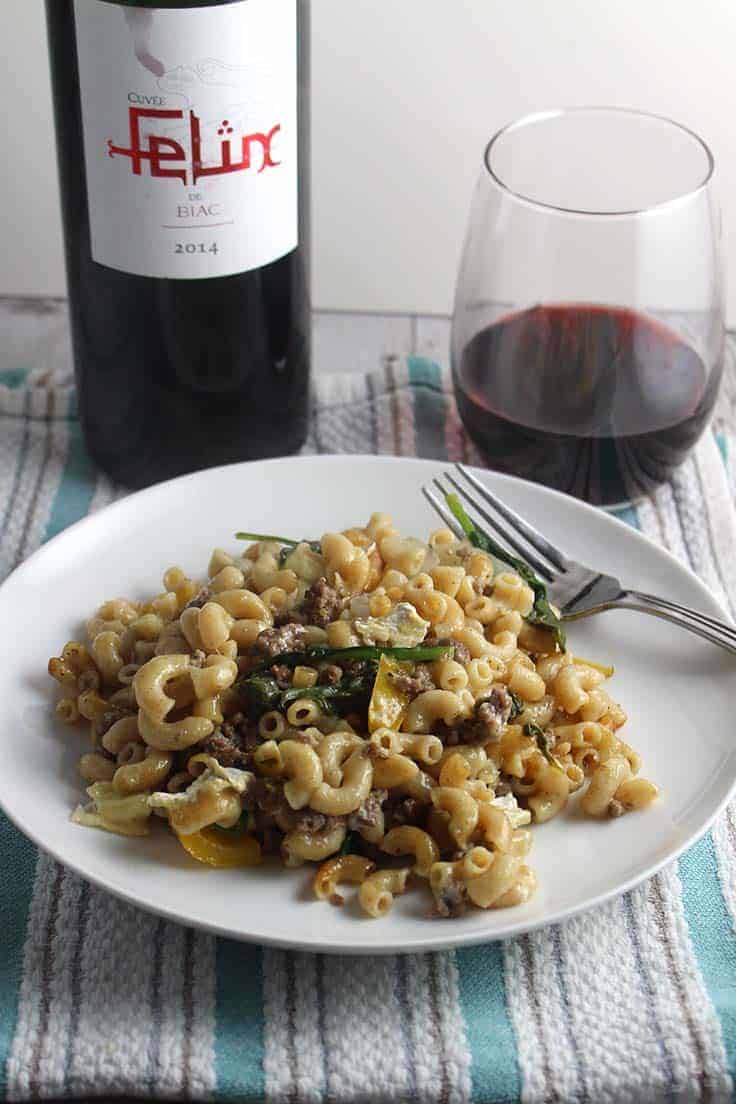 Now it's time to talk about the Cheesy Beef Casserole I cooked up to go with the 2014 Felix de Biac ($24, 13.5% ABV). The Cheesy Beef Casserole was inspired by the good cheese and Côtes de Bordeaux pairings we had leading up to this event.
I originally thought maybe I would grill some lamb chops to go with the the Felix de Biac, but last weekend once again was shaping up to be iffy for grilling. When my thoughts turned to indoor preparations, a cheesy beef casserole featuring some of the leftover cheese we had on hand seemed like a great idea.
The recipe makes good use of leftover brie–maybe pin this recipe for the next time you have extra brie on hand? I also used a couple ounces of goat cheese along with a little bit of Manchego. You could certain change up what cheeses you feature in this cheesy beef casserole recipe.
Basically you cook up some ground beef with some onions, garlic and a bit of pepper while the pasta cooks. When the pasta is ready, you combine the pasta with the beef mixture, then add the cheeses.
The Felix de Biac is from the AOC Cadillac Côtes de Bordeaux. The wine is comprised of 58% Merlot, 40% Cabernet Sauvignon and 2 % Cab Franc. I get violets on the nose, taste of blackberry with medium tannins. I also get a bit of pine on the palate with the Felix de Biac. A nice long finish and pleasant mouthfeel.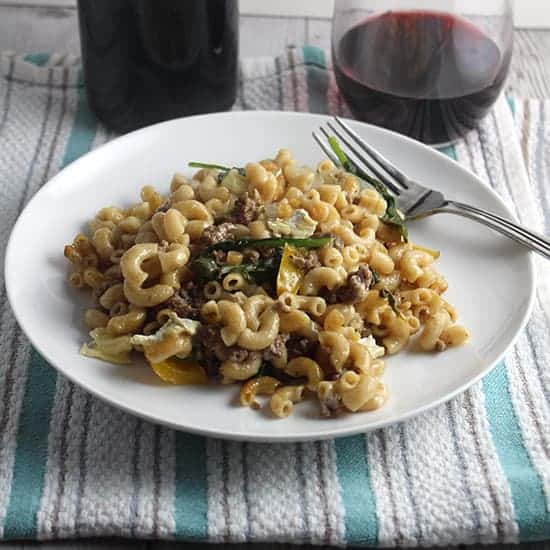 I was pleased with the Felix de Biac paired with our Cheese Beef Casserole. They wine and meal worked pretty well together…I would give it a B / B+ pairing. I would still like to try the Felix de Biac with some grilled lamb chops. I think I will pick up another bottle and wait for a sunny evening!
Overall, I came up with some good recipes to go with our Côtes de Bordeaux. I would say the honey mustard chicken thighs paired with the 2016 Château Peybonhomme-Les-Tours was my favorite. The cheese pairings also were a really great way to enjoy these Côtes de Bordeaux.
Côtes de Bordeaux wines are easy drinking, perfect for the summer time. Fruit forward, light on the tannins, and even the reds can be served slightly chilled. A nice touch for summer fare! So head to your local wine shop to pick up a couple of bottles. Try our Cheesy Beef Casserole and some of the other pairings I mention here, or come up with your own Côtes de Bordeaux pairings. Be sure to tell me about your pairings in the comments!
Print
Recipe card
Cheesy Beef Casserole
A hearty casserole with beef and a variety of cheeses, pairs well with a red wine from Côtes de Bordeaux.
Author: Cooking Chat
Prep Time:

10 mins

Cook Time:

35 mins

Total Time:

45 mins

Yield:

6

servings

1

x
Category:

main

Method:

baking

Cuisine:

American
1 tbsp

extra virgin olive oil

1 cup

onion, chopped

½ cup

yellow bell pepper, chopped

2

cloves garlic, minced

12

ozs ground beef

⅓ cup

chicken or beef broth
salt and pepper to taste

1 cup

baby spinach (or more if you like)

12

ozs elbow macaroni or other short pasta shape

¼ cup

brie, cut into small bite sized pieces

1 tbsp

manchego cheese

3 tbsp

Goat cheese
Instructions
Preheat oven to 400 degrees
Begin cooking the pasta according to package instructions. Proceed with the other steps as the pasta cooks. When the pasta is cooked al dente, drain the pasta and set aside in the pasta cooking pot while you finish cooking the beef.
Heat the olive oil in a large skillet. Stir in the onions and cook for a few minutes until the onion begins to soften.
Add the pepper and garlic, cook for a few more minutes.
Add the ground beef to the skillet, stir to combine with the veggies. Add salt and pepper to taste.
Stir the beef occasionally. After about 5 minutes, it will begin to brown. Stir in the broth at this time along with the spinach. Cook another 5 minutes until the broth is absorbed and the beef is cooked through.
When the beef is cooked, combine the beef and veggies with the cooked pasta. Stir in the goat cheese and Manchego cheese. Transfer the beef and pasta mixture to a casserole dish.
Spread the brie cheese evenly around the top of the beef and pasta mixture. Cover the casserole dish, and bake for 15 minutes.
Remove cover, and bake the cheesy beef casserole for another 5 minutes. Remove from oven, serve and enjoy with a glass of red wine from Côtes de Bordeaux.
Notes
I wrote the instructions putting cooking the pasta first as it flowed better that way. However, you can start to cook the veggies and beef before adding the pasta to the boiling water, in order to have the beef and pasta ready about the same time.
Recipe Card powered by
French Winophiles Visit the
Côtes de Bordeaux