Asiago Lemon Spaghetti: Spaghetti tossed with lemon and Asiago cheese for an easy and light pasta dish. We served it with a Greek white wine called Malagousia for today's Wine Pairing Weekend event.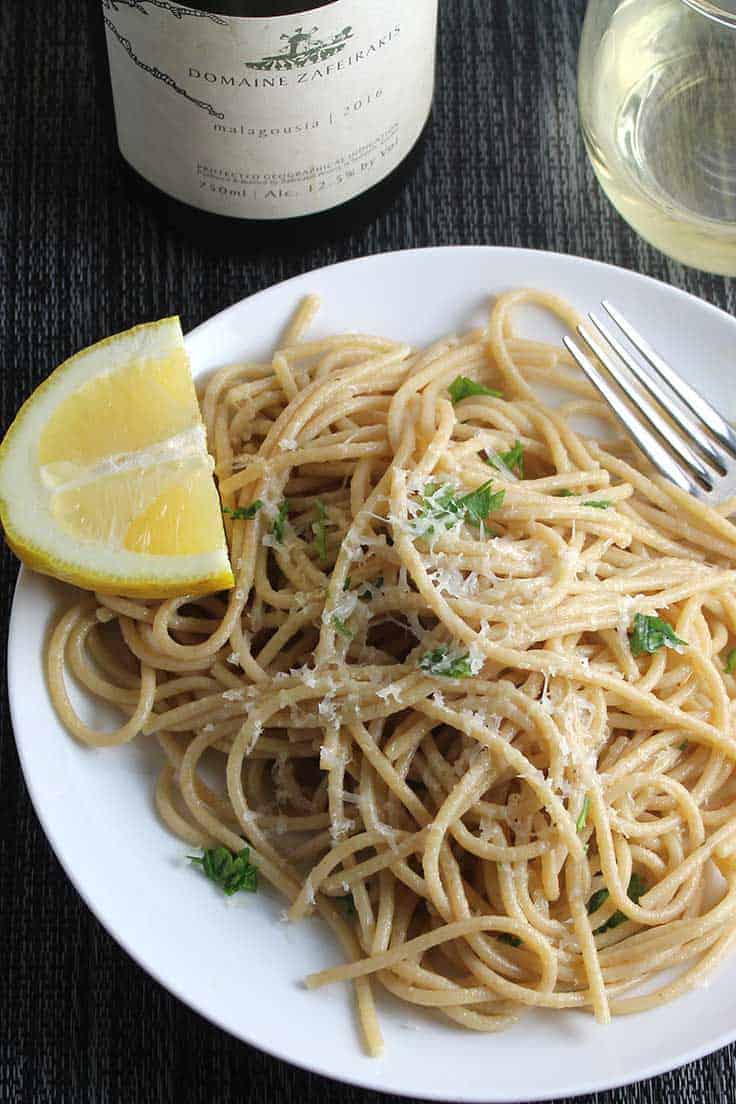 We are mixing it up with this month's Wine Pairing Weekend theme! We typically focus on a specific type of wine or perhaps a wine region. But this month, hosted by Lori from Dracaena Wines, we are talking about wines that start with the letter "M".
Sure, there are some obvious choices here, like Merlot or Malbec. But as someone who relishes trying new wine, I had to go off the beaten path for this one.
The timing was perfect. I had recently sampled some 28 wines at the Grand Pairing event hosted by Pairings Wine & Food. I scoured the list of wines from the event, and landed on the bottle of Malagousia for today's theme. I paired the wine with Asiago Lemon Spaghetti, which I'll talk about more shortly.
What is Malagousia wine?
Malagousia is a Greek white wine grape rescued from virtual extinction in the 1970s by a professor from Thessaloniki University, as recounted in this Decanter post. Once only found in a few mountain villages, Malagousia can now be found throughout Greece.
Malagousia can range in style from fresh and delicate to more full-bodied styles when it is barrel vinified.
Asiago Lemon Spaghetti
Each wine poured at the Grand Pairing event I mentioned was offered along with a food pairing, which helped thinking about pairings for the Malagousia wine. This Greek wine was served with Asiago cheese, and I recalled the pairing worked well. So I decided to make a dish featuring the cheese.
The Malagousia features citrus notes, so I thought a simple Asiago Lemon Spaghetti dish would highlight the nuanced flavors of the wine.
Making Asiago Lemon Spaghetti is so simple! Shred the Asiago cheese and assemble the short list of other ingredients as the spaghetti cooks. Drain the spaghetti, toss with the other ingredients, and your Asiago Lemon Spaghetti is on the table!
For another simple pasta recipe, try our Greek spaghetti!
Malagousia with Asiago Lemon Spaghetti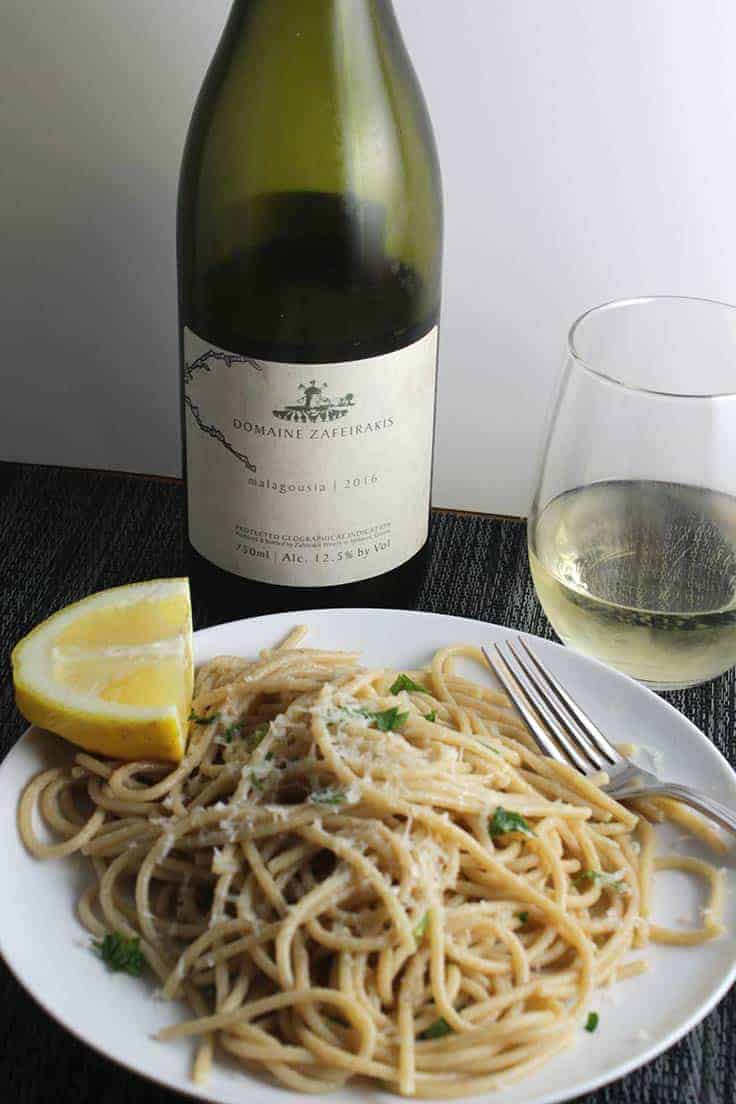 We opened the 2016 Domaine Zafeirakis Malagousia ($20, 12.5% ABV) to serve with our Asiago Lemon Spaghetti. Briny on the nose, with lemon fruit, floral undertones and notes of salinity. Medium/light bodied white wine.
As you might imagine, the lemony citrus aspects of the taste profile went well with the lemon spaghetti flavor. The salinity works well with the Asiago cheese, making this a nice pairing.I could also see this Malagousia working well with a light seafood dish.
The Zafeiraki Winery is located in region "Palaiomylos" in Tyrnavos. That location didn't mean much to me until trying this wine! Tyrnavos is a region near the foot of Mount Olympus, in the middle of mainland Greece. I hear a lot about Olympus and such things due to our son's interest in Greek mythology. Now I have another reason to be interesting in Greek culture–some wonderful new wines to try!
I definitely enjoyed this Malagousia white wine. I think my mother might too, so if there's another bottle left at the shop I will have to pick it up to share for Mother's Day tomorrow!
Print
Recipe card
Asiago Lemon Spaghetti
Spaghetti tossed with lemon and Asiago cheese for an easy and light pasta dish. This recipe can serve as a side or a light main course along with a green salad.
Author: Cooking Chat
Prep Time:

8 mins

Cook Time:

12 mins

Total Time:

20 mins

Yield:

4

servings

1

x
Category:

pasta

Method:

boiling

Cuisine:

Italian
12

ozs spaghetti

⅓ cup

Asiago cheese, shredded (plus extra to pass at the table)

3 tbsp

extra virgin olive oil

1 tbsp

fresh lemon juice (or more to taste)

⅓ tsp

garlic powder

1 tbsp

fresh parsley, chopped
Salt and pepper to taste
Instructions
Boil a large pot of water to cook the spaghetti according to package instructions.
When spaghetti is done, drain and toss immediately with 2 tablespoons of the olive oil, garlic powder, and parsley.
Stir in the Asiago cheese, followed by the lemon just and the remaining tablespoon of olive oil. Add salt and pepper to taste.
Plate the spaghetti, and offer additional lemon and cheese at the table. Enjoy!
Notes
Good quality Asiago cheese is key to making the dish a success. Get a block of good Asiago from your favorite local cheese shop or a good cheese department at a grocery store.
The lemon flavor with the 1 tablespoon of lemon juice is moderate (the amount from about ¼ of a lemon). You could go with 2 tablespoons of lemon juice for more pronounced lemon flavor. Or offer lemon slices at the table so those inclined can add more lemon–that's what we did and it worked well.
Recipe Card powered by
More "M" Wines from Wine Pairing Weekend
Jeff Burrows of FoodWineClick will be discussing "M" is for Marselan
Jill Barth of L'OCCASION explains Monterey Wines For Summertime
Camilla Mann of Culinary Adventures with Camilla enjoyed M is for Mourvèdre with Maple-Glazed Duck Legs
Cindy of Grape Experiences enjoyed an evening Wine and Dine: La Mora Favorites with Margherita Flatbread
Lauren of The Swirling Dervish is chatting about Dry Muscat from Málaga and Pork Paella (Wine#PW)
David of Cooking Chat enjoyed Asiago Lemon Spaghetti with Malagousia Wine from Greece #WinePW
Wendy of A Day in the Life on the Farm celebrated In the Merry Merry Month of May I Met Magistrate Merlot #WinePW
Gwendolyn of Wine Predator decided M is for Manchego Mac N Cheese and Malbec: 8 Wines, 4 Countries, 3 Continents #WinePW
Nicole on Somm's Table is Cooking to the Wine: Recanati Marawi with Black Cod and Papaya-Cucumber Salad, Part 1
Lisa, The Wine Chef paired Roast Chicken With Moorooduc Estate Pinot Noir From The Mornington Peninsula – The Best Australian Wine Region You've Never Heard Of #WinePW
and Dracaena Wines will be #WinePW Meets #Winephabet Street; M is for Moscatel
Join us next month on June 9th . The topic will be Australian Wines for Summer Grilling and Gwendolyn (@ArtPredator) of winepredator.com is hosting again!!!