Today we are talking about "Giving the Gift of Wine" as our Wine Pairing Weekend theme. So I'm excited to talk about Christmas Wine Gifts, sharing some tips and great bottles to give! Read through the whole article, or jump ahead to the following sections: Tips for picking Christmas wine | Printable Christmas Wine Shopping List | Wine accessories to give | More Wine Gift Ideas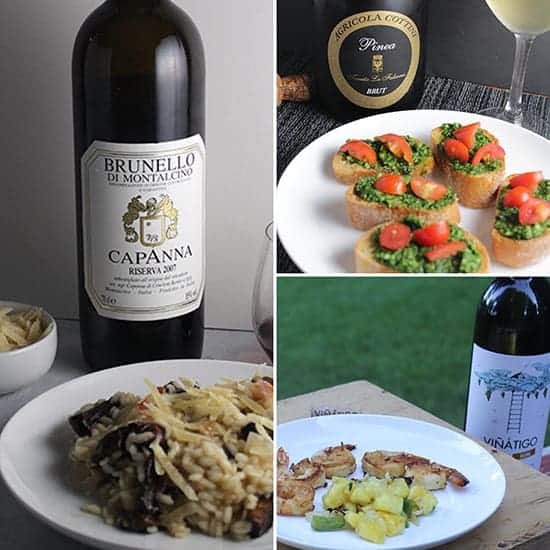 I always feel a good bottle of wine, makes a great gift, particularly if it reflects a little bit of thoughtfulness. I'm particularly keen on wine as a great gift having recently been given a wonderful bottle of Brunello, which I paired with a delicious Roasted Portobello Mushroom Risotto.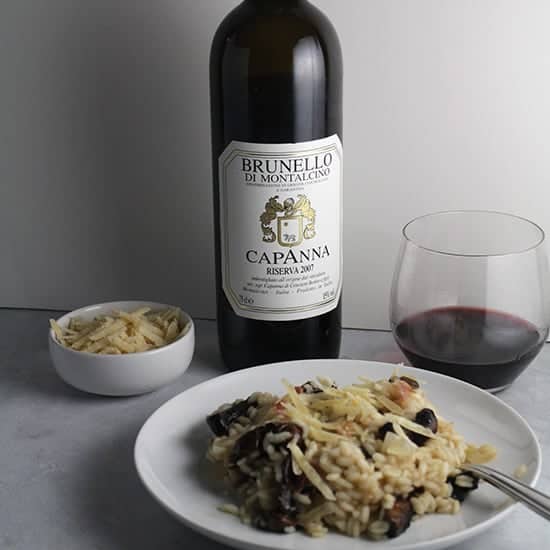 Christmas Wine Gifts: Tips for finding a bottle to give
Here's my collection of tips for finding a great bottle of wine to give for Christmas or other special occasion. What would you add?
Know thy gift recipient My first tips for Christmas wine gifts is to know something about the gift recipient's interest and to pick a bottle accordingly. Generally I like to pick out a bottle of wine someone wouldn't pick out for themselves, but that I think they would really enjoy. And maybe open up their wine drinking experience to some new categories that they have previously tried.
Expand horizons…but not too much! I'm generally not a fan of simply buying a wine that someone gets for themselves frequently. If they are always drinking California Chardonnay, maybe try getting them a white Burgundy (also Chardonnay but very different style). The Gautheron Premier Cru Chablis is one good, reasonably priced bottle (about $25) we sampled recently. Or maybe a white Rhone blend, which is another full bodied white that might appeal to your Chardonnay fan.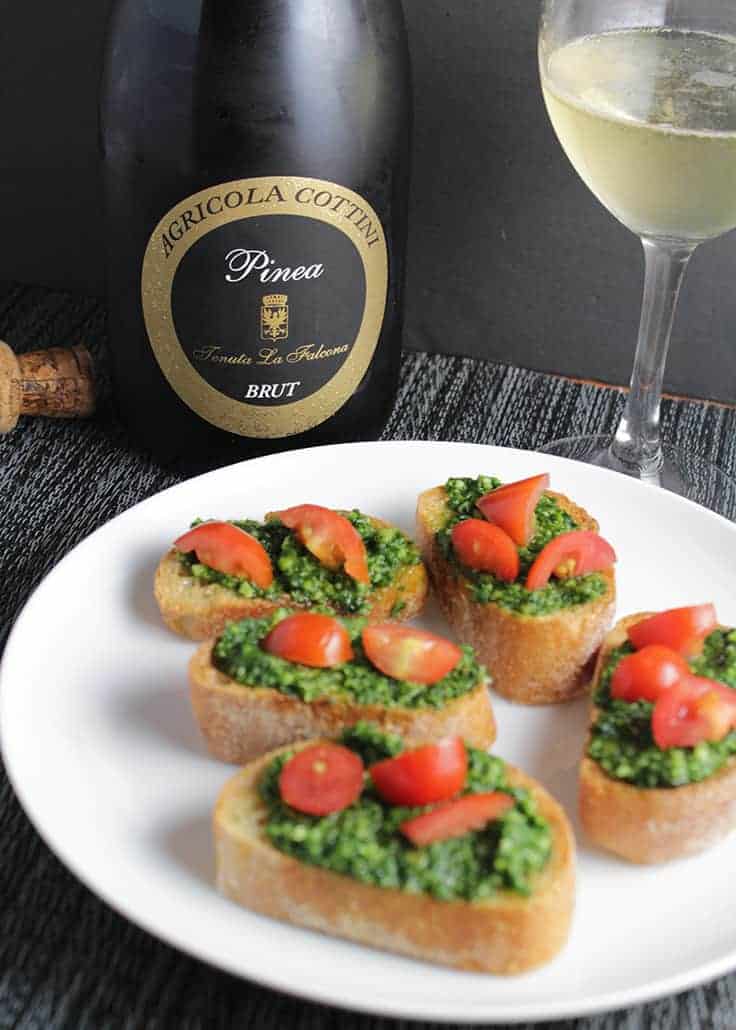 Bubbly is a solid option Sparkling wine is always a solid option as a Christmas gift, with New Year's Eve soon to follow. For a serious wine drinker, you might want to spring for the real deal, Champagne. Though Champagne tends to be on the pricey side, you can find some values relatively speaking. For instance, I loved the J.M. Gobillard & Fils Brut Tradition Champagne ($38, 12.5% ABV) we sampled recently. But many of the wine fans on your list would be happy with lesser priced bubbly. Prosecco tends to be popular, and Cava is another affordable option. Another great sparkling wine choice I like is the Agricola Cottini Tenuta La Falcona Pinea Brut Sparkling Wine ($16, 12% ABV).
France beyond Burgundy & Bordeaux Christmas wine gifts from the big name French wine regions is going to cost you. If you've got a serious oenophile on your list, by all means, go for it! But you can get some great quality wine for some good values if you look elsewhere. For instance, Beaujolais produces some high quality, food friendly wines that are rarely going to be much higher than $20. We did a French Winophiles sampling from Beaujolais recently. All four we tried were very good; I especially liked the 2015 Brouilly Tradition from Domaine de Briante (13.5% ABV, $15 SRP, received as complimentary sample) . The Langeudoc is another great source of great value wines of increasingly higher quality these days.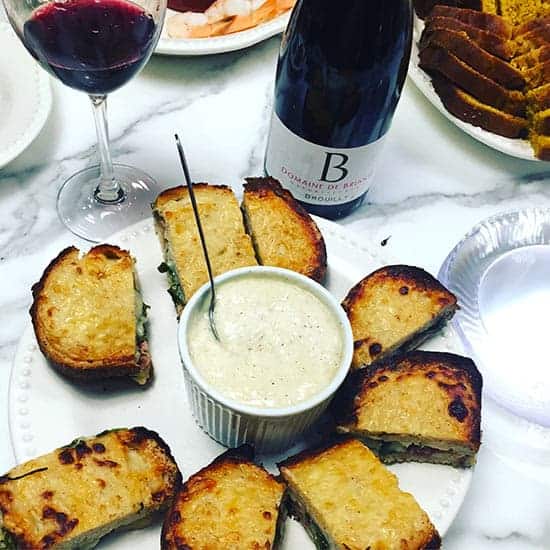 Italy for a treasure trove of interesting wines If you want to expand someone's wine horizons a bit with your gift, Italy has so many great options. Someone who prefers a crisp Sauvignon Blanc might really for for a Grillo from Sicily or a Falanghina. For instance, we enjoyed the 2015 Aia dei Columbi Falanghina ($15 , 13.5 ABV) with some curry. Maybe give them a gift card for some Indian takeout to go with this bottle? In the red department, La Sabbiona Centesimino ($20) and the Leo Bussoletti Ciliegolo ($18, 13% ABV) are great examples of high quality wines that drink way beyond their price, made from native Italian wine grapes. I got these Italian reds at Pairings in Winchester, MA, and they are distributed by Mucci Imports if you want to try to track them down.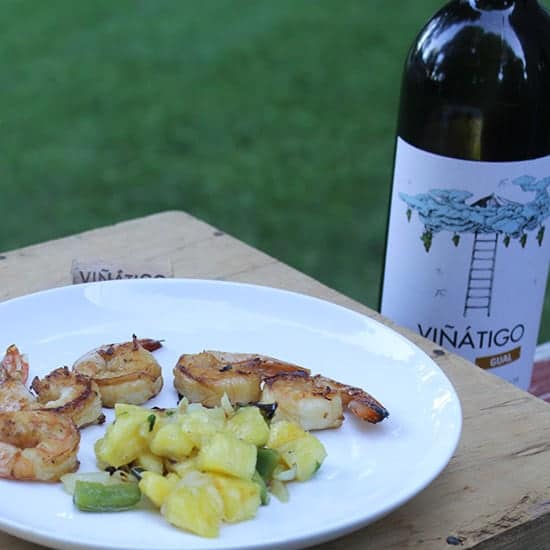 Lesser known wine regions There are places that might great wine that fly under the radar in the United States. Two I've come to enjoy recently are the Canary Islands and Georgia (the country, not the state). The volcanic soils of the Canary Islands produce some great whites like the Vinatigo Gual (appx. $22, 13% ABV) and great reds made from Listan Negro. We really liked the 2013 Monje Hollera Listan Negro (appx. $17, 13% ABV) paired with Pork Tenderloin with Onions.
Get to know a local wine shop: If you don't already have a relationship with a good local wine shop, Christmas shopping is a great time to do so! In addition to helping you pick out good bottles to give, they are likely to have a variety of gift baskets and possibly mixed cases or half cases of wine that would lend themselves to holiday giving.
Share from a winery you know: If you've had a chance to visit a winery and/or get to know a winemaker, a bottle from that winery can make a great gift. For instance, Elisabetta Fagiuoli is the owner of Montenoldi in Tuscany that makes some wonderful wine. This wiry woman well past typical retirement years has visited Pairings a couple times and shared her passion for her excellent wines, which I try to relay when passing on one of them as a gift. Then there's Dracaena Wines in Paso Robles, founded by a #winePW member and her husband. Their 2015 Paso Robles Cabernet Franc ($32, 14.3% ABV) is definitely gift-worthy!
Just give a great bottle! You may have come across a great bottle of wine that doesn't check off any of the points above. That's a OK, if you've tried a bottle of wine and love it, share it as a gift anyway! Some recent gift-worthy favorites I have not mentioned yet include the 2014 Duckhorn Three Palms Vineyard Napa Valley Merlot ($98, 14.5% ABV), and 2014 Trilogy Red Wine ($80, 14.2% ABV), a Cabernet Sauvignon based blend from Napa. And just yesterday at Pairings I sampled a great lineup of gift-worthy wines including the Cantina del Pino Barbaresco ($42) and Chateau Haut-Mayne Sauternes ($22).
Christmas Wine Shopping List
We've put together a list of 21 wines that we have sampled that would make great Christmas wine gifts. Right click to grab the image and print it to take to your local wine shop! As noted, we found most of these at Pairings Wine and Food in Winchester, MA, if you happen to be in the area.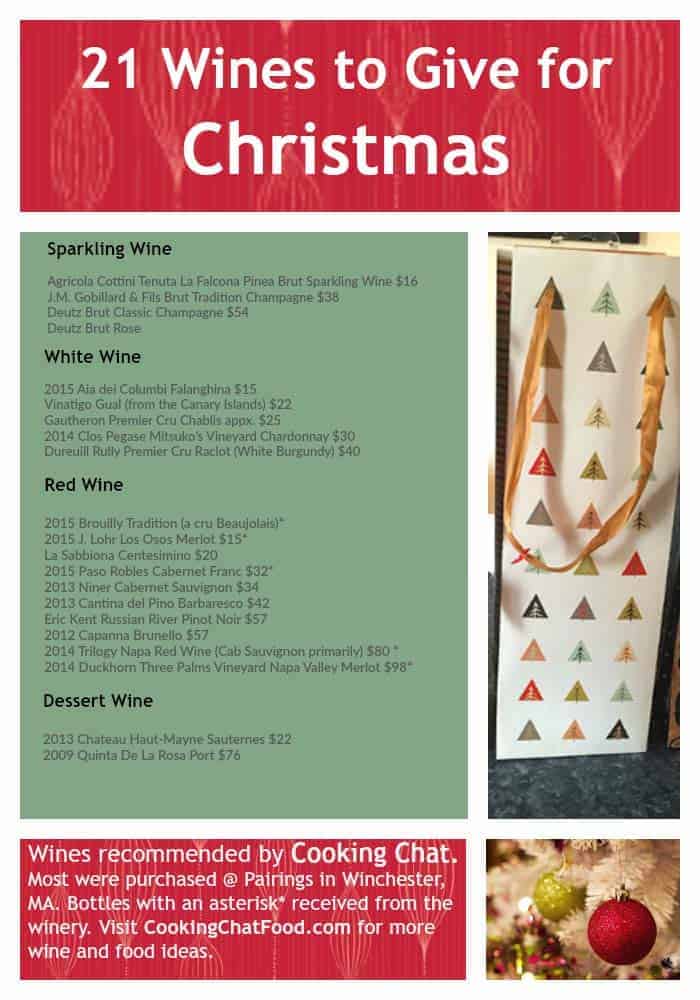 Christmas Wine Gifts Beyond The Bottle
While a good bottle of wine is a great way to please the wine lover, there are a number of wine accessories and other wine related gifts that are wonderful to give, too. Here are some ideas of products I think would please your wine fans. Disclosure: Amazon affiliate links are used here, meaning I would make a small commission if you make a purchase using the links.

Coravin Model One Wine System  The Coravin is definitely a great gift for the serious oenophile. A fast pouring needle allows access to wine without cork damage, allowing it to reseal and continue protecting the wine. This is a great way to get a glass or two out of an expensive bottle of wine while keeping the rest for future use. I don't have one yet, but have tried wine extracted with Coravin at Pairings so I can attest to how well it works. Though priced north of $200, this item is worth the investment when you consider the wine you are able to save for later enjoyment. 
Winco Champagne Bottle Stopper A more modestly priced idea (under $20) for keeping wine for the next day. I have one of these Champagne bottle stoppers and love it! You can have a couple glasses of sparkling wine and then use this stopper to preserve the bubbles for the next day, or even two days.
Wine Decanter and Drying Stand I have just added this item to my own wish list! A decanter is great to have available for letting wines breathe. This is particularly helpful for a young red wine with aging potential–a current vintage Bordeaux or a Brunello, for instance. The problem I've had with decanters is they have gotten knocked over when we prop them with other dishes to dry. This problem is solved with a drying stand!
Giving the Gift of Wine: #winePW blog topics
Here are the topics the #winePW crew will be covering:
Jade from The Tasting Pour will tell us "How to Choose a Wine Gift"
Jeff from foodwineclick will share "Holiday Wine Gift Ideas: Not Just Any Champagne"
Cindy from Grape Experiences will post "Wines from The Hess Collection – Will You be Naughty or Nice?"
Here on Cooking Chat we will write about "Christmas Wine Gifts: Tips and Bottles To Give"
Wendy from A Day in the Life on the Farm will share "Spreading Christmas Cheer"
Michelle from Rockin Red Blog is telling us "How to Give the Gift of Wine"
Gwendolyn from Wine Predator will share "Grateful for Good Gifts, Good Stories with Wineries from Napa Good Gifts"
Culinary Adventures with Camilla is talking about "Sips Worth Sharing"
Jennifer from Vino Travels is covering "Holiday Wines with a Sicilian Flair"
Lauren from The Swirling Dervish is blogging about "Family, Food, and Wine: The Gift of Memories"
Jill from L'Occasion will share "Wine Wrapped Up: The L'occasion Gift Guide"
Be sure to check on Saturday morning for these great articles! We will also hold a live Twitter chat on Saturday, Dec. 9., 11 am Easter Time / 8 a.m. Pacific. Just tune into the #winePW hashtag on Twitter at that time to join the conversation. You can check out past and future #winePW topics by visiting this page.