Hearty and creamy Portobello Mushroom Risotto is delicious paired with a Brunello di Montalcino, an elegant Tuscan red wine. Read on for details about the risotto and wine pairing, or click here to jump down to the recipe.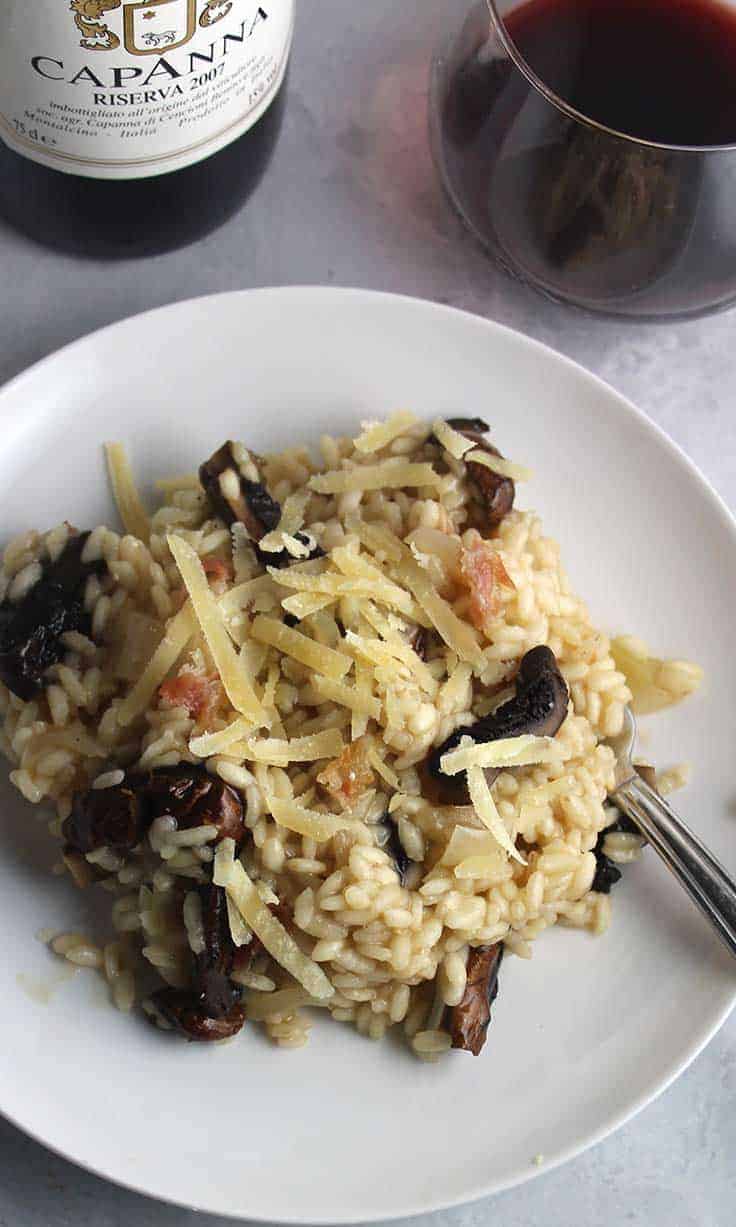 This Roasted Portobello Mushroom Risotto recipe started with the wine. Not unusual around here.
I received a bottle of 2007 Brunello as a gift from my Social Capital Inc. board and committee members at a recent anniversary dinner we had. They certainly know me well to pick out a special bottle of wine as a gift! As we will are discussing for the December Wine Pairing Weekend event, a good bottle of wine can make a great gift!
"What food pairs well with Brunello?" I asked. Bistecca All Fiorentina, also known as Tuscan Steak in English, is the most common suggestion that comes up in terms of food pairings for Brunello. Definitely sounds like a pairing to try, but beef was already on the weekend menu and so I wanted something different.
I also came across the idea of pairing grilled portobello mushrooms with Brunello, and so I decided to go in that direction for my pairing. I hadn't made risotto in quite awhile, so decided to make Roasted Portobello Mushroom Risotto to go with our Brunello.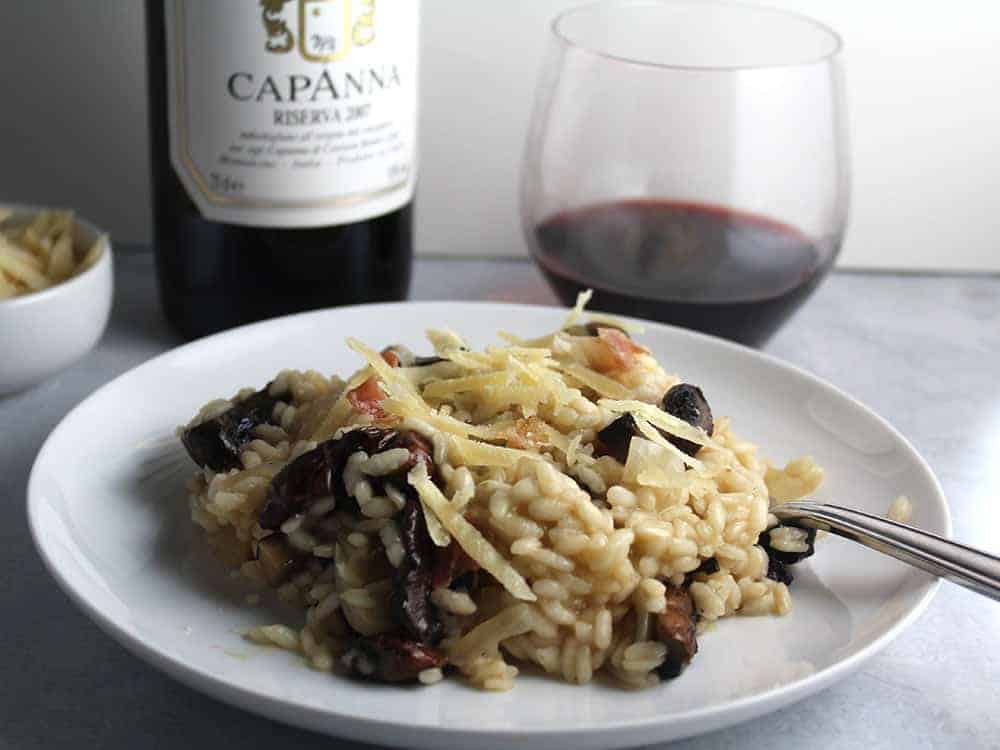 The result: creamy risotto with rich meaty portobello mushrooms, along with a bit of procsiutto and truffle salt for added flavor. Oh yes, this is perfect Italian comfort food, and a great partner for a Brunello.
How to make Roasted Portobello Mushroom Risotto
The portobello mushroom risotto instructions are pretty straightforward in the recipe card below, but I'll just mention a few key pointers, especially for those new to risotto.
First if you are quite new to risotto, you might ask what kind of pasta is risotto? Yes, risotto is creamy and Italian but it is not pasta! Risotto means rice in Italian, and it is typically made with arborio rice. However, other hearty rice and grains can be prepared using the method for cooking traditional risotto.
The method for cooking risotto is a bit labor intensive, but worth it. After sautéing some onion and garlic, you stir in the rice, and then cook it by gradually adding liquid until the rice is soft and ready to mix with other ingredients to serve.
You don't have to stir the risotto constantly, as some might suggest. But you do need to stir frequently and monitor it, so don't go too far.
For this Portobello Mushroom Risotto, I started by roasting the portobello mushrooms with sprigs of rosemary. I am more likely to grill mushrooms, so I consulted this recipe for my roasting time and method.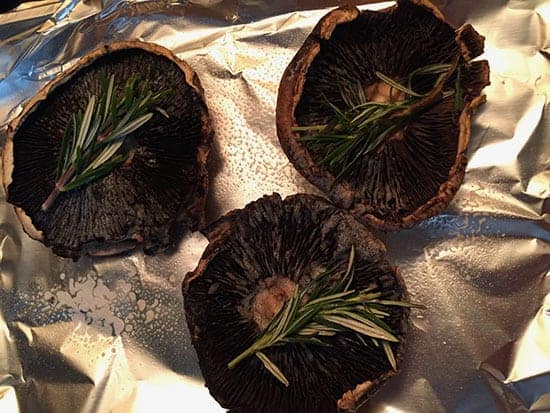 As the mushrooms roast, I crisp prosciutto in the pot that will get used for risotto. That leaves some nice salty savory flavor for the risotto to pick up. Once you get the prosciutto crisped, you are into the basic risotto making routine I mentioned.
While I like the flavor provided by the prosciutto, you could certainly skip it to make this a vegetarian risotto. If you go in this direction, perhaps stir in a few olives at the end of cooking to give it that little bit of saltiness.
In this portobello mushroom recipe, the rice cooks with just the cooking liquid, onions and garlic until the end. When the rice is tend, then it is time to stir in the mushrooms and prosciutto, followed by the cheese. Now you are ready to sit down and enjoy the dish with a great bottle of wine!
Portobello Mushroom Risotto Paired with Brunello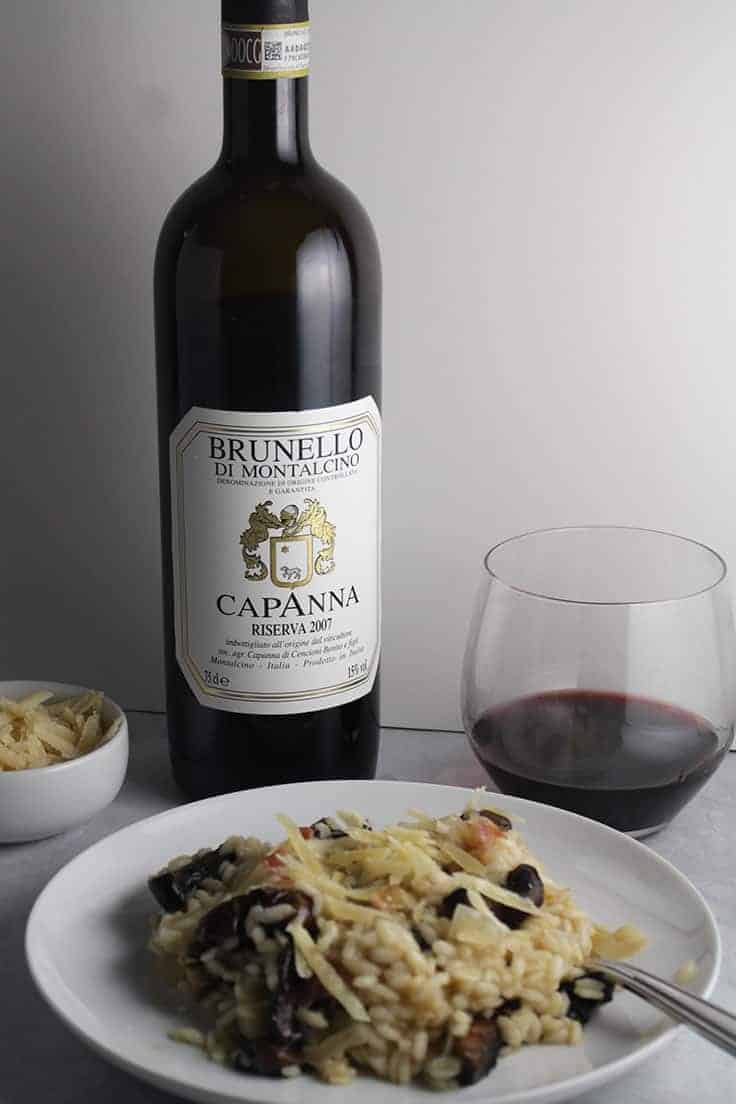 So the wonderful wine gift I received was the 2007 Capanna Brunello di Montalcino Riserva (15% ABV). When I first went to sniff the wine, my first reaction was "Wow"! It was like I had opened a cedar chest, not a subtle nose at all. Taste of cherry fruit and a touch of licorice and slate undertone. A long, elegant finish. Good from the first sip and opened up further in the glass. Drinking very well now, but I would say this Brunello will continue to evolve for a number of years.
The Portobello Mushroom Risotto was a very good partner for the Brunello. You definitely need big flavors to go with this Brunello; the combination of the portobello mushrooms and cheesy risotto did the trick. You definitely want to use good quality Italian Parmiggiano for the risotto. Also, the addition of rosemary flavor to the mushrooms created another nice flavor bridge to the wine. The prosciutto didn't hurt, either!
Brunello is actually a fairly new wine relative to its venerable Italian counterparts. Brunello di Montalcino is made from 100% Sangiovese from vineyards around the Tuscan village of Montalcino. The Capanna Brunello is made from old vinces, and aged in Slavonian oak barrels for about 4 years.

Print
Recipe card
Roasted Portobello Mushroom Risotto
Roasted portobello mushrooms brings great flavor to a creamy risotto. Crispy prosciutto further enhances this tasty Italian dish.
Author: Cooking Chat
Prep Time:

10 mins

Cook Time:

45 mins

Total Time:

55 mins

Yield:

6

servings

1

x
Category:

Main

Cuisine:

Italian
2 tbsp

olive oil, divided

1 oz

prosciutto, about

4

slices

3

portobello mushroom caps

3

sprigs rosemary

1

medium onion, finely chopped

3

cloves garlic, minced

7 cups

chicken stock

2 cups

arborio rice

⅓ cup

white wine

½ cup

parmesan or romano cheese, plus additional cheese for serving
truffle salt or truffle oil (optional)
pepper to taste
Instructions
Preheat oven to 400 degrees. Brush the mushroom caps with 1 tablespoon olive oil. Place the mushrooms gill side up on a baking tray. Lay 1 sprig of rosemary over each of the mushrooms. Place the mushrooms in the oven.
Roast the portobello mushrooms for 10 minutes, then turn the mushrooms over to to roast for another 10 to 15 minutes. Remove the mushrooms to cool when they have cooked through. Set mushrooms aside, and cut into bite size pieces when the mushrooms have cooled a bit.
As the mushrooms are roasting, start working on the risotto. Bring the stock to a simmer, then reduce heat to keep warm.
In another large nonstick pot, add the remaining tablespoon olive oil. Heat on medium, then add the prosciutto. Cook about 5 minutes until the prosciutto browns, then remove the prosciutto and set aside. Break the prosciutto into bite sized pieces to add to the risotto later.
Add the onions sauté until the onions start to get soft, about 5 minutes. Add the garlic and sauté for another minute.
Add the rice, stir to get it evenly coated with onion mixture, about 2 minutes. Add ⅓ cup of wine, cook until it is absorbed.
Add a ladle or two of broth to the rice, stir in and cook until the broth is absorbed. Add another ladle of broth and repeat process. Stir frequently throughout the risotto cooking.
Once all or most of the liquid has been absorbed and the rice is tender to the bite, you are ready for the mushrooms & finishing touches. Gradually cooking the risotto takes about 30 minutes.
Stir the mushrooms and about ½ of the prosciutto into the risotto, then stir in the cheese. Add pepper to taste, and a healthy pinch of truffle salt if you are using it.
Plate the risotto, and top with a bit more prosciutto. Pass extra cheese at the table, and enjoy the portobello mushroom risotto with a good Italian red wine.
Recipe Card powered by