Today we explore Food-Friendly Red Wine from Beaujolais. We were sent 4 complimentary bottles to sample along with a group of other French Winophiles bloggers. As always, the opinions here are entirely my own!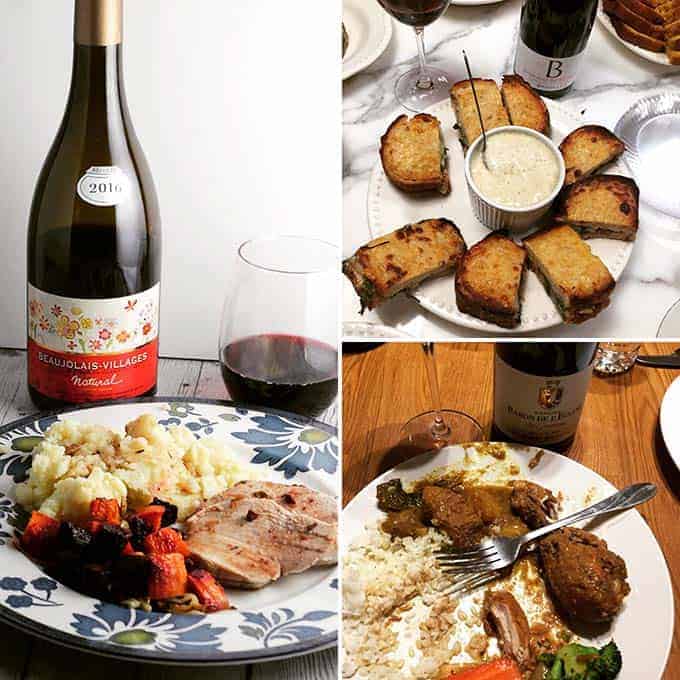 I was eager to jump on the opportunity to sample a lineup of different Beaujolais wines with my fellow French #Winophiles bloggers. For some time, I have appreciated Beaujolais as a very food-friendly red wine.
I have to credit Chef Tony Maws and his Craigie on Main restaurant for my pointing me in the direction of Beaujolais to pair with a wide variety of foods. The Cambridge restaurant's wine list has a good selection of Beaujolais wines, as well as choices from other under-appreciated French wine regions. Sampling a few high quality Beaujolais for very reasonable prices, and seeing how well the wine goes with food, made me a definite Beaujolais fan.
What makes Beaujolais red wine food-friendly?
First, some basics about Beaujolais, a French wine region south of Burgundy. Some 98% of the grapes grown in the Beaujolais region are made from Gamay, whereas most of the red wine from Burgundy is made from Pinot Noir. I learned researching this post that this distinction has a long history. Back in 1395, Phillippe the Bold decreed that Gamay could not be cultivated in Burgundy proper. The Beaujolais producers weren't keen on this ruling back in the day, but they have clearly done a great job over the centuries of developing some high quality wine from Gamay.
OK, we do need to say a word here about Beaujolais Nouveau. This wine gets fermented just a few weeks of fermentation after harvest before being released on the third Thursday of November. It is a fun tradition, but for people that only Beaujolais for this simple, fruity young wine, they are missing out on one of the most food-friendly red wines.
A mature Beaujolais red wine tends to be light to medium bodied and low in alcohol. Beaujolais also tend to have good acidity, and an earthy quality. These qualities make Beaujolais a food-friendly red wine that pairs well with poultry and rustic dishes. You should definitely consider including a Beaujolais in your Thanksgiving wine lineup!
Beaujolais Beyond Nouveau
Lynn Gowdy, who blogs at Savor the Harvest, arranged for a group of us French #Winophiles bloggers to sample 4 different bottles of Beaujolais. The wines arrived during a busy stretch for me, so two of the bottles were opened at gatherings we attended and paired with food someone else prepared. I've saved one to pair with a new recipe! Here is a summary of the wines we were sent and the food pairings.
Beaujolais-Villages Natural from Vignerons de Bel Air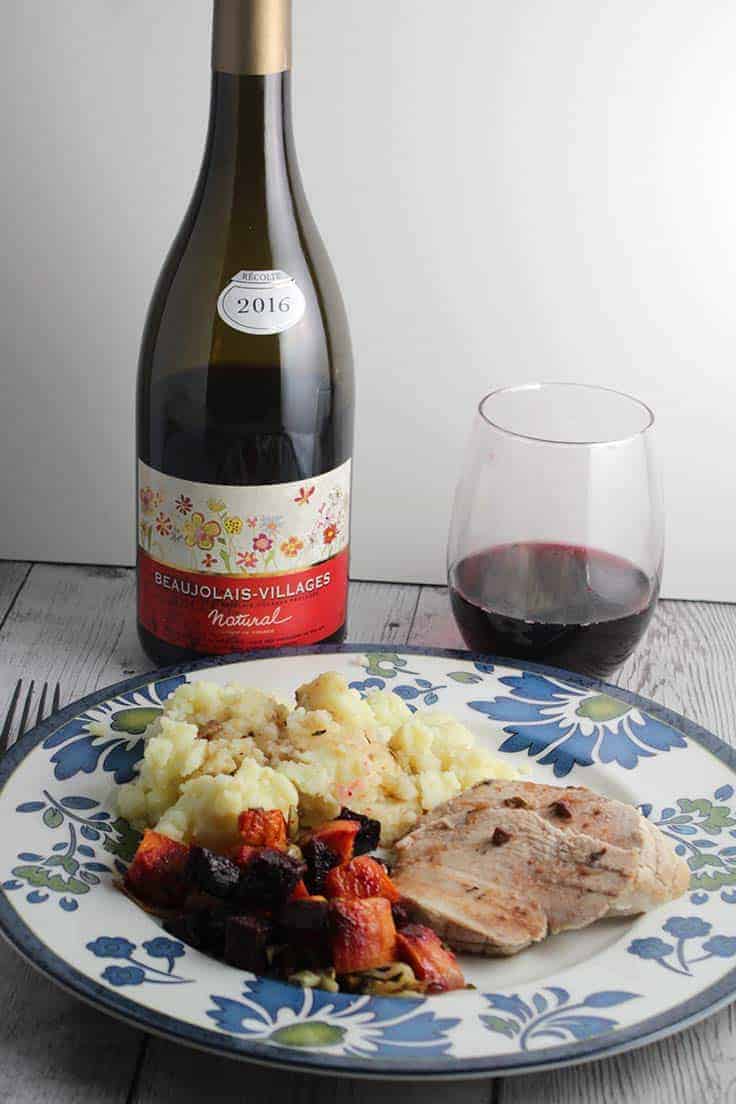 We started our Beaujolais sampling with the 2016 Beaujolais-Villages Natural ($12, 12.5% ABV) from Vignerons de Bel Air. This is a timely place to start, as this Beaujolais-Villages pairs very well with roast turkey. Looking for a Thanksgiving recipe still? Try our Roast Turkey with Cranberry Merlot Sauce shown above…but make it a Cranberry Beaujolais Sauce for an even better pairing with the Beaujolais-Villages Natural.
The Beaujolais-Villages Natural has rustic notes on the nose. Cherry fruit, with some tart acidity, making it a food-friendly red wine. Also some black pepper notes, so consider serving the wine with a recipe that features black pepper. The wine producer also suggest duck breast as a good pairing for the wine.
Brouilly Tradition from Domaine de Briante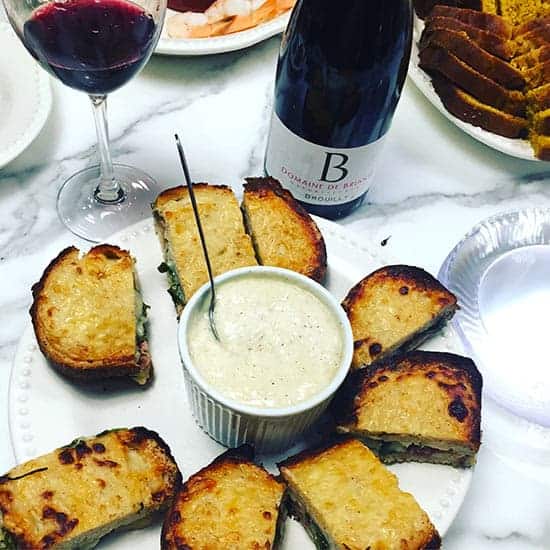 I really enjoyed the 2015 Brouilly Tradition from Domaine de Briante ($15, 13.5% ABV). I got a barnyard nose– (the wine has character!–blackberry fruit and peppery notes. Lots of finesse with this one. I'd have to rate this my favorite of the three Beaujolais I've sampled thus far for this month's French Winophiles event. It stood out on an evening with foodie friends in which we opened quite a few different wines to pair with a lineup of gourmet grilled cheese.
I had come across Beaujolais as a suggested pairing for a Croque Monsieur. The Côte de Brouilly Les Garances pairs very well with the Croque Monsieur my brother in-law Doug made at our gathering. Doug started from this recipe, eliminating the egg and making it "monsieur", and swapped in prosciutto instead of ham. Yum!
Côte de Brouilly Les Garances from Domaine Baron de L'Ecluse
The 2015 Côte de Brouilly Les Garances ($29, 13% ABV) from Domaine Baron de L'Ecluse has a light cherry fruit taste. We enjoyed the wine fine on its own, but we were probably pushing the envelope a bit by pairing the Côte de Brouilly Les Garances with a home cooked Bangladesh curry meal! Red wine with curry is tough to pull off, but I thought the food friendliness of Beaujolais might make it work. Perhaps with a mild curry, but the chicken korma and beef curry we enjoyed had too much heat for the wine.
2015 Morgon Côte du Py Paired with Kale and Kielbasa Skillet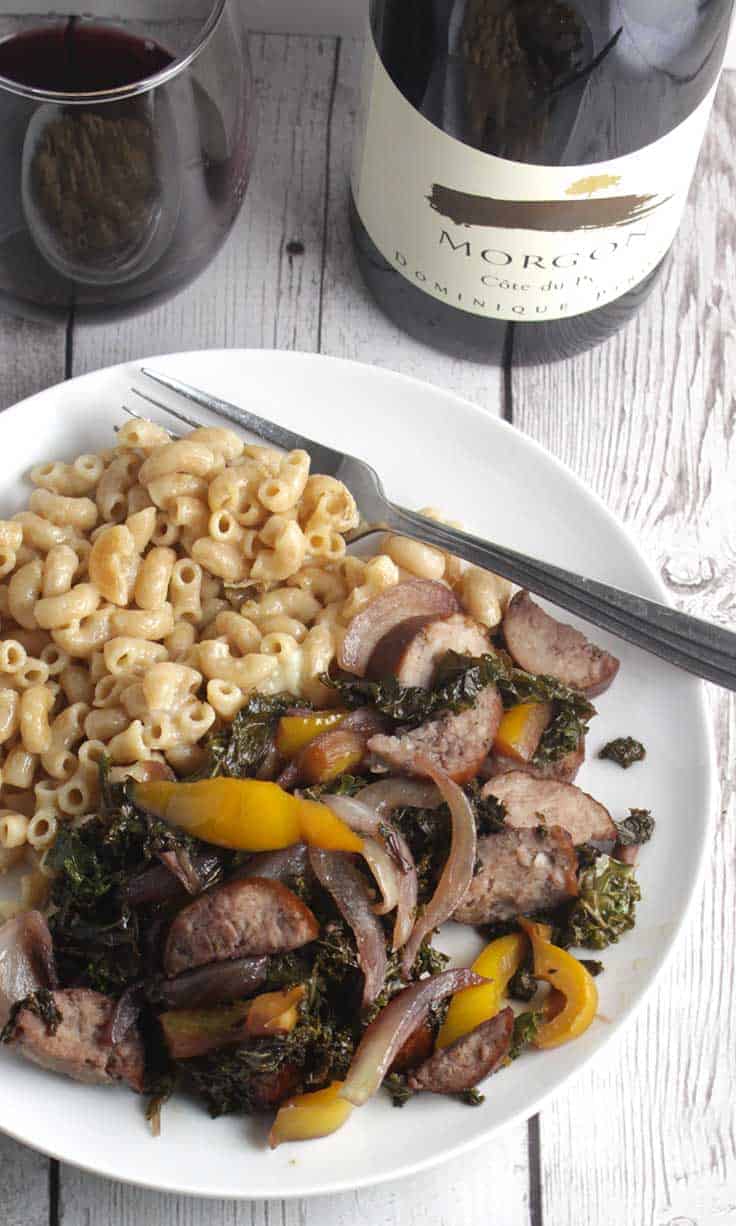 2015 Morgon Côte du Py ($25, 13.5% ABV) from Domaines Piron  was waiting in the wings to sample when I first posted this article. Domaines Piron has been making Beaujolais wine since 1590, talk about history! I wanted to make a new recipe for one of these food-friendly Beaujolais wines, and came up with this tasty Kale and Kielbasa Skillet recipe. Definitely a good pairing!
Beaujolais articles from French Winophiles
Here's a compilation of our posts. I was focused on the food pairings for the wines, be sure to visit my fellow bloggers' articles for more background on the region. And don't forget to join our chat!
Join our chat on Saturday November 18 at 10-11am CST (11am EST, 8am PST, and 1700 hours in France)! See what we think of Beaujolais, and tell us about your experiences! Simply log into Twitter and search for the #winophiles tag, and you're in!