This Easy Baked Tandoori Chicken is so moist and flavorful, and a breeze to make for a tasty weeknight supper! Click here to jump down to the recipe or read on for more details, including the wine pairings we tried and a recipe variation with chicken thighs. Originally posted on 2/2/2015, updated with wine pairings and recipe variations 2/8/2016.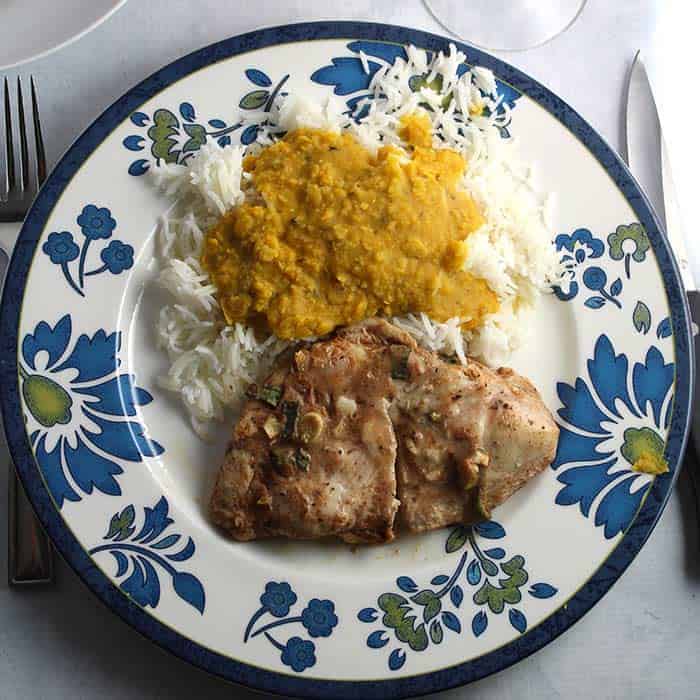 We love Indian food here! And now our 10 year old is warming up to the Indian flavors. For awhile, I was deterred from making Indian food often, thinking it was a long and difficult process to make it. Well, recipes like this Easy Baked Tandoori Chicken will have me making more Indian food at home!
Tandoori chicken is typically marinated for a length period of time, then cooked in a tandoor oven. But thin chicken breast filets could get some pretty good flavor with a quick marinade in a yogurt spice blend. With the short marinating time, the yogurt spice blend is bit of a cross between a sauce and marinade in this Easy Baked Tandoori Chicken.  Rather than being absorbed into the chicken, some of the tasty yogurt spice mixture surrounds the chicken for a moist and tasty flavor.
Traditional tandoori chicken is more of a reddish color, with the red either coming from cayenne pepper in spicier version, or turmeric and/or food coloring giving it the color in milder versions, as this Wikipedia article explains.
Our Easy Baked Tandoori Chicken is on the mild side, but flavorful thanks to some garlic, garam masala and curry powder. Enough flavor for the grownups to enjoy while mild enough to have our son gobble his up, too! The chicken comes out very moist here, too, always a plus. Dried out chicken is banned in our house!
You definitely want to serve the Easy Baked Tandoori Chicken with some basmati rice. We also had some store-bought samosas and a lentil dish that I discussed in this post.  I definitely recommend rounding out your meal with another Indian dish like those lentils or perhaps this Dairy-Free Cucumber Raita.
Wine Pairings for Tandoori Chicken
When I first made the Baked Tandoori Chicken, we served it with an Italian red wine, described in more detail in this Italian Wine for an Indian Feast post. I would suspect it would also go well with Pinot Noir, as that worked well when we made Grilled Tandoori Chicken last summer. The wine pairing notes for that one are posted here.
Update: We tried out the idea that Pinot Noir would pair well with our Baked Tandoori Chicken the other night, and were pleased with the results! The 2016 Domaine Parize Givry Vieilles Vignes ($22, 13% ABV) is light, nuanced red Burgundy that is very high quality for the price. I did like the way it paired with the tandoori chicken. The chicken being moderately spicy and the Burgundy have fairly low alcohol content helped to make it work.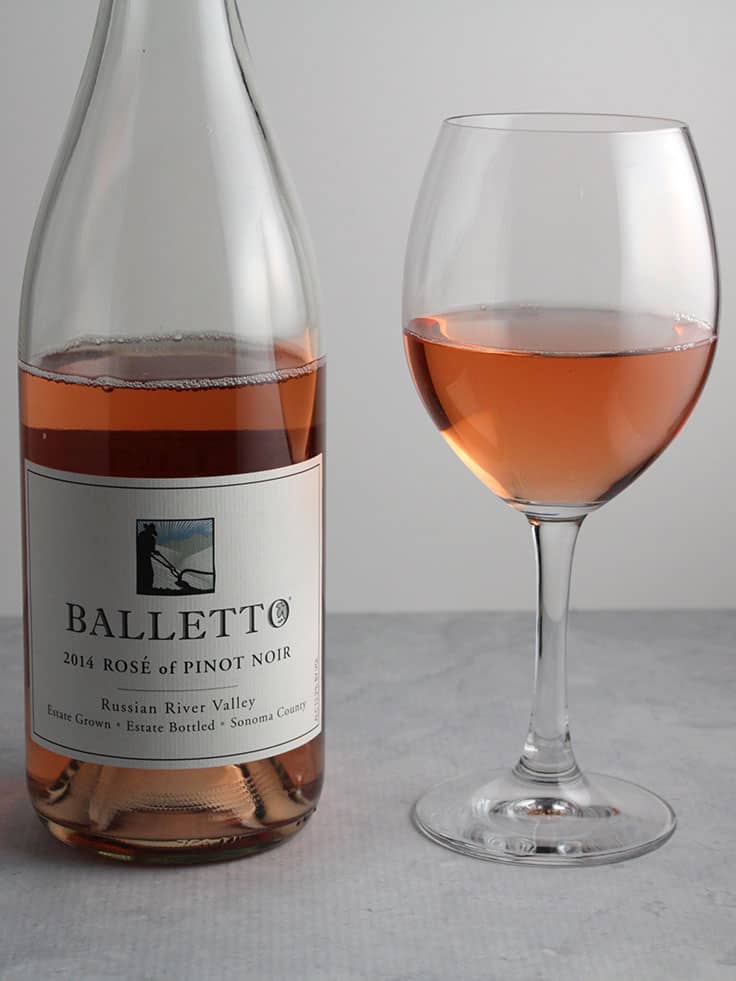 Speaking of pinot, I recently had a chance to try the Baked Tandoori Chicken with a rosé wine I'd been sent to sample. The 2014 Balletto Rosé of Pinot Noir is salmon pink in the glass, with scent of spring and tropical fruit on nose. Taste of watermelon and citrus fruit, with good acidity. Nice long finish. Delicious sipping on its own, it also pairs well with the moderately spiced Baked Chicken Tandoori.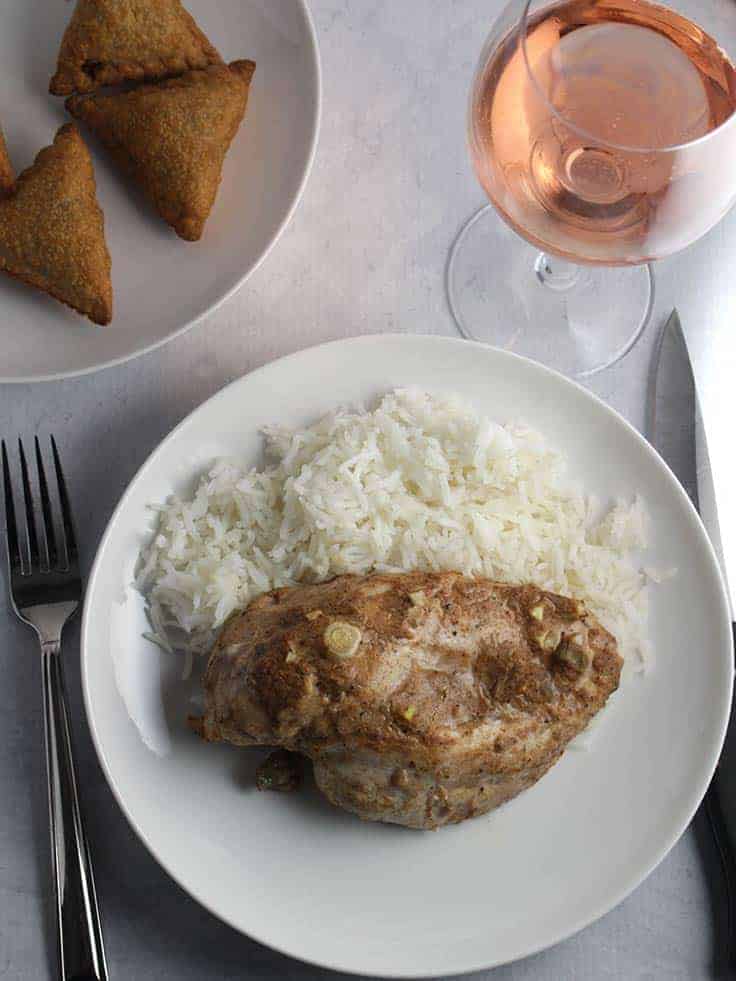 When making Easy Baked Tandoori Chicken again during the winter of 2017, we paired it with a 2014 Foris Dry Gewürztraminer ($16, 13.9% ABV) from Southern Oregon. I've had Foris Pinot Noir a number of times, but this was my first time trying their Gewürz. I really liked it. Fruit forward with good spice elements, it paired well with the tandoori chicken and the aloo palak we had alongside it.
Easy Baked Tandoori Chicken recipe

Print
Recipe card
Easy Baked Tandoori Chicken
Chicken breast fillets bake with a yogurt spice blend for a moist, flavorful chicken.
Author: Cooking Chat
Prep Time:

20 mins

Cook Time:

20 mins

Total Time:

40 mins

Yield:

4

servings

1

x
Category:

main

Cuisine:

Indian
3

chicken breast fillets, small to medium sized

½ cup

yogurt (coconut yogurt for a dairy free option)

1 tbsp

orange juice

1

scallion, minced

1

garlic clove, minced

1

pinch ground ginger

1 tsp

garam masala

½ tsp

curry powder

½ tsp

salt
cooked basmati rice for serving
Instructions
Combine the yogurt, orange juice, scallion, garlic, ginger, garam masala, curry and salt in a bowl.
Rinse and pat dry the chicken fillets. Add to the bowl with the yogurt spice blend. Gently turn the chicken over so that both sides of the chicken are coated with the yogurt. Set aside to marinate for 15 minutes.
Preheat an oven to 400 while the chicken marinates.
After the chicken has marinated for 15 minutes, line a flat baking pan with aluminum foil. Use a fork to remove the chicken fillets and transfer them to the baking pan, gently shaking the chicken over the bowl first to remove any excess marinade.
Put the baking pan in the oven and bake for 18 to 20 minutes until the chicken is cooked through. Ours was perfect in 18 minutes, but check for doneness by slicing the chicken open.
Serve the chicken with basmati rice, and other Indian side dishes of your choosing.
Recipe Card powered by
Variation: Baked Tandoori Chicken Thighs
Our original Baked Tandoori Chicken recipe uses chicken breast fillets. We recently made a variation of the recipe using chicken thighs. We used 1 lb of boneless, skinless chicken thighs, tossing the chicken in the same marinade as described above. The chicken thighs baked for 20 minutes at 400 degrees in a convection oven, and came out very well.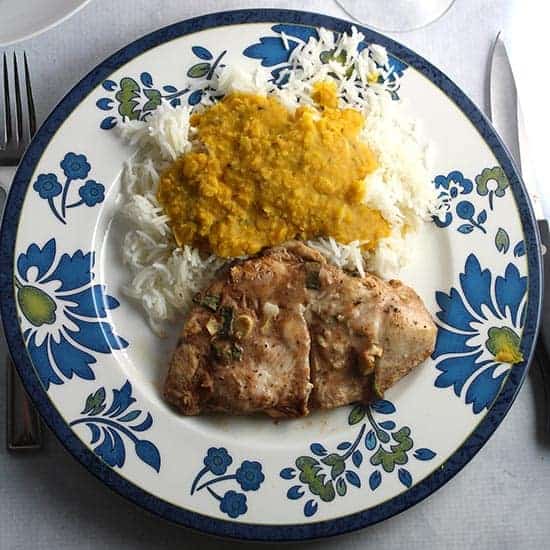 Full Disclosure: The rose from Balletto was sent as a complimentary sample. As always, I only share about products I use and and enjoy, and the opinions expressed here are entirely my own.