Showing the versatility of food-friendly Italian wines, today we share An Italian Wine for an Easy Indian Feast for today's #ItalianFWT visit to Calabria. This post also shows that you can put together a great Indian meal at home in under an hour!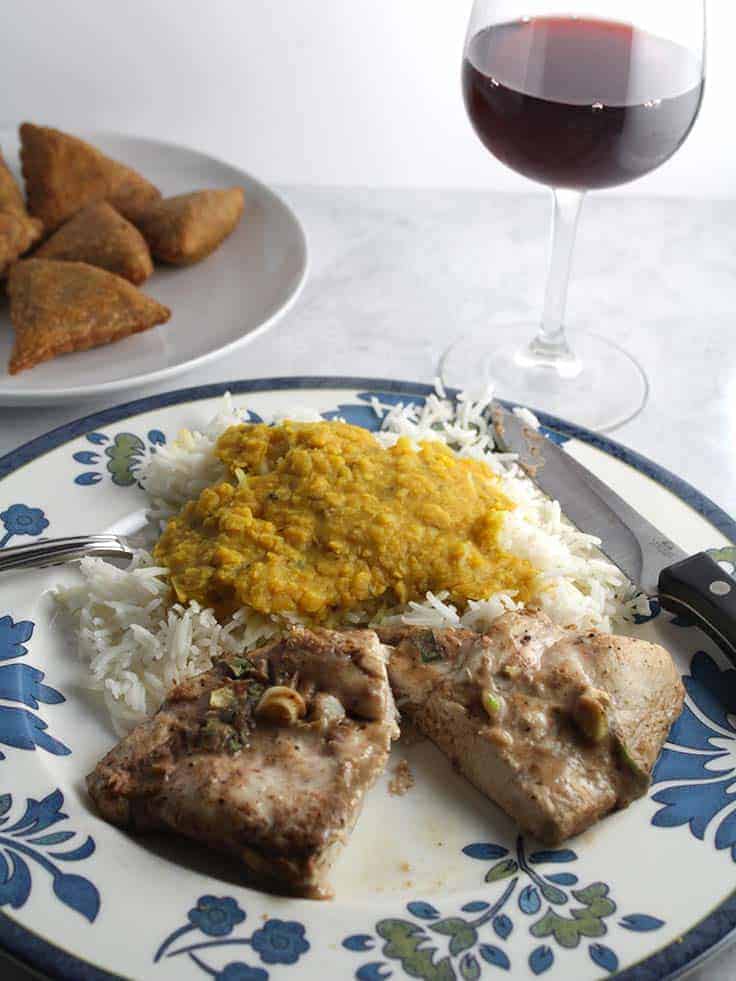 Don't get me wrong, I love Italian food and wine pairings. When B's basketball game got snowed out last night, giving me a bit more time to cook, I quickly whipped up a nice meat sauce, and served it over rigatoni with a very good Dolcetto from Anna Maria Abbona. Yum!
As much as I enjoy Italian food and wine together, for today's Italian Food, Wine and Travel group's visit to Calabria, I'm going to mix it up and share about an Italian Wine for an Easy Indian Feast.
When I asked Ray from Pairings Wine & Food about wines they had available from Calabria, he mentioned the Librandi Ciro Rosso Classico. The first web page I viewed looking more info for this Calabrian wine mentioned pairing it with spicy curry sauces and tandoori chicken. Boom. I know what I'd be doing for this #ItalianFWT post!
Making an Easy Indian Feast: Now, back when I first started becoming a big fan of Indian food, I thought a home cooked Indian meal by definition amounts to a full day project, or pretty close to it. When I was living in Kentucky and just starting to cook, it would take some doing to round up the ingredients I needed to make an Indian feast. When I finally returned back to our apartment with my finds, I would dutifully start making samosa by hand, making spice blends by popping whole spice seeds in a skillet, and so forth.
When we first moved back to the Boston area, with so many great Indian restaurants around, Indian food became one cuisine I was much more likely to eat from a restaurant rather than make at home.
Lately I've found a middle path when it comes to getting the Indian food I love. I have been finding ways to do some fairly quick Indian flavored recipes. This might not be full authentic Indian feast, but it's a nice way to regularly incorporate some Indian cuisine into our meals. One incentive to do so is that our 10 year old has been really warming up to Indian food!
Sometimes I make a quick Indian meal by focusing on one dish, perhaps using some of the good freeze dried Indian mixes from my friends at India in a Box. That worked nicely in this Quick Chicken Tikka Masala, which surprise surprise, was paired with an Italian wine (a Lambrusco).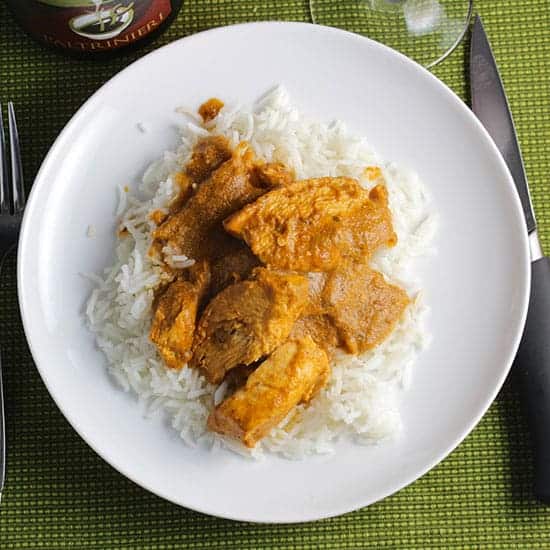 Today's Easy Indian Feast combines one easy recipe I made from scratch along with a couple items relying on some prepared food. I made Easy Baked Tandoori Chicken, which I blogged about earlier this week. That was a hit–in fact, B. had the leftovers last night and was very disappointed when he said, "I have rice left but no more chicken!"
The feast was rounded out by a Quick Lentil Curry (recipe below), that relies on a package from India in a Box, and some store bought samosas. We really like the Whole Foods 365 brand samosas with peas and potatoes. They are great to keep in the freezer for a quick appetizer or to round out an Indian meal like this. Of course, you've got to serve Indian food with basmati rice. If I had cucumber on hand, I would have added a little cucumber raita to the mix.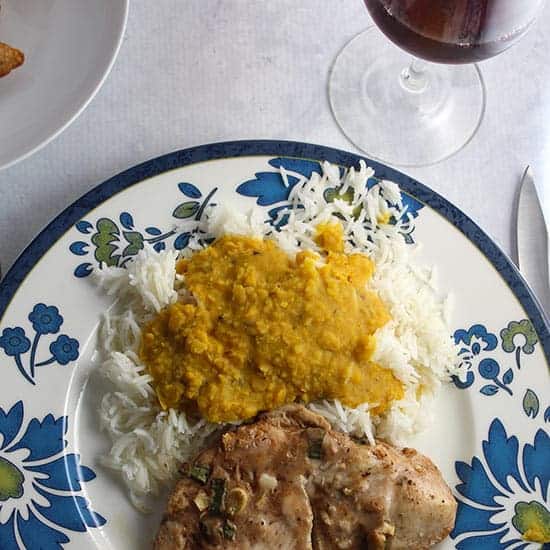 So there you have it, an Easy Indian Feast that we were able to enjoy in the middle of a busy workweek. Of course, any meal referred to as a feast calls for wine!
An Italian Wine for an Easy Indian Feast: OK, how did the 2013 Librandi Cirò Rosso Classico ( $14, 13.5% ABV) live up to its promise to go with curry and tandoori chicken? The wine is a light, bright red color in the glass, with a plummy nose. I get a fresh taste of cherry and a bit of slate. This Calabrian wine is a light-bodied red with a nice finish, and very flavorful. It is made entirely from Gaglioppo grapes.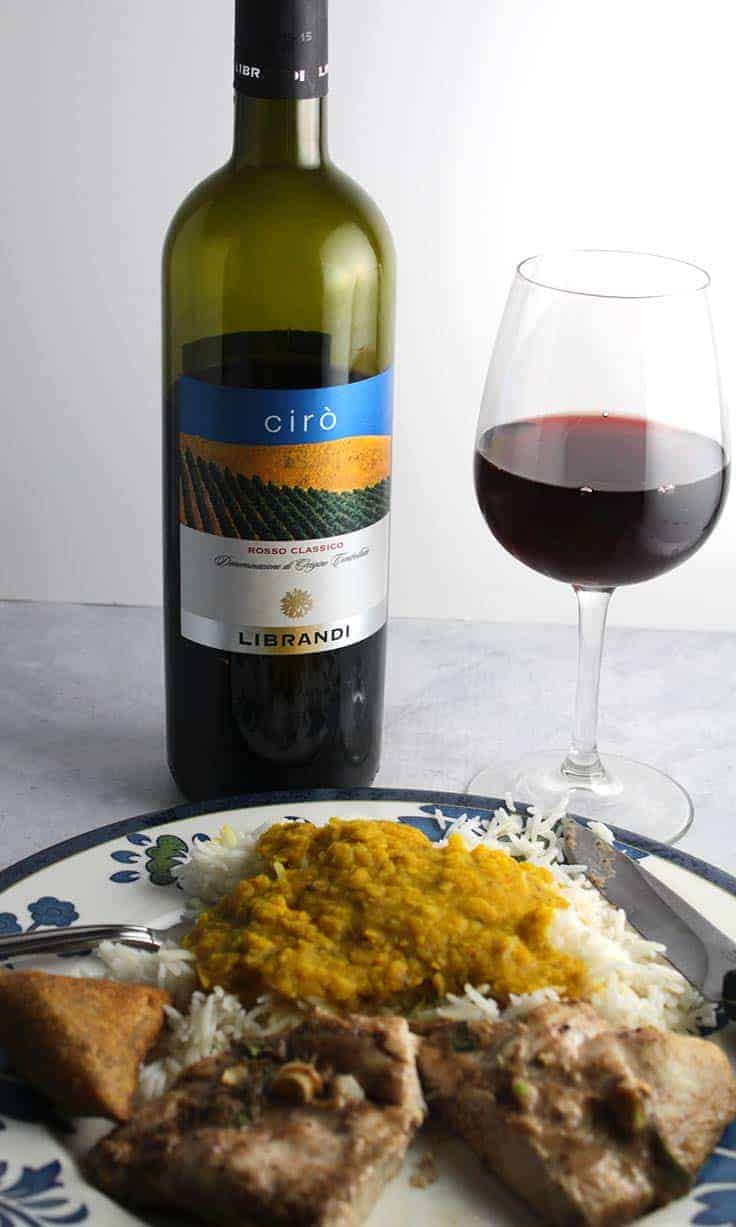 This Cirò Rosso Classico has a lot of flavor going on in the glass; we enjoyed sipping a bit before the meal was ready. When it came to pairing this wine for our Indian feast, the wine's flavor and freshness posed some pairing challenges. The lentil curry was the spiciest item on our plate, not burning hot but definitely at least a medium dose of curry spice. That created a bit of a clash with the wine's flavor profile.
The Baked Tandoori Chicken had a more mild spice flavor, with a bit of sweet from the garam masala balancing the heat from the moderate amount of curry I used. That made the Tandoori Chicken and the Cirò Rosso Classico a pretty good match. I would repeat the pairing again if I was simply making the Tandoori Chicken with simple (non-spicy!) sides.
I am sure other #ItalianFWT bloggers will give us some good insights into the wine regions of Calabria, including the Cirò DOC where our wine is from. In writing about an Italian Wine for an Easy Indian Feast, I hope I might have encouraged you to remember the food-friendliness of Italian wines can make it a versatile partner for many type of cuisines. While the Cirò Rosso Classico might not have been a perfect pairing with the entire Indian feast, it did work nicely with the tandoori chicken.
Print
Recipe card
Quick Lentil Curry (Dal Tadka)
This Quick Lentil Curry makes use of Dal Tadka mix from India in a Box to put a tasty curry on your table in under 15 minutes.
Author: Cooking Chat
Prep Time:

10 mins

Cook Time:

5 mins

Total Time:

15 mins

Yield:

2

servings

1

x
Category:

Main

Cuisine:

Indian
2

boxes Dal Tadka mix from India in a Box

1 ½ cups

hot water
basmati rice for serving
Instructions
Pour the contents of the Dal Tadka mix into a medium sized sauce pan.
Add the hot water to the pan, and let the lentil mixture soak in the water for 5 to 10 minutes.
Bring the water to a boil, then reduce heat to medium low and simmer for 5 minutes, stirring frequently.
The lentil mixture should be a nice even consistency after 5 minutes, and ready to serve. Add an extra table spoon of water if needed to achieve desired consistency. You can serve immediately, or keep warm if you are finishing other parts of the meal.
Serve the lentil curry over basmati rice.
Recipe Card powered by
Want to try another Italian wine and Indian food pairing? Try our Kale and Butternut Curry recipe with the wine from Alto Adige we shared for a past #Italian FWT event!
Other #ItalianFWT Discoveries from Calabria
Take a look at some of the foods and wines explored by our other members below.
Vino Travels
– Reinvigorating the Almost Extinct, Native Grapes of Calabria
If you see this soon enough, please join our Twitter chat at #ItalianFWT on Saturday Feb.6 at 11 am EST.  We can't wait to hear from you all!