Grilled Filet Mignon is a mouthwatering, tender piece of steak. The recipe gets added elegance with a mushroom topping. Along with the recipe, we explore the idea of pairing a white wine with this steak dish as part of the Wine Pairing Weekend's exploration of "Unexpected white wine pairings".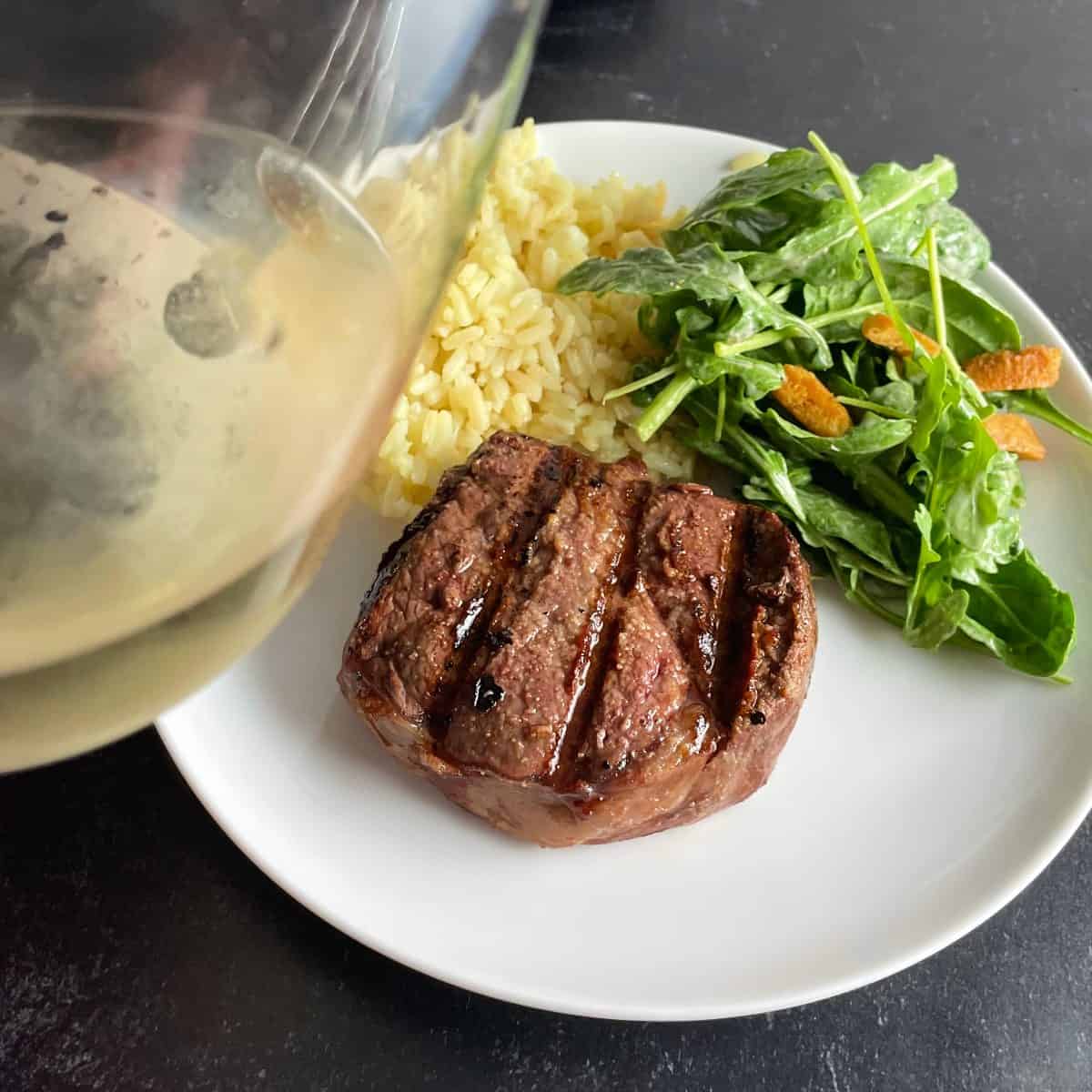 Whether it's a special occasion or you just want to cook a nice meal for your family, grilled filet mignon with mushrooms is a great choice!
We dusted off an old recipe we had here for grilled filet mignon, which we originally served with grilled portobello mushrooms. This time around, we has some pre-sliced mushrooms on hand, so simply sautéed them to top our filet. Here will give you tips for making filet mignon with either grilled or sautéed mushrooms.
I was motivated to make this filet mignon recipe when I noted the Wine Pairing Weekend group was going to be focusing on "Unexpected White Wine Pairings". I figured beef would qualify as an unexpected pairing for a white wine, but thought filet mignon might work. We'll report on how that worked out after some tips for making the filet mignon recipe!
Jump to:
Tips for grilling filet mignon
Here are some of our best tips for a perfect grilled filet mignon:
Picking evenly cut filets: When you spring for filet mignon, you want to be sure to cook the steak just right!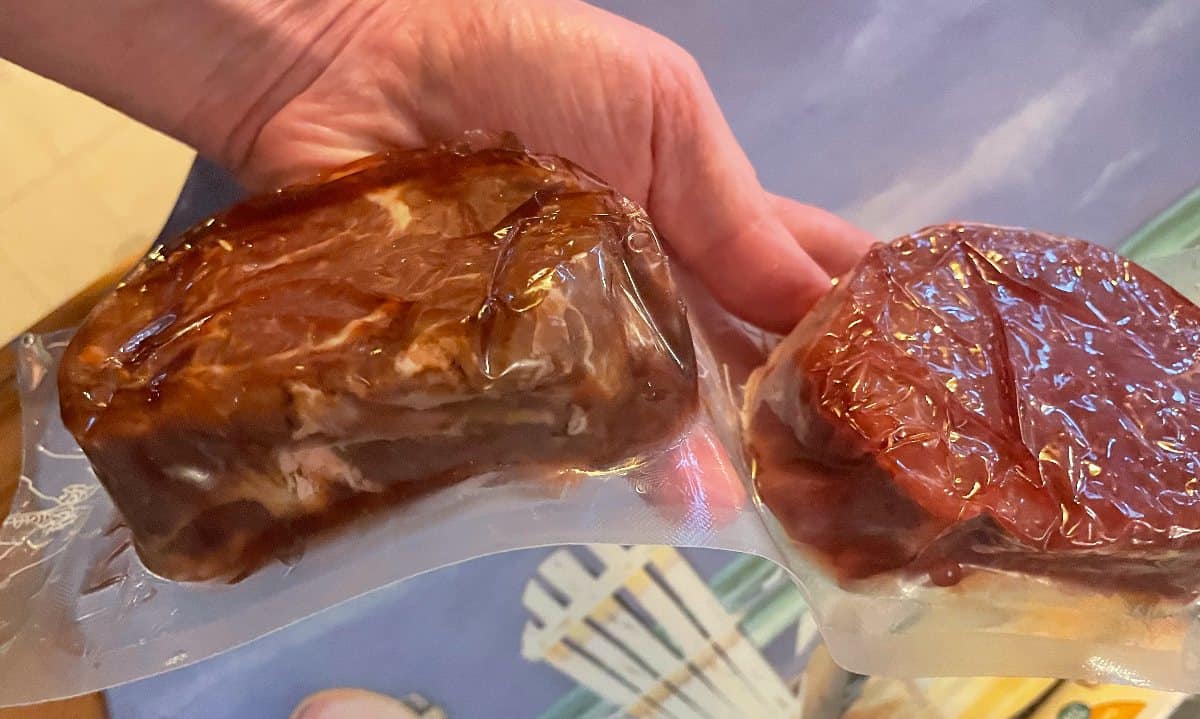 A first step is selecting filets that are cut fairly evenly. I've run into issues in the past when I got some think filet mignon steaks of varying size. It was difficult to get them cooked through properly on the grill.
With filet mignon that are roughly the same size and thickness, you are setting yourself up for grilling success! I have had good luck getting my filet mignon from Omaha Steaks (Amazon affiliate link included for convenience if you need some).
Bring steaks to room temperature: You don't want to move a steak directly from the refrigerator to the grill. Bring it to room temperature first, as this helps the steak cook evenly on the grill.
The Omaha Steaks come frozen in vacuum sealed plastic. I place them in warm water to gradually come to room temperature. This take roughly an hour.
Simple rub: You want to let the flavors of the tender beef shine, so keep the rub simple! We just went with a 1 to 1 mix of salt and garlic powder and it worked great.
If you are topping the filet mignon with mushrooms, as we suggest, all the more reason to keep the rub simple. The mushrooms will bring additional flavor.
For this recipe, I had four 6 ounce filet mignon steaks. That was a good amount to feed the three of us along with an extra leftover steak – which didn't last long!
Recipe overview
The recipe card provides the details for making our grilled filet mignon with mushrooms. Here I'll give a few pointers on making this delicious meal.
Bring the filet to room temperature: As mentioned earlier, you want the steak to be at room temperature to facilitate even cooking.
Making the mushrooms: For the latest edition of this grilled filet recipe, I cooked the mushrooms on the stovetop. We give detail on the process down in the recipe card; and below we talk about an option for grilling portobello mushrooms.
For the stovetop version, I suggest getting the mushrooms pretty far along before you grill the steak, as filet mignon cooks quickly. Simple cook some chopped shallot in olive oil, then add the mushrooms when the shallot has softened.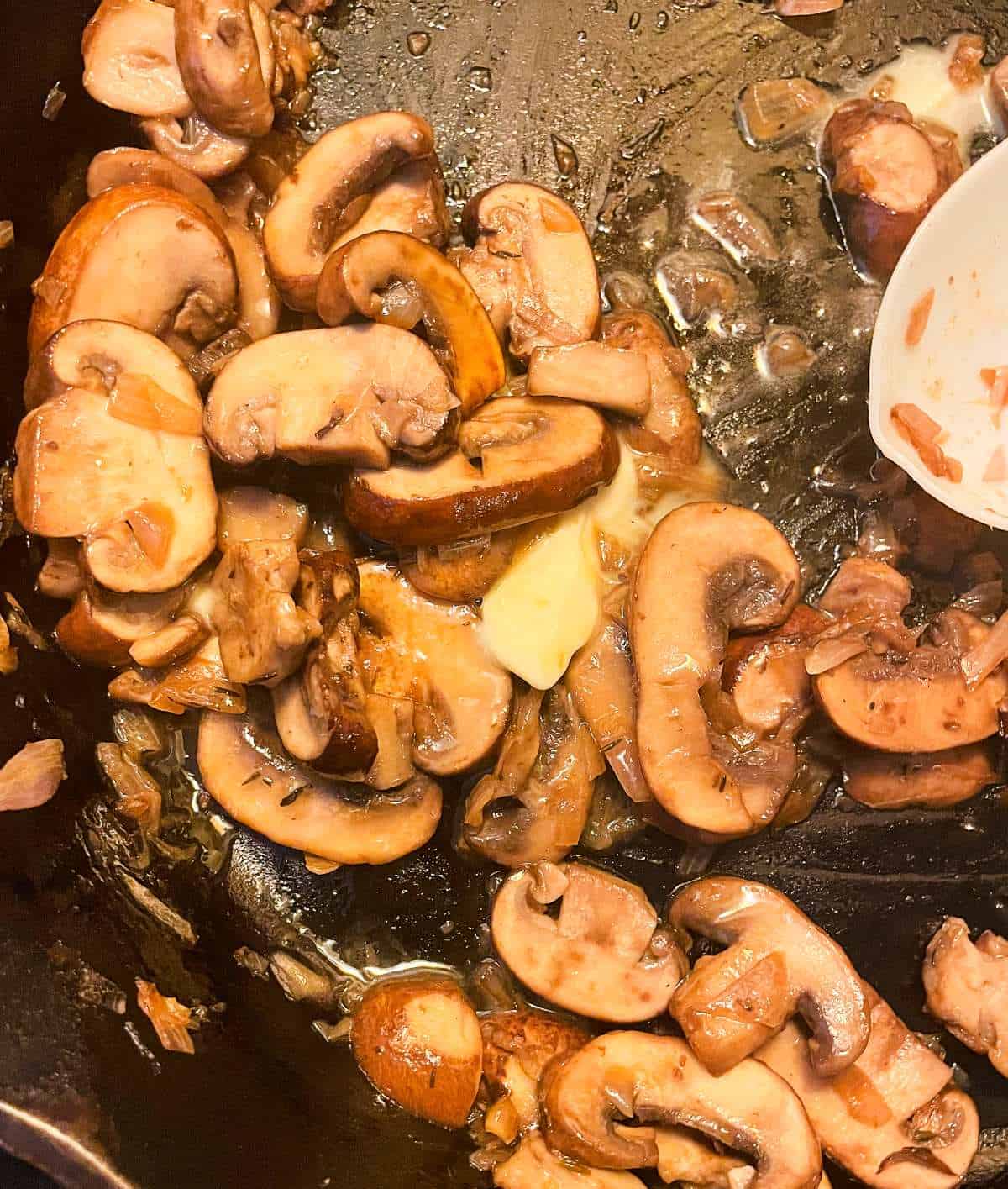 After the mushrooms sweat, add some cooking wine along with thyme, then let the mushrooms cook down. Finish the mushrooms by melting a tablespoon of butter, and keep warm on low heat as you grill the steak.
Grilling the filet: We start with a simple garlic / salt rub (1 to 1 ratio) to flavor the filet mignon. Preheat the grill to 400 degrees as the meat absorbs the rub.
Once the grill is ready, cook the filet mignon on direct heat for 5 minutes.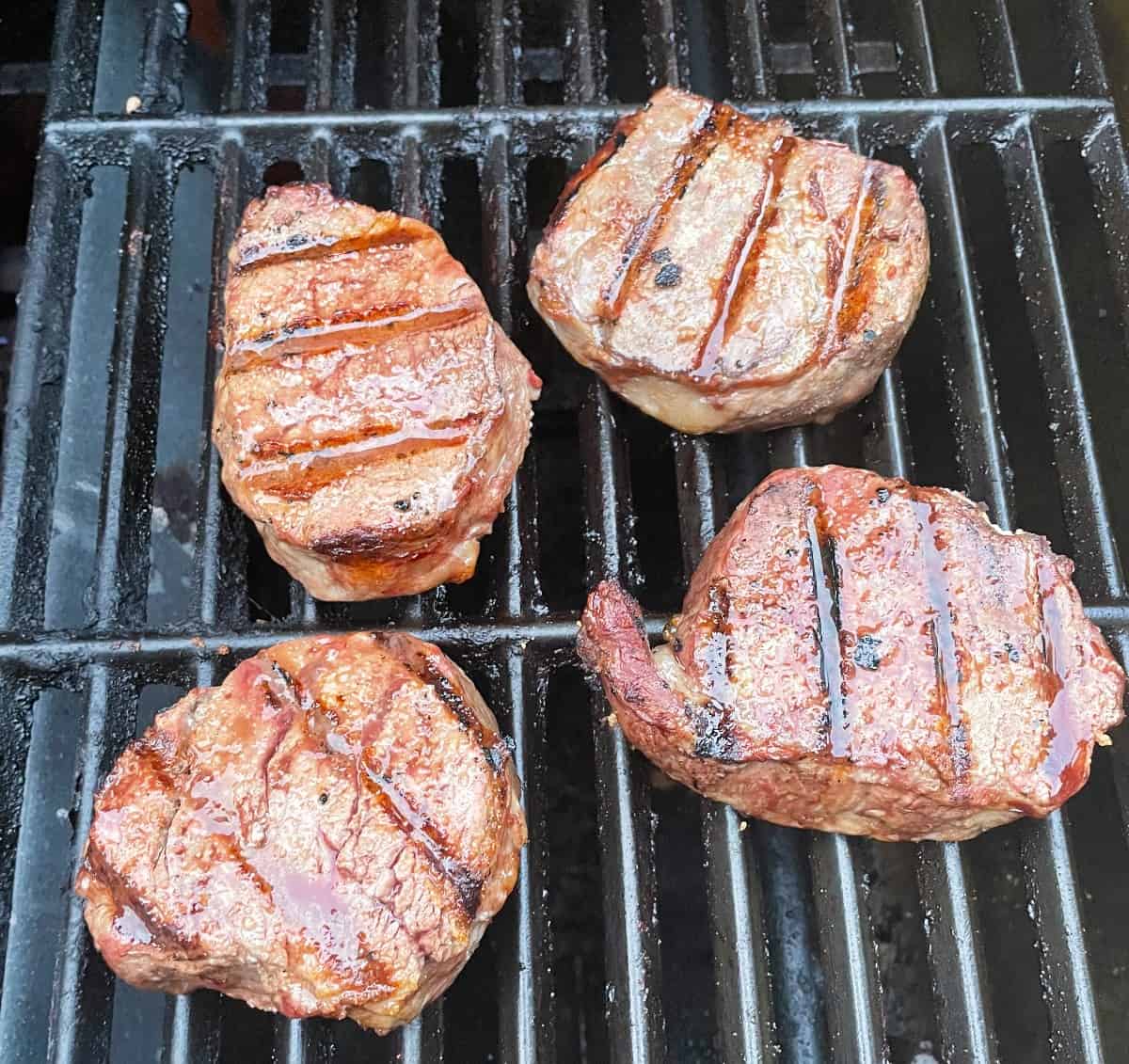 Then you flip the steak to the other side, placing it to cook on indirect heat for another 4 to 6 minutes. Take care not to overcook the filet mignon. Ten minutes total grilling time brought our one inch thick filets to a nice medium rare.
Serving: After grilling, let the filet mignon rest for about 5 minutes. Then serve topped with the mushrooms. Enjoy! (keep scrolling for ideas on the wine pairing for filet mignon)
We served the filet mignon with mushrooms alongside some rice pilaf and an arugula salad. The peppery arugula also set up the white wine pairing.
Grilled portobello mushrooms
We prepared pre-sliced mushrooms on the stovetop for our recent remake of this grilled filet mignon recipe, and that's the version we share in the recipe card. If you'd prefer to make grilled portobello mushrooms, here are the steps:
Take 2 portobello mushrooms and remove the stems. Clean them with water and a vegetable brush.
The portobello mushrooms can grill along with the steak, on the grill preheated at 400 degrees.
Spray both sides of the mushrooms, then place them on the grill. After about 5 minutes, flip them over. Put the steaks onto the grill at this time. The mushrooms take about 10 minutes total to get cooked through, they should be nice and tender. Keep an eye on them so they don't shrivel up too much.
Remove the mushrooms when done, let them cool a bit on a plate. Slice the mushrooms thinly when cooled slightly, toss them in a bowel with the olive oil and vinegar, along with salt and pepper to taste. Put the bowl of portobello mushrooms at the table to serve on the the steaks.
White wine pairing
We don't think of white wine with steak. It's red wine territory when we are serving beef, right?
The first time we made this recipe, we did go with a red wine…more on that to come. But this time, our goal was to see if white wine pairing can work with filet mignon.
A few times along the way, I have heard some knowledgeable wine pairing folks suggest that certain white wines can pair with beef. At one wine pairing dinner I attended, there was a white Burgundy pairing option with a beef dish. Steve Chevalier suggested that if you closed your eyes and tried the pairing, and focused on how the full bodied white match up to the heft of the beef, you'd be pretty pleased. While it did work pretty well, I did revert afterward to the usual red wine with steak approach.
I was trying this pairing in the middle of a busy week, so wanted to use a wine on hand. While by first thought was a Chardonnay, I instead gravitated toward the 2022 Dineen Vineyards Condriesque ($27). This is a white Rhone style blend, 48% Viogner and 52% Roussanne, from Washington's Yakima Valley.
Condriesque tasting notes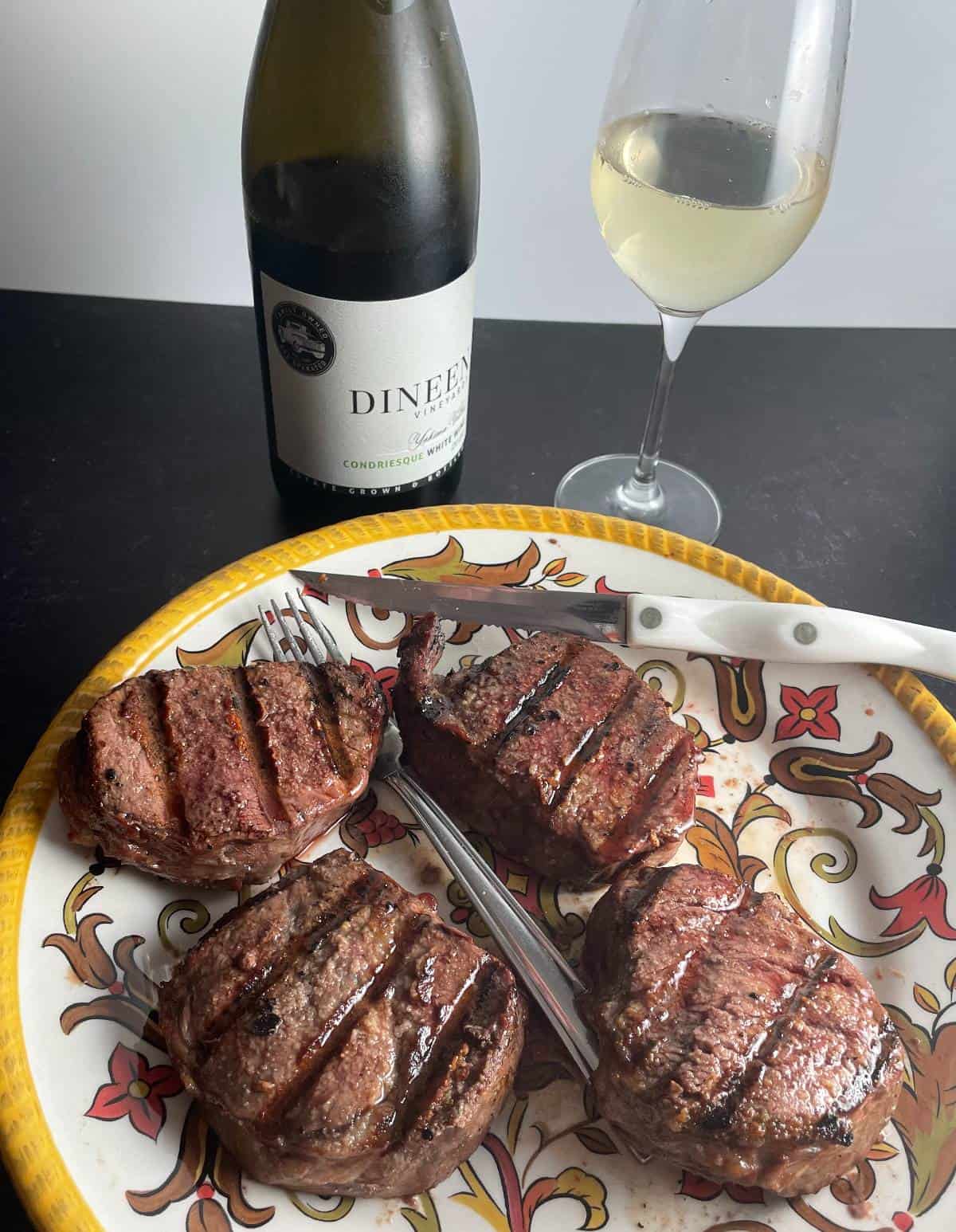 The Condriesque is a light straw color in the glass. A light floral nose – hibiscus, I'd say. On the palate, honeydew melon and lemon, with good acidity.
This white wine is a bit lighter bodied than I recall – not sure if that is about the vintage or my recollection. I would say it's somewhere between medium and full bodied.
This had me wondering if the wine had enough body to pair with the beef – even a delicate cut like filet mignon. So I decided to open a Chardonnay for comparison.
Comparing white wine options
I had a Raeburn Sonoma County Chardonnay ($15) in the fridge, so decided to use that for my comparison.
I get white peach fruit and notes of honey and vanilla on the palate of the Raeburn Chard. Also has a nice mouthfeel.
After tasting both wines prior to pairing it with food, I was worried about the Condriesque possibly being a bit light for the filet mignon. But this high quality white wine, with a nuanced flavor profile, worked quite well. The white Rhone blend matched the garlic / salt flavor on the filet, as well as the the mushroom topping.
The Chardonnay was pleasant enough to drink, and worked OK with the Filet Mignon. But I'd definitely give the edge to the Condriesque.
Can you pair white wine with steak?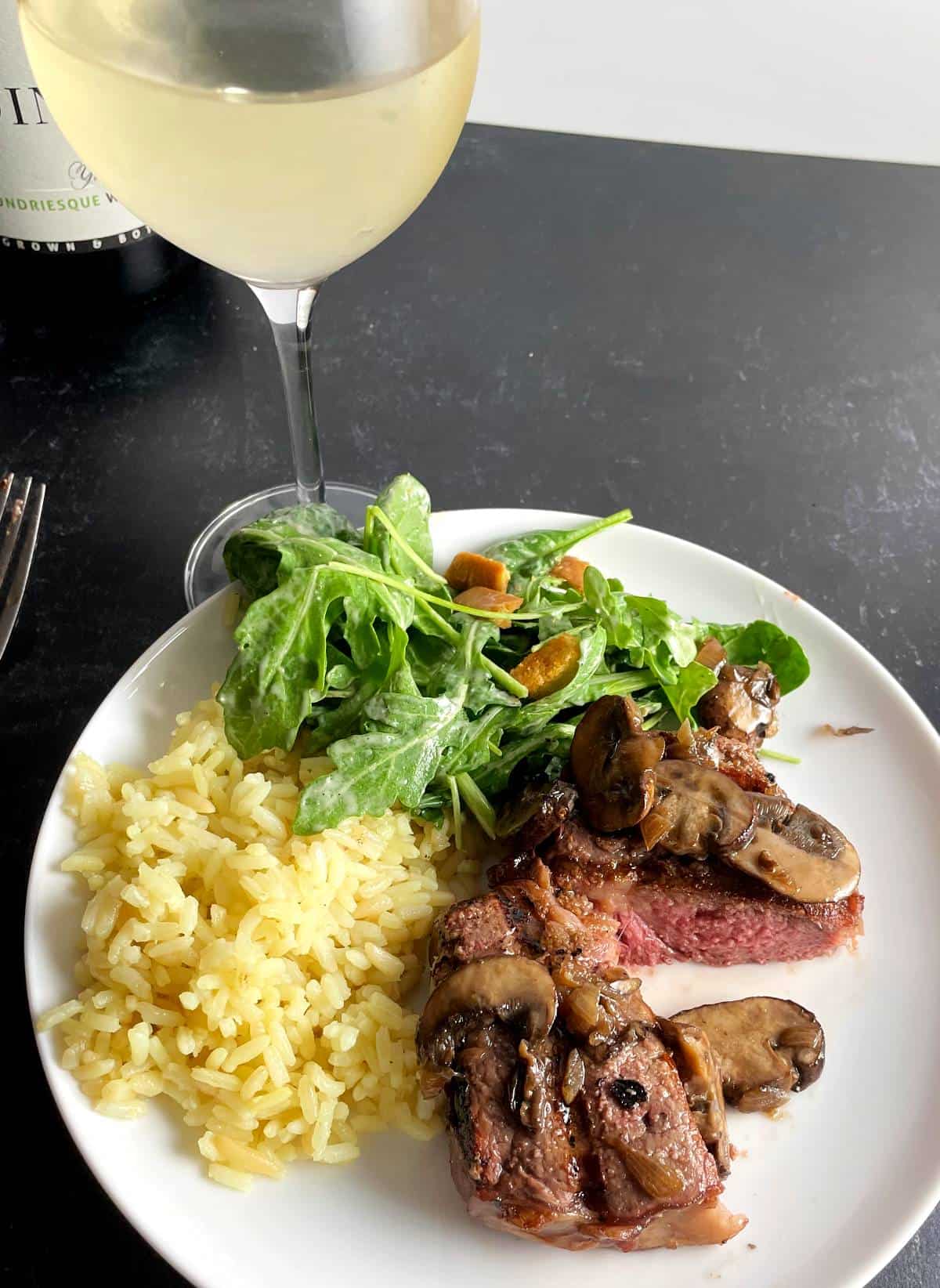 OK, let's cut to the chase! What do our pairing experiments tell us?
Yes, you can pair white wine with steak! But keep in mind a few factors for it to work well.
The white wine needs to be fairly full-bodied. However, our testing shows that is not the only factor.
A white wine pairing for steak isn't easy to pull off. In addition to being a full-bodied white wine, it helps to match elements in the wine flavor profile with aspects of the steak preparation. For this Grilled Filet Mignon recipe, this included the white Rhone picking up the herbal elements in the mushrooms sauce.
A high quality white wine is more likely to have the nuance to pull off this pairing.
Another white wine pairing with beef
I have featured one other pairing of white wine with beef here on Cooking Chat, and it is a very popular article. Yes, I have found white white wine is a very good wine pairing for corned beef! Very different than this white wine pairing for filet mignon, but good nonetheless.
Red wine pairing
Of course, red wine is an option for this filet mignon recipe, too.
When we originally cooked up this grilled filet mignon recipe, we paired it with the 2010 Cass Mourvedre. It's been awhile since we first made this! We definitely gave that pairing a thumbs up as well.
This filet mignon with mushrooms is an elegant dish that calls for a wine with some nuance, whether you go with white wine or red. I would steer away from an over the top Cab or Zin with high alcohol, and look for a red wine with some nuance.
I've been enjoying Pinot Noir from Halcon Vineyards lately, a cool climate winery in Mendocino County. Something along those lines is what I'd go for in terms of a red pairing. Ideas? Let me know.
Print
Recipe card
Grilled Filet Mignon with Mushrooms
Grilled Filet Mignon with Mushrooms is an elegant yet easy meal. Tender, flavorful beef topped with tasty mushrooms. Perfect for special occasions or any time you want to make a nice meal for your family.
Author: Cooking Chat
Prep Time:

10 mins

Cook Time:

15 mins

Total Time:

25 mins

Yield:

4

servings

1

x
Category:

Main

Method:

grilling

Cuisine:

American
For the filet mignon:
1 tablespoon

salt

1 tablespoon

garlic powder

4

filet mignon steaks, about

6 ounces

each
oil spray
For the mushrooms:
1 tablespoon

olive oil

1

shallot, finely chopped

8 ounces

sliced mushrooms (see notes for grilled portobello option)

⅓ cup

cooking wine

½ teaspoon

dried thyme

1 tablespoon

butter
salt and pepper to taste
Instructions
Prepare the steak: Bring the filet mignon to room temperature by having it out of the refrigerator for about 30 minutes. Combine the garlic powder and salt in a bowl. Place the filet mignon on a work surface, and sprinkle about half of the garlic / salt rub over 1 side of the steaks. Gently rub into the meat. Turn the steak over and repeat on the other side of the filet mignon. Set the steak aside as you start the mushrooms.
Preheat a grill to 400 degrees, leaving one side of the grill off to create an indirect heat zone.
Start cooking the mushrooms: add the olive oil to a skillet on medium heat. Add the shallot, and cook for a few minutes until it begins to soften. Stir in the mushrooms, and cook until they begin to "sweat". Stir in the cooking wine and thyme, lower heat to medium low. Cook until the wine is mostly absorbed, about 5 minutes. Finish the mushrooms by stirring in butter and salt / pepper to taste. Lower the heat to very low and cover the skillet to keep the mushrooms warm as you cook the filet mignon.
Grill the filet mignon:  Spray the grill grates with oil, then add the steak to the grill on direct heat. Reduce the heat to medium high. Grill the filet for 5 minutes on direct heat. Then turn the steaks over, placing them in the indirect heat zone. Grill for another 4 to 6 minutes, taking care to avoid over cooking. We had perfect medium rare (130 to 135 degrees) with 10 minutes total time on the grill, for steaks that were about 1 inch thick.
Serve: Remove the filet mignon from the grill and place on a platter. Let the steaks rest for a few minutes, then serve topped with the mushrooms. One steak per person works well, but two people could share one if they have modest appetites and substantial sides.
Notes
Getting evenly cut filet mignon helps with even cooking. Our filets were about 1 inch thick.
Bring filet mignon to room temperature before grilling.
Grill the filet mignon 5 minutes on direct heat, followed by 4 to 6 minutes indirect heat to avoid overcooking.
The instruction above are for cooking the mushrooms on the stovetop. You can also grill portobello mushroom caps if you'd prefer. They take about 5 minutes per side. The article text has additional detail.
Keywords: grilled filet mignon, filet mignon with mushrooms, how to grill filet mignon, white wine with steak, wine pairing for filet mignon
Recipe Card powered by
More unexpected white wine pairings
You probably wouldn't expect me to recommend a white wine pairing for filet mignon, right? Check out the articles below for more unexpected white wine pairings from my fellow wine pairing weekend writers. And thanks to Robin from Crushed Grape Chronicles for hosting this interesting topic!
Wendy at A Day in the Life on the Farm shares "PBJ and Gewurtz? Say What?!!"
Cam of Culinary Cam shares "Pecorino Times Three: Two Cheeses and a Wine with a Lamb Burger"
Andrea of The Quirky Cork shares "Assyrtiko, Keftedes, and Salt"
David of Cooking Chat Shares "Grilled Filet Mignon with Mushrooms and White Wine"
Jane of Always Ravenous shares, "Lamb Curry paired with Viognier"
Gwendolyn Alley of Wine Predator shares"Yes, Sparkling Whites from Mendo's Scharffenberger and Marche's Mai Sentito Pair with Pizza!"
Robin of Crushed Grape Chronicles shares "Sauvignon Blanc with Lamb and Cocoa?"
And Susannah with Avvinare shares "Pinot Grigio from Valadige and Shrimp with Green Sauce"