Do you want to serve wine with corned beef and cabbage? We discuss the red and white wine pairing options and share what wine worked best with our corned beef during a couple of experiments. Be sure to also check out our Wine Pairing Problems video about Wine with Corned Beef & Cabbage!
If you are in a hurry and want the cliff notes version, two whites (a dry Riesling and a Vouvray) and one red wine (Zinfandel) have worked with corned beef and cabbage in our testing. But read on for details, which might help you pick your own pairings! At the end of the post, we also discuss your options for cooking corned beef based on how much time you have available.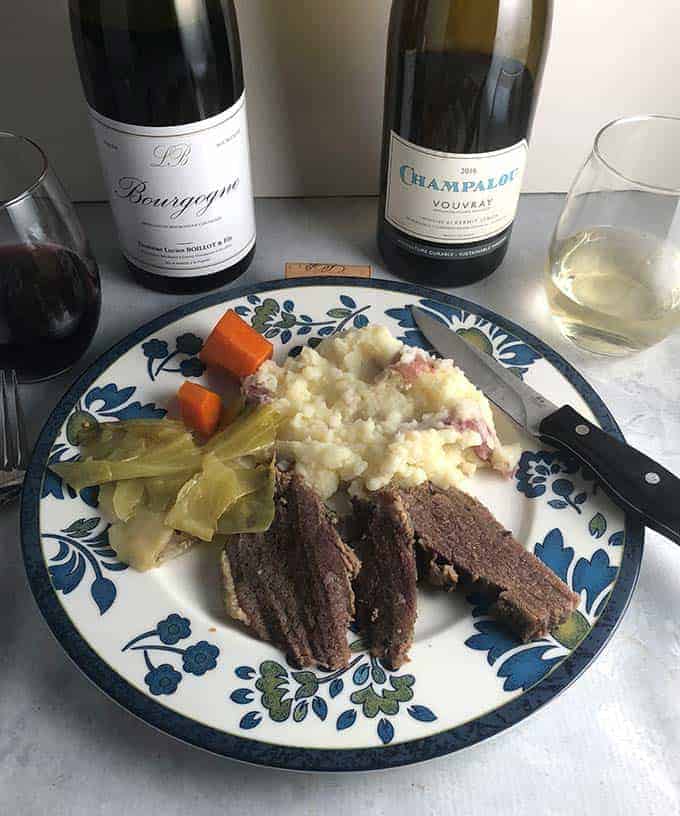 Sure, a pint of Guinness might be the most popular beverage to open to celebrate St. Patrick's Day. I'm sure I'll have some Guinness between now and March 17. While beer is certainly a good option for your St. Patrick's Day meal, today we want to explore wine with corned beef and cabbage.
Pairing Wine with Corned Beef and Cabbage
Wine is by far my favorite drink to pair with food. I relish the challenge of finding wine for foods that pose pairing challenges. Wine with corned beef and cabbage definitely seemed like a good topic to tackle.
Yes, corned beef is of course a kind of red meat. Typically that would have us thinking about a big red wine, maybe a Cabernet Sauvignon. But not so fast, that is not the wine you want with corned beef and cabbage.
Corned beef is rather salty, that is one consideration for picking a wine with corned beef dinners. Boiled cabbage also has strong flavors to contend with picking a wine pairing; and you are likely to be spreading some mustard on the corned beef.
I perused a number of articles about pairing wine with corned beef and cabbage, and yielded a dozen plus possible types of wine to try. Time to start experimenting!
White or Red Wine with Corned Beef?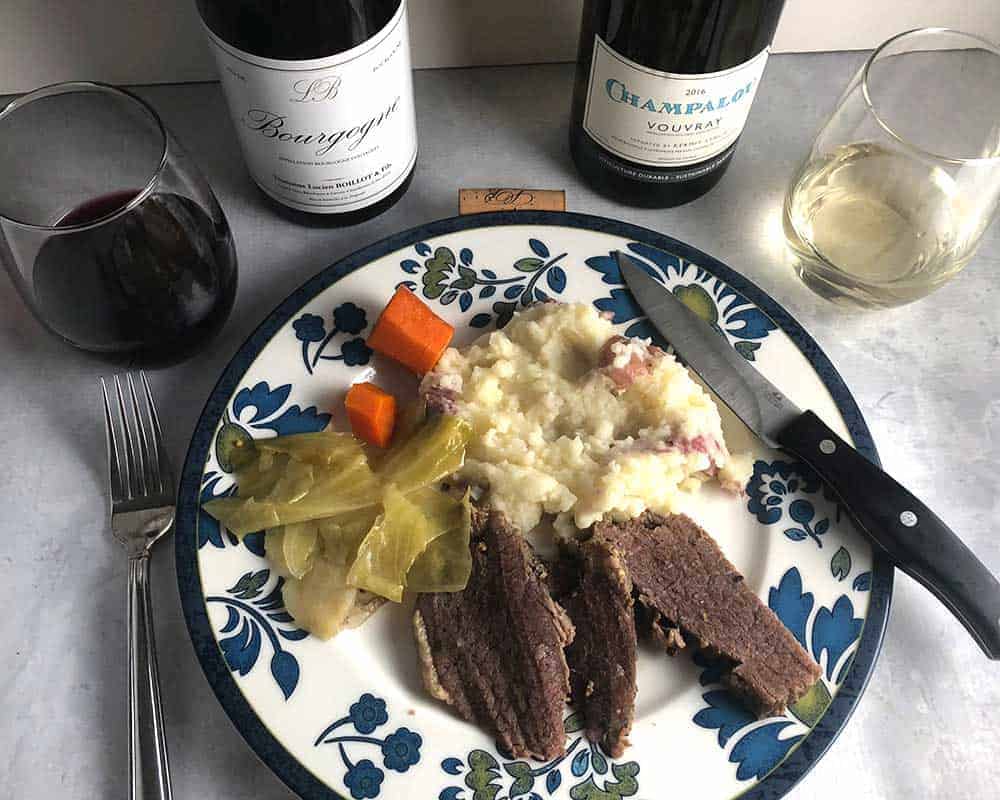 Red wine might seem like an obvious choice for those of us who the red wine for red meat. But there were a decent amount of white wines suggested in my research.
So when I first did this experiment in 2018, I figured I would test one white wine and one red wine with our corned beef and cabbage. I repeated the testing with two different red and white wines with corned beef and cabbage this year.
One idea I latched upon is that a wine you might choose for Thanksgiving can also be a good choice for a corned beef pairing. I was looking for wines with some fruit, acidity and low relatively low alcohol content. Low alcohol always tends to be good for wine and food pairings, but is particularly helpful when contending with foods that have some strong flavors that can be challenging with wine.
New Wine with Corned Beef and Cabbage Testing
I didn't want to base my results just one one round of testing, so this past weekend I made another batch of corned beef and cabbage and picked some wines to try.
Based on last year, I had more confidence in white wine as a pairing for corned beef. This time, I picked a bottle of 2016 Ravines Dry Riesling ($18, 12.5% ABV) from the Finger Lakes. Wet stone and citrus on the nose. On the palate, pear fruit along with a bit of petrol and lemon peel. Underlying minerality and good acidity.
The Ravines Riesling turned out to be an excellent pairing. Perhaps this should come as now surprise — the grape with its origins in Germany paired particularly well with the cabbage and mustard on our plate, elements that might be found in a German dish as well as this St. Patrick's Day classic.
I asked for a few suggestions for a red wine to try, and Zinfandel was mentioned. Zin had recently worked well during our wine with chili tasting, so I thought I'd try it with the corned beef.
We tried the 2016 Flying Cloud Zinfandel ($19, 14.5%) from Paso Robles. This zin has a subtle floral nose, with plum fruit and oak notes on the palate. A more refined Zin than some, it opened up in the glass and worked quite well with the corned beef. The fruit forward aspect of the wine seemed to help make the pairing work.
Last Year's Results
For the white wine, I chose the 2016 Champalou Vouvray ($23, 12.5% ABV). Vouvray is an appellation in the Loire region of France, known for white wines made from the Chenin Blanc grape. An earlier vintage of this Vouvray had been among my Thanksgiving Wine Picks previously, so I thought this white wine with corned beef had promise.
We also went to France for the red wine with corned beef. We opened the 2015 Lucien Boillot & Fils Bourgogne ($30, 13% ABV). I believe we had Pinot Noir with corned beef last year, so why not try a Pinot from Burgundy this time?
Rhone reds for corned beef were also mentioned frequently in my research, but this Burgundy had lower alcohol than the Rhone red I had on hand, so I went for the Burg.
I liked both wines on their own, when I sampled them before dinner. The Vouvray has bright lemon fruit soft mouthfeel, and some underlying minerality.
The Burgundy had nice violets on the nose. Plum fruit, also some minerality. Cedar notes with touch of coffee.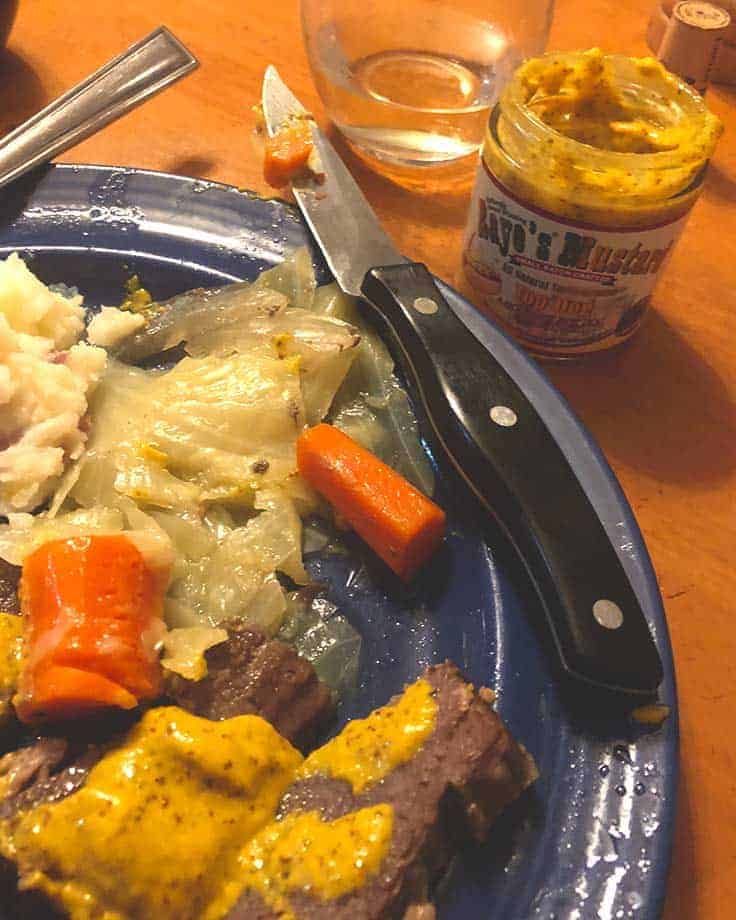 So which wine was better with corned beef? The Vouvray was the hands down winner! This white wine cleansed the palate after the salty meat, and also went along nicely with the mustard. There was enough body to stand up to the beef, too.
The Burgundy flavor profile, on the other hand, just didn't mesh well with the salty corned beef and cabbage. Those descriptors, including cedar notes and a touch of coffee, give you some sense there might be some clashing tastes on the palate with corned beef. I'd say the Burgundy is a fine wine, just needs a different food partner.
It so happened that we were at a wine dinner the night before our corned beef meal. Stephen Chevalier, leading the tasting from Ideal Wines, commented that Americans should try picking a wine for meat with our eyes closed. In other words, be open to the notion that a white wine in some instances can be a great choice for red meat.
Even with our eyes open, we picked the white Vouvray wine for corned beef and cabbage this year!
I wanted to test out another red wine with our leftover corned beef. I wanted to go for low alcohol and fruit forward, so I opened the 2015 Les Chemins de Felines Minervois ($11, 13% ABV). Blackberry fruit taste, with some slate in the background. Made with 80% Syrah, 20% Grenache.
The Minervois is good wine for the price, and a better match than the more expensive Burgundy…but I'm still picking the Vouvray as the best wine with corned beef based on our 2018 sampling. But if you prefer to go with a red wine for your corned beef, this Minervois or something similar can work.
Corned Beef with Wine Conclusions (for now!)
So both years we were quite pleased with the white wine pairings for corned beef. But of course, not any white wine will work with this Irish meal. The white wine needs to be full-bodied to stand up to the beef, as well as having some acidity to work with the funky aspects of the cabbage.
Our results with red wine for corned beef and cabbage have been more mixed. Pinot Noir tends to be a versatile wine for food pairings, so I was a bit surprised that the red Burgundy didn't do better in the pairing. But thinking about the Zinfandel doing well as a pairing, I am thinking that the key is the Zin is more fruit forward, and that seems to play along well with the corned beef and cabbage flavors.
Pinot Noir is typically more earthy than fruity in its characteristics, particularly so from Burgundy. While Pinot's earthiness works well with many dishes, it didn't come out a winner with our corned beef and cabbage. Our experimenting suggests you should pick a more fruit forward red wine if you want to serve red with corned beef.
Our recommendations are based on a couple rounds of sampling and pairing,along with the background research. We will do some more experimenting and update accordingly! Meanwhile, if you find some good wine with corned beef and cabbage, let me know in the comments!

Making Corned Beef in a Slow Cooker High Setting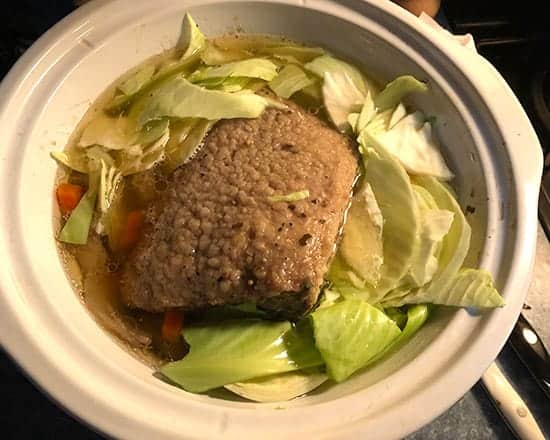 For our 2018 corned beef and cabbage, I bought corned beef on Saturday morning with plans to make it that evening, then realized I hadn't planned for the three hours of stove top cooking time needed to make corned beef. It didn't seem feasible for me to be home for a three hours stretch to watch the corned beef simmer, and eat supper at a reasonable hour.
That led me to look into options for making corned beef in a slow cooker. I began looking into this option too late for the eight hours needed for making corned beef in a slow cooker on low.
My best bet for getting our Irish meal ready for our Saturday supper was to make the corned beef on slow cooker high setting. I won't post a recipe here today, because this year I followed this Martha Stewart recipe for corned beef in a slow cooker.
Cooking corned beef on the high setting on our slow cooker worked in terms of our timing. I was able to get the meal going, then go out to do the various things I had planned…including up the wine to try with the corned beef! If you have about five hours and can't be home consistently, corned beef on the slow cooker high setting is the way to go.
I do think the corned beef prepared this way in the slow cooker came out a bit on the dry side, compared to the stove top versions I have made. Toward the end of the cooking, the high setting does have the corned beef going at a pretty good boil; ideally the brisket beef should be cooked low and slow the whole time.
Quick aside — we also have a good recipe and wine pairing for beef brisket, just the basic brisket cut with the corned beef flavor.
But I'd say our slow cooker result was still tasty. Eaten with a good dousing of mustard and plenty of cabbage and mashed potato, I was still please with the corned beef. Especially with a good corned beef wine pairing in the glass!
For more St. Patrick's Day meal ideas, be sure to visit our post on Real Irish Food for lots of great recipes.