BBQ flavored pork ribs are a popular choice for summer cookouts, and can also be prepared year-round using your oven or favorite cooking device. But what to serve with pork ribs? Today we answer that question for you with a collection of the 21 Best Side Dishes to Serve with Ribs! Our recipe roundup includes pasta salads, mac & cheese, potato salad, vegetables and much more.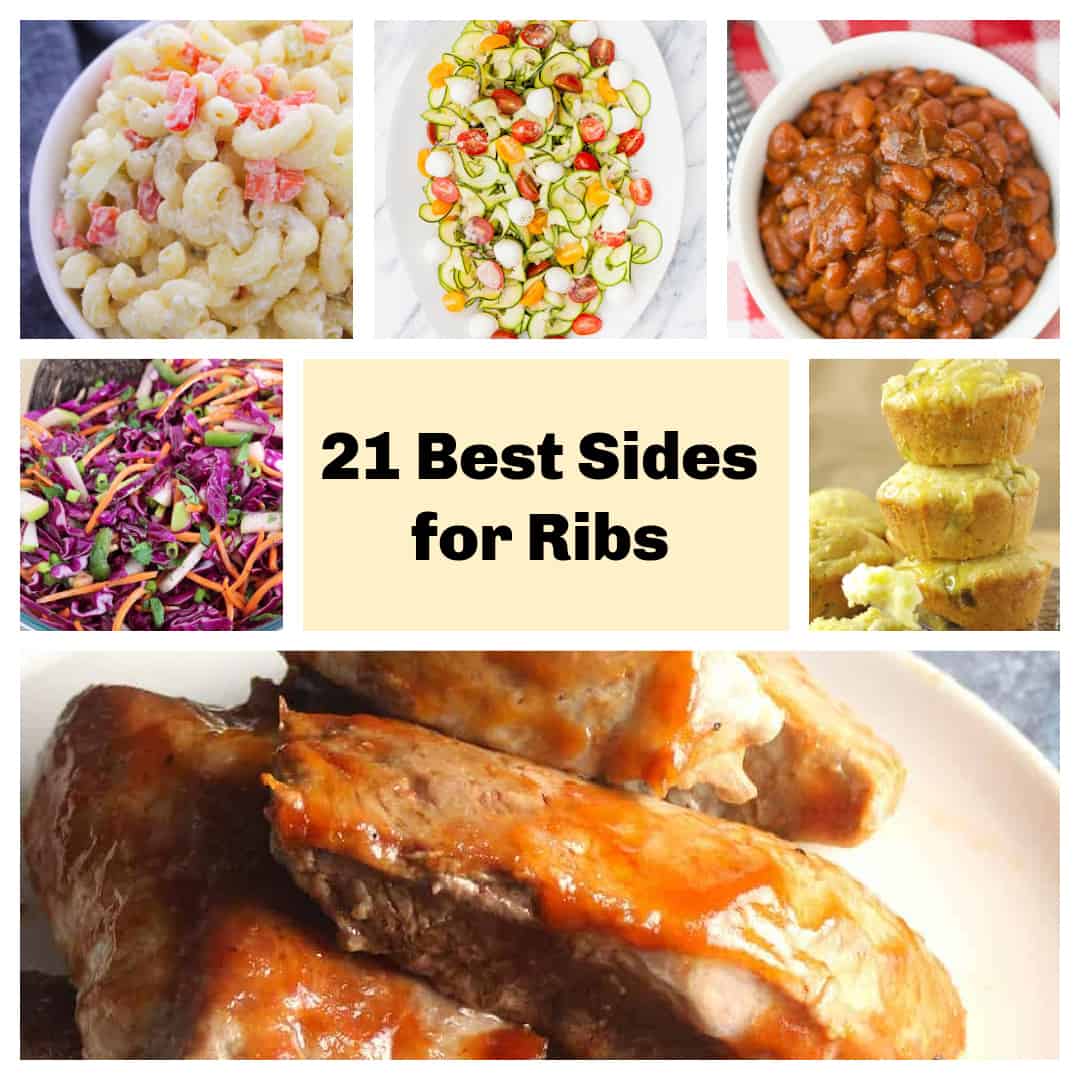 Over the past year, our Boneless Baked Pork Ribs has emerged as the most popular recipe here on Cooking Chat. Perhaps it's no surprise it is also one of the easiest! Our pork ribs recipe uses quick cooking country style ribs, and cooks in the oven in just about 20 minutes.
With hundreds of people visiting our pork ribs recipe every day, it is about time we delve into what to serve with pork ribs! I have examined dozens of suggestions from my fellow bloggers to pick the 21 best side dishes to go with ribs. Pick out a few of these tasty side dishes and take your rib dinner to a whole new level!
Jump to:
Potato salad
Let's kick things off with a classic for backyard barbecues! We've put together a collection of potato salad recipes that range from traditional preparations to creative interpretations.
Beans
Potato salad might be the first thing you think of when it comes to BBQ sides, but I always go first for a good helping of beans!
Pasta side dishes
We label this group of recipes "pasta" to cover two types of classic sides for ribs — pasta salad recipes and good old macaroni & cheese!
Salad and coleslaw
OK, you've got some good meaty ribs and hearty sides that we've covered, we need to add some healthy recipes that provide your veggies, too! Check out this group of delicious salads and coleslaw recipes.
Cornbread and sweet potatoes
I don't know about you, but I definitely think of cornbread on the side when I'm going for BBQ! And I've added my mashed sweet potatoes here because I just have to share them whenever I can. They are my favorite side dish here on Cooking Chat!
More rib recipes
I'm guessing you found this collection either by hopping over from my Boneless Baked Pork Ribs recipe or you already have your own plan for the ribs. But just in case you need some more rib inspiration, here are a couple more ideas to try: