Vermont Wagyu Ribeye is incredibly rich and flavorful. Just a little bit of caramelized onions as a topping rounds out a delicious meal! We roasted our ribeye, but this would certainly be excellent from the grill as well. Disclosure: This Vermont Wagyu Ribeye was sent as a complimentary sample, as was the suggested wine pairing.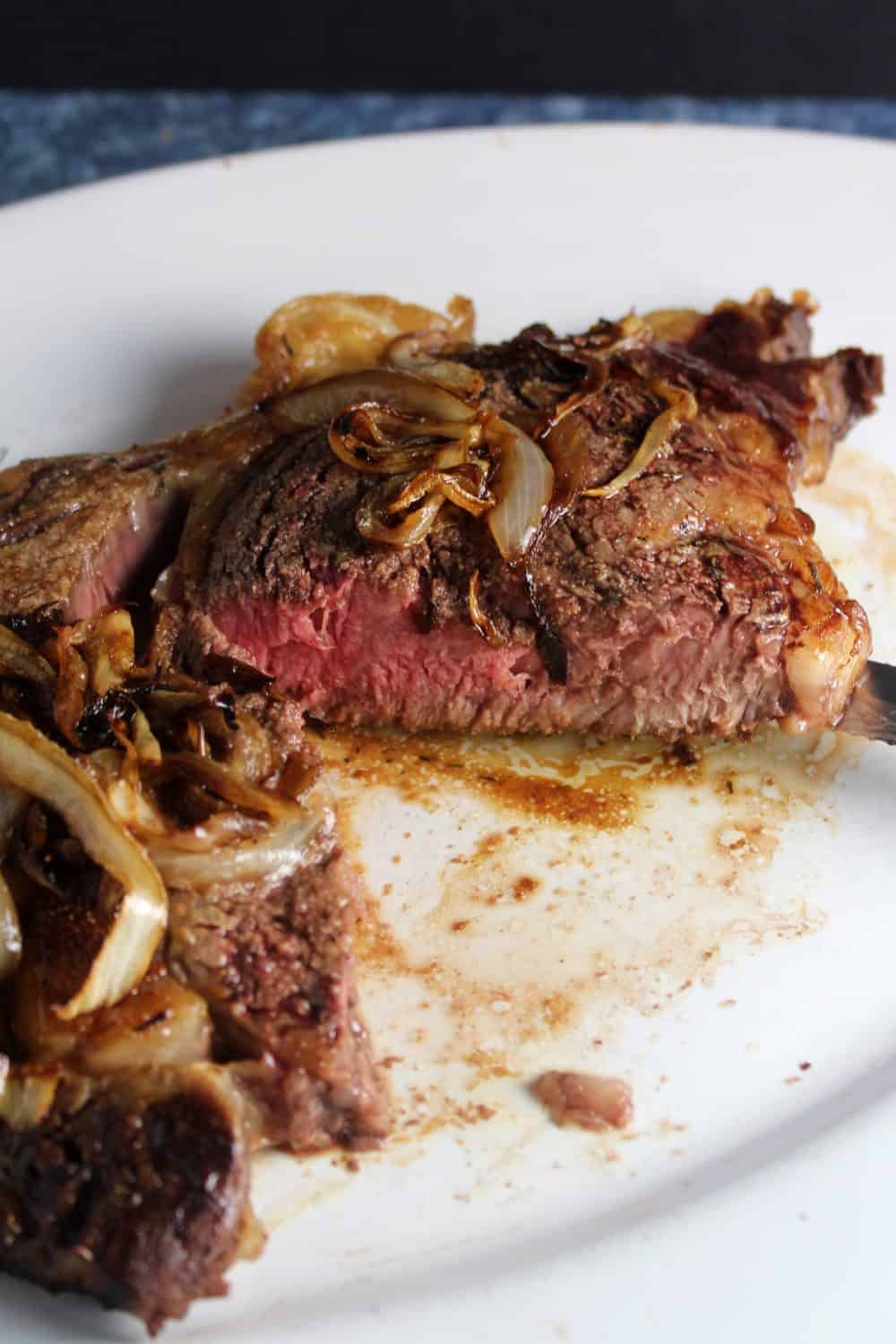 If you like a rich, flavorful steak, this Vermont Wagyu Ribeye with Caramelized Onions recipe is for you!
Now, ribeye is a favorite cut of many steak lovers. Marbled with plenty of flavorful fat, it doesn't take much to adorn the steak.
But when you put "Vermont Wagyu" in front of "ribeye", you really have something special!
What is Wagyu beef?
But you might be wondering what is Wagyu beef anyway? Honestly, I knew Wagyu as something you sometimes see at the higher price range at a nice restaurant, but not a lot more.
Wagyu cattle have a long history in Japan. The rich flavor of Wagyu beef comes from significant marbling throughout the meat, which comes from this breed of cattle's use in working agriculture over the centuries.
Importing of this special breed of cattle to the US began in the 1990s. American farmers have taken care to follow Japanese practices for raising Wagyu beef to retain the special flavor of the meat.
The Vermont Wagyu website has more background on Wagyu beef.
Vermont Wagyu
Vermont Wagyu got its start in 2006 when founder / owner Dr. Sheila Patinkton bought the historic Spring-Rock Farm in the Parker Hill Rural District of Vermont, in a beautiful setting overlooking the Connecticut River.
The 350 acre farm provides a great setting for raising Wagyu, which are primarily grass-fed, with no added hormones or steroids.
"Our farm is ideal for raising Wagyu cattle. There are natural features that protect the animals from harsh wind and snowdrifts," notes Dr. Patinkin. "The ancestors of our Wagyu cows pulled carts up Japanese mountains for many generations, making them very muscular and producing the famous Wagyu marbling. These cows are right at home roaming in Vermont mountains and feeding on the wholesome terroir of our grasses."
Vermont Wagyu offers a great lineup of options for enjoying their Wagyu beef. I also tried their Wagyu beef chorizo–stay tuned for that recipe! They've got all kinds of cuts to choose from, including tenderloin, NY Strip and short ribs. Check out the full range of products available online for more details.
Making this recipe
The Vermont Wagyu ribeye brings a lot of flavor to the table! So you don't have to do a lot to make a delicious steak dinner.
We started with a simple rub made from garlic powder and salt. You can add another dried herb if you like, perhaps time or sage.
You can caramelize the onion while the steak cooks. We've got basic instructions in our recipe card; more detailed tips on caramelizing onions over here in this article from the kitchn.
Roasting the Vermont Wagyu Ribeye
Typically I would grill this steak, particularly in the summer time. But I've been having grill issues — I think it is time for a new one here — so I roasted the steak.
Grilling steak is great, but you can definitely get great flavor roasting it too. Start with a quick pan sear of the steak in an oven proof skillet.
Next you pop the steak into a preheated oven, 400 degrees on the convection setting if you have it. The convection setting helps this big thick steak cook nice and evenly.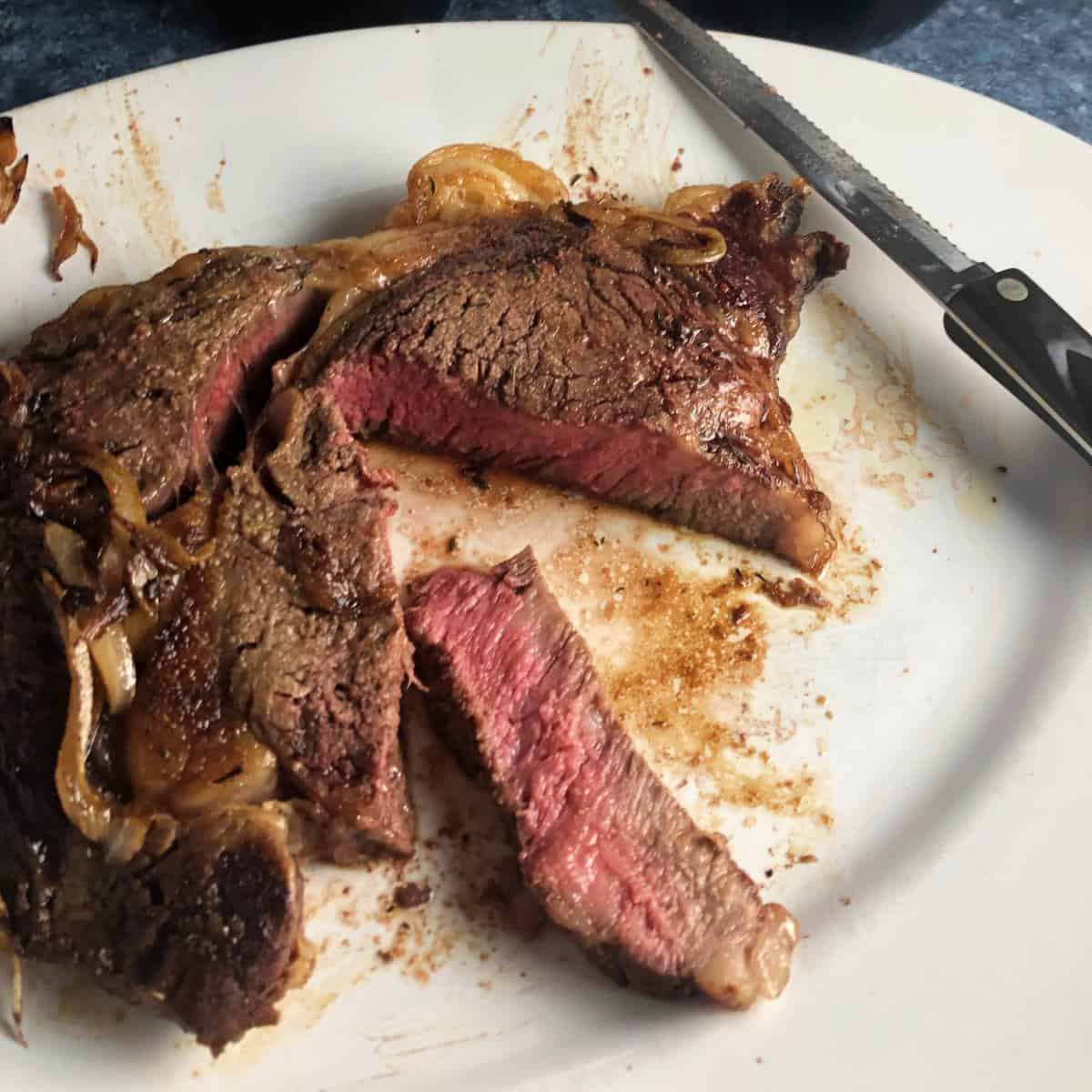 Twelve minutes of roasting got us the nice medium rare steak you can see in our photos. To be on the safe side, give your steak a check after 10 minutes in case your oven cooks more quickly then mine. Using a meat thermometer, you want your steak at 130 to 135 degrees for medium rare.
Grilling the steak
You could certainly grill this Wagyu ribeye with great results. Go ahead and use the same rub I give in the recipe, and serve with the caramelized onions.
Looking at some grilled ribeye recipes I've made, I would suggest grilling at about 400 degrees for 6 minutes per side. Again, monitor the internal temperature and avoid overcooking this special steak!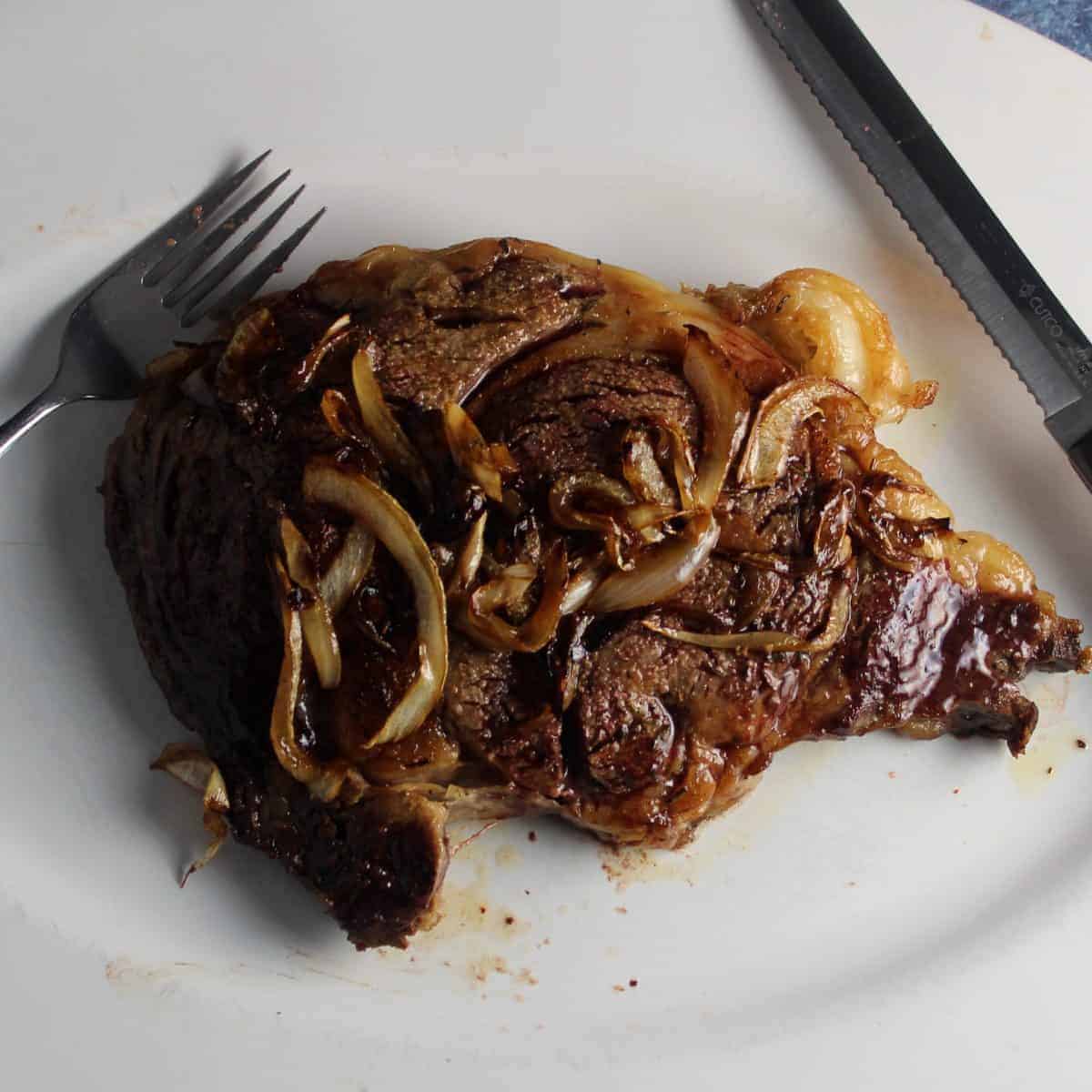 Wine Pairing
A bold red wine, with some tannins to balance the fat in the ribeye, is the way to go here.
That description naturally brings to mind Cabernet Sauvignon. I had recently gotten a Merlot / Cabernet Sauvignon blend sent as a sample from Moldova, the 2015 Chateau Vartely Individo (14% ABV), and decided to open it to pair with the Vermont Wagyu ribeye.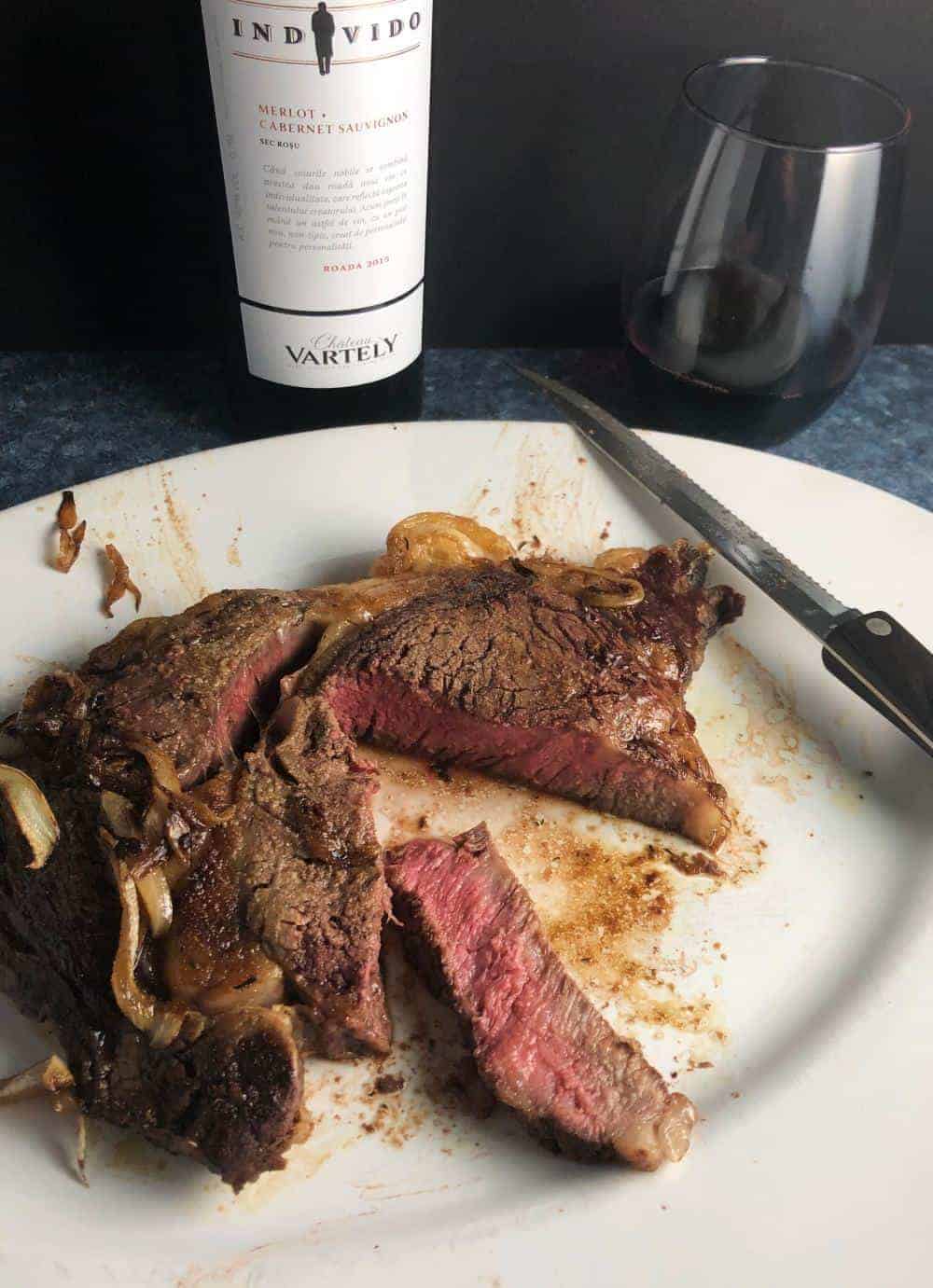 The Individo is dark red in the glass with amber notes. Lush berries and bramble on the nose. On the palate, prunes and toffee. Reminds me a bit of an aged Bordeaux. Interesting yet approachable wine. Definitely paired nicely with the ribeye!
You could certainly try your favorite Cab with the Vermont Wagyu ribeye.
Print
Recipe card
Vermont Wagyu Ribeye with Caramelized Onions
Vermont Wagyu Ribeye is incredibly rich and flavorful. Just a little bit of caramelized onions as a topping rounds out a delicious meal!
Author: Cooking Chat
Prep Time:

15 mins

Cook Time:

15 mins

Total Time:

30 mins

Yield:

3

servings

1

x
Category:

Main

Method:

roasting

Cuisine:

American
1

Vermont Wagyu ribeye steak

⅔ tsp

salt

1 tsp

garlic powder

1 tbsp

olive oil

1

large onion, thinly sliced

1 tbsp

butter
pinch of salt
Instructions
Preheat oven to 400 degrees convection setting, or 425 conventional.
Make the rub: Combine the teaspoon of garlic with the ⅔ teaspoon of salt. Rub into the ribeye steak, and let the sit on a plate at room temperature for 15 to 20 minutes.
Sear the steak:  Coat an oven proof skillet with oil spray. Heat on medium high. When skillet is hot, add the steak. Sear for 90 seconds, then turn steak over to sear on the other side for 90 seconds.
Roast the steak: After searing the Wagyu ribeye on both sides, move the skillet to the oven. Roast for about 12 minutes for medium rare, check for doneness after 10 to 12 minutes. When the steak is done to your liking, let it rest for about 5 minutes as you finish the onions.
Caramelize the onions:  Heat the olive oil in a skillet on medium high. Stir in the onions with a pinch of salt. Cook on medium high for 5 to 10 minutes, stirring infrequently so that the onions will brown. When the onions have begun to brown nicely, add the butter to the skillet and lower heat to medium low. Cook for another 5 minutes until the onions are very soft and brown.
Serve the steak: Slice the steak. Plate several strips of the steak, topped with the caramelized onions. Enjoy!
Notes
We recommend serving the Vermont Wagyu ribeye medium rare, with an internal temperature of 130 to 135 degrees.
You can stir any extra pan juice from cooking the steak into the pan with the caramelized onions for extra flavor.
Keywords: ribeye steak, Wagyu beef, Vermont Wagyu beef, Wagyu ribeye, steak with onions
Recipe Card powered by