This shop has been compensated by Collective Bias, Inc. and its advertiser. All opinions are mine alone. This content is intended for readers 21+. #KingofFlavor #FieldToBottle #CollectiveBias Read on and get ready to make your own Spicy Slow Cooker Beef Stew for the next big game! Note: in addition to to the 8+ hours for slow cooking the stew, allow 6 hours to marinate it.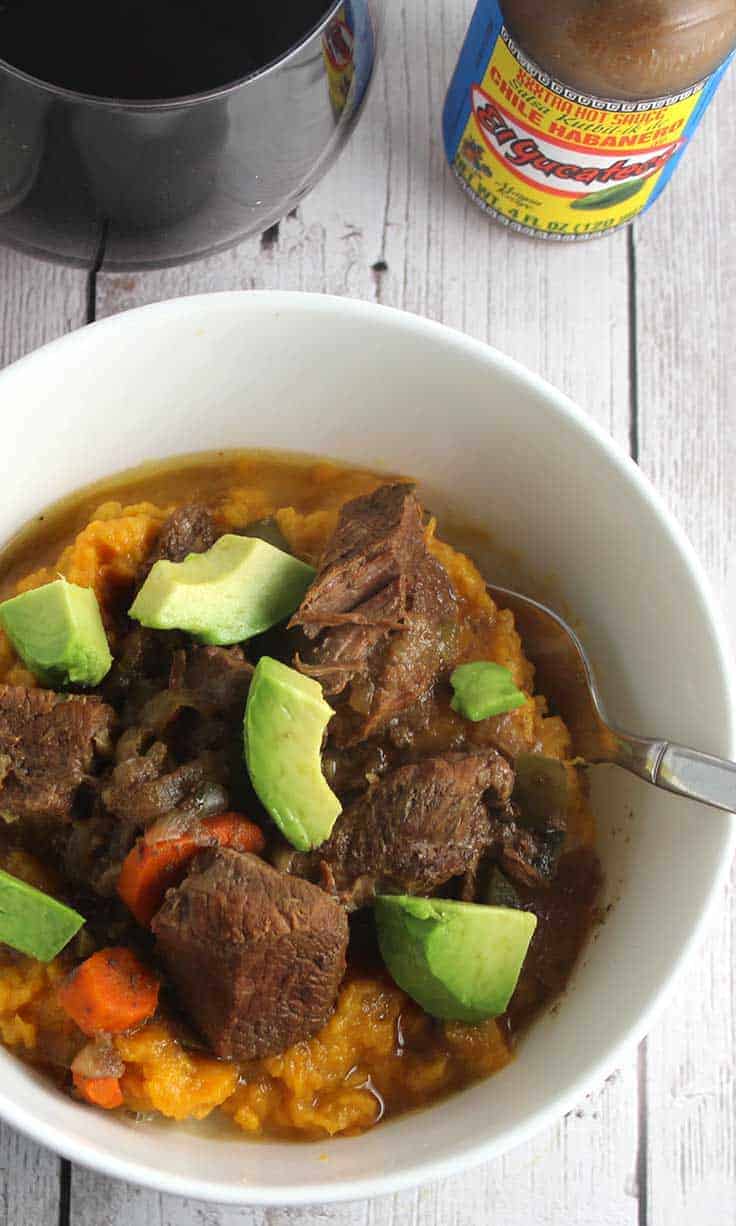 Our family loves to gather for a homegating party to cheer on our local team, especially as the weather gates cold and the season draws closer to the playoffs. This Spicy Slow Cooker Beef Stew with El Yucateco® XXX Hot Kutbil-ik Sauce is sure to give your fans something to cheer about!
Our spicy beef stew is packed with flavor, thanks to the the field to bottle freshness of El Yucateco® XXX Hot Kutbil-ik Sauce. The sauce is made from the ripest habanero peppers, following an ancient Mayan recipe.
Before I get too far along, let me now mention that El Yucateco® is running a #KingofFlavor sweepstakes with chances to win great prizes for your own tailgating or homegating party!  #KingofFlavor #Sweepstakes (11/14 to 12/19)
This Spicy Slow Cooker Beef Stew does take a little advance game planning, but then you can relax when the crew has gathered for the kickoff. Get the beef going in our simple marinade the day before the game. You don't need a lot of ingredients because the El Yucateco® XXX Hot Kutbil-ik Sauce in the marinade brings plenty of flavor.
If your team is playing later in the day, you can do the marinating overnight and get the stew going in the slow cooker the morning of the game. If you have an early afternoon kickoff for your homegating party, marinate the beef the day before the game and get it going in the slow cooker overnight. Either way you'll be ready to enjoy the game with the crew!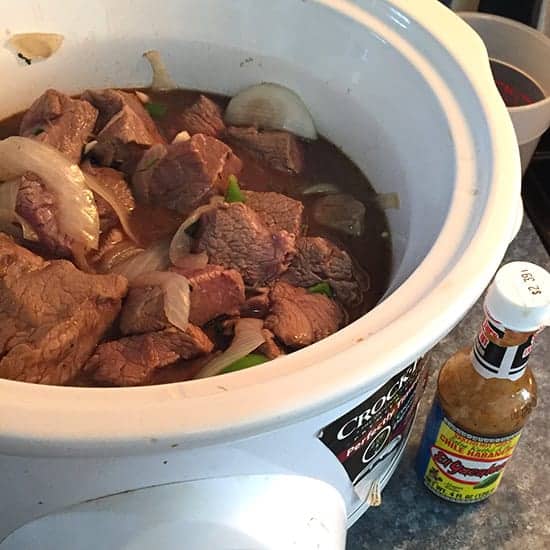 The beauty of having this spicy beef stew ready in the slow cooker is that you can keep it ready to eat whenever your fans are hungry. Maybe you all want to eat at halftime, so as not to miss any action? Or perhaps some fans can't wait that long and dip into the stew after the first touchdown. Either way works great!
We served our Spicy Slow Cooker Beef Stew over some mashed Sweet Potatoes with Cumin Sage Butter. The sweet potatoes make a perfect contrast with the big flavors of the beef stew. But you could also serve the stew over rice or regular mashed potatoes. Or just have the stew on its own in a bowl, maybe with some corn bread or tortilla chips on the side. However you serve it, you are sure to score a touchdown!
Pairings for Spicy Beef Stew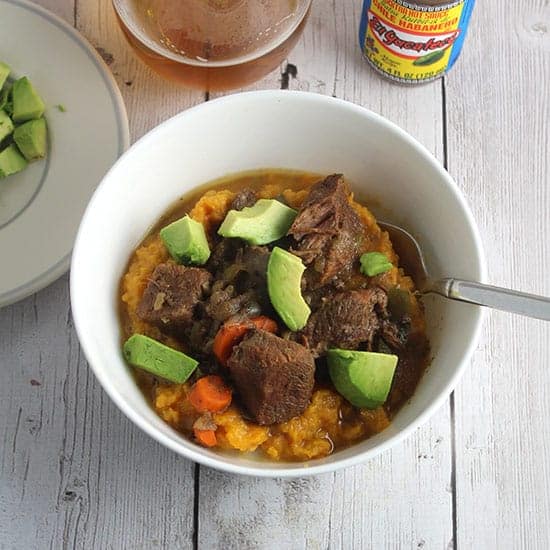 Beer is the most popular adult beverage at our homegating parties, and I'm sure the same is true for many other football fans. An IPA style beer generally works well with foods that have some spice. We tested out an IPA with the Spicy Slow Cooker Beef Stew, and that was a nice combo.
But you just might have some wine fans at your football party…especially if I'm invited! I wanted to see if I could find a red wine that would stand up to the big flavors for the spicy beef stew. One trick is to find a wine that has a lower alcohol content, and some flavor elements that match the stew. I went with the 2015 Domaine Faury Syrah (12% ABV) from the Northern Rhone region of France. It is lighter than some Syrahs, making it food friendly. With blackberry fruit with peppery notes, it turns out to be a pretty good match for the spicy beef stew. You could also try a Cotes du Rhone, which is typically a blend of Grenache, Syrah and Mourvedre.
About El Yucateco® Sauces
El Yucateco®'s ingredients come from Field to Bottle. It includes no artificial colors, but the same great taste that makes it the King of Flavor since 1968. El Yucateco® has a great lineup of flavors to choose from. The El Yucateco® XXX Hot Kutbil-ik Sauce we chose for our recipe is the hottest sauce they offer, but it is the big flavors that I really like.
Sure, El Yucateco® sauces are great to have on hand to add flavor to many different foods, but our recipe today shows that these sauces are great to feature as a main ingredient. You don't need to add much else in terms of spices as the sauce does the work for you!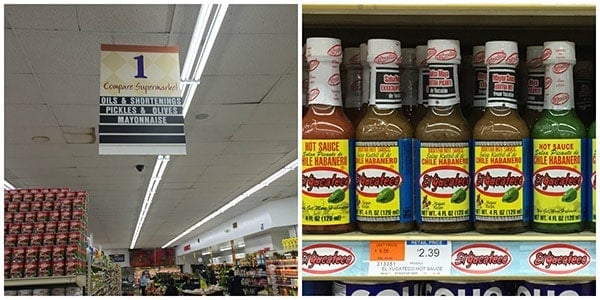 I picked up the El Yucateco® XXX Hot Kutbil-ik Sauce, along with some El Yucateco® Green Habanero Hot Sauce, at Stop and Compare market in Lynn, MA. You can find your El Yucateco® sauce at your local bodega, Walmart, and many other popular stores.
For more information about El Yucateco® sauces and recipes, visit their web page by clicking here. 
Print
Spicy Slow Cooker Beef Stew
El Yucateco® XXX Hot Kutbil-ik Sauce adds a great spicy kick to a slow cooker beef stew. We recommend serving over mashed sweet potatoes. Perfect game day food!
Author: Cooking Chat
Prep Time:

10 mins

Cook Time:

8 hours 15 mins

Total Time:

8 hours 25 mins

Yield:

7

servings

1

x
Category:

Main

Cuisine:

Fusion
Scale
Ingredients
FOR THE MARINADE

1

onion, peeled and quartered

1 tbsp

chopped cilantro

5

sprigs fresh oregano (or substitute

1 tsp

dried oregano)

2

cloves garlic, smashed

1 tbsp

El Yucateco® XXX Hot Kutbil-ik Sauce

3 cup

s beef broth

8

cloves

1 tsp

sea salt

1

carrot, coarsely chopped

1 cup

dry red wine

3.5

lbs stew beef, in 1 to 2 inch cubes
ADDITIONAL STEW INGREDIENTS

1 tbsp

olive oil

2

onions, chopped

2

carrots, peeled and chopped

1

green bell pepper, chopped and seeds discarded

1

jalapeno pepper, chopped and seeds discarded

2

cloves garlic, minced
salt to taste

2 ½ cup

s reserved marinade

1

additional tbsp El Yucateco® XXX Hot Kutbil-ik Sauce
pinch of cinnamon

1 tbsp

chopped cilantro

1

avocado, cut into bite sized pieces
Instructions
MAKE THE MARINADE: Combine all the marinade ingredients, from the onion through the red wine, in a large bowl.
Place the beef in a large sealable plastic bag, then pour the marinade into the bag. Gently shake the beef around a bit to get it well-coated, then squeeze the air out of the bag and seal it tightly. Store the beef in the refrigerator for at least 6 hours or overnight.
PREPARE THE STEW: When you're ready to start cooking, place a strainer inside a large bowl. Pour the beef mixture into the strainer, using the bowl to capture and reserve the marinade. Remove the beef, scraping off big pieces of herbs and cloves from the marinade. Set the beef aside in a bowl to cook.
Heat the oil on medium heat in a large cast iron skillet. Add the chopped onion to the pan, cook for a few minutes until it starts to soften. Add the carrots, green bell pepper and the jalapeno pepper. Cook for a few more minutes, then add the garlic and cook for another minute.
Stir in the beef, combining it well with the onions and other vegetables. Salt to taste. Cook for 5 to 10 minutes, stirring occasionally to brown on all sides. Depending on the size of your skillet, you may need to brown the beef in two batches.
After the beef has browned, transfer the beef and vegetables into the crockpot. Add the reserved marinade, cinnamon and additional tablespoon El Yucateco® XXX Hot Kutbil-ik Sauce to the crockpot. Stir to combine the ingredients, then cover the slow cooker.
Cook the stew with the slow cooker on high for an hour, then cook for an additional 8 hours in the slow cooker. With about 15 minutes remaining, stir in the chopped cilantro and cover again.
Keep the stew warm in the slow cooker until you are ready to serve. You can keep it warm while watching the game, and people can serve themselves when they want! Scoop the stew into a bowl when ready. Top with a few pieces of avocado. Enjoy!
Recipe Card powered by