Back in June, I had a chance to attend Gambero Rosso Boston, a showcase of 30 top Italian wine producers pouring over 100 of their wines. Time to share the highlights here on Cooking Chat!
Gambero Rosso publishes a very influential Italian wine guide each year. The Gambero Rosso Tre Bicchieri designation, meaning "three glasses" is the top honor they give to wines rated.
The Gambero Rosso world tour marks the release of the Gambero Rosso guide and to highlight some of the top wines from around Italy.
The main event at Gambero Rosso Boston was a walkaround tasting where we had a chance to sample a wide variety of excellent wines. In addition, I had a chance to attend lunch and dinner events that provided a chance to learn about Italian wine and food in a more intimate setting.
I won't begin to try to give you details on all of the wines I tried at the Gambero Rosso tasting. I think the best way to give you a flavor for the event is to provide you with these highlights:
Lunch at Mast' Pizzeria and Restaurant
Gambero Rosso Boston got off to a great start for me with a lunch event at Mast' Pizzeria and Restaurant. The meal focused on tasty preparations featuring cured meats from Rovagnati with carefully selected pairings that would give us a little taste of the wines selected for Gambero Rosso.
We started sparkling a sparkling wine from Piemonte — not something I've had previously from the land of Barolo! Specifically, the wine comes from the Alta Langa DOCG, not an area I had heard of previously. The Enrico Serafino Oudeis Brut was definitely a great start to our lunch!
The first pairing was excellent! Porchetta Tortelloni in a Boscaiola sauce — a Tuscan sauce made with mushrooms and herbs, paired with a white wine.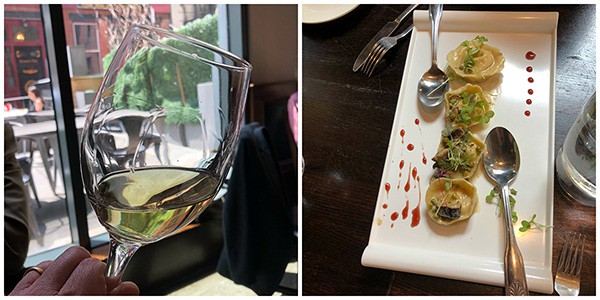 Now, the delicious wine and food was coming very fast. I can't promise that the bottle I took a picture of — Sella & Mosca Terre Bianche Cuvée — was the one paired with the tortelloni or if that went with the next dish.
But either way I do recall really enjoying this Alghero Turbato from Sardinia. Turbato is the name of the white wine grape.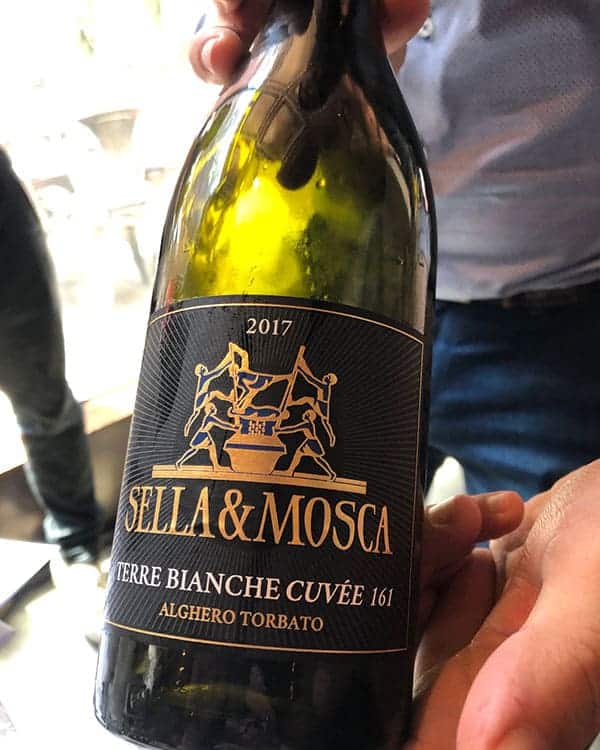 Perhaps my favorite white wine sampled at Gambero was the Alta Morra Etna Bianco, presented with passion by our hosts. I think of red wines from Sicily, but this white is citrusy and complex, excellent with food.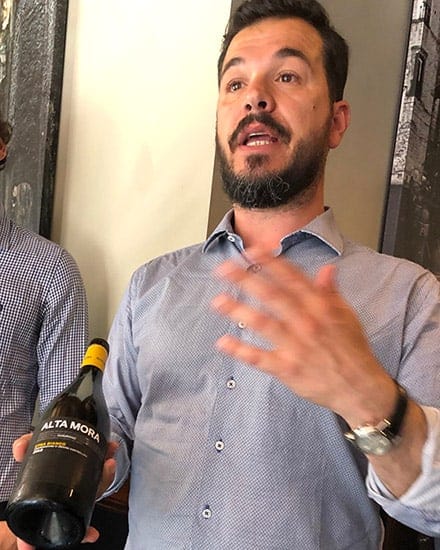 Before moving onto red wines, we had a another course paired with a very good rosé from the Salento region of Puglia.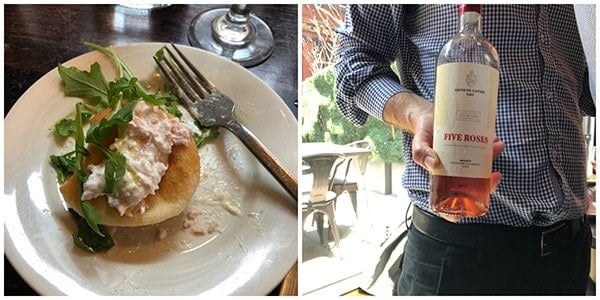 "In Napoli, they fry everything!"
Mast's chef owner really started getting passionate when the courses featuring his native Napoli started coming out! "Neapolitan pizza is made to melt in your mouth!" he said as he demonstrated the proper way to fold up a slice of pizza from Naples.
Chianti can be just a ho hum table wine to go with your Italian food, but the Lamole & Lamole Chianti Classico we sampled at the Mast' lunch was a great example of how a well made Chianti can elevate the meal.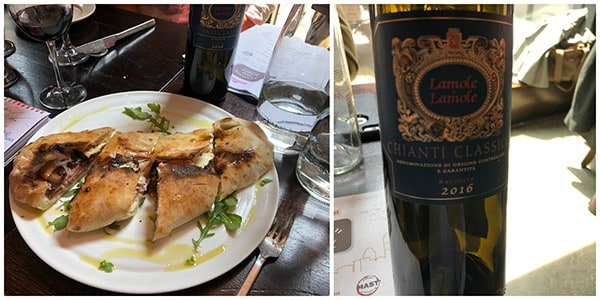 I look forward to getting back to Mast' soon to enjoying more of their pizza with some good Italian wine!
Learning about wines from Manduria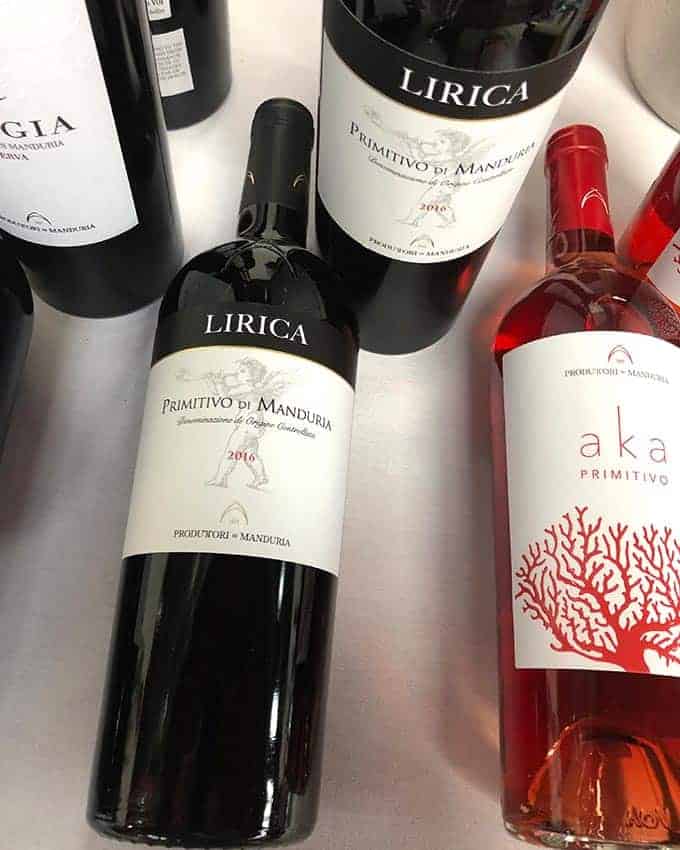 During the walkaround tasting, I had a chance to become familiar with Manduria, an area in Puglia well known for producing high quality Primitivo.
Giovanni from Produttori di Manduria led me through a tasting of four Manduria wines. We started with a white wine, made from Fiano grapes, a bit unusual for the region. Than I enjoyed some rosato (rosé) made from Primitivo, followed by two Primitivo di Manduria DOC red wines.
As Giovanni explains in this video I took in this video, he presented the Lyrica Primitivo di Manduria, which ages for 6 months in oak. Sounds like this is their most popular wine, and one he enjoys with a traditional Sunday lunch of Orecchiette pasta with meat sauce. For the Primitivo reserva, he suggest pairing it with lamb cooked with rosemary. Yum!
Primitivo and Zinfandel – Is there a difference?
Primitivo and Zinfandel are both clones of the same Croatian varietal, Tribidrag. They are very similar genetically and some will say they are the same. From what I read in articles like this, genetic siblings or cousins is probably most accurate.
Italian immigrants in California built on traditions from places like Puglia, and became planting with success what we now call Zinfandel. If you like Zinfandel you are likely to enjoy Primitivo, too, but will note the old world aspects of the Italian wine.
A Friendly Face from Abruzzo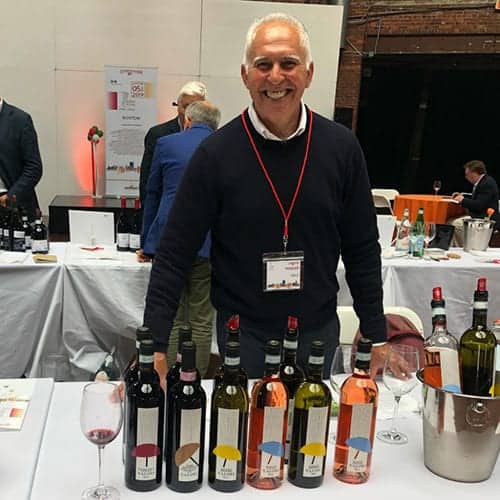 I was pleased to see the smiling face of Luigi Valori across the room at the walkaround tasting. I first met Luigi when visiting Abruzzo on a press trip last year. He joined our group for our visit to Masciarelli, where he talked passionately about the legacy of his friend Gianni Masciarelli.
Luigi seems to be a regular at Boston Italian wine events, as I had chatted with him last fall at a Montepulciano d'Abruzzo anniversary event.
The Valori wines are an excellent expression of the high quality wine that can be produced in Abruzzo. Founded in 1996, Azienda Valori is 100% organic. You can taste the commitment to excellence in each of his wines. For the Gambero Rosso Boston event, Luigi was pouring his Pecorino d'Abruzzo, Cerasualo (perhaps my favorite rosé!), and of course, Montepulciano d'Abruzzo.
Dinner with Cantine PaoloLeo
My Gambero Rosso Boston experience concluded with a special winemaker dinner, featuring Cantine PaoloLeo at SRV, a top Boston Italian restaurant.
Cantine PaoloLeo is a highly regarded producer in Italy's Puglia region — the "heel" of the boot shaped peninsula. They are in Salento, not far from the port city Brindisi. Cantine PaoloLeo focuses primarily on grapes common in Puglia — Primitivo, Negroamaro and Susumaniello. They do also make a Chardonnay that we tried.
I arrived at SRV directly from the baseball field on a warm June evening. The Rosarose Brut Rosé made from Negroamaro was being passed as I entered the private room at SRV was a very refreshing start!
My favorite dish in the seven course lineup of small plates and wine pairings at SRV was the Prosciutto Agnolotti, paired with with the 2017 Primitivo di Manduria Passo Del Cardinale.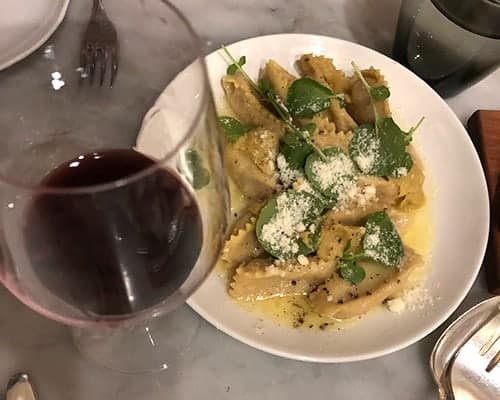 Another interesting pairing at the SRV dinner was the Lobster Risotto paired with a 2018 Primitivo Passitivo Rosé. Our very knowledgeable presenters from Gambero Rosso explained that this pairing demonstrated that a pairing based on matching the color of the wine with the food can work nicely. Not something I've heard of before, but the pink rosé definitely did work with the similarly colored risotto.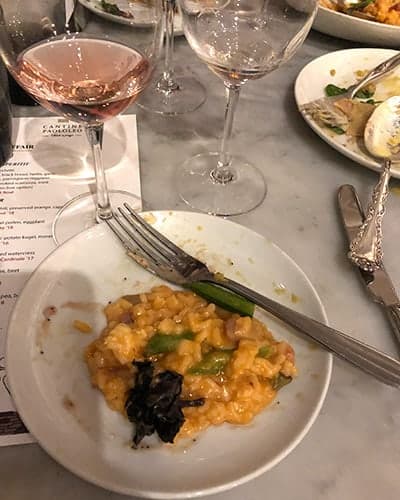 The Canine PaoloLeo dinner at SRV was definitely a tasty finish to my 2019 Gambero Rosso Boston experience!