Delicious Roasted Cauliflower Tacos recipe with a flavorful spice blend, crunchy cabbage and flavorful avocado cream. This recipe is vegan as given.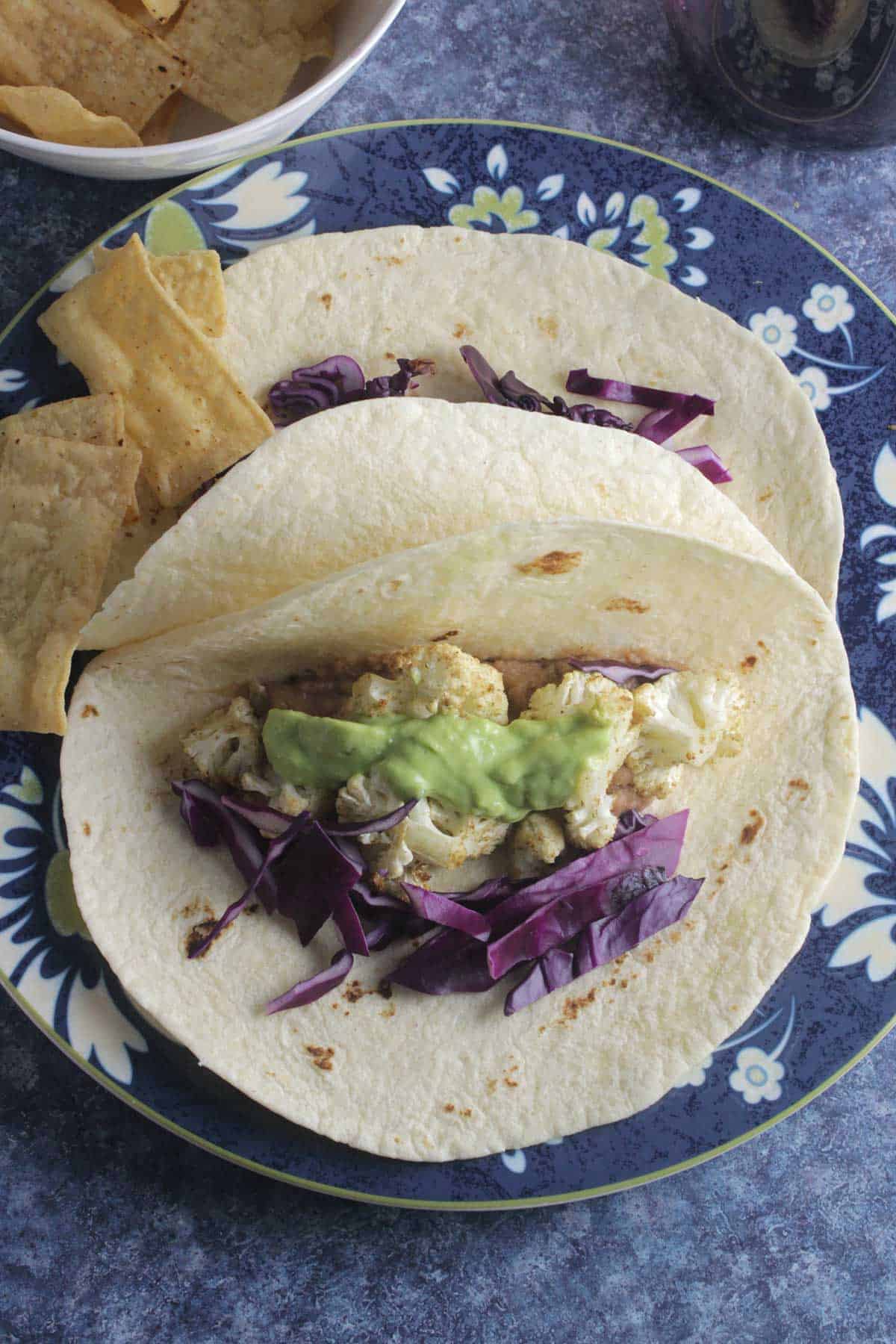 This Roasted Cauliflower Tacos recipe was a big hit with the family!
Jodi will go along with veggie centric dishes like this in the interests of being healthy. But not likely to get excited about a dish featuring cauliflower as the central ingredient. "Wow, this is really flavorful!" was her reaction.
Even more surprising was our 14 y.o. indicating that he really liked the cauliflower! He does well eating his veggies raw, but typically once I start cooking them with any kind of spices I've lost him.
But somehow the roasted cauliflower had just the right amount of spice without being overpowering. The dash of cinnamon probably helps make it kid friendly!
Inspiration for Roasted Cauliflower Tacos
I've been making more cauliflower dishes over the past year, including tasty mains like Creamy Cauliflower Pasta and a go to side-dish, Indian Roasted Cauliflower.
So when the Pinch of Yum recipe for Buffalo Cauliflower Tacos with Avocado Crema landed in my inbox, I knew I needed to make something similar soon!
Instead of preparing a buffalo flavored coating for the cauliflower, I put together some of my go to spices for a flavor blend to use for the roasted cauliflower. I also made some tweaks to the avocado cream preparation. The end result was delicious!
Is this taco recipe vegan?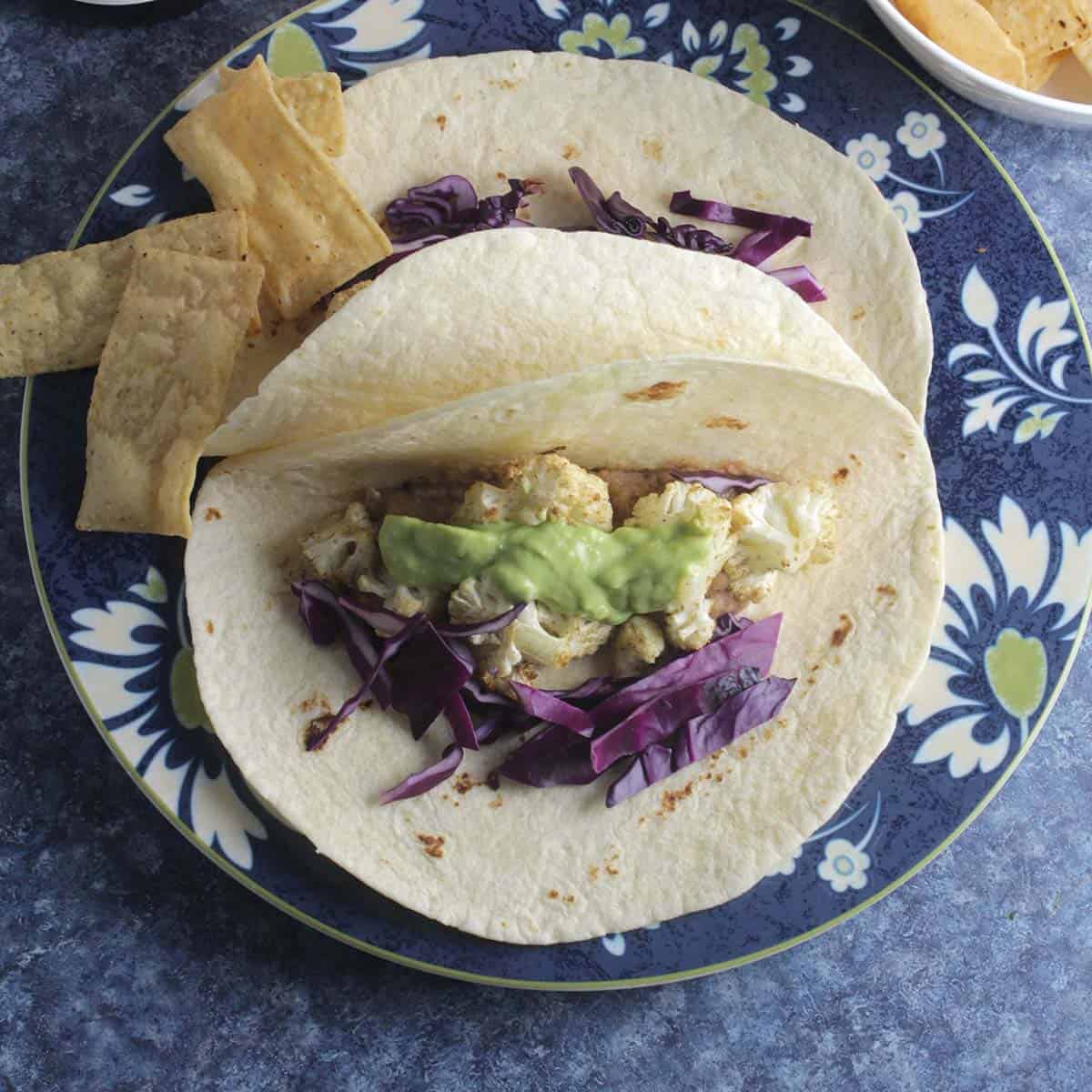 As given, this Roasted Cauliflower Tacos recipe is vegan. Two important notes, however.
I note that you can use sour cream instead of the silken tofu if you like. But to keep it vegan you will need to stick with the tofu option, unless you have some kind of dairy free sour cream.
I list refried beans as an optional ingredient. We tend to have beans in the mix on our taco nights. Traditional refried beans have pork lard in them, so of course that wouldn't be vegan.
I get Whole Foods beans that don't contain the pork. So either use beans like that or skip them to keep it vegan.
We do serve up meat and fish at our home, but like to have a good number of plant strong dinners each week. For those who are looking for vegan recipes, I wanted to be sure you knew how to make sure you have the info you need to prepare this recipe.
For more nutritious recipe ideas, check out our collection of Tasty Healthy Recipes. If you like featuring cauliflower in a recipe, try our Roasted Cauliflower Kale Soup. For another good vegetarian taco recipe, try our Easy Black Bean Tacos.
Making Roasted Cauliflower Tacos
See the recipe card below for the full details on making our Roasted Cauliflower Tacos, but here are a few key pointers.
Get the cauliflower started first. Chop the cauliflower florets into bite sized pieces as the oven preheats. Spread the cauliflower in a single layer in a baking dish, and toss it with olive. This will help the spices stick to the cauliflower.
Sprinkle the cauliflower with the spices, then toss to distribute it evenly. Pop the cauliflower into the oven, and roast for 25 to 30 minutes, until tender.
As the cauliflower roasts, make the avocado cream in a food processor. After pulsing the garlic, silken tofu and avocado, things will be kind of chunky. But when you add the liquid, it will get to be a nice creamy consistency.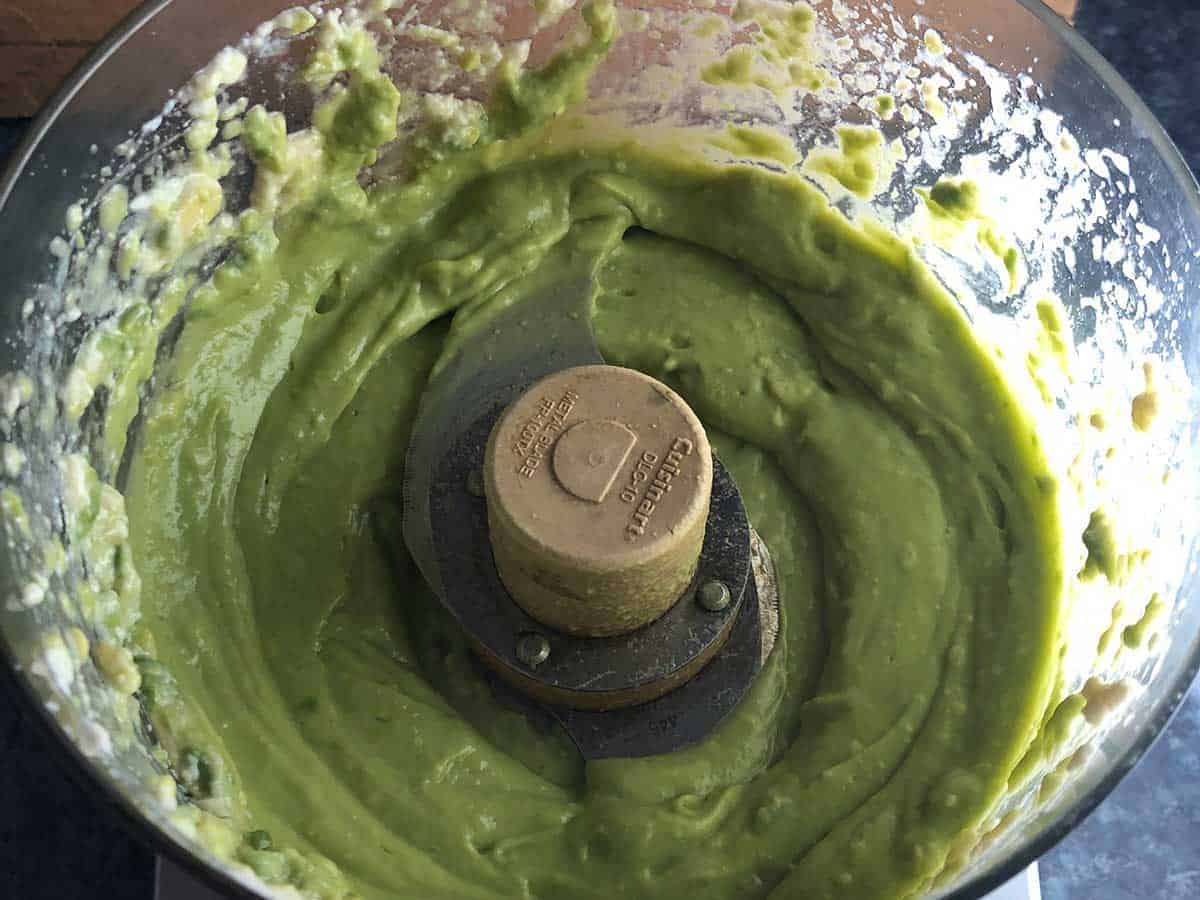 When the cauliflower is done roasting, you are ready to assemble your tacos.
Place some cauliflower in the center of the soft taco, topped with the avocado cream. Sprinkle some of that red cabbage around the cauliflower, and you are ready to either fold over your taco to eat, or roll it up more like a burrito style.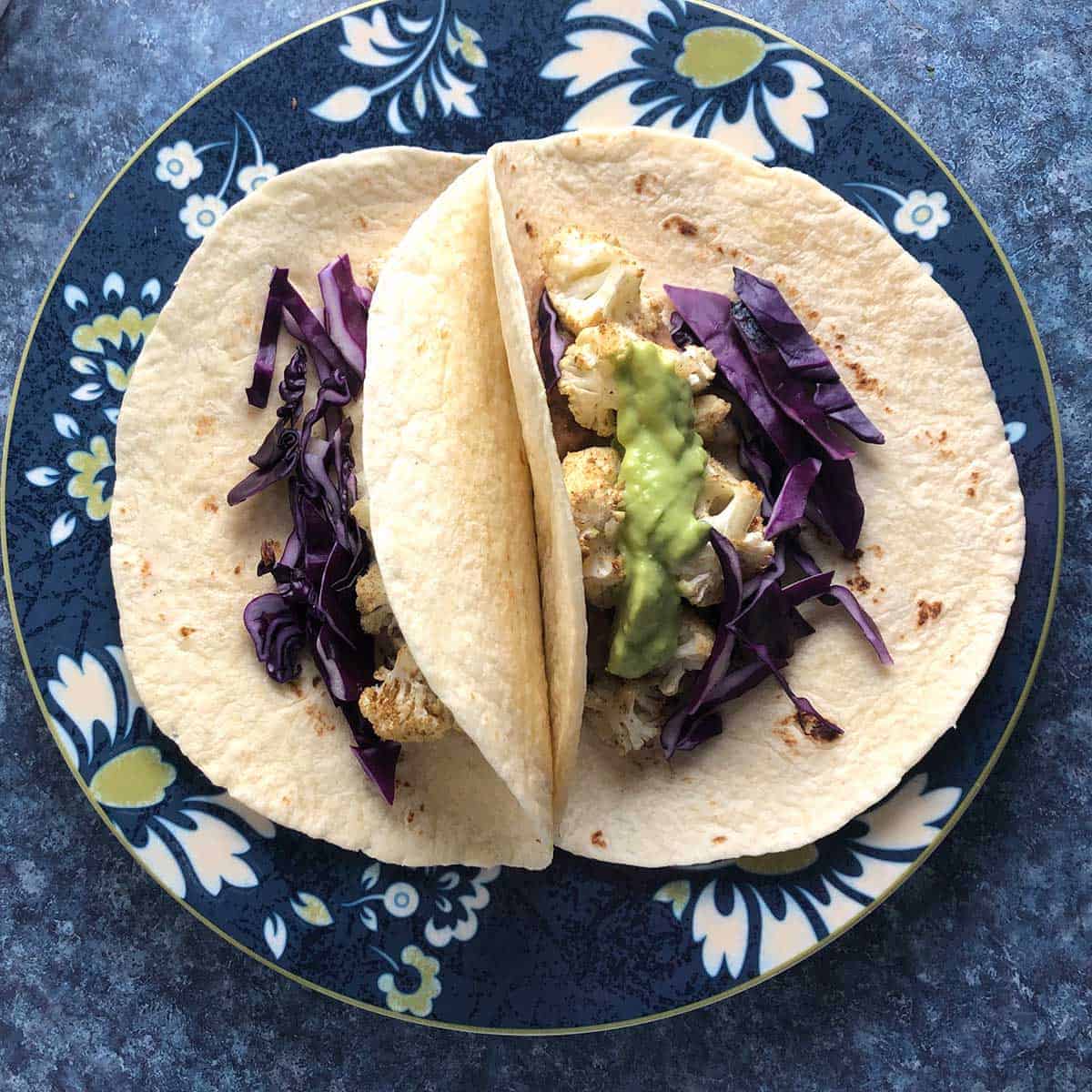 Pro tip: avoid the temptation to stuff too much of that good cauliflower into one taco or it is likely to fall apart. I'm clearly not pro level yet, as I often tend to overdo it!
Wine Pairing for Cauliflower Tacos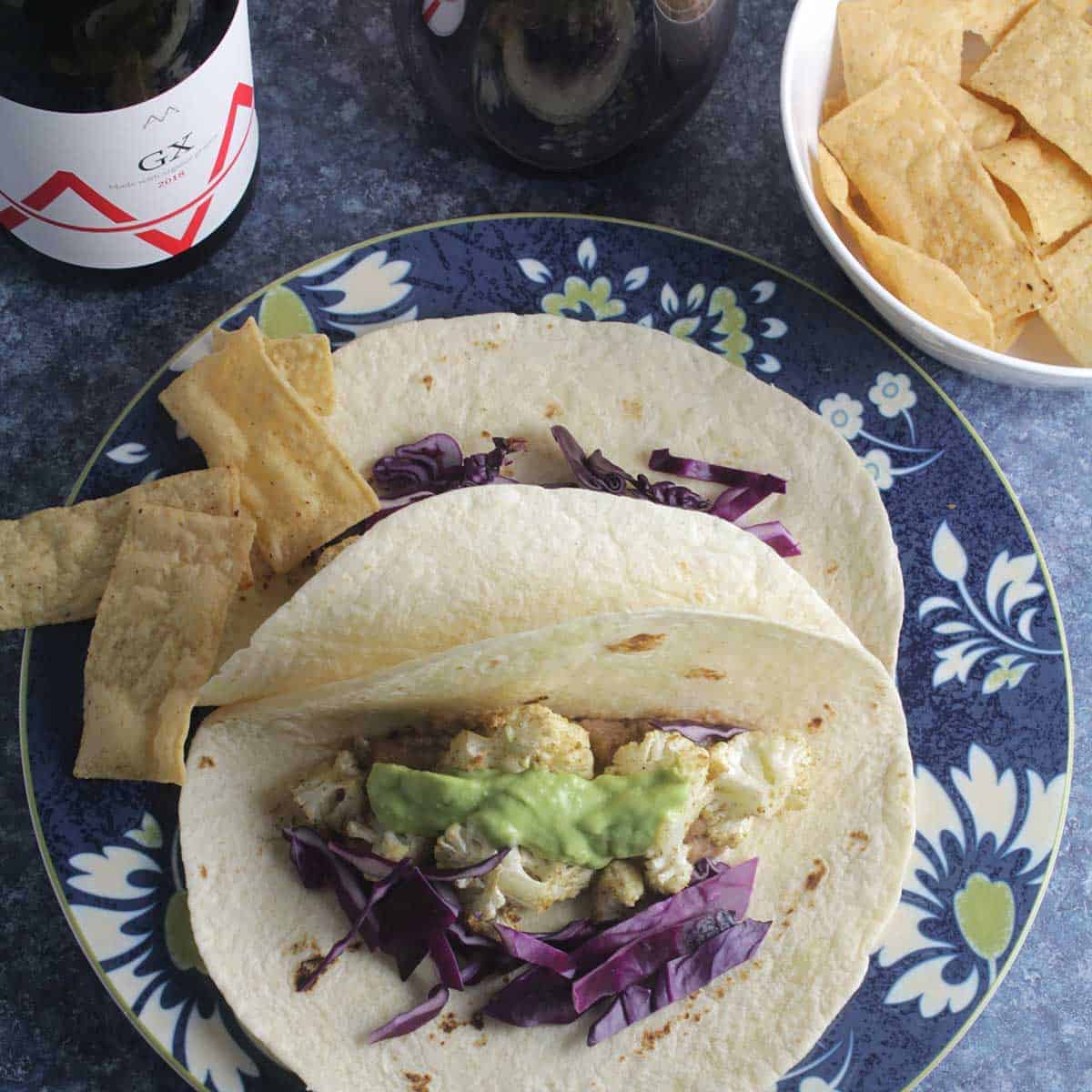 As a service to our readers, we tested two wine pairings for the cauliflower tacos — a Malbec and a Garnacha (Grenache from Spain).
Alas, we had the Cabrini Malbec with the tacos when I first made them several months ago, I don't have notes for it other than "goes very well with the tacos." This Malbec from Argentina is pretty widely available in the US, and you should be able to grab a bottle for under $15. However, any good Malbec should work nicely.
More recently, I opened the 2018 GX Garnacha ($15, ADD ABV) from Alta Alella, located just outside of Barcelona. This unoaked Garnacha, made from organic grapes, has violets on the nose. Fruit forward, with strawberry notes, on the palate. Quite a bit of acidity, which is why I don't think it worked as well for the tacos as the Malbec did. The Garnacha would probably be better served with a dish that needs more acidity, such as a tomato based preparation.
Of course, beer is another option for a tacos pairing. I like to go for an IPA with tacos and other foods with some spice.
Print
Recipe card
Roasted Cauliflower Tacos with Avocado Cream
Delicious roasted cauliflower tacos recipe with a flavorful spice blend, crunchy cabbage and flavorful avocado cream. This recipe is vegan as given. Inspired by this recipe from Pinch of Yum.
Author: Cooking Chat
Prep Time:

10 mins

Cook Time:

30 mins

Total Time:

40 mins

Yield:

4

servings

1

x
Category:

main

Method:

roasting

Cuisine:

fusion
For the cauliflower
1

head of cauliflower, chopped into bite sized florets (about

4

to

5

cups)

1 tbsp

olive oil

½ tsp

of salt

½ tsp

garlic powder

½ tsp

coriander

1 tsp

cumin
pinch of cinnamon
pinch of cayenne (optional)
For the avocado cream
¼ cup

silken tofu (sour cream works too if you aren't focused on making this a vegan recipe)

1

clove garlic

¼

of water

1

avocado, peeled and pit removed

1 tbsp

lime juice

1 tbsp

extra virgin olive oil

1 tbsp

fresh cilantro (optional)
Additional taco ingredients
4

tortillas

2 cups

red cabbage, thinly sliced
refried beans, heated (optional)
Instructions
Preheat the oven to 400 degrees.
Prep the cauliflower: Spread the cauliflower out in a single layer in a baking dish. Toss the cauliflower with the olive oil, then sprinkle the cauliflower with the salt, garlic powder, coriander, cumin, cinnamon and optional cayenne. Toss the cauliflower with the spices to distribute fairly evenly. Place the cauliflower in the oven to roast for 25 to 30 minutes. The cauliflower is done when it begins to brown and pierces easily with a fork. Set aside to cool briefly when done.
Make the avocado cream: Place the silken tofu, garlic and avocado in a food processor, pulse to mince the garlic and chop the avocado. Add the 1 tablespoon olive oil, lime juice, and cilantro. Puree the ingredients in the food processor until you have achieved a smooth consistency.
Assemble the tacos: Place a tortilla on a plate. If using the refried beans, start by adding a tablespoon or so to the center of the taco. Place a generous scoop of cauliflower in the center of the taco, topped by a tablespoon or so of the avocado cream. Add some cabbage around the cauliflower, then roll up your taco and enjoy!
Notes
The avocado will be a bit chunky when you first pulse the food processor. It will smooth out when you add the liquids. Tweak the amount of water to adjust the consistency if you like.
The fresh cilantro adds fresh flavor, but the dish is tasty if you skip it. I'd suggest using the cilantro if you have some on hand or have another use for it — maybe some cilantro pesto for pork tenderloin.
Keywords: cauliflower, roasted cauliflower recipes, vegan taco recipes
Recipe Card powered by