Greek Lamb Stew features slow cooked lamb with plenty of flavorful Mediterranean ingredients for a savory meal. Perfect paired with a Greek red wine.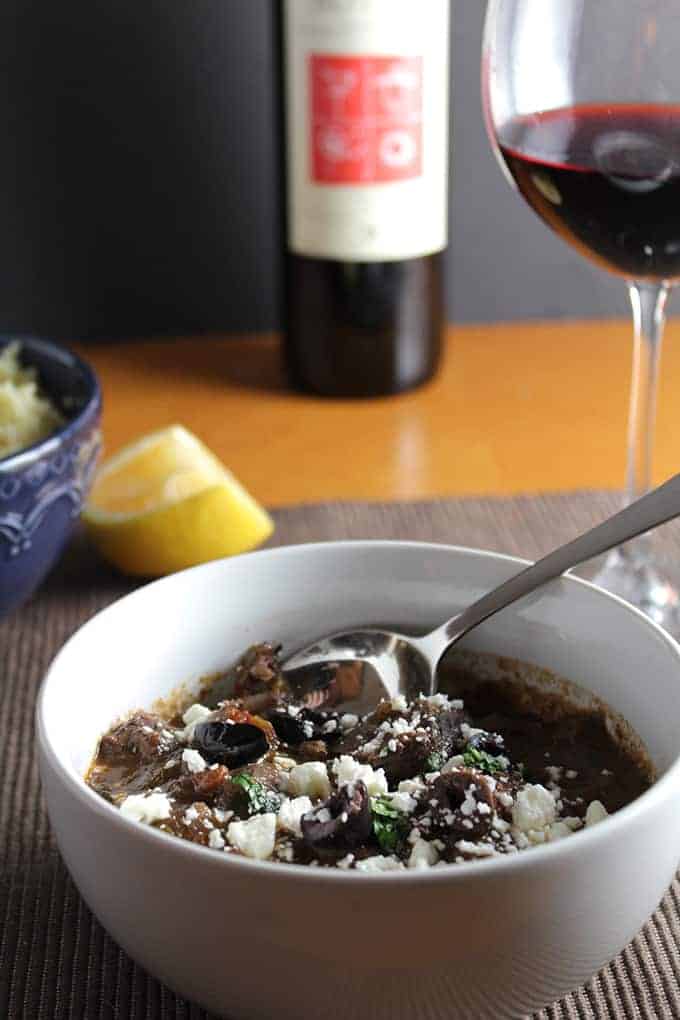 I think we've hit upon some New Year's Resolutions that we can stick to! This month's Wine Pairing Weekend theme is "New Year's Wine Resolutions", hosted by Christy from Confessions of a Culinary Diva. The idea of this #winePW theme is to share wines, regions and varietals we'd like to try more in in 2015. I believe I'm up to this task! I'm happy to share this Greek Lamb Stew and Wine Pairing to start the new year off on a good foot.
I don't have a lot of Greek wine experience, but know there are some good ones! I sure enjoy Mediterranean flavors, and enjoy featuring them plenty in Italian food. It's time to branch out and make and eat some more Greek food. So here's my New Year's food and wine resolution: I'm going to have some Greek food and/or wine at least once a month, and share about what I try here on this blog. I'm off to a great start, serving up this Greek Lamb Stew recipe for you. To show my seriousness, I also had Greek wine 3 times within one week this month! That's probably more than I had in all of 2014.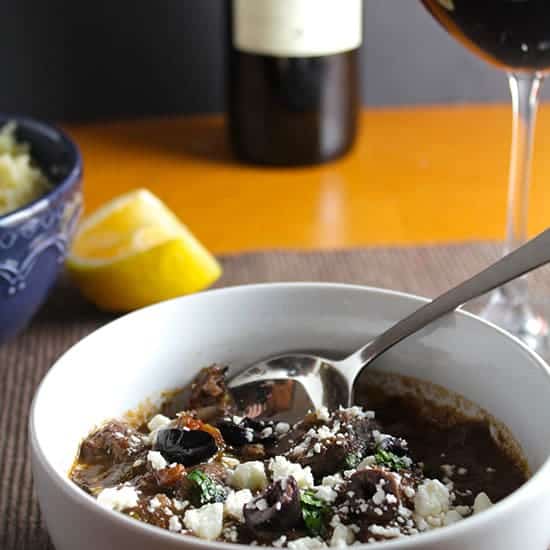 Now, about this Greek Lamb Stew that I made to serve with some Greek wine. I've gotten a good basic stew method down that I can use as a base to come up with new flavors. For instance, I made Tuscan Beef Stew to go along with Tuscan wines. To give our stew Greek flavors, I featured classic Greek ingredients like olives and feta cheese. With lamb as the stew meat, I also brought in fresh mint to finish the stew. We were very pleased with the way these Greek flavors combined with the fall-apart tender lamb meat resulting from a slow three hour braise in the oven. By the way, if you haven't gotten yourself a Dutch oven yet, I love using it to start stews like this on the stove and then slow cook in the oven.
For another delicious lamb recipe, check out our Lamb Ragu Pasta.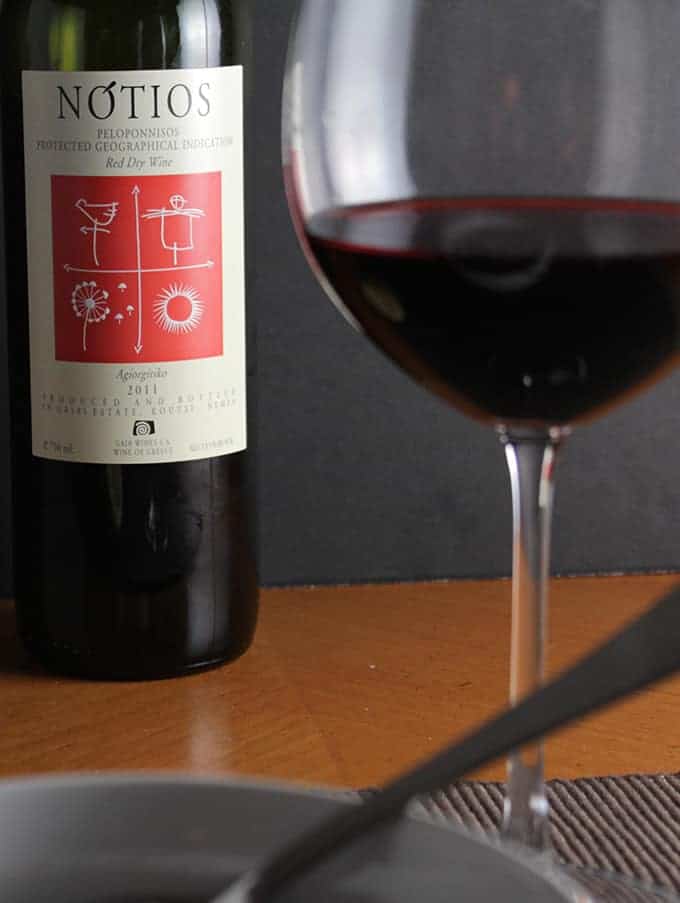 Wine Pairing: One reason I haven't had much Greek wine is because there isn't a lot to be had around here! When I asked for a pairing tip, Ray from Pairings Wine and Food suggested the 2011 Notios Agiorgitiko red wine to pairing with our Greek Lamb Stew. We were very well pleased with the selection! It proved a great example of the old adage, "what grows together goes together."
I got jasmine on the nose, blackberry and white pepper on the palate. Medium bodied and moderate alcohol for a red (13.5%), this is a very food friendly wine. I give this pairing a "spot on" rating!
"Notios" in the name of the wine means "the one that comes from the South". The wine comes from Nemea, on the Peloponnesian Peninsula (ring a bell from history class?). The Agiorgitiko grape is grown throughout Greece, but has its roots in the Nemea area. One of the most widely planted wine grapes in Greece, Agiorgitiko was a good place to start in my quest to have more Greek food and wine this year! Agiorgitiko also goes by the name "St. George".
Print
Recipe card
Greek Lamb Stew and Wine Pairing #winePW
Slow cooked lamb with plenty of flavorful Mediterranean ingredients for a savory meal. Perfect paired with a Greek red wine.
Author: Cooking Chat
Prep Time:

30 mins

Cook Time:

3 hours 30 mins

Total Time:

4 hours

Yield:

6

servings

1

x
Category:

Stew

Method:

braising

Cuisine:

Greek
20

ozs red wine

3

cloves garlic, smashed

1

red onion, coarsely chopped

2

sprigs oregano

1 tbsp

mint, minced

1

bay leaf
tsp cloves

½ tsp

salt

2

lbs lamb stew meat

1

yellow onion, finely chopped

2 tbsp

olive oil

1

parsnip, finely chopped

1

medium carrot, chopped

½

green bell pepper, chopped

1 tsp

dried basil

1

heaping teaspoon fresh oregano
garlic cloves from the marinade

2 cups

reserved marinade

½ cup

chicken stock

1

leek top, chopped (optional)

1

14 oz can tomatoes
tbsp tomato paste
tbsp mint, chopped

½ cup

kalamata olives, sliced
tbsp fresh lemon juice
feta cheese to pass at table
Instructions
Make the marinade: Pour the cooking wine into a large bowl. Add the garlic, red onion, oregano, 1 tablespoon mint, bay leaf, salt and cloves to the wine. Stir to combine well.
Pat the lamb meat dry, then put it in a large plastic storage bag. Pour the marinate into the bag and seal. Gently toss the marinade with the meat to get the meat well-coated. Open the seal a bit and press out excess air, then seal the bag and put in the refrigerator. Marinade the meat for at least 8 hours, preferably overnight.
Start making the stew by pre-heating oven to 325.
Heat 1 tablespoon olive oil in a dutch oven. Add the yellow onion, and sauté for a few minutes. Stir in the parsnip, carrot and bell pepper, and cook for about 5 minutes.
As the vegetables begin to cook, get the lamb ready. Set a bowl underneath a strainer, then pour the lamb and marinade into the strainer. Set the marinade from the lamb aside to be used shortly.
Scrape the bits of garlic, herbs and other ingredients off the lamb, saving the garlic and oregano for use in the stew. Pat the lamb dry, then add it to the dutch oven with the vegetables.
Turn the heat to medium high, add salt and pepper to taste, and brown the lamb meat. Stir occasionally to get it browned on all sides, which will take 5 to 1o minutes.
Stir in the 2 cups reserved marinade and stock. If you have less than 2 cups marinade left, add additional stock so that you have a total of 2 ½ cups marinade plus stock.
Stir the tomatoes, tomato paste and a tablespoon of mint into the dutch oven to combine with the lamb. Coarsely chop the garlic and oregano reserved from the marinade, then stir that into the stew along with the leek top if you are using it.
Bring the liquid to a boil, then reduce to a simmer. Give it a good stir, then add the cover. Carefully transfer the Dutch oven to the oven.
Cook for one hour at 325. Lower heat to 300, and braise for 2 more hours at 300.
After 3 hours of cooking time from the oven, carefully remove the stew from the oven and place on the stove top. Remove the cover, and stir in a tablespoon of mint, the chopped olives and lemon juice.
Serve the stew in shallow bowls over couscous or rice pilaf. Pass feta cheese at the table and people can top with the amount of feta they would like. Enjoy with a glass of Greek red wine!
Keywords: greek lamb stew, lamb stew, greek recipe, braised meat
Recipe Card powered by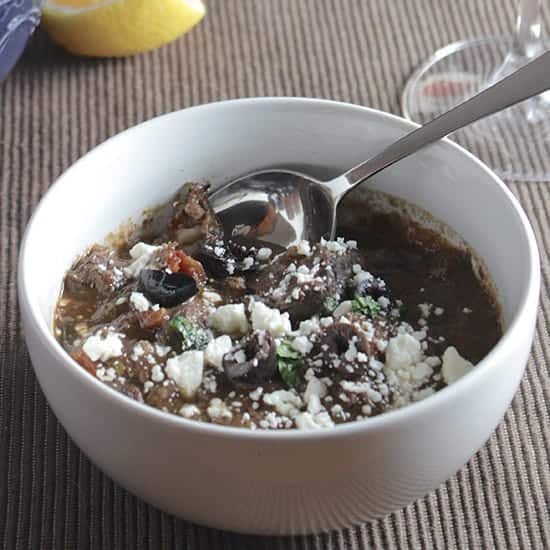 Be sure to check out the tasty results of the resolutions made by the rest of the Wine Pairing Weekend crew this month!
Sue from It's Okay to Eat the Cupcake is pairing "Fiery Red & Icy White".
Camilla from Culinary Adventures with Camilla has Argentina on her mind and is sharing "Empanadas Mendocinas + '10 La Posta del Vi natero Malbec".
Cindy of Grape Experience suggests starting the year with "Wine & Dine: Fontana Candida Terre de Grife 2012 Frascati & Slow Cooker Artichoke Dip".
Shaina of Take A Bite Out of Boca is offering "Herb Marinated Mushrooms with Cabernet Sauvignon from Chile".
William of Wild For Washington Wine is giving us " A Resolution for Greek Wine, A Recipe for Avogolemeno".
Martin from Enoflyz Wine Blog is shaking things up with "Skillet Kale Pesto & Seitan Pizza with Querceto Chianti Classico"
Jade from Tasting Pour is pairing "Halter Ranch Cotes de Paso and Duck Breasts with Cherry Hazelnut Compote".
Sarah that Curious Cuisiniere brings us "Chicken Cacciatore & Washington Merlot".
Wendy from A Day on the Life of the Farm has a "New Year's Wine Resolution of Prime Rib Roast with 2010 Cotes de Bourg".
David of Cooking Chat is going Greek with "Greek Lamb Stew & Wine Pairing".
Jennifer from Vino Travels it taking us to Puglia and sharing "Typical Dishes and Wine Pairings from Puglia".
Jeff from food wine click is focusing on "Wine & Food Resolution 2015: Italy Deep Dive".
Michelle from Rockin Red Blog will be tempting us "My 2015 Wine Resolution: Diversity!"
Christy from Confessions of a Culinary Diva, is focusing on the "Rhone Rangers & Paul Bocuse".